7 Best Unsecured Business Loans (Top Picks for 2023)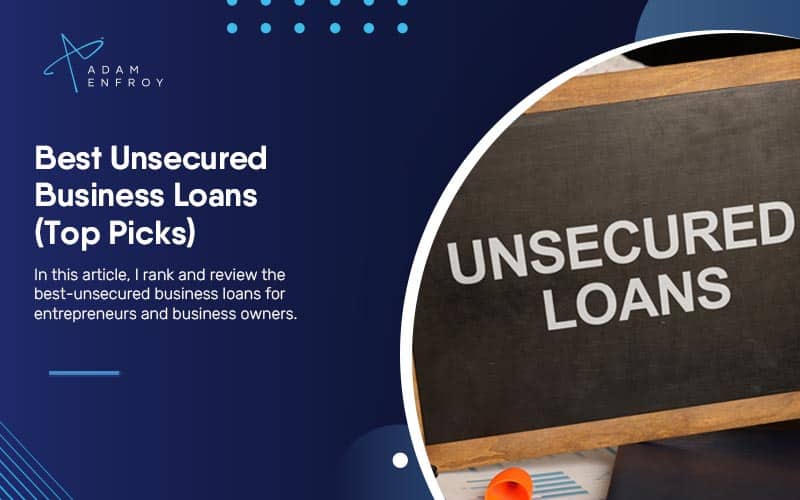 The first time you see the extra dollars in your business account after taking out a loan can be exhilarating.
All those extra zeros open up the potential for equipment financing, investing in materials, and recruiting personnel to help your business grow.
If starting a business with no money is difficult, an unsecured loan can help you get off the ground.
In this article, I rank and review the best-unsecured business loans for entrepreneurs and business owners.
What Are The Best Unsecured Business Loans?
The following are my top picks for the best-unsecured business loans.
1. OnDeck.
Best overall.
When it comes to getting an unsecured business loan, OnDeck is the way to go.
With OnDeck, you don't have to worry about putting up any of your business assets as collateral.
Instead, this bank bases the loan approval on your credit score, cash flow, and operational time in business.
With an A+ rating from the Better Business Bureau and more than $14 billion loaned out to businesses worldwide, OnDeck is one of the best choices for getting an unsecured loan.
Key Features:
Same-day fast funding (in some states) provides excellent convenience and helps you keep your business running smoothly.
Eligibility for the lowest rates also gives you an advantage over other lenders, which means you can get more money at a lower interest rate.
The application process is pretty simple, with most of the information required being readily available – such as your social security number and business balance sheet.
When it's time to apply for your loan, you can do so online or over the phone.
2. National Funding.
Best For Quick Funding.
National Funding offers unsecured business loans that make the application process quick and easy.
Plus, National Funding will work with you to find the right financing solution even if you have less-than-perfect credit.
At National Funding, they also offer flexible payment options tailored specifically to meet the needs of your business.
They work closely with you to ensure that our payment plans and terms fit within your budget and provide the best possible value for your particular situation.
With an unsecured loan from National Funding, you don't need to worry about having the necessary collateral—all you need is proof of your creditworthiness and a few documents proving your business's financial health.
Key Features:
More accessible qualifications for an unsecured loan make it easier for businesses to get the financing they need.
Plus, you can get cash quickly when needed – no waiting for weeks or months.
National Funding provides helpful loan guidance to walk you through the process and ensure you get the best deal possible.
3. Funding Circle.
Best For Checking Loan Eligibility.
Since 2013, Funding Circle has been working hard to provide unsecured loans to businesses.
An unsecured business loan from Funding Circle can be used for working capital, growth, or expansion and has fixed monthly repayments that are easy to manage and budget.
You won't have to use personal or business property as collateral for the loan.
Additionally, you can check your eligibility for a loan in 30 seconds with their online form without affecting your credit score.
By offering flexible repayment terms and competitive interest rates, they make it easier than ever before for businesses to access funds when they need them most.
At the same time, they allow businesses to manage their finances responsibly over time.
Key Features:
Save on your monthly repayments with an unsecured loan from Funding Circle.
You can also consolidate different debts into a single, more manageable loan, making managing your finances simpler.
The simple online application process makes it easier for businesses to access funds without going through a drawn-out or complicated process.
They offer specialized small business loans explicitly tailored to the needs of each business.
Funding Circle can also help you manage your cash flow and reduce overall costs by offering flexible repayment terms and competitive interest rates.
4. Biz2Credit.
Best For An Easy Application Process.
The application process for an unsecured business loan with Biz2Credit is relatively straightforward compared to traditional banks and other institutions.
All you have to do is fill out an online form and await approval.
Then, Biz2Credit assesses various factors before deciding whether to approve the loan.
These include your credit score, business credit history, annual revenue, and other personal/business finances.
Once approved, you'll receive the funds within 1-3 days if approved for a loan, allowing you to use them immediately.
Key Features:
You can get financing even if your business doesn't have valuable physical assets, making Biz2Credit ideal for startups.
The repayment terms are generally more flexible than traditional bank loans.
Biz2Credit processes applications quickly, which means you can access funds quickly.
You can get loans between $25k-$6m, making Biz2Credit suitable for businesses of all sizes.
5. Kabbage.
Best For Transparent Fees.

Kabbage provides unsecured small business loans tailored to meet the needs of entrepreneurs, startups, and established businesses.
These loans provide immediate access to working capital so you can invest in the growth of your business and take advantage of new opportunities when they arise.
These loans come with no hidden fees, so you know what you will pay monthly.
You can access these funds whenever you need them without going through an extensive application process.
With a Kabbage unsecured loan, you can fund necessary expenses such as inventory, equipment purchases, advertising campaigns, payroll, and more.
Key Features:
Working capital loans up to $150,000 help your business cover its current needs, such as payroll, inventory, and more.
Professional loans give you more financing for larger purchases or investments.
Online business loans provide unsecured capital that one can use to finance any business-related purchase or expense.
Commercial loans can help expand your business by providing funds for more significant investments.
Short-term business loans offer quick cash flow without the need for collateral or a lengthy application process.
6. Bluevine.
Best For Unsecured Lines Of Credit.
If you're an entrepreneur or small business owner, chances are you've heard about Bluevine's line of credit.
This unsecured business loan offers flexibility and ease of use for entrepreneurs who need quick cash.
With just the click of a button, you can quickly draw funds from your line of credit and make repayments.
Plus, since it's a line of credit, you only pay interest on what you use.
Key Features:
Only basic details about you and your business are needed to apply for a Bluevine line of credit.
Once approved, you can access more funds as often as you need them.
You can apply online and have access to the funds quickly.
Withdrawals are easy and require just the click of a button.
Enjoy access to a revolving line of credit – you only pay interest on what you use.
7. Fundbox.
Best For Real-Time Analytics.
Fundbox offers a revolving line of credit without the hassle and expense of more traditional financing options.
In addition, applying is quick and easy.
You can get a credit decision in as little as 3 minutes.
Funds are available as soon as the next business day if approved, and there's no prepayment penalty.
Plus, unlike traditional financing options such as bank loans or lines of credit, no personal guarantees are required or collateral needed.
The process begins with an application that takes only minutes to complete.
You'll also have access to tools like real-time cash flow analytics to make intelligent decisions regarding your finances at all times.
Key Features:
Apply directly from the app and draw funds on the go, so there are no missed opportunities.
Draw funds as needed and have more time to pay with flexible repayment plans.
Enjoy peace of mind knowing no personal guarantees or collateral is required.
Fundbox provides access to a revolving line of credit without the hassle and expense of more traditional financing options.
What Are Unsecured Business Loans?
Unsecured business loans refer to loans taken out by businesses without offering collateral.
These loans can include credit cards and short-term financing options like merchant cash advances or invoice factoring.
Because these loans don't require collateral, they may be easier to obtain than traditional bank loans.
The way these unsecured business loans work is also relatively straightforward.
Most online lenders will offer an easy application, allowing you to apply for a loan in minutes.
The lender will then review your business's financial history and performance to determine whether your business is creditworthy enough.
In terms of loan options, unsecured business loans typically come in two forms: fixed-rate loans and variable-rate loans.
Fixed-rate loans come with a set interest rate that stays the same throughout the loan's life, while variable-rate loans are subject to changes in market conditions, meaning your monthly payments may fluctuate.
Moreover, unsecured term loans tend to have shorter repayment terms than secured loans—often no more than a few years.
Because of this, unsecured business loans are an excellent option for businesses that need immediate capital but don't have the means or resources to apply for traditional bank loans.
Businesses That Might Benefit From Unsecured Business Loans
Here are the top types of companies that can benefit from unsecured business loans.
Small Businesses
Small businesses needing business funding can benefit from unsecured loans.
With funding options for businesses that don't want to mix their personal and business assets, short-term unsecured loans can provide the perfect solution.
The loan amount may be lower than the one offered by traditional bank loans, and repayment terms will usually be shorter – often no more than a few years.
Both of these conditions might appeal to small businesses.
Startups
While a business line of credit or traditional bank loan may not be an option for startups, unsecured loans provide the perfect solution for quick access to funds.
With many financial institutions unwilling to supply startup funding, short-term loans can help entrepreneurs get their businesses off the ground.
Seasonal Businesses
The business loan options for businesses in industries such as tourism can be limited.
With the prospect of shorter loan terms, unsecured loans can provide seasonal businesses with quick and easy access to funds.
This business can benefit from merchant cash advances where repayment occurs on a percentage of their daily turnover.
Social Enterprises
A social enterprise business needs to access capital quickly to carry out its operations but may require more resources than available for more traditional forms of funding.
With the loan application process and term lengths of unsecured loans being favorable to social enterprises, this type of business can benefit greatly from this solution.
Benefits Of Getting An Unsecured Business Loan
Now that I've looked at the types of businesses that can benefit from unsecured business loans, here are some benefits these loans provide.
Quick And Easy Application Process
Applying for an unsecured business loan is more straightforward and faster than other lenders.
For example, getting a merchant cash advance usually involves just one page of paperwork.
Compared to the weeks it can take to get a traditional bank loan approved, unsecured business loans could happen in as little as 24 hours.
No Collateral Needed
Unlike secured business loans, with an unsecured one, there's no need to pledge collateral, such as a business's assets or property.
This collateral-free service is ideal for business owners with no valuable assets or those who don't want to risk their business or personal assets.
One Can Take Out Loans For Any Purpose
As business leaders, the only priority is paying the loan and interest on time.
As such, the best small business loans for unsecured finance allow businesses to fund any purpose they need.
Small business owners can then use the funds for real estate, expansion, recruitment, or other goals to help develop their businesses.
Funds Are Usually Available Within A Few Days Or Weeks
As the borrower, getting funds quickly into your business bank account is essential for business success.
The way an unsecured business loan works makes this possible.
A lender will typically approve the loan, and you'll have access to funds within a few days or weeks.
As a business line of credit, you can borrow more money when needed and then make repayments.
This flexibility makes unsecured loans suitable for businesses with seasonal or unpredictable cash flows.
Qualifying For An Unsecured Business Loan
If you want to maximize your chances of getting approved for an unsecured business loan, there are a few things that you need to keep in mind.
Have A Plan
Having a solid business plan is essential to show lenders that you understand your business and have a plan for the future.
Stay On Top Of Your Credit History
Having good credit is key to getting approved for an unsecured business loan.
Before applying, take some time to review and understand your credit history.
The trajectory of your credit history over time can give lenders an excellent indication that you can pay back the loan when it's due.
Compile The Necessary Documentation
Getting an unsecured business loan requires lenders to have specific information about your business.
From documents that meet minimum credit score requirements to monthly revenue statements, ensure you have all the necessary documents.
Analyze Various Loan Packages And Lenders
If one lender offers lower interest rates than another, or if you can get other benefits from a particular loan package, then it is worth researching that lender.
There are also additional fees that might not exist with various loan types.
For example, some lenders might charge an origination fee, a fee taken out of your loan before you can use the funds.
Avoiding such fees can save you significant money over your loan lifetime.
What Happens If You Can't Repay Your Unsecured Business Loan?
If you cannot repay an unsecured loan, the lender may sue your business to recover the funds.
If they are successful, your business could go into bankruptcy.
This state is never one that a business owner wants to end up in and can have severe consequences for you and your company.
It's essential to ensure that you only take on debt you're confident you'll be able to repay.
This way, you can avoid any potential long-term consequences for your business.
Alternative Lenders
You can explore other funding avenues if getting an unsecured business loan isn't an option.
Borrowing Money From Family And Friends
Getting a lump sum loan from family or friends may be ideal if your business credit score isn't suitable for a traditional loan.
That said, it's essential to ensure that personal and business loans do not mix.
Any loan from family or friends will likely be unsecured, but an explicit agreement between both parties is essential.
Taking Out A Secured Business Loan Against An Asset You Own
If bad credit is again a problem, then taking out a secured loan against an asset you own may be the only option available.
One can secure a loan against their business's property, vehicles, equipment, or other valuable assets.
Seeking Funds From Angel Investors Or Venture Capital Firms
If you have a great business idea and need funding to get it off the ground, seeking funds from angel investors or venture capital firms may be another way to acquire it.
Using Crowdfunding Platforms To Raise Funds From A Larger Pool Of Investors
Crowdfunding platforms are becoming increasingly popular as more people become aware of their potential for raising money for a business venture.
Funding through these platforms happens in exchange for small rewards, so you'll need to create an attractive reward package to entice investors.
Using Credit Unions
Credit unions generally offer lower interest rates and fewer fees than traditional banks, so they can be a great resource if your business has less-than-perfect credit or needs quick funding.
Invoice Financing
Invoice financing is about selling outstanding invoices to a third-party lender for quick cash.
This type of financing can be helpful, as it is not based on your business or personal credit score and provides access to quick funds.
Unsecured Business Loans – FAQ
What is Small Business Administration?
The Small Business Administration (SBA) is an independent agency of the federal government that works to assist small businesses with financing, technical assistance, and advocacy services.
The SBA does not directly lend money but works with lenders to provide guaranteed funding for qualifying borrowers.
It offers many different loan programs with various features and benefits for borrowers.
Are SBA Loans A Good Option For A Small Business?
SBA loans can be an excellent option for businesses that need financial assistance to start, expand, or acquire new assets.
SBA loans are typically offered through banks and other lending institutions and provide longer repayment terms than traditional lenders, making them more affordable in the long run.
How Do Loans Affect A Business's Tax Returns?
Loans can have a significant impact on your business's tax return.
Generally, the interest paid on a loan is tax deductible as long as it is considered an ordinary and necessary expense incurred to purchase or improve property related to your business.
Wrap Up.
Finding the correct type of loan for your business can be challenging, but many options are available.
Unsecured business loans will take your mind off having to pledge collateral, but one should be aware of the risks of taking out an unsecured loan.
Doing your research beforehand and understanding the loan agreement between both parties is essential.
Further reading on AdamEnfroy.com: Getting a loan involves a few essential steps.
Here's how to get a business loan in a few simple steps.
If getting an unsecured business loan isn't an option, check out this list of the best credit unions for small businesses for alternative possibilities.
Finally, here's how to build business credit fast, allowing you to access the funds your business needs.
Disclosure: I may receive affiliate compensation for some of the links below at no cost to you if you decide to purchase a paid plan. You can read our affiliate disclosure in our privacy policy. This site is not intending to provide financial advice. This is for entertainment only.