21+ Best VoIP Providers of 2023 (Phone Services Ranked)
Choosing the right VoIP provider is essential if you want a scalable system to reach customers. From crystal-clear calls to secure cloud communication, the best VoIP providers can help you meet your goals. In this guide, I ranked and reviewed the 21+ best VoIP providers and my top 5 choices so that you can pick the best one.
---
We're reader-supported. When you buy through links on our site, we may earn an affiliate commission.
Want my top picks? The best VoIP services are Nextiva, OpenPhone and Vonage.
Let's go back to 1974.
A few key things happened that year:
US-wide, the government introduced a 55 MPH speed limit.
Richard Nixon was the first US president forced to resign.
Someone made the first VoIP call.
Since then, VOIP (Voice over Internet Protocol) has revolutionized telecommunications.
With so many choices when using a VoIP number, knowing how to choose a VoIP provider that aligns with your business needs is critical.
Check out my other related guides for reference:
Save by Comparing VoIP System Quotes
What Are the Best VoIP Providers?
Here's a list of some of the best VoIP service providers, their pros, cons, key features, and more.
Let's get started.
Best All-In-One VoIP Provider
Adam's Take
Are you looking for an all-in-one VoIP solution that provides you with everything you need? Businesses use Nextiva for features such as recording, forwarding, faxing, team messaging, and more. As such, it combines all you need in one package for easy access.
Nextiva is a simple and affordable cloud phone system.
They offer cloud PBX with powerful features and good audio quality.
Whether you're at a desk, on your mobile device, using a headset, or on a conference call, Nextiva offers all of the essential features of a strong VoIP service provider.
Best For:
It is the best VoIP provider for businesses that want a business phone service with features like call recording, call forwarding, online fax, team messaging, and more at a reasonable price.
Key Features:
Nextiva has a ton of different features, including:
Automate Customer Data: Put all your customer data in one place automatically, including call data, account history, and notes, among others.
Know your Customer: It allows a deeper understanding of the customer by tracking and sharing information across business channels to empower teams to act accordingly.
Live Chat: This feature enables agents to have live customer chat for faster resolution of queries while boosting overall business efficiency.
Manage Customers: Easily manage all customer interactions to keep the context after the conversation.
HD VoIP Phone Service: Enjoy clear voice quality with HD VoIP calling to enhance customer experience.
User Experience:
The ability to take on calls and message prospects from a single platform is a time saver, and the Nextiva app makes it possible.
The contact center features are top-notch, and the user interface is clean and easy to use.
You can also look at your analytics from the same scene.
With the press of a button, you can see how your business is doing.
Pricing:
Its VoIP plans start from $18.95 per user per month and go up to $32..95 per user per month for Enterprise.
What I Like/Dislike About Nextiva:
Like:
Its HD business VoIP service ensures high-quality calls reliably and securely.
You can leverage the Nextiva smartphone app to stay connected with customers from anywhere in the world.
It offers unlimited calling in the USA and Canada.
Make your phone bell ring differently based on the phone number to identify priority calls quickly.
Leverage SIP trunking to quickly establish, modify, and terminate multimedia sessions.
Connect with customers easily through instant messaging.
User Call Screening feature to quickly decide whether to take or reject a call.
Get textual notifications straight in your smartphone through its voicemail-to-text (voicemail transcription) feature.
Dislike:
Issues with the recordings sometimes make it difficult to understand what the caller is saying.
Sometimes, it needs to integrate better with the call (APP) system, which can frustrate users.
Product Updates:
Performance improvements mean that the quality of calls is now even better,
Businesses can provide even better customer service with the new cloud-based contact center solution.
For the best overall VoIP, get a 7-day free trial of Nextiva with a free quote.
Best For Startups.
Adam's Take
OpenPhone provides businesses with a unified communication experience that will enable them to easily collaborate with customers while staying organized no matter their device. Whether managing multiple conversations in one window or joining discussions as a team—OpenPhone makes it effortless for users to maximize their productivity from any device.
OpenPhone brings all your calls, texts, conversations, and contacts into one delightful app you can use across all your devices.
Enjoy local or toll-free North American phone numbers for all teammates and departments, each with a dedicated inbox.
Keep track of call logs, recordings, voicemails, and text messages—all in one place.
With OpenPhone's unified communication experience, call and text as a team, see teammate activity in real-time, and keep track of small details that matter to your business.
OpenPhone's unified messaging system helps streamline communications between teams.
Enjoy separate inboxes for every team member or department, so conversations stay organized.
As well as managing multiple conversations in one window, OpenPhone allows users to create custom properties and notes to track critical details vital to their business efficiently.
Best For:
Startups
Key Features:
Spot trends with powerful analytics and use them to impact your business decisions.
For those that want to coach their team on their conversations, OpenPhone has a comprehensive call coaching system for you to get the most out of your calls.
You can also scale your phone system in seconds and easily customize your numbers.
Lastly, create an ideal call flow structure to streamline communication within your team.
User Experience:
Communicating with customers using a familiar interface helps simplify the user experience. OpenPhone allows customers to quickly access phone numbers and make calls from anywhere, therefore speeding up customer service time.
Additionally, OpenPhone has an easy-to-use dashboard so users can keep track of their communication and use analytics to identify conversation trends.
Pricing:
OpenPhone offers these pricing plans:
Standard: $13 per user per month
Premium: $20 per user per month
Enterprise: Contact their sales team for more information.
You can also get started with a 7-day free trial.
What I Like/Dislike About OpenPhone:
Like:
Although the quality has increased over time, the price has remained steady.
The customer support team is always available and accommodating.
It's accessible to port numbers from other phone companies.
Dislike:
The text on the iOS app is small, sometimes making it hard to read.
Product Updates:
Their new Salesforce integration makes it easier for teams to keep their contacts up-to-date across multiple platforms.
Get started with OpenPhone.
3. Vonage.
Best Overall VoIP solution.
Adam's Take
Vonage is a comprehensive VoIP phone solution for businesses of any size. With tens of features to help your business work smarter, Vonage offers you all the tools you need to scale your company.
Vonage helps you increase your global presence with more than 50 phone features to help you work smarter.
With a 99.999% uptime, your business can rely on Vonage to be there when you need it most.
With a marketplace that features various add-ons and integrations, Vonage is a comprehensive VoIP phone solution for businesses of all sizes.
Best For:
Vonage is great for those companies looking for a reliable VoIP phone solution with a wide range of features and integrations.
Key Features:
Business Inbox ensures that all your company's voicemails, missed calls, and faxes get to one central inbox.
The Admin portal allows you to manage your account settings, users, features, and billing in one place.
Vonage Meetings is a powerful video conferencing tool that lets you connect with multiple participants.
Flexible features like call forwarding, call waiting, and caller ID helps you manage your calls more efficiently.
Desktop and mobile apps let you take your Vonage extension wherever you go.
User Experience:
With a dashboard that makes getting started easy, Vonage is simple to set up and use.
The system status monitor keeps you up-to-date on the health of your VoIP service so that you can be proactive about any potential issues.
You can also see the number of extensions your business currently has so you can add or remove users as needed.
Pricing:
Pricing starts at $13.99 per line per month.
You can get a free quote from Vonage by filling in the form on their website.
What I Like/Dislike About Vonage:
Like:
Excellent customer service makes it easy to get help when you need it.
Answering phone calls from a phone, computer, or desk phone changes the game.
Dislike:
Transferring a call takes a few more steps than other providers, but it's pretty straightforward once you get used to it.
Product Updates:
Usability improvements now make Vonage even easier to use.
Screen recording through the enhanced desktop application is now available.
Get started with Vonage.
4. 8×8.
Best For Cloud Communications.
Adam's Take
If you're looking to take your VoIP to the next level with cloud-based features and advanced integrations, 8×8 is a great choice. This top-rated VoIP service offers everything businesses need to stay connected, including HD voice and video conferencing, faxing, call recording, and more.
Best For:
With cloud communications, 8×8 provides a single platform for voice, video, and chat applications.
Businesses can use this to their advantage by integrating these features into their customer service workflows or using video conferencing capabilities to improve employee collaboration.
Key Features:
Business Continuity Planning allows for a seamless transition in the event of any disruptions to your business, such as outages or natural disasters.
Cloud Migration makes it easy to access your phone service from anywhere without worrying about hardware maintenance or upgrades.
Collaboration and mobility features such as video conferencing and chats help improve communication and collaboration within your team, allowing you to be more productive and run your business more efficiently.
Customer experience enhancement allows you to provide a more personalized and intuitive customer experience, helping you build strong relationships with your customers.
Marketing and demand generation features such as automated call tracking and business analytics help you better understand your customers and target exemplary marketing efforts toward them.
Finally, Microsoft Teams integration allows for seamless communication between different teams within your organization.
User Experience:
With a newly launched and elegantly designed mobile app, 8×8 has made it easier to use its VoIP service on the go.
The app is available for iPhone and Android devices, allowing users to make and receive calls, send and receive text messages, access their voicemail, and more.
Pricing:
There are three pricing plans when it comes to business communication:
Small business phone system: $15 per user per month
Voice, video, and chat for teams: $24 per user per month
Advanced call handling and analytics: $44 per user per month
What I Like/Dislike About 8×8:
Like:
The ability to SMS and talk makes it easy to communicate with colleagues no matter where they are or what time it is.
The seamless transition from other services is also a big plus, as you can easily switch to 8×8 without worrying about additional set-up time or service disruptions.
Being easy to identify when you have a suitable medium or lousy signal is also a great feature, as it helps to ensure that your calls are always transparent and reliable.
Dislike:
The platform can improve integration with some CRMs to provide a better experience.
Product Updates:
Communication APIs allow portal updates and JaaS enhancements so businesses can better manage their communications from a single interface.
You can now get Conversation Insights to understand better how your team uses 8×8 and its impact on their productivity.
Get started with 8×8.
Best For Reliability.

Adam's Take
If you're looking for a reliable VoIP solution, I recommend you check out Ooma. They are another of my favorite solutions because of their robust, reliable, and scalable solutions for all businesses.
Ooma Office is a flexible service with reliable voice and video solutions – all with no contracts. Use existing phone numbers or pick out new ones for free.
Customers voted Ooma Best Business VoIP System for the 8th year.
This solution offers affordable VoIP services most suitable for small and medium-sized businesses and freelancers.
On top of that, it also provides robust, scalable solutions that can easily support your growing business.
Best For:
Ooma Office is the best VoIP service suited for freelancers and is small business oriented.
Key Features:
Work from anywhere: Take business calls on your smartphone or tablet, no matter where you are.
Unlimited US/CA calls: Make unlimited calls to any US or Canada number.
Enhanced Call Blocking: Stop telemarketers and spammers from calling your business through automatic call blocking.
Multi-Ring: Leverage this feature to ring multiple devices, including your VoIP phone and smartphone app, to never miss a call.
Virtual Receptionist: Automate call management of incoming calls through routing and messaging callers.
Mobile App: Manage all business calls on the go through its free mobile application.
User Experience:
With an easily visible list of devices compatible with Ooma, finding what we were looking for was effortless.
Pricing:
It offers two pricing plans, including $19.95 and $24.95 per month per user.
What I Like/Dislike About Ooma:
Like:
35+ advanced features for users that need more.
Offers easy setup and installation.
Offers unlimited calling services in the U.S., Mexico, Canada, and Puerto Rico.
Charges lower international calling rates than other competitors
Transfer numbers free of cost.
Each user gets a conference bridge.
Sends voicemail through an email attachment.
Higher usage limits for call parks, conference, and extension monitoring.
Dislike:
Its hardware cost is higher than other VoIP options.
Users have complained about call drops.
Product Updates:
Ooma Office mobile app update brings more functionality to your smartphone and allows you to control your business phone system from anywhere.
Bulk CSV Upload for IP phones Android and iOS is also now available, so you can quickly provision new users.
Get started with Ooma today.
Best for Medium-Sized Businesses.
RingCentral offers a reliable VoIP phone service solution and is most famous for its robust network in the US, Europe, and Asia.
The VoIP phone system has an extensive feature range to meet different business requirements.
Best For:
RingCentral offers full-service VoIP that is perfect for small businesses.
Key Features:
Audit Trail: This feature allows easy tracking of changes made by any user in the phone system. It offers a searchable account history to resolve critical issues quickly.
Hot Desking: Users can easily log in to shared phones and share their voicemail, extensions, greetings, and other features.
Video Conferencing: It is a video-conferencing tool that can conduct meetings with up to 500 people.
Business MMS and SMS: It eliminates the usage of personal phones by providing a professional text solution.
Call screening and blocking: These features allow users to block calls or mark them as spam while recording conversations.
User Experience:
With big shortcut buttons to manage call forwarding, screening, voicemail, and other features, the RingCentral app makes it easy to stay on top of your business calls and messages.
Various tutorials can help you learn how to use the features, which is very helpful.
Pricing:
Its pricing plans start from $19.99 per month per user and go up to $49.99 per month per user.
What I Like/Dislike About RingCentral:
Like:
Easily collaborate with teams by chatting in real-time through any internet-enabled device.
The platform eliminates the need for multiple passwords with a single sign-on facility.
Its analytical portal offers consolidated Live Reports, Quality of Service Reports, and Meetings Dashboards in a single place, along with over 30 new metrics, endpoint reporting, and data visualization.
Leverage live reports to track agent performance and gauge customer satisfaction.
Easily connect with up to 1,000 people through its audio conferencing facility.
Leverage free calling to global offices to cut down phone bills.
Dislike:
They outsource their customer support, so getting the best solution for an issue takes time.
Product Updates:
Webview support for Android lets you view Visualforce pages in the RingCentral app on your Android device.
The updated Reply Assistant design makes finding the perfect response to an incoming message easier.
Get started with RingCentral and save up to 33%.
Best For Reliable Service.
MightyCall brings a fully functional virtual phone system to your business.
It's an affordable, reliable, and cloud-based solution that makes it easy to manage your business calls.
Best For:
MightyCall is well known for providing reliable VoIP service to small businesses.
They offer a wide variety of features, and their pricing is very competitive.
Key Features:
Toll-Free And Local Numbers so you can have a professional appearance with a local or toll-free number.
International numbers support so you can have callers from around the world reach you without expensive long-distance charges.
Caller ID display shows your business name and number to the caller before they answer.
CNAM support means that when someone calls your MightyCall number, their name will be announced to you before you answer the call.
Custom Greeting allows you to record a professional-sounding greeting that will play to callers before connecting them to you.
Music On Hold gives callers something to listen to while on hold.
Business Hours Call Routing ensures that calls are only routed to you during and outside business hours.
User Experience:
With a dashboard that shows your recent activities, voicemail, text messages, call history, and more, MightyCall makes it easy to see how your business is doing and where you can improve.
The visual interface makes it easy to find the necessary information and take action quickly.
Pricing:
These are the pricing plans on offer:
Small Team: $15 per month/user
Business: $20 per month/user
Enterprise: $150 per month flat fee.
What I Like/Dislike About MightyCall:
Like:
MightyCall is fast to set up.
The visual interface is easy to use and makes it easy to find the information you need.
Dislike:
Blocking specific numbers could be a more straightforward process, but if you don't need to
Product Updates:
MightyCall now partnered with PartnerStack to offer its affiliates an all-round better experience
The new multi-level IVR feature takes AutoReceptionist to the next level
Get started with MightyCall.
Best for Businesses on the Go
Grasshopper is probably the most popular and well-known VoIP provider (and for a good reason). It offers a robust and fully functional VoIP solution best for mobile businesses and people on the go.
It allows you to add virtual business phone systems to your phone, and VoIP plans start at just $26 per month.
Plus, it provides excellent features for mobile businesses and freelancers that don't need a landline for business communications.
Best For:
It is best for small businesses and entrepreneurs who want a professional business phone number routed to their cell phone, computer, or desk phone.
Key Features:
Vanity Numbers: It offers easy-to-remember vanity numbers to encourage more customers to call your business.
Robust Support: It provides 24/7 support from the USA to ensure reliable service at every hour of the day through the week.
Unified Messaging: Easily manage calls, texts, and emails from a single point to keep track of all applicable information.
Gmail Integration: No need to buy a business suite. Easily link your existing Gmail account for all the information.
Virtual Receptionist: Greet customers and direct them to the right place with a virtual receptionist.
User Experience:
With top-notch desktop and mobile apps that work as they should, it's easy to keep business calls and texts in one place with the help of Grasshopper.
The user interface is easy to use and intuitive, making it an excellent choice for small business owners or anyone needing a reliable and feature-rich business phone service.
Pricing:
Its paid plans start at $28 and go up to $80. They also offer a 7-day free trial.
What I Like/Dislike About Grasshopper:
Like:
It offers vast options of vanity, local, or toll-free numbers. You can also port your number easily.
Leverage the Timeline View feature to track all interactions with the contact.
Deliver quick replies and updates through text messages from your business number.
Efficiently send incoming calls to voicemail through the click of a button.
Reliable calling to ensure a clear voice on calls.
Dislike:
Complicated at times to understand how to use it.
Based on the location, the call does not always come through, jumbling up words or completely disconnecting the call.
Product Updates:
Send instant text responses to first-time callers so they know you're available even when you can't answer the phone.
Any user can now send and receive SMS texts from their business number to stay connected with clients, even on the go.
Get started with a 7-day free trial of Grasshopper.
CloudTalk helps you efficiently create a virtual network phone framework for customer service and sales teams.
The tried and tested VoIP software vendor has provided services to over a thousand clients and offers robust VoIP solutions.
Best For:
CloudTalk is one of the leading VoIP providers for call centers.
Key Features:
Personalization: CloudTalk allows you to create personalized greetings that you can play based on different situations.
Internal Phone Number Tags: Give employees a tag so that they and agents can instantly figure out the number the client has dialed and how to adjust their approach.
Skills-Based Routing: Call routing to a specific agent depending on their capabilities and skills required to meet the caller's requirements.
Speech To Text: CloudTalk's speech recognizer efficiently converts calls into text transcripts. Users can easily search recordings.
Intelligent Call Routing And Analytics: CloudTalk automatically prioritizes calls based on the caller's needs and provides insightful analytics to understand customer behavior better.
User Experience:
With the ability to easily add agents and ensure quick call-answering capabilities, Cloudtalk offers an excellent user experience.
Additionally, the visual interface makes it easy to see your business's performance and areas that need improvement.
The left-hand side menu makes it easy to find and use all of the features CloudTalk offers.
Pricing: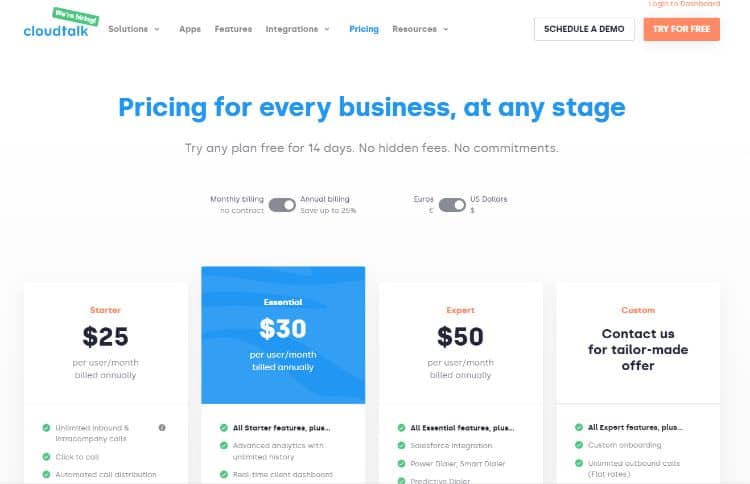 Its paid plan starts at $25 per month, is billed annually, and goes up to $50 per month billed annually.
There's also a custom solution available.
What I Like/Dislike About CloudTalk:
Like:
International calls and phone numbers with geographic or non-geographic pin codes for over 70 countries.
Easily define your business hours to make yourself available for calls only during the specified hours.
Automatically redirect customers' incoming calls to the specified phone number whenever your agent is busy or unavailable.
Through real-time, customer card agents can get access to end-to-end caller data.
Easily integrate CloudTalk with external systems to import and export contacts and enable maintenance of the regular download history of orders, phone calls, and tickets, among others.
Leverage sentiment analytics to monitor your agent's calls and let supervisors intervene whenever necessary.
Dislike:
Mobile apps for iOS and Android mobile devices could use some minor improvements.
Integration with third-party applications could be more extensive.
Product Updates:
Login using SSO methods on the go; now, you can quickly log in to your CloudTalk account using Google, Microsoft, or Apple ID.
Call Flow Designer Enhancements make it easier for you to design and manage your call flows. You can preview how your call flow will work before saving it.
Get started with CloudTalk today.
10. Dialpad.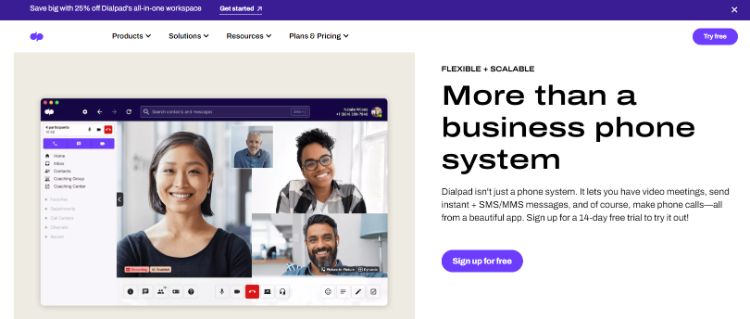 Dialpad Talk is a business phone service built to help you have better conversations, no matter where they happen.
With reliable call quality, seamless messaging, and call transcriptions all powered on your existing devices, staying in the loop at or away from your desk has never been easier.
Best For:
Dialpad is one of the best VoIP services for small and mid-sized businesses that can easily be scaled up to an enterprise level.
Key Features:
Voice Intelligence: Automatically captures action items and provides real-time coaching, note-taking, sentiment analysis, and more using AI so you can focus on who's on the other end of the line.
Powerful analytics: Get crucial insights from your calls to inform decisions for your business
Reliable call quality: High definition, crystal clear voice quality on any device and nearly anywhere in the world
Native integrations: Integrates with your existing tech stack (Salesforce, Zendesk, G Suite, Office 365, etc.) for a seamless experience
Web Conferencing: Connect with customers or teams from anywhere in the world.
Pros:
100% uptime SLA to help you and your customers stay connected 24/7/365
All-in-one platform for your business communication needs (voice, video, chat, and contact center)
Fast and easy to deploy for anyone in the organization
Extremely intuitive interface
Available on any device
Pricing:
Dialpad's pricing plans start at $15 per month per user and offer a 14-day free trial.
11. Bitrix24.
Bitrix24 offers a free VoIP service and works with both call centers for outbound and inbound calls and as an internal PBX system.
The best part is that it provides an efficient solution for remote teams to help them communicate efficiently.
Best For:
It is one of the best business VoIP solutions for small businesses and remote teams that need to stay connected constantly.
Key Features:
CRM: Bitrix24 is the only free VoIP service offering a fully-featured CRM for its customers. Hence, you can quickly identify and connect clients with relevant people in the team.
Real-Time Communication: Leverage its wide range of RTC tools, including WebRTC, IM and Group Chat, Audio/Video calls, HD Video conferencing, Screen sharing, and PC/Mac/Linux/iOS/Android, among others, for real-time communication.
Customizable: It also has highly customizable self-hosted editions with source code access.
Private Cloud: Leverage its Private Cloud Suite to have highly secure and personal conversations with high customization.
Manage Employee Tasks: Bitrix24 offers powerful project and task management tools that help you manage employee tasks and increase efficiency.
Pros:
Efficient API and SDK documentation that enables developers to integrate Bitrix24 with other third-party services easily.
Leverage its free mobile applications for easy access to the social intranet and efficiently collaborate on different projects from remote locations.
Efficiently interact with colleagues outside your browser through the Desktop app powered by group chat, online indication, the messenger with a contact list, and file sync with personal files in Bitrix24.
You can leverage Bitrix24 as call center software. Its basic version is free for up to 12 users.
Cons:
The free version imprints a Bitrix watermark on every email.
New users might face a steep learning curve in using the software efficiently.
Pricing:
Bitrix24 is available free of cost for a team of 12. The paid plans start from $39 to $159 per month.
12. Verizon VoIP.
Everyone knows the name of Verizon for its mobile device and fiber optic internet service in the USA.
But it also provides a reliable and efficient VoIP business phone system for end-to-end business telecommunication needs.
Best For:
Verizon VoIP offers one of the best VoIP phone services for mid-sized businesses.
Key Features:
Auto Attendant: Verizon offers the facility of a virtual receptionist that allows customers to select the person they want to talk to.
Hunt Group: This feature automatically transfers calls from one line to another until someone in your office picks up the calls of customers.
Shared Call Appearance: This feature allows businesses to operate multiple phones to make and receive calls on behalf of other users.
Visual Voicemail: It allows users to see who has left a voicemail on a smartphone or computer without listening to it.
Advanced Calling: Advanced calling features such as call forwarding, caller ID, and call waiting to allow customers to access the most advanced communication tools.
Pros:
Allows you to park incoming calls reliably until your agent answers the call.
You can quickly transfer ongoing calls between your IP phone and the smartphone.
Enables you to easily manage voicemail, call history, and other essential features through its My Phone site.
It comes with a robust Administrator Web Portal called "My Account," through which users can easily manage features for the business or individuals.
Enables automatic transfer of calls to a preset number in the event of a power outage.
You can view the detailed history of outgoing, incoming, and missed calls for business analytics.
Cons:
Small businesses may find it a bit costly.
Offers limited fiber optics.
Pricing:
The paid plans start from $94 and go up to $249.
13. SIP.US.
SIP.US is a low-cost yet reliable business VoIP phone service. It can work efficiently on any broadband connection and comes powered with unlimited connection plans.
Moreover, SIP.US is easy to set up, and you can start immediately.
Best For:
SIP.US is a reliable option for businesses looking for a low-cost yet robust VoIP phone system solution for their business.
Key Features:
Powerful Control Panel: It offers a competent and easy-to-use control panel to manage the account efficiently.
Tier-1 Redundant Network: It leverages only Tier-1 upstream service providers to route your business' SIP traffic for the best redundant network and voice experience.
DID Coverage: It offers a massive database of DID numbers all over the US with instant provisioning of numbers.
Own Bandwidth: It allows businesses to select the bandwidth supply of their preference, including Cable, T-1, DSL, or Metro Ethernet.
Real-Time Call Data Records: These provide real-time call data records so businesses can track and rate the performance of their team.
Pros:
It offers International DIDs in over 40 countries across the globe.
It comes with automated dialing for efficient telemarketing.
SIP.US comes with simple prepaid pricing with no contract.
The VoIP service software offers a free trial of 60 minutes for outbound calling.
It provides easy setup and configuration in the system to enable you to start calling immediately.
Cons:
It offers limited features that would look inefficient for any large enterprise.
International rates are comparatively higher than other competitors in the market.
Pricing:
It offers a simple pricing plan of $24.95 per month.
14. AVOXI Genius.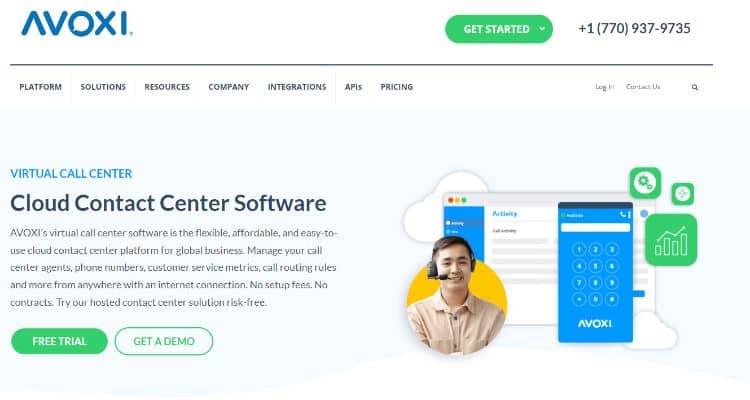 AVOXI offers an affordable and highly efficient virtual VoIP phone service.
The software can efficiently manage all your business communications requirements through an intuitive and web-based contact center.
Best For:
The cloud-based VoIP software is an efficient solution for businesses looking for agility, flexibility, and low infrastructure costs.
Key Features:
Automated Call Redistribution: Route your call to the most eligible agent efficiently without confusion.
Call Queues: It can set up an unlimited number of call queues while managing advanced features, including queue callback, custom greetings, custom ring rules, and more.
WebRTC Softphone: It offers an upgrade to AVOXI Genius WebRTC softphone from the regular phone for better voice clarity and reliable connectivity.
Cloud IVR: Enables cloud IVR to assist callers in navigating independently for the best agent per the requirement. It also helps efficiently manage intros, IVR menus, and call routing options, among others.
API Integration: It offers easy integration with your existing business applications, making managing customer profiles and preferences easier.
Pros:
It is capable of activating virtual phone numbers in over 160 countries.
Easily track call outcomes and manage customer information with call disposition ratings and summary notes.
To maintain quality standards, ensure efficient call monitoring by listening to your agent and caller interactions in real-time.
Leverage the Call Whisper feature to give helpful suggestions to other agents while staying on calls without notifying the caller.
Cons:
It requires a steep learning curve to leverage all its features.
Its base plan offers limited features. You must pay more to buy its enterprise plan and leverage all its features.
Pricing:

Its Genius Contact and Genius Enterprise plans cost $19.99 and $39.99, respectively. You also get a free trial.
15. Blueface.
Blueface can efficiently handle all the configurations of the cloud PBX phone system and handsets.
Moreover, it enables businesses to focus on their core capabilities by providing a unified communications platform.
Best For:
The SaaS-based VoIP solution is most suitable for call centers, SMEs, and large enterprises.
Key Features:
Dedicated Support: It deployed a team of experts for reliable customer support around the clock.
Unified Communication: It leverages its lightweight and multi-tenant UC Platform for easy-to-setup that offers all-in-one features and secure carrier services.
Blueface API: It comes equipped with a developer-friendly API for seamless integration that efficiently augments the current business system.
Design and Implementation: The lightweight VoIP software is easy to implement and offers a user-friendly design interface.
Simplified Business Phone Management: Gone are the hassles of manually managing multiple phone numbers, lines, and configurations.
Pros:
Create your global presence in international markets by providing customers with a local number in that area to make or deliver calls straight to your office without any cost.
Make your business communication easier with mobile, virtual faxing, landline, IVR, and multisite deployment.
Deliver reliable service through its interconnected data centers.
Leverage unlimited access through single credentials.
Cons:
Pricing is relatively higher than its peers.
Pricing:
You can't access the pricing plans on the official website. Instead, request quote-based pricing by contacting their customer representative.
16. Freshcaller.
Freshcaller is a cloud PBX system that offers VoIP services to enable its users to have contextual conversations sans any hardware or maintenance costs.
Moreover, it helps you monitor live calls and maintain call recordings for future reference.
Best For:
Freshcaller is a great offering for small teams and startup businesses.
Key Features:
Real-Time Dashboard: It comes equipped with a centralized dashboard. The system enables the VoIP administrator to add or remove phone numbers, teams, users, and other required customizations via a real-time dashboard.
Call Masking: To protect the interests of your business, Freshcaller comes equipped with call masking. It shows a proxy phone number in place of the original, as per your preference.
Performance Monitoring: Easily track the performance of your VoIP phone system in terms of quality of service, call duration, and resolutions provided. Users can also leverage advanced analytics features to optimize the call menus for delivering more intuitive customer support.
Virtual Phone Numbers: Leverage virtual phone numbers of any type, including both domestic, international, and toll-free numbers for landlines, mobile devices, and virtual phones.
Find Vanity Phone Numbers: Customize your virtual phone number with vanity numbers that make it easier for customers to remember.
Pros:
Route calls based on several set parameters, including business hours, locations, and technical skills required to resolve the query.
Leverage multiple call queue management features, including call screening, barging, call waiting, call conferencing, auto-attendant on-hold music, call forwarding, and voicemail.
Being a lightweight VoIP software, it eliminates the need to buy phone equipment, including line connections, PBX, telephone handsets, and more.
It offers robust device interoperability to connect with people on any device.
Leverage international phone numbers to multiply your global business footprints from a single office to over 50 countries.
Ensure more streamlined management of calls during holidays through.
Cons:
The team could make the integration with Fresh Desk better.
The user interface requires a decent learning curve.
Pricing:
The paid plans start from $15 and go up to $69 per agent per month.
17. 3CX.
3CX offers a robust and reliable unified communication solution.
It is most suitable to meet the advanced needs of businesses, including modern contact center features, mobility, and status, among others.
Moreover, it comes with a smooth and efficient setup that you can integrate seamlessly into the system.
Best For:
It is one of the best on-premise business VoIP providers for enterprises that want to leverage their servers for business communications.
Key Features:
Mobile Apps: Leverage Android and iOS mobile applications to carry your office extension to any location. Make or receive calls from anywhere and also quickly transfer the call to your colleague.
Unified Communications: Easily integrate and enable several communication methods within the business process, including calls, SMS, video conference calling, Live Chat, and email.
WebRTC Web Conferencing: With a click, start live meetings, presentations, conferencing, and training through a TCP/IP connection. Connect through the telephone or use the computer's speakers and mic with a VoIP connection.
CRM Integration: Leverage a CRM system's efficient features through robust integration that can help you enhance the efficiency of the business process.
Live Chat And Messaging: Provide your customers an efficient way to communicate with you.
Pros:
3CX offers a highly cost-efficient solution capable of substantially cutting down the communication costs of any business.
Being an open standard platform, it allows the companies to choose and control their phone numbers, SIP trunk, and cloud provider, among others.
It offers automatic configuration of phones and SIP Trunks.
Automatically deploy upgrades and updates quickly.
Browser-based video conferencing is available for all users.
Offers robust and reliable integration with leading third-party CRM applications.
Cons:
Limited customization options outside of the user interface.
It is pretty expensive in comparison to other options in the market.
Pricing:
It is free for the first year when five users are in their plans.
18. MessageBird.
MessageBird offers a smooth and efficient VoIP solution to engage with customers through any channel through a single platform.
It also allows easy integrations with the business within minutes through a few lines of code.
Best For:
It offers an end-to-end solution to businesses looking for a robust platform to engage with customers via voice, SMS, and WhatsApp.
Key Features:
Scalable APIs: It comes equipped with auto-scaling APIs that allow businesses to scale faster and more efficiently.
No Code Solutions: Leverage its powerful dashboard tool to map customers' journeys that earlier required extensive coding.
Robust Support: It offers 24/7 support with a team from 7 countries.
Flow Builder: Leverage its visual editor to create customized communication flows without writing a single line of code.
Access Controls/Permissions: Control who has access to which data with user-specific permissions.
Pros:
It allows attaching of different numbers from multiple countries in a single flow.
Leverage pre-built Voice and SMS to create communication flows within minutes.
To deliver a highly personalized experience, it creates rich profiles of active channels for all customers.
Avoid the maintenance of multiple connections. Leverage its single API to connect to an evolving communication channel directory easily.
Its chat feature threads multiple conversations of customers together to help your agents gain better context and insights about the customer's issues.
Receive and deliver messages globally.
Cons:
They could focus on customer support and improve it.
Manual approval of PayPal payments takes a lot of time.
Pricing:
It offers a free trial version and a pay-as-you-go model.
19. ZoiPer.
ZoiPer is an intuitive VoIP provider best suited to handle business requirements of all sizes.
Moreover, it offers robust security features and reliable, cost-efficient solutions.
Best For:
ZoiPer is best suited for freelancers and small businesses that don't need an elaborate setup for their business needs.
Key Features:
Free Encryption: It offers end-to-end free encryption for texts, voice calls, and video calls with TLS/SRTP and ZRTP technology.
Compatible: It is highly compatible with Windows, Mac, Linux, Android, iOS, and even browsers.
Unified VoIP Communication: Allows you to leverage a single platform to do all types of communication, including Fax Audio, Video, Instant Messaging, and Presence.
Cheap Calls: Get free calls among ZoiPer users. It also provides the option to choose the preferred provider who offers the most affordable call rates.
Contact Management: You can save contact information and their preferences with ZoiPer.
Pros:
You can combine multiple providers to optimize for the cheapest average call rates.
Leverage automatic provisioning options to restrict the complex interface of the system to ensure all users can use the platform easily.
It consumes low memory and CPU computing power to enable quality calls even on less capable hardware configurations.
Efficiently leverage email plugins and browser extensions to make calls straight from the browser or mail client.
Leverage installed service and remote provisioning to automate preconfigured phones' deployment easily.
Lock functionalities that are not required to cut down on internal support costs.
Cons:
The call button becomes ineffective on multiple occasions.
The free version comes with a limited set of features.
Pricing:
ZoiPer provides a free version. Next, the paid plan with an advanced set of features comes at $44. It also offers a custom plan with customized pricing.
20. Weave.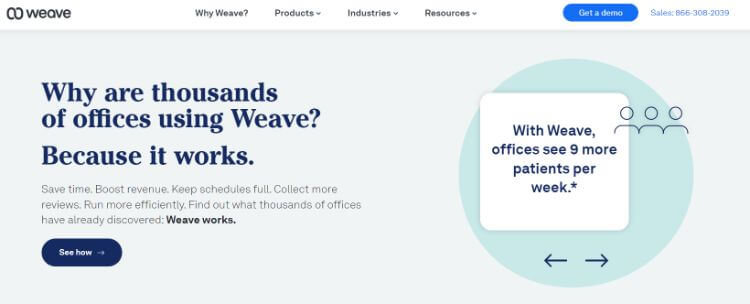 Weave offers unique software and hardware integration that enable businesses to retain customers and achieve sustainable growth through efficient communication.
Moreover, it provides an intuitive interface that is easy to use and keeps you connected with the customers.
Best For:
Weave best suits businesses looking for a capable VoIP provider for their customer support teams.
Key Features:
Weave Phones: It offers a more innovative phone system enabling agents to assist new and existing customers more efficiently through relevant and actionable information on every call.
Dedicated Business Line: Stay more efficient by keeping personal and business messages separate and managing all your calls on the mobile application when you are not in the office.
Customer Insight: Weave provides all the relevant information about the customer even before you start the call. Know information, including the customer's name, overdue balance, task, special notes, and upcoming appointment, on your phone screen when the customer calls you.
Manage Review: Monitor all the reviews posted about your brand on all relevant channels, including Google.
Always-open mobility: With the Weave mobile app, you can access your customer call history anytime and anywhere.
Pros:
Send highly personalized messages quickly to customers for appointment reminders or if you haven't seen them in a while.
Automatically send birthday greetings, customized appointment reminders, payment schedule reminders, and an invite to leave a review.
Alert or notify your colleague to quickly take on customer queries or prepare for upcoming questions in advance.
Offer secure and smooth payment processing by immediately sending pay links to the clients.
Cons:
Automated phone call features are absent.
Pricing:
It provides a free demo. However, the pricing plans are available on request only.
21. Unified Communications Manager By Cisco.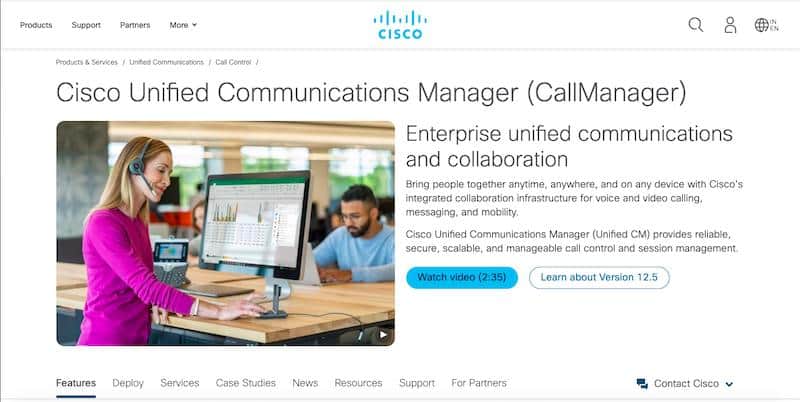 Cisco is one of the pioneers in delivering VoIP services to business enterprises.
Its Unified Communications Manager can bring people together anywhere, anytime, and on any device.
Moreover, it leverages its robust integrated collaboration to facilitate video and voice calling, mobility, and text messages.
Best For:
Unified Communications Manager By Cisco is best suited for large enterprises requiring robust, highly secure, and efficient VoIP software solutions without budget constraints.
Key Features:
Highly Secure: It supports the latest authentication, communication, and encryption protocols. It offers compliance with significant industry certifications and secures data and communications for customers in manufacturing, retail, financial services, and government at the global level.
CADI Services: Cisco Custom Application and Development Integration (CADI) services help you achieve highly customized and optimized third-party integration.
Managed Services: Cisco can help monitor your applications and devices to keep them compliant regularly.
Enhanced Mobility: It has robust features that allow workers to work efficiently from remote and mobile locations.
Data Integration: Cisco provides support for data integration within the enterprise and between different environments.
Pros:
Offers the best-in-class security and reliability.
It provides support for up to 80,000 users to meet the need of large enterprises.
Cisco offers robust and efficient integration with third-party vendors.
You can leverage the VoIP service as a private cloud or publicly hosted service.
It provides modern solutions for unified communications for greater security and efficiency.
Cons:
It requires a pretty steep learning curve to leverage all its features.
It is a costly proposition for small-scale businesses.
Pricing:
It offers customized pricing plans based on the requirements of a business.
22. JustCall.
JustCall is a decent option if you're looking for customer service and a feature-packed VoIP service that works great for SMBs.
Whether you're looking to set up a contact center for sales or support, they've got a range of features that can help you automate a large chunk of your efforts.
You can do much more with 100+ integrations with your favorite business tools, power dialer, call routing, automatic call distribution, IVR, click-to-call, and more.
Best For:
For growing businesses needing customer support and an easy-to-use interface.
They're pretty affordable as well at just $25 per user.
Key Features:
Crystal-clear & reliable call quality
Predictive Dialer
Native CRM Integration
Autodialer
Automatic Call Logging
Click to Call & Text
Smart IVR & Call Routing
Number Porting
Local and toll-free numbers
Voicemail Drop
Call Disposition Codes
SMS workflows
Pros:
Great Support: 6K+ customers worldwide, including Walmart, Alibaba & Pipedrive, use JustCall
Deep Native Integrations: They offer native integration with 100+ CRMs, Helpdesk, and business tools.
Autodialer & Automation: This can help you save up to 12 hours per rep weekly.
Conversation intelligence (Premium Add-on): This can be bundled with VoIP to determine what's working in your sales pitch and what's not.
Analytics & Reporting: Allows for mentorship at scale with call analytics, recordings & more
Pricing:
Plans start as low as $25 per month. They also offer a 70% discount on your first month's subscription.
What Are VoIP Providers?
VoIP stands for Voice over Internet Protocol and is a technology that helps you transmit phone calls over an internet connection.
Voice over IP sends voice data in packets through IPs (Internet Protocols) that are more secure, efficient, and reliable than traditional phone lines or analog connections.
VoIP providers provide voice-over IP services to their customers with SaaS solutions.
This technology allows users to call any number or phone line worldwide and send text messages, alerts, emails, and much more.
VoIP also allows sales and support teams to become more resourceful and productive through various calling features, including easy collaboration, mobile phone access, VoIP caller ID, customer insights, and call analytics.
With the focus on unified communications and digital transformation happening rapidly, organizations are embracing VoIP over traditional telephony to become more secure and data-driven.
Also, understanding the difference between VoIP and unified communications as a service can serve a business well.
Benefits Of Using A VOIP Provider
Here are the main benefits of using a VoIP provider:
Flexibility: VOIP providers offer many features, such as call forwarding, conference calling, and voicemail options. You can easily customize your VoIP line to fit your specific needs, so you can choose whatever setup works best for you.
Cost Savings: A VOIP provider typically costs less than traditional landline phone services, especially when considering long-distance or international calls. These savings make it an excellent option for businesses that must communicate with clients and customers from different parts of the world.
Scalability: VoIP technology makes it much easier to scale up or down in lines and usage without investing in physical hardware or changing contracts with a provider. This scalability makes VoIP an ideal solution for businesses that experience frequent changes in their communication needs.
Mobility: With a VOIP service, you can make and receive calls from anywhere you have an internet connection, including your home or office, and on the go. You can even use your computer, tablet, or smartphone to access your VoIP line, so you'll never miss a call, no matter where you are.
Integration with Other Software Solutions: Many VOIP providers offer integration with other software solutions, such as CRM systems and cloud storage services, allowing employees to quickly access customer information while on a call or share documents without leaving their desks. These integrations make collaboration much easier and more efficient than ever before.
Quality: VOIP technology offers clear calls that rival traditional phone services, ensuring your customers and clients always hear you. Additionally, VoIP providers often offer advanced features such as call recording and video conferencing to improve the quality of your business conversations.
Simplicity: Setting up a VOIP line is much easier than traditional telephone lines, so you can get started quickly without needing to hire an IT specialist or engineer. Plus, many VOIP providers offer easy-to-use web portals for managing your account settings and reviewing reports on usage data, helping keep things organized and efficient.
With so many benefits to using a VOIP provider, it's no wonder they've become the preferred communication solution for businesses of all sizes.
What Should You Look for in a VoIP Provider?
Here are a few basic things that you must look for in a capable VoIP provider:
CRM Integrations – VoIP integrations with CRM software allow businesses to drive sales efficiently while achieving higher customer satisfaction.
Mobile Application – iOS and Android applications will enable your agents to stay connected on the go and never miss a call.
Robust Customer Support – Look for a VoIP provider that offers full customer support setup and after-sales to help you keep the system running efficiently.
Analytics and Insights – Having access to customer insights and call data analytics can help you enhance call support and chalk out a better sales strategy that is data-driven.
Customization and Flexible Plans – The VoIP provider must offer custom plans that cater to the needs of your business. Ideally, they should also offer flexible billing options.
Making The Most Of A VOIP Provider
Making the most of a VOIP provider can be a great way to save money on communication costs.
Take advantage of bundled packages which typically include several services for one monthly fee – take care to compare multiple options before signing any contracts, though.
To ensure optimal quality of calls, it's essential to have an adequate internet connection. A minimum download speed of 2 Mbps is recommended for a good VOIP experience.
Consider using a headset with a microphone specifically designed for business use – this can help reduce background noise and echo problems affecting the audio quality during calls.
Also, make sure they are compatible with your VoIP provider's system before purchasing.
If you make international or long-distance calls frequently, it may be advantageous to look into plans that offer reduced rates on such calls.
Most providers also offer add-ons like voicemail transcription, call recording, and automated attendants – these features can be especially helpful in managing customer service-related inquiries.
Finally, be aware of any additional fees associated with your plan – such expenses can add up quickly and may not be worth it in the long run.
Making the most of your VOIP provider is a great way to ensure that your communication needs are met without breaking the bank.
With proper research, planning, and careful budgeting, you can ensure you're getting the best possible service for your money.
Best VOIP Providers – FAQ
How much does VoIP cost?
The cost for VoIP depends entirely on how many users you will need in your account. Most plans for 1-4 users are $30-40 per user per month and go down to $15-20 per user per month for more users.
What is the difference between VoIP and a landline?
A landline telephone is a wired phone that connects one phone to the public telephone switch network through physical phone lines (known as POTS or PSTN). On the other hand, VoIP uses internet protocols (IP) to make calls over the Internet.
Which is the cheapest VoIP provider?
The cheapest VoIP providers on the market today are Google Voice ($0/month), Phone.com ($9.99), Ringcentral ($19.99), and Grasshopper ($26).
Can you use VoIP without a computer?
Yes, you can use VoIP on your phone without a computer. One can use an ATA as an adapter that bridges your analog phone and digital network.
Executive Summary.
That wraps up my list of the best VoIP providers on the market today.
Overall, based on their features and pricing, my top picks are:
However, the best option for you will depend on your business needs.
Investing in a credible and big-name VoIP service provider like Microsoft VoIP Teams, Vonage, or Cisco could make sense if you are a large corporation with thousands of employees.
But if you are an individual or a small business, you might consider options like Bitrix24, MessageBird, and ZoiPer.
A great thing about these VoIP providers is that they come with a free version and offer substantial upgrades at small prices.
For mid-sized businesses, JustCall, 3CX, and Freshcaller are more suitable options since they offer mid-range pricing and come with all the relevant features.
Which one of these VoIP providers are you planning to use? Let me know in the comment section below.
Recommended Reading on AdamEnfroy.com: If you're looking for other business software solutions, check out my guides to the best project management software, best payroll software, and best accounting software to use this year.
Disclosure: I may receive affiliate compensation for some of the links below at no cost to you if you decide to purchase a paid plan. You can read our affiliate disclosure in our privacy policy. This site is not intending to provide financial advice. This is for entertainment only.
---
Last Updated on February 20, 2023 by Adam Enfroy