10 Best Warehouse Management Systems of 2023 (Ranked)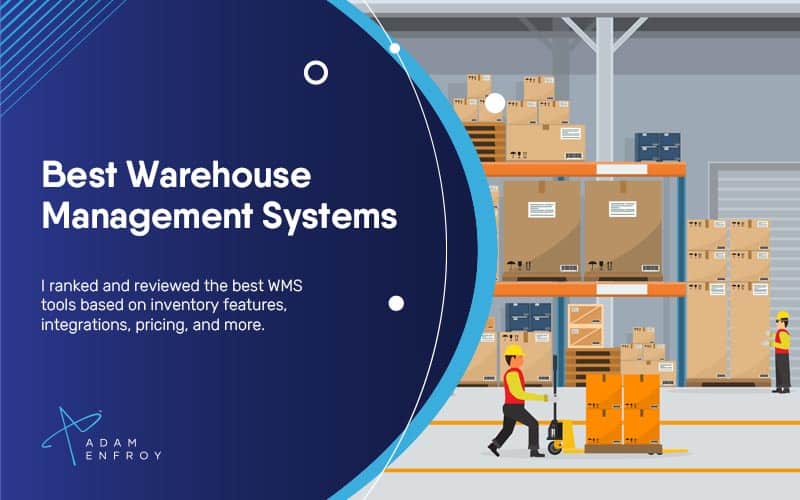 Running a successful e-commerce business revolves around smooth supply chain management.
And managing your warehouse is integral to this process.
These software solutions sync with your ecommerce platform and help address typical problems such as inventory management, order fulfillment, and removing process redundancy.
I ranked and reviewed the best warehouse management systems based on logistics, customer management, order tracking, pricing, and more.
I also provide my best picks for small business, the top choices for enterprise brands, and the best budget options.
Let's get started.
What is the Best Warehouse Management System?
Here are my top picks for the best warehouse management system to use this year.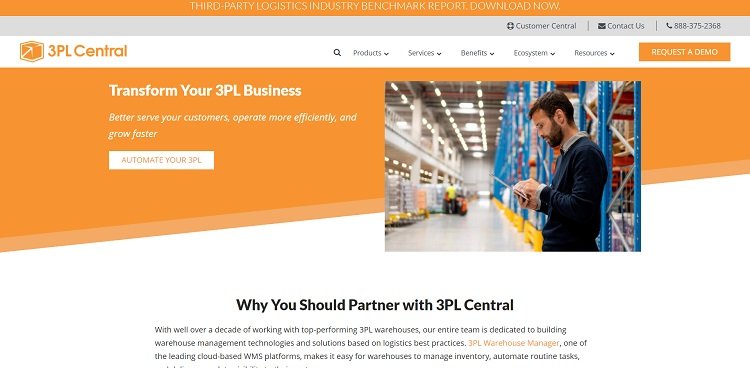 Entirely cloud-based, the 3PL Warehouse Manager works on a SaaS model. The primary focus of this tool is on handling and managing third-party logistics. It allows multiple-customer management, along with billing and real-time data integration.
Key Features:
Integration with standard warehouse management technologies
Radio frequency identification (RFID), barcode scanners, and EDI
Highly-scalable
Complete inventory management capabilities
Focus on customer satisfaction
Further, the user-interface is highly intuitive, and the user module allows easy addition and removal of products and customers. Using robotic process automation, the system provides the latest information for improving business profits.
It can also integrate with accounting systems such as QuickBooks, ensuring every department is in-sync and has the latest data.
To start with 3PL Warehouse Manager, you can request a demo here.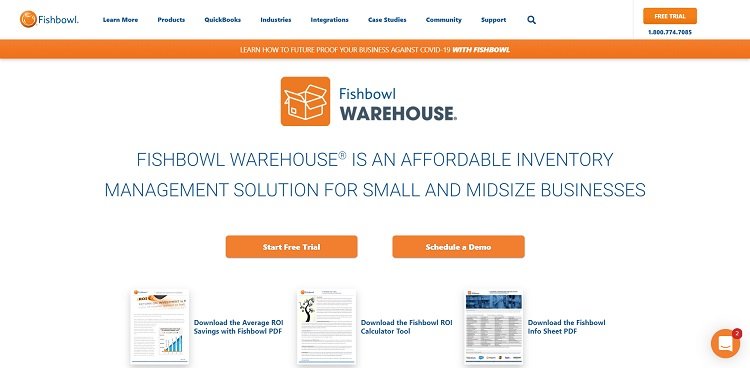 Fishbowl Warehouse is the best warehouse management software for small to medium businesses. It appears at first glance to be just another inventory management system. But on looking closer, you'll find it has all the SCM and warehouse management features your business might need.
Key Features:
User-friendly interface
Affordable pricing plans
Complete inventory tracking and control
Multi-location warehouse trackability
Easy integrations with third-party apps
What's more, it even allows you to study warehouse specific trends and glean actionable insights from the same. It comes with USPS integration, which makes fulfilling orders easy.
The tool includes features such as advanced tracking, supports multi-currency payments, and unlimited billing options.
Similar to 3PL Warehouse Manager, Fishbowl can be integrated with QuickBooks. Once integrated, the two can work together to reflect accurate inventory levels across warehousing and accounting departments.
That said, while Fishbowl is one of my top picks, it does come with a few drawbacks. For example, the software doesn't provide support for cross-docking. Despite this, it provides excellent value for money and comes with custom yearly and monthly plans.
To get a feel for the software, you can opt for the 14-day free trial of Fishbowl here.
For businesses that deal in perishable goods, Oracle's Netsuite WMS is the ideal warehouse management software. It integrates shelf-life and expiration tracking, ensuring that products reach the consumers while they're still fresh.
Key Features:
Smooth logistics management
Production management facilities
Capability for financial management
Policy set-up for materials handling
Allows defining product picking and putaway strategies
The Netsuite WMS is also useful in managing distribution channels utilizing RFID. Your business can use it to customize warehousing tasks and take advantage of features such as cartonization, real-time inventory updates, and direct shipping-system integration. It can also integrate with multiple third-party plugins.
The only downside to this WMS software is the cost, which can be prohibitive for smaller businesses. But considering the capabilities of the tool, I guess I really shouldn't be complaining.
In case you want a free tour of the product, please click here.
Yet another product from Oracle, this tool has the largest set of options for labor management. Using it, you can easily measure the time required for completing warehouse tasks. It also has options for tracking efficiency on a workgroup and area levels and even allows tracking by process types.
Key Features:
Multi-level tracking facilities
Detailed insights for all warehousing tasks
Complete shipment tracking across the entire supply chain
Automating sales orders
ERP capabilities
All the above options provide you with deeper insights into all warehousing tasks and allow employees to set achievable material handling goals. In short, this is a warehouse management system that makes for complete inventory management and asset tracking.
At its core, this tool is a complete ERP system with warehouse management features. Using it, your business can track shipments across the entire supply chain, automate sales order fulfillment, and much more.
However, like the previous item on the list, this one too is a rather pricey option. Perhaps it's for this reason that only businesses with massive numbers of employees and revenue opt for these solutions.
To start with Oracle Warehouse Management Cloud, you can use this benefits calculator here.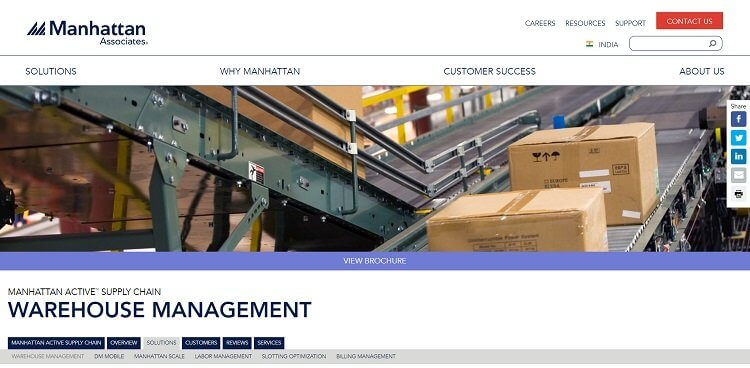 Manhattan WMS is a flexible and powerful 3PL warehouse management software with multiple fulfillment methods. It works both as a warehousing solution and an inventory management solution.
Key Features:
Allows multi-carrier deliveries
Complete supply chain management features
Support for cross docking
Streamlined order management
On-premise as well as cloud deployment
The tool lets you arrange multi-carrier deliveries, thus providing greater freedom in terms of SCM. As a result, you can opt to have your products shipped by different logistics operators, which ultimately helps optimize the supply chain.
Manhattan WMS has a significant advantage over Fishbowl Warehouse in that it provides support for cross-docking. So, if you need to ship items immediately, you can use the software to facilitate the transfer of cargo between vehicles.
I was also impressed by its order streaming feature, which prioritizes shipments that have fast turnaround times.
Apart from order management features, Manhattan WMS has functionality for optimal warehouse layouts. It's also mobile-friendly and uses artificially intelligent algorithms and machine learning principles for streamlining the ordering process. Further, it can be deployed both on-premise and in the cloud.
Through its multiple functions, Manhattan WMS enhances goods flow and improves information sharing. It also takes care of shipping and receiving, increases backorder processing speeds, and takes care of customer satisfaction.
All this ultimately results in your business's financial development.
Aptean Catalyst WMS has been specifically designed to manage every aspect of warehouse management. From receiving to replenishment, Catalyst provides dedicated features for order fulfillment.
Key Features:
Modular design
Fast integration with existing business applications
Designed for a rule-based, event driven workflow
Fast scalability
Complete labor management facilities
It has separate functions for key warehouse management areas such as planning routes dynamically, managing transport dock planning, and slotting. Catalyst even has capabilities for supplier quality tracking, among other things.
For every process Catalyst supports, it works to automate tasks that are monotonous and time-consuming. Such automation allows warehouse managers to effectively and efficiently manage, monitor, and allocate human and warehouse resources.
The software has served many industries to date, including retail, automotive, and wholesale distribution.
By driving measurable transformation throughout the warehouse management process, Catalyst allows you to improve employee productivity. And this helps you drive greater customer satisfaction in the process.
The only aspect where I found the software to be lacking is in terms of data export features. With better data export and reporting features, I'm sure Catalyst can retain its place among the top warehouse management systems of today.
Cin7 is a warehouse and inventory management system that's entirely cloud-based. The software combines warehouse management capabilities with retail management, third-party logistics, and even EDI software into one comprehensive package.
E-commerce stores, as well as brick-and-mortar retail outlets, can use this tool to track inventory distributed across multiple warehouses. The feature helps to avoid common warehouse inventory problems such as stock-outs or overstocking.
Key Features:
Complete Inventory tracking
Real-time PoS tracking and integration
Capabilities for running promotional campaigns
Easy integration with third-party apps
Follows the omnichannel approach
As a result, managers can easily calculate product costs and sales prices. What's more, sales teams can even use Point-of-Sale (PoS) terminals to keep track of stocks in real-time.
The PoS feature also allows business owners to run promotional campaigns and provide customers with attractive gifts and discounts.
Apart from working as a complete inventory and warehouse management system, Cin7 can also integrate with over 100 third-party applications. So, it lets you have access to all business features you need under one single platform. It's a useful tool for online shop owners and can be used with most e-commerce systems.
Unlike most inventory management software, which caters to single-locations or channels, Cin7 adopts the omnichannel approach from the very start. This allows your business to sell across multiple channels and saves you the cost of having to invest in costly upgrades.
The only downside to this otherwise excellent tool is that it has a rather steep learning curve. However, once you've invested some time to learn it, I'm sure you'll be able to use it to boost your business and bottom line.
To get started with Cin7 WMS, you can opt for any of the pricing plans as listed below:
Ecommerce Plan at $295 per month
Wholesale Plan at $295 per month
Multichannel Plan at $450 per month
PLUS upgrades for each plan at an extra $200 per month
You can also request a free demo here.
SAP is a well-known name in the enterprise resource planning industry, and powers many major US corporations. Naturally, the SAP warehouse management system has a lot to live up to.
The SAP WMS provides a modern and highly flexible application that is designed to simplify complex warehouse processes.
Key Features:
Multi-faceted supply chain management
Real-time reporting
Total warehouse management capability
Storage and internal process control
Cross-functional analytics support
The system integrates multiple aspects of supply chain management to deliver greater control and visibility over warehouse processes.
It also improves process transparency and functionality with multiple features, such as inventory tracking, cross-docking, and real-time reports.
The system modules can even handle complex warehouse management operations such as labor management, yard management, kitting, and much more. SAP's Warehouse Management Software lets you take complete control of your warehouse operations.
Click here to get a free demo of SAP warehouse management.
SkuVault is an inventory management software that you can use to manage your warehouse operations efficiently. It's an entirely cloud-based tool that focuses on e-commerce operations and is ideal for small to medium businesses.
Key Features:
Real-time data monitoring and synchronization
Barcode management facilities
Smooth integration with online marketplaces
Reduction of errors
Completely paperless processing
One of the features that set SkuVault apart from the rest is the integrated quality-control mechanism that enables error-free order fulfillment processes.
It even comes with paperless processing, cycle counting, and reporting. And due to its cloud-based nature, you can access the tool from mobile devices.
SkuVault offers you effortless business scalability with its four-tiered pricing plan, as explained below:
Growth Plan at $299 per month ($269 when billed annually)
Pro Plan at $449 per month ($409 when billed annually)
Enterprise Plan at $899 per month ($809 when billed annually)
Custom plans on request
To schedule a personal demo, please click here.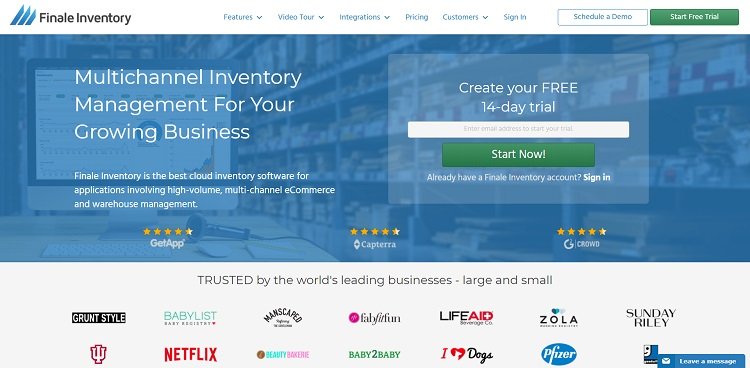 Finale Inventory is another cloud-based software application that combines ease-of-use with smooth scalability to cater to any fast-growing business's demands.
Using this tool, you stand to easily handle all stock movements, ranging from the point of purchase to the point of sale
Key Features:
Extreme ease-of-use
Smooth handling of stock
Easy integration with online tools and marketplaces
Bulk order processing
Barcode tracking facilities
It integrates with other essential business software, such as QuickBooks and ShipStation, thus providing a complete solution for multi-channel retailers.
Using this tool, you can also manage inventory and stock across multiple online marketplaces such as Amazon and eBay.
Finale can provide support for over 2 million products for high volume customers and process half a million orders per month. It also provides a comprehensive barcode solution straight out of the box.
And you get all this at highly affordable prices, as listed below:
Bronze at $99 per month
Silver at $275 per month
Gold at $449 per month
Platinum at $649 per month
Custom plans on call
To get a feel for the tool, you can opt for the 14-day free trial here.
What is a Warehouse Management System(WMS)?
A warehouse management system refers to software tools designed to optimize warehouse operations in their entirety. WMS software helps to control and manage the everyday operations of a warehouse.
Everything is taken care of by the WMS software, from inventory tracking, order pickups, and shipping to processing returns. Such tools can come as part of an ERP suite or can be available as standalone software.
Every WMS software works differently, but the essential underlying functions are similar and include common operations. Such software includes capabilities for processing and tracking shipments, barcode and RFID-based inventory management, and supporting the warehouse staff.
In short, warehouse management software helps in the optimization of the entire journey from distribution centers to consumers in real-time. Also, most of these tools allow detailed customization to fit the needs of your business.
Using WMS software helps to reduce errors that can occur in warehousing, shipping, and returns processing. Taken together, all these functions can allow your business to fulfill orders faster and track products more efficiently in the warehouse environment.
Any WMS software's ultimate goal is to streamline warehouse workflows through effective automation and inventory control. WMS solutions help create paperless warehouse processes that make way for automatic and optimal picking, putaway, and product shipping.
Due to the extreme usefulness provided by WMS software, the industry is slated to grow to over $5 billion by 2025. Considering that's a 16% CAGR, I'd say these are massive levels of growth.
What Features Do You Need in a Warehouse Management System?
Warehouse management has multiple facets, such as supply chain management, inventory management, and transportation management. Thankfully, warehouse management systems provide a single-umbrella solution to all these problems.
Naturally, not all these software solutions are created equal and have different features and capabilities.
In the following sections, I cover some of the essential features you should look for in a warehouse management system.
1. Inbound and Outbound Inventory Flow Management
In any warehousing process, the first step involves handling the vehicles that are involved in bringing in inventory and taking out orders. WMS software should have manifest tools that allow data entry into inventory systems through barcode scanning and RFID tagging.
A WMS system can also include functionality for following a product through its entire life cycle.
For instance, pallet estimation features allow the smooth movement of pallets, whereas packing and shipping features enable the fast movement of goods. Other useful features may include kitting, cross-docking, and cycle counting.
2. Smooth Integrations with ERP and CRM Systems
Integration of WMS with ERP systems and CRM software helps to speed up real-time data tracking across organizational departments. It makes sure that all information related to orders, inventory, and stock is stored in a single location from where all departments can get access to up-to-date data.
These integrations have several benefits. For example, if your sales teams aren't well versed with the warehouse management system, they cannot interact with customers and answer their questions. In this situation, a WMS tool that interacts with your CRM can help expedite these resolutions.
3. Real-Time Tracking and Analysis
Real-time tracking and analysis of warehouse operations is a significant asset for any business. Especially when it comes to inventory maintenance, the business intelligence gleaned from warehouse operations can provide valuable insights.
Some WMS tools also include data filtration capabilities for analyzing KPIs and improving business performance. Tools for workflow management help identify the goings-on in a warehouse and help draw attention to where it's needed the most. This data allows decision-makers to understand where business processes need to be changed.
I've also seen several WMS vendors provide multi-location tracking facilities to make multi-warehouse operations easier. They might even support multiple languages, international taxation, and accounting to facilitate the movement of goods across borders.
Along with this, support for foreign currency management and conversion is also essential.
4. Cloud-Based Deployment
In today's world, most major corporations are opting for remote work environments. As a result, on-premises WMS software is no longer viable. Today, employees need access to data on the go, and that too on mobile devices that can be used anytime, anywhere.
That's why the WMS you select should be cloud-based and also have a mobile-friendly interface for smooth operation on handheld devices. This way, managers will be able to use it to track warehouse operations on the go, enabling seamless operations.
5. Secure Backups
Natural and man-made calamities such as floods, fires, and cyber-attacks can strike at any moment. To ensure uninterrupted warehouse operations, your WMS should take automatic backups of warehouse data. Regular backups ensure data safety, and real-time visibility of warehouse operations is never compromised.
6. Paperless Inventory Transfer
Paper-based transactions are no longer sustainable in today's environmentally conscious business ecosystem. A good WMS solution should eliminate all forms of paper-based processing and offer paperless inventory transfer options that save time as well as the environment.
7. Support for Third-Party Logistics
As your business grows and warehousing operations expand, you may have to bring third-party logistics providers to keep operations running smoothly. These providers take some of the burdens off of businesses by taking care of all operations at multiple warehouse locations.
For efficiently interacting with third-party logistics providers, your WMS needs specific features such as truck trackers and tools for transport analysis. Features that support 3PL enable increased efficiency of your distributed warehouse operations.
8. Labor-Management Support
Labor management plays a critical part in any warehouse operation, and your WMS should include provisions for employee tracking and performance management.
Easy log-in and log-out timestamps, GPS-based on-road tracking, and hours tracking are some of the features you need to look out for.
9. Intuitive User Interface
No matter the capabilities of your WMS, unless it has a user-friendly interface, employees are wasting valuable time learning its ins and outs. A WMS with an intuitive interface reduces training time and costs and makes the software much easier to adopt.
10. Quick Support Available
Finally, before settling on a WMS, make sure that the vendor offers a multi-channel support mechanism. Email, phone, and live chat support are some of the many features you need to look for in the tool you select.
By keeping the above features in mind when selecting a WMS, you'll be able to settle on one that's precisely suitable for your business.
What Are the Benefits Of A Warehouse Management System?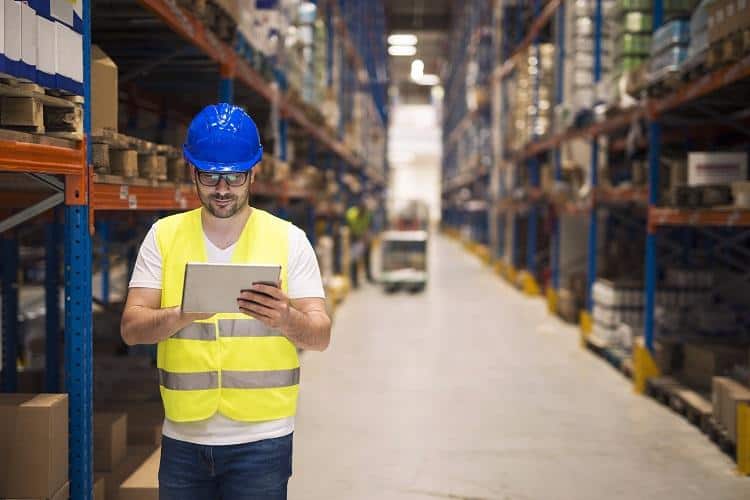 In a nutshell, the benefits of using a warehouse management system can seem obvious: it helps optimize the warehouse operations of a business. On closer inspection, however, you'll find that there are many other benefits of using such software.
Based on your business's unique requirements and the features of the specific tool you're using, WMS benefits will vary. I've highlighted some of the expected benefits that your business can glean from using the right WMS in the following sections.
1. Lowered Operating Expenses
A WMS that's designed thoughtfully can help reduce warehouse operating expenses in multiple ways. For starters, such a system can help optimize warehouse space and labor, which in turn works to reduce resource and time wastage.
WMS software can also work to determine equipment, products, and material placements for efficient workflows.
Advanced WMS software also incorporates features such as warehouse layout simulators, which helps users create potential floor plans. Through this feature, you can create a virtual layout of all warehouse equipment for the most efficient use.
WMS tools also support LIFO and FIFO principles, which provides warehouse managers the required flexibility to operate their warehouses.
For instance, LIFO ensures better space utilization, while FIFO benefits the fast-moving of perishable goods. The ultimate result of all these features is that your warehouse can run at optimal efficiency, leading to lowered costs.
2. Fewer Mistakes
The next significant benefit of using WMS software is that it reduces mistakes. Most WMS tools support features such as barcode scanning and RFID tracking.
These technologies allow warehouse staff to locate, pick, and move items across the supply chain without making human errors, which are all too common.
Further, in case of an incorrect product allocation or scanning, the WMS automatically alerts the person concerned. Such automatic detection and correction of errors help to ensure that customers receive the right product at the right time.
3. Rapid Inventory Turnover
Both the above benefits of using a WMS ultimately lead to this one: faster and more efficient movement of inventory. Manual processes that are slow and inherently error-prone can lead to problems such as low or excess stock, which in turn leads to backorders and reduced cash flows.
In contrast, the use of WMS software helps to enhance inventory management by leaps and bounds.
Through controlled inventory movement and accurate records, WMSs work to reduce lead times, curtail the need for safety stock, and create an environment of rapid inventory turnover.
4. Efficient Labor Allocation and Management
An intelligent WMS tool can take multiple factors such as workers' skill levels, equipment availability, and proximity to stock into consideration while assigning tasks.
As a result, these systems can allocate warehouse tasks to personnel more efficiently than is possible with manual intervention.
What's more, warehouse management software can reduce warehouse travel times, which is an essential requirement for efficient labor utilization.
These systems can use labor forecasting techniques to design effective job allocation schedules. Through practical work assignment and management, WMS tools help improve labor utilization.
5. Better Inventory Visibility
When managing a warehouse, it's essential to maintain proper inventory visibility; this is another aspect where a WMS can be useful. Using WMS tools, you can gain real-time inventory data through RFID tagging and barcoding. All this helps to log products as and when they move in and out of the warehouse.
Real-time inventory visibility helps in demand forecasting, which delivers valuable insights into which products are more in demand during a specific time. Such forecasts can also help decision-makers understand which are the products that they should invest in more.
Yet another aspect where this enhanced inventory traceability can be beneficial is in the case of product returns. If a returned product is faulty, then the serial number on the item can help trace its original lot number.
The entire batch can then be tested to understand whether it has similar defects or not, which is essential to initiate recalls.
6. Improved Warehouse Security
Warehouse management systems also contribute to improving warehouse security. Most WMS tools provide employees with individual user accounts, enhancing accountability by creating an audit trail connecting employees to transactions. In turn, this leads to a lesser risk of theft and related mishaps.
Such audit trails also enable employees to identify and implement better security practices. At the same time, account-based and role-based employee management help to prevent unauthorized data and location access.
By limiting and segmenting important business information, you stand to reduce the chances of business intelligence leaks.
7. Improved Billing
Most modern WMS software either has billing and invoicing capabilities integrated within the system or can interface with a third-party solution for the purpose. Such functionality lets your business achieve billing based on individual activities.
It also facilitates effective tracking of all warehouse activities to suppliers and generates the appropriate fees. WMS tools can also connect to eCommerce marketplaces and even process online payments.
8. Better Customer and Supplier Relations
Finally, the ultimate advantage that you get from the above benefits is a better relationship with customers and business partners. Through reduced errors and inaccuracies, optimized tracking of shipments, and accurate delivery forecasts, a WMS works to deliver better service to all parties concerned.
Wrap Up
With that, it's time for me to wrap up my list of the best warehouse management systems.
I've tried to mention the starting prices for the services wherever available. In most cases, I found that WMS vendors prefer to keep prices strictly on a need-to-know basis. So, you may have to request a personalized quote.
For small to medium businesses, I suggest going with Fishbowl Warehouse or 3PL Warehouse Manager.
If you're a larger enterprise, you should go with an Oracle or SAP product.
Finally, if a budget option is what you're looking for, Finale Inventory can be a good choice.
Ultimately, it all depends on your business needs, budget, and the level of scalability you're looking to achieve. All this should drive your decision to select the best warehouse management system.
What warehouse management software are you planning to use? Let me know in the comments below.
Disclosure: I may receive affiliate compensation for some of the links below at no cost to you if you decide to purchase a paid plan. You can read our affiliate disclosure in our privacy policy. This site is not intending to provide financial advice. This is for entertainment only.