Bluehost vs HostGator in 2023: Which Web Host is Right for You?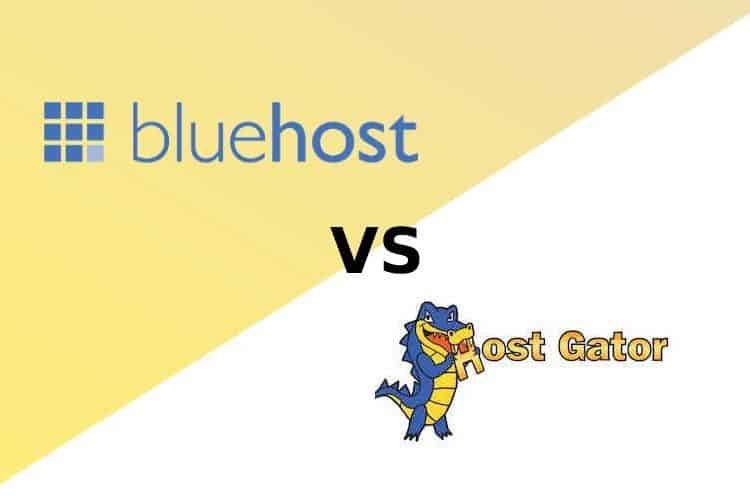 Choosing the right web host for your brand new website can be nerve-wracking. And when it comes to choosing between two web hosting giants like Bluehost vs HostGator, you have to do your homework.
Bluehost and HostGator are two of the most credible web hosts in the world. Both owned by Endurance International (EIG).
Both web hosts offer diversified services including domain names, a variety of hosting plans, and dedicated servers. Since they share so many features, it becomes difficult to make the correct choice and decide which one is the right fit for you.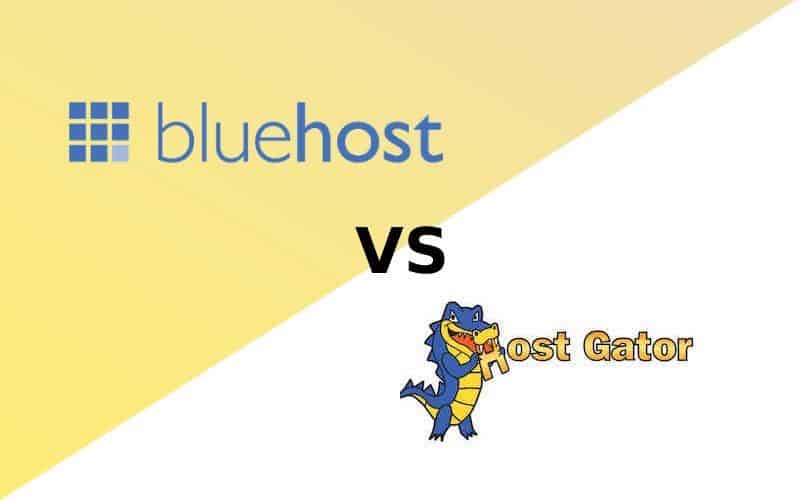 If you would like to get to grips with these two web hosting giants, then you are in the right place.
I have broken down every aspect of Bluehost and HostGator to help you decide on the perfect hosting service for your new website.
Disclaimer: This article contains affiliate links that I receive a small commission for at no cost to you. You can read my full affiliate disclosure in my privacy policy in the footer.
Let's get started.
BlueHost vs HostGator Breakdown:
Performance Review
Uptime Review
Ease of Use
Security Measures
WordPress Integration
VPS Hosting Review
Which web hosting service is right for the beginners?
Hosting Plans, Pricing, and Features Review
cPanel Review
Customer Service & Support
Bluehost vs HostGator – Performance.
While Bluehost and HostGator both are known for their great speed and solid performance, it is still worthy to see which web host performs better than the other.
For starters, both HostGator and Bluehost are dependent on a solid-state drive (SSD) for all their servers.
SSDs are much more dependable, faster, and reliable with shock damage than regular hard disk drives. They use a much more updated technology that allows it to function without moving any parts hence contributing to its performance, specifically speed and reliability.
So, all in all, if your website is hosted on an SSD-based server, it will have a great uptime and will respond much faster. The chances of hardware failure are also scant in such servers.
Having said that, SSD based web hosting is not exactly a trademark of Bluehost and HostGator. In fact, they are becoming pretty standard in the web hosting industry.
To measure the performance using a different yardstick, BlueHost offers a little something extra in the CPU department. Its CPU throttling (Dynamic frequency scaling) feature has been a hit among users. When one individual user is consuming too many resources in a shared hosting system, the CPU throttling protects all the other users by shutting down the website that is using excessive resources.
WINNER: Bluehost! If we are to compare both the web hosts in terms of performance, they both are top-of-the-line. However, Bluehost gets an edge due to its use of the latest technologies like Dynamic frequency scaling to ensure better performance.
To get started with Bluehost and get 50% off your hosting plan, use my link below:
Uptime Guarantees.
Your website should be available to your customers at all times — there are no two ways about it.
Even a few minutes of downtime can impinge drastically on your website and your business, which is why I give so much importance to the uptime.
According to Forbes, Amazon's server went down for 30 minutes in 2013 and as a result, the company lost $66,240 per minute. You can avoid such losses by choosing your web host carefully.
When it comes to Bluehost vs HostGator, both the web hosting giants don't cut any corners and provide an uptime that is close to 100% uptime.
HostGator claims to have an uptime of 99.9%. A great thing is that they don't shy away from compensation their users in case they fail to fulfill this promise. If you witness a low uptime, then you will get back the credit for that month.
However, as you can see in their Terms of Service, the approval of the credit will be done after the legitimate justification of downtime.
On the other hand, Bluehost does not make any claim when it comes to their uptime.
In its network/server uptime agreement, it is only mentioned that most of the issues related to uptime are resolved in approximately 15 minutes. It is further mentioned that in cases when the server faces extreme issues, it might take more than 15 minutes to resolve.
WINNER: HostGator! According to online reviews, Bluehost and HostGator provide a great uptime of over 99.8%. However, HostGator wins this round due to its guaranteed uptime policy and credit system.
Get started with HostGator and get 30-60% off your hosting plan by using my special link below:
Hosting Features and Ease of Use.
After you dive into what web hosting is and fully understand how it works, you should know exactly what additional features your host should provide.
Here are some of the features that will help you make the final decision:
Bluehost Features
You get a free domain name and an SSL certificate along with a hosting pack.
A user-friendly control panel to help you easily manage your website.
It allows one-click installation of a variety of common content management systems (CMS) tools such as WordPress, Joomla, and more.
Offers a customized website builder to alleviate the stress of coding.
Unlimited Bandwidth with all the hosting packages.
HostGator Features
One-click installation of all the popular CMS.
Unlimited Bandwidth with all the hosting packages.
A free website builder that offers multiple customizable templates and themes.
HostGator allows you to relocate your website from your old hosting server for free.
Looking at these above-mentioned features, it is safe to say that both the web hosting service providers share a variety of features. While HostGator offers you free of cost migration, Bluehost offers a free domain and SSL certificate.
That's why it would be safe to say that in terms of additional features, both Bluehost and HostGator are equally impressive.
WINNER: IT'S A DRAW!
Security Measures.
Both Bluehost and HostGator are big names in this industry. Naturally, they spend big bucks to make sure their hosting services are safe and secure. From Distributed Denial of Service (DDoS) attacks to automatic backups, they provide all the measures to avoid security issues and breach in data.
They are also packed with reliable floor protection on network level in case of attacks in their data centers.
Apart from this, HostGator claims to have some more stringent security precautions, however, they claim that those security measures are confidential.
Bluehost, on the other hand, outsource their security protection from a third party source, namely Cloudflare. Cloudflare is a big name the content delivery network (CDN) space and I use them on my site. Bluehost offers some impressive security measures including password protected directories, protection against spam, and so forth.
Moreover, Bluehost offers a free Secure Sockets Layer (SSL) certificate, something that you have to pay for in HostGator. Bluehost also takes daily backups and malware scans, which again is a paid protection measure in HostGator. HostGator does offer free automatic malware removal and backup service, but only once in a week or at any random days.
Have a look at HostGator's backup policy:
WINNER: Bluehost! Although both the web hosting services offer an impressive set of security measures, Bluehost has a slight edge over HostGator due to free SSL and free daily malware scans and backups.
To get started with Bluehost and get 50% off your hosting plan, use my link below:
Managed WordPress Hosting.
WordPress is the most popular CMS on the internet today, powering over 75 million websites.
A vast majority of websites are powered by WordPress. And for that reason, it is important to search for a web hosting service that offers reliable, easy-to-use, and secured experience with WordPress.
Here, managed WordPress hosting refers to the servers that specifically provide great speed, faster customer support, and customizable plugins for free of cost.
WordPress.org recommends a bunch of web hosts itself, which includes Bluehost as well. With Bluehost, you get WordPress-centric dashboards, 1-click installation process, a free domain name and SSL certificate, email, and more. It also throws in a free Cloudflare content delivery network (CDN) service that you can activate with a few simple steps.
Bluehost hosting packages start at $3.95, which includes basic Jetpack Site analytics, 100 free premium themes, daily backups, malware scans and removal, and domain privacy protection.
Just like Bluehost, with HostGator also you can build a WordPress website with just a few clicks using Mojo Marketplace and also get free Cloudflare CDN service. You also get a free site migration offer, which saves you a lot of money when migrating from some other web host.
HostGator's initial WordPress hosting package starts at $5.95, which includes 1GB backups and a free SSL certificate.
WINNER: Bluehost! Bluehost's WordPress hosting packages throw in some high-quality features and has a user-friendly interface. It is also more affordable when compared to HostGator.
To get started with Bluehost and get 50% off your hosting plan, use my link below:
VPS Hosting Review.
Virtual Private Server (VPS) hosting is a great option when the features offered by regular host sharing services are not sufficient for your website. VPS is especially used when you are running multiple websites that receive decent traffic.
Both Bluehost and HostGator use the WHM cPanel interface for their VPS hosting.
WHM control panel includes amazing features, like:
Allows you to create a separate control panel for each of your website.
Allocate resources to each website as per its requirements.
Easily manage all your websites using one single cPanel.
Control Panel maintenance.
If you have a medium-to-high traffic ratio, then HostGator is a great VPS hosting for you. Other additional features include custom installation, configuration options, free email services, unlimited domains and sub-domains, and more.
You also have multiple tools to choose from to make your task easier, such as customizable website templates, site development tools, and script installations to help you get started right away.
HostGator offers a standard VPS hosting package at $29.95 per month.
Bluehost, on the other hand, offers decent features at low prices. With Bluehost, you also get unlimited bandwidth, and 30-day money-back guarantee.
Standard VPS hosting with Bluehost starts at $19.99 per month.
WINNER: IT'S A DRAW! Both the web hosts offer a pretty decent VPS hosting options with amazing features and user-friendly interface, which is why it is a draw.
Bluehost vs HostGator – Which Web Hosting is Best for Beginners?
While hosting your website with a web hosting service is not a difficult task, however, if it is your first time doing something like this, then it is better if you select the web host carefully.
Both HostGator and Bluehost are easy to use and can be used even without any coding or technical knowledge.
These hosting companies also share some features that help out the users set up their websites easily.
These features include:
One-click WordPress installation
365/24/7 customer support available
The customer support team will guide you through the whole website setup process
User-friendly and customer-centric UI
However, if online reviews and posts are anything to go by, the DNS setup can be somewhat confusing in HostGator. With Bluehost, everything moves smoothly and with a better speed, which is why if you are a beginner, then Bluehost is the best option for you.
WINNER: Bluehost! Both Bluehost and HostGator offer similar features when it comes to ease of setting a new website. However, owing to its better speed and less confusing DNS setup, Bluehost wins this round.
To get started with Bluehost and get 50% off your hosting plan, use my link below:
Hosting Plans & Pricing.
Much like ease-of-use and attractive features, pricing and hosting plans are of paramount importance when choosing a web host.
Both Bluehost and HostGator offer decent features at reasonable prices for all types of hosting services.
HostGator Pricing.
HostGator offers three shared web hosting plans, namely the Hatchling plan, Baby plan, and Business plan.
Hatchling plan starts at $2.75 per month and offers features like one-click installation, unmetered bandwidth, free SSL certificate, and more. Baby Plan stars at $3.95 per month and offers additional features such as unlimited domains. Lastly, Business Plan starts at $5.95 per month and offer more amazing features such as free SEO Tools, free dedicated IP, and more.
Bluehost Pricing.
Bluehost also offers shared hosting services at low prices. It offers four shared web hosting plans, namely Basic, Plus, Choice Plus, and Pro. The price range starts at $3.95 per month and ranges up to $13.95 per month. All the packages include a free SSL certificate and free domain.
WINNER: HostGator! Both the hosting plans offer amazing features at reasonable prices, but HostGator comes in with slightly better pricing.
Get started with HostGator and get 30-60% off your hosting plan by using my link below:
Which cPanel is Better?
Both the web host giants provide you with a user-friendly, easily navigable control panel called cPanel. So, if it is your first time hosting a website of your own, then you have nothing to worry about — thanks to the interface of their Control Panel.
Bluehost and HostGator both provide you with a one-click installation of almost every popular content management system (CMS), such as WordPress, Magento, Drupal, and so on. Moreover, you will be provided with stringent security measures that will keep your data and files safe and secure from malicious attacks.
Apart from these common cPanel features, HostGator offers a little something extra by providing customization options for cPanel. It also offers informative video tutorials to make sure that the whole experience is optimized and quick. All in all, their approach to all the functions is very customer-centric.
WINNER: IT'S A DRAW! Laden with attractive features, new-age technology, and easily navigable user interface, both Bluehost and HostGator offer a great control panel.
Customer Service & Technical Support.
When it comes to web hosting services, offering a reliable uptime, fast speed, and amazing features is not. Along with all these ingredients, it is imperative to offer great customer support.
Whenever you face issues with your website server or witnessing prolonged downtime, the customer support team should be available immediately and able to solve the problem ASAP.
HostGator Support
With HostGator, customer support is available at all times via different easily accessible mediums.
HostGator provides 24/7/365 customer support via platforms, such as:
Live Chat
Phone Calls
Emails
Ticketing system
HostGator has a great track record of resolving server issues on a fly. To help out their new customers, they also offer informative articles, tutorials, and well-connected forums.
Bluehost Support
Bluehost also offers customer support through various platforms, including:
Live Chat
Phone Calls
Emails
Ticketing system
Informative Tutorials
Both Bluehost and HostGator are pretty impressive when it comes to customer support and the diversified platforms they use to connect with their customers.
WINNER: IT'S A DRAW! Since Bluehost and HostGator have all the same customer support options, both stand in the same position in terms of customer service and support.
Bluehost vs HostGator: Pros & Cons.
To help you make the final decision, below I have listed out some of the most prominent and noticeable pros and cons for Bluehost and HostGator. If the above assessment wasn't enough to help you come to a conclusion, this list of pros and cons certainly will.
BlueHost Review.
Bluehost Pros
With Bluehost, you get a free domain name and free SSL along with all the hosting packages.
Offers free DDoS protection.
It provides a user-friendly control panel that helps you manage your website.
Easy, one-click installation of content management systems (CMS) tools like Joomla and WordPress.
Offer an easily customizable on-site website builder.
You get to choose from a variety of hosting plans including shared host service, VPS hosting, dedicated and cloud hosting, and WordPress hosting.
Impressive customer support that entails 24/7 customer service, live chat, ticketing, self-help tutorials, and more.
Good Refund Policy: If you are not satisfied with their hosting services, Bluehost will give you a full refund within 30 days.
On the security front, it offers free automatic daily backups and malware scans.
Bluehost Cons
Bluehost doesn't offer any Uptime Guarantee.
Unlike HostGator, Bluehost doesn't compensate its customers for an extended period of downtime.
Unlike some of its counterparts (including HostGator), Bluehost doesn't offer free site migration. If you are migrating from some other web host to Bluehost, you would have to pay $150 extra.
Oftentimes adding users and transitioning from a staging site to a live site is more difficult than it needs to be.
HostGator Review.
HostGator Pros
HostGator allows simple, one-click installation of various prominent CMS using Mojo Marketplace.
Provides a free customizable, pre-existing website building tool that comes with multiple attractive templates.
With HostGator, you can relocate an existing website or cPanel from your old web host without paying even a single dime. This includes the migration of web hosts, domain, databases, and all the other important files.
HostGator is especially useful for beginners as it offers user-friendly services along with fast customer support.
HostGator not only offers affordable plans but also budget-friendly plans.
Offers unlimited Disk Space and Bandwidth.
HostGator claims to offer an uptime of at least 99.9% uptime and a full 45 days to claim a credit for next month if they fail to deliver.
Free DDoS protection
Fast live chat and ticketing system.
HostGator Cons
It does not offer daily backups. If users want daily backups and malware scans, then they would have to pay extra amount.
Unlike Bluehost, does not offer a free domain name and SSL certificate along with the web hosting package.
Bluehost vs HostGator: Web Hosting Comparison Wrap Up
I hope this detailed rundown on Bluehost and HostGator helped you identify which web hosting service caters to your needs the best.
It is always a great idea to get started with a web host that helps you out in your initial phase and makes things easier for you. Once you are familiar with the know-how of the website hosting, you can even switch to any other web host.
All in all, these popular web hosting services offer a great experience, reliability, and security. They are big names in the industry and hence have the resources to offer the best services.
So this is my assessment of Bluehost vs HostGator, which hosting service did you think is the best fit for your website?
Get started with HostGator and get 30-60% off your hosting plan.
Get started with Bluehost and get 50% off your hosting plan.
Share your thoughts in the comment section below and read my full review of the best 17+ web hosting services here.
Disclosure: I may receive affiliate compensation for some of the links below at no cost to you if you decide to purchase a paid plan. You can read our affiliate disclosure in our privacy policy. This site is not intending to provide financial advice. This is for entertainment only.
---
Last Updated on December 8, 2022 by Adam Enfroy