HostGator vs GoDaddy in 2023: 7 Reasons I Choose HostGator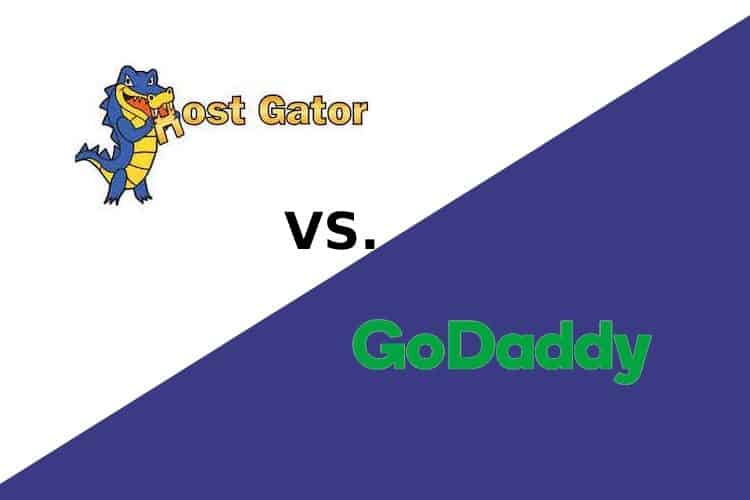 Finding solid web hosting can be a bit of a hassle. Moreover, with the internet being inundated with so many hosting brands, it is often difficult to select one for your website. This guide of HostGator vs GoDaddy will showcase the key differentiators to help you decide.
GoDaddy Hosting and HostGator are, without a doubt, one of the biggest hosting companies on the Internet. But again, getting confused between these two hosting giants is a given.
To alleviate this confusion today we will compare these two hosting providers to help you in choosing the right option for your new website.
Disclaimer: This article contains affiliate links that I receive a small commission for at no cost to you. You can read my full affiliate disclosure in my privacy policy in the footer.
Let's get started.
HostGator vs GoDaddy Comparison
Both the hosting providers offer attractive features such as an uptime guarantee of 99.9%, great customer support, tutorials, and so forth. That said, there are some major differences between these two web hosting brands that are worth perusing.
Here's the breakdown of HostGator vs GoDaddy:
Reliability & Uptime
User Interface
Customer Support
Features
Hosting Plans
Pricing
HostGator vs GoDaddy – Reliability & Uptime
You may overlook the uptime of your website, but it is imperative to be aware of the potential dangers of the possible downtime. It's a no brainer — you want your website to be available to your users at all times and do not want to miss out on important leads and that's why it's important that you host your website with a reliable hosting brand.
HostGator Uptime
HostGator provides you with an uptime of 99.9%. In fact, they mention it explicitly on their website and if by any chance you witness an uptime lower than this, you can apply to have a credit for that month.
That said, you should be able to provide a legitimate reason because whether you get the credit or not depends solely on the justification you provide to HostGator.
GoDaddy Uptime
When it comes to the uptime, GoDaddy also claims that they provide guaranteed uptime of 99.9%. However, unlike HostGator, they don't mention any compensation or reimbursement offered in case they fail to uphold this promise. That said, despite the lack of mention, this is a promised guarantee so they may offer a credit.
WINNER: HostGator! While both the web hosting brands promise a guaranteed uptime of 99.9%, HostGator is more promising when it comes to getting compensated in case of lower uptime.
Get started with HostGator and get 30-60% off your hosting plan by using my link below:
Security Measures
Most website owners consider safety and backup to be of paramount importance, even more so than other factors such as uptime, response time, and so forth. And unless you are a tech-geek yourself, you would need some solid website security measures in place to be able to run a reliable website. If you end up selecting a web host with shoddy security measures, then you may even end up compromising your data.
Thus let's see how HostGator and GoDaddy fare in this department.
HostGator Security
HostGator provides both malware scans and backups on a weekly. In this case, to make your website more secure, you would have to perform both the tasks daily on your own. You would also be required to pay a little extra if you want to restore an automated backup.
It is also worthy to note that the users have access to HostGator's technical personnel staff and customer centers at all times so that any security concern can be immediately rectified before things get out of hand. The security staff at HostGator also have layers of protection on your data to avoid any potential data breach.
GoDaddy Security
GoDaddy carries out daily malware scans and backups for all your webpages and stores all your files in the cloud. You do have to pay some amount to avail of this service, however, the security is well worth the tiny price you spend.
GoDaddy's website backup plan not only automatically backs up your website every single day but also keep a 30-day window of your backups.
https://www.youtube.com/watch?v=ozaSULOw0rA
All hosting plans provide one of the most powerful encryptions available: SHA-2 and 2048-bit encryption. Other security measures include protection against brute force attacks, Google blacklist monitoring and removal, Web Application Firewall prevention, and so forth.
WINNER: GoDaddy! It's a close one but owing to impressive features like daily scans and backups, GoDaddy comes out to be the winner here.
Customer Service and Technical Support
When you run your own website, it always comes in handy to have a technically sound support team that you can rely on. Both the hosting brands offer excellent customer support including omnichannel support to cater to their users.
Let's see how they fare against one another in this department.
HostGator Support
When it comes to customer support and reliability, HostGator pulls no punches.
HostGator provides 24/7/365 customer support via platforms, such as:
Live Chat
Phone Calls
Emails
Ticketing system
The ticketing system always comes in handy whenever their customers get stuck with something urgent and require immediate resolution. Apart from this, HostGator also offers various "How-to" tutorials in the form of blogs and articles, informative guides, and interactive forums, some of which are free for everyone and some can only be joined by members.
GoDaddy Support
Similar to HostGator, GoDaddy also offers 24/7/365 customer support via:
Live Chat
Phone Calls
Emails

GoDaddy also offers a lengthy list of tutorials to help their users learn how to do certain tasks.
WINNER: HostGator! While both the platforms offer an exemplary 24/7/365 customer support but thanks to the additional ticketing system, HostGator wins this round.
Get started with HostGator and get 30-60% off your hosting plan by using my link below:
Hosting Plans & Pricing
For so many new website owners, hosting plans and price is an important factor to consider. They don't want to lose out on an attractive feature but at the same time, they shy away from overspending.
To cater to the needs of all sorts of website owners, GoDaddy and HostGator offer a variety of hosting plans.
Both companies offer the following hosting options:
Dedicated hosted plans
WordPress Hosting plans
In addition to the above-mentioned hosting options, HostGator also offers Cloud hosting option that starts at $4.95 and ranges up to $9.95.
HostGator Pricing
HostGator offers three web hosting plans, namely Hatchling plan, Baby plan and Business plan.
Since the Hatchling plan is just a basic plan mainly for beginners, it allows you to host only a single domain while the other two plans allow you to host unlimited domains. Apart from this, all the plans include features including unlimited bandwidth, one-click installs, free SSL certificates, unlimited emails, and disk space.
The cheapest one, the starting Hatchling Plan is currently priced at $2.75 per month (for a three-year subscription on a shared hosting plan).
The Business Plan, starting at $5.95 per month offers other amazing features such as free SEO tools and dedicated IP.
You also get a 45-day money-back guarantee with all HostGator web hosting plans.
GoDaddy Pricing
GoDaddy offers four web hosting plans, namely Economy, Deluxe, Ultimate, and Maximum.
Economy Plan is currently priced at $5.99 per month and is primarily used by beginners or novice bloggers. It only hosts one domain while others can host unlimited domains.
Similarly, while the Economy plan only offers a 100GB disk space, the other plans provide unlimited disk space.
Also, just like HostGator, if you are not satisfied with GoDaddy's web hosting service, then you can opt-out of their services and get your money back thanks to its 45-day money-back guarantee.
WINNER: HostGator! HostGator is obviously cheaper than HostGator, especially when you opt for their long-term plan. Also, make sure to keep an eye out for ongoing promotions and offers that both the hosting brands offer regularly.
Get started with HostGator and get 30-60% off your hosting plan by using my link below:
Free Trial & Money Back Guarantee
It's always a great idea to test the waters before opting for something new. And that's why having a free-trial or money-back guarantee is ideally a nice way to start off with something.
Let's see what both the web hosting giants offer in terms of financial compensation and free-trial.
HostGator Trial
Whether you build a new website altogether or transfer a site from another host, HostGator offers a 45-days money-back guarantee either way. However, it is worthy to note that this guarantee only covers your hosting contract. Additional features such as customized installations, domain names, admin fees, and more are excluded from this offer.
Also, to get cashback, you would have to initially make the payment using your credit card. If you use any other medium of payment, your cashback will be added to your site account. This guarantee only applies to new accounts.
GoDaddy Trial
With GoDaddy also you do get a 45-day money-back guarantee, but only if your hosting contract is for one year or more. If you opted for a month contract, then you will only get a 48-hour money-back guarantee.
Also, make sure that you read the terms and conditions carefully because not all your money will be refunded, you will get back only a portion of it. Generally, you get compensated only for the hosting package, additional installations are not a part of any money-back guarantee.
WINNER: HostGator! HostGator is the clear winner here. With HostGator hosting package, you will get a complete rebate, irrespective of the time period of your hosting contract.
Get started with HostGator and get 30-60% off your hosting plan by using my link below:
cPanel Review
HostGator and GoDaddy share many similar features. They both are affordable, reliable, and big names in the industry. However, to help you finally decide which one is the best option for you, let's have a look at some other additional features that both the hosting brands offer.
Control Panel
Irrespective of your Linux hosting plan, both HostGator and GoDaddy provide you with access to the industry-standard cPanel.
This control panel is not only user-friendly but also allows you to get started right away without any prior knowledge.
You will also be able to install various additional applications and plugins for your website with a few easy steps. From file transfer to organizing your database, everything can be done on the fly on both these hosting platforms.
Other than your regular hosting plan, if you opt for Windows hosting, then you get Parallel Plesk as your control panel.
WINNER: It's a draw! Both HostGator cPanel and GoDaddy cPanel have similar standard features that offer incredible ease of use.
Servers and Site Speed
HostGator's website servers sun on Dual Xeon processor, while GoDaddy uses Intel Core i7 processors. Both these processors allow you to use either Windows or Linux hosting.
In both cases, the server is likely to deliver reliable and strong performance. Thus, both stand on equal grounds in terms of reliability and performance.
Check out this guide on how to fix a slow GoDaddy WordPress site.
WINNER: It's a draw. There is no clear winner in terms of servers as both HostGator and GoDaddy have powerful networked servers.
Final Verdict: HostGator Vs GoDaddy (Why I Chose HostGator?)
Both HostGator and GoDaddy are similar in more ways than one. However, there are some features that make them different. For instance, GoDaddy offers the best security measures, but HostGator is better when it comes to customer support.
All in all, HostGator appears to a clear winner while GoDaddy gets left behind by a small margin. No other brand can beat GoDaddy when it comes to registering a domain name, but it still is not the first choice for hosting services — this is where HostGator wins the game.
HostGator is our ultimate choice and winner in this web hosting comparison.
Why Did I Choose HostGator?
HostGator offers great uptime and also compensates its users in case they fail to fulfill this claim.
Stringent security measures to avoid a data breach.
A proficient customer support team and diversified support options.
Affordable and flexible hosting plans.
45-days money-back guarantee
A strong processor and user-friendly cPanel
You can also use the money-back guarantee provided by both the hosting platforms to test both of them yourself and evaluate which one is the right option for you.
Get started with HostGator and get 30-60% off your hosting plan by using my link below:
Further Reading on AdamEnfroy.com: To do more research, check out my other guides to Bluehost vs. SiteGround, HostGator vs. Bluehost, and my full guide to the best web hosting companies.
Disclosure: I may receive affiliate compensation for some of the links below at no cost to you if you decide to purchase a paid plan. You can read our affiliate disclosure in our privacy policy. This site is not intending to provide financial advice. This is for entertainment only.
---
Last Updated on December 8, 2022 by Adam Enfroy