Siteground vs Bluehost: Which Web Hosting is Better in 2023?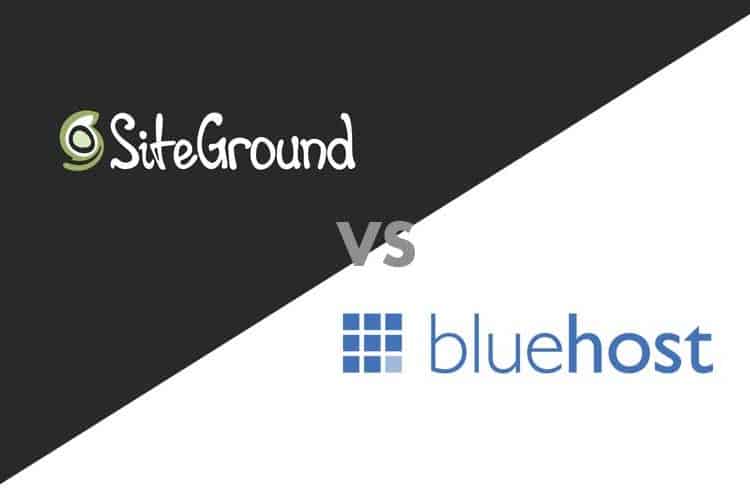 Whether you want to start your own blog or to move your business online, you need to select a competitive web hosting service.
Two of the big names that probably come to mind are SiteGround and Bluehost. Millions of website owners across the world use these popular hosting platforms. So which one is better?
In this article, I will break down Bluehost vs SiteGround to help you select the perfect web hosting options for your website.
Disclaimer: Please note that this article includes affiliate links, which provide me a small commission if you decide to purchase at no cost to you. However, I have vetted and used both of these web hosting services and want to help you make an informed decision. You can read my full affiliate disclosure in my privacy policy in the footer.
You can also check out my reviews of the overall best web hosting companies, my full Bluehost review, and my comparison of Bluehost vs HostGator.
If you just need a simple website with a platform like Wix or Weebly, check out my guide on the best website builders.
Let's get started.
SiteGround vs Bluehost Overview.
SiteGround was founded in 2004 and currently offers its services to more than 1,800,000 domains globally.
With more than 500 employees, it offers a wide range of hosting plans, including:
Shared hosting
Cloud hosting
Email hosting
Domain registration
WooCommerce hosting
It also boasts of its own dedicated servers. Moreover, it also has advanced features for developers, like free SSH and SFTP access, FTP accounts, and a pre-installed Git.
Founded in 2003, BlueHost another giant in the web hosting business and is one of the largest web hosting providers in the world. They are a part of the large Internet conglomerate Endurance International Group (EIG).
Collectively with their EIG sister companies, it hosts over 2,000,000 domains globally and has more than 700 people in its Salt Lake City company.
Apart from having their own servers, it also offers a wide range of hosting plans, including:
Shared hosting
WordPress hosting
VPS hosting
Dedicated hosting
Cloud hosting
Ecommerce solutions (free shopping cart installation)
With multiple options available on the internet, it's quite easy to be confused about what to choose for your business.
So which one should you choose? Let's find out:
SiteGround vs Bluehost Breakdown:
Performance Review
Uptime Review
Ease of Use
Security Measures
WordPress Integration
VPS Hosting Review
For Beginners
Hosting Plans Review
Review of cPanel
Customer Support
1. Web Hosting Performance.
There are a host of performance measures to look at when choosing between these two web hosting services.
However, one of the first parameters you need to look at is the speed. Site speed and fast load times are of utmost importance – they help you boost your search engine rankings on Google and provide a good user experience.
When it comes to speed, both Bluehost and SiteGround use superior SSD technology (Solid-State Drive) for all their servers. SSDs have a significant advantage over basic, regular hard-drives. It offers you a distinct advantage as it is faster, more reliable, and much better uptime.
Here are the features of SiteGround that helps it stand out: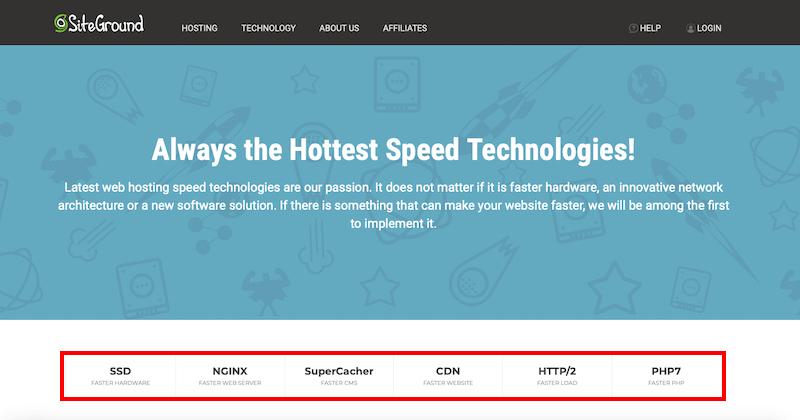 SSD drives (1000 times better input/output in comparison to regular drives)
In-built NGINX speed server (technology to speed up the load of the static content of hosted websites)
Geeky SuperCacher (own caching mechanism based on NGINX reverse proxy)
Free CDN available (helps your website load faster, irrespective of your location)
Uses PHP7.2, which is the latest PHP version for WordPress.
Here are a few features of Bluehost that are quite exciting:
Multi-server management
Access control
File management (use file transfer protocol)
Unlimited email accounts
Other than the above features, both of them are HTTP/2 enabled.
To summarize, both Bluehost and SiteGround are almost neck-to-neck when it comes to performance.
SiteGround is the better candidate when it comes to performance, backed up by features like NGINX, caching, and PHP7. It has better speed and performance. Hence, SiteGround is the winner!
2. SiteGround vs Bluehost – Uptime.
One of the first things to look at while selecting the perfect web hosting plan is the uptime. A web hosting with too much downtime will hamper your business and stall your growth. Naturally, you need a web host that can maximize your uptime.
While 100% uptime is an unrealistic concept and no hosting service can provide you that, it should be as close to 100% as possible.
When it comes to uptime, both Bluehost and SiteGround are pretty safe bets.
SiteGround makes its uptime policy very apparent and guarantees a great uptime with a link on its website (https://www.siteground.com/uptime). They also maintain that they have an uptime 99.99% of the time.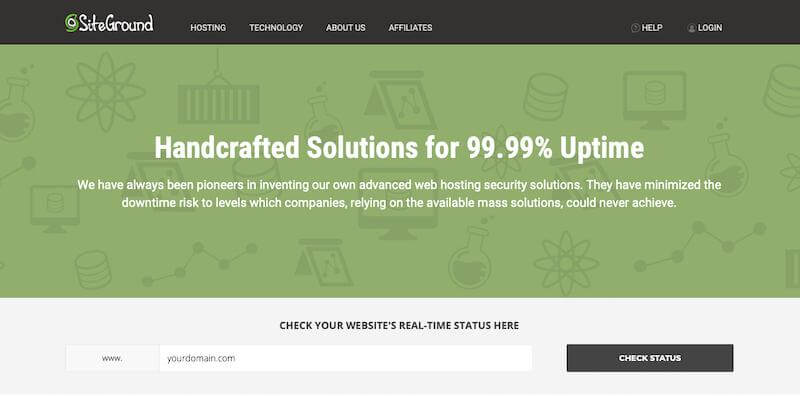 SiteGround has also very clearly pointed out some of the features that help them achieve a near-perfect uptime, including:
LXC (Linux containers)
Pro-active server monitoring (prevents and fixes bugs and issues without delay)
Unique Anti-bot AI (prevents brute force and resource losses)
Secure account isolation (no single account can affect the others)
SiteGround also offers five data centers at disclosed locations over three continents. You can choose which one to use based on your location.
While Bluehost also provides 99.99% uptime for all Bluehost customers, they do not explicitly make that claim on their website.
However, in their Network/Server Uptime Agreement, they do promise to get their network up and running within 15 minutes in case of a snag. That said, they have been honest enough to admit that it may take more than 15 minutes to fix more severe problems.
Furthermore, Bluehost is reported to have more than 20 data centers across the US, China, and India. However, the locations are undisclosed, which makes it difficult for a user to choose the one nearest to them.
With guaranteed 99.99% uptime, and laced with features to make good of that claim, SiteGround is a better candidate.
3. Dashboard and Ease of Use.
An intuitive and easy-to-use user interface is essential to handle your web hosting services.
When you log on to your SiteGround account, the first thing you would notice are the multiple options that you can use, staring you in the face.
Navigation is easy, and you can see/use all the tabs right away. The user interface is very friendly, and you are unlikely to have any problems finding what you want.
Recently, SiteGround has also started its own, highly customizable control panel called the 'SiteTool,' replacing cPanel. It has a lot of excellent and handy features, including in-built, analyzed data of cPanel users over the years for a more intuitive user experience, more safety, and reliability. It also provides you the ability to add multiple collaborators to your site.
Bluehost is not very far off from the target either. Boasting of 24/7 customer support, it facilitates a very vivid user-experience on their website. With features like 1-click WordPress website install and a free domain name for the first year of business, it ticks a lot of the right boxes. It also relies on a very intuitive cPanel interface that makes it easy for entry-level users to run their website.
Ease-of-use can be highly subjective since business requirements may vary widely across business verticals. That said, both Bluehost and SiteGround have a pretty intuitive user interface and offer incredible ease-of-use to their users.
However, I'd pick Bluehost as it offers impressive features like 1-click WordPress installation, smooth DNS setup, and more.
4. What About Security Measures?
Cybercrimes continue to evolve. As a result, the net damage caused to companies can run into trillions of dollars every year. According to Juniper Research, the total damages incurred due to cyber-crime was $2 trillion in 2019. That's why security should be a top-of-the-line priority now for any online business.
Both Bluehost and SiteGround offer considerable protection and security.
When it comes to ensuring security, the measures taken by SiteGround are second to none:
Physical data centers protected by security, round the clock, throughout the year
Automated biometric entry and exit
Military-grade bullet-proof lobbies
Enterprise-class UPS for maximum protection against power outages
Anti-hack systems and help
Automated daily backup and on-demand advanced site backups
Free SSL certification
Firewall
In-built proprietary malware detector HackAlert
BlueHost isn't too far behind. It's got some great offerings on the security front as well, such as:
2-factor authentication system
SiteLock (regularly scans the environment to look out for attacks), priced at $1.99 per month
Free SSL certificate (Let's Encrypt, Wildcard, or EV SSL)
Tools that selectively identify and block spam (SpamAssassin and Spamhammer)
Hotlink security protection (counters data theft)
Daily free back-up (users can also use the tool called 'Site back-up Pro' to back-up data every day for a monthly fee)
The area where Bluehost scores brownie points is the quality of their free SSL certificate, which might cost you $30/year otherwise.
As you can see, there is not much to choose between them. Both SiteGround and Bluehost adhere to very high standards of security.
It's a close call as both Bluehost and SiteGround offer top-notch security. However, owing to additional SiteLock and free daily backups, Bluehost comes out to be the winner.
5. WordPress Integration
WordPress is one of the most popular content management systems in the world right now. Hence, one of the basic requirements of any website hosting services is seamless integration with WordPress.
Both Bluehost and SiteGround offer smooth WordPress Integration. On top of that, WordPress officially recommends its users to opt for both these hosting services.
SiteGround provides a lot of features when it comes to integration with WordPress.
With SiteGround, you get features such as:
Easy installation and use
Automatic updates
Cache system (in-house)
Automatic plugin update
Use of staging area with their GrowBig plan or GoGeek plan (for high customization without editing the source code)
WordPress officially recommends SiteGround, and integration plans start at $3.95 per month.
BlueHost also comes with numerous features to make your WordPress experience super easy.
Moreover, it's quite easy to install and user-friendly. But there's no in-house cache system, and you need to update the plugins yourself since there's no auto-install option in Bluehost.
However, they do give you the option to play around a little with a 1-click staging area set-up (beta version) for you to try out things.
It is officially recommended by WordPress as well, and integration plans are very beginner-friendly. Plans start at $2.95 per month.
To summarize:
Both the web hosting providers offer impressive bandwidth, FTP and SFTP accounts, a free SSL certificate, and more.
SiteGround has an edge when it comes to features like auto plugin updates, backups, and Git & SHH access.
On the other hand, Bluehost offers better storage than SiteGround.
Bluehost is also a bit cheaper than SiteGround and is one of the most user-friendly web hosting providers available on the internet.
WINNER: It's a Draw.
Both platforms offer easy WordPress integration and are recommended by WordPress. Also, while Bluehost is better with disk space, SiteGround comes with additional features like auto plugin updates, backups, and more.
6. SiteGround vs Bluehost – VPS Hosting Review.
VPS hosting essentially means that you have a server (in full or in part) that is completely dedicated to you.
Both SiteGround and Bluehost boast of excellent VPS hosting services.
In the case of SiteGround, they've recently migrated to a cloud-based platform, which gives them enhanced scalability and flexibility. A cloud-based platform is also more economical.
Moreover, SiteGround's cloud hosting offers other amazing perks. For starters, all the cloud VPS hosting plans are fully managed by you, and you have the freedom to decide what to install and what not to. Since it's entirely on the cloud, you don't have to worry about data nearly unlimited storage either.
Fully backed by a very responsive customer support team, any problems you may run into are solved on priority.
SiteGround's VPS cloud hosting plans start at $80 per month and go up to $240 per month.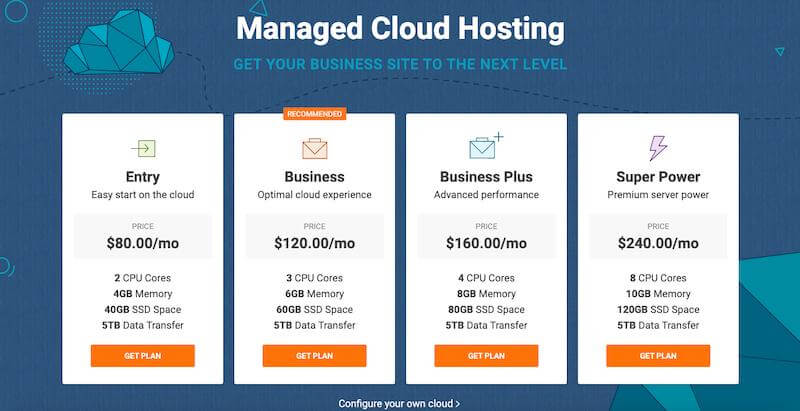 Bluehost also ticks most of the right boxes. Their VPS solutions are built on powerful cloud technology as well, which uses an enhanced cPanel environment with full root access to CentOS.
Moreover, they have dedicated IP addresses (IPv4) that can be used along with your VPS account on either the main cPanel user or any other cPanel accounts.
The best part is that Bluehost VPS plans come with 24/7 customer support that comes in handy in case you run into any problems.
They also provide instant provisioning, free SSDs, multi-server and file management, and the choice of a maximum of 4 cores.
Some of their additional features like 1-click installation, free domain name, and SSL certificate are also quite powerful.
Bluehost's VPS hosting pricing plans start at $18.99 per month and go up to $59.99 per month.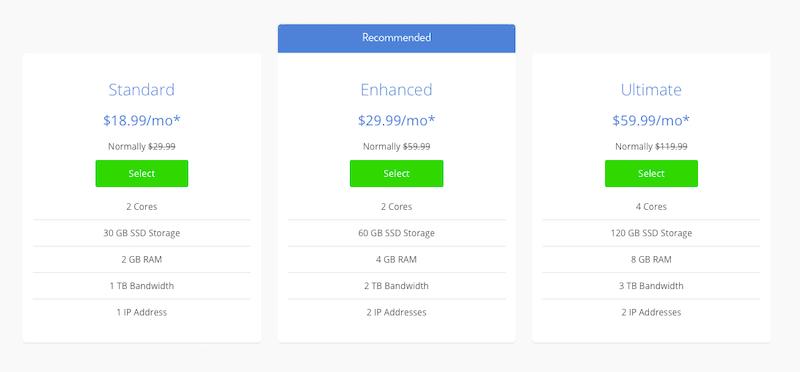 Although SiteGround is not very far behind, Bluehost wins this round by virtue of having a very WordPress-centric user interface and a lot of great features. The fact that it comes with considerably lower prices also adds to its appeal.
7. Which Web Hosting Site is Suitable For Beginners?
As a beginner, it's normal to have your reservations about using a hosting service for your new website. But everybody has to start somewhere. Therefore, it's essential to analyze how beginner-friendly a web hosting service is.
On this account, both SiteGround and Bluehost are very capable.
When it comes to SiteGround, it offers a 30-day money-back guarantee in case of shared web hosting. However, they do not provide any money-back scheme on add-on features like paid support or dedicated hosting.
To help you get started without any trouble, they offer a range of domain name services like country domain names, registration of a domain, and privacy protection. But all of them are paid services.
Among the three plans that they offer, the StartUp plan, GrowBig plan, and GoGeek plan, free migration is not available in only the first one.
Also, its integration with various CMS platforms, especially WordPress.org, making it a great option.
Bluehost offers similar features, but some of them are better than SiteGround.
With respect to the 30-day money-back guarantee, the terms and conditions are similar to SiteGround. But unlike SiteGround, it offers a free domain name for a year upon signing up.
Bluehost also offers free migration for basic plans. However, you can perform website transfers and migrate five sites from your previous host at the price of $149.99, which is a great deal. It also easily integrates with WordPress sites.
Other than that, Bluehost's cPanel user interface is also extremely user-friendly. You get plenty of white space, and the use of different colors is low, which adds to its visual appeal and enhances the user experience. The overall interface is not littered with icons, making it easy for beginners to navigate.
The plans are cheaper, and it also provides you a free domain name for one year. Although SiteGround provides you a somewhat similar site migration policy, Bluehost gives you a more well-rounded bundle of features.
8. Pricing and Hosting Plans.
Before selecting a web hosting service, a thorough study of the plans available, the prices of the plans, and the features are imperative.
Choosing a plan without careful consideration is ill-advised since your business depends on your hosting plan to a vast extent.
In this respect, BlueHost and SiteGround are on similar lines.
BlueHost Hosting Plans:
Bluehost offers the following hosting services:
Shared Hosting
WordPress Hosting
VPS Hosting
Dedicated Hosting
Reseller Hosting
Basic Plan: Normally $7.99 but on sale for $2.95/month. It comes with basic features and 50 GB of space.
Plus Plan: Normally $10.99 but on sale for $5.45/month. Unlimited storage, unlimited bandwidth, and unlimited websites.
Choice Plus Plan: Normally $14.99 but just $5.45/month with my link. The same as the Plus Plan with domain privacy and advanced backup solutions.
They offer a 30-day money-back guarantee, along with a free domain for one whole year upon signing up.
SiteGround Hosting Plans:
SiteGround also provides a wide range of hosting services, including:
Web Hosting
WordPress Hosting
Cloud Hosting
WooCommerce Hosting
Dedicated Hosting
Enterprise Hosting
StartUp Plan: Normally $11.95 but on sale for $3.95/month. It comes with basic hosting features and 10 GB of space.
GrowBig Plan: Normally $19.95 but on sale for $5.95/month. Unlimited websites and 25 GB of storage.
GoGeek Plan: Regularly $34.95 but on sale for $11.95/month. 30 GB of storage and up to 100,000 website visitors.
The introductory plan starts at $3.95 per month, which is a tiny bit more expensive than Bluehost.
They also offer a 30-day money-back period. Unlike Bluehost, SiteGround doesn't offer any free domain upon signing up. However, you do get a free SSL certificate with all the hosting plans.
With more storage, fewer traffic restrictions, and lower pricing, Bluehost is the clear winner when it comes to hosting pricing and plans. I recommend their Choice Plus plan for just $5.45/month.
Both the plans provide competitive pricing and more or less the same features, but BlueHost provides better value for money and is thereby the winner of this round.
9. Which cPanel is Better?
cPanel is a standard interface that runs on Linux based web hosting servers. It is currently the industry standard, and is used by nearly all of the web hosting services — BlueHost and SiteGround are no exception.
Bluehost's cPanel is minimally designed, with abundant use of whitespace. The interface is clutter-free, which results in easy navigation for the users.
With one-click installation, the BlueHost cPanel offers instant integration with a plethora of the most popular content management systems in the market right now.
If you're looking for a WordPress or Magento hosting provider, Bluehost might be better when it comes to the initial installation.
The visible icons are delineated with a flatter design and use only a single typeface.
Here's what Bluehost's cPanel looks like: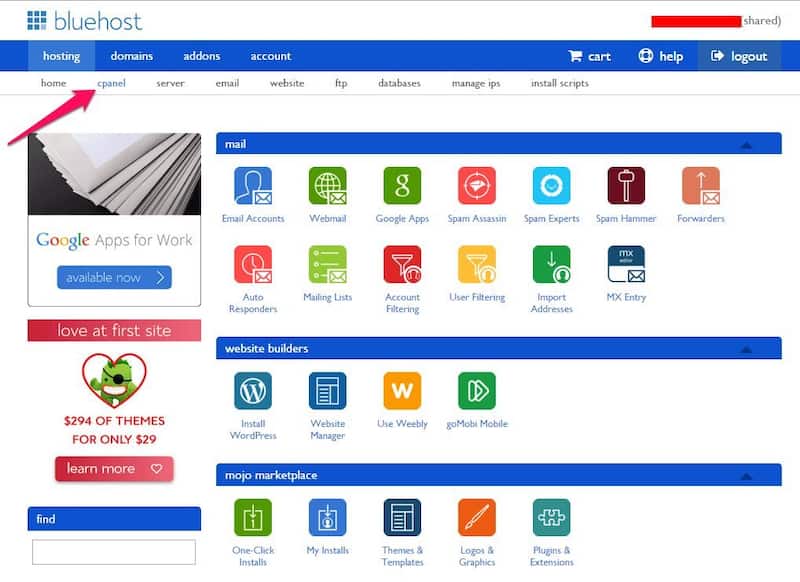 SiteGround's cPanel is also very intuitive and provides an extremely user-friendly interface. The unique feature about its cPanel is that it comes with an in-built, in-depth tutorial to help you properly navigate and use cPanel, which is free of cost.
It has also developed a special cPanel theme for use in SiteGround, called 'Crystal.' It provides you with a lot of visual changes, extra functionalities, and a high level of customizability that is difficult to find elsewhere.
Recently, it has also been using its own, highly customizable control panel called the 'SiteTool.'
Here's what SiteGround's cPanel looks like: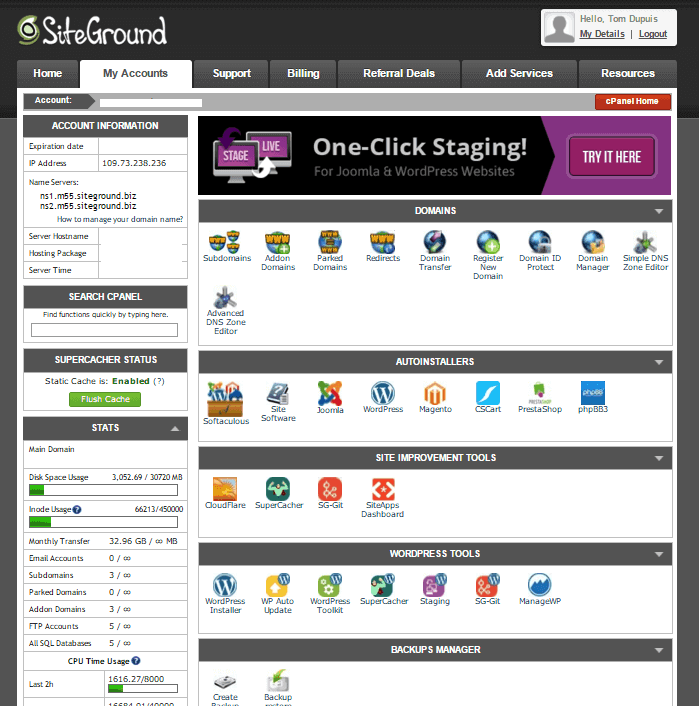 Winner: It's a Draw.
Both the cPanels provide impressive features and an intuitive and easy to use cPanel.
10. SiteGround vs Bluehost – Customer Support.
Web hosting ultimately depends on technology. And if you're a small business owner, sooner or later there will be problems that you won't be able to tackle on your own.
You're likely to face issues that only the representative of your hosting service can solve. That's why customer service and support are some of the most important factors when it comes to choosing the right service.
Bluehost and SiteGround both score well in this department.
Both Bluehost and SiteGround share some attributes when it comes to their customer support, including:
365/24/7 customer support
Excellent phone and live chat support aiming to tackle the problem as fast as possible
Accommodative and helpful support staff
SiteGround aims to please its users by maximizing the number of customer support staff needed per shift so that every problem is solved within the shortest possible time.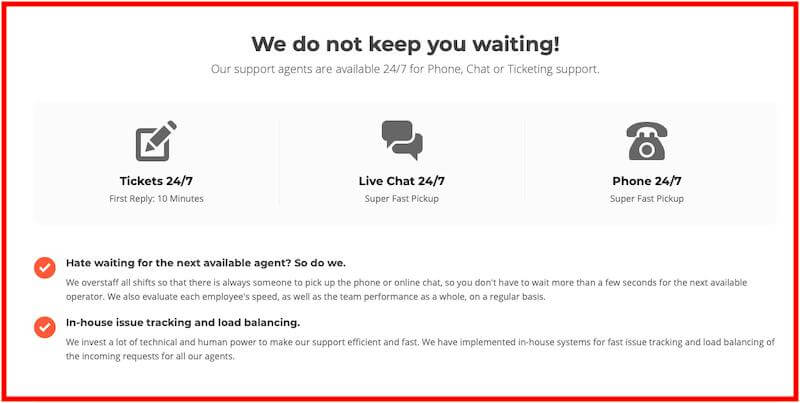 They also provide priority service to the users using their more advanced plans like 'GoGeek' and 'GrowBig.'
Also, when you raise a ticket, the average response time is 10 minutes, which is not too shabby. For chat and phone support, you get real-time assistance.
BlueHost boasts similar customer support attributes. However, besides live chat, phone calls, and tickets, Bluehost also offers a free consultation with experts. It also offers help with pre-sales and sales strategies.
One of the downsides of BlueHost's customer support is that there's no stipulated response time for a ticket, and it may get extended during times of peak traffic. However, chat and phone support are real-time here, as well. Siteground's priority support is slightly better because of their commitment to ticket times.
10. Final Pros and Cons.
There are a lot of things that you need to consider while selecting the right web hosting service for your business. There are multiple services, and it's not always easy to drill down to see it for what it truly is.
To make things simpler for you, I've listed the highlights from the features of the two services here.
Bluehost Review.
Bluehost Pros:
Owned by Endurance International, Bluehost has the financial muscle, an esteemed brand name, and stability (resulting in abundant resources)
Focuses on Net Promoter Score (NPS) to maximize user happiness
Offers free domain name (for a year) and free SSL certification upon signing up
Provides free DDoS protection (in-built)
30-day full refund policy
Immaculate and user-friendly interface
In-depth and in-built tutorials for novice and first-time users to understand its functioning better
Excellent customer support through tickets, social media, chats, and phones (24/7 all year round)
Provides full product suite (domain names, domain privacy, WordPress integration, VPS hosting, and more)
Great integration with content management websites like Joomla, WordPress, etc. (seamless integration offering 1-click installation)
Easily integrates with Cloudflare CDN
Bluehost Cons:
When you raise a ticket, the response time may extend indefinitely (especially during peak traffic)
There is no compensation to customers for extended downtime periods (a big problem since the minimal downtime can lead to losses worth millions of dollars)
Migration of up to 5 accounts costs $149.99
There's no option of automatic system updates or automatic plugin updates
Doesn't have an in-house cache system (you need to download additional plugins)
Although they have more than 20 data centers, the locations aren't disclosed
SiteGround Review.
SiteGround Pros:
Offers Geeky SuperCacher, their own caching mechanism based on NGINX reverse proxy
Free CDN available, which helps your website load faster from any location
Uses PHP7.2, which is the latest PHP version for WordPress
5 data centers evenly located between 3 continents, so that you can use the one closest to your location (this maximizes your speed)
The platform is built on top of an LXC (Linux Container Technology)
In-built Cloudflare content delivery network
Fully HTTP/2 enabled servers which further enhances loading time and speed
Free SSL certification
Great customer support and knowledge base (24/7 support all year round, with a guaranteed waiting time of 10 minutes or less for tickets)
Full protection from DDoS attacks
IDS/IPS systems that counter malicious attacks
Offers secure account isolation feature
SiteGround Cons:
Hosting plans are more expensive than Bluehost
Unlike BlueHost, SiteGround doesn't offer you any free domain name. However, you can pull in a domain you own from a site like GoDaddy.
No built-in dedicated IP addresses
The features and plans are primarily oriented towards the larger and more established developers and businesses (not very profitable for individuals with basic requirements)
Do-It-Yourself (DIY) focused support is average
SiteGround vs Bluehost – Web Hosting Comparison Wrap-Up.
I hope this in-depth review comparing the hosting features of Bluehost and SiteGround helps you make the right choice for your website.
The selection of one web hosting service over the other is highly subjective. It primarily depends on your business requirements, which features suit you the best, and your standing in the market.
For instance, if you are a beginner, then select a hosting service like Bluehost, which is beginner-friendly, comes with a low price tag, and offers all the features you might need at this stage in your business.
For the seasoned campaigner, the need would be probably much more complex, layered, and business-oriented. For that, you need a service that offers more advanced features, albeit at higher rates. In this case, SiteGround has you covered. However, in such cases, you can also opt for Bluehost's more advanced plans like VPS hosting.
There is little to choose from between these two services, and only a narrow ridge separates them. In the end, it all really comes down to what you need.
Ultimately, I recommend you go with Bluehost and get started for just $2.95/month.
Which web hosting service are you intending to purchase for your website? Do you prefer one of these two companies? Let me know in the comments below.
Further Reading on AdamEnfroy.com: You can also check out my full Bluehost review, my review of Bluehost vs. HostGator, and my ultimate guide to the top web hosting companies this year.
Disclosure: I may receive affiliate compensation for some of the links below at no cost to you if you decide to purchase a paid plan. You can read our affiliate disclosure in our privacy policy. This site is not intending to provide financial advice. This is for entertainment only.
---
Last Updated on January 26, 2023 by Adam Enfroy