Wix Review: Top 7 Reasons to Use Wix in 2023
Setting up a professional website for your business is paramount as more traditional companies are moving online.
Statistics suggest that by 2040, online sales will account for around 95% of shopping globally.
So how do you stand out among the competition and build a powerful, yet simple website?
The answer might be to use a top website builder like Wix. With Wix, you can create a responsive website for your business that looks great on both desktop and mobile devices.
But is Wix right for you?
To help you answer that question, this ultimate Wix review covers every aspect of this popular website builder: pricing, features, integrations (plugins and add-ons), web design themes, SEO features, ecommerce capabilities, support, and more.
Let's get started.
Disclaimer: Please note, I may receive affiliate compensation for some of the links below at no cost to you if you choose to purchase a paid plan. However, this Wix review is comprehensive and a great option for launching and running a website. You can read my affiliate disclosure in my privacy policy.
What Is Wix?
Wix is a flexible website builder that allows you to create highly customized websites. It's one of the most user-friendly CMS available and is suitable for both novices and experts alike.
Established in 2006, Wix quickly became a leader in its domain and is now popular in nearly every country worldwide.
It offers users a holistic, single platform to create responsive websites and manage your online business.
Also, it helps small business owners capture leads, build customer relationships, integrate payment gateways, and grow the business organically. It's also highly scalable, which means you can continue using it as your business expands, fostering long-term, sustainable partnerships, and never need to switch.
As of now, there are more than 330,000 Wix ecommerce users. It also enjoys a user base of more than 150 million. Over 21 million mobile sites also use Wix today, which also speaks volumes about its multi-platform compatibility. Much like Shopify, it's now widely used across industries by both small-scale companies and large corporations alike.
A Brief Overview of Wix.
Wix is an Israeli software company built by a group of technology entrepreneurs in 2006. It's one of the most popular, free, and a user-friendly website builder that doesn't require any technical know-how.
As a result, ever since its inception, its growth saw a steep rise. It acquired 1 million users in 2009 and 10 million by 2011.
After that, the company expanded into 9 countries like Brazil, India, Ireland, the US, and Ukraine, to name a few.
They went public in 2013 and raised millions of dollars in IPO since then. By 2017, it had 100 million users. As of now, it acquires 45,000 new users every day.
One of the reasons for its appeal is its intuitive user interface and an easy to use drag-and-drop builder, which create great websites without prior experience or exposure to coding knowledge.
Even statistics suggest that 37% of businesses that use simple website building technologies prefer Wix.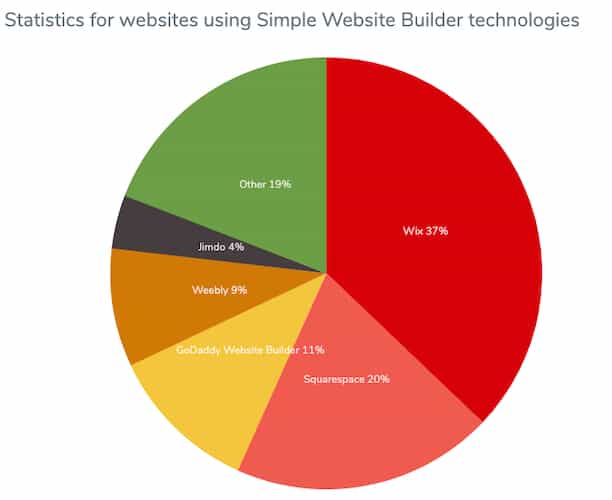 No wonder Wix continues to appeal to businesses and website builders and is now the go-to CMS for multiple businesses across the world.
Here's a visual of how Wix managed to expand its global CMS market share and numbers over the years:
0.1% in 2013
0.2% in 2016
0.4% in 2018
1% in 2019
1.3% in January 2020

As a result, Wix managed to grow over 220% within two years. It's no mean feat, considering the presence of mainstays like WordPress in the global CMS markets.
You can read my full Wix vs. WordPress comparison for more info.
One of the winning points about Wix is that it offers a freemium business model. It earns the majority of its revenues through its customers upgrading to premium plans.
By the end of 31st March 2020, the revenue of Wix was $803 million, a 25.39% increase over the previous year. This speaks for itself about the customer loyalty it has managed to generate in just under 15 years of existence.
Wix Features Overview.
Wix provides a host of features for professionals from all walks of life.
Here's a list of some of them:

Intuitive user-interface and drag-and-drop builder
Optimized mobile view
100s of attractive templates
Marketing tools
Contact Management
SSL Certified
Social media marketing tools
Professional mailbox
Wix app market
Personalized Google Mailbox
Analytics & Reporting tools
Free & reliable website hosting
Social media buttons
Text Editor
Free fonts
Wix Ecommerce.
Wix offers a feature-rich online store builder to create a stunning storefront design and grow your ecommerce business.
The ecommerce website builder provides features like:
Allows you to sell on multiple platforms
Integrates with secure payment gateways
Manages end-to-end fulfillment
Conversion-optimized shopping cart and checkout
Provides advanced marketing tools
Drag and drop functionality
Mobile responsive templates
Wix also allows site owners to add product videos. This helps them provide a more engaging shipping experience and provide information about listings.
You can also use 'Wix Multilingual' to create different versions of pages with multiple languages.
One of the biggest expectations from a capable ecommerce platform is its ability to deliver customer satisfaction. Wix enables you to sell anything – from podcasts to hand-made goods. You can also leverage the Wix Booking application to take online bookings.
A clumsy zoom of product images or a distractive layout can drive away your customers easily. Wix offers attractive and engaging design templates to help you set up a stunning online store. It also lets you add up to 15 product images.
For a global business, it offers over 15 payment options, including Stripe, PayPal, Square, and more. All Wix-enabled ecommerce sites come equipped with SSL to help you facilitate secure online payment.
Wix inventory management is not the best in the market. However, it allows you to sell unlimited products. You can also import products in bulk through a CSV file instantly.
It also supports product management to help you manage inventory, automatically mark items as out of stock, and track product numbers. You can easily track all your orders from the dashboard and set shipping and tax rules for your products delivered to different areas.
Around 70 percent of customers leave your site after adding all the products in their cart. To help you recover some of the lost revenue, Wix offers an abandoned cart recovery feature, helping you to automated emails for a polite followup.
Wix doesn't offer multichannel selling on platforms, including Pinterest, Amazon, and Facebook. However, you can easily integrate with any third-party app like Ecwid for multichannel selling and to add extra features.
It's also decidedly easy to start your ecommerce store with Wix.
Sign up with Wix or log in to your existing account
Choose a Wix template for your online store (from over 500 pre-designed templates)
Use the drag and drop editor and other tools to build and customize your store's design
Add products to your online store
Integrate it with a payment gateway and set up the shipping process
Select a custom domain for your store
Finally, make your ecommerce store online
Wix Ecommerce Pricing Plans.
If you're just starting out, then you can try out their free version to build your online store. However, if you want to collect payment – which you most likely want to do – then you require a paid plan.
You get four paid plans with Wix: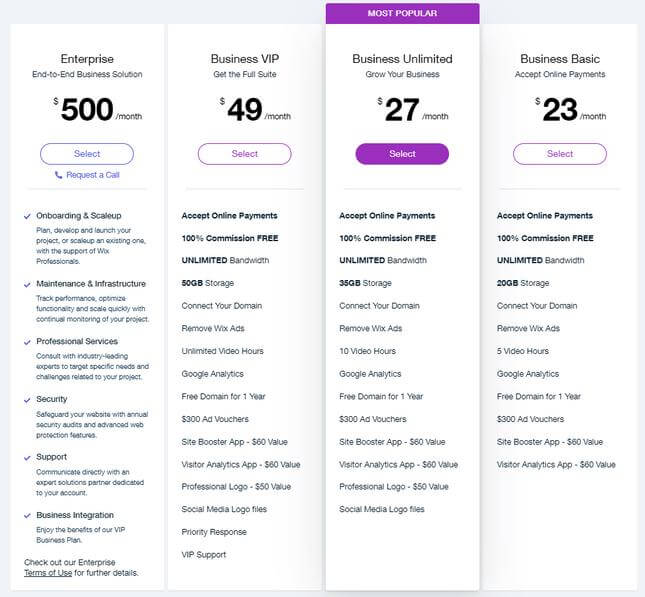 Business Basic – $23 per month
Business Unlimited – $27 per month
Business VIP – $49 per month
Enterprise – $500 per month
The first three plans are suitable for small and medium-sized businesses. They come with some standard features like the ability to accept online payments, integration with Google Analytics, and more.
The fourth plan is for large enterprises and comes with a hefty price tag.
Wix also offers a 14-day money-back guarantee for the paid ecommerce plans. So if you aren't satisfied with your store, you can get your entire money back without any hassles.
Best Features and Pros of Wix.
Wix won numerous awards in 2019, including the 'Best ecommerce Software,' 'Expert's Choice,' and 'Great User Experience' awards from FinancesOnline.
Here's are the key features that make it stand head and shoulders above its peers most of the times:
1. Wix Editor.
The Wix editor is pretty straightforward and easy to use. On top of that, it customizes your website design and provides you full control over it.
You can also start from scratch and get to choose from over 500 responsive, pre-designed templates.
The drag-and-drop features make it especially easy to personalize the websites you're building. It allows you to play around with the attributes available, get valuable hands-on experience, and try out the various combinations possible before selecting one.
The Wix editor is for people who want to build websites manually, even without any technical knowledge.
The USP of Wix is that it lets you do things your way.
They also keep on updating their customizable features. For instance, they recently introduced badges in the aftermath of the COVID onslaught to help businesses relay messages like they're open, available online, taking orders, and more.
The editor also lets you refurbish your SEO plan, helping you increase your website's search engine visibility.
For instance, Wix editor lets you change the URLs pretty easily, which helps you modify your search rankings.
What's more, the editor automatically optimizes the screen display for different devices like mobiles, PCs, laptops, and tablets, making it compatible across multiple platforms.
The editor also allows you to add a new dimension to your design by adding animations, videos, photos, and unique scroll effects. These scroll effects can work in multiple ways.
For example, you could add new dimensions to your website by using effects like parallax, reveal, zoom-in, or fade-in scrolling. You can also take your expressiveness a few notches higher by doing away with words, choosing from over 100 in-built fonts, or even upload your own. The Wix editor also enables you to display an array of your videos, text, and images.
All in all, Wix Editor's sleek functionality is pretty impressive and makes it stand out amid its competitors.
2. Wix App Market.
Wix app market is another amazing feature by Wix that provides impressive apps to grow your business. All these apps let you add different features and functionalities to your website.
The market comes with over 300 apps. You have apps for just about everything – from event management software to SEO tools to boost your search engine rankings, to online survey tools for your website, and more.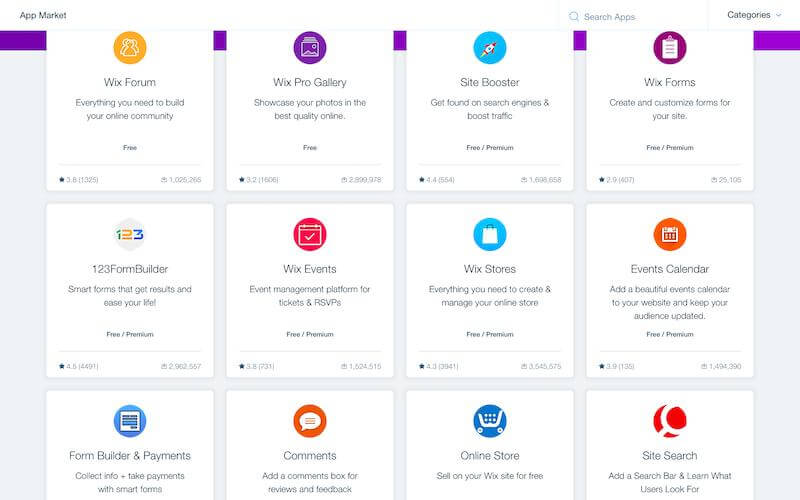 Let's say you need help with an upcoming event and its management. With the help of an event management app from the store, you can holistically provide end-to-end solutions throughout the entire event lifecycle and concentrate on the main event yourself.
This app can also help you with many other activities. Some of them are:
It allows you to live chat with your customers. With a carefully curated strategy, you can engage the customers 24*7 and address all their needs comprehensively.
Customers also like to communicate with their peers. The app lets customers access a forum where they can chat, brainstorm, and solve problems for each other.
Wix market also provides an app to help you set up your online store easily.
Let's look at the Online Store app
The Online Store app lets you sell a maximum of 10 products. Plus, the premium plan gives you access to a lot of other features like abandoned cart recovery, bitcoin acceptance, direct bank payments, and more. This app lets you sell not only on your website but also on Amazon and Facebook, which multiplies your outreach to prospective customers.
3. Wix ADI (Artificial Design Intelligence).
Wix Artificial Design Intelligence (ADI) is a unique platform that enables the use of AI to design beautiful websites. It's also a direct competitor of the Wix Editor. However, the Wix ADI is a quicker and smarter version of the Editor and has a lot of advantages.
It minimizes all the manual work and helps you get your website online faster than the manual editor.
The ADI asks a few simple questions to gauge your business requirements and then instantly designs a stunning website accordingly. Questions usually include your choices about the features, functionality, and the intended name of your website.

You still have control over the appearance and details of the website, which you can manipulate by customization.
For instance, you can easily add a new section to your website page. For that, just click on the 'Add' dropdown option and select 'Section to Page.'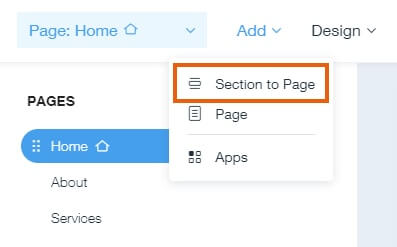 And sometimes, you may require to add more pages to your website or to add multiple sections to a single page.
There are 2 ways to do that:
Create a one-page website with multiple sections
Create a multi-page website
This means you can segregate your content and adjust it on your website as you see fit.
Apart from this, there is a lot more scope to modify the physical appearance of your website. You can modify the fonts, themes, texts, colors, and much more.
The ADI also lets you add animation to parts of your website.
This feature is decidedly helpful since statistics suggest that videos and animations get processed 60,000 times faster than text, which comes in very handy when businesses are trying to communicate with leads within a short period. They can also increase the conversion rate by nearly 86%.
Not many website builders provide you the option to add animations or the opportunity to boost conversions, so Wix stands out in this regard.
Apart from this, it's also possible to integrate existing online information with the ADI. It has the power to incorporate it into the website it'll build.
Here are some of the key features of Wix ADI:
Tailor-made content for your website
Original and unique website design
Mobile friendly
It gives smart tips
Allows you to customize colors and fonts
SEO friendly
However, there are some drawbacks to ADI as well. For starters, you won't find any templates while you're using the ADI. Secondly, the ADI relies on a set of questions and your responses to them to design your website. It also limits the number of embeddable apps and features, differentiating it from the Editor.
When you're using the ADI, your access to the Wix mobile app market also gets constrained. Unlike the Editor, you won't have the luxury of choosing from hundreds of apps. Also, you can't directly manage specific URL pages from ADI, unlike the Editor.
4. Email Marketing.
Wix offers one of the most impressive email marketing services as compared to other website builders. Businesses can create and share newsletters, sales promotions, invitations, product updates, and more with their leads and prospective customers.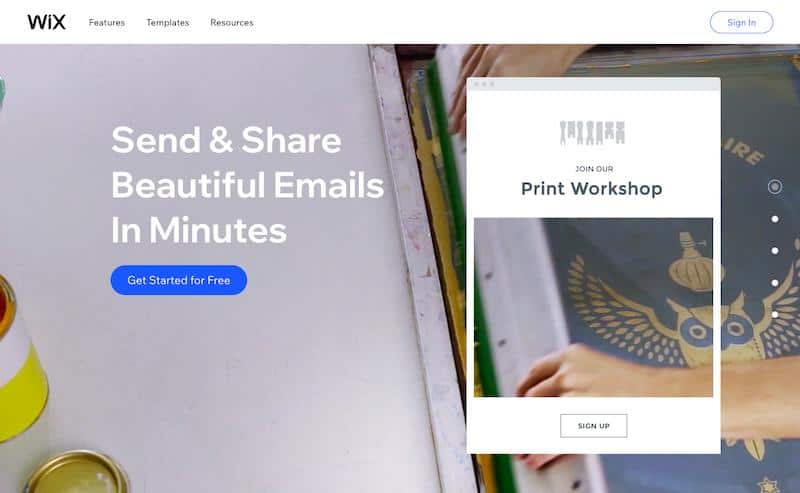 You also get access to a great variety of backgrounds, colors, and fonts, allowing extensive customizability and control over the physical aspects of your emails.
It also offers users a plethora of templates for use in case you don't want to build one yourself.
One of the main advantages of Wix is that you can integrate it with any third-party platform easily. You can also easily add external email marketing platforms like AWeber, MailChimp, ConvertKit, or GetResponse to your Wix site using an HTML code.
The feature also makes it easy to get access to all of your contacts via seamless in-built integration.
For example, you can configure your account in a way to view all of the email addresses you collected through your website and from external providers like Gmail and Outlook on a single database.
You can also add social media buttons to your email newsletter quite easily.
It also comes with a highly detailed statistics dashboard to measure the effectiveness of your email marketing activity.
The dashboard has three main focus areas:
The email statistics display the number of emails delivered, the open rate, click rate, and more.
Here's an example:
It also displays the email bounce rate and the number of spam complaints lodged, if any. In this example, the delivery rate is very high, but the open rate needs improvement. You can draw conclusions according to your business and what factors you want to improve.
There's an 'Advanced statistics' feature to identify the clicks from different devices, including mobiles, desktops, tablets, and others.
The detailed breakdown of the numbers behind your email campaign helps you make better decisions, drive up customer service standards, and boost sales.
Here's a brief overview of all the email marketing features by Wix:
Numerous email templates with customizable styles
Social media tools
Statistics tracker
Hand-picked templates
Easy contact integration
5. Corvid By Wix.
The Corvid engine is another unique feature from Wix that helps users build advanced web applications. It helps the users build vigorous, strapping websites & apps from scratch.
Corvid is essentially a serverless, open development platform, and code editor for building professional apps. Moreover, it's completely cloud-based, and you don't have to worry about on-site deployment for your business since Wix does it automatically.
To use Corvid, you only have to follow these simple steps:

Log in to your Wix account
Open the Editor
Enable the Corvid in the Editor
You can add your JavaScript code to your Wix website and interact with the existing APIs. This allows you to bring a high level of customization to your site.
The level of automation by Corvid is also worthy of mention. You can simply use it to schedule recurring jobs and to run pre-determined codes at predefined intervals.
Corvid also lets you integrate your site with Wix Data, which allows you to access an extensive collection of Wix's in-built databases. If for some reason, you need access to a database that's not with Wix, you can take advantage of the external database SPI and freely access any external databases that you need.
After connecting the database, here are some of the things you can do:
Link your data to various site elements
Capture user inputs
Dynamic page creation
Wix Corvid also lets you add a built-in IDE (integrated development environment) that lets you directly code with the Editor.
The IDE can perform a range of functions like:
Minifying your CSS code
Minifying your JavaScript code
Bundling your JavaScript files
Lets you manage your databases
Not only that, but Corvid also acts as a surveillance partner for your website.
The site monitoring feature lets you pick up statistics about various facets of Wix site events. For instance, it tracks site events in real-time and connects to Stackdriver from Google. In some cases, it can also let you connect to external monitoring tools to perform analytical research.
Wix Corvid is especially helpful for beginners due to its highly automated features. Moreover, it offers many online videos, tutorials, forums, and blogs for reference, making it even easier to use and comprehend.
Here's a brief overview of all the features by Wix Corvid:
Built-in IDE
Serverless computing
Integrated database
SEO compatibility
Visual front-end design
Secure Wix cloud
6. Google Analytics Integration.
Wix, like many other website builders, also provides easy integration with Google Analytics with the help of the GA tracking key.
It's an easy process, and you just have to follow some simple steps to do that:
Sign onto the Google Analytics account
Click on the 'admin' option at the bottom
Next, it opens the following window:
Next, click on the 'Tracking Code' option at the bottom of the center and copy the same. All you now need to do is paste it to the text editor in 'Marketing Integrations' and click on the 'Connect' option to access Google analytics.
This feature allows you to track important metrics and KPIs of your business, including the number of visitors, pages viewed, location of visitors, how long they stay, the CTRs, the most common keywords used to find your site, and more.
It also allows you to derive more nuanced insights, such as how you're running the website, how you're driving customer engagement, and more. Moreover, it helps you plan on what changes you could bring about to improve your business at the strategic and tactical levels.
7. Wix SEO.
Wix comes with professional SEO tools to make your website rank higher and to boost your visibility.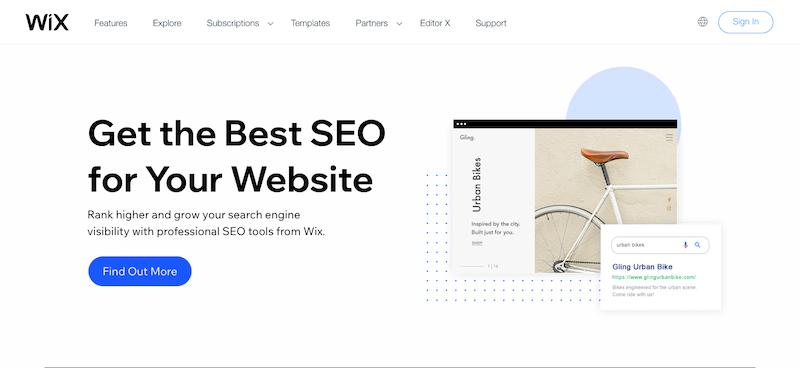 The good news is that it's easy to set up. You only have to answer a few questions about your site, location, and anticipated keywords.
Wix's built-in SEO features ensure that your websites always stand out on the internet right after you make it online. It ensures a rapid load time that will help retain customers. According to statistics, 57% of customers leave a page that takes more than 3 seconds to load. Websites can achieve a 24% increase in sales by working on their SEO.
Even Google prioritizes mobile-friendly websites. This is where Wix's SEO tools come in handy.
Furthermore, Wix can create and maintain accurate XML sitemaps that make it easy for search engines to track your site and display it higher in search engine rankings. Another essential feature is that it creates a unique Robots.txt file, which also enables search engines to tag and locate them immediately.
Wix also creates individual metatags by default for every site. Each metatag accurately describes your site content to search engines, making it easy to retrieve relevant information.
Here's a brief overview of all the advanced SEO features by Wix:
Rapid load time
Mobile optimization
Quick Google indexing
Secure hosting
XML Sitemap
Robots.txt
Default meta tags
Canonical URLs
Some of the features, including adding 301 redirects, setting canonical URLs, editing page information for social media, are essential considerations for any search engine. Wix is one of the few website builders that addresses all these requirements comprehensively.
Wix Pricing.
Wix comes with a "Wix free plan", and you can use it for free as long as you want. However, the free plan has some limitations. For instance, it displays advertisements that you can't remove unless you upgrade to a paid plan. It also doesn't give you a custom domain name.
If you want more advanced features, then you can choose from Wix premium plans that range from "Combo" to the " VIP plan." The cheapest pricing plan costs $13 per month and comes with features like a custom domain, 3GB storage, and more.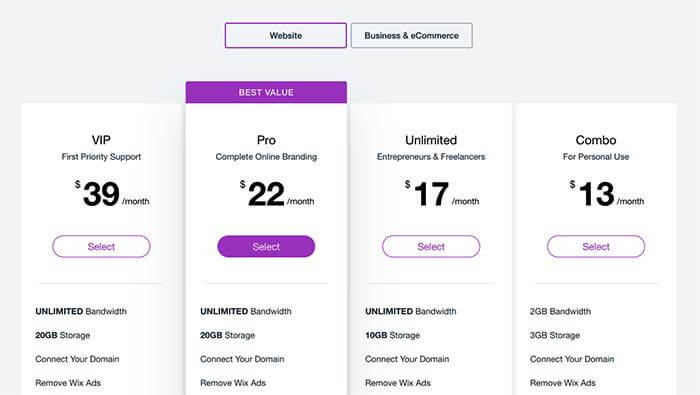 The free plan is great for a limited time, especially if you're a beginner. The 'Combo' plan is the cheapest where you'll get your own domain and is usually the first paid plan of choice. With the 'Pro' plan, you can design your own logo and get 20 GB storage space.
If you opt for annual plans instead of monthly ones, you can also get useful discounts that vary between 17% and 33% based on the plan you choose.
Let's take the example of the Combo plan: when you opt for an annual payment, the price is $13 per month as opposed to $17 per month for a monthly plan. The result? A 24% savings upon choosing the annual plan.
Moreover, all the premium plans come with a 14-day trial period for you to get hands-on experience.
Quick Facts About Wix.
I tried to be as comprehensive as possible while reviewing all the prominent features by Wix. In case you missed something, here are some brief facts about Wix and its features:
Sign-up Process – Simple, 3-step sign-up process.
500 Templates – There's a wide range of options for every business.
Good SEO features – Answer a few questions and get your website optimized in 30 seconds. Plus blogging capabilities.
Multi-platform Compatibility – You can run your website on PCs, tablets, mobile devices, & laptops.
SSL Certificate – In-built in every Wix website.
Personal Domain – You must be on a premium plan to get one. Free domains and web hosting come with every annual plan. The cheapest is $156 for the yearly 'Combo' plan.
Ecommerce Features – Strongest online store capabilities out of the best website builders, including Squarespace and Weebly.
Ease of Use – Very simple and intuitive interface with no backend coding knowledge or coding skills required.
Payment Integrations – Via PayPal or credit cards.
Drag-and-Drop Editor – Build your website from scratch with no prior experience.
Google Analytics – Measure your business performance and get better.
Third-Party Integrations – Hook up your own website to marketing tools and widgets to extend the functionality of your site.
Wix Pros & Cons.
Here's a final overview of all the pros and cons of Wix.
Wix Pros.
Here are some of the pros that make Wix stand out from its counterparts:
Users can create their own custom domain name or import the one they already own under Wix.com. This helps them build their own brand and distinguish themselves in the market.
The 'Logo Maker' from Wix lets you design personalized logos for your business based on a few questions on preferences and business domains. It's customizable and lets you change colors, fonts, sizes, and much more.
All Wix websites have in-built SSL certificates, which ensure data security and integrity.
Managing all contacts of a large business can be difficult. Wix's holistic contact management lets you manage all contacts on a single platform.
Wix creates password-protected pages, so your customer gets preferential access.
Wix lets businesses calculate and specify customized tax and shipping rules for global destinations.
Wix automatically updates the software as and when an update comes. This eliminates the need for manually updating software.
It offers extensive customer support via telephone, live chats, emails, and tickets. There is also an extensive knowledgebase and callback services.
It offers services in multiple languages like Dutch, Swedish, Polish, etc.
Wix provides integration with multiple payment gateways to process payments immediately, send invoices, maintain billings, and track payment status for clients and vendors.
Wix Cons.
Wix doesn't let you copy content from one template to another, making it difficult to switch between templates.
The free plan comes with the 'Wix' branding watermark. It can impact the potential brand-building activities of your business.
Wix doesn't provide the analytics for its free plan. Your business is as good as guesswork without detailed analytics. Analytics helps a business make informed decisions, and understand the statistics like CTR, open rates, number of visitors, and more.
Wix makes it a bit challenging to transfer websites to some other platform. The entire process is difficult, time-intensive, and costly. So in the future, if you aren't satisfied with Wix anymore, it's hard to export your website to another provider. This essentially means you'll have to start from square one.
Executive Summary.
Wix is a popular website builder for small and medium businesses, startups, and individuals who want to maintain an online presence.
It's also worthy to note that over 50 percent of Wix's employees focus on research and development. This ensures the smooth running of your websites with minimal hiccups.
I would especially recommend Wix if your focus is on selling physical and digital goods and want to build a simple website without a web developer.
All in all, the intuitive user-interface, customer support, user-friendliness, and substantial features make Wix one of the most preferred website building tools.
Get started with Wix today.
Disclosure: I may receive affiliate compensation for some of the links below at no cost to you if you decide to purchase a paid plan. You can read our affiliate disclosure in our privacy policy. This site is not intending to provide financial advice. This is for entertainment only.
---
Last Updated on December 8, 2022 by Adam Enfroy