Wix vs WordPress: Which One Should You Choose in 2023?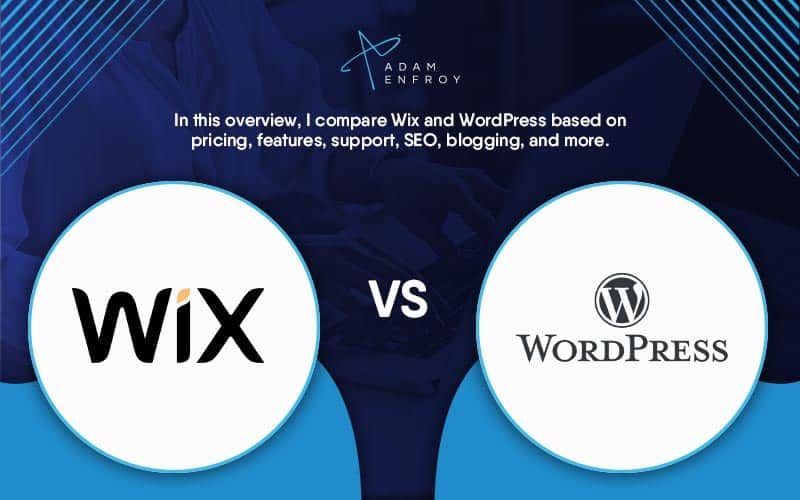 Website builders have made creating and launching websites a hassle-free and straightforward process.
Plus, when it comes to choices, you can find a large number of online website building tools available for use. Naturally, it's easy to get confused between so many options. However, most of the time, two names come up repeatedly when discussing website builders: Wix and WordPress.
To make your decision easier, I compared and reviewed Wix vs. WordPress based on price, features, SEO, blogging, support, and more.
Disclaimer: Please note, I may receive affiliate compensation for some of the links below at no cost to you if you decide to purchase a paid plan. However, these are the best tools I have tested for launching and running a website. You can read my affiliate disclosure in my privacy policy.
Let's get started.
Wix vs. WordPress: Complete Comparison
Before diving into the comparison between Wix and WordPress, I'll take some time to introduce you all to the basics of each. While you can use both for creating and maintaining websites, there are specific differences between them that you need to be aware of.
Wix Overview
As many of you might already know, Wix is an all-in-one website building platform that provides most of the tools you'll need to launch a website. Since Wix uses a simple drag-and-drop interface, using the tool doesn't require any coding skills whatsoever.
Using Wix, even complete beginners can easily take care of all aspects of website building, from creating the actual site pages to logistical details such as domain and web hosting. Wix even provides complete content management facilities, e-commerce support, and prompt customer service.
Starting with Wix is a simple enough task: get on to the official website, create an account, and start building. Wix offers several plans, including a free one, so you don't have to worry about burning a hole in your pocket if you just want a trial. What's more, you even get free hosting as well as custom domains, depending on the plan you select.
Another great thing about the Wix platform is that apart from the Standard Editor, it also offers an AI-based website building assistant in the form of the Wix ADI. And in case you're an experienced coder, you can use the Wix Corvid feature to access the platform APIs and carry out detailed customizations using HTML and CSS.
Overall, for small businesses that want to get a website up and running in a matter of hours, Wix is one of the best choices. Its fast, hassle-free and intuitive interface, affordable pricing, and many design options have made it a favorite among business-owners and content creators alike.
WordPress Overview
If age is anything to go by, WordPress is the older of the two and has been around since 2003 (Wix started operations in 2006). WordPress began operations as a blogging platform, but eventually made its way to become one of the most significant Content Management Systems (CMS) on the planet.
Currently, over 35% of all websites on the internet are powered by WordPress. That number alone makes one enticed enough to go for it. When working with WordPress, you don't have to worry about any lack of features, themes, or functionality.
However, a word of caution here: WordPress currently comes in two varieties. The first is the original, self-hosted WordPress.org, which is a CMS software that has to be installed on your web-server. The software is open-source, which effectively means that you don't have to pay a dime for it and can also modify the website source-code as per your needs.
As a direct result of its open-source nature, sites built with the self-hosted WordPress.org are highly customizable. With multiple themes, templates, and plugins, you can add any functionality to your website as required.
The second option is WordPress.com, which offers a SaaS (Software-as-a-Service) platform, similar to Wix. Using this option, you can subscribe to the online service on an easy monthly fee and take care of your web development needs.
For the purposes of today's comparison, I'm going to pit Wix against WordPress.org, as it provides greater flexibility. And although it's a bit tougher to learn, once mastered, the benefits are more than one can count.
How Do Wix And WordPress Measure Up?
Now that you have a fundamental idea of what each platform offers and how they function, it's time to compare them in detail. To do that, I've selected several standard features that determine the ease with which you can set up your online presence.
1. Ease-of-Use
The first and foremost reason anyone would choose to build a website using Wix or WordPress is ease-of-use. Both platforms offer a powerful yet intuitive interface when it comes to creating websites. Yet, there are significant differences between the two, which I'll explore.
Wix
Wix provides you with a WYSIWYG drag-and-drop editor that doesn't require any coding knowledge to use. You can simply drag-and-drop design components on the Wix Editor interface and customize your website as needed. The Editor makes it especially suitable for beginners who want to create their first website.
While the Wix Editor is an extremely user-friendly option for website creation, there's an even faster method. Wix offers the ADI (Artificial Design Intelligence) feature, which lets you create a website in a matter of minutes.
Just answer a few questions, provide details about your business and what kind of website you prefer. Once you've done that successfully, the ADI then automatically creates a fully-fledged website for you. Using Wix ADI is the simplest way to create a functional online store and get things running.
However, in the above two options, you get limited options for customization. So, in case you have the required technical know-how, you can use the Wix Corvid interface, which allows direct manipulation of a website's source-code. This way, you can get as many detailed customizations as you want on your own website.
WordPress
Judging by the ease-of-use, WordPress has a steeper learning curve than Wix. Both WordPress.org and WordPress.com platforms come with theme customizers and visual editors that allow you to tweak your website, but the process is more backend-oriented.
As a result, you'll have to edit and make changes in the backend when using WordPress. However, WordPress also comes with its own drag-and-drop interface, the Gutenberg editor, and supports other editors such as Visual Composer and Elementor.
Despite the above features, I've found that making inroads with WordPress can be a bit more intimidating than using Wix, especially if you're using the self-hosted version. While Wix offers a minimalistic interface for creating websites, WordPress is more feature intensive and can take some time to get a handle on.
Winner: Wix
After going through the above, I think you'll agree with me when I say that Wix is ahead of any platform when it comes to ease-of-use. Anyone can use Wix to create a free (or paid) account and start a professional website within hours, all without having written a single line of code. Of course, WordPress comes a close second with its superb customizations.
2. Design And Customization Options
After ease-of-use, it's now time to compare design and customization options, and here, both Wix and WordPress go almost neck-and-neck. Long-story-short, while Wix offers a good number of themes and customizations, WordPress themes offer endless scope for customizations.
Wix
Wix offers a sizable choice with over 800 templates that come for free with your Wix plan. All templates offered on the Wix platform are made by professional designers and are divided into a number of categories such as Photography, Business, Landing Pages, etc.
Using the Wix Editor, you'll be able to customize most aspects of your website, including colors, fonts, and layouts. The templates are easy to install and use, and you can take advantage of the drag-and-drop front-end editor to see how your site will look exactly.
If you're an advanced user, you can edit templates to add custom-elements to your site. However, the one disadvantage here is that once you select a particular template/theme on Wix, you can't change it without needing to revamp your site entirely.
WordPress
When it comes to customization and design options, WordPress offers more choices than any other platform, including Wix. WordPress provides you with the opportunity to create a uniquely personalized site with hundreds of WordPress-offered themes that can be modified to any degree.
Along with the themes provided by WordPress, you can also choose from over 5000 themes available from third-party sites such as ThemeForest, Themify, and Woothemes. Keep in mind that it's WordPress.org that offers the maximum flexibility when it comes to theme customizations.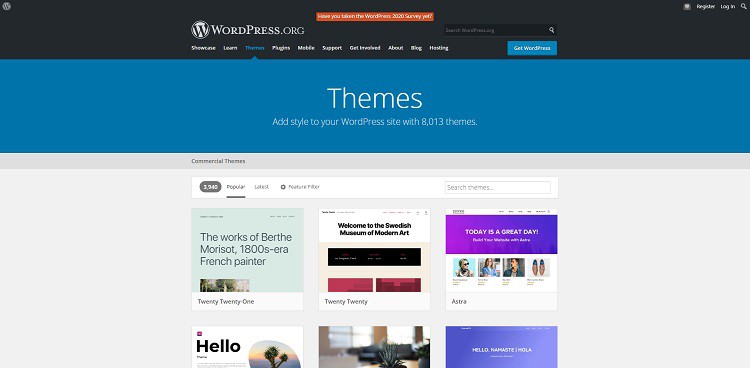 Now, let's tackle the price aspect; WordPress has premium themes as well as free ones, depending upon the source you're getting it from. Free themes don't always lack in capability, but if you want detailed customizations and dedicated support, I recommend going with premium themes from verified sources.
Another option you have when using WordPress.org is to hire a WordPress developer to create custom themes for you. Granted, this is a costly option, but it provides you with a unique WordPress website that reflects your brand ethos.
Winner: WordPress
WordPress leads the way as far as customization options are concerned. And while Wix is not to be discounted, it certainly doesn't offer the level of detailed modification that you can perform on a WordPress site.
3. Apps and Plugins
Add-ons are a great way to improve your website functionality; thankfully, both Wix and WordPress excel in this aspect. The Wix App Market gives you access to over 200 apps, both free and premium.
Adding these apps to your website is simply a matter of a few clicks, and they can help improve a site's functionality to a large degree. From eCommerce to digital marketing apps, you can choose from among a plethora of options.
Most of these apps have been created by Wix developers, while third-party developers have created others. Further, all apps available on the Wix marketplace have been verified and approved by the Wix team, so you don't have to worry about compatibility with your website.
WordPress, on the other hand, offers over 50,000 WordPress plugins, both free and paid. What's more, since WordPress is an open-source system, you can also download and integrate plugins from third-party sources.
No matter what functionality you can think of, WordPress probably has a plugin for it. From Google Analytics Integration to something as simple as creating a contact form, there's a plugin that can do it for you.
However, this massive capability does come with a disadvantage: since WordPress is open-source, anyone can create plugins for the platform. Such diverse sources of plugins lead to a lack of standardization and quality control as far as security features are concerned.
Winner: WordPress
WordPress is way ahead of Wix with its massive collection of plugins if you're going by sheer numbers alone. However, Wix is the better option with its vetted collection of apps when it comes to quality and security.
Whichever you choose to use, keeping an eye on the online reviews for the plugin you're selecting is a good practice.
4. Blogging Capabilities
Blogging is one of the most lucrative digital marketing tools available today. According to the latest estimates, websites with blogs have over 400% greater rankability on search engine results. Plus, companies that regularly post on their blogs capture over 95% more backlinks.
The above stats are enough to entice anyone to include blogging capabilities on their website. That's why, to gain the benefits blogs offer, you need to select a website building tool that has features dedicated to blogging.
In this respect, WordPress comes out as a clear winner. When WordPress started operations in 2003, it was primarily a blogging platform. And while the service has come a long way since then, it's no surprise that it still has excellent blogging support.
Straight-out-of-the-box, WordPress offers you blogging features such as categories, tags, RSS feeds, and comments. You even have the option of visibility control when it comes to publishing your articles and pages. What's more, you can use the dedicated Gutenberg Editor to create beautiful blog posts using drag-and-drop elements.
In comparison, Wix offers pretty standard features for blogging; it has over 50 blogging templates that cater to different industries and niches. Using Wix, you can quickly upload media to your blog posts, schedule their posting times, and organize them according to tags and categories.
Wix's blog editor looks and works similar to the classic Editor from WordPress. Using it, you can change your blog posts' look and feel, add images and other media, and add videos. Wix even offers a gallery of free images and videos that you can use in the posts.
Winner: WordPress
WordPress is the better option as far as blogging is concerned. With features such as private posting, native commenting, and dedicated themes, it's perfect for a fully-fledged blog. In contrast, Wix's features are mostly basic when it comes to blogging, though I reckon it's enough to get the job done for beginners.
5. Ecommerce Features
Unless you're setting up a website purely for blogging, your business needs to include eCommerce features on its website. In this respect, both Wix and WordPress have unique capabilities to offer to everyone. unique capabilities that attract as well as enable.
To sell online products and services on Wix, you'll need to upgrade to one of the paid eCommerce plans. These plans include dedicated eCommerce capabilities such as shipping options, abandoned cart recovery, and even online payments in multiple currencies. In case you're a large business, you can opt for the enterprise-tier plans.
After you've settled on the plan that suits your business the most, you can select from the many eCommerce templates available, customize the design, and set up payments. Finally, add shipping options and a custom domain, and you're ready to start your online store.
WordPress, being a blogging platform in origin, doesn't come with integrated eCommerce features, as do platforms such as Wix and Shopify. But that doesn't mean it's any less capable, for it comes with a highly-powerful eCommerce plugin called WooCommerce.
Using the WooCommerce plugin in your WordPress site lets you convert it to a complete eCommerce store. WooCommerce is an open-source plugin; it's completely customizable and has dedicated themes and plugins that add various functionalities to your store.
However, WooCommerce isn't the only plugin on the block, and you can select anyone from among Ecwid, WP E-commerce, and Easy Digital Downloads. Depending on the plugin you're going with, the functionalities will change.
For example, Wix offers you the option to work with multiple payment gateways and currencies such as Stripe, Square, and PayPal. With WordPress, the payment gateway you can integrate with will depend on the plugin that you're using.
Winner: WordPress
All-in-all, it's easy to understand that the eCommerce features in Wix are more in-built than in WordPress. However, WooCommerce is a powerful plugin and can transform your WordPress website into a fully functional online store. At the same time, it offers unlimited customization options and greater flexibility to sell items.
6. Data Migration
As your business grows, so do your website's needs; as a result, you might have to switch hosting and website platforms eventually. That's why, before settling on Wix or WordPress, you need to take stock of their data portability features, and understand which offers greater flexibility.
Since Wix is a proprietary service, it offers several limitations for migrating content to another website platform. With a Wix site, you can only port your blogs, and that too in XML format. For any other media, you'll have to download each individually.
To better understand their porting capabilities, I went through Wix's complete documentation. What I found was that the company hosts all data related to Wix websites on their dedicated company servers.
As a result, your website cannot be exported anywhere without the company's express permission. While this makes it tough to port a Wix website, it's by no means impossible and can be done by experts.
On the other hand, WordPress is an entirely open-source platform and makes it infinitely easy to export content. Just click on the exporter option, and you can download all your content in an easy-to-port XML format.
Also, for the self-hosted WordPress.org, you can take complete backups of your website. From downloading all media files to manually exporting databases, WordPress has options for everything. All of this allows you to move your WordPress site to a new hosting provider quickly.
Winner: WordPress
WordPress takes the crown when it comes to the portability of websites. Its open-source nature makes switching from one web host to another a breeze. On the other hand, Wix makes every effort to ensure that you stick to its hosting service, though it also offers a certain degree of portability.
7. Customer Support
No discussion involving Wix vs. WordPress can be complete without taking a look at the customer support features. In this respect, Wix provides a dedicated customer support team that offers around-the-clock service.
Whether it's billing, custom domains, subscription charges, or site-related queries, the Wix team provides support directly via email or phone. You can also schedule a callback from the team whenever you need it and get support in multiple languages such as Italian, English, Portuguese, and Spanish.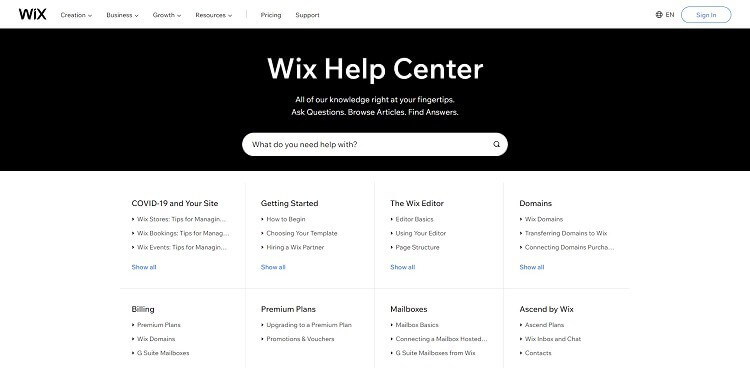 In addition to that, Wix also has a large number of video tutorials and articles that can help you in troubleshooting problems on your own. However, considering the extreme ease-of-use that Wix offers, I doubt you'll need any extra help.
Now let's check out customer support for WordPress, which is a rather messy affair at best. By this, I mean that since WordPress is an open-source platform, there's no official customer support that's available via phone or email.
But don't worry; WordPress users who need help can always rely on the large online community based around this platform. Since WordPress powers a large number of sites on the internet, you can be sure that there's a blog post or forum answer to your problem somewhere.
While this does offer a fair bit of flexibility, you might have to make your way through many websites before you find the right solution. If you're in a hurry, you can post your problem on WordPress communities and groups on social media sites.
In case you can't find a solution to your problem, you can also opt for hiring a WordPress professional to get the job done. Also, some hosting companies, such as Bluehost, provide 24/7 WordPress support.
Winner: Wix
Since Wix is a proprietary platform, naturally, its dedicated customer support team provides a much better service. However, if you're ready to invest a bit of time searching online, then WordPress support isn't hard to come by either.
8. SEO Features
Just creating a website is only half the battle won; you need to ensure that it's found by your target audience as well. In this respect, both Wix and WordPress offer unique search engine optimization facilities.
For example, Wix makes on-page SEO simple using the Wix SEO Wiz tool. Using it, you can add meta-descriptions, custom headings, and even alt-tags to your website pages. What's more, you can also take advantage of advanced features such as 301 redirects, Google Analytics, and Google Search Console integration.
Wix even offers many SEO apps that can be downloaded and included in your site. In fact, with the paid plans, you get access to the Site Booster service that allows a website to be indexed by major search engines such as Google.
However, one major disadvantage of Wix sites is that they are heavily dependent on Javascript. As search engines can't understand Javascript, it is tough for Wix sites to rank higher on the SERPs.
On the other hand, WordPress allows you to control every aspect of the code, making it ideal for technical SEO. And while it lacks built-in tools for on-page SEO, you can use the Yoast SEO plugin, RankMath, etc. to optimize your site better.
The Yoast plugin, for instance, provides suggestions for improving readability, optimizing keywords, and even adding internal links. Using this plugin, your managed WordPress site stands to rank much higher on search results.
Another aspect where WordPress triumphs over Wix is that unlike the latter, WordPress provides completely responsive websites. And even though Google won't admit it, the search giant favors responsive sites over others.
Winner: WordPress
WordPress has the edge over Wix with on-page optimization plugins, code-level customizations, and responsive themes when it comes to SEO. Further, since WordPress sites are not restricted to any one domain provider, you can easily switch services as and when needed.
9. Ongoing Maintenance
Wix takes care of all the maintenance work without needing you to do anything. All updates, changes, and platform modifications are carried out behind the scenes by the Wix development team. Your site reaps the benefits automatically.
With WordPress, you'll get notified of periodic updates that you then have to download and install. Besides, you might also have to update any themes or plugins you're using to ensure that they don't conflict with the platform updates. Sometimes, hosting providers such as Bluehost offer regular and automatic updates for WordPress sites.
Winner: Wix
Since Wix takes care of all updates and changes without asking you to lift a finger, I say Wix is the winner in this category. With WordPress, you'll have to perform all updates yourself, which can be a time-consuming task.
10. Pricing and Value For Money
Finally, it's time to look at the Wix and WordPress pricing plans and compare which offers greater value for money. In this respect, Wix offers greater structure, while WordPress offers greater flexibility.
With Wix, you get access to a completely free plan that's ad-supported. In case you're looking for an ad-free experience, you'll have to upgrade to one of the premium plans, which start at $14 a month.
Plans can go up to the VIP level at $49 per month, where you get unlimited bandwidth, storage, and analytics features, along with a custom domain name. Besides, you might have to shell out extra in-case you're going with paid apps from the Wix App Market.
Compared to that, downloading and using WordPress is entirely free; but there's a catch. With WordPress, you have to pay separately for every customization level, from paid themes and web design to web hosting and SSL certificates.
WordPress hosting on free domains is seldom feasible, so setting up a WordPress site can cost anywhere from hundreds to thousands of dollars.
Winner: Wix And WordPress
Both Wix and WordPress offer different value for money when it comes to pricing. While Wix offers standard plans that you can choose from, WordPress offers greater flexibility in pricing.
Wix vs. WordPress: Pros And Cons
Wix Pros
Zero coding skills required
Advanced support available
Free domains
Requires no maintenance
Best for small business websites
Wix Cons
Customization restrictions
Not suitable for large, complex eCommerce sites
SEO not as good as WordPress
WordPress Pros
Offers extreme levels of customization
A massive number of add-ons
Completely responsive sites
Flexibility of pricing
Great blogging and SEO features
WordPress Cons
No official support
Certain technical skills needed
Wrap Up
WordPress and Wix both offer numerous features and functionalities for creating websites. While WordPress provides an open-source solution that's entirely customizable, Wix offers a proprietary platform that ensures fast and easy website deployment.
Read my full review of Wix here.
The choice between which one is best ultimately depends on your business needs. For smaller businesses and online stores, Wix is an excellent choice as it offers all tools needed to build a website under one single platform.
However, if you are the owner of a more extensive website that requires intense customizations and fine control over all aspects, WordPress is the better option. Also, since it's completely open-source, you can hire professional developers to get a site developed as per your needs.
Whichever way you choose to lean, keep the above points in mind when making a choice.
Disclosure: I may receive affiliate compensation for some of the links below at no cost to you if you decide to purchase a paid plan. You can read our affiliate disclosure in our privacy policy. This site is not intending to provide financial advice. This is for entertainment only.
---
Last Updated on December 8, 2022 by Adam Enfroy