7 Best Bitcoin Mining Software of 2023 (Ranked and Reviewed)
Choosing the right bitcoin mining software is vitally important to your business. From selecting the most efficient hardware to securing your bitcoin wallets, the best bitcoin mining software can help you meet your goals. In this guide, I ranked and reviewed the 7 best bitcoin mining software, so that you can pick the best one for you.
---
We're reader-supported. When you buy through links on our site, we may earn an affiliate commission.
Bitcoin mining is the process of making new coins available in circulation. In simple terms, the person that creates these bitcoins will also become their owner. As a result, the newly mined coins get added to the person's crypto portfolio tracker.
This is a very different process than buying Bitcoin on a crypto exchange and you should definitely not confuse the two.
In order to create such Bitcoin, one has to complete complex mathematical equations that involve time and resources to solve. Sounds confusing? Don't worry, I'll soon get to how it actually works!
For now, just know that in an industry that shows 97% confidence in its user index (as of 2021), the demand for mining Bitcoin has never been higher than it is today.
The problem is that apart from the knowledge involved, you also need special software to run the mining applications.
There are a lot of mining programs out there that can be used for this purpose, but finding the right one is vital if you are serious about finding success in bitcoin mining.
In this article, I have made a list of the best bitcoin mining software that you can use to start mining. The great news is that some of the software works in the cloud so you don't even have to download anything on your computer.
With that said, let's take a look at this list of software that makes Bitcoin mining possible.
What is the Best Bitcoin Mining Software?
The following are the best bitcoin mining software available right now. This software can be used by beginners looking to get started as well as veterans in the mining industry.
Best for letting your PC earn you money in the background.
Adam's Take
Kryptex Miner is the best overall mining software for Windows. It's easy to get started with this software thanks to its user-friendly interface. This makes executing the right actions can quickly become second nature.
Kryptex Miner lets you mine cryptocurrency and get paid in bitcoins or traditional money, (including American dollars and other currencies). By downloading this app to your PC, you'll be able to use your computing power (CPU or GPU) to mine bitcoin.
They use thousands of computers connected together to execute complex distributed cryptocurrency computations in a single location.
If you are currently leaving your computer idle while doing other things, then you can use Kryptex to earn money.
They will pay you for the work your computer performs – you could even be using it at the same time; however the more resources you have available, the higher the chance of earning more money.
At the end of the day, your earning power comes down to your PC's processing power and the amount of time you leave it turned on and mining.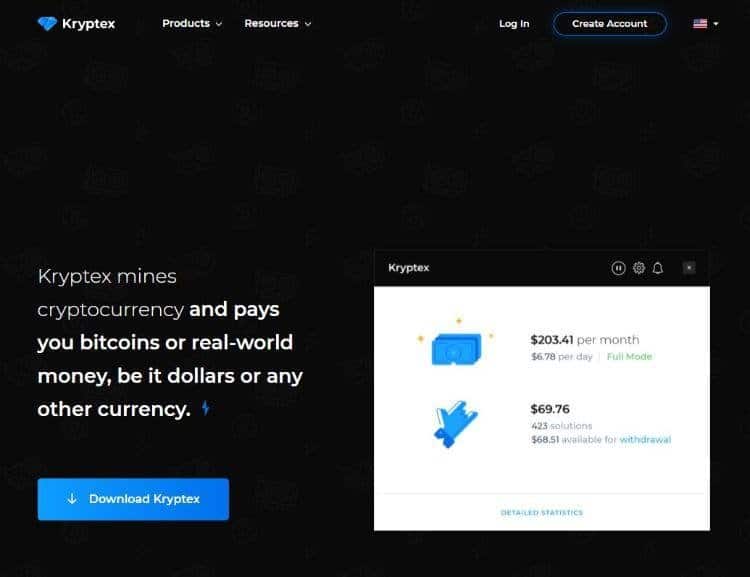 Key Features:
The minimum withdrawal amount is just $0.5 which means you can withdraw your earnings anytime you want once you hit that minimum.
Get started by downloading the app and running a PC test to check your available computing power.
Let Kryptex run in the background for as long as you want so it makes money on your behalf
You can withdraw your money on the very same day that you've earned it in your Kryptex account.
Best for scaling your bitcoin mining operations as needed.
Adam's Take
I like Awesome Miner and the features it offers. These can help you maximize your profits and reduce the time you spend setting things up and running specific actions.
Awesome Miner is a great solution for mining pool operations. It offers features that maximize profit and minimize time monitoring your mining rigs.
It also comes with a built-in customizable dashboard that allows you to monitor key info, such as hash rate, temperature, fan speed, and of course earnings.
It is also useful for large-scale mining which means that the more mining hardware you have, the more profit you'll be able to generate.
You can use features such as native overclocking, which allows you to adjust your computer's clock speeds, voltages, and fan speeds. It's also compatible with multi GPU setups, ASIC devices, and even remote desktop software.
Key Features:
Get the latest stats on your machine to understand its power consumption and what you need to do to get the best mining speeds.
Monitor your mining rigs, even on remote computers via Cloud Mining Dashboard.
Mine any crypto through this software. With support for over several hundred cryptocurrencies, you'll be able to mine the one you want with ease.
Works on both Windows and Linux so you can give it a try regardless of your operating system.
Best for creating a bitcoin mining farm with ease.
Adam's Take
Cudo Miner is great for those that control mining farms. If you want to ensure that each device is running at its peak performance, as well as providing a comprehensive view of the entire mining operation, Cudo Miner is a great way to go.
Cudo Miner is the best option for maximal control of each device, as well as a comprehensive view of your mining farms; both of which help you make more informed decisions.
Mining farms can boost profits and decrease manual intervention when using Cudo's unique solution.
A mining farm can quickly become a complex set-up, which is why Cudo's software simplifies the process and allows you to do it on your own with ease. It automatically configures your mining rigs so they are always running at maximum efficiency.
With remote access available, you'll get full transparency of your mining operations by allowing you to monitor and configure your mining rigs from any location.
You'll also be able to overclock and fine-tune your ASICs and GPU in a way that maximizes the hashes they generate.
Key Features:
Autocoin switching for maximum profitability means that you'll be able to mine the most profitable altcoin at all times.
Monitor your Bitcoin, Litecoin, and Ethereum mining rigs remotely on any device via mobile, tablet, or computer.
Maximize your hash rate by automatically configuring overclocking for better results.
Advanced settings and control mean that you can tweak your mining farm for maximum performance.
4. EasyMiner.
Best for providing a military-grade security system while mining.
Adam's Take
EasyMiner provides an easy-to-use interface for mining bitcoins and other cryptocurrencies. It offers a variety of features that make it an excellent choice for both beginners and experienced miners.
EasyMiner prides itself on the security it offers when it comes to mining. This level of 'paranoid' security means that no one will be able to monitor or connect to your mining operations, which means that any mining you do will be completely private.
If you're worried about the security of your coins, then this is the way to go. The level of security offered means that you'll be able to mine without worrying about your coins being stolen or hacked during the process.
Being free and open-source, you won't need to pay anything to get your hands on this software. Their website will give you a helping hand in setting up your bitcoin mining operations and ensure that they are running at maximum efficiency.
When it comes to the resources needed to run, EasyMiner is straightforward and lightweight. It's built only upon simple processes such as libcurl and jansson for best CPU and GPU capabilities.
There are no external packages that require setup and as a solution, it also provides you with the ability to mine using already available resources on your computer.
Key Features:
Get real-time statistics so that you can keep track of your mining activities.
Monitor all of your mining units remotely through any device.
Quick and easy set up so that you won't need to tinker with advanced settings if you don't want to.
Personal wallet management allows you to use your Litecoin wallet to withdraw your mining profits easily.
Live community support means that you get the right help when needed.
5. ECOS.
Best for mining BTC in the cloud without having to download software.
Adam's Take
If you're looking for a browser solution to mining, I recommend ECOS as the best solution currently available. It's easy to get started, and you can start mining quickly without having to download any additional third-party software.
ECOS allows you to mine bitcoin without needing to download any software. Impressively, this is achieved by creating a bitcoin mining farm in the cloud that allows you to mine directly from any web browser.
You'll be able to get started with ECOS in minutes, so it's ideal for anyone looking to get started, but doesn't have time to fiddle with complicated software.
By creating a new mining contract with ECOS, you'll be able to get started with bitcoin mining quickly, easily, and efficiently.
As a result, you won't need to wait for extended periods before being able to use the service, which is a problem that often occurs when it comes to cloud mining services.
The contract that you set up can be tailored towards your specific needs and the exact bitcoin forecast, contract duration, and price you want to get started with.
Key Features:
Mining on the cloud means that you won't need to buy any hardware or software.
Only pay for the contracts that you want and not have to settle for a generic solution that doesn't fit your budget
You have the ability to monitor your mining units at all times, allowing you to keep an eye on your profits and ensure that everything is running as it should be.
With a mobile app (for both iOS and Android), you'll be able to keep track of your mining activity whenever you aren't sitting at your computer.
6. BeMine.
Best for offering a wide range of cloud mining options.
BeMine is another cloud mining service that allows you to mine bitcoin without needing to worry about buying or setting up any equipment.
This means that BeMine is an ideal solution for anyone who doesn't want to buy lots of hardware but still wants to start mining.
You can work with multiple cryptocurrencies online through the different mining contracts that they offer.
Contracts can also be made for different durations, including 6, 8, and 12 months periods, which means that you have complete control over the contract that is most beneficial for your needs.
With prices starting from $85 using their entry-level machine, you have the choice of which type of mining machine you would like to use.
Key Features:
Choose from bitcoin miners, altcoin miners, or even easier to set up cloud contracts to get started.
Stop guessing which machine you should go for to make a profit. ASIC selection is all you need to consider which means that you'll be able to start mining in no time.
If you want to scale your option, you can buy further machines to increase your potential earnings and profits.
Your earnings can be withdrawn at any time – no need to wait until your contract expires or until you've mined enough bitcoin.
7. Shamining.
Best for offering 24/7 payouts withdrawal.
Shamining offers different types of cloud mining services including lite power and pro power. These different cloud mining types offer different levels of investments so it's important to consider your options carefully.
Choosing the right package for you will depend on how much you want to invest and what kind of bitcoin payout you want.
Your contract will begin as soon as the funds have been confirmed from your payment, which means that you can start mining right away after that.
You can also make use of their income calculator to see just how much you can potentially earn with the service before getting tied into a contract.
Prices start from $ 0.0120 per 1 GH/S for GPU miners and go up to $ 0.0109 per GH/S for ASIC miners. There are also Individual miners available – you'll have to contact their support for more specific information about such miners.
Key Features:
Enjoy completely transparent bitcoin cloud mining that isn't based on any hidden fees.
Earn money from your investment even if the price of bitcoin goes down as you can still withdraw your earnings at all times.
Make use of their income calculator to find out more about what kind of returns you will receive before signing up.
Prices are based on 1 GH/S which makes it easy for you to calculate what kind of investment you want to make and what potential returns you will receive over time.
Other bitcoin mining software not mentioned in this article include CGMiner, BFGMiner, and MultiMiner.
What is Bitcoin Mining Software?
Cryptocurrency mining software is used to mine the volatile and predetermined resource known as cryptocurrency.
With 18.77 million out of a potential 21 million bitcoins already mined by August 2021, the importance of choosing the right mining software has never been as important.
Mining consists of using your personal computer's power (or a cloud software solution) to solve complicated mathematical problems. In return for solving these math problems, miners get rewarded with blocks of newly minted bitcoins.
However, bitcoin mining has become more difficult over time because there has been a block reward halving every so often.
To add to the difficulty of bitcoin mining, it requires expensive equipment called an ASIC (which is another word for a microchip that can be found in most computers) whose cost can become very significant the more specialized the hardware is.
Some companies have started producing ASICs that are specially designed for bitcoin mining.
Now, where does cryptocurrency mining software come into play?
Cryptocurrency mining software is used for the sole purpose of connecting your personal computer and pooling hash rate together to solve math problems and get bitcoin rewards.
Most traditional bitcoin mining equipment such as ASICs cannot be used on their own. This means that you will need to connect your hardware up to a compatible cryptocurrency mining software package to start earning money.
However, this is not all too difficult thanks to how popular bitcoin mining software is among miners nowadays. This means that most of these programs also have support for most major mining equipment available right out of the box.
The mining process explained
When it comes to understanding how crypto mining software works, remember that the process of mining is completely different compared to what you see in other types of cryptocurrency investments.
The mining process consists of running your hardware for extended periods on specific software packages so that it can solve complicated mathematical problems.
The harder the math problem, the more difficult it will be to solve and this means that your computer hardware has to be up to scratch to finish the job quickly enough before moving on to the next one.
If these calculations are not completed fast enough or if they are somehow incorrect then it's game over and you will have wasted all the time, energy, and money associated with solving that particular math problem.
This is why some miners experience downtime – there is a limited amount of math problems that can be solved each day. Solving such math problems also becomes harder and less profitable if your computer equipment is not running at its optimal level.
It's important to keep in mind that bitcoin mining is not something you can just set and forget about as there are many technical factors involved behind the scenes.
Once you have started mining, it will require constant attention so that your miner can continue running at optimal levels at all times. This might entail:
Making sure that your equipment is running at optimal temperatures. This can be done using mining software that includes built-in overclocking gears.
Ongoing upgrades to ensure better performance over time. This is especially important with ASIC miners as the technology behind them becomes outdated quite fast so you must keep track of what's new on the scene with these types of devices to stay up to date.
Monitoring sites that display current mining trends and what hardware is the most efficient to use.
Keeping track of your equipment's hash rate so you know when it's time for regular maintenance or even replacement of your equipment if necessary.
What is Bitcoin Mining Software Used For?
Bitcoin mining software can be used for a variety of reasons such as the following.
1. Running the bitcoin protocol to maintain network integrity and security
When it comes to mining, these so-called miners are rewarded with bitcoins for their contributions to securing the network and verifying transactions that take up a lot of computing power.
Without miners, there would be no blockchain, and bitcoin would not exist without it because there will be nobody to keep track of all the transactions that go on in the blockchain database which includes who is the owner of a particular bitcoin, how much bitcoin a person has, at what time this was created, etc.
2. Securing blockchains from attacks by hackers or other malware
If you are unfamiliar with the term "51% attack" it means that one group of miners (usually organized by a major company) gains more than 50% of the network's mining power which gives them the authority to take over the blockchain and do malicious things.
These can include actions such as spending their money multiple times, blocking other people's transactions, etc. Miners work together to prevent this from happening.
3. Mining altcoins
Just because bitcoin is currently number 1 does not mean that it will always be the case.
As is the case with every technology that was once on top, there is always the potential that it becomes obsolete at some point in time – this is also the reason why many alternative cryptocurrencies have sprung up to challenge its dominance.
Just keep in mind that other altcoins can be mined using bitcoin mining software so this option should be considered if you want to use your existing mining equipment for other purposes.
These days you can also mine various cryptocurrencies – both famous ones and even lesser-known ones such as Monero and Zcash.
What is Cloud Mining?
Mining on your computer has various limitations as discussed before. That is where cloud mining enters into the picture.
Cloud mining is a process by which you can "rent" out spare hash rates from other miners on large cloud storage services.
The benefits of obtaining hash rates this way include factors such as having no additional costs involved when maintaining or buying new equipment to improve your mining process.
However, there are also risks associated with these types of investments. With cloud mining, the following factors need to be taken into consideration:
These companies can charge hidden fees not originally mentioned at signup
You can't always choose which pool you would like to mine in
The companies may not be transparent with where they store their hardware or how they manage the mining operation
There is usually a minimum threshold, meaning that once the amount of money in your account falls below this point then all hash rates would stop immediately.
Finding the right cloud mining provider is crucial if you want to get the most out of your investment because a lot of shady companies have popped up when bitcoin prices reached all-time highs.
That is why I suggest researching the above list and finding the right bitcoin mining software for your needs.
Bitcoin mining software – FAQ
Does free bitcoin mining software work?
No, there are no free miners that work well so it's best to avoid any websites or ads that offer you this type of service.
With various expenses involved when mining bitcoin, this is a case where if it sounds too good to be true, it probably is.
What is a hash?
A hash is a mathematical problem the bitcoin network uses to decide which miner gets the right to confirm a transaction and earn their fee as well as an award for all of the electricity they spent trying to solve this problem.
The difficulty is adjusted every so often so that no matter how much hash rate a single miner or pool has, there will always be the need for more computational power to solve such problems.
The hash algorithm used defines the output of the hash function, which can be smaller than or equal to the original input. The security of hashes also comes into play, with hashes such as the SHA-256 being one of the most secure ones available.
What is ASIC mining hardware?
ASIC stands for application-specific integrated circuit and it's essentially a microchip designed to mine bitcoins. As more people started mining, the problem of finding blocks came into focus which caused the bitcoin network hash rate to increase exponentially until ASICs were brought into play.
Mining algorithms consist of complex mathematical equations and it takes a lot of processing power to solve them. Specialized hardware such as the Bitmain Antminer S9, which is the most efficient miner to date, then became a reality.
What is a mining rig?
A mining rig is simply a collection of hardware that's designed to efficiently mine bitcoins. This hand-made computer has multiple powerful Nvidia graphics cards connected to it, which will be running 24/7 while processing mathematical problems.
The hash power of a mining rig is measured with the number of hashes per second (H/s) so don't be fooled by ads selling mining hardware having hash rates in TH/s (1 TH/s = 1,000,000,000 H/s).
Bitcoin mining hardware is sometimes also referred to as "bitcoin mining rigs" so the terms are interchangeable.
What is open-source mining software?
Open source mining software means that its code is available to the public for viewing and/or modification. This type of software is usually safe but most aren't written very well so don't expect to make a profit with most free bitcoin miners or mining pools.
Apart from mining bitcoin, what other cryptocurrency can you mine?
The best cloud mining providers allow you to mine bitcoin and other altcoins so this is another reason why I would recommend going with a trusted company in this industry.
Such companies have dedicated resources to make sure everything runs smoothly when mining cryptocurrencies.
Mining engines are optimized for one currency but some mining pools also allow you to exchange your mined coins for bitcoins or other virtual currencies.
Do mining software only work on one platform?
Most of the mining software available online is either downloadable or browser-based so you can use it on Windows, macOS X, and Linux.
These cross-platform solutions are usually open-source. If you find a solution that's AMD CPU-based, then it will work on pretty much every device out there since they have no extra dependencies which are required for the mining process.
What are bitcoin mining protocols?
Protocols (such as Stratum) are used to communicate between the software and the bitcoin network. This means that the mining platform you choose needs to support the mining protocol you want to use.
Do all bitcoin mining software use a graphical user interface?
No, some software still uses a command-line approach to control the GPU so if you're not used to it, then there will be a learning curve before you can get started.
Command-line mining software is usually open-source and only requires a standard C++ redistributable package to run.
Wrap Up.
The bottom line is that, even though you can set up a crypto portfolio tracker quickly and get started in this industry, cryptocurrency mining isn't something you can just jump into without doing your research beforehand. Such research will save you from wasting resources and money on faulty equipment, software issues, and downtime.
You must always keep in mind that this type of work won't be profitable unless you have the right equipment (either physically or in the cloud) so understanding the hardware and software involved is key.
To recap, the best bitcoin mining software right now is:
Kryptex Miner: Best for letting your PC earn you money in the background.
Awesome Miner: Best for scaling your bitcoin mining operations as needed.
Cudo Miner: Best for creating a bitcoin mining farm with ease.
EasyMiner: Best for providing a paranoid, military-grade security system while mining.
ECOS: Best for mining BTC in the cloud without having to download software.
BeMine: Best for offering a wide range of cloud mining options.
Shamining: Best for offering 24/7 payouts withdrawal.
Have you ever mined bitcoin? What results did you get? Let me know in the comments below.
Further reading on AdamEnfroy.com: Want to learn more about mining?
Here's how to mine Electroneum, a relatively new coin that can be mined using your mobile phone or computer.
This means you don't even have to invest in expensive mining hardware.
On the topic of mining, here's a list of the best Ethereum mining software right now.
Also, if you want to learn how to use AI to invest and trade automatically, here's the latest information on the best AI Investing Software for more information.
If you're interested in diversifying your investment portfolio, here's a post I wrote on the best precious metals IRA companies to check out.
Finally, if you are interested in learning about the best NFT marketplaces, check out my post on that.
Disclosure: I may receive affiliate compensation for some of the links below at no cost to you if you decide to purchase a paid plan. You can read our affiliate disclosure in our privacy policy. This site is not intending to provide financial advice. This is for entertainment only.