Bluevine Business Checking Review in 2023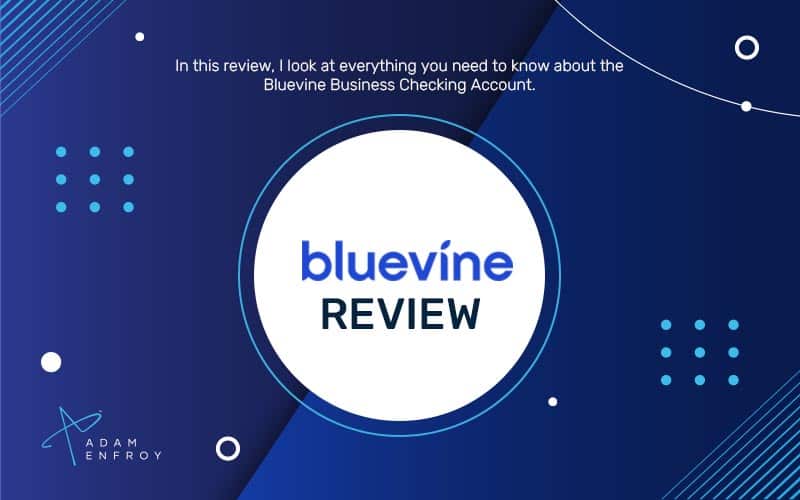 The right business checking account is a fundamental part of running a business.
Like a car engine, a business checking account is one of the main elements that drive a business forward and makes it possible for the company to function.
It's where you deposit your revenue, write checks to pay bills, and track your expenses.
Whether a business checking account is needed to manage payroll or taxes, this type of account is vital.
Bluevine is a financial institution that provides various banking solutions for businesses, and their business checking account is one of the most popular products.
In this review, I'll look at everything you need to know about the Bluevine Business Checking Account, including fees, features, and whether it's the right fit for your business.
Let's get right into it.
What Is Bluevine Business?
Helping business owners run their businesses with confidence is Bluevine's top priority.
That's why they have created a suite of products and services that cater to the specific needs of small businesses.
Bluevine provides small businesses with checking, lending, and bill payment products and services.
From high-yield checking with no monthly maintenance fees to bill pay options that let you maximize cash flow, Bluevine has various solutions.
They also have security measures to protect your account from fraud and theft.
Bluevine Business is FDIC insured for up to $250,000, and all transactions are encrypted, so you can rest assured that your money is safe.
Bluevine Business Checking
There is only one type of checking account that Bluevine offers.
However, it is a very comprehensive one for small business owners.
When you open a Bluevine Business Checking account, there are no monthly or overdraft fees.
In addition, no minimum opening deposit requirements, so you can open an account with as little or as much money as you want.
You can also make unlimited transactions, so there is no restriction on how often you can withdraw or deposit money.
Another great feature of this product is that you can earn up to a 1.5% annual percentage yield (APY) interest rate on the money you have in your account up to $100,000.
While some conditions need to happen for you to qualify for this rate, it is still a very competitive offer in the small business banking market.
Also, the mentioned conditions are pretty easy to meet.
You need to spend $500 monthly with the provided business debit card or get $2,500 monthly in customer payments via various methods.
These include mobile check deposit, wire transfer, ACH, or directly to your merchant payment processing provider.
Fees
Anyone who has ever dealt with banks on a business level knows that fees can quickly add up and eat into your profits.
This is why choosing a bank with low or no transaction fees for its products and banking services is essential.
Bluevine Business Checking account has no monthly fees, no non-sufficient fund fees, no overdraft fees, and no minimum balance requirements.
There are also no ATM fees for in-network ATMs when withdrawing money from more than 37000 machines around the country that form part of MoneyPass ATMs.
That said, there is a $2.50 fee for withdrawing from an out-of-network ATM access.
Transactions
While no in-person physical branches are available, you can still transact through this online-only bank in several ways.
Out of the box, when creating a checking account, you get a free Bluevine Business Debit Mastercard and two free checkbooks.
You do need to have a balance in your account to get your free checkbooks.
Then, if you want to order more checkbooks, this starts at around $18 per book.
Whether you stick with the two free checkbooks or order more, you can make purchases and withdrawals without worrying about paying additional fees.
They also thought about those wanting to deposit cash as part of their day-to-day operations.
A Bluevine business banking account comes with an active partnership with Green Dot, allowing business owners to make cash deposits as needed.
Green Dot retail locations include CVS Pharmacy​, Dollar General​, 7-Eleven​, Kroger, and Family Dollar​, amongst others.
Mobile Banking
With Bluevine's mobile app, you can quickly check your Bluevine account balance, view transaction history, deposit checks, and transfer money between your accounts.
This is all possible to do from the comfort of your smartphone or tablet.
The app is available for iOS and Android devices and can be downloaded from the relevant app store.
With a (current) app store score of 4.6 and 4.7 out of 5 stars on the Play Store and Google Play Store, many people seem to be quite pleased with the service provided by Bluevine on their mobile apps.
Security
As I mentioned, their checking account is FDIC insured, so you know your money is safe.
Moreover, with two-factor authentication and online bank-level encryption, you can be sure that your account is secure from fraud and theft.
Business Line of Credit
Similar to revolving credit accounts with traditional banks, a line of credit with Bluevine offers businesses the option to get additional funds as they pay back what they have already borrowed.
With this line of credit repaid over six to twelve months, the bank will automatically take back the amount you borrowed from your account.
To qualify for a line of credit, there are a few conditions that you have to satisfy.
Some of these include having a credit score of 600+, you need to be registered as an LLC or a corporation, and having been in business for at least six months.
Customer Service
Good customer service is one significant feature, especially for small businesses.
Although the customer service provided by Bluevine is good, it is only available on weekdays.
This is good information to know if you have any issues with your account or need to talk to someone about a transaction.
If you want to contact customer service, you can do so either by phone or email.
Third-Party Integrations
Bluevine integrates with several popular accounting software platforms such as QuickBooks, Wave, and FreshBooks.
This makes it easy to keep track of your finances and ensure that all your transactions are accounted for.
You can also connect to various payment processes, including Stripe, Expensify, and Paypal.
Setting Up Your Checking Account
Creating your account is very simple and can be done on the website.
With the promise that your application will only take a few minutes to complete, it is one of the quickest ways to open up a free business checking account online.
Bluevine Business Checking Review – FAQ
Does Bluevine Provide A Credit Card Service?
BillPay is the feature you are looking for in this regard.
Recurring payments is one of the most popular features of this service.
Here's more information on this feature.
Does Bluevine Offer Lending Features?
Yes, Bluevine is also a lender providing business financing products such as lines of credit and invoicing financing.
What Is Bluevine Paycheck Protection Program?
This is a program that this financial institution is no longer offering.
Can I Receive An Incoming Wire Transfer Through Bluevine?
Yes, you can.
The sender simply needs to know the right information to whom to send the wire.
In sending wire fees, outgoing wire transfers are charged a $15 fee.
Do I Need A Social Security Number When Applying For An Account?
Yes, this is asked for at registration.
What Is Invoice Factoring?
With this feature, you can receive a cash advance on any invoices you have yet to be paid for.
Does Bluevine Offer Savings Accounts?
No, this is not currently an option.
What Are Bluevine Sub-Accounts?
Whether you want to set up funds for emergencies, prepare for tax season or manage payroll, subaccounts can help you do so.
This type of account is also sometimes referred to as a "bucket" account and is one of the perks that an online business checking account can offer.
Wrap Up.
As one of the best business checking accounts, Bluevine is a good option for small businesses looking for an online checking bank account.
With no monthly service fee, it is an excellent alternative to traditional banks and has all the features most entrepreneurs need.
There is also the element of security, with business checking accounts being FDIC insured, so you know your money is safe.
If you are looking for an excellent online checking account for your small business, then Bluevine is worth considering.
Further reading on AdamEnfroy.com: Having an online business bank account is essential for any business owner.
With various options available, researching the one that can offer you the best service is vital before committing.
In addition, if you want to get a business loan, knowing what's involved in the application process can help you better prepare and ace the process.
Disclosure: I may receive affiliate compensation for some of the links below at no cost to you if you decide to purchase a paid plan. You can read our affiliate disclosure in our privacy policy. This site is not intending to provide financial advice. This is for entertainment only.