7 Best Board Meeting Software of 2023 (Ranked and Reviewed)
Want to cut straight to the chase? The best board meeting software right now is Wrike.
With so much happening in the day-to-day running of an organization, board meetings offer stakeholders the chance to align on goals, ensure that everyone is on the same page, and engage in strategic deliberations.
The reality is that ensuring that everyone is working in sync with one another is often a daunting task. It is also not always possible to have every member physically present in a meeting which adds another layer of complexity.
That's where board meeting software comes into play. This type of software helps avoid miscommunication and ensures that everyone is on the same page with up-to-date information at their fingertips.
The right meeting management software will act as an effective communication tool among board members while the wrong one will cause more harm than good.
To help you find the best board meeting software for your organization, I have researched and handpicked the best software available in the market right now.
Simply put, these tools will help you streamline all activities perfectly and enhance the overall productivity of a business organization. Let's get right into it.
Disclosure: I may receive affiliate compensation for some of the links below at no cost to you if you decide to purchase a paid plan. You can read our affiliate disclosure in our privacy policy.
What is the best board meeting software?
The following is the list of the best board meeting software organizations are using today.
Best for teams that want full visibility in collaboration.
With Wrike's board meeting software, you can easily create tasks and assign them to the relevant team members.
This will help everyone in your organization keep track of what they are doing and align their efforts towards achieving the company's vision.
360° visibility, genuine cross-departmental cooperation, and powerful automation empower your employees to do the best work of their lives.
Simply put, Wrike software helps you create a collaborative environment where you can easily track the progress of every project in an organization by team members across departments.
With everything from customizable dashboards to workflows for simplifying operations, Wrike has you covered. There's nothing else out there with this level of flexibility.
Key Features:
Organize your departments and instill best practices throughout the company as a whole.
You can easily create tasks, schedule calendar events, and monitor projects.
Find information quickly and make decisions in real-time by eliminating divisions with complete insight into operations. Find knowledge swiftly and take action in the moment when it matters.
You can collaborate and transmit data, documents, and reports instantly. With visual proofing and automated approval systems, you may shorten the feedback process.
Pricing
With 4 pricing plans available, Wrike includes a free version that allows unlimited users. After that, the paid pricing plans are as follows:
Professional: For fast-growing teams – $9.80 per user per month
Business: For all teams across an organization – $24.80 per user per month
Enterprise: For large teams
For the Enterprise plan, you'll have to get in touch with them for more information.
Get started with Wrike.
Best for those that want truly effective team meetings.
Boardable ensures that your company's board is executing all necessary actions, managing liability concerns, sharing board meeting materials (such as recordings), and requesting e-signatures for effective and modern governance.
For teams that want to deliver a hybrid meeting experience, Boardable's board meeting software is a great choice. This software allows you to conduct virtual and in-person meetings with the same level of effectiveness.
In addition, it offers features such as effective meeting minutes documentation, easy information sharing, personalized communication channels for groups and committees, etc.
With the ability to find the right time for a meeting that fits everyone's schedule, you can book one-off meetings or recurring events with no hassle at all.
Key Features:
You may quickly manage your tasks and projects with Task Manager. During and between meetings, you can create, assign, and manage activity items. This ensures that tasks are moving along through intelligent reporting.
Keep the conversation flowing by sharing interesting articles and content, uploading presentations, or scheduling events with one click. Also, you may create polls to get everyone involved. With Boardable's board meeting software, you can manage your team easily.
The Document Center connects all of your board's documents to one location. You avoid the mess and fuss of email attachments by organizing and distributing documents quickly while going paperless.
Boardable Spotlight provides the tools you need to communicate with others on a global scale, collaborate effortlessly, and make document decisions all in one place.
Automating your meeting scheduling not only saves time, but also frees up your board's attention so that everyone can focus on corporate governance, strategy, and other aspects of your mission.
Pricing
Boardable focuses on offering transparent pricing, where you can know exactly how much you'll pay as you go along. Their pricing plans are as follows:
Grassroots: Starting at $79 per month
Essentials: Starting at $149 per month
Professional: Starting at $249 per month
Enterprise: Contact them for a custom quote
They also have a free trial so you can test out the software before making a final decision.
Best for taking ideas from design to execution in one platform.
With InVision's strong design system, team members can accomplish more at work by working smarter, faster, and in sync.
Drive alignment like the team's spirit, improve communication between you and your stakeholders, simplify the design process, and build a library of components – all with one platform.
Use annotations to create boardmaps showing your customer's journey and collect real-time feedback. You get to spend more time improving your product and less time figuring out how you're going to build it.
InVision emphasizes achieving a better, faster workflow through features such as allowing for testing and prototyping before the development starts, easy file sharing and more.
Connect your meeting process using diligent boards with essential connections. InVision works with your current tools to streamline the whole product development process.
Key Features:
Create genuine-feeling experiences without any code so that you can prototype and test your product with real users before development even starts.
Create clickable, interactive wireframes and design prototypes that look and work exactly how you intend to code them.
Unlock continuous development and choose the correct specs to make each component feel great in any environment.
With Sketch integration, you can create connected designs more efficiently making your workflow seamless.
Pricing
With three simple plans, InVision makes it easy for everyone to understand what they're getting:
Free: Free forever for individual and small teams
Pro: $7.95 per user per month (billed annually)
Enterprise: You'll have to contact them to get a custom quote
4. Ayoa.
Best for integrating mind mapping, whiteboard, and task management.
Ayoa's program solutions have been utilized by millions of individuals, both neurotypical and neurodivergent, to complete tasks individually and together.
People think in various ways, and there's a lot of diversity which means that Ayoa is built to be accessible by everyone involved. The program is fully customizable, allowing your team to adapt the dashboard just the way they want it.
Don't let technology limit your ability to work. Ayoa allows you to work the way you want by providing you with the tools to work better.
Designed for teams with diverse makeup, Ayoa offers a simple and efficient way to communicate with everyone involved.
With the integration of mind mapping, whiteboards, and task management, you'll always be up to date with what's going on across your entire team.
Key Features:
Diverse teams inevitably produce varied thoughts, which can propel your business forward. Using Ayoa, your team will be able to track each idea as it comes up, assign tasks and re-engage on those ideas later.
Ayoa's neuro-inclusive approach enables everyone to reach their full potential by eliminating technology barriers and providing them with the tools they need to communicate better.
Simply have a catch-up with a client or a meeting with your team without leaving the app by using Zoom integration and end-to-end encrypted Ayoa video.
With radial maps in Ayoa, you may create fantastic ideas and accomplish your objectives.
Pricing
Ayoa offers two straightforward pricing plans that include the necessary features and integrations that your team might be looking for. There's also the ability to have a free 7 day, fully-featured trial that should give you a good idea of how the program works:
After that, the paid plans are as follows:
Pro: $10 per user per month, billed annually
Ultimate: $13 per user per month, billed annually
5. Miro.
Best for bringing teams together on one infinite interface.
Miro is a cloud-based online whiteboard that allows you to collaborate in person across time zones, teams, and geographies.
Miro provides a fun, easy-to-use in-person collaboration environment with numerous choices for real-time or asynchronous cooperation on an online whiteboard.
It is simple to understand, easy to use, and backed by customer service that will help your organization get the most out of it.
With all groups being on the same page, you can have peace of mind that everyone is in sync and working together to improve collaboration and productivity.
You can collaborate with 1 person or hundreds of people at once regardless of your location. Miro brings everyone together in real-time allowing you to get input, make corrections, merge different versions, track changes and save everything in the process.
Having paperless meetings has never been easier. With Miro, you can create an infinite space for collaboration, whatever your needs may be.
Key Features:
With enterprise-level security and sophisticated management tools, it's simple to use Miro across an organization (both nonprofit organizations or a profit making one).
You'll have an account manager that will work to understand your needs and help find the right solution for you.
Miro provides an intuitive interface that allows everyone, regardless of their skill set or experience, to quickly master it. From importing files to hosting webinars, Miro is all-encompassing in what it can do.
You may work the way you want to with Miro's infinitely zoomable surface and web whiteboard. These tools enhance your flexibility and let you communicate in the way that best suits you.
Pricing
There are 4 pricing plans when it comes to Miro.
Free: $0 and allows unlimited team members
Team: $8 per member per month
Business: $16 per member per month
Enterprise: Contact them for a custom quote.
6. BoardPro.
Best for small and medium businesses that want seamless collaboration.
With BoardPro, you'll be able to spend less time on administrative tasks and more time on your business. With BoardPro, you can create quick meeting agendas and distribute them to everyone before the meeting begins.
Boardpro's boards, chats, and polls let you collaborate effortlessly with project members – anytime, anywhere –regardless of location or device – using just a browser and Internet access.
Simplify complexity so that boards and leadership teams may work more efficiently, move quicker, and achieve more for their companies. Seamless collaboration is key for all businesses and BoardPro makes it all possible.
Key Features:
Eliminate the time wasted in conference calls by having streamlined, efficient meetings with BoardPro. You'll have real-time communication tools to get everyone's input and keep them on the same page.
Using BoardPro's board pack builder, combine your meeting papers into a simple to read board packets automatically.
The BoardPro software enables your board and committee members to make critical decisions between scheduled meetings. All decisions are recorded in your decision register automatically.
Voting in BoardPro allows members to cast their votes quickly and easily. You'll get the most accurate results in record time with this feature.
Pricing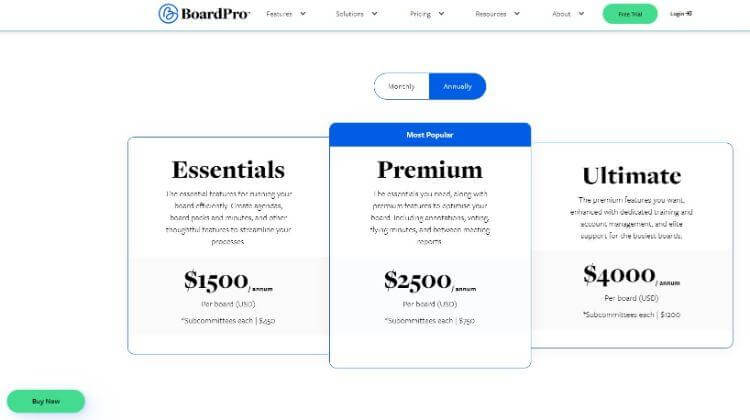 When it comes to pricing for commercial purposes, there are three BoardPro plans available:
Essentials: $1500 per board per year
Premium: $2500 per board per year
Ultimate: $4000 per board per year
7. Parabol.
Best for teams that require flexibility when connecting.
Parabol's automated procedure keeps meetings moving, allowing you to focus on the conversation. Reduce meetings preparations and time lost by prioritizing the information that is most important to your meeting.
This means that you can get on with conducting your meeting and hearing what's been going on in the background, without having to worry about missing a beat.
Get your entire staff involved with icebreakers, multi-player cards, reactions, groupings, and other activities designed to get everyone thinking in the same direction.
If you want to build team camaraderie and individual leadership skills, then parabol is the perfect tool.
Key Features:
With Parabol's user-friendly voting system, you may give your staff an equal voice in your meeting.
Members can (either publicly or privately) vote quickly, giving you all of the information you need to make informed decisions about critical company matters.
Parabol's comprehensive reporting capabilities make it easy to keep track of team progress.
Organize a private place for discussion and ensure that everyone is on equal footing. By design, contributions and voting are anonymous and provide an unbiased way to get everyone involved in meeting preparation.
Pricing
Parabol have three pricing plans mentioned on their website:
Personal: Free and offers features such as unlimited meetings
Pro: $6 per active user per month
Enterprise: Contact them if you'd like to use Parabol to unlock your organization's potential and use this software to its fullest potential.
Other board meeting software and meeting tools not mentioned above include Boardeffect, Boardpaq, Nasdaq Boardvantage, Azeus Convene, and Aprio.
What is Board Meeting Software?
A board meeting software is an online app, which enables board members to contribute their thoughts and opinions on topics that are relevant to the business or organization.
Organizations use board meeting software to allow board members to meet online, share ideas, vote on matters and make decisions quickly.
Members in an organization benefit from board meeting software as they can schedule and participate in meetings while having all the documents they need readily accessible.
Why are the benefits of using board meeting software?
Board meeting software (also called board management software) has numerous benefits that help both board members and the organization. The benefits of using board meeting software include the following items:
The right board management software saves time
Board management software are an essential part when it comes to time management skills; they save you time by taking the manual work out of organizing, scheduling, and attending board meetings. You can easily set up a meeting with one or more board members in seconds.
Time is a valuable resource and board meeting software allows you to save time on tasks such as managing meeting agendas, preparing written meeting minutes, and keeping track of the board of directors' voting.
The top board management software is secure
Board members need a safe place to conduct confidential discussions. This can be challenging when members are based in multiple locations.
A virtual boardroom provides a secure way for everyone to connect online with the latest technology to provide privacy, security, and peace of mind.
A board meeting app removes security issues around voting, recording minutes, and sharing documents. A secure online meeting room means you can keep your business data safe while also maintaining boardroom security.
The best board meeting software is reliable
Good board meeting software should be available when you need it.
Systems that are always on, easy to use, and can be accessed from any location using a mobile device or computer ensure the conversation doesn't end just because some members can't make it to an in-person meeting.
You shouldn't have to worry about whether the software is going to work properly during a crucial board meeting.
Ensure you're equipped with top-quality board meeting software that will provide reliability and peace of mind no matter what time of day the meeting takes place or where everyone happens to be.
Whether you want to use a board software for employee evaluations, as employee onboarding software, or for any other type of functionality, templates will allow you to make the most of your board management solution and ensure it's reliable 100% of the time.
The top board meeting software companies offer great customer service
If you're investing in quality board meeting software for your organization, then you deserve a high-quality service as well. The best companies go one step further and provide their customers with a team of professionals to help with every stage of the process.
Whether stakeholders are unsure about which features to choose or need assistance when customizing the platform to suit their needs, there is support on hand to help them at every opportunity.
After all, if technology doesn't fulfill its potential, it can harm the overall business strategy and growth prospects of an organization.
No matter what type of industry your company operates within, it's important that board members have the right permissions to effective use of collaboration tools that will save them time when executing their daily tasks.
Flexibility with online board meeting software
The best board meeting software is flexible which means it can be customized to suit the needs of every individual organization.
Some board members may want to make notes during meetings or contribute via a text chat box while others need access to meeting documents, reports, and client information.
A good board meeting software platform should offer different options for sharing data with your team. Flexibility in board meeting management software also means the platform can be adapted to work with existing systems.
For example, integration with G Suite or Microsoft Office allows different departments within the organization the right document management software to share data seamlessly while also taking advantage of industry-specific applications.
Ease of use for board meeting management software
Board members are busy people and shouldn't have to waste time trying to understand how a system works before they can start using it in their daily routine.
A good board meeting software should offer intuitive features that resemble those of an easy-to-use SaaS solution, and provide users with an easy learning curve so they can get up and running quickly without wasting time.
Top-quality board meeting software often includes plenty of training resources that will help board directors fully understand the benefits the platform has to offer before it's implemented across the entire business.
The best companies recognize that the board portal software they use can have a positive impact on how the business operates.
Being able to access company data on the move ensures all employees contribute to discussions during board meetings, no matter where they are located.
Most board meeting management software can also run on mobile devices and tablets (including iPads and Android) in order to facilitate their ease of use.
Features of the top board meeting software
Before I conclude this article, I want to point out some of the features you can expect from the top-quality board meeting software.
Scheduling meetings
The best board management software offers the right scheduling software to set up meetings as well as notifications for all users involved.
When new events are scheduled, an e-mail is automatically sent out to those who have been invited, reminding them of upcoming activities and allowing everyone at the organization to prepare in advance.
The notifications feature constantly reminds board directors about existing appointments while also offering the ability to block out time on the calendar so members can focus on their work.
Task management
Electronic board meeting software allows users to add tasks and invite members of the board to complete specific jobs. The best tools will also send out notifications about upcoming deadlines so no one misses a beat when it comes time for action.
In addition, you can use task management software features to assign different tasks to individual board directors which is great if certain team members have more experience in a certain area and others require additional support.
Board meeting minutes
The right board management system can offer the ability to record board meeting minutes. This feature allows individuals to quickly access reports after an official meeting is complete which can help with future decision making.
The best software also offers the option of having different levels of access for individual users so that not everyone has unlimited write access. This means that one can limit what information directors can share with staff members.
Document management
Document storage allows board materials to be kept in one centralized location for quick and easy access, which is particularly useful when it comes time to adding, editing or removing items through agenda management.
As a director, you can easily upload important documents into your account for other staff members to view at their convenience while also attaching files from Google Drive or Dropbox. The best tools offer a wide range of file formats that are compatible with a variety of devices which ensures everyone stays on the same page.
Focuses on the agenda at hand
Board meeting agenda software shouldn't be used to distract directors from what's important. This is why it's crucial to choose a system that allows you to focus on the information at hand without worrying about spending time searching through unrelated documents or data.
For example, some tools offer an option where users can cut and paste links directly into their calendar which ensures nothing slips through the cracks while others send out automatic reminders by SMS text message so no one gets lost in all of the information available.
Conclusion
As you can see from above, choosing the right board meeting software is no easy task.
However, if your organization wants to keep growing and evolving along with new technology, your board members must have access to high-quality board management software while working toward a common goal.
The best board meeting software on the market right now are:
Wrike: Best for teams that want full visibility in collaboration.
Boardable: Best for those that want truly effective team meetings.
InVision: Best for taking ideas from design to execution in one platform.
Ayoa: Best for integrating mind mapping, whiteboard, and task management.
Miro: Best for bringing all teams together on one infinite interface.
BoardPro: Best for small and medium businesses that want seamless collaboration.
Parabol: Best for teams that require flexibility when connecting.
Wherever possible, try to test out different platforms with free trials or demo accounts before making any final decisions about what solution will work best.
It only takes a few moments to truly see how good software can help save time and increase productivity while making sure everyone stays informed about upcoming projects along the way.
Which board meeting software is right for your company? Let me know in the comments below!
Disclosure: I may receive affiliate compensation for some of the links below at no cost to you if you decide to purchase a paid plan. You can read our affiliate disclosure in our privacy policy. This site is not intending to provide financial advice. This is for entertainment only.