7 Best BPM Software of 2023 Reviewed (Business Process Management)
Choosing the right BPM software is crucial if you want to automate and optimize your business processes. From workflow management to process modeling, the best BPM software can help you meet your goals. In this guide, I ranked and reviewed the 7 best BPM software, so that you can pick the best one for you.
---
We're reader-supported. When you buy through links on our site, we may earn an affiliate commission.
Business process management (BPM) software creates efficiencies in your business by automating and managing workflows.
Think about how many business processes there are in a medium-sized company:
So how do you improve all of these processes?
To improve and integrate your IT systems, you need a BPM tool.
Let's get started.
What is the Best Business Process Management (BPM) Software?
Here are my top picks for the best BPM software:
Best overall BPM software ($8 per seat per month).
Adam's Take
If you're looking for the best overall BPM software, Monday.com is an excellent option. This tool makes it easy to manage and automate your workflows, track progress on tasks and projects, and collaborate with your team in real-time. Plus, its intuitive interface makes it easy to use even for beginners.
Monday.com is a project management and BPM software that lets you manage and automate your work. You can also track, plan, and deliver your team's work from a single dashboard. It is the best BPM for customization, which is vitally important.
The dashboard also lets you monitor your data with different views like Kanban view, a map view, Calendar view, Timeline view, etc.
Here's what your dashboard would look like:
You get hundreds of pre-designed templates to create business and project plans. Plus, the drag-and-drop interface makes it easy to upload, store, and share files. There's a search bar that lets you search your files easily using tags, keywords, added team members, etc.
Besides, you can communicate with your team members by leaving comments, attaching images, mentioning teammates, etc. The BPM platform also lets you conduct video conferences within your project dashboard.
Additionally, it helps you gain an overview of your project by providing insights into your budget spend, project status, workflows, etc.
Integration with over 40+ business tools also comes in handy for your company team members. For instance, you can integrate Monday.com with an accounting tool to track your invoice or work hours.
You can sync any app of your choice without exiting your project management dashboard.
Additionally, Monday.com provides 24/7 customer support with less than 60 minute response time. You can also attend webinars, watch tutorials, find solutions from its extensive knowledge base.
Here are some of its pros:
Compatible with both iOS and Android devices.
You can automate your workflow to avoid human errors.
There are extensive integrations with various business tools.
It provides an intuitive layout for visualization and optimization of your workflows.
Pricing:
Monday.com offers four pricing plans:
Basic: $8 per seat per month
Standard: $10 per seat per month
Pro: $16 per seat per month
Enterprise: Quote-based
You also get a 14-day free trial. All the plans provide over 200 templates, 20+ column types, shareable forms, whiteboard collaboration, etc.
Get started with Monday.com.
Best for data analytics, monitoring, and tracking market demands ($60 per user per month).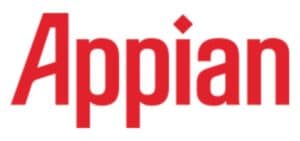 Adam's Take
The process of managing business processes is not always straightforward. Appian makes it easier for business users to design, manage and collaborate on an enterprise-wide level. I like their automation feature because it can help your team get more things done with less effort.
Appian is a low-code iBPM (intelligent business process management) software that helps you design, execute, manage, optimize, and automate your workflow. It also lets you connect and enhance the existing system, perform data migration, and view data in a single interface.
Appian's patented design capabilities mean you build the code once and access it on any device natively, including web, Mac, PC, iOS, Android, etc. In a way, it works as a code-platform along with a business process management suite. Just design for anyone, and their software will help you run it on any platform.
You also get access to data from different sources in one place and take action on every data source from a single Appian dashboard.
It helps you create process-based solutions with drag-and-drop functionality and embed the process in existing apps. The ability to track and analyze market demands also comes in handy to create a data-based business process.
Plus, you get numerous process management features to monitor in-flight processes, re-assign tasks, and view performance in real-time. The skill-based routing feature helps you assign the right task to a suitable worker.
It also performs history analysis and predictive analysis to identify issues and resolve them before they occur.
Integrations with business tools like Google AI, Azure, AWS, etc., help you perform more business activities from a single platform. Other prominent integrations include Oracle, Blue Prism. Salesforce, SAP, DocuSign, Zero code, and more.
Here's a quick overview of some of its significant features:
Low-code development.
Drag and drop UI development.
Analytics and reporting to create accurate business processes.
Use pre-built UIs in your codes and programs to save your time.
Automate your workflow and tasks without APIs.
Build-in AI-powered by Google.
Appian's software & application development mobile app performs real-time testing of your codes.
Pricing:
Free: $0/mo
Application: Custom quote
Platform: Custom quote
Unlimited: Custom quote
Best for large enterprises ($53 per user per month).

Adam's Take
If you want to build various processes to improve your business efficiency, then I believe IBM Blueworks Live can be a great starting point. It offers multiple drag and drop tools that make creating and enhancing business processes straightforward and easy to use.
IBM Blueworks Live is a cloud-based workflow management software that helps you build and improve business processes through process mapping. It helps you visually depict your business processes, assign owners to different lanes, include details in the process steps, and more.
IBM provides drag-and-drop functionality to help you map your projects and tasks easily. You also get access to over 200 business projects and workflow templates that you can customize the way you want.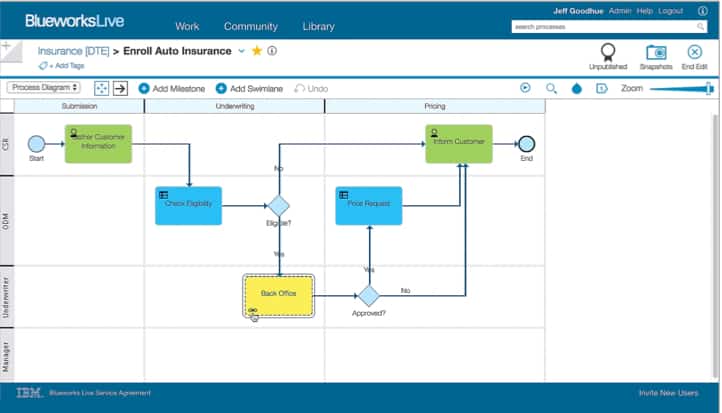 You can also invite your teammates or even outsiders to edit and review process maps from the Blueworks dashboard. It lets you collaborate with your team in real-time and work simultaneously in a shared workspace. And you can control everything and assign permissions and work to suitable members.
Since it's a cloud-based platform, you can access your work from anywhere, anytime. And you don't need to download anything – just access everything in the cloud.
Pricing:
IBM Blueworks Live offers three pricing plans:
Cloud: Starting at $53 per user per month
Private: Quote-based
Federal: Quote-based
You also get a 30-day free trial that provides access to all features and lets you invite an unlimited number of co-workers to collaborate. Additionally, IBM provides plenty of online help and tutorials to help you get started.
Best for team collaboration ($390 per month).
Adam's Take
Want to visualize and optimize your business processes easily? Look no further than Kissflow, one of the best BPM software solutions available today. Kissflow makes it easy for you to get a clear picture of your processes and minimize manual tasks while using its intuitive interface and powerful features.
Kissflow is a BPM software that helps you map out your business processes to visualize projects and minimize manual tasks. It also helps you optimize, track, manage your work, create apps, customize forms, etc.
Kissflow comes with a customizable dashboard that helps you design your project's path with a visual process – without any coding requirement. There's also a 'Process Audit' feature that provides printable and digital trials for steps in the processes.
The dashboard also gives access to reporting features that let you view KPIs, configure ad-hoc reports, export data, analyze data, etc. You can also access all the analytics and data in real-time. Besides, you can even transform your dashboard into various like list view, matrix view, or kanban view.
Kissflow is also a team-friendly BPM software that lets you assign control to your teammates for different processes. You can distribute different roles and nature for different tasks and processes. Sharing projects, plans, files, and documents in a central hub is also pretty simple. It also sends alerts right before the due date and sends other important notifications.
Additionally, you can also perform case management with Kissflow. It lets you perform actions like assigning tickets, tracking solutions, reporting incidents, etc.
Pricing:
Kissflow offers three pricing plans:
Basic: $10 per user per month
Advanced: $9.90 per user per month
Fully Loaded: $19 per user per month
Enterprise: Custom quote
All the plans come with a free trial, 40 hours of free setup assistance, and a drag-and-drop process builder. Other standard features include rule-based workflow routing, 22 custom field types, tracking work progress, inter-process integrations, etc.
Best for business process mapping ($950 per month).
Adam's Take
If you're searching for a great low-code BPM platform that is easy to use, Nintex might be a great option. With a process automation engine, workflow automation features, custom reporting and analytics tools, Nintex can produce great results.
Nintex is a low-code BPM software that visually plans, maps, and manages your business processes. It also offers workflow automation, digital forms, and robotic process automation for numerous industries and business departments.
You can also personalize your dashboard and bookmark all the relevant processes and tasks. Company-wide collaboration and real-time feedback also help you optimize your business process.
It also lets you design maps for your processes to drive continuous process management. Now, you don't need paper for forms since Nintex captures all your information and forms virtually.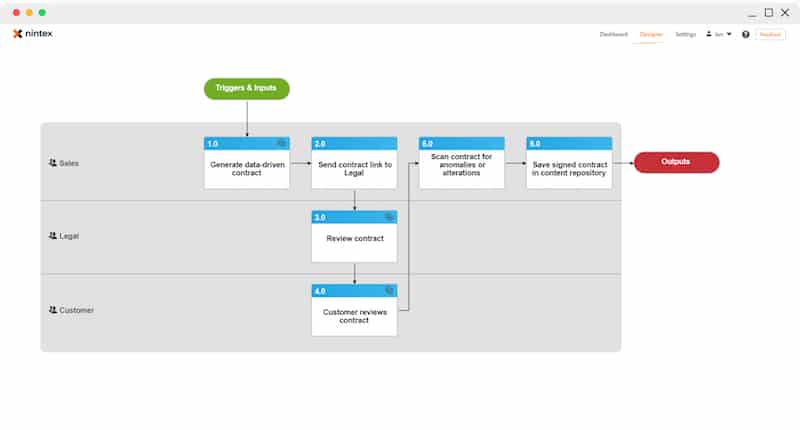 It also offers options to quickly configure stakeholders and approve the changes made with a single click. You can also establish mandatory signoff and notifications directly from the dashboard.
Plus, it leverages RPA (Robotic Process Automation) technology to automate repetitive work, for document management, automatically generate documents, and more.
The BPM software also generates real-time process health summaries with team engagement stats and monitors progress using data visualization.
It also integrates with all prominent business apps like Adobe, Sharepoint, Box, Salesforce, Microsoft Office 365, and more.
Additionally, Nintex comes with an entire BPM suite and offers sub-products like Nintex analytics, Nintex app studio, and more.
Pricing:
Nintex offers two pricing plans:
Nintex Promapp Standard: $910per month
Nintex Promapp Enterprise: $1400 per month
Both the plans include process mapping & management, feedback & collaboration, personalized dashboards, and more.
Best for medium-size and large businesses ($1495 per month).
ProcessMaker is a low-code BPM software that helps you design and automates business workflows, forms, and processes. It offers a drag-and-drop builder and modeler to design your task and project path, decision points, forms, and more. You can also add your forms, business users, data connectors to the workflow for better collaboration.
Workflow & process automation helps you remove manual tasks, bottlenecks, data silos, and more. You can also use it to create forms and display screens – and use them to capture data and design approval screens for managers.
What's more, it syncs with your email inbox or Slack, so you take actions like approving or rejecting requests directly.
Additionally, ProcessMaker lets you monitor processes data directly from its Service Level Agreements (SLA) compliant dashboard. It also helps you build charts & reports with all types of business-related information and share them with your entire team.
It also provides a 'Scripting Engine' that lets you write custom scripts in programming languages like Java, Javascript, C#, R, PHP, Lua, etc.
Additionally, ProcessMaker comes with a Process Validation Engine for visual process error validation and BPMN syntax checking.
Pricing:
ProcessMaker offers three pricing plans:
Standard: $1495 per month
Enterprise: $2479 per month
Custom: Quote-based
You can also request a free demo to test any of the plans you want.
Best for small and mid-sized organizations ($12.50 per month).
Process Street is a BPM software that helps you manage your team's recurring checklists and procedures. It's also helpful for assigning tasks to your team members, new client setup, employee onboarding, tracking daily & weekly tasks, etc.
The simple interface offers keyboard shortcuts and drag-and-drop functionality to create documents quickly. Next, create and assign checklist workflows to your team and track the progress of different tasks. It also sends automatic notifications to your entire team every time each task gets finished.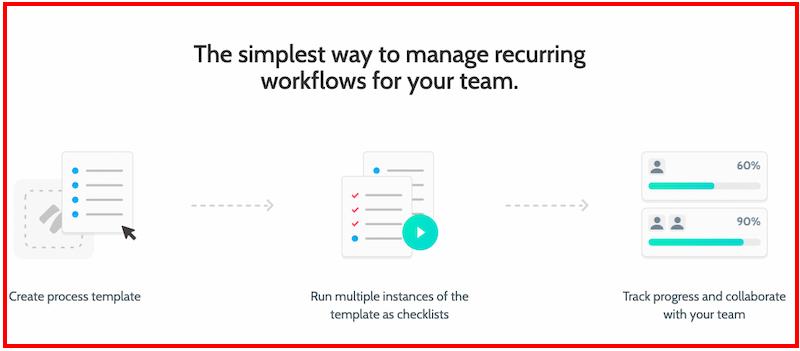 Process Street also helps you streamline processes that require third-party authorization. It lets you single-stage, sequential, and multi-stage approvals.
Additionally, Process Street's integration with Zapier helps you connect with over 1000 business apps. You can also add videos, images, and other files to communicate with your team.
Plus, there's an activity feed & audit trail function that lets you see who did what & when.
Process Street also offers plenty of features for team collaboration and managing multiple teams & organizations. You can share checklists with your team, track progress on checklists, have conversations, assign tasks to specific members, etc.
The BPM software also provides unlimited API access, extensive customer support via email & live chat, and training & strategy consultation.
Pricing:
Process Street offers three pricing plans:
Basic: $12.50/user/mo
Standard: $25/user/mo
Enterprise: Custom pricing
All the plans offer a 14-day trial with standard features.
What is BPM Software?
Business Process Management (BPM) software is a process automation tool that helps businesses map their tasks and business processes. It helps identify and eliminate roadblocks, enhance efficiency across the organization, and increase productivity.
A BPM software helps employees position business processes with company deliverables and key performance indicators to add value to end customers.
Monday.com, Kissflow, Process Street, and Appian are some of the best BPM tools on the market.
This BPM automation results in 3x more conversion of leads into sales. Moreover, research shows that automation can boost business productivity by more than 14% and reduce overhead costs by 12%.
What Features Do You Need in BPM Software?
Every business has different deliverables. And there will also be variations concerning industry, sector, and ownership. However, there are a few qualities of BPM software that are indispensable irrespective of the industry.
Here's a list of some of the features you might need in a BPM tool:
1. Third-Party Integrations.
A BPM software with extensive third-party integrations allows you to leverage multiple applications from a single software. Plus, it keeps your system lightweight and enhances functionality without the need to outsource software development.
It's a great idea to opt for a BPM tool that integrates with business apps like Mailchimp, Facebook, Shopify, Slack, JIRA, Github, Trello, Dropbox, etc.
2. Scalability.
A BPM software must be highly scalable since every business aims to grow, earn more revenue, and improve profitability.
You need BPM software that you can scale according to your growing organization's size and needs. Scalability is also desirable since changing a tool midway can be both time and cost-intensive.
3. User-Friendly Dashboard.
To reap the full benefits of the BPM software, you should be able to adopt it without exception throughout the entire organization. Therefore, the BPM software must be user-friendly. A simple and intuitive user interface is highly desirable.
It should also offer features like one-click Gantt charts & forms, task lists, calendars, shared workflows, and in-built process templates. It should also make it easy for users to redirect between Kanban boards while also accessing traditional views.
4. Pricing.
Budget is a concern for every company, no matter how big or small. While big companies can afford to splurge, smaller companies and start-ups don't have that luxury.
It's also difficult to gauge the usability of a BPM tool within a business environment without using it first-hand.
That's why a business must look at aspects like:
Free trial periods
Pricing and features available
Plan validity periods
Renewal fees
For instance, Monday.com offers a 14-day free trial for customers to make an informed purchase decision.
5. Uptime.
With maximum businesses operating on global scales, there's no room for software downtime. To ensure business process continuity 24/7, employees are working out of different geographies around the clock.
Businesses today aim for 100% uptime. While that's not always possible, leaders like Monday.com and Appian ensure 99.9% uptime.
6. Customer Service.
When it comes to business process management, excellent customer service is indispensable. Company employees may not be able to effectively sort out software issues, and business productivity may get hampered.
You might want to choose a tool that offers 24/7 customer support via phone, live chat, and email.
You might also want to consider other standard features like enterprise architecture modeling, processes and forms modeling, project management integration, data analysis, social collaboration features, etc.
How Do You Use BPM Software?
Most BPM platforms on this list come with a user-friendly and intuitive dashboard that perform similar actions.
Here, I'm using Monday.com to demonstrate all the essential BPM functions.
Step#1 Sign-Up or Log in.
First and foremost, you'll have to choose and purchase a plan that aligns the best with your business requirements. After that, log in to your account and get familiar with your dashboard.
Step#2 Create Project Management Boards.
Most BPM platforms start off by asking you to create project management boards. A board displays the summary of your project KPIs, the criteria you've met, the milestones you need to achieve, and the overall status of your co-workers.
Click on the 'Add' option on the left-hand side and click on the 'New from Template' option. You can choose any template for your board by clicking on the 'See more templates' option.
Each template focuses on different KPIs, so you can decide what's best for you. Plus, the templates are highly customizable so that you can modify them according to your needs.
Once you select a template, click on the 'Use' button.
Step#3 Set Visibility Option.
Next, the 'create board' box will appear. Here, you can choose the visibility of the board based on several factors, namely:
Main: Visible to everyone on your team.
Private: Visible only to the creator (you, in this case) and everyone you provide access to.
Shareable: You can share this board with anyone you want outside the company.
Step#4 Board Navigation.
After selecting the visibility, click on the 'Create Board' button.
The final process management board will show up like this:
The board allows you to click on items, replace or edit texts, use its intuitive drag-and-drop editor to move things around, and hover around on an icon to find out what it means. You can also break down the project into small, trackable tasks and assign them to different members of your team.
You can also organize tasks into groups and categorize them by weeks, phases, months, etc.
Step#5 Edit The Board.
Edit the board and add the KPIs that you want to track. You can also delete the ones that aren't important.
You can also add, change, duplicate, resize, sort, and drag columns according to your needs.
One of the main advantages is that the software allows you to set deadlines, create timelines, and effectively collaborate with your team.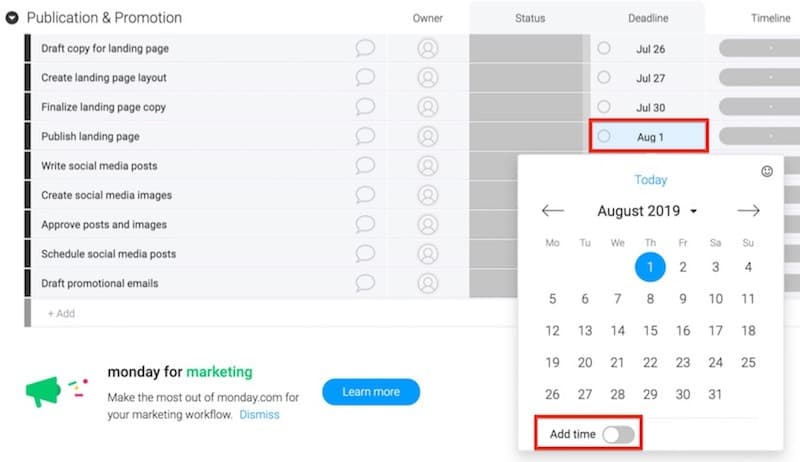 Step#6 Collaborate With Your Team.
You can also add the team members you want to delegate the tasks to. After adding them, start delegating the tasks to individuals. Each individual can update their status for the entire team to see, observe, and plan.
This feature allows on-the-go tracking of tasks. Finally, you can also generate individual reports and share progress files between added members.
Executive Summary.
That was my list of the best business process management software. All these BPM solutions will help you build, manage, and streamline your business process and workflows. That said, all of them have their own unique set of features and pricing plans.
In the end, you'll have to make an informed choice based on your business requirements, experience, budget, and team size.
For instance, ProcessMaker appears a suitable choice for small and mid-sized businesses due to its inexpensive cost. You should also take into account the fact that it offers all the BPM features you might need. On the other hand, ProcessMaker and Nintex are more suitable for large enterprises.
All in all, I'd recommend Monday.com. It's considerably affordable and offers impressive features like a drag-and-drop dashboard, workflow management, workflow automation, different dashboard views (kanban, map, calendar, and timeline), and a lot more project management features.
Make sure to review all the tools carefully before making your final choice.
Disclosure: I may receive affiliate compensation for some of the links below at no cost to you if you decide to purchase a paid plan. You can read our affiliate disclosure in our privacy policy. This site is not intending to provide financial advice. This is for entertainment only.