13 Best CAD Software of 2023 (Ranked and Compared)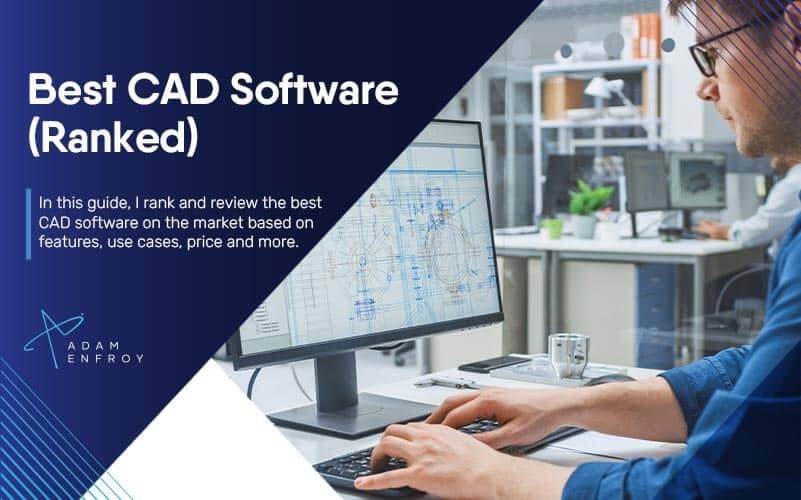 CAD or computer-aided design software programs have replaced manual drafting.
They hold a large market share in the software industry, valued at $389.86 billion in 2020. With packaging machines becoming more complex, more designers and mechanical engineers are turning to 3D CAD software to improve their overall design efficiency.
CAD software goes hand in hand with 3D printing software because when you combine both tools you are able to create almost anything that you want.
However, don't confuse CAD software with something as simple as graphic design software. If you have experience with computer-aided design then this is obvious for you, but if you are new to CAD, keep that in mind.
Today, I'll be introducing you to the most widely used CAD software platforms. I'll be highlighting what these programs are best for, their tools and features, and pricing.
Then I'll move on to briefly explaining the concept of CAD or computer-aided design to help you make an informed decision.
What Is The Best CAD Software?
Here are my top picks for the best CAD software on the market.
Best For Overall 3D Modeling
Autodesk Fusion 360 is an all-in-one cloud-based CAD, CAE, PCB, and CAM platform for the 3D modeling and manufacturing of products. It allows you to explore creativity and design effortlessly while creating multiple design iterations.
You may test these designs in the early stages of the development process to determine performance and identify potential flaws. Consequently, you can model and edit existing features and fixtures using its integrated CAD and CAM software tool.
Fusion 360 can also convert 3D models into 2D drawings. This helps annotate, measure dimensions, and document with precision for manufacturing accuracy.
Features:
With Fusion 360's generative design and simulation tools, you can reduce the design and engineering impact to ensure manufacturability. Accordingly, designing and manufacturing products that provide form, fit, function, and aesthetics is possible.
I'll now be highlighting some of the features Autodesk Fusion 360 offers:
Accelerated 2D drawings
Flexibility for effortless design and 3D modeling
Integrated CAD+CAM software
Full-featured PCB design software
Single product data management software
Real-time collaboration with other designers
Ability to set up manufacturing and material constraints
Pricing:
From generative design to cloud rendering, Fusion 360 can do it all. Just select a suitable subscription plan to get started. It offers a 30-day money-back guarantee on annual plans, so you never have to think twice.
Here's a quick breakdown of its payment plans:
Monthly Plan at $70
Yearly Plan at $382 (30% off your first year)
Three-Year Plan at $1,635 ($45.41/month)
Best For 2D And 3D Printing
Architects, mechanical engineers, and construction professionals trust AutoCAD for both 2D and 3D printing. It helps annotate, design, and draft 2D geometry and 3D models using mesh objects, surface, and solid modeling.
Additionally, it improves productivity owing to its specialized mechanical, architecture, electrical, and MEP toolsets. They help automate tasks like creating schedules, counting, comparing drawings, and adding blocks.
Features:
You can enjoy a connected design experience with all of AutoCAD's features and tools on any device. Simply download the AutoCAD mobile app or use your computer to go to its web browser.
Here are a few other features Autodesk AutoCAD has to offer:
Add-on apps and API for customization
Sends feedback directly to a DWG file
Automates counting blocks
3D navigation and rendering
2D drafting, annotation, and drawing
Pricing:
AutoCAD offers subscription plans for organizations of various sizes. You may also upgrade to an annual premium subscription for $1,955. Additionally, you get a 34 percent discount on a one-year standard subscription.
Here is a breakdown of its payment plans:
Monthly Plan at $245 per month or $2,075 paid annually
Annual Plan (for medium to large teams)
Three-year Annual Plan (for extra-large teams)
You can try out any of AutoCAD's products by downloading its free trial plan of 30 days.
Best For Beginner Engineers
TinkerCAD is a web app with an intuitive user interface that can help beginner designers and engineers develop the foundation skills for innovation. Be it electronics, 3D design, or coding; it helps build blocks of creative thinking and convert them into reality.
Just place a pre-existing or your own shape on the work plane to add or remove materials. You can adjust it by rotating or moving the work plane to try different angles and views. Additionally, TinkerCAD allows you to combine shapes to create custom and detailed 3D models.
Features:
TinkerCAD is fast and easy to use. Of course, that's why educators widely use it to teach students without limitations.
I'll now list a few features of TinkerCAD:
Offers 3D printing services
Easy tutorial videos
Can add light and movement to design with electric circuits
Supports drag and drop for code blocking
Pricing:
Another exciting aspect of TinkerCAD is that it's absolutely free. This makes it a popular choice among the new generation of designers and engineers. All you need to do is sign in and join a class.
4. FreeCAD.
Best For Designing Real-Life Products
With FreeCAD, you can design real-life objects of every size. The open-source parametric 3D modeler also allows you to modify your design by returning to the model history. All you need to remember is to change the parameters.
The platform provides components to help you extract design details from 3D models and adjust dimensions. Additionally, you can sketch 2D shapes to use as a base for building other objects. As a result, you get to create high-quality production-ready drawings.
Features:
FreeCAD is a flexible and extensible multi-platform (Mac, Linux, and Windows) software. Reading and writing can seamlessly integrate open file formats, such as DAE, STEP, DXF, SVG, etc., into your workflow.
The following are a few more features FreeCAD has to offer:
Supports Boundary Representation (BRep) objects
C++ coded core functionality
Add-on workbenches
2D CAD drafting
Architectural or BIM modeling
Robot simulation model
Pricing:
FreeCAD is a free CAD software equipped with all of the tools for your engineering needs. Simply download it on your desired platform, be it Linux, Windows, or Max, and get started.
5. Solidworks.
Best For Professional Use
Solidworks is a computer-aided design program published by Dassault Systèmes. Professional 3D designers and engineers mostly use it for its wide range of mechanical design validation tools and reverse engineering.
The product design software is practical and uses the NURBS system to create more detailed curvature. It utilizes dimensional sketching to ensure more accurate resizing, which is not much of a hassle.
Features:
Solidworks offers some of the best tools to help you conceptualize and transform innovative ideas into industry-level product designs. From 3D models to 2D sketches of complex parts, this CAD software comes with all that is needed to create fast and accurate designs.
Here is a list of features Solidworks offers:
Stress analysis and data management tools
Cloud-connected CAD
Includes cost estimation tools
Helps understand product performance early
Can share real-time product development information with the marketing team
Cross-team collaboration
Pricing:
Solidworks offers 3DExperience packages for students, hobbyists, and companies of all sizes. You need to contact the sales or research sales team to get a quote.
The following is a list of plans Solidworks offers:
Commercial: for companies of different sizes
Academia: an all-inclusive resource for teaching 3D CAD and data management
Research: an all-in-one solution for research projects
Students: to help students kickstart their CAD carriers
Entrepreneurs And Startups: offers training and co-marketing resources for free
6. Creo.
Best For Efficient Product Development
Creo is a leading CAD platform developed over a decade ago by Parametric Technology Corporation (PTC). It's a complete package equipped with the tools needed to accelerate product design.
The easy-to-learn and use program helps you go from the earliest stages of the design process to later manufacturing phases. As such, it allows you to better quality products more efficiently.
Features:
The combination of Creo's tools, proven powerful functionality, and the latest technologies help improve product quality and reduce costs. These transformative components give you a competitive advantage and allow you to gain a significant market share.
I'll now highlight the features of Creo:
3D parametric solid modeling
Technical illustrations
Generative design extension for high-quality, low-cost product
Finite Element Analysis and Simulation
Schematic design and functionality
Offers topology optimization technologies
Pricing:
Creo's payment packages start at $2,480, but for more information, you'll have to get in touch with the team. Each package ensures that you'll have access to premium support and the latest features.
You may also get started with its 30-day trial plan and then upgrade to any one of the following plans:
Design Essentials
Design Advanced
Design Advanced Plus
Design Premium
Design Premium Plus
7. Sketchup.
Best For 3D Drawing And Documentation
Sketchup offers more than a hundred professionally-developed extensions to help customize a 3D workspace. You get to visualize innovative ideas and experience the joy of sketching by hand with this super-smart 3D modeling software.
Moreover, it understands the importance of creating designs for showcasing to clients. As such, you can use it to create 3D models and document ideas in 2D. This helps improve team productivity, making your work a lot easier and faster.
Features:
Sketchup offers the best 3D modeling and printing solutions to professionals from all fields. Be it designers, mechanical engineers, architects, or builders; anyone can use it to transform their ideas into reality.
The following is a list of features Sketchup offers:
Documents 3D designs in 2D
Intuitive and engaging user interface
Suitable for both professionals and beginners
Team collaboration across departments
Immersive VR experience for design simulation
Pricing:
Sketchup offers subscription plans for all kinds of use cases. All you have to do is choose one of the following based on your computer-aided design (CAD) requirements.
1. For Commercial Use
Free Plan with ten GB cloud storage
Shop Plan at $119/year with unlimited access to pre-built 3D models
Pro Plan at $349/year with XR headset viewing
Studio Plan at $749/year
3. Higher Education
Sketchup Studio for students and educators at $55/year
Tiered pricing is available for universities
4. Primary And Secondary
Sketchup for schools (free with G Suite or Microsoft education account)
Sketchup Pro (free with state grant)
8. Catia.
Best For Multi-Platform Product Development
Catia is an industry leader when it comes to multi-platform product design and experience. It can meet all of your needs, be it CAM, CAD, or CAE in the automotive and aerospace industries.
The software has the unique ability to model everyday products according to real-time behavior. Additionally, it provides system developers, designers, experienced users, and hobbyists with an intuitive 3D experience.
Its simulation and 3D modeling capabilities optimize the effectiveness of each user. And through powerful dashboards, it can drive real-time collaboration, concurrent design, and business intelligence across all skateboards.
Features:
Catia comprises 3D modeling, simulation, social, collaborative, and information intelligence applications, among others. It has even achieved a lot of popularity for being a multi-platform suite.
I'll now list some of the features Catia has to offer:
Online collaboration for 3D modeling and designs
Manages data efficiently during product development
Offers a toolset to meet needs of different companies
Tracks the 3D model changes
Pricing:
You get a free demo with Catia's free trial plan option. Or you may browse its portfolio online to buy roles and get started straight away. But you will have to get its sales team to contact you with a free quote to meet your requirements.
The sales experts will also discuss your needs and answer any questions you may have.
9. Solid Edge.
Best For Intuitive Mechanical And Electrical Design
Solid Edge is a complete software package of product development tools with an intuitive interface that makes it easy to use. Whether technical publications, electrical and mechanical designs, simulation, or data management, it provides all of the features beginners need to create a 3D or 2D design.
Additionally, the platform combines the simplicity and speed of direct 3D modeling with the control and flexibility of parametric design. This is made possible by its synchronous technology.
Solid Edge also provides cloud-based capabilities, providing easy access across different devices. You get the instant configuration of the CAD environment per your preferences and the ability to share data across design resources.
Features:
The synchronous technology of Solid Edge empowers designers, students, hobbyists, engineers, and others to innovate designs without boundaries. You get to design more intelligently and efficiently without the constraints of traditional 3D modeling.
Take a quick look at the features Solid Edge has on offer:
Optimizes designs with the flow and structural simulation integration
Produces high-quality illustrations efficiently
AI-powered user interface
Lightening-fast reverse engineering
Cloud-based collaboration
2D layout of industrial control panels
Searchable postprocessor database
Pricing:
You may try out the features of Solid Edge for free by signing up for its trial plan. And if you wish to upgrade, you can opt for any of its paid subscription plans.
Here is a quick breakdown of the same:
Solid Edge Design And Drafting at $83 per month
Solid Edge Foundation at $200 per month
Solid Edge Classic at $251 per month
Solid Edge Premium at $361 per month
10. OnShape.
Best For Real-Time Product Design
OnShape is one of the only Software-as-a-Service (SaaS) platforms that combines built-in data management, business analytics, CAD, and real-time collaboration tools to develop products. That's why the big names in the industry, such as Synapse, Trek, and Kichler, trust its credibility.
After all, it helps modernize the product design process by allowing you to make the required configurations, customize drawings, and import/export file formats. It also comes with a set of innovative tools that supports simultaneous editing and real-time design review.
Additionally, OnShape allows you to check the design history and change the log as required. This can be released in the form of reports to help you understand the product design better.
Features:
Mike White, the CTO of Fusion Biotech, said that OnShape is like the "Google Doc file for CAD." It is easy to use and explore for design and collaboration through live chats and comments. The secure cloud platform also comes with security and audit controls.
I'll now highlight the features OnShape offers:
Business and engineering integrations
Can control and monitor data access for design
Notifications and alerts for workflow
Auditable and revertible change logs and history
Simultaneous sheet metal tools
Simultaneous editing with secure sharing
Pricing:
OnShape is the next-generation cloud-based software that can speed up the product development process. Simply choose any of the following subscription plans to get started.
1. Standard Plan at $1,500 per user/year
For single-seat users requiring modern CAD tools
Associative drawings
Direct technical support
Supports mobile editing on Android and iOS
2. Professional Plan at $2,500 per user/year
For small and medium consulting businesses
Includes standard plan features
Standardized workflow approvals
Guided onboarding
3. Enterprise Plan (with full and light user provisions)
For large companies requiring the best product development tools
Includes professional plan features
Advanced centralized IP control
Priority direct support
11. BlocksCAD.
Best For Educational Purposes
BlocksCAD is a blocks-based CAD program with an easy-to-use interface. It's designed to help students and educators get started with 3D modeling without having to spend too much time learning the basics.
The platform serves as a compelling, engaging, and graphical way to teach students coding. As a result, it helps improve computer science and math skills.
Additionally, BlocksCAD has an all-new dashboard for teachers to start with standard aligned lesson plans. And the YouTube page provides tutorials to impart more knowledge on the field.
Features:
The cloud-based 3D modeling software package encourages students to learn coding and computational thinking through visualization. They can convert these innovative ideas and visuals into models, which are then 3D printed.
Here are a few more features BlocksCAD has to offer:
Colored blocks represent commands
OpenScad code compatibility
YouTube channels provide ample tutorial videos
Simple user interface
Pricing:
BlocksCAD is a free tool, meaning you don't have to subscribe to a paid plan.
12. 3DS Max.
Best For Flexible Product Design And Animation
3DS Max is another flexible 3D CAD software program from AutoDesk, offering a wide range of powerful plugins. As such, you can easily customize your drawings while the CAS design platform changes and grows with you.
The modeling and rendering program is a trusted choice when it comes to games and animation. After all, it comes with a rich toolset offering artistic control to create premium designs and high-quality architectural renderings.
You can create models for detailed objects and interiors. Accordingly, it helps bring features and characters to life with VFX and animation.
Features:
3DS Max comes with intuitive controls to provide an artist-friendly user experience. You get to work faster and save time even while handling complex scenes, characters, and effects.
I'll now list a few features of 3DS Max:
Accessible API to extend built-in workflows
Texture, color, and material editor
Mesh repair
Animation effects like motion path, 3DS Max fluids, particle flow effects, etc.
Improved pipeline tools
Rendering functionality
Pricing:
You may download the free trial plan to get started with the animation and rendering features of 3DS Max. And if you need to upgrade, buy any one of its payment plans.
Here is a quick breakdown of its subscription plans:
Monthly Payment Plan at $235
Yearly Payment Plan at $1,875
Three-Yearly Payment Plan at $5,625 (best value)
It also offers a 30-day money-back policy so that you can invest without hesitation.
13. Rhino 7.
Best For Versatile 3D Modeling
Rhino 7 is a 3D CAD software that works on Mac, Windows, and iOS, making it ideal for iPad use. You can use this powerful modeler to create curved lines and other organic shapes, including meshes, solids, and points, for a more graphical representation of the 3D model.
It also comes with better presentation tools to stream the workflow. As such, you can use it for animation, rendering, reverse engineering, CFD, and other purposes.
And with SubD (a new geometry type), it can create shapes more accurately with the provision for editing. So, you can expect the desired final product design results.
Features:
Rhino 7 offers a range of design tools and features to aid graphic designers. Users can also utilize the history recording feature to edit and update the curves and product.
Here is a brief list of a few more features Rhino 7 offers:
Can add dimensions at the viewpoint
Imports files from various sources, including SketchUp, STL, AutoCad, etc.
Displays the control points of the 3D model
Workflow documentation
API refinement
Pricing:
Rhino 7 is a complete package for graphic designers. You have to opt for a payment plan based on your use case and requirements.
Here is a list of subscription plans Rhino 7 offers for Windows and Mac:
Commercial use at $995
Student or faculty use at $195
School use at $975
What Is Computed-Aided Design (CAD)?
Computer-aided design or CAD refers to the use of digital workstations and computers to create, modify, and optimize designs. The software programs dedicated to CAD or CAE improve the productivity of designers and engineers by doing away with the cons of manual drawing.
They offer a wide range of features, real-time collaboration tools, and more to improve the design quality. Plus, you get to visualize innovative ideas by creating a more detailed, graphical representation of the same.
The 3D models and designs you create using CAD software also help speed up the product development process. That's why it's now a trusted platform widely used for applications in the automotive, aerospace, computer animation, and gaming industries.
Wrap Up.
If you wish to create a 3D or 2D computer-aided design to ramp up your product development process, then choose any of the following options.
Autodesk Fusion 360: Best For Overall 3D Modeling
Autodesk AutoCAD: Best For 2D And 3D Printing
TinkerCAD: Best For Beginner Engineers
FreeCAD: Best For Designing Real-Life Products
Solidworks: Best For Professional Use
Creo: Best For Efficient Product Development
SketchUp: Best For 3D Drawing And Documentation
Catia: Best For Multi-Platform Product Development
Solid Edge: Best For Intuitive Mechanical And Electrical Design
OnShape: Best For Real-Time Product Design
BlocksCAD: Best For Educational Purposes
3DS Max: Best For Flexible Product Design And Animation
Rhino 7: Best For Versatile 3D Modeling
I'm sure you'll find a CAD software program that suits your product design needs from the list of options I have reviewed.
Looking for other related posts?
Editorial Process:
Our reviews are made by a team of experts before being written and come from real-world experience. Read our editorial process here.
Some of the links in this article may be affiliate links, which can provide compensation to us at no cost to you if you decide to purchase a paid plan. These are products we've personally used and stand behind. This site is not intended to provide financial advice. You can read our affiliate disclosure in our privacy policy.