7 Best Calendly Alternatives of 2023 (Ranked and Reviewed)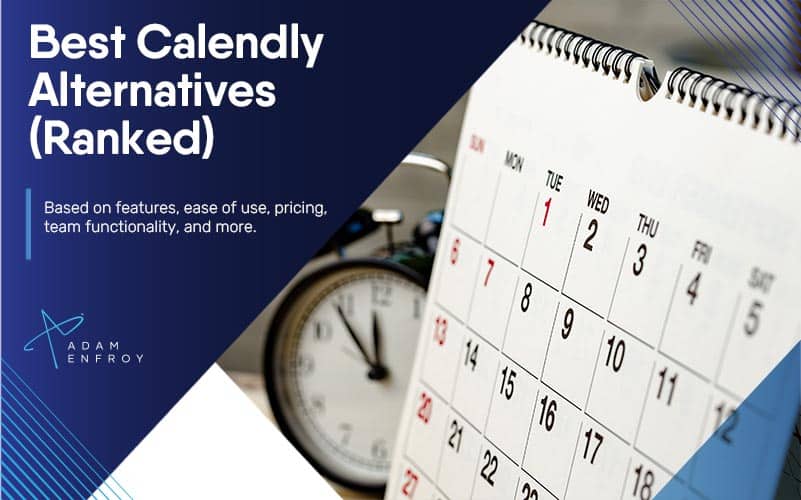 Online scheduling is hard.
If you've considered using Calendly in the past to book meetings, you've likely enjoyed their free and easy-to-use functionality.
However, when it comes to other use-cases, such as paid appointments, round-robin team assignments, contact management, or more complex calendar settings, Calendly might not provide all the features you're looking for.
Fortunately, there are many great scheduling tools online that help businesses schedule meetings and book appointments more effectively.
We're here to help you find one that meets your company's specific needs when it comes to booking meetings or finding time in your busy schedule.
What is Calendly?
Calendly is software that makes it much easier to schedule meetings. When using Calendly, users can send a link that connects to everyone's calendars and facilitates planning a time that works for everyone.
Calendly is undoubtedly popular, but there are tons of Calendly alternatives that can be helpful for those that need different features.
For instance, if your team needs an appointment booking workflow or more advanced calendar setup, Calendly may not be the best option.
It doesn't offer any additional settings for booking pages, such as coupon codes, discounts, or extended booking for specific types of clients.
However, for users looking for a straightforward tool to book meetings, Calendly is a great, free option. For any other needs, many Calendly alternatives might fit the bill instead.
Before breaking down all of your options, first, let's talk about Calendly's features and why you might want to seek out a Calendly alternative.
Calendly Features
Feature-full free plan
Functional, free API
Team and group scheduling functionality
Multiple calendar integrations
Pros
Integrates across multiple calendars easily.
Includes basic automation such as reminder emails for attendees and organizers.
Easy for all parties to reschedule.
Cons
To collaborate on events, participants need to be users within your account.
There are no options to add brand or company assets.
Minimal options for appointment booking or paid meetings.
While Calendly does meet the needs of basic users, there are tons of conditions for which it just won't work. For instance, users need to be members of a specific plan to participate in collaborative events, which means that pricing can quickly get costly.
Similarly, if you need to brand or white label your scheduling pages, Calendly doesn't offer that as an option. Luckily, there are plenty of Calendly alternatives that do offer this functionality. It doesn't matter if you work with a large or small team, having a scheduling tool is a key component of your meeting management software stack.
What Are The Best Calendly Alternatives?
Here are the seven best Calendly alternatives that we recommend.
Much like Calendly, HubSpot Meetings uses a meeting link that directly references your team's calendars to make it quick and easy to find a time that works for everyone. You can also integrate your meeting links directly with your landing pages so prospects and leads get added to your sales funnel right away.
Why is it a great Calendly alternative?
HubSpot Meetings is built on top of HubSpot's free CRM, which means that your meetings are part of your customer relationship data. As a prospect or customer schedules a meeting, their contact record is created or updated, which keeps all of the information in one place.
Sales or support reps can then add meeting details and call logs to the contact, with any historical information already available on the contact record.
Whether your HubSpot scheduling links are used in marketing campaigns, saved replies for your customer-facing teams, or in playbooks executed by your customer success or sales team, you can be sure that every event of the buyer journey is stored directly in your CRM for follow-up.
Additionally, HubSpot Meetings offers more robust booking functionality, such as round-robin assignments and group meetings.
Who is it best for?
HubSpot Meetings is best for small to mid-sized businesses. While individuals will be empowered by the feature set that HubSpot Meetings provides, it's better suited for teams working together because of the sales and CRM tools.
HubSpot Meetings is extra impactful for teams that are already leveraging or interested in leveraging HubSpot CRM.
Pricing
The HubSpot Meetings feature is available for free, with additional functionality available in premium editions of HubSpot Sales Hub and Service Hub.
Best HubSpot Meetings Features
Built-in connection with Google Calendar and Outlook 365.
Native integration with HubSpot's free CRM and other essential tools.
Easy-to-use design functionality for landing pages.
Automatically track contacts in HubSpot CRM to keep things clean and provide context cross-functionally.
Embed your calendar scheduling link anywhere.
Intuitive group and round-robin scheduling.
Get started with HubSpot Meetings.
Doodle is an excellent Calendly alternative, though it has almost entirely different functionality from many of the popular meeting schedulers.
Instead of utilizing a calendar link with direct integration to your calendars, Doodle creates a meeting poll, proposes a few different times and dates that work, and then allows the meeting participants to pick the suggestions that work best for them.
It takes slightly more time than a direct link but has additional functionality, making it a terrific Calendly alternative for teams that need to gather multiple people's availability.
Why is it a great Calendly alternative?
Doodle, like Calendly, has a fully-featured free offering that allows you to schedule as many meetings as you need across multiple timezones.
However, Doodle works differently than Calendly by crowd-sourcing the best meeting time for multiple participants, rather than allowing one person to choose the best time.
Who is it best for?
Doodle is an excellent Calendly alternative for meetings with many people across different time zones. It's also really effective if you are unsure which email/calendar provider individuals that you are scheduling with are using.
Lastly, it's simple design makes it easy for less technically knowledgeable individuals to use. So, if your company works with demographics that aren't familiar with technology, it may be a good option for you.
Pricing
Doodle offers a 14-day free trial, after which users can use the basic plan for free or upgrade to Premium for $10/month or Pro for $150/month. After that, users can purchase monthly or annually.
Best Doodle Features
Easy to use confirmation and email reminder functionality.
Straightforward visual interface.
No account is needed for meeting participants.
As-needed calendar syncing with integrated calendar providers.
Simplybook.me is an excellent Calendly alternative focused on company and group use rather than individual scheduling.
Like Calendly and other Calendly alternatives, it offers an option to send a scheduling link that provides available times within a specific window, as pictured in the screenshot above.
Why is it a great Calendly alternative?
Unlike some of the other Calendly alternatives, Simplybook.me offers functionality to create entire portals and apps for clients to use to book appointments.
It's effortless to create custom landing pages and white-labeled apps that look like they were made specifically for your business. Simplybook.me also offers scheduling links, but the real benefit in this Calendly alternative is the design functionality.
Who is it best for?
Simplybook.me is an excellent Calendly alternative for businesses that offer appointment-based products such as massage studios, hair salons, or doctor's offices. They are HIPAA and SOAP compliant, too, which makes them even better for medical offices.
Pricing
Simplybook.me offers a 14-day free trial and then a limited free plan after that. To purchase advanced functionality, users must upgrade to a different subscription level.
Currently, Simplybook.me is offered annually (at a 17% discount) or monthly. Pricing starts at $9.90 monthly.
Best Simplybook.me Features
Marketing-heavy focussed integrations with Instagram, Facebook, Google Business, and WordPress.
Easily accessible API makes it easy to integrate with any products Simplybook.me doesn't already connect to.
Customizations for check out, like coupon codes or custom required fields.
In-person POS offering to make in-office appointment scheduling and payment even more straightforward.
Customizable notification and email settings to get the exact right cadence for your customers.
4. Vocus.io.
Vocus.io is a marketing tool that also doubles as a 1:1 meeting scheduler. Like other Calendly alternatives, it gives users a way to create personalized meeting links, including the time, date, and time frame they are available.
It also offers useful functionality like short-notice meeting cancellation rules and meeting buffers.
Why is it a great Calendly alternative?
Like many Calendly alternatives, this tool allows for embedding functionality and sending a link via email or social media. However, Vocus.io is much more than just a meeting scheduler—it's a complete marketing suite.
So, unlike some of the other Calendly alternatives, you get access to scheduling and email campaigns, in-depth analytics, and other helpful tools to track customer engagement.
Who is it best for?
Vocus.io is excellent for companies with established marketing teams or Voice of the Customer functions that can take advantage of the fantastic toolset that it offers. If you are just looking for scheduling, these features may scope this software outside of your needs.
Pricing
Vocus.io offers a free thirty-day trial. After that, you can purchase a Basic, Starter, or Professional version of the product. After that, the pricing starts at $5/user/month.
Best Vocus.io Features
Full customization and white-labeling of the customer experience.
In-depth integrations with popular tools like Salesforce, Zapier, and Zoom.
Handy Chrome extension allows you to access functionality wherever you are.
Easy-to-use page editor and custom field functionality.
Advanced analytics and marketing tools.
5. Calendar.com.
Calendar.com is a Calendly alternative that offers both the scheduling link functionality and a virtual polling option like Doodle. It is one of the most substantial Calendly alternatives for companies looking for customization in their scheduling functionality.
Why is it a great Calendly alternative?
Calendar.com is a great Calendly alternative because it is genuinely one of the most robust tools for enhanced meeting scheduling.
For instance, rather than just setting up the time and date of the meeting, Calendar.com will also select specific restaurants nearby for meeting attendees to choose from. Functionality like this may be overkill for some, but this add-on could be beneficial for individuals with many lunch meetings or personal engagements.
Who is it best for?
Calendar.com is a Calendly alternative that works well for businesses and individuals alike. It is best suited for companies or users with more boutique meetings because of the considerable customization potential.
Pricing
Calendar.com offers a no-strings-attached 14-day free trial. After that, users or small teams can use the Basic plan for free or move up to the Standard plan for $6/user/month or Pro for $8/user/month.
Best Calendar.com Features
In-depth reporting functionality.
Overhead view of all upcoming meetings across every calendar that you connect.
Mobile functionality makes it easy to view your calendar wherever you are.
Create events in your typical calendar application and have them sync over to Calendar.com.
Extremely customizable meeting types.
Team scheduling capabilities.
6. Acuity Scheduling.
Acuity Scheduling is one of the best-known Calendly alternatives on the market. While individuals or businesses can use many other Calendly alternatives, Acuity is best suited for companies with more robust scheduling needs, like doctor's offices, salons, or technical workers, like plumbing.
Why is it a great Calendly alternative?
Acuity is an excellent Calendly alternative for businesses that need something a bit more robust. It offers a ton of functionality, well-tested and supported features, and addresses almost all of the functions that other Calendly alternatives provide. For instance, while most Calendly alternatives offer the option to set up reminders for customers, Acuity Scheduling offers functionality for employees to get reminders to set up meetings, calls, or facilities for use.
Who is it best for?
Service-based companies can best use Acuity to let their users buy products and schedule their services simultaneously. It is not suited for individuals looking to do 1:1 scheduling.
Pricing
Acuity offers a seven-day trial and otherwise bills at an annual or monthly plan. The least expensive program starts at $15/month, and the most expensive is $50/month.
Best Acuity Scheduling Features
Affordable pricing plans, although no free version.
Deep, integrated data analytics to track key business metrics.
Multiple integrations with essential software like Zoom, Mailchimp, and various calendars.
Easy-to-add feature functionalities like coupon codes, intake forms for medical and dental offices, and fully customizable additional fields.
Internal reminders for employees about upcoming meetings and how to prepare for them.
7. Appoint.ly.
Appoint.ly is a Calendly alternative that offers functionality that meets a variety of different business segments. For instance, you can customize the different types of meetings you're scheduling.
For a single meeting holder, you may offer the ability to organize workshops, classes, tours, events, or 1:1 calls.
Why is it a great Calendly alternative?
Appoint.ly is an excellent tool for any users who don't have their own websites or places to embed scheduling. For instance, if your business is just driven via Facebook or Instagram, Appoint.ly gives you a place to schedule your events.
Appoint.ly's functionality makes it easy for companies to set active hours, sync any calendars, and allow for entirely open booking, depending on customer needs.
Who is it best for?
Appoint.ly is excellent for both individual proprietors and businesses. It's specifically useful for practices that don't have dedicated websites, as it allows for subdomain creation and utilization on all paid plans.
Pricing
Appoint.ly offers a 14-day free trial and no free plan. If your business is looking for more advanced features, their lowest tier (Pro) starts at $10 per user per month. You can also purchase annually at a 20% discount.
Best Appoint.ly features
Facebook and website booking.
Simple to use customization to add deals and coupon codes.
Guest login, so temporary partners or presenters don't need a dedicated, paid account.
Payment processing via Paypal.
Client verification to protect against bots.
What's your favorite Calendly alternative?
Whether you are just starting with meeting schedulers, or you've been using them for years, there's a Calendly alternative that's custom-built for your needs. Start by looking for a Calendly alternative that fits your business size and narrow it down by feature set and functionality.
For instance, do you need something that does polling, or are coupon codes essential in your check-out functionality? Whittling down your needs will make it easier for you to identify which Calendly alternative works best for you.
If you're looking for other ways to supercharge your sales operations, check out my other helpful software reviews about sales management software and CRM software.
Disclosure: I may receive affiliate compensation for some of the links below at no cost to you if you decide to purchase a paid plan. You can read our affiliate disclosure in our privacy policy. This site is not intending to provide financial advice. This is for entertainment only.