13 Best Call Center Software Of 2023 (Ranked and Compared)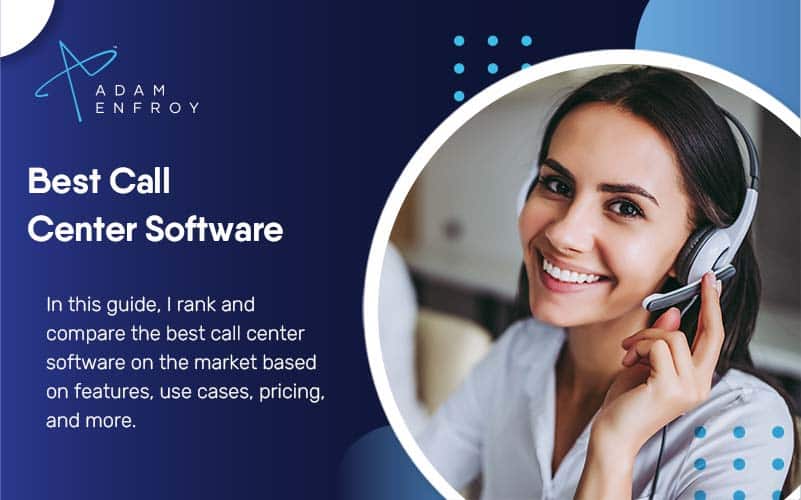 Talking to a stranger on the phone may not sound as complicated as it really is.
However, it does take a lot of brainpower to get the job done – especially if it is a potential customer and you have to make the best impression possible.
Being on a phone call for sales or customer support means there is a ton that your brain has to process.
It also means that having the right knowledge and tools will make the job easier and increase the chances of success.
For example, knowing how to choose the right VoIP provider for your business can mean the difference between a successful operation and one that fails.
This is in light of the fact that the best-fit VoIP service provider can help you take calls properly.
After that, you are going to need some type of live chat software functionality so you can further assist your customers.
You can also invest in call tracking software to ensure that can you properly track where your customers are coming from.
Having a call center software platform that actually works will take a tremendous amount of burden off your customer support staff or sales team.
With that out of the way, let's get into my curated list of the best call center software tools.
What Is The Best Call Center Software?
Here are my picks for the best call center software on the market.
Best For Small Businesses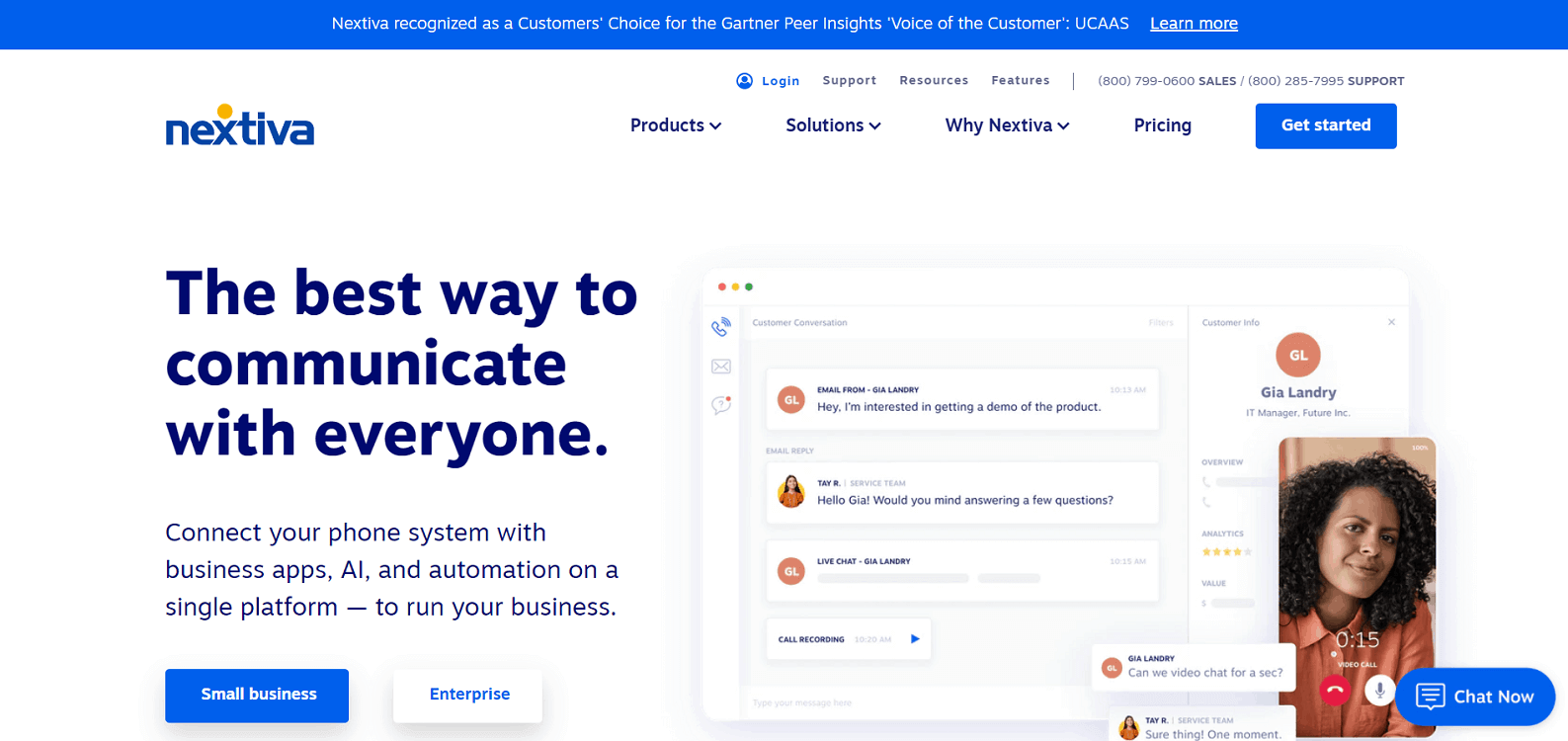 Nextiva is a fuss-free and beginner-friendly business communication tool. An omnichannel platform for contacts, productivity apps, AI, and automation- you can choose different plans and settings depending on the scale of your business/enterprise.
This call center software tool offers eight points of presence and carrier-grade data centers, making it a secure and reliable solution. I also appreciate the award-winning 24/7 monitoring and security system, which implies that your issues are solved faster yet efficiently.
Thanks to its drag-and-drop phone setup and Call Flow Builder, your business will be ready to receive calls in record time.
Features:
Nextiva is jam-packed with useful features like VoIP, IVR, call queuing, helpdesk, call routing, and more.
Let's take a quick glance at some important features of Nextiva:
Helpdesk software
Sales CRM
Free toll-free, virtual voicemail, and auto attendant
One-click conference calling
Audio conferencing
VoIP conferencing with call recording
Screen share and file sharing
Real-time call tracker
Workflow automation
Call Pop
Customer experience management
Integrations with Microsoft, Google, and more
Pricing:
The pricing plans of Nextiva are staggered across four tiers, which cater to different sizes and types of businesses. It offers a 7-day trial of the Essential plan, whereas all other plans are accompanied by a detailed demo.
1. Essential Plan at $18.95/month
Unlimited voice and video calling
Unlimited internet fax
24/7 customer support
2. Professional Plan at $22.95/month
Unlimited conference phone calls, up to 40 users
Unlimited video conferencing, up to 250 users
Call Pop, up to 250 contacts
3. Enterprise Plan at $32.95/month
Unlimited participants on voice and video conferencing
Unlimited video conference and call recording
Unlimited call pop
4. Ultimate Plan at $57.95/month
Automated surveys
Sales management
Customer journey data
Best For Beginners
HubSpot is an effective communication software that can streamline the sales and services of your company. With over 121,000 customers, this call center business tool claims to make all of your processes more "human" and effortless.
I especially like how this software allows flexible customer support with features like helpdesk ticketing and live chat. Its CRM platform further helps in collecting customer details and eliminating manual processes with automated customer service.
Finally, you can use the knowledge base in the form of FAQs, articles, and videos to help customers solve their problems and reduce your own workload. Because "good for the business" should also mean "good for the customer."
Features:
HubSpot offers multiple features that are divided into five "hubs." However, my review mainly focuses on the Service Hub.
Let's take a look at some servicing features of HubSpot:
Help desk and ticketing
Customer details tracker
Reporting dashboards
Automated customer service
24/7 customer support
Conversation routing
Shared inbox
Simple ticket automation
Conversation intelligence
Pricing:
HubSpot provides three pricing policies that can be paid monthly or annually. However, you can take advantage of a 10% discount by opting for the annual payment option.
1. Starter Plan at $45/month
Live chat
Slack integration
Email and in-app support
2. Professional Plan at $360/month
Video hosting and management
Phone support
Customer experience and satisfaction surveys
3. Enterprise Plan at $1,200/month
Hierarchical teams
Record customization
Conversation intelligence
Best Enterprise-grade Security
With a versatile cloud-based communication system and powerful call delegation, RingCentral is the ideal pick for business acceleration. It is compatible with various devices and offers hundreds of integrations, allowing the team to perform their best from virtually anywhere.
One of its latest features is the Ring Video which allows users to connect via free video meetings and messaging. I also like how this feature lets me discreetly switch between devices, so I can sneak into the kitchen for some snacks between meetings.
All of this is possible with its cloud PBX, a modern phone system that sets up call routing, manages voicemails, and lots more with a single tap.
Features:
RingCentral offers tons of messaging, video calling, and tracking features, making it an all-in-one business communications platform. Providing its services across 40 countries, this call center software offers enterprise-grade security to maintain privacy at every level.
Here are some notable features of RingCentral:
Screen sharing
Separate RingCentral numbers
Team messaging
Voicemail-to-text
Audio conferencing
24-hour meetings
Popular CRM integrations
Real-time analytics
Advanced call handling
Multi-site admin and management
Call recording
Pricing:
You can incorporate RingCentral MVP (Message, Video, Phone) into your business by choosing from four of its pricing policies. Keep in mind that all of the prices given below are subject to change depending on your payment routine (monthly or annually) and the number of users.
1. Essentials Plan at $19.99/month
Up to 20 users only
Unlimited calls within the US/Canada
Team messaging and file sharing
2. Standard Plan at $29.99/month
No limit on number of users
On-demand call recording
Up to 100 people per video meeting
3. Premium Plan at $34.99/month
Automatic call recording
Up to 200 people per video meeting
Popular CRM and industry-specific (Canvas, Smarsh, etc.) integrations
4. Ultimate Plan at $45.99/month
Unlimited storage
10,000 toll-free minutes
Device status alerts (offline and online)
4. Salesforce.
Best For Scaling Companies
Salesforce Service Cloud is an omnichannel call center solution that connects businesses, customers, experts, and everything in between. Its powerful tools allow you to provide industry-leading support to your customers and thereby build stronger connections.
Together with Slack, Salesforce offers your customers a user-friendly, digital, end-to-end experience. Personally, I'm a huge fan of Slack as a workplace communication platform, especially now that it facilitates cross-company case swarming and cross-team collaboration.
The Service Cloud further enables automation of business processes through workflows and offers actionable insights on customer interactions.
Features:
Salesforce uses the power of AI to scale and optimize your customer service team. Your agents get a service console providing a holistic view of every customer to solve their problems in the fastest way possible.
Here are some essential features of Salesforce:
Agent workspace
Automated case management and customer interaction
Optimized knowledge management
Omnichannel routing
CTI integration
Personalize customer engagement and experience
Real-time business insights
Transform field service operations
Chat, 24/7 toll-free, and developer support
Pricing: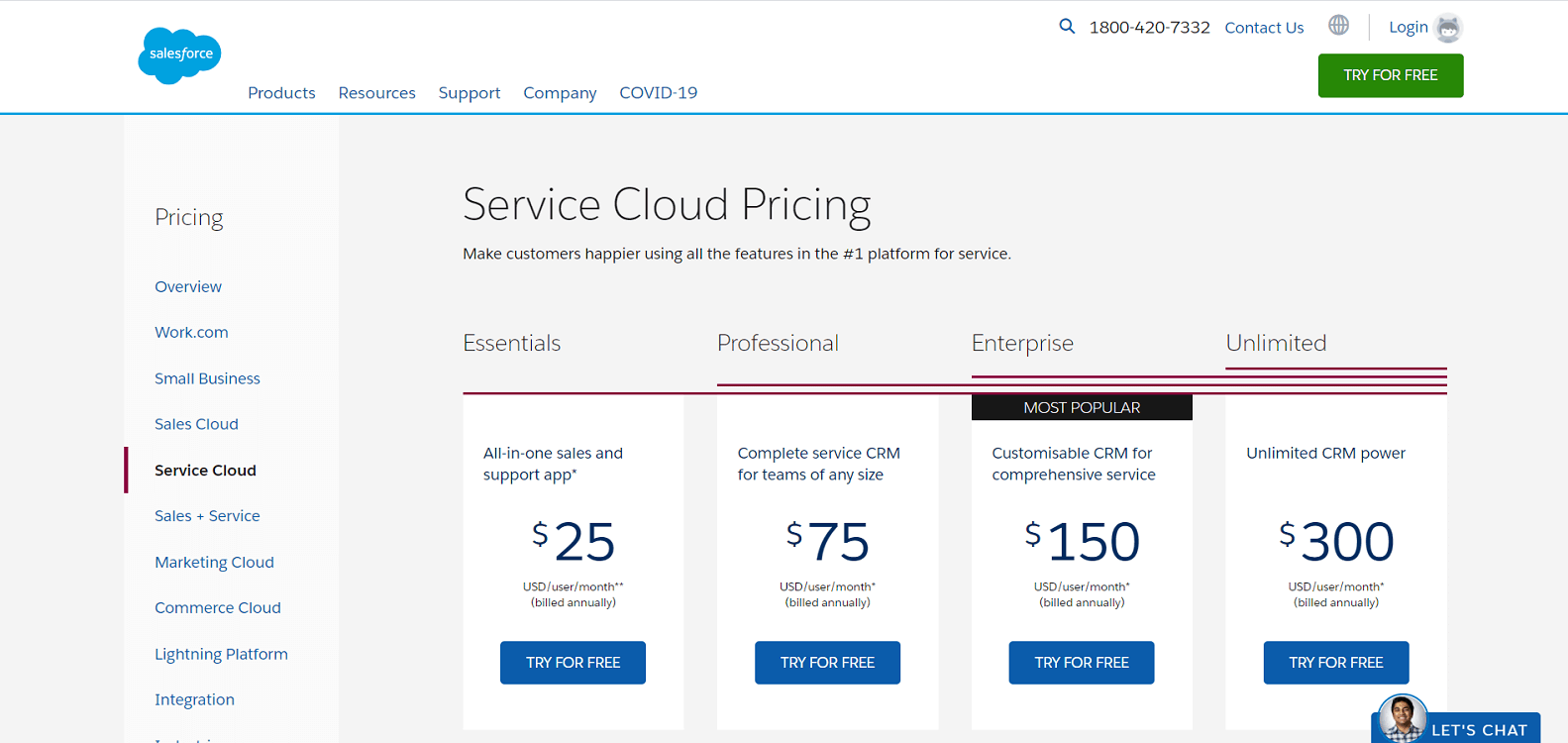 Salesforce offers its flexible service cloud via four pricing plans, each of which can be customized to suit your business requirements. This is possible with the paid add-ons like field service, self-service, workforce engagement, emergency program management, and more.
1. Essentials Plan at $25/month
Cross-company collaboration
Omnichannel supervision and routing
Snap-ins for live agent chat
2. Professional Plan at $75/month
Case milestone tracker
CTI integration
Unlimited custom applications
3. Enterprise Plan at $150/month
Service console apps
Salesforce identity
Workflow and approval automation
4. Unlimited Plan at $300/month
Advanced reporting features
Developer and Developer Pro Sandbox
Expert coaching lessons
Salesforce offers a generous 2-week free trial period for all of these plans.
5. CloudTalk.
Best Custom Call Queuing
Flexibility and scalability go hand-in-hand with CloudTalk– the best-rated cloud call center software for SMBs in 2020. With big-name brands like Mercedes Benz, Fujitsu, and more included among its 2,500+ customers, this software improves your interactions and workflows.
Some of its voice features are call masking, call recording, voicemail, and so on. My favorite would be call queuing which allows users to sort inbound calls based on predefined rules.
Productivity is also never compromised with call tagging, click-to-call, predictive dialer, smart detection, etc. These features reduce wait times and readily fulfill all customer demands. Other than that, CloudTalk offers CRM integrations to help you stay connected 24/7.
Features:
The features of CloudTalk are divided into six categories- voice features, intelligent call routing, productivity, integrations, statistics and monitoring, and utilities.
Here are some features of CloudTalk at a glance:
Call queuing
Call recording
Internal calls/extensions
Voicemail
Personalized greetings/music
Internal phone number tags
Automated Call Distribution (ACD)
Interactive Voice Response (IVR)
Skills-based routing
Smart auto dialer
API integrations
Agent reporting
Pricing:
CloudTalk offers four pricing plans for every business at any stage. With no hidden fees and commitments, this contact center software is great for start-ups who just want to test the waters.
1. Starter Plan $20/month
Unlimited inbound and intracompany calls
Unlimited call queuing
International numbers (140+ countries)
2. Essential Plan $25/month
Advanced analytics with unlimited history
Integrations and open API
Real-time client dashboard
3. Expert Plan at $40/month
Salesforce integration
Power dialing
Call Monitoring (Call Barging, Call Whispering)
4. Custom Plan
Custom onboarding
Developer support
Enterprise-grade security
6. Bitrix24.
Best For Remote Teams
One of the few customizable contact center solutions, Bitrix24 is built according to your to-do lists to offer customer support via popular channels. Boasting 9,000,000+ organizations in its customer list, this software allows you to be in control with source code access and lots more.
With Bitrix24, rest assured of seamless communication, thanks to its HD video calling and conferencing with no time limit. You can even record your calls to access important information later.
Besides the cloud contact center, Bitrix24 is your one-stop solution to all of your business needs. With tons of communications, tasks, websites, and CRM integration tools, this software can easily replace your existing apps and services for a single, streamlined work desk for you.
Features:
This software is undoubtedly one of the best for small-scale businesses, especially those working remotely. And its features are not just limited to customer service.
Let's take a quick look at some powerful features offered by Bitrix24:
Unlimited HD video calls
Call recording, tracking, routing, screening, transcription, etc.
Private and group chats
Rules, routing, and conversation transfers
Preset greetings
Advanced reporting
Integration with Bitrix24 CRM
Voice and SMS broadcasts
Social media manager
Progress analytics and statistics
Classic helpdesk
SIP-connector for third-party integrations
Pricing:
Bitrix24 is an ideal solution for sales and customer support teams that work from home with its free plan. Currently, the company is offering a 40% discount on all cloud plans, so take advantage of it till the offer lasts.
1. Free Plan
Live chat
100 completed CRM forms
Website widget
2. Basic Plan $29.40/month
Built-in telephony
10,000 emails from CRM (per month)
Call back widget
3. Standard Plan at $59.40/month
SIP connector for third-party telephony integrations
50,000 emails from CRM (per month)
Remove "Powered by Bitrix24" in CRM forms and live chat
4. Unlimited Plan at $119.40/month
Ten inboxes per user
100,000 emails from CRM (per month)
Email copy storage
7. TalkDesk.
Best For Large Businesses
TalkDesk's cloud contact center software holds the #17 position in Forbes Cloud 100 for 2021. And rightly so with its enterprise-grade performance and simple, user-friendly tools. It uses AI and knowledge to provide intuitive solutions that improve workflows and remove bottlenecks.
TalkDesk CX Cloud includes beneficial integrations with leading CRM and business tools. This further allows one-click access to a whole lot of productivity apps like Slack, Microsoft Teams, Zendesk, and more.
Besides the seamless connectivity and communication, this software secures all of your private conversations and data with the Talkdesk Guardian.
Features:
Overall, TalkDesk brings the best of intelligence, compliance, integration, adaptability, and security to the table. After all, its mission is to offer better ways to unlock the promise and potential of top-notch customer experience, and I think it is right on track.
Here are some features offered by TalkDesk:
Customer and workforce engagement
Out-of-the-box CRM integrations
AppConnect
Talkdesk Guardian
Verified caller ID
Customer self-service
Outbound dialer
Talkdesk Omnichannel
Predictive dialer
IVR
ACD
Pricing:
TalkDesk allows you to select the right contact center edition for you with its three pricing policies. Its AI-powered solutions start at $65/month and may vary with the number of users. However, you will have to contact the company to request a quote or a demo.
1. Professional Plan
Live dashboards
Business intelligence
Customer sentiment indicator
2. Professional Plus Plan
Mobile agent (iOS, Android)
Studio functions
Real-time and historical reporting APIs
3. Enterprise Plan
Custom dashboard and reporting
100% uptime SLA
All APIs and SDKs
8. ZenDesk.
Best Help Desk Features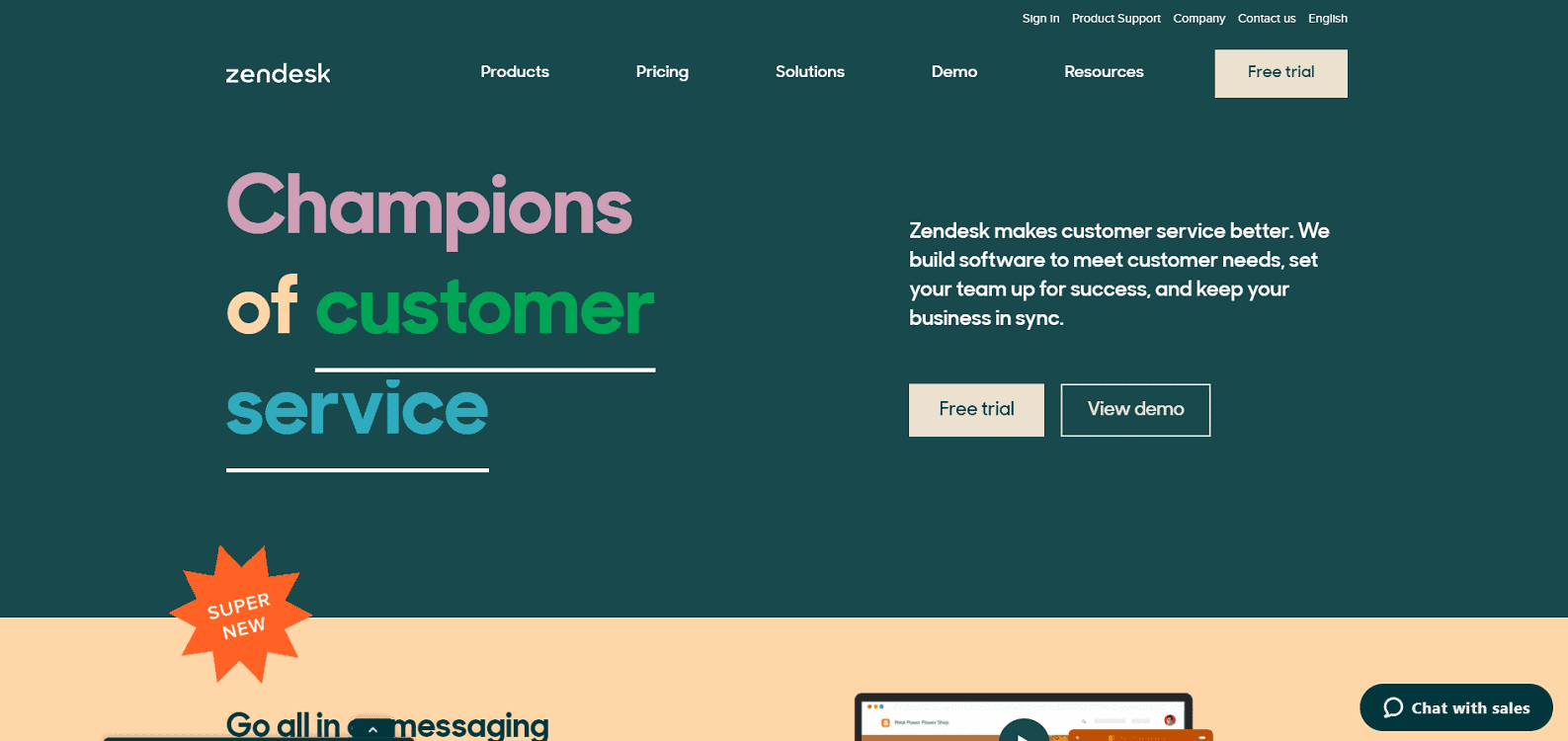 Trusted by over 160,000 businesses, ZenDesk helps "power up your customer support." And with communication tools like live chat, community forum creator, a unified agent workspace, and more, it is the complete service solution for your business needs.
With its built-in routing and intelligence, companies can collect information and delegate customer issues to the right agent. I also like how ZenDesk allows code and no-code integration features.
Although this call center software solution is easy to use, delivering an efficient customer experience can be difficult. Thus, it offers customer service expertise to improve business strategies and enhance the functionality of your team.
Features:
ZenDesk integrates with thousands of apps through the ZenDesk marketplace. This allows you to create a single workplace for all of your needs.
Here are some features of ZenDesk that will help create a strategic impact on your business:
Industry-leading ticketing system
Omnichannel messaging
Email, SMS, voice, live chat support
Help center
Workflow automation
AI-powered automated answers
Unified agent workplace
Reporting and analytics
In-depth API and integration support
Knowledge management
Routing and intelligence
Pricing: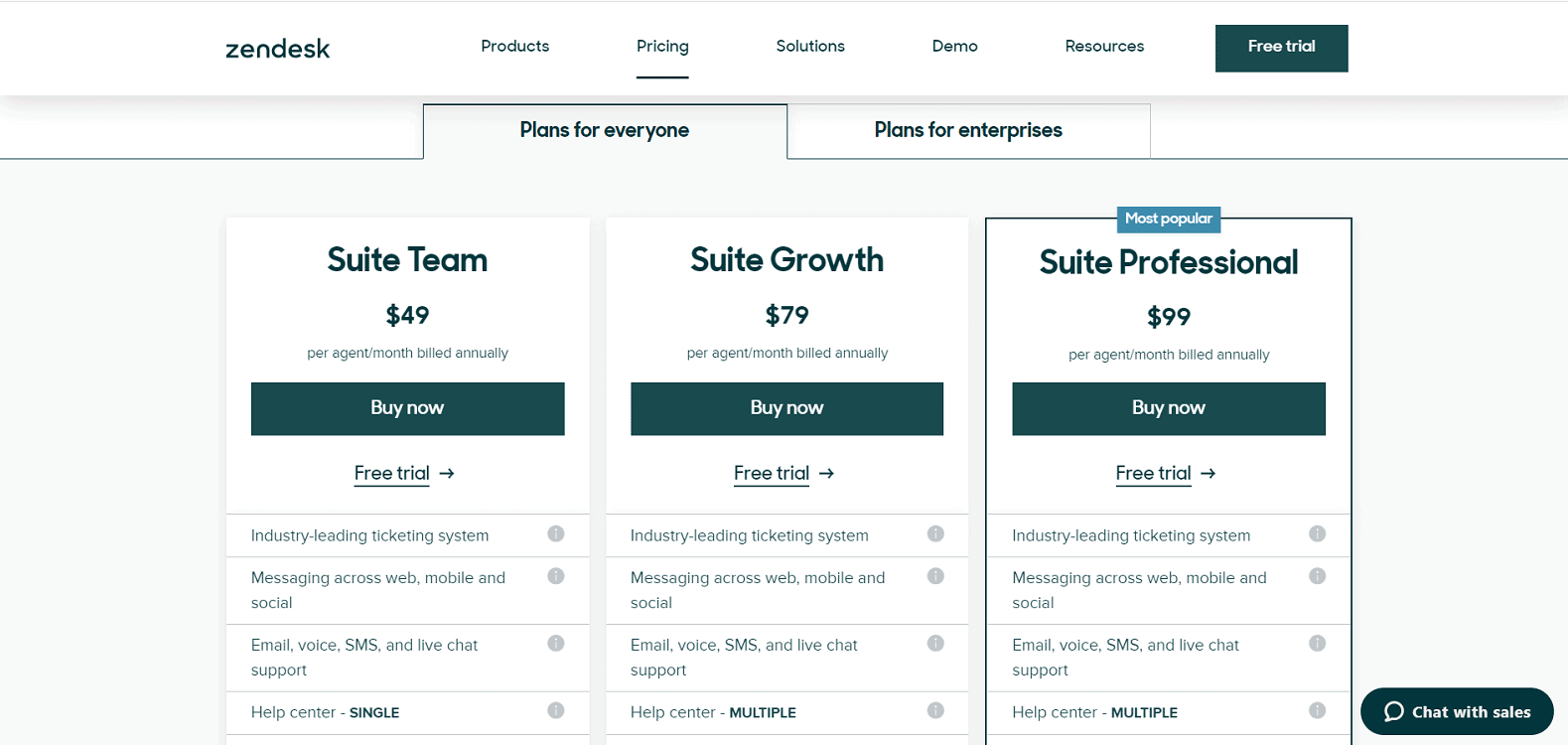 ZenDesk offers its customer service tools and expertise through four pricing plans, each of which (except enterprise plan) has a free trial offer. Further, you can view a demo of the plans to analyze if it is suitable for you and then make an informed choice.
1. Suite Team at $49/month
Email with unlimited addresses
Call recording
AI-powered automated answers (up to 50)
2. Suite Growth at $79/month
Multilingual support and content
Self-service customer portal
AI-powered automated answers (up to 100)
3. Suite Professional at $99/month
HIPAA compliance
Private conversation threads
AI-powered automated answers (up to 500)
4. Suite Enterprise at $150/month
Automatic email archiving
Widget unbranding
Pre-built live dashboard
9. LiveAgent.
Best Value For Money
If you just started a business with a low budget, LiveAgent is a cost-efficient option to consider. With 200+ integrations and 130+ ticketing features, this omnichannel call center solution keeps you connected with customers at all times.
The quirky chat widget is not just to increase engagement and answer customers' queries. It acts as a real-time support tool that records customer's behavior, dwell time, and more. And with callbacks and call transfers, you can decrease hold times and ensure 100% satisfaction.
I also like how LiveAgent allows unlimited users, so you never have to worry about changing your plans with the growing number of employees.
Features:
Despite being a budget-friendly call center software, LiveAgent offers a generous amount of features to incorporate in your business communication. Together these features make a multi-channel help desk for your company.
Here are some features of LiveAgent:
Universal inbox
Ticketing
Automated ticket distribution
Time tracking
Customer service reporting
SPAM filters
Social media help desk
Premade contact form gallery
Audit log
Call routing
Real-time typing-view
Set max queue length
IVR
Pricing: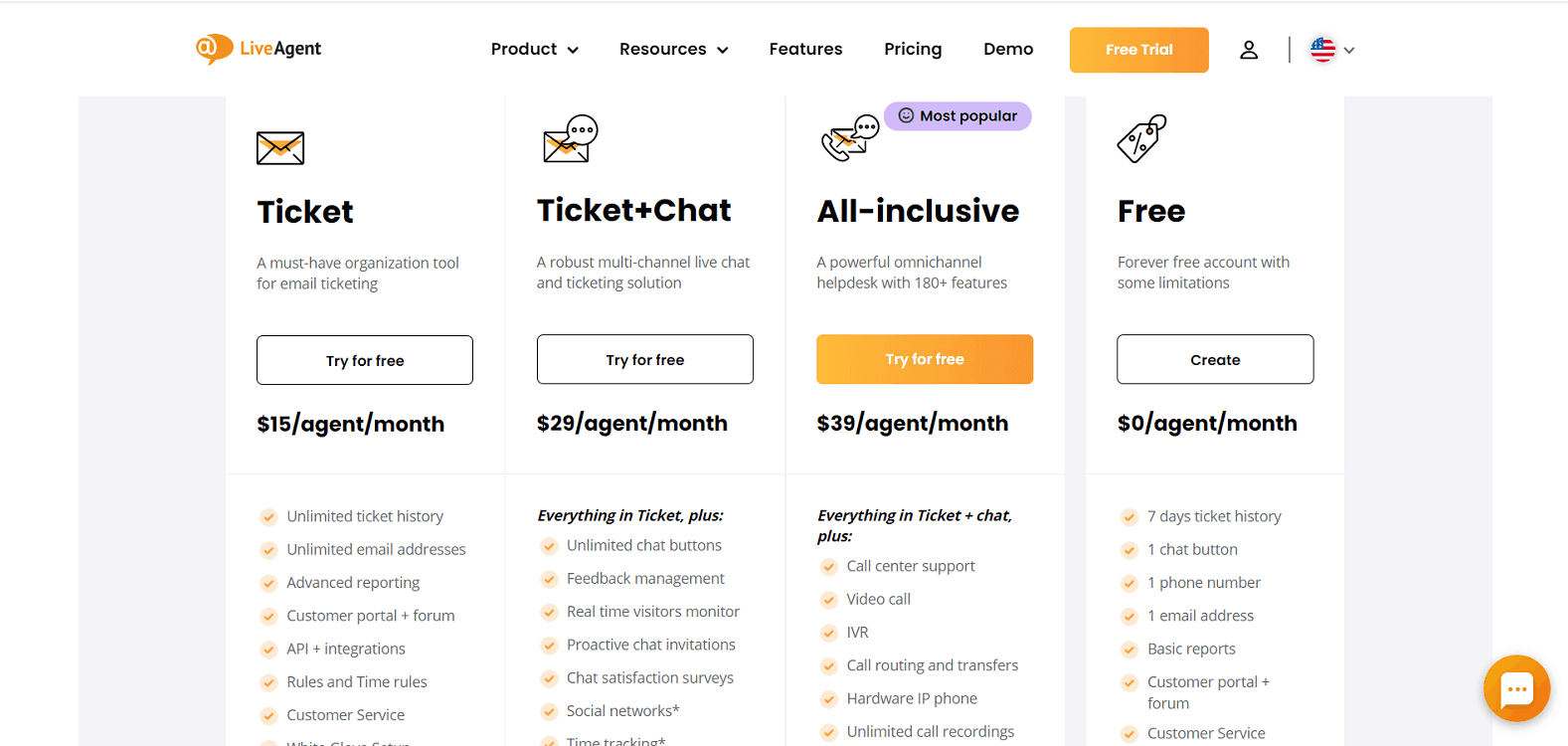 This omnichannel contact center software follows a simple four-tier pricing policy, with the first pack being free of cost. You will not require a credit card and can conveniently upgrade and pay accordingly.
1. Free Plan
SPAM filters
White glove setup
Analytics overview and performance reporting
2. Ticket at $15/month
Unlimited ticket history
Unlimited email addresses
Advanced reporting
3. Ticket+Chat at $29/month
Real-time chat support
Advanced integrations
Chat widgets customization
4. All-inclusive at $39/month
Call and video call widgets customization
Call routing and transfer
Automatic Data Deletion/Redaction
10. Newfies-Dialer.
Best Voice Broadcasting Solution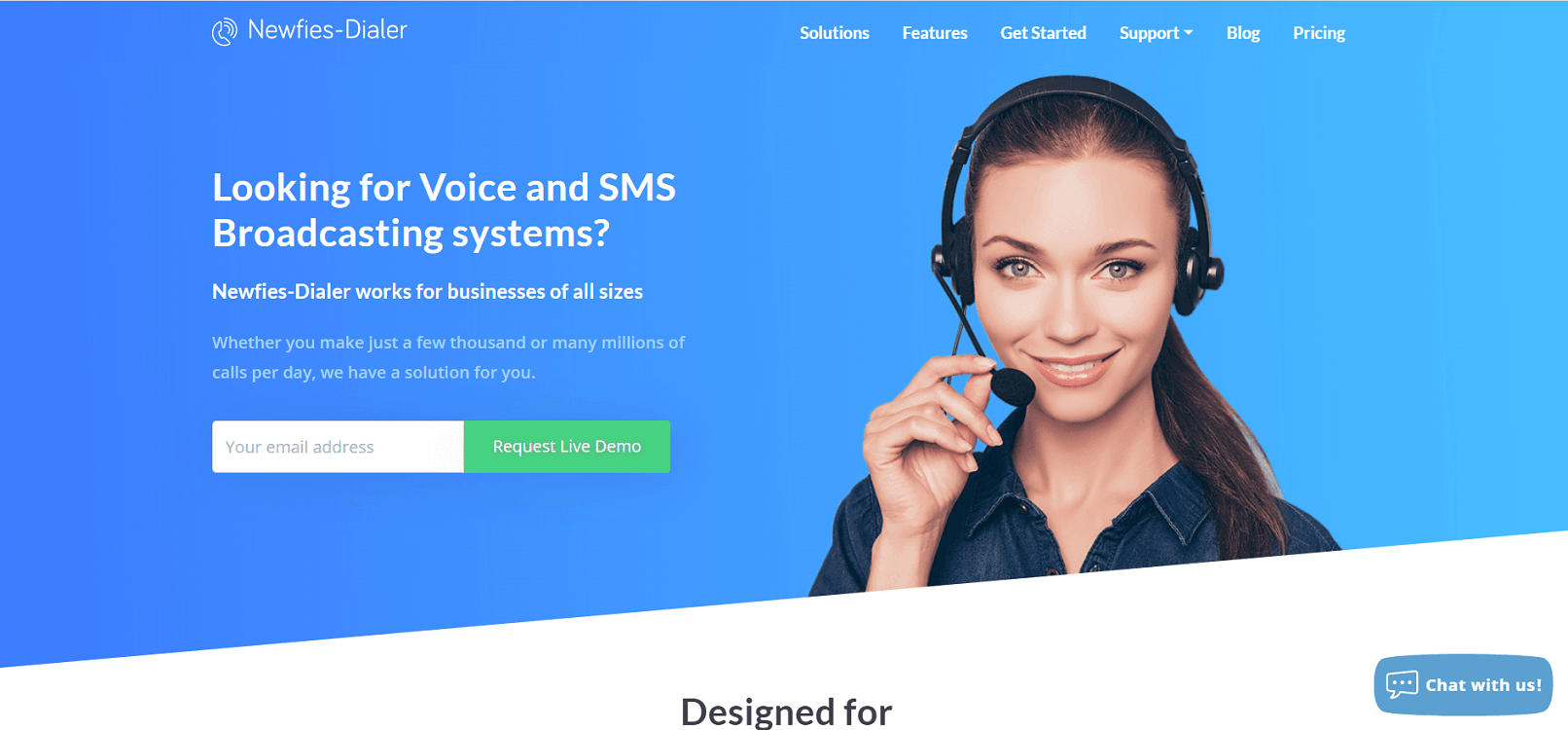 Suitable for businesses of all sizes, Newfies-Dialer is a cloud contact center that offers features like voice broadcasting, outbound IVR, and more. You can even send mass text messages to send marketing alerts, updates, and promotions.
It is interesting to note that this cloud phone system allows personalized messages, and you even get the liberty to use the text-to-speech feature in different languages. Another advantage is the automatic voicemail, enabling you to move to the next call and save time.
Although there are different pricing plans with various features, all of them include basic yet functional settings like campaign analytics, developer APIs, auto redial, and so on.
Features:
Newfies-Dialer is a SaaS contact center tool ideal for telemarketing, political campaigns, and lead generation. From managing inbound and outbound calling to providing multi-language support, you can trust this software to make your customer experience more efficient.
Here are some key features of Newfies-Dialer:
Voicemail detection
Text to speech
Negotiable VoIP provider
Contact management
Surveys and RSVP
Personalized messaging
Fast dialing
Progress and performance tracker
DNC (Do Not Call) List
In-built API
Call scheduling
Pricing:
The pricing plans of Newfies-Dialer vary with the number of ports your business requires per month. Note that this software does not offer a free trial for its products. However, you can drop your email address and request a demo.
1. 25 Ports at $199/month
Ten agents
One tenant
Daily call and SMS limit: 10
2. 100 Ports at $399/month
20 agents
Five tenant
Daily call and SMS limit: 50
3. 250 Ports at $599/month
40 agents
Ten tenant
Daily call and SMS limit: 125
4. 500 Ports at $999/month
80 agents
25 tenant
Daily call and SMS limit: 250
5. 1000 Ports at $1799/month
160 agents
50 tenant
Daily call and SMS limit: 500
11. Agile CRM.
Best Affordable All-in-one CRM
From marketing to customer service- Agile CRM stands true to its name with its bustling features to take your customer experience up a notch. With its computer telephony features, you get industry-leading tools and popular third-party integrations.
Handling outbound calls and incoming calls can be done with a single click, thanks to its user-friendly dashboard and virtual dial pad. The transparent system also allows you to view caller details and histories before, during, and after calls.
Agile CRM further helps you stay ahead in the game with regular reports to manage the team performance more efficiently.
Features:
Agile CRM offers advanced call automation features at an affordable price. Plus, small businesses and start-ups can take advantage of the free plan with basic sales, marketing, and service tools.
Here are some distinct features offered by Agile CRM:
Email tracking
Appointment Scheduling (some other scheduling software options)
Post-call Automation
Automated Voicemails
Canned Responses
Helpdesk
Knowledge base
Reports and analytics
Pricing: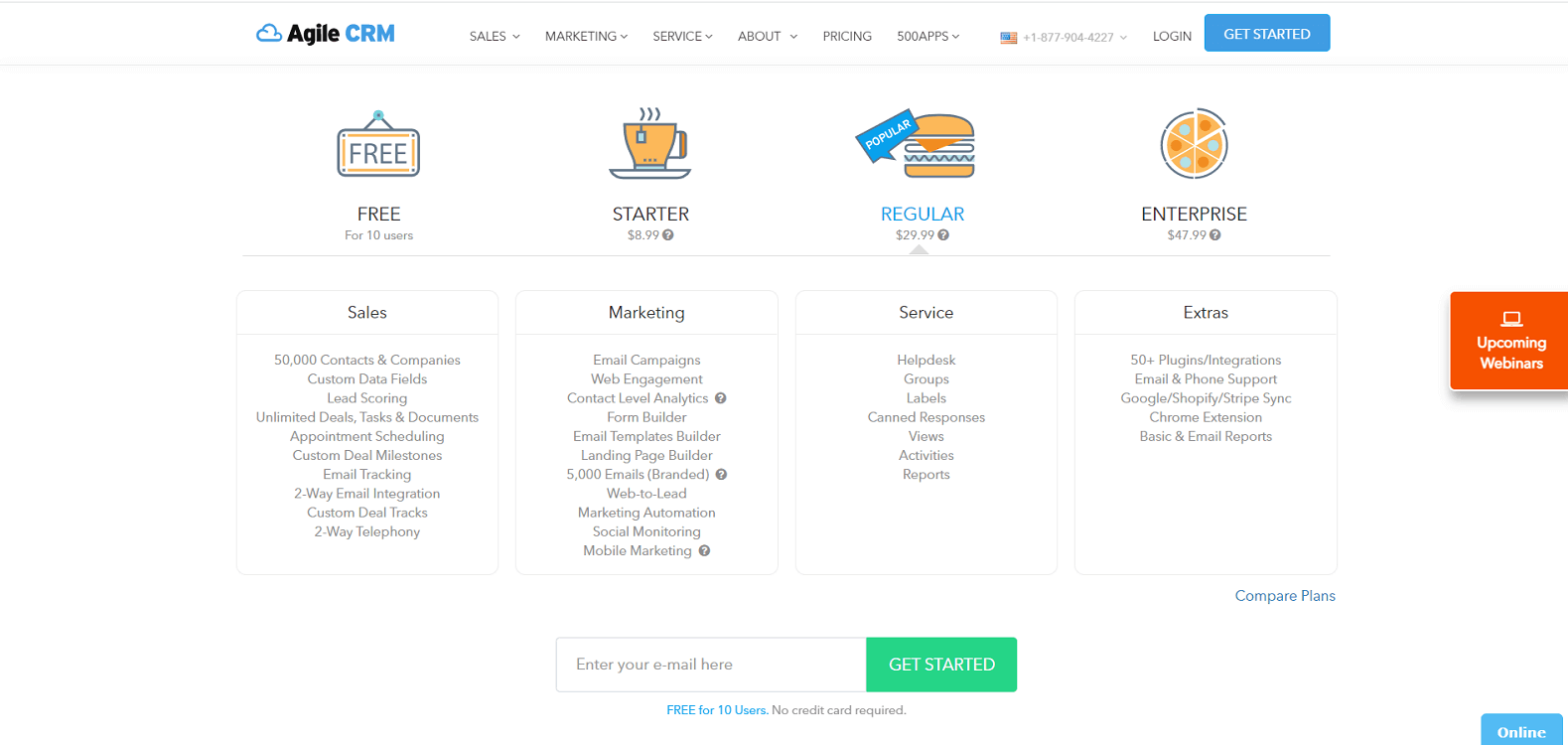 Agile CRM is one of the few inbound call center platforms that offers a completely free plan, along with upgraded, paid plans. You can start with the free plan to try out its features and easily switch between different plans whenever required.
1. Free Plan
500 API calls/day
Email support
Helpdesk
2. Starter Plan at $8.99/month
5,000 API calls/day
Email and phone support
Knowledge base
3. Regular Plan at $29.99/month
10,000 API calls/day
Reporting
Canned responses
4. Enterprise Plan at $47.99/month
25,000 API calls/day
50+ Plugins/Integrations
Access Controls (ACLs)
12. Verizon VoIP.
Best VoIP Phone System For Mid-sized Companies
Verizon VoIP is another cloud contact center that boosts customer satisfaction, retention, and conversion. Especially the cloud hub allows more flexibility and reliability while your business creates connections and scales efficiently.
It also offers a network-based IVR and IP contact center to integrate information from different platforms and proactively guide customers to suitable agents. You even incorporate a digital self-assistant that will help your company stay onboard 24/7.
Lastly, Verizon VoIP uses an AI-driven knowledge base to provide relevant and updated solutions to customer queries.
Features:
With 25 years of experience, Verizon VoIP offers practical solutions to all of your business communication needs. Its contact center network, customer experience consulting, and voice security use the best of technology and AI.
Let's look at some of its game-changing features:
Knowledge assist
Virtual agent
Call park/retrieve
Call history
Mobile app
Outbound calls
Visual voicemail
Omnichannel routing
Intuitive user interface
40 quick and secure integrations
Pricing:
Verizon VoIP offers a wide variety of plans to choose from. However, I have mentioned the details of the business voice plans below.
1. Business Digital Voice (VoIP) at $35/month
Mobile app
45+ call management features
Unlimited nationwide calling
2. One Talk at $25/month
Simultaneous ring
Auto receptionist
Advanced cross-platform collaborations
3. Webex Calling (contact to get a quote)
Onsite and remote collaboration
Online training and support
IP Trunking
13. Aircall.
Best Easy-to-use Cloud-based Solution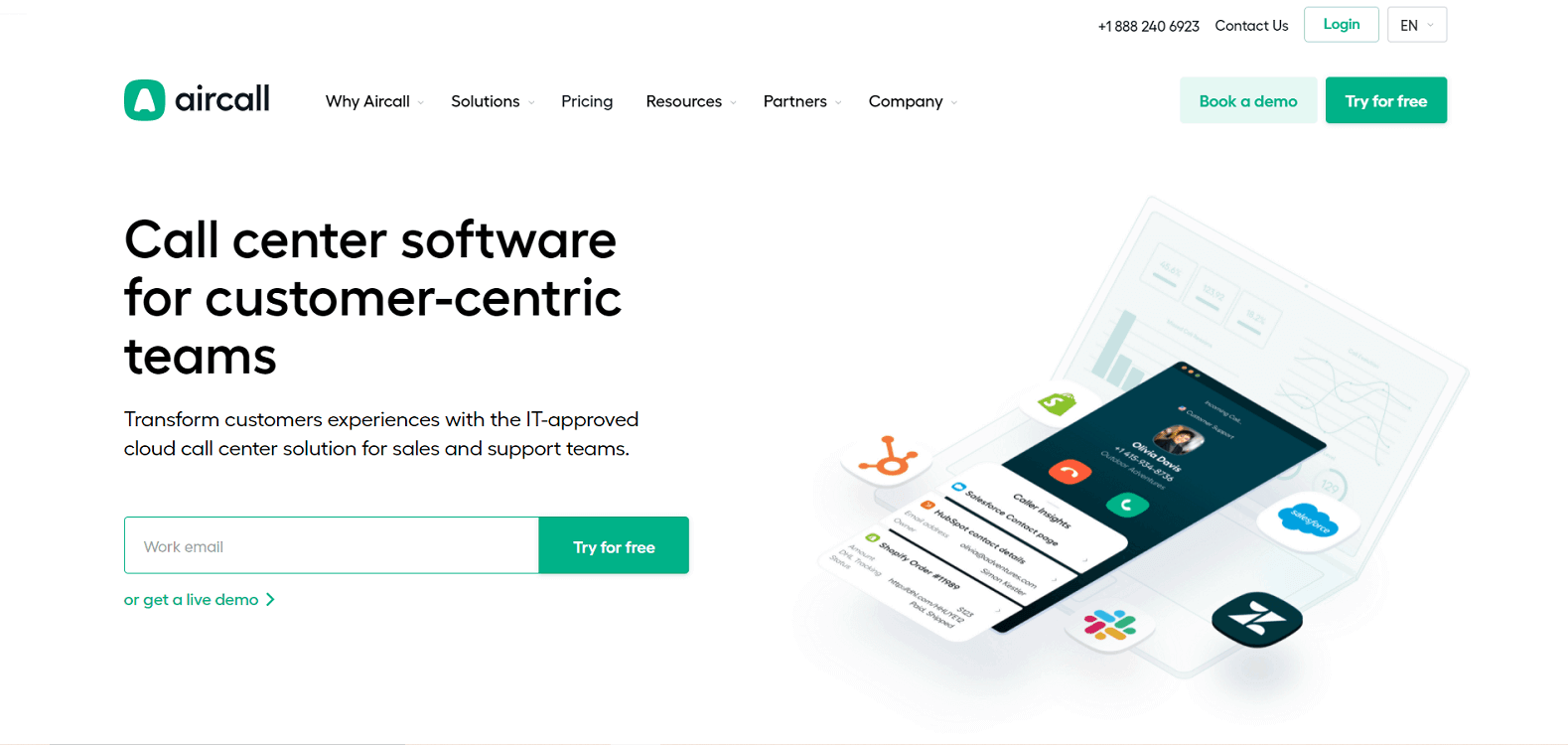 Next on the list is Aircall, the ideal call center solution for transforming the customer experience. Trusted by 8,500+ brands, this software includes powerful IVR features, call routing, real-time modifications, and more.
I like how convenient its CRM and Helpdesk tools make the whole process by keeping all of the essential connections on one platform without complicating the system. Plus, you can sync shared contacts via Google Apps, PieSync, CRM, etc.
Lastly, Aircall offers an innovative tool, Call Whispering, using which you can advise your teammates while they are on call without the other party getting a hint.
Features:
Aircall sets up in seconds, connects to your existing tools, and enables productivity, boosting customer experience. Note that you can request a demo for any of these features by contacting the brand's representatives.
Here's what makes Aircall a flexible voice solution for your business:
Toll-free, international, and blocked numbers
Interactive Voice Response (IVR)
Call conferencing
Shared contacts and call inbox
Call and callback queuing
Pause-resume recording
Skill-based routing
Ring on speakers (inbound calls)
Business mobile app
Power dialer
Call whispering
Computer Telephony Integration (CTI)
Pricing:
Aircall follows a simple, two-tiered pricing plan, each of which starts with a free trial. However, you can choose the custom plan and get a quote according to the tools and products you opt for.
1. Essentials Plan at $30/month
Unlimited inbound calls
Call recording
50+ Integrations and API access
2. Professional Plan at $50/month
Salesforce integration
Call tagging and dispositioning
Advanced sales and support features
3. Custom Plan
Custom analytics
Custom onboarding
Service-level agreement (SLA)
Wrap Up.
Almost 66% of B2B and B2C companies opt for live chat to provide customer service. As a result, the prediction about the global call center market to peak at $496 billion by 2027 does not sound too far from reality.
Hence, here are my picks of the best call center software tools that will enhance your support team:
Nextiva: Best For Small Businesses
HubSpot: Best For Beginners
RingCentral: Best Enterprise-grade Security
Salesforce: Best For Scaling Companies
CloudTalk: Best Custom Call Queuing
Bitrix24: Best For Remote Teams
TalkDesk: Best For Large Businesses
ZenDesk: Best Help Desk Features
LiveAgent: Best Value For Money
Newfies-Dialer: Best Voice Broadcasting Solution
Agile CRM: Best Affordable All-in-one CRM
Verizon VoIP: Best VoIP Phone System For Mid-sized Companies
Aircall: Best Easy-to-use Cloud-based Solution
These software solutions will surely help create a smooth and integrated communication platform for your business.
Looking for other related posts on the blog?
Disclosure: I may receive affiliate compensation for some of the links below at no cost to you if you decide to purchase a paid plan. You can read our affiliate disclosure in our privacy policy. This site is not intending to provide financial advice. This is for entertainment only.