7 Best ClickFunnels Alternative Options (Ranked and Compared)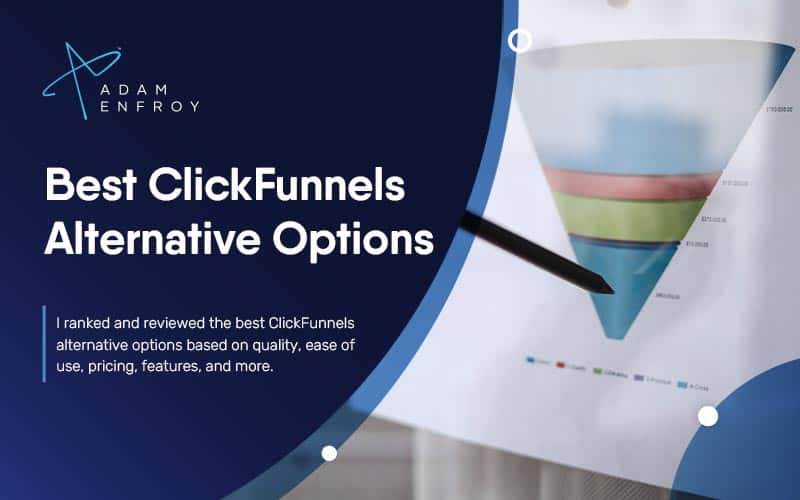 Eager to jump into the best ClickFunnels alternative? Then Leadpages and Unbounce are the top options you can go with.
ClickFunnels has exploded since its release in 2015. It really changed the game for solopreneurs who previously struggled to build high converting landing pages, sales funnels, and sales pages.
If you're an entrepreneur, a digital marketing pro, or haven't been living under a rock then the chances are you've encountered the ClickFunnels suite.
With ClickFunnels, you can create a high converting sales funnel and without any coding. However, its wide range of features can be confusing, and it might not suit every business.
That's why I've compiled a list of options for you to look at and decide which is the best ClickFunnels alternative for you.
On the fence about ClickFunnels? Check out my ClickFunnels review post to make your final decision.
Disclosure: I receive affiliate compensation for some of the links below at no cost to you if you decide to purchase a paid plan. However, these are the best tools that I recommend. You can read our full affiliate disclosure in our privacy policy.
What Is the Best ClickFunnels Alternative?
Here are my picks for the best ClickFunnels Alternative options.
Best For Building Landing Pages
For those businesses looking to build landing pages that convert, Leadpages is the tool to go with. It's an extremely popular landing page builder that allows you to create stunning websites and landing pages with zero coding knowledge.
It was the first true drag and drop landing page builder that caught major traction. ClickFunnels ended up beating it out over time, but if you only need simple landing pages, Leadpages is solid.
It includes a range of tools that help you capture leads, build sales funnels and use elements such as pop-ups and alerts. It also boasts a list of integrations that help in the funnel-building process, and speed up the task of setting up fully-functional landing pages.
One of the unique features of this tool is that it has two separate editors for beginners and experts. As a result you can choose the one according to your skill levels and expertise. This feature makes it one of the best ways to produce quality web pages within a short duration.
Features:
Leadpages boasts several features that make it easier to connect with your target markets, collect leads and close faster sales. It even offers tools for optimizing your sales funnels and growing your business at scale.
Here's a quick overview of some features that Leadpages offers:
DIY websites and landing pages without coding
Ready-made, professionally designed templates
Real-time optimization tips
Unlimited A/B testing for better conversions
Simplified real-time analytics
Online payment option powered by Stripe
Free, secure hosting with HTTPS and SSL encryption
Optimized pages for all screen sizes
Near 100% uptime
Fully GDPR compliant
Code-free integrations with over 1000 apps and tools
Pricing:
Leadpages provides users with risk-free pricing plans that are geared towards helping businesses of all sizes. Both yearly and monthly payment options are available, with extra savings on annual billing. Here's a breakup of the pricing plans and essential features.
1. Standard Plan at $27/Month
One website
Basic features including responsive pages
Free hosting and custom domain
40+ integrations
2. Pro Plan at $59/Month
Three websites
Everything in the Standard Plan
Online sales and payments
Unlimited A/B testing
3. Advanced Plan at $239/Month
Up to 50 websites
Everything in the Pro Plan
Advanced integrations
One-on-One Quick Start Call
To get started with Leadpages, opt for the 14-day free trial today.
Best Page Builder For Flexible Landing Pages
For those searching for a platform that offers the ideal combination of flexibility and power, I recommend you check out Unbounce. Whether you're a developer looking to build suitable landing pages, or a marketer looking for an online marketing solution, Unbounce is suitable.
And while landing page building is the central focus of the tool, it also has many features for marketing automation and leads capture. The WYSIWYG page editor is ideal for all levels of users, and it even offers several landing page templates for faster deployment.
Along with the above features, Unbounce has a vibrant community that's always ready to support newcomers. Whether you're looking to design a website, launch SEO campaigns, or run a PPC campaign, Unbounce can help you out.
Features:
One of the tool's advanced features is the "smart traffic" tool, which uses machine learning to deliver dynamic landing pages to the target audience. But this is just one amongst the plethora of options it offers.
Let's take a quick look at the feature-set of Unbounce:
Simple, visual page editor
Large and active community
Dedicated customer support
Support for desktop as well as mobile
AI-based marketing
Robust tools for capturing leads and increasing sales
Integrations with a large number of tools such as Zapier and G-Suite
One-click publish to WordPress sites
Real-time data dashboard
Pricing:
Unbounce's pricing plans are divided into four tiers, with monthly as well as annual payment options. However, I suggest you opt for the yearly billing and save up to 10% on subscription fees. Here's a breakup of the different pricing plans for Unbounce.
1. Launch Plan at $72/Month
Best for small businesses just starting out
Up to 500 conversions and 20,000 visitors
Only one connected domain
2. Optimize Plan at $108/Month
Everything in the Launch Plan
Up to 1,000 conversions and 30,000 visitors
Three connected domains
3. Accelerate Plan at $180/Month
Everything in Optimize Plan
Up to 2,000 conversions and 40,000 visitors
Seven connected domains
4. Scale Plan at $270/Month
Everything in Accelerate Plan
Up to 3,000 conversions and 50,000 visitors
15 connected domains
All of the above plans include an unlimited number of landing pages, sticky bars, and pop-up forms.
To get started, select the 14-day free trial of your choice.
Best For Building Scalable Sales Funnels
Instapage is counted among the most respected funnel builders on the market and also doubles as a great landing page builder. For businesses that are rapidly scaling their operations, Instapage's scalable funnel-building technology can be of great help.
With this tool, you can access advanced features such as programmatic personalization, embedded experimental functionality, and visual mapping using AdMaps. This helps you optimize the users' pre-click and post-click experiences.
Apart from the above, Instapage features an easy-to-use landing page builder that offers high-precision drag-and-drop tools. It also has a heatmap feature that lets you gauge customer activity on your website pages.
Features:
Instapage doesn't skimp when it comes to the number of features offered. Using it, you can even run social media ad campaigns and analyze the same with detailed metrics. It lets teams collaborate better and faster using intuitive workflows.
Here are some of the essential features that Instapage boasts of:
Extremely scalable landing page builder
AdMaps for linking ad creatives to landing pages
Embedded experimentation and personalization
Speedy landing pages that increase conversion rates
Heatmaps and A/B testing facilities
Dynamic and targeted content delivery
Simple team collaboration features
Easy integrations with over 100 tools such as HubSpot CRM, Marketo, and Pardot
Enterprise-grade security with SOC2 Compliance
Pricing:
When it comes to pricing plans, Instapage takes a goal-based approach. Depending on whether you're looking to optimize campaigns or increase conversions, you can choose one of the plans on offer.
The following is a quick look at Instapage's pricing plans:
Optimizing Plan at $199 per month (paid annually)
Converting Plan at custom rates
To get started with Instapage, opt for the 14-day trial right now.
4. Builderall.
Best For All-in-One Marketing and Sales Funnels
Builderall is an up-and-coming marketing platform that aims to provide complete digital marketing and sales funnel solutions. Similar to ClickFunnels, BuilderAll boasts of a complete set of digital marketing tools that you can use to control a business's online marketing.
Using this platform, you can design individual web and landing pages, run email marketing campaigns and even start your own online store. It also supports running blogs and membership sites; in short, it has whatever digital marketing tools your business needs.
The platform has hundreds of templates for building landing pages using the Design Studio. You can even split-test landing pages, track performance using detailed analytics, and perform on-page SEO on the pages you've created.
Features:
As far as features are concerned, BuilderAll tries to incorporate maximum functionality in terms of website and e-commerce. It's a relatively affordable platform and doesn't tie you down to any specific CMS such as WordPress; this gives you the required level of flexibility.
Here's a list of the core features that BuilderAll has to offer:
Fast websites for your online business using a drag-and-drop builder
GUI-based funnel builder that requires little-to-no coding knowledge
Includes e-learning and video hosting tools
Unlimited email marketing features
Easy-to-build e-commerce checkout pages
Multiple payment gateway integrations
SiteBot and ChatBot
Excellent customer support
Pricing:
BuilderAll keeps its pricing plans simple and distributed across three tiers. All plans offer only monthly payment options till now. Each plan provides a progressively greater number of features.
Here's a quick breakup of the pricing plans for BuilderAll:
Builder Plan at $29.90 per month
Premium Plan at $69.90 per month
Funnel Club Plan at $99.90 per month
To get started with BuilderAll, you can opt for the Premium Plan at $1..
5. SamCart.
Best For Online Business Shopping Cart Building
SamCart is an ideal shopping cart builder tool for small online operators who'd like to rake in the customers. It's not designed for dedicated marketing funnels, but it can handle other e-commerce issues such as cart abandonment with ease and efficacy.
With this tool, you can expect smoothly optimized cart transactions and attractive checkout pages. This means that even though it doesn't do much in terms of engaging new customers and building interest, it is ideal for retaining existing customers.
SamCart supports selling a wide range of products such as online courses, eBooks, and membership sites. You don't need coding experience as it offers a simple drag-and-drop builder for creating 100% mobile responsive pages.
If you are looking for an alternative to SamCart you should take a look at ThriveCart. You can read my full ThriveCart review and decide which one makes the most sense for your business.
Features:
Using its collection of pre-built page templates and WYSIWYG website builder, SamCart lets you deploy shopping cart enabled web-pages in minutes. It also has a number of tools for boosting orders, such as 1-click upsells and upgrades and automated cart recovery.
Here's a list of the features to look out for when working with SamCart:
Drag-and-drop page builder with pre-designed templates
Unlimited number of products
Multi-language, multi-location localization features
Easy integrations with tools such as MailChimp, PayPal and Zapier
Pre-purchase order bumps and single-click upsells
A/B testing and intelligent pixel tracking
Advanced analytics and reporting features
Complete customer support for subscribers
Fully secure platform with SSL and GDPR/PCI compliance
Zero transaction fees
Pricing: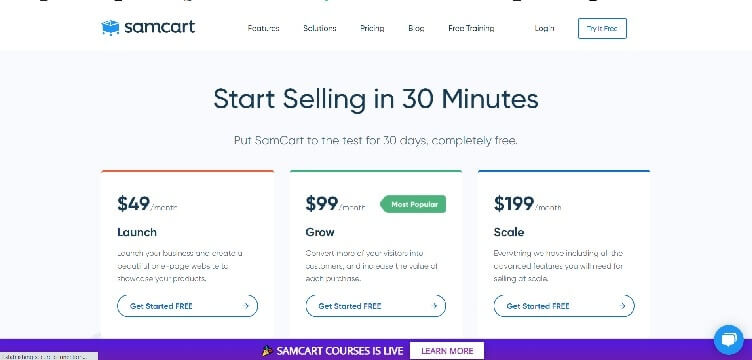 SamCart's three-tier pricing plan is divided based upon the stage of your business. Whether you're just launching, still growing, or scaling it up, you can select the plan appropriate for the business.
Here are the different pricing plans that SamCart offers:
Launch Plan at $49/month
Grow Plan at $99/month
Scale Plan at $199/month
If you're a larger corporation with more complex needs, you can opt for the Enterprise Plan at custom pricing. Further, all plans listed above come with a 30-day free trial that you can access without any commitment.
6. GetResponse.
Best For Email Marketing
GetResponse is yet another all-in-one marketing tool, but my primary interest lies in its email marketing solution. It offers excellent deliverability; at the same time, its landing page builder also provides impressive capabilities.
The platform has a number of features, such as complete marketing automation and webinars, which you won't find in many other tools. It also offers the usual forms and pop-ups that allow you to build relevant sales pages.
Using GetResponse, you can quickly set up lead magnets as well as sales funnels. It also lets you create, deploy and manage social media ads from the platform itself. It even has analytics tools that allow you to gauge how the sales funnels are working.
Features:
Such a wide range of features means that you can perform pretty much every marketing function you want with this tool. From building opt-in forms to creating email lists, you can do it all.
Here's a brief list of the features that GetResponse offers:
Professional email marketing templates
High converting landing pages
Lead magnet sales funnel builders
Complete marketing automation workflows
Web push notifications and live chat
Abandoned cart emails
Website visitor tracking
Complete webinar tools
Social media ads creator
Live chat tools
Pricing:
GetResponse pricing plans are simple and distributed across four tiers. You can opt for monthly, yearly, or two-yearly payments. If you opt for the longer-term payment plans, you get to save 18% and 30%, respectively.
Here are the GetResponse Pricing Plans you can choose from (Billed Yearly):
Basic Plan at $12.30 per month
Plus Plan at $40.18 per month
Professional Plan at $81.18 per month
Max Plan at custom pricing
You can sign up for the 30-day free trial without sharing credit card details right now.
7. Ontraport.
Best For Automation-based Marketing
Ontraport offers many of the features that ClickFunnels offers, such as a large number of digital marketing tools and detailed customization features. From setting up digital marketing campaigns to digital product sales, Ontraport can support you fully.
The primary difference between Ontraport and ClickFunnels (making it a solid ClickFunnels alternative) is that Ontraport focuses on automating most of your marketing processes. While this might increase complications for smaller businesses, for larger ones, such automation is ideal.
This platform provides a single location from where you can control all marketing aspects of your business. Whether it's high-quality lead generation or split testing features, Ontraport has support for it.
Features:
Ontraport's dedicated automation features help you get a complete, bird's-eye-view image of your business. Such a high-level outlook lets you focus more on the business aspects that need your attention.
Ontraport can help you out with the following features:
Lets you keep better track of your customers and prospects
Ability to automate and scale any marketing process
High converting templates
Flexible payment options
24/7 customer support
Drip email campaigns, conversion boosters, and sales funnel builder
Safe data migration features
Pricing: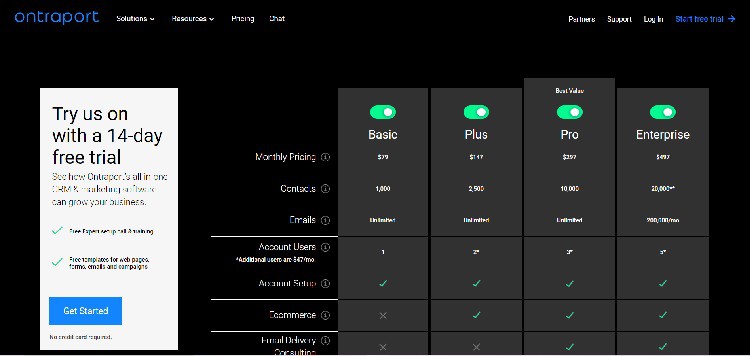 Ontraport offers only monthly pricing plans, but the plans are affordably priced. Due to the monthly plan structure, you can cancel anytime you want. Plans are divided across four tiers for scalability.
Here are the pricing plans for Ontraport:
Basic Plan at $79 per month
Plus Plan at $147 per month
Pro Plan at $297 per month
Enterprise Plan at $497 per month
You can try out the tool free for 14 days; no credit card is needed.
Is there a free version of ClickFunnels?
No, there is not a free version of ClickFunnels. They offer a free trial, but they do not offer a free version of the product.
What is the best funnel builder?
The best funnel builder is ClickFunnels but the other ClickFunnels alternatives are Leadpages and Builderall for their ease of use, features, and price points.
Why is ClickFunnels so expensive?
The honest answer is because of their affiliate program. They pay very high commissions which is how they primarily grew the business. Don't get me wrong, it's a solid product and it gets the job done and I would still recommend it.
Is Kartra better than ClickFunnels?
No, Kartra is not better than ClickFunnels. I have used both products and ClickFunnels is a better product. Here is my post on Kartra VS ClickFunnels. If you are looking for a ClickFunnels alternative I recommend Leadpages or Instapage.
Wrap Up.
The right sales funnel builder can make a massive difference to your business. Thankfully, ClickFunnels is not the only option out there when it comes to building a suitable sales funnel for your website.
If you're looking for a suitable ClickFunnels alternative, then here are the best options:
Leadpages: Best For Building Landing Pages
BuilderAll: Best For All-in-One Marketing
Instapage: Best For Scalable Funnel Building
Unbounce: Best For Flexible Landing Pages
SamCart: Best For Shopping Cart Building
GetResponse: Best For Email Marketing
Ontraport: Best For Automation-based Marketing
I'm sure you'll find a suitable ClickFunnels alternative from the above list.
Disclosure: I may receive affiliate compensation for some of the links below at no cost to you if you decide to purchase a paid plan. You can read our affiliate disclosure in our privacy policy. This site is not intending to provide financial advice. This is for entertainment only.