Clickfunnels Review: The Best or Overrated? (2023)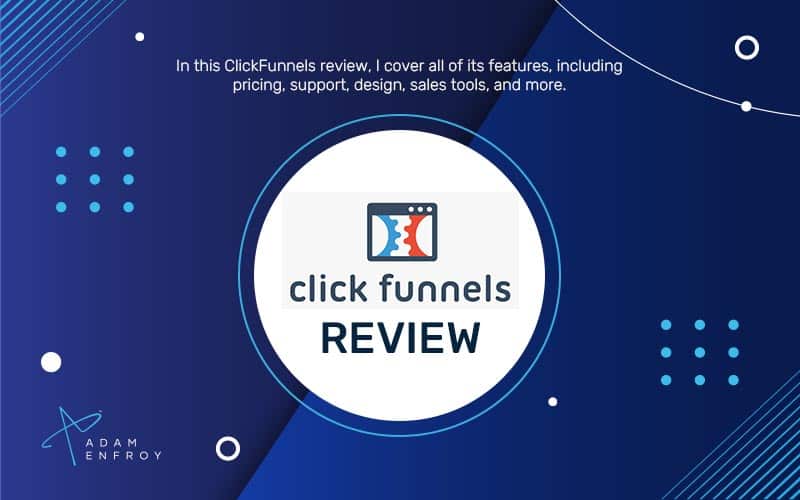 ClickFunnels has become the go-to funnel-building software for online businesses.
It pretty much invented the category and is usually the first choice for any online business.
For those who don't know, ClickFunnels is one of the most popular marketing SaaS companies.
It is a quick, easy and efficient marketing tool to help business owners from a non-tech background build their online presence and boost their conversion rates.
In this ClickFunnels review, I'll be answering all of these questions below and help you decide whether your brand needs this sales funnel builder or not. But before that, let's get back to basics…
What Are Sales Funnels?
Sales funnels are the steps that convert your leads and turn a visitor into a customer.
ClickFunnels streamlines the process of setting sales funnels, minimizing the required effort so you can focus on other aspects of your business.
The first sales funnel is the lead magnet: an ad, a social media account, or a rack of clothes on sale. It is the magnet that pulls the visitor at first glance. In a digital scenario, the visitor is most likely to land on your page through an ad, a social link sent by friends, or a Google search.
The potential buyers or learners proceed to the next funnel, which retains their interest with a follow-up like a monthly newsletter, audiobook, and more. Once the potential buyer signs up for the service, the funnel sends automated emails to increase the credibility of your business.
An apt example of this would be an astrologist who offers their services via email, video chat, or more. Here, the sales funnel brings visitors to the landing page, wherein they can drop their details for a brief analysis of their natal chart.
This is followed by an email offering free readings every month or so. However, such readings often end with a cliffhanger that encourages them to sign up or pay for a more in-depth interpretation.
How Does ClickFunnels Work?
While the concept of sales funnels is all fun and games in theory, it's quite the opposite in practice. However, ClickFunnels eases the process with drag-and-drop templates, a sales funnels builder, an all-in-one dashboard, and more.
Those who have sound knowledge in coding usually go through the following steps to build sales funnels:
Build lead magnets
Link visitors to the email list
Using automation to deliver additional lead magnets
Formulating a drip campaign
Linking the product delivery software to the emails
Creating payment gateways
Manually comparing with several services (like newsletter sign-ups, website visitors, payment processing, open/ click rates, and course completion)
Looking for other options? Check out my favorite ClickFunnels alternatives and my comparison between Kartra and ClickFunnels.
ClickFunnels Pricing
ClickFunnels offers three pricing plans to choose from: Basic, Platinum, and the Two Comma Club.
As the names suggest, the Basic plan is the introductory tier which starts at $97/ month, and the Platinum plan costs $297/month.
While the Basic plan has many important features, most of them are limited and unsuitable for larger businesses.
Then, you can opt for the Clickfunnels Platinum plan, which offers unlimited funnels, landing pages, and follow-up funnels. Email marketing and segmentation are other features included in the plan which can add more functionality and, in turn, increase conversion rate.
Lastly, the third tier, i.e., the Two Comma Club, is exclusively for existing clients who have successfully made sales of more than $1 million.
ClickFunnels Features And Benefits
ClickFunnels offers multiple features to increase functionality and allow customization in your website. Although all of its features work together to make ClickFunnels a multipurpose digital marketing tool, there are a few that make it stand out.
1. Drag-And-Drop Page Builder
The drag-and-drop editor allows you to build a sharp landing page without prior experience or coding and designing knowledge. Its ease of use makes it an efficient and quick way to build a professional-looking and sales-generating website.
This feature gives entrepreneurs the freedom to create and edit their web pages and funnels without technical barriers. With a funnel builder that works like a simple picture editing software, you will never have to rely or spend money on a programmer team again.
2. A/B Testing
The ClickFunnels dashboard shows an A/B testing feature that evaluates multiple pages of your sales funnels. It recognizes poor-performing elements to help you achieve a perfectly optimized and professional-looking landing page.
Additionally, the comparison is shown in a visual format, so you can easily determine what works best for your online business.
3. Opt-in Forms
With third-party integrations, ClickFunnels opt-in forms further streamline the process of creating an email list. As soon as visitors drop their email ID or other details, they are automatically added to the list.
Again, you get thousands of attractive and user-friendly templates of opt-in forms.
4. Email List Builder
Building a mailing list is a no-brainer with the opt-in email funnel that lets you gather leads and contact details. With this feature, you will not need third-party marketing tools for email list-building.
5. Affiliate Sales Dashboard
Managing various affiliate programs is quick and effortless with the ClickFunnels affiliate dashboard.
You can check all of the necessary statistics in one place- from tracking promotional products to checking which program generates the most income.
6. One-Click Upsells and Downsells
Here's another feature that simplifies the process of increasing sales and earning profits. Plus, your customers will also enjoy their experience as it makes shopping for additional products and combos effortless.
Basically, this feature collects the personal details and payment preferences of the customers, so the next time they shop, they do not need to re-enter any information. Additionally, with the One Time Offer (OTO) templates, you can add additional items to the upsell or downsell pages.
7. Follow-up Funnels
Besides saving up on professional programmers and designers, you can avoid spending on an email autoresponder too. Thanks to the follow-up funnels, you can choose from the existing list or create a new mailing list for follow-ups.
8. Order Forms
This feature is crucial for the checkout process as it builds the base for a one-click upsell or downsell page. With the help of templates and customizable elements, you can easily design one-step or two-step order forms.
9. Email Broadcast
This feature allows you to send emails in bulk like most email automation software. You can even set a date and time for the email to be broadcasted automatically.
10. SMS Notifications
ClickFunnels also boasts a mobile text alert feature. Simply integrate your ClickFunnels account with an SMS marketing service. Thereafter, you can create an SMS from your dashboard.
As with other features, you can designate a preferred date and time for the mobile notifications to reach the prospects. Further, the prospective buyers can opt-in to the email list via SMS.
11. Membership Sites
The member access page works great, especially for entrepreneurs who would like to provide exclusive content for members only. Once your customers purchase the membership program, you can allot separate video, image, and text material to them right within the ClickFunnel membership platform.
Moreover, you can use the drip delay feature to schedule the release of your content. This will facilitate better time management and planning for content creators. Plus, its smart and organized design allows entrepreneurs to group their lessons.
12. Funnel Templates
The amount of templates you get on ClickFunnels is sufficient, making it ideal for amateurs in the world of e-commerce. These templates are pre-designed, but you can always move around the elements and customize the look to suit your brand image and purpose.
13. Sales Analytics
Going through the sales analytics will help budding entrepreneurs track the performance of their sales funnels. Statistics like EPC (Earning Per Click) and gross income are divided across different stages/ pages of your funnel.
14. Sticky Cookies
Affiliates help you bring customers, so rewarding them is a must. And the sticky cookies feature enables you to do that.
Sticky cookies ensure that a buyer's contact details are "stuck" to its affiliate link. The next time they make a purchase, you can recognize the affiliate and reward them with bonus commissions.
15. Share Funnels
With this feature, you can share your funnel, with all of the settings like custom CSS, HTML codes, etc., with business partners and stakeholders. Wondering how that will benefit you?
If a friend uses your funnel and ends up creating a ClickFunnels account, you are entitled to affiliate commissions. Thus, both you and your acquaintances can enjoy some extra income without racking brains over the technical aspect of online marketing.
16. Sub-users
If you want to give access to a ClickFunnels account to the rest of the team, the sub-user feature has got your back. With different permission levels, you can either provide full access or limited access to the sub-users.
It is an easy-to-use and functional addition that will help coordinate the team workflow while protecting your sensitive data.
17. Payment Gateways Integration
You don't have to worry about getting third-party payment gateways, as ClickFunnels takes care of that as well. Some of the major payment processors included in ClickFunnels' long list of integrations include Stripe, PayPal, Keap (Infusionsoft), etc.
However, the number of payment gateways you can use depends on your subscription. The Basic Plan allows three integrations, the Platinum Plan goes up to nine, and the Two Comma Club users can integrate with twenty-seven payment gateways.
18. Third-Party Integrations And Apps
Adding to the list of integrations are some popular and powerful marketing software that can amp up your conversion rates in a snap. And if the list given below is still not enough, you can connect your ClickFunnels account with more apps via Zapier integration.
Here is the complete list of integrations at ClickFunnels:
Active Campaign
HTML Form
Drip
Mailchimp
Salesforce
Avalara
Twilio SMS
Zoom
Facebook
Aweber
Constant Contact
EverWebinar
GoToWebinar
HubSpot
InfusionSoft
WebinarJam
Shopify
ConvertKit
ShipStation
YouZign
Ontraport
Interspire
Kajabi
Mad Mini
Sendlane
GetResponse
WebhoopApi
ZenDirect
SlyBroadcast
Market Hero
Maropost
OfficeAutopilotTagging
PushCrew
WebinarFuel
How Should You Get Started With ClickFunnels?
The primary purpose of ClickFunnels is to simplify the creation of high-converting marketing funnels for those from a non-tech background.
There may be thousands of entrepreneurs out there who feel stuck with a brilliant idea just because they don't know where and how to start.
That's when ClickFunnels enters the picture.
In fact, the service claims to provide everything you need for launching your sales and marketing funnels within 10 minutes. And the testimonials on the official website prove that it delivers on its promise.
If you already have a website, mailing list, and payment gateway ready, you can create the first funnel in a jiffy. Note that the more customization on your landing page, the longer the setup will take. But, with ClickFunnels WYSIWYG editor, the process is still smooth and effortless.
The first step is to choose the purpose of your sales funnel. Clickfunnels broadly divides such funnels into three categories- Lead Generation, Sales Generation, and Events. Then, depending on your preference, you will get access to landing pages, emails, and other prerequisites.
Note that each of these categories has a freemium model that you can try out for 14 days. Since all of these plans include pre-designed funnel templates, you do not require any coding knowledge or web designing skills to build an effective funnel.
Let's take a look at how ClickFunnels deals with each type of sales funnel.
Lead Generation Funnels
There are two ways to generate leads; either through squeeze pages or via long-form applications. The sole difference between the two is the amount of information it gathers from the target audience.
If your goal is to collect their email addresses (perhaps to build a mailing list), you'll need a squeeze page funnel. Such funnels bring relatively more responses, thanks to our decreasing attention span.
On the other hand, a long-form application lead collects detailed information like contact details, areas of interest, and more. Ideally, a combination of both lead pages should be used to obtain helpful information.
Sales Funnels
Sales funnels can be used in three ways- the "tripwire" funnel, video sales letter funnel, and launch funnel.
A "tripwire" or "unboxing" funnel uses a low-priced product to generate initial sales. Usually, it leads to a loss, but the goal is to convert the viewer into a buyer. Once the sale is made, you can use 1-click upsells to earn a profit.
Writing a sales letter or a video sales letter funnel is essential for online businesses selling service-based products like SaaS, online courses, webinars, and more.
This is because such a "product" needs to be explained to the viewers for them to understand its intangible value.
Finally, a launch funnel is used to build excitement before launching a product or service. This works best for expensive products as you get more time to cash in on the perceived value of your product.
Event Funnels
The event hosting templates by ClickFunnels is a valuable platform for most edupreneurs to increase their market value. These event funnels are also divided into two types, i.e., live webinars and automated webinars.
A live webinar can be conducted over a third-party software like Zoom, and you can customize the sign-up process, broadcast access, reminders for the viewers, and more. Conversely, an automated, on-demand, or evergreen webinar is completely run by the funnels.
Clearly, the latter is a much more convenient option for those who do not have any coding knowledge. Simply set up the webinar, and rest assured that ClickFunnels will conduct it efficiently while you enjoy your sales.
ClickFunnels Dashboard
The dashboard will display a checklist that you must complete to create your first funnel. Although the steps are straightforward, you can opt for a free onboarding call if you get stuck.
With multiple integrations and payment gateways, you can easily use ClickFunnels along with your existing website and domain. Or you can apply for a new domain through ClickFunnels with the price starting from $20/year.
Creating Your First Funnel
First, choose an appropriate template that shows a step-by-step process that can be used as it is or customized further. You can add or remove some steps from the menu, and as mentioned before, that would dictate the time it would take to create your first funnel.
The WYSIWYG editor is where you make such changes to your landing pages, webinars, forms, and so on. Its block framework is similar to that of WordPress, Squarespace, and other such web hosts.
While customizing, if you miss out on some steps or integrations, the intuitive editor flags the errors. This helps users easily identify the discrepancies and adjust the template accordingly.
Furthermore, Platinum members can take advantage of A/B testing (split testing), which allows them to compare the elements of their template with the A/B test parameters. Subsequently, visual feedback from an analytics counter helps the marketer identify which test is better.
ClickFunnels Affiliate Program: Backpack
One drawback of ClickFunnels is its inability to visibly push your brand towards potential customers. And the fact that market visibility plays a huge role in boosting conversion rates might make some business owners doubt the functionality of ClickFunnels.
However, this landing page builder efficiently handles that problem with Backpack, an affiliate marketing program. Available to Platinum tier marketers, Backpack generates affiliate traffic and makes you pay only when a sale is complete.
How Do Affiliate Programs Help Your Brand?
Here's why affiliate marketing tools are advantageous for large and small businesses alike:
1. Enhance SEO
Affiliate tools use referral links to spread the word about your funnels and cash in. This allows them to connect with profitable backlinks of trustworthy sites that boost your SEO.
2. Create Brand Awareness
Affiliate programs usually opt for brands and services they resonate with. This enables them to find a suitable target audience and increase your brand visibility among the right people.
3. Lower Risk
A user will only pay once the online sales are generated. This saves them from the risk of incurring huge advertisement costs without any traffic or conversion.
4. Effective
Since affiliated programs work based on word-of-mouth, it proves more credible. Hence, your visitors will trust your content and engage better.
Overall, an affiliate marketing tool like Backpack transforms ClickFunnels into an all-in-one sales generator and management software. This is what makes the Platinum plan worth the extra bucks.
Actionetics: Lead Tracker
Like Backpack, Actionetics is another automation software that tracks your leads as they visit your sales funnel. Tracking their behavior allows you to formulate products and services that cater to their needs.
These insights are crucial in creating content while using market automation tools.
Further, Actionetics offers email automation through "smart lists" that edit your mailing list according to preset rules and behavioral aspects.
ClickFunnels Learning Products
ClickFunnels offers an in-house funnel-building tool- FunnelFlix for those who wish to learn about marketing, business, sales, copywriting, and more. It includes a range of seminars and educational videos which hold "More value than a 4-year college education."
Some notable personalities in the feature videos include ClickFunnels founder Russell Brunson, business executive, and writer Jay Abraham, motivational speaker Tony Robbins, and more. You get a sneak peek into the success journeys of the Two Commas Club members as well.
Things I Like About ClickFunnels
1. Ease Of Use
ClickFunnels' USP is its ease of use, which is clear from their tagline, "Don't waste any more time with 'tech guys'"
Yes, it is easy to use, but it might take some time for beginners to figure out the features. That said, the learning curve will not exceed a few hours. In fact, you can check out some informative videos on FunnelFlix or check out some of Russell Brunson's books.
Besides, most of the ClickFunnels features are easy to use, and the simple, no-nonsense dashboard enhances the seamless user experience. And despite being this simple, it provides enough customization liberty, minus the confusion.
Overall, operating a ClickFunnels account is much easier than building your own funnel.
2. Powerful Integrations
Speaking of ease of use, I must mention the efficient API integrations which negate the need to hire a dedicated team for designing, payment processing, email responding, and more.
ClickFunnels' impressive list of integrations with popular marketing and productivity tools ensures that your business gets the best from every aspect.
3. Efficient Landing Page Builder
ClickFunnels is undoubtedly one of the best landing page builders out there. While the company advertises its sales funnel concept more rigorously, its landing page builder has its fair share of regular users (who may be using it solely for that purpose).
4. Convenient Editing And Testing
The drag-and-drop editor and A/B testing feature are two of the most useful features for online business owners. Once you build a funnel, you can test it, make changes accordingly, and duplicate the well-performing templates for later use.
5. Multipurpose Marketing Software
Considering its features and integrations, ClickFunnels is an all-in-one marketing tool that lets you take control of your business.
From creating web page templates to formulating a mailing list and scheduling SMS notifications for prospects- there's a lot you can do with just a few clicks. Therefore, ClickFunnels strikes a balance between functionality and accessibility.
Things I Do Not Like About ClickFunnels
1. Expensive
I mentioned that ClickFunnels works best for small businesses, but I doubt how many would want to splurge on a marketing funnel membership. Although this isn't a detrimental flaw, it can make budding entrepreneurs think twice before shelling out their money on it.
2. Poor Customer Support Team
One flaw that a majority of the users agree on is poor customer service. While the team is prompt in handling some basic queries, they do not seem too enthusiastic to explain the advanced features.
3. Inconsistency
ClickFunnels tends to change things up every now and then. In fact, their list of free tools also updates frequently. While these changes do not hamper the workflow, it might be a turn-off for those who prefer a consistent workspace.
ClickFunnels Review FAQs
1. Who Should Use ClickFunnels?
Objectively, ClickFunnels is the best bet for startups, small businesses, and service providers, especially those from the creative sector. For instance, coaches, instructors, consultants, and other professionals who have an idea but not the technical expertise to get started.
2. Does ClickFunnels offer a free plan?
Yes. ClickFunnels provides a 14-day trial period that lets users explore its business management and sales generation tools.
ClickFunnels Review Wrap Up
Is ClickFunnels the best? Almost.
It provides all that you need to get started with an online business and allows customization without compromising on the efficiency and quality of your web page.
The inconsistent user interface is something I can overlook, considering the impressive list of integrations and professionally designed templates.
Overall, ClickFunnels is a promising marketing tool and landing page editor for effective sales automation and high conversion.
Get started with a free 14-day trial of Clickfunnels today.
Disclosure: I may receive affiliate compensation for some of the links below at no cost to you if you decide to purchase a paid plan. You can read our affiliate disclosure in our privacy policy. This site is not intending to provide financial advice. This is for entertainment only.