ClickUp Review: Is It The Best All-In-One Collaboration Tool?
ClickUp is an online project management software and collaboration tool that provides a visual interface to monitor tasks.
It's an all-in-one platform that allows you to create, share and track tasks – as well as manage your contacts and follow your sales funnel from beginning to end.
The platform bridges the gap between task managers and helps desk software by giving you everything you need to share projects, assign tasks, delegate responsibilities, follow up, seek user feedback, and review work done by your team members.
You can also use ClickUp to create Gantt chart software.
It even performs better than many other no code development platforms.
Some of ClickUp's key features include:
Task management and project management.
Agile development.
Creating to-do lists.
Project scheduling and reminders.
Time tracking and time management.
Workload view.
Set task dependencies.
The ability to switch between different views, such as Gantt chart view, box view, table view, and more.
The project management solution has a user-friendly user interface, contributing to its ease of use and narrow learning curve.
It's also suitable for freelancers, new users, small businesses, and even large businesses.
Plus, with integrations for Gmail, G-Suite, Trello, Slack, Microsoft Teams, Jira, CRM apps, and more – it's easy to be organized and productive with every interaction.
ClickUp Project Management Software Features.
ClickUp makes it easy for you to track projects, create tasks, assign tasks, set due dates, update status/progress, attach files, and communicate with team members.
Let's discuss its most prominent features in detail.
1. Task Management.
Task management entails monitoring your project's tasks through the different stages from start to finish.
The project management tool will help you to complete your project's tasks and accomplish your goals.
ClickUp is an easy-to-use task management system that helps you manage projects, tasks, and notes.
It allows teams to organize workflow, assign tasks, track progress, and communicate more efficiently.
For starters, you can ready-to-use templates from a directory of about 128 pre-designed templates. You can have your pick based on your industry, requirements, experience, and more.
ClickUp has dedicated templates for project management, agile management, simple sprints, hiring, interview process, bug tracking, and a lot more.
Take the Agile project management template, for instance:
It encompasses product management, risk management, OKR management, test management, communication management, and procurement management.
Overall, your team can monitor and prioritize tasks, requests, and projects.
It also helps you organize color statuses using color-coded labels, sprints, meetings, and more – in multiple views at that.
ClickUp, along with Monday.com, is one of the few project management platforms to offer such a wide variety of "views."
You have List view, Kanban boards, Gantt charts, Workload view, Box view, Docs view, Calendar view, Mind Maps, and more.
Each of these views is unique and gives you access to different types of information.
You can use them depending on what information you're looking for at any given time.
Here's the Calendar view, for example:
The calendar view is suitable for resource management, scheduling, and planning.
Similarly, the Activity view is to get an overview of all activity across a specific location.
The List view allows you to sort, filter, group, and customize columns to organize tasks. And so forth.
And not just templates, they have more than 35 ClickApps to help you customize your task management dashboard for any project.
You can save valuable time with task Automations, Custom Field data, time-tracking, Sprint Points allocation, and more.
Here are some other critical ClickUp features that contributed to task management:
Team Collaboration – You can hasten teamwork with numerous assignees, comment on threads, and even assign comments as action items. It will also help you save time with shareable screen recordings.
Subtasks to Simplify Complex Tasks – You don't have to deal with complex projects. Simplify them by breaking them down into subtasks levels. ClickUp lets you visualize your tasks and subtasks in multiple views. Its Multitask Toolbar also makes it easy to rearrange or edit in bulk.
Recurring Tasks – ClickUp's "Recurring Tasks" feature lets you set up recurring tasks, such as weekly meetings, daily reminders, etc.
Integration – ClickUp integrates with more than 1,000 tools, including Zoom, HubSpot, Forms, Zendesk, Chrome, and more. It's easy to keep your work organized in one place by syncing with your team calendars, messaging apps, cloud storage, and more.
What's more, you can use ClickUp to set reminders, notify members via emails, set priorities to tasks using colored flags, assign due dates, drop comments in each task, and more.
2. Automation and Workflow Management.
The process of workflow management involves creating and optimizing automated workflows to improve a team's coordination and efficiency.
ClickUp is a great tool that helps you do everything from planning your project and managing resources to tracking the performance of your remote team.
You can use it to plan, assign, delegate, track and report the status of every project.
ClickUp comes with pre-built workflow recipes to help you automate redundant tasks.
The recipes are a combination of "Triggers and Actions" that you can activate to get things done.
For example, when "priority changes," move the task from one list to another.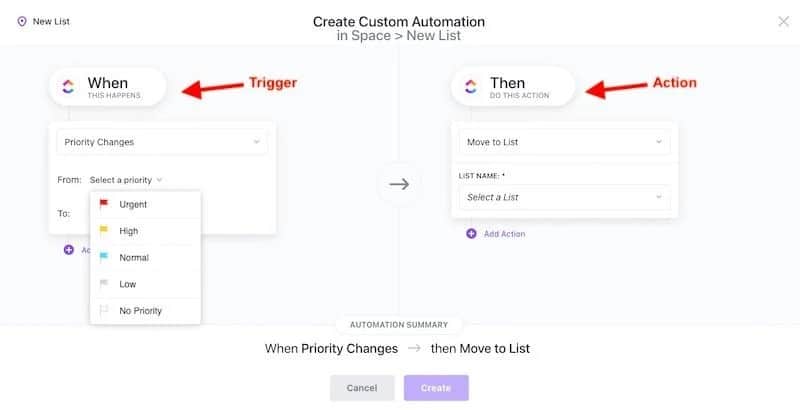 This is just one of the ways you can automate a task with ClickUp.
The project management platform allows you to add, remove, and reassign assignees in bulk or from specific tasks.
The workflow recipes also automate the following tasks:
Changing priority.
Changing the due date and start date.
Creating a task or a subtask.
Add a comment.
Delete a task.
Apply a template.
Track time.
Archive a task.
Copy a task.
And more.
You can also set specific conditions to trigger actions.
This means that the action will get triggered only when it meets the conditions.
For example, when this happens (Trigger), and this is true (Condition), then do this (Action).
ClickUp also provides the ability to create recurring tasks.
You can create recurring tasks to streamline repetitive tasks, meetings, and project SOPs.
You can also schedule a task to recur daily, biweekly, or whenever you require.
Here are some other automation and workflow management features:
Automatic Reminders – ClickUp's Reminder feature ensures that you stay on top of what you need to do. Manage reminders from your browser, desktop, or mobile device.
Import other tools – Import any third-party app into ClickUp automatically and abandon your outdated PM software. It integrates with all popular tools, including Asana, Trello, Jira, Monday, and Basecamp.
Multitask toolbar – With ClickUp's Multitask Toolbar, you will be able to make bulk edits to multiple tasks at once. You can also add tasks to numerous lists in bulk, alter entire columns of tasks, and more. Further, you can adjust due dates, update statuses, and apply over 18 actions to your tasks.
Priorities – Plan and prioritize your next steps. There are options to set your task priorities from urgent to low. You can also use color-coded flags to let everyone on your team know what to do and when.
After sorting your tasks by priority, you can sort them by time estimate to see the most vital and impending tasks in your workflow.
You can then drop your high-priority items into your task tray.
They will always be accessible when you require them.
Time in status – By turning on time in status, you'll be able to identify for how long the task had a particular status and find the tasks you missed. You can spot this across your Workspace through List view, on individual tasks, and in widget-form on your Dashboard.
In addition, you can also reschedule tasks in bulk using the Gantt Chart. The Gantt chart provides a bird's-eye view of all projects, tasks, and lists.
Clear coloring options allow you to determine what's happening and where so that you can reschedule everything in bulk.
3. Team Collaboration.
Team collaboration is the process of working together as a team on a project, concept, or process to achieve an improved result.
And ClickUp is all about creating a global, productive workplace.
Your entire team can stay on track by communicating daily, sending feedback, adding comments, real-time chat options, collaborating on projects, and prioritizing tasks.
The "Assigned Comments" feature lets you create action items and assign them to others or even yourself.
The comments can get resolved or reassigned from the same place.
You can also add links, documents, embed files, and more to give context to your assigned comments.
ClickUp also enables real-time editing.
Everyone in your Workspace can comment, edit, and work on tasks at the same time.
Here are some ClickUp features that can help your team work collaboratively and seamlessly on any project:
User, doc, views, and hierarchy mentions.
Use @ symbol to mention a user, team member, task, Doc, views, or any hierarchy level and tag members in your Workspace.
The Space, Folder, List, and URLs also help you automatically create a link between the task in view and the location mentioned.
The "List Info" section helps you group related tasks together, and very often, there is information included in all those tasks.
List Info offers you a convenient place to add a detailed list description, a List owner, priority, comments, and more.
The Proofing feature allows you to centralize feedback and speed up approval processes. You can assign comments directly on task attachments.
Proofing is also effective for offering clear markers on design mockups, drawing attention to markups required on legal contracts, and streamlining marketing reviews.
The privacy and sharing features allow you to control access to your Spaces, Folders, Lists, and tasks.
It lets you restrict who can see what, their permissions, and who gets added to your Workspace.
You can share the spaces, folders, lists, and tasks with members, guests, or teams.
Additionally, ClickUp has a "Profile" section to give you insights into:
What are your team members working on?
What should they work on next?
What did they do recently?
What unscheduled tasks do they have?
The profile functionality helps everyone stay in the loop and helps them remember things.
When you're privy to your team's tasks, you can add reminders, delegate more tasks, see what they are up to, and more.
Native integration with Google Calendar also spurs unrestricted collaboration.
4. Project and Time Tracking.
It's essential to track the progress of your team members.
But keeping track of this can be difficult, especially when working with clients remotely.
Luckily, ClickUp has enough features to help you track your projects and time.
You can track time, set up estimates, view reports, and even add notes from anywhere.
For starters, ClickUp allows you to record time from your PC, smartphone, or via the free Chrome extension.
You can also link back the time you tracked to your task in ClickUp to identify where you are spending time.
This way, you know precisely what you are spending your time on, such as notes, labels, filtering, and so forth.
You can even bring the time you tracked from other apps if you sync ClickUp with additional time tracking or task management apps.
Here are some other features to make tracking easier for you:
Labels – Create and add labels to filter time spent on tasks.
Sorting – Categorize tasks by time spent to see which projects took more time or potential bottlenecks.
Filtering – ClickUp lets you filter time tracked by date, priority, tags, statuses, and more.
Rollup – View total time spent on all tasks and subtasks.
You'll also get access to time-saving reports for different requirements.
For instance, Timesheets give you an overview of your time tracked by day, week, month, or any custom range.
ClickUp also provides estimates, differentiates between billable and non-billable projects, shows how much time was spent on each task, and more.
Additionally, you can create goals, break them down into measurable targets, set milestones, and track progress.
Targets are measurable based on numbers (for example, a scale of 1 – 10), true or false (done/not done), percentage, currency, and more.
The ability to break time estimates between team members is another effective time-tracking feature.
It allows you to compare the precise time spent against your predictions to enhance forecasting for the future.
5. Reporting and Analytics.
ClickUp is one of the few project management platforms to offer in-depth reporting.
The reports are accessible from a central location and give you an insight into who's working on what, "completed" reports, "worked on" reports, time tracked, and time estimation reports.
There are also "Who's Behind" and "Who's Ahead" reports.
The former helps identify team members with unclear notifications and overdue projects, while the latter helps you determine who is ahead with their tasks.
Another convenient feature is the ability to filter reports based on the time frame and workspace.
You can add a bit more fun to the reporting process using the "Team Points" report.
ClickUp assigns points to each team member based on their completed tasks, cleared notifications, comments resolved, and more.
Aside from these in-depth reports, you can add a graphical overview to your main dashboard.
These visually appealing reports will give you a quick insight into your overdue tasks, week's priority, tasks left, project status, and more.
Reporting in ClickUp allows you to dig deeper into your team and projects so you can see what's really going on.
That said, most advanced reports are only available with the plaid plans.
So, be prepared to pay for the reporting feature if you want to keep abreast of your team's progress.
6. ClickUp Integrations.
ClickUp integrates with thousands of business apps to make your job easier.
These integrations make it easy to share files, get team updates, and complete project changes without switching programs.
Significant integrations include Slack, GitHub, Webhooks, Google Drive, Toggl, Dropbox, Outlook, Google Calendar, Vimeo, Loom, YouTube, Zapier, and more.
There's also a public API that lets you build custom integrations and ClickUp apps.
ClickUp also enables automatic data import from your previous project management apps, including Trello, Asana, Todoist, Jira, Monday.com, Basecamp, and Wrike.
ClickUp Pricing Plans.
All of ClickUp's pricing plans include the core features and functionality you'd expect from a full-featured project management platform: task management, assignable tasks, resource management, Kanban boards, time tracking, and sprint management.
ClickUp offers four different paid plans – Unlimited, Business, Business Plus, Enterprise, along with one freemium plan.
Let's see what they are and how much they cost.
The free plan is suitable for an individual and gives you access to all core features, such as:
Unlimited Tasks and Members.
Unlimited Users.
Unlimited Projects.
Two-Factor Authentication.
Collaborative Docs.
Real-Time Chat.
List view, Board view, Calendar view.
Kanban Boards.
Sprint Management.
Native Time Tracking.
In-App Video Recording.
24/7 Customer Support.
Five Spaces and 100 MB Storage.
Here are paid ClickUp plans:
Unlimited ($5 per member/month) – Everything in the free version + unlimited spaces, unlimited storage, Box view, Gantt view, 1000 automation recipes per month, and more.
Business ($9 per member/month) – Everything in the Unlimited plan + Activity view, Timeline view, Workload view, 10,000 automation recipes per month, and more.
Business Plus ($19 per member/month) – Everything in the Business plan + custom task IDs, 25,000 automation recipes per month, team sharing, and more.
Enterprise (Quote-based) – Everything in the Business Plus plan + white labeling, 250,000 automation recipes per month, Tableau web connector, guided onboarding, unlimited custom roles, and more.
Every plan has something for different ClickUp users.
For instance, the free forever plan has limited features and is sufficient for personal use.
Then you have paid plans for advanced features, along with advanced reporting features, task tracking, project planning, etc.
The Unlimited Plan provides an excellent user experience and value for money to small teams.
The Business plan is for mid-sized teams; the Business Plus plan is for multiple teams, while the Enterprise plan is best for numerous large groups.
Executive Summary.
File management and project management can be highly time-consuming. ClickUp is a simple project management software that helps you get things done. It brings together your files, notes, tasks, and calendar into one place – saving you time and effort.
Plus, it has a free version as well as paid versions – with helpful features for all types of users and requirements.
ClickUp is a suitable project management tool for you if:
You want pre-designed templates for project management and agile management.
You require in-depth reports and analytics to track your team's progress.
You require time-tracking features.
You need advanced team collaboration and tracking features.
You want custom API access.
Advanced collaboration tools to collaborate with multiple team members.
This sums up my ClickUp review. Based on the review, ClickUp promises to be one of the best project management tools to manage multiple projects and complete tasks.
Get started with ClickUp.
Further reading on AdamEnfroy.com: If you're still unsure whether ClickUp is the right solution, or simply want to see what else is available on the market, check out my detailed Asana vs. Monday and Trello vs. Monday comparisons for ClickUp alternatives.
Disclosure: I may receive affiliate compensation for some of the links below at no cost to you if you decide to purchase a paid plan. You can read our affiliate disclosure in our privacy policy. This site is not intending to provide financial advice. This is for entertainment only.