ClickUp vs. Asana: Which is Best in 2023? (Detailed Breakdown)
With project management software becoming more popular every single day, choosing the right one for your company is crucial.
With project management skills not only useful for project managers, but also for everyone involved in an organization, the right software will get you far.
You also need to consider whether your organization uses an agile methodology and if so, whether Scrum project management is the way to go.
The best project management software can help you get stuff done, primarily if you deal with to-do lists.
In this sense, two of the most popular tools for the job are ClickUp and Asana.
Today, I wanted to compare these two, comparing these factors:
Task management.
Projects, time, and goal tracking.
Automation.
Reporting and analytics.
Third-party integrations.
Pricing.
By the end of this comparison, you'll be well on your way to making an informed choice.
Let's get right into it.
ClickUp Vs. Asana: Project Management Tools Overview.
Project management is the practice of managing multiple tasks, projects, or activities simultaneously or at different phases to achieve specific goals.
Both ClickUp and Asana have a shallow learning curve, enable collaboration with unlimited users, provide features for process management, and are suitable for even new users.
Here's a brief overview of ClickUp and Asana.
ClickUp:
ClickUp is a collaboration and project management tool that helps teams organize, plan, and complete projects in a simple, straightforward way.
The cloud-based software boasts a simple interface that fosters real-time collaboration to stop back and forth emails or a disjointed workflow. At a glance, you can see what's going on in your business and projects – no matter the department.
It serves as a shared resource among all team members where they're able to easily log time, create tasks, and deliver updates on projects from any device.
ClickUp also makes it easy for users to establish deadlines and assign different tasks to more than one person simultaneously.
ClickUp's features include:
Organizing tasks into spaces, folders, and lists.
The ability to assign Sprint points and add Custom fields.
Over 15 dashboard views, including Gantt chart, calendar view, mind maps, etc.
Pre-built automation recipes with over 50 actions, triggers, and conditions.
Integration with over 1000 third-party tools.
Edit documents in real-time with your team.
Time management with features like global Time Tracking, Time Estimates, and time Reporting.
Another benefit is the simplicity of the software – especially when it comes to exporting/importing documents.
Asana:
Asana is a web-based project and task management application that enables teams to assign and describe tasks, track progress, and chat about what they're working on.
It's a great way of making your teams more efficient with their time. The software also provides four dashboard views: board view, timeline view, list view, and calendar view.
Some of its key features include:
Break tasks into manageable pieces.
Set milestones and goals to measure progress.
Get real-time insights into your team's productivity and progress.
Add files from your system, Dropbox, Box, or Google Drive.
Create forms for formal work requests.
Write project briefs.
All these sophisticated features contribute to immense ease of use and the elimination of redundant tasks.
Let's start the comprehensive comparison between ClickUp vs. Asana and with relevant screenshots.
ClickUp Vs. Asana: Project Management Tool Detailed Comparison.
1. Task Management and Project Management.
Project management is a difficult thing to do. It's a never-ending cycle of managing team members, projects, and responsibilities.
Creating a successful project management program is even more complicated – which is why you need a project management tool like ClickUp or Asana.
ClickUp:
ClickUp offers an array of features.
From collaborating on projects to time tracking, the easy-to-use program does it all. It's suitable for easily overwhelmed small business owners and those wanting to organize larger enterprises and agile methods.
It has all core project management features like cloud storage, creating checklists, assigning tasks and subtasks, giving due dates to projects, and more.
You can start with their pre-built use case for "Project Management" that will help you organize your projects, collaborate with your team, and track progress and goals.
You'll get to choose from over 100 use cases, and all of them are simple to use and based on drag-and-drop functionality.
You can further break down complex projects into levels of subtasks. This makes it easier to visualize daily tasks, prioritize them, provide the necessary focus, and manage multiple projects at once.
And not just subtasks, you can break down projects into nested subtasks to make them more simplified. Plus, you can create checklists within tasks and nest them to further organize complex projects or processes.
ClickUp also lets you the following functions to make the project and task management easier:
Assign a single task or project to as many members as you want.
Set due dates.
Set the task's or project's status (completed, urgent, and more).
Set recurring tasks.
Drop comments within the tasks so that the entire team stays in the loop.
Real-time chat and the ability to assign comments to a specific team member.
Another great thing is that you can visualize and manage your tasks, subtasks, nested tasks, and checklists in multiple views.
Some essential views include list view, board view, Calendar view, Gantt chart view, timeline view, box view, workload view, mind maps, and more. Each dashboard view has its own characters and advantages.
For instance, the Board view helps you drag and drop tasks between columns. It's best for marketers who prefer Trello's kanban boards-based approach.
Or take the mind map view, for example. You can use it to visualize your Workspace hierarchy (Visual representation of existing Folders, Lists, and tasks).
ClickUp also lets you create your own free-form Mind Map for planning and organizing projects and ideas.
In addition, ClickUp also provides native time-tracking features to help you identify where exactly the time went.
Asana:
Asana is a flexible project management app with a colorful user interface. It provides all features you require for collaboration and project management.
For starters, it has all core features like task and project templates, custom fields, workflows, due dates, notifications, docs and file sharing, task comments/responses/history, progress tracking.
And like ClickUp, Asana also offers pre-built templates (over 50 customizable templates including a social media template calendar).
You can templates for IT project plans, software and system deployment, daily standup meetings, IT requests, and more.
Take this Product Roadmap template: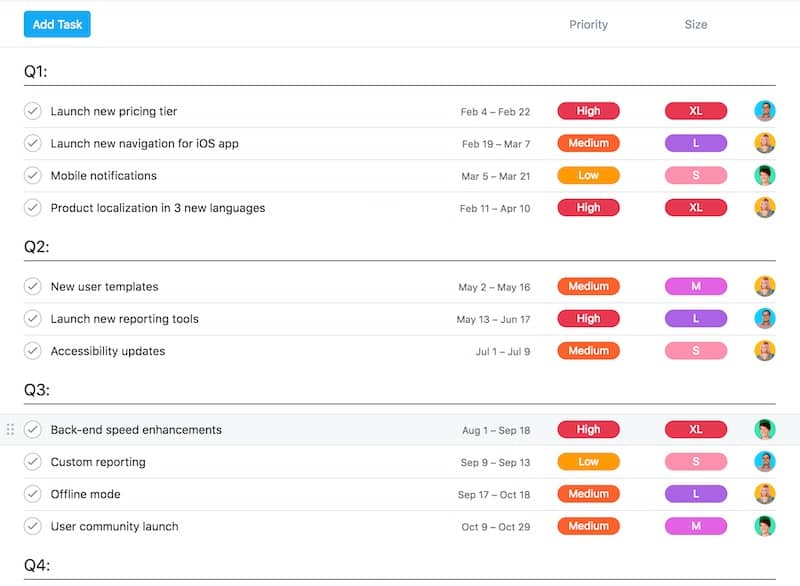 The template will help you create, share, and edit your product roadmap in one place.
You can collaborate with your team members, and everyone could stay in the loop and see the project's priorities.
They also have templates for campaign management, agile management, request tracking, productivity, and more.
For effective project management, one of the most notable abilities is to be able to translate between different views. And Asana offers four different layouts – List, Board, Timeline, and Calendar View.
Like ClickUp's views, each view serves a different purpose here as well. However, you don't get as many options as you could get with ClickUp.
For example, it doesn't offer the workload view to help you keep track of your project workload.
Asana does let you add company goals and jot down and prioritize specific tasks.
Here's everything else Asana offers to help you manage your projects and tasks:
It gives you access to real-time status updates, analytics reports, and more.
Collaborate with team members on files and feedback.
Map out goals with the timeline view and meet deadlines.
Keep all your conversations in one place so that the entire team stays in the loop.
Winner: ClickUp
ClickUp is the clear winner due to its more advanced features, template options, time-tracking features, and dashboard views.
2. Projects, Time, and Goals Tracking.
Time is money.
The saying holds very well when in a startup environment.
Time and goals tracking is a way to help you save time and, in return, make more money in your business.
Let's see how ClickUp and Asana can help you track time, goals, and projects.
ClickUp:
ClickUp's time tracking and management features are unbeatable even when compared to popular project management tools like Asana and Monday.
For starters, ClickUp provides Box view and Workload view to give you a complete overview of your workload and tasks. The Workload view even helps you with resource management and visualizing your team's capacity.
The workload view also shows how many tasks each person is working on and compares it with their capacity.
This allows you to shift tasks from overburdened members and re-allocate them to members with unused capacity.
Next, ClickUp helps you create goals and hit them with measurable timelines, monetary values, and automatic progress tracking.
Begin by assigning names to your goals, setting a due date, and share them with your team members. You can even articulate the purpose and how to achieve the goal in detail.
Not just that, there are options to break down goals into measurable targets and pick different types of targets.
For instance, you can measure targets based on numbers (count of 1 – 10), binary true or false (or done/not done), progress percentage, currency, and more.
ClickUp also allows you to create a lineup of your urgent or essential tasks on the homepage. The homepage also gives you a quick overview of your daily to-do lists, tasks, and reminders.
There are tons of other options to make the goal and task tracking simpler.
For example, you can set Milestones to mark the end of a big project or a group of tasks. Pulse report feature provides automatic activity reports to identify who is working right now and where your team is spending their time.
Then there's the "Roll-Up" functionality that shows the entire spent on different tasks, subtasks, and nested subtasks.
And now you have ClickUp's time-tracking features. The project management solution helps you manage and track time, set estimates, add notes, and view time-based reports from anywhere.
The platform allows you to set time from any device, add time retroactively, jump in-between tasks using the global timer, and create entries with manual time tracking.
Other time-tracking features include:
Track and segment billable and non-billable projects.
Add notes to your time-tracking entries.
Create labels to categorize time spent on specific tasks.
Sort tasks by time spent to see potential bottlenecks or where more help is needed.
Asana:
Goal tracking with Asana is a great way to track progress toward completing goals, whether writing a book, running a marathon, or hitting your affiliate marketing goals.
You can create goals under the Company goals and Team goals section. Note that everyone in a particular company or team section can view your goals, contributing to easy team collaboration.
And just like a task, you can assign goals to your team and set a due date. You can also track the goal's progress using metrics like progress percentage, dollar amount reached, or with the binary yes/no approach.
Asana also provides detailed reports to give you insights into:
Marketing activities by channel.
Upcoming tasks by the assignee.
Current month's tasks by projects.
Upcoming tasks by custom field.
Projects with the most completed tasks.
Tasks by completion status.
These reports will give you an idea about where you stand in your project, who is overburdened, and who is underperforming.
Other than this, Asana has a portfolio management feature to track projects and goals in real-time. The Portfolio section gives you a visual, 360-degree view of your team's work and the ability to manage timelines.
Portfolio management with Asana also includes collaborating with your team using task comments, status updates, conversations, and more.
Winner: ClickUp.
With its native time-tracking features, ClickUp is the winner here.
3. Automation.
Automation in project management platforms can help you complete repetitive tasks. You can automatically transfer content from one project to another, update emails and files, and more using automation recipes.
Let's talk about this feature in detail.
ClickUp:
ClickUp has pre-built automation recipes and workflows to help you get tasks done faster and avoid repeating yourself.
It works as a Trigger – Actions system, where you specify Conditions for when automated actions should run.
You can also use multiple Actions chained together, although it's only available with their Business Plan and above.
Here are some of the processes you can automate using ClickUp's automation recipes:
Automatically assign tasks to members of your team.
Post a comment every time status or assignee gets changed.
Add a specific tag to the task when the priority gets altered.
Change the status of the task when the due date is near.
You can set dates, custom statuses, and even conditions (what must be true for the automation to run).
ClickUp also allows you to create workflows with external applications, including Bugsnag, GitHub, Twilio, and Calendly.
Asana:
With Asana, you can either use pre-defined rules from its rules gallery or use their custom builder to create automation recipes from scratch.
Here are the top processes that you can automate with Asana:
Automatically move new tasks to the correct project.
Auto-assign work to teammates based on custom field status (type of work).
Automatically add followers when the project's statuses or due dates change.
Automatically set due dates after tasks get assigned.
Hand over the work to specific team members at the right time.
Other than automation recipes, you can also build Forms to submit work requests formally. The form will help you extract your team's requirements and track requests in a single space.
Asana also automates the process of task dependencies, date shifting and updating project schedules.
Winner: It's a Draw.
4. Reporting and Analytics.
Project reports are an indispensable part of your project management software that helps you gauge the performance of your team projects. They give out details about project objectives, tasks completed, categorizes and work progress by date, and also the list of unpaid bills.
Let's see how ClickUp and Asana compare in this department.
ClickUp:
ClickUp is ahead of many of its counterparts in the reporting department.
You'll get permissions to detailed reports that will help you determine which team member is working on what task, who's ahead of the deadlines, who's behind, and more.
There's a separate reporting area where you can filter and view reports based on different time frames and their workspace.
The first section in the reporting area is for "Completed" reports, where you see reports completed by each team member.
Other reporting categories include:
Worked On – Here, you get insights into the progress made by your team members on the tasks they previously worked on. You'll also be able to determine who spent what amount of time on each task.
Team Points – This section signifies the points given to each team member. It's similar to the gamification feature, where you assign points to your team based on cleared notifications, comments resolved, tasks completed, tasks worked on, and more.
Who's Behind – Identify the number of uncleared notifications and overdue jobs. These reports will help you detect bottlenecks and roadblocks.
Time Tracked – Track who spent how much time on which parts of the project.
Time Estimated – Compare your time estimations to the actual time spent on projects. This will be helpful in future adjustments and optimizing your productivity.
You'll get access to even more data if you export these reports in CSV files.
Your dashboard also displays colorful and easy-to-comprehend reports that help you visualize metrics like tasks left, this week's priority, etc.
All in all, ClickUp's reporting function is convenient for analyzing your team's contribution, who is working faster, and for making future plans.
Asana:
Asana provides actionable data insights to keep your work on track. You'll be able to see progress across teams and departments, upcoming tasks by teams, overdue tasks, and more.
You'll get three types of pre-built reports: Resourcing, Work Health, and Progress.
You can further expand the charts and graphs to pinpoint problems and resolve issues immediately.
You can either start with these pre-built reporting templates or build custom graphs. You get to choose between different chart details, values, groups, data types, and more.
While Asana doesn't have a separate workload view like ClickUp, it does have a workload section that provides insights into each member's capacity.
The workload section also entails designating a value to each task to identify who is underperforming and who is brimming with work.
Winner: It's a Draw.
Both Asana and ClickUp offer extensive reporting options to identify your project's progress and team's performance. They also offer customizable dashboards and easily understandable reports.
5. Third-party Integrations.
Third-party apps can improve your site's performance and features by adding an extra dimension to your website.
Whether you're bootstrapping a new business or scaling your team, back-and-forth tasks can take more time than they're worth.
These integrations save the team onboarding process, allowing them to concentrate on more significant challenges.
ClickUp:
ClickUp offers native integration with over 1000 third-party applications to make your life a whole lot easier. And that too without any installation process.
You can even build custom integrations and ClickUp apps with ClickUp's public API.
Some major integrations include Webhooks, Outlook, OneDrive, Google Drive, Google Calendar, Slack, Everhour, Intercom, Zendesk, and more.
It also enables integration with Zappier, opening doors for more applications.
Plus, the software enables automatic data import from your previous project management tool. The automatic import function is compatible with Asana, Trello, Todoist, Jira, Monday.com, Basecamp, and Wrike.
Asana:
Asana also provides extensive integration with tools your team uses every day.
Some prominent integrations include Salesforce, Microsoft Teams, Slack, Microsoft Office 365, Google Calendar, Gmail, Zapier, JotForm, Google Drive, Canva, Wistia, Zoho, Adobe Creative Cloud, and more.
6. Pricing.
ClickUp Pricing:
ClickUp offers five plans, including one free plan and four paid ones.
Here are ClickUp's pricing tiers:
Free (Free version) – Unlimited tasks, unlimited members, 100MB file storage, two-factor authentication, five workspaces, 100 automation recipes per month, list view, board view, and calendar view.
Unlimited ($5 per month/billed annually) – Everything in the Individual plan + unlimited storage, unlimited integrations, unlimited workspaces, 1000 automation recipes per month, box view, Gantt chart, and more.
Business ($9 per month/billed annually) – Everything in the Unlimited plan + 10,000 automation recipes per month, activity view, workload view, mind maps, time in status, granular time estimates, etc.
Business Plus ($19 per month/billed annually) – Everything in the Business plan + 25,000 automation recipes, team sharing, subtasks on multiple lists, personalized admin training, and more.
Enterprise (Custom plan) – Everything in the Business Plus plan + 250,000 automation recipes per month, Enterprise API, unlimited custom roles, Tableau web connector, dedicated customer success manager, and more. Contact sales for the price.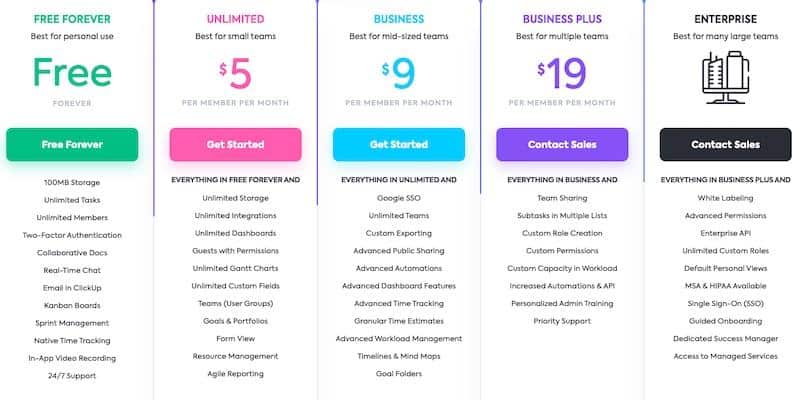 Whether you are a freelancer, small or mid-sized business, or enterprise organization, ClickUp's pricing plans provide you with features based on your company size and growth needs.
Asana Pricing:
Asana offers four plans, which include one freemium plan and three paid plans.
Here are Asana's pricing tiers:
Basic (Free forever) – Asana's free plan includes unlimited essentials (projects, tasks, activity log, storage, messaging, and comments), list view, board view, calendar view, up to 15 teammates, basic reporting, project brief, etc.
Premium ($10.99/month) – Everything in the Basic plan + timeline view, automated workflows, reporting across unlimited projects, scaled security, forms, task templates, and more.
Business ($24.99/month) – Everything in the Premium plan + portfolios, goals, workload, advanced workflows, advanced reporting, custom rules builder, form branching, and more.
Asana Enterprise (Quote-based) – Additional security, control, and priority customer support. The Enterprise plan also includes configurable member settings and increased data control.
Executive Summary.
Whether your team is looking for a help desk program or a project management tool, you'll quickly discover that two companies dominate the market: Asana and ClickUp.
Both tools offer free plans, advanced integrations, an intuitive interface, easy-to-use custom templates, automation recipes, advanced reporting, goal tracking ability, android and iOS mobile apps, workflow management, and more.
What's more, both are user-friendly, foster team communication, and are suitable for large and small teams alike.
There's no one perfect project management tool. The final decision between Asana vs ClickUp boils down to your specific requirements.
Use ClickUp if:
You require mind maps to map your project journey.
You want advanced time-tracking tools.
You need automated workflows.
You want in-depth reporting.
You want to track your project's progress.
You're looking for Asana alternatives.
Get started with ClickUp
Use Asana if:
You require automated workflows.
You want in-depth reporting.
You want to track your project's progress.
You're looking for a Monday.com or ClickUp alternative.
Get started with Asana.
Which one of these two tools are you planning to use? Let me know by commenting below.
Further reading on AdamEnfroy.com:
Check out these other comparison articles:
Disclosure: I may receive affiliate compensation for some of the links below at no cost to you if you decide to purchase a paid plan. You can read our affiliate disclosure in our privacy policy. This site is not intending to provide financial advice. This is for entertainment only.