ClickUp vs. Monday: Which is Best in 2023? (Detailed Breakdown)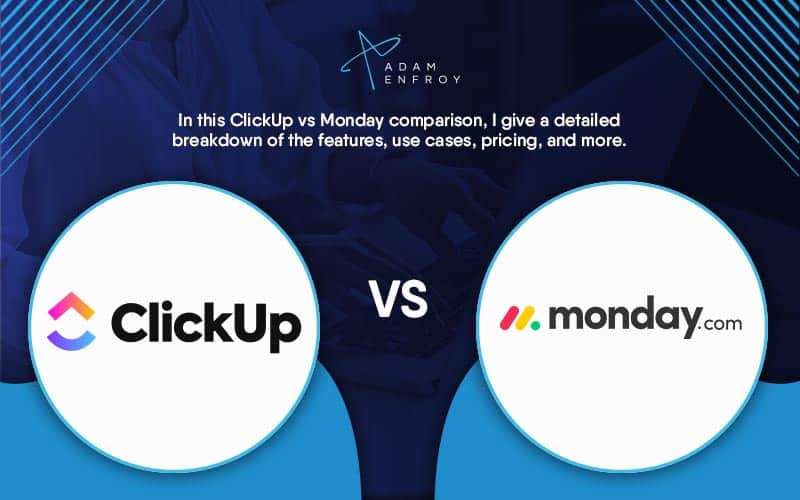 In recent times, the demand for effective project management solutions has grown.
It's therefore been tough for businesses to pick the right tool for their team.
Today, I'll dive into two popular project management tools: ClickUp and Monday.com.
Let's get started!
ClickUp vs. Monday.com: Project Management Software Overview
Let's first review the broad overview of these two project management software tools.
ClickUp:
ClickUp is a cloud-based project management software that allows businesses and teams to manage projects from a central location.
It replaces all productivity software across most departments and enables collaboration with a single application for tasks, docs, chat, goals, and team management.
And it's customizable.
You can use it for project management, workflow management, handling email marketing campaigns, organizing your company's documents, marketing tasks, file storage, managing website workflows, and more.
Monday:
Monday.com is a visual project management software that provides you with ways to work on projects with your support team collaboratively.
At the same time, it helps you focus on daily tasks and achieve your goals every week, every month, and every year.
Whether launching a new product, planning a significant event, or writing a book — use Monday to build, design, and communicate your ideas.
Its core features include project planning, inventory tracking, resource management, workflow automation, time tracking, goal tracking, a user-friendly interface, and more.
Get started with Monday.com.
ClickUp vs. Monday.com: Project Management Tools Detailed Comparison.
Let's see how these two prominent project management software solutions compare in this in-depth Monday vs. ClickUp breakdown.
1. Task Management and Project Management.
Monday and ClickUp are two of the most popular project management systems in the SaaS industry.
Both products offer agile project management, team collaboration, file-sharing, the ability to manage multiple projects simultaneously, and more.
Let's analyze them in detail.
ClickUp:
ClickUp is a powerful project management tool that makes it easy to get stuff done.
Organize and share your team's to-dos from anywhere, on any device.
See progress without distractions on any desktop, tablet, or mobile device.
At heart are their task management and project features.
Initially, the platform prompts you to pick from a template for your dashboard depending on what you require, your experience, and your industry.
ClickUp offers about 128 pre-built templates.
The great news is that they have a ready-to-use project management template with different layout options, custom statuses, custom fields, and more.
The entire platform works like a hierarchy, allowing you to break down your work into easy-to-manage groups.
The components of the hierarchy (from top to bottom) include:
Workspace is like your office building where everything related to work occurs.
Then you have Spaces within the workspace, which you use for high-level categorizations of your projects and tasks.
It could be different types of work, teams, departments, and more.
You can further break down your work into lists – that help you group related tasks.
If this project management model sounds familiar, you've seen a similar structure in platforms like Trello.
And if you want to group related lists, you can put them in Folders.
Here's a quick glimpse into ClickUp's dashboard:
Here's a list of tasks within the "Spaces:."
You can further assign tasks to as many team members as you want, set due dates and status, set recurring tasks, and label priorities using color-coded flags.
You can also drop comments directly within the tasks so everyone stays in the conversation loop.
Another key ClickUp feature is "Views."
Different views allow you to visualize tasks in different ways.
You can choose the view format that best suits your project.
Different views include the List, Kanban boards, Box, Docs, Calendar, Mind Maps, and Gantt views.
For instance, Gantt charts help you visualize project timelines and task dependencies.
It also enables you to track tasks that are "Done," "Completed," or "in progress."
ClickUp also allows you to embed charts, tables, and data from other sources like Google Sheets.
Additionally, it enables time-tracking across multiple devices for client meetings, development, quality control, delivery, and tasks.
It also provides specific time estimates based on the work involved and inputs like members work, complexity, and priority.
To enable time-tracking, you must head to ClickApps in your leftmost navigation bar.
You can add folders, lists, tasks, and subtasks and create dependencies between tasks and visualizations to plan and ensure timely project completion.
You'll find this useful, especially for scrum teams that use Agile.
ClickUp also helps you with budgeting, expense tracking, project planning, requirements, and resource management.
Plus, it enables teams to track the real-time status and monitor the project's progress.
They have many resources, including onboarding videos, self-help articles, demos, webinars, and more.
They come in handy if you get stuck somewhere or want to take a deeper dive.
Monday.com:
Monday is a well-known project management tool. ​
It provides holistic ways to manage and complete tasks and helps you collaborate with your team, analyze progress, identify pain points, and resolve issues faster.
Just like ClickUp, Monday.com also comes with a library of workflow templates that you can use to set up your overall workspace.
The library consists of five ready-to-use project management templates as well.
Five built-in project management templates include:
Work calendar
Single project
Advanced single project
Advanced project management
Project requests and approvals
Each template works for different scenarios.
Look at the "Advanced Project Management" template, for instance.
The template helps you manage complex projects and tasks.
It effectively controls and streamlines budget tracking, project tracking, risk management, and resource allocation.

You can also import data from Asana, Google Excel, Jira, Zendesk, Trello, Basecamp, and more.
Next, you can assign tasks to multiple team members simultaneously, prioritize tasks, set due dates, add color-coded labels to mark a job, and manage progress in real-time.
Monday works against deadline misses by setting up reminders and notifications for important tasks.
Their shareable "weekly tasks" module provides transparency over tasks you must complete weekly and helps maintain accountability.
You can also visualize your workspace and tasks using different views and layouts.
It has the Gantt view, Timeline view, Files view, Map view, Workload view, Chart view, Kanban boards, List view, and more.
You can add multiple views to your workspace board, and they will all be accessible from the top of your board.
Managers can view the team workload, assign daily tasks, and take steps to minimize dependencies and overcome disputes and problems.
They can also add specific tags to certain tasks.
And a simple search using the tag will give access to a real-time progress update of tagged tasks.
Winner: It's a Draw.
Both Monday and ClickUp make daily work goals more accessible and streamlined.
They also enable multiple views to visualize workspaces, collaborate with teams, and make assigning, filtering, sorting, and prioritizing easy.
Moreover, both PM software solutions can manage projects for businesses and teams of all sizes, including small teams, remote teams, large teams, HR teams, etc.
2. Tracking Projects and Goals.
Tracking time against task items and collaborating with your team members is integral to project management.
Let's see how ClickUp and Monday compare in this department.
ClickUp:
ClickUp helps you create goals, break them down into measurable targets, and track progress in real-time.
You can assign a name to your goal, set an end date, and give access to as many members as possible.
You can also set up goal owners for specific goals to maintain accountability.
If you want reviewers or watchers to keep track of the goal, you can also allow them access.
There's also an option to explain your goal and how to achieve it.
Next, you'll break down your goals into targets. Targets are measurable results that, when completed, will also meet the goal.
You can name and choose the type of targets you'd like to use.
Some of the types of the target to choose from are numbers (for example, a scale of 1 – 10), true or false (done/not done), percentages, and more.
You can also measure your targets using currency or tasks.
It's a great way of breaking down tasks into goals and targets, setting milestones, and keeping track of them.
You can also create a lineup of your most essential tasks on the homepage.
You'll also see an overview of a to-do list and tasks and reminders scheduled for each day.
These little things can be convenient while simultaneously working on several tasks.
ClickUp also makes it easy to measure and track objectives and key results.
It helps you compare the tactics and actions (tasks) objectives and how long the team would take to complete them.
And not only tasks and subtasks, but ClickUp also allows managers to set up and track progress between important milestones, identify any challenges, provide quick fixes, and ensure the team members meet targets.
Several features help you determine how your team members utilize their time.
For instance, a "Roll-Up" feature shows you a combined total of all time spent on different tasks and subtasks.
You can edit time, adding or subtracting time to your tracking whenever required.
ClickUp users can also add other widgets (ClickApps) for time management, including:
Time in Status – It shows how much time someone spent in each status for tasks across your workspace.
Time Estimates – Add time estimates to any tasks in your workspace.
Time Estimates Roll-up – It calculates the total time estimate based on the subtasks of a task.
There's also an option to build and customize Time Sheets inside the dashboard.
It helps you track time by day, week, month, or custom range.
You can set time goals, group them by dates, and even see individual entries to determine where time someone spent.
And not just regular project time-tracking, ClickUp also helps you track and segment billable and non-billable projects and see estimates.
ClickUp's free Chrome extension is another bonus.
It lets you track your projects and record time from your desktop, mobile, or web browser.
Monday.com:
Monday.com helps segregate different verticals into specific workspaces for better progress tracking.
You can divide each workspace into various boards.
There are shareable boards that you can share with external partners, private boards for individual use, and boards that are accessible by members of a team.
These boards further consist of columns, where you can add a separate column for progress tracking.
It will indicate the completion percentage of each topic.

You can move the tasks across different groups, like scheduled tasks, complete tasks, and backlog items.
The progress will change in proportion to the status of the task.
For example, when you mark your status columns as "Done," the progress bar will automatically show 100%.
The dashboard communicates the tasks at hand and the progress of each team member.
You can track the progress for individual deadlines.
Then there's the Timeline view that visually represents your project's dates and timelines.
It also gives you an overview of how long it would take to complete a task or project so that you can plan.
A separate "Workload View" gives you a glance at how your team divided their work.
You can see which team member works over their capacity and assign upcoming tasks accordingly.
If needed, you can even reassign or change deadlines.
Monday's template library also offers a "Resource Management" workflow that helps you track and manage every project asset, including employees.
Winner: ClickUp.
ClickUp is the clear winner with its comprehensive time management tools and widgets.
3. Automation.
Workflow automation is an excellent way to increase productivity without increasing working time.
It helps with managing the tedious tasks required for running your business.
Let's see how ClickUp and Monday compare here.
ClickUp:
The automation feature within ClickUp process management helps automate redundant tasks, saving time and effort.
ClickUp provides pre-built "Triggers and Actions" that you can combine and use to automate your project management process.
When managing projects, you can see the number of automation recipes activated at the top right corner.
You can also add/delete the recipes as you want.
Two great examples are always adding the same watchers to a particular task or assigning specific tasks to the same user.
You can browse ready-to-use "Automations" based on categories, including statuses, creation, dates, etc.
The 'When' tab sets up automation elements and acts as a trigger.
You can choose from a host of triggers based on your requirements.
When the trigger starts, the 'Then' button gets activated.
Choose from a host of other actions that you want to take.
You can also set conditions for automation, where the automation will not get executed unless you meet the requirement.
For instance, the work starts only when the tasks have the "Priority" label.
You can also customize your workflow automation steps any time you want.
In addition, ClickUp also allows you to create automation via third-party integrations and create new issues on GitHub.
For example, if the task deliverable changes, you can send an SMS message or email when a task's due date arrives.
Monday.com:
Monday also provides pre-defined automation triggers and actions to help you streamline your work.
Similar to ClickUp, you'll get tons of automated actions to choose from based on different categories.
Categories in the automation center are related to Status Changes, Recurring Tasks, Due Dates, Item Creation, and more.
For example, when a number exceeds a particular value, change the task's status to something.
You'll be able to locate an automation recipe (a combination of a trigger and action) for just about every requirement.
You can use it to move items between boards, remind you of upcoming projects and due dates, assign tasks, and much more.
Managers can also set up dependencies between the various items on board and enable conditions for them.
Moreover, teams can use it to set up triggers via SMS or email so that the project manager gets updated with all the latest notifications.
Once the task is over and dependencies are no longer valid, you can delete them.
Winner: It's a Draw.
4. Reporting and Analytics.
Reporting is an integral part of any project and task management process.
You should get a detailed insight into your projects and team members to analyze their productivity, the time required, and more.
However, for some reason, not many project management software comes with separate reporting and analytics features.
Let's see how ClickUp and Monday perform here.
ClickUp:
ClickUp is one of the few project management platforms that provide detailed reports to help you determine who's working on what.
You can also change the time frame to see reports from a particular time or sort reports to take an exact look in a specific space.
For starters, you can expand and see projects completed by each team member.
After the "Completed" reports, you can view the "Worked On" pieces.
These reports give you an insight into the progress made by your team members on each task.
Many filters and task statuses help you determine who spent how much time on each task.
Then there's a report called "Team Points" that depicts points given to each team member.
It's like gamification, where each member gets points based on cleared notifications, comments added, comments resolved, tasks completed, and the number of jobs worked.
The report helps you analyze who works faster and produces more high-quality work.
Other reports include the Who's Behind Report, Time Tracked Report, and Time Estimation Report.
The Who's Behind Report helps you identify who is falling behind and where they are lagging.
It's convenient for identifying roadblocks and improving team collaboration.
These reports can be effective for road mapping and making plans.
You can also add visual analytical reports to your dashboard to give a quick overview of your project status, tasks left, this week's priority, and more.
ClickUp has one of the best reporting and analytics functionality out of most other project management platforms on the market.
However, most advanced reports are only available with a paid plan.
The free version gives access only to get information about completed projects.
Monday.com:
Monday doesn't provide separate reports like ClickUp, but it provides a "Chart View" to give you an analytics side of the workspace.
You can choose any chart from their galley, including the pie chart, stacked chart, etc.
Here's an example: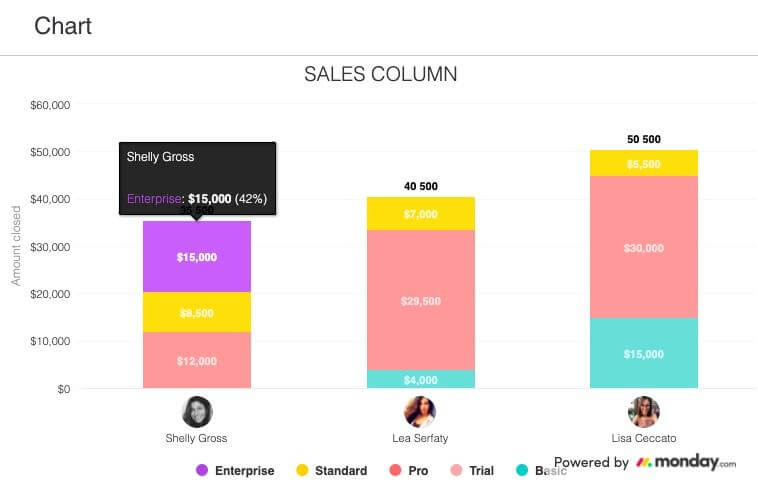 You can also select and customize the breakdown of your chart.
Using Monday's Workload View, you can also get a complete overview of your team's work and how it's divided.
Winner: ClickUp.
With more extensive analytical reporting options, ClickUp is the clear winner here.
5. Third-Party Integrations.
You'll never reach actual productivity without suitable third-party applications in your project management tool.
Both ClickUp and Monday have a marketplace that makes it simple to add collaboration tools and other applications that plug into your software.
ClickUp:
ClickUp enables native integration with over 1000 third-party business tools, which means it integrates with almost every popular device on the market.
Its popular integrations include Dropbox, GitLab, GitHub, Webhooks, Outlook, Google Drive, Vimeo, YouTube, and Google Calendar, among other tools.
You can also build custom integrations and apps with ClickUp's public API.
Another option is to integrate it with Zapier to access more integrations.
Monday.com:
Monday offers native integration with many top CRM software, marketing platforms, software development solutions, and project management platforms.
Their most popular integrations include Outlook, Microsoft Teams, Dropbox, Slack, Zoom, Google Calendar, Google Drive, Excel, Jira, Salesforce, Zapier, OneDrive, and more.
You can also combine automation with third-party integrations using Monday's pre-defined recipes.
For example, when a status changes to "Done," notify everyone in the #HR Channel in Slack.
These add-ons help you streamline your work and help you get more done in a limited time.
Winner: It's a Draw.
6. Pricing Plans.
ClickUp:
ClickUp offers four pricing models, including:
Individual (Free forever) – Unlimited tasks, unlimited users, five workspaces, unlimited custom views, 100MB file storage, and 100 automation recipes per month.
Unlimited ($5 per month/billed annually) – Unlimited tasks, unlimited workspaces, unlimited custom views, unlimited storage, and 1000 automation recipes per month.
Business ($12 per month/billed annually) – Everything in the Unlimited plan + 10,000 automation recipes per month, time in status, granular time estimates, goal folders, etc.
Business ($19 per month/billed annually) – Everything in the Business plan + 25,000 automation team sharing, subtasks in multiple lists, custom role creation, custom permissions, custom capacity in workload, increased automations & API, admin training webinar, priority support, etc.
Enterprise (Custom plan) – Everything in the Business plan + 250,000 automation recipes per month, Tableau web connector, priority customer support, dedicated customer success manager, and more.
Monday.com:
Monday.com offers various pricing plans to fit every type of business, from small businesses to larger enterprises.
Monday's five pricing plans include the following:
Individual (Free plan) – Up to two seats, 1000 items, 500MB of storage, etc.
Basic ($8 per month/billed annually) – All features in the Individual plan + unlimited free viewers, unlimited boards, unlimited items, 200+ project templates, 20+ column types, iOS and Android mobile apps, priority support, etc.
Standard ($10 per month) – Includes everything in the Basic plan + Timeline and Gantt views, Calendar view, Guest access, 250 automation actions per month, create a dashboard that combines five boards, etc.
Pro ($16 per month) – All features in the Standard plan + Private boards, Chart view, Formula column, time tracking, 25,000 automation actions per month, create a dashboard that combines ten boards, etc.
Enterprise (Quote-based) – Includes everything in the Pro plan + Enterprise-scale automation and integrations, multi-level permissions, advanced reporting and analytics, tailored onboarding, premium support, creating a dashboard that combines 50 boards, etc.
These are the annual plans (you can save 18% if you pay annually rather than making monthly payments).
Why Project Management Software Is Necessary
With the rise of remote work and the need for effective collaboration among team members, the right project management tool can make all the difference in delivering successful projects on time and within budget.
One of the key benefits of project management software is its ability to centralize project information and communication.
Instead of relying on multiple tools and channels to manage projects, team members can use a single platform to track progress, share files and feedback, and communicate with one another in real time.
You reduce miscommunication and ensure everyone is on the same page throughout the project lifecycle.
In addition, project management software typically comes equipped with features such as task scheduling, progress tracking, and budget management.
These tools help project managers and team members stay organized, prioritize tasks, and avoid potential bottlenecks or delays.
With automated notifications and reminders, deadlines are less likely to be missed, and everyone can keep progressing toward project completion.
Another significant benefit of project management software is its ability to provide data-driven insights into project performance.
By analyzing key metrics such as task completion rates and budget expenditures, team members can identify areas for improvement and adjust their workflows accordingly.
With this information, businesses can make data-driven decisions that help optimize efficiency and deliver better results.
Furthermore, project management software can provide security in a digital age where cyber threats are more prevalent.
By securing project data and providing user permissions, businesses can ensure that sensitive information is accessible only by authorized users.
You can safeguard confidential business information, leading to greater peace of mind and trust among team members.
Executive Summary.
The search for the best project management software can be overwhelming.
Knowing the best option for your needs is vital for a business, freelancer, startup, or non-profit organization.
Using these tools provides solutions and aids managers and employees in their projects and moving forward with better productivity.
ClickUp and Monday are the two top names in the project management tools arena.
Both offer an extensive suite of project management tools, ease of use, mobile apps for iOS and Android, a high level of customization, a knowledge base, and video tutorials to help you get started.
But you have to pick one based on your requirements and personal preference.
Use ClickUp if:
You want detailed insights into your project's progress and the team's productivity.
You need time-tracking features.
You need advanced automation recipes.
Use Monday if:
You need advanced automation features.
You need detailed insights into your resources and workload.
You are a medium or large size business.
You need help managing your personal goals.
The above guide sums up my ClickUp vs. Monday.com comparison.
If you'd like to look deeper at ClickUp, check out my ClickUp Review.
Which of these tools are you planning to use? Let me know in the comments section.
Check out my other detailed project management reviews:
Disclosure: I may receive affiliate compensation for some of the links below at no cost to you if you decide to purchase a paid plan. You can read our affiliate disclosure in our privacy policy. This site is not intending to provide financial advice. This is for entertainment only.