7 Best Client Management Software of 2023 (Ranked)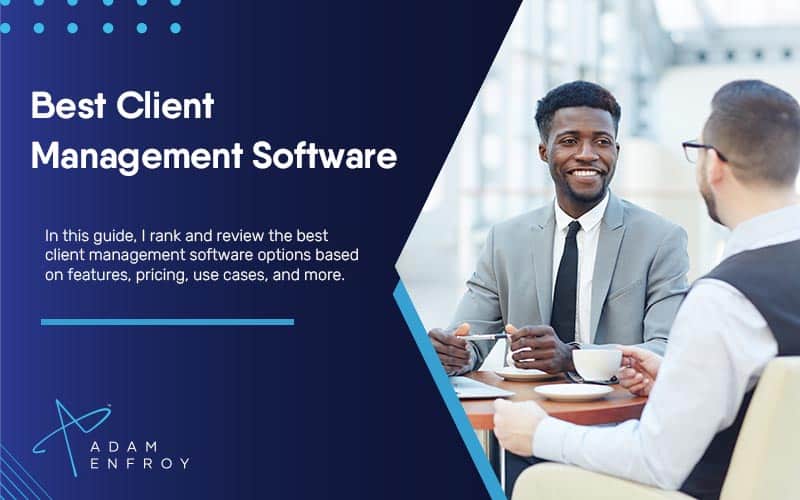 As far as client management software is concerned, my top pick is either Monday.com or Pipedrive.
Client management software helps businesses keep lead and customer information accessible for every member of the salesforce. They may also aid content creation for marketing campaigns and contacting prospects through the right communication channels.
You will notice that a lot of CRM platforms also act as client management software since the feautres needed are very similar.
When used properly, client management systems can fetch an ROI of 45 percent on every dollar invested. So, I'll be taking you through the best client management systems on the market, their features, and pricing plans.
Let's dive into my list of the best client management software options.
Disclosure: I may receive affiliate compensation for some of the links below at no cost to you if you decide to purchase a paid plan. You can read our affiliate disclosure in our privacy policy.
What is the Best Client Management Software?
Here are my top picks for the best client management software on the market.
Best Overall Client Managment Software
Monday.com is a CRM software that helps offices across different industries manage and track workflow. It also helps track the overall sales performance and productivity of the team.
This software offers three templates: sales CRM, partner management, and you can choose one depending on your industry and purpose. It acts as a one-stop solution for organizing lead management, client relationships, and sales tasks.
Aside from lead management, the platform allows users to create forms for placing on the website. The submissions will directly go to your Monday.com board, from where it will automatically save the contact details and meeting schedules related to that particular client.
The sale template employs the Kanban technique to help users see their current number of prospects and the stage they are at. And the deadline management feature helps effective task management.
Features:
With its diverse templates and effective task management features, Monday.com assists the sales process- right from lead management to follow-up. It automatically creates a database to help organize relevant client details for easy access.
Here are some of the features that Monday.com offers:
Client board enables clients to view project roadmap
File and communication sharing
Message tracking
Supports note attachments
Facilitates moving clients between different pipelines
Pricing:
Monday CRM lets users start with a free plan (for two seats), which has basic features like task management. But depending on your team size, you can opt from the following paid plans, where the prices are on a per-seat basis
1. Basic Plan at $8 seat per month
$24 per month billed annually
Five GB of storage
One board per dashboard
Customizable notifications
2. Standard Plan at $10 seat per month
$30 per month billed annually
20 GB of storage
Five boards per dashboard
Zoom integration
3. Pro Plan at $16 seat per month
$48 per month billed annually
100 GB of storage
Up to 20 boards per dashboard
Time tracking
4. Enterprise Plan
1,000 GB storage space
50 boards per dashboard
Safe lockdown mode
Get started with Monday.com.
Best For Sales Assistance
Pipedrive is a client management system that features an AI (Artificial Intelligence) assistant- "Zia" for complete salesforce management. It also includes other effective features like a chatbox, web forms, and workflow automation to streamline recurring tasks.
The platform has a user-friendly interface that facilitates quick user setup. With the sales assistance, all of the members will receive personalized suggestions for task automation.
It can also help in fast risk detection by analyzing past performances for reps to understand the areas that need improvement. Similarly, the assistant utilizes algorithms to automatically detect the action that can use automation.
Pipedrive focuses on improving the current actions that help increase sales. You can constantly monitor the sales pipeline and prioritize the activities accordingly.
Users may name the different stages of the sales pipeline, fill them with deals, and drag and drop them towards "won" to mark the completion of the sales process.
Features:
The AI sales assistance provides real-time tracking of the sales pipeline, helping your team accomplish seamless sales conversions. Its effective analytical algorithms and automation suggestions aid better time management, enabling users to focus on key tasks.
I'll now list the features of this client management software:
Suitable for freelancers and small businesses
Helps connect customers across different channels
Customizable dashboards
Enables comparing performance reports
Internal chat and mobile app
Pricing: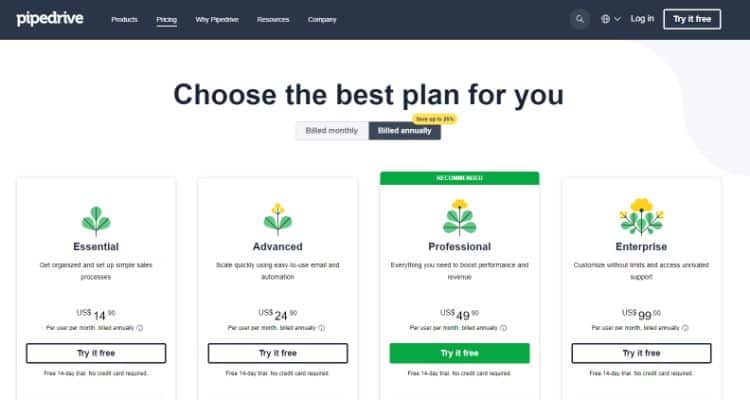 Users can choose from four per-user-based subscription plans, which are backed by 24×7 chat and email support.
1. Essential Plan at $19.90 per month
$14.90 billed annually
Easy pipeline organization and follow up
2. Advanced Plan at $29 per month
$24.90 billed annually
Automation and tracking of tasks
3. Professional Plan at $59 per month
$49.90 billed annually
Collaboration and communication features
4. Enterprise Plan at $99 per month (annually)
Requires a minimum of ten users
Customized onboarding
Apart from the Enterprise Plan, the other three plans have a 14-day free trial, which offers full access to the features.
Users can opt for the LeadBooster add-on (priced at $32.50 per company per month billed annually) available with each of the above-mentioned plans. It's a lead-generation tool that has four integration features.
Similarly, the Web Visitors add-on helps track engagement analytics and costs $41 per month per company, billed annually.
Get started with Pipedrive.
Best For Client Communication
Freshworks CRM (Freshsales, formerly) aids sales pipeline management by combining AI-driven performance insights, lead generation, and in-built phone and email communication.
This 360-degree software solution helps users track leads' touchpoints, such as their sm profiles and websites. The contact information remains logged in the platform, eliminating the need for manual data entry.
Through the lead scoring functionality, users can prioritize following up with prospects with relevant data.
You can also categorize your sales team according to their respective territories for better operational management. With features like revenue analysis, in-depth sales reports, and report customization, the teams can track progress in real-time.
The pipeline management offers features like deal status tracking and visual insights into lead management. Users can also use the CRM's mobile applications to track project activities at any time.
Other features like website tracking, task timeline management, and leads segmentation (based on behavior) contribute to successful sales conversion. The auto profile enrichment feature forms a database of leads' social media profiles and images.
Features:
Users can buy multiple local or toll-free phone numbers (available internally in the software) and assign them to the team members. Likewise, the both-way email syncing and tracking tools enhance its marketing automation abilities.
These are some of the benefits that Freshworks offer:
Seamless data transfer from other CRM
Follow-up prioritization
In-built calling and email
2-way email syncing
Android and iOS apps
Pricing:
Freshworks CRM has three paid subscription (per users basis) plans and one free plan.
1. Growth Plan at $18 per month
$15 per month billed annually
Automated tasks
2. Pro Plan at $47 per month
$39 per month billed annually
Multiple salesforce management
3. Enterprise Plan at $83 per month
$69 per month billed annually
Advanced control
Get started with Freshworks CRM.
Best For Platform Integration
Hubspot CRM has a diverse list of tools that can be easily used across marketing, sales, and customer service teams. It's an effective all-in-one platform that can stack up against the best-paid CRMs.
A significant feature of this software is its intuitive user-face, which is beneficial for free version users with no immediate tech support. It doesn't come with customer support either, but an intensive online guide makes up for that.
The marketing tools allow users to create landing pages, web forms, email, and social media (sm) content for marketing automation.
They can also organize and schedule marketing content with a simple drag and drop. The multi-purpose utility of this CRM software simplifies project management and marketing campaigns.
Hubspot enables the integration of other related platforms like Gmail, Microsoft Office365, and G-Suite for your team to have easy access to all of the client info. There are dedicated email templates that can create and schedule email marketing content.
Irrespective of the team size, it can save up to 100,000 contacts (even on the free version) with no expiration or time limit. But you can always switch to the paid plans to avail more functionality.
Features:
Hubspot offers an equally competent free version that's suitable for small businesses or teams.
Features like invoice templates, SEO recommendations, and digital signature generators automate a large chunk of the process. Similarly, the integration tools help streamline client information and contact management.
Here are some other features found on the platform:
Dedicated hubs for marketing, sales, and customer service,
Content templates and tracking
Saves up to one million contacts
Lead tracking
Live chat for clients
Pricing:
If you're interested in availing the paid plans to access advanced CRM tools, I have got them listed below. These prices are applicable for the marketing plan, and the subscription will be different for plans like sales, operations, CMS, etc.
1. Starter Plan starts at $45 per month
$540 per year
Starts at 1,000 contacts
Supports landing page creation
Live chat feature
2. Professional Plan starts at $800 per month
$9,600 per year
Multi-language content
Personalized engagement
ABM tools and task automation
3. Enterprise Plan starts at $3,200 per month
$38,400 per year
Starts at 10,000 contacts
Team hierarchy specification
Lead prediction
Get started with HubSpot CRM.
Best For Small To Medium Businesses
Zoho CRM is a versatile system that takes on sales forecasting, management, automation, and multichannel client communication. It helps centralize existing customer data and generate new leads with equal efficiency.
The varied communication channel options include phone, web forms, email, live chat, and social media interactions. They also allow the team to gauge the efficiency of communication, as reps can find the most suitable channel and time to contact leads.
Another feature is the business application integration functionality, which assists the multi-communication channel operation. It includes different platforms like Mail Chimp, Whatsapp, Facebook, Dropbox, etc., to facilitate client-preferred communication.
The intuitive platform is beneficial for first-time users, and the overall utility is suitable for small to medium-scale businesses. There's a comprehensive guide that takes you through the installation process, doing away with the need of tech support.
Features:
The flexibility on offer successfully caters to different business needs. It has many free extensions that can be integrated without coding to help improve sales and productivity. The video guide and mobile applications complete a seamless user experience.
These are some of its significant features:
Real-time notifications for customer engagement
Measures communication efficiency
Task automation
Workflow management
Contact management
Pricing:
Starting with a free, flexible trial, users can choose from four subscription plans. Plus, they can cancel or switch existing plans at any time.
1. Standard Plan at $14/month per user
Billed annually
Custom dashboards
Multiple sales pipelines
2. Professional Plan at $23/month per user
Billed annually
Validation rules
Inventory management
3. Enterprise Plan at $40/month per user
Billed annually
AI assistant
Command Center
4. Ultimate Plan at $52/month per user
Billed annually
Advanced AI analytics
30-day trial
Get started with Zoho.
6. Keap.
Best For Lead Follow-Up
Keap is a CRM platform that combines marketing and sales to capture more leads and turn them into clients. It has several features that enhance task automation for tracking sales activities.
Its range of tools includes email marketing, appointment scheduling, invoice generation, quotes, and payment functionalities. Users can select from pre-structured emails and automate sending messages to new leads.
The software collects relevant client information and creates a "central" storage for instant access. It can also perform automatic information updates and provide follow-up reminders to increase sales. With the calling and messaging services, it reduces communication efforts.
This CRM tool eliminates the need for a separate form-building application, as users can integrate custom-made forms into the landing pages of their business websites. They initiate certain automatic actions, which prompt the team to conduct timely follow-ups.
The database can save crucial client information like social media details, business addresses, and so on.
Features:
Keap uses various client management tools that assist quick follow-up, response, and subsequent sales conversion. It also collects and stores client data in a centralized database to provide a one-stop client management solution.
The following section lists some of its key features:
Maintains payment and communication history
Email marketing tools
Follow-up notifications
Pre-written emails
Form integrations
Pricing:
The pricing of the subscription plans will depend on the number of contacts you have. Here, I have mentioned the prices for 500 contacts, with the upper limit being 25,000 contacts. If you have more than that, contact the Keap sales team.
1. Lite Plan at $79 per month
One user
Automation of tasks
Email tools
2. Pro Plan at $159 per month
One user
Automated marketing campaigns
Additional users at $30
3. Max Plan at $199 per month
One user
Secure payment platforms
Optimized sale pipelines
7. Insightly.
Best For Marketing Automation
Insightly is a CRM tool that supports market automation by integrating Gmail, G-Suite, and Outlook. It is ideal for medium-sized businesses and offers a range of tools to enable project management for sales and marketing.
The bulk email functionality allows users to create and send emails to the contact list, and they can design custom applications on this platform. Users can also integrate this software with other applications for tracking marketing.
With the dashboard, report, and task automation features, it helps direct more time and energy towards sales conversion. The Insightly CRM mobile app has business card scanning and audio notes to help managers take quick field updates from the team.
Depending on their interaction with ongoing marketing campaigns, Insightly will automatically direct new leads to the right sales rep, saving valuable response time.
Features:
The mix of communication and automation tools enables streamlining complex steps in the customer relationship process. When used in combination with tracking applications, this CRM software can offer real-time insight into client relationship management.
Here are some of its features in a nutshell:
Centralized record-keeping
Easy setup
Helps client understand the organizational structure
Automatic lead redirecting
Email marketing
Pricing:
Users can start with a free "no-frill" plan for basic project management that is applicable for two users. Additionally, there are three paid plans.
1. Plus Plan at $29/user per month
Billed annually
Project delivery
Member collaboration
2. Professional Plan at $49/user per month
Billed annually
Lead management
Voice tool
3. Enterprise Plan at $99/user per month
Billed annually
Process automation
What Is Client Management Software?
A client management software (or CRM software) is an application that helps business owners establish and maintain individual client relationships in a seamless manner. It becomes a single reference point for the teams to obtain crucial client information.
The platform may also include other tools, which assist the overall project management, client communication, task automation, and tracking of the different stages of the purchasing process.
Wrap Up.
If you want to improve sales conversion and maintain sustainable client relations, then pick an option from the list below:
Monday CRM: Best For CRM
Pipedrive: Best For Sales Assistance
Freshworks CRM: Best For Client Communication
Hubspot CRM: Best For Platform Integration
Zoho CRM: Best For Small To Medium Businesses
Keap: Best For Lead Follow-Up
Insightly: Best For Marketing Automation
I hope my efforts will help you find the best client management software for your business.
Looking for other posts on the blog?
Disclosure: I may receive affiliate compensation for some of the links below at no cost to you if you decide to purchase a paid plan. You can read our affiliate disclosure in our privacy policy. This site is not intending to provide financial advice. This is for entertainment only.