7 Best Closed Captioning Software of 2023 (Ranked & Reviewed)
My two favorite closed captioning software are Rev and 3Play Media.
Closed captions help video content become more accessible to people, cutting across language and hearing disability barriers. Additionally, they can boost SEO rankings to enhance the prominence of your page or website.
On top of that, closed captions can help to better monetize your YouTube channel because closed captions are a factor in YouTube's organic algorithm.
In fact, closed captions can increase viewer retention by 12 percent on Facebook. Research also suggests that 35% of people prefer to turn on the "cc" option while watching videos. That's why I will talk about the best closed caption software on the market today.
Disclosure: I may receive affiliate compensation for some of the links below at no cost to you if you decide to purchase a paid plan. You can read our affiliate disclosure in our privacy policy.
What is the Best Closed Captioning Software?
Here are my top picks for the best closed captioning software.
Best For Short Turnaround Time
Rev is a multi-purpose cloud-based software that offers premium, on-demand closed captions, transcriptions (both manual and automated), and foreign subtitles. It provides up to 99 percent accuracy for the captions with a turnaround time (TAT) between two and 25 hours.
It employs one of the best speech recognition AI (Artificial Intelligence) facilities and the largest community of "speech-to-text" freelancers who contribute to the fast turnaround time. The platform also has an intuitive interface that facilitates easy account creation and setup.
Users can send their video files or URLs or copy-paste links from video platforms like Youtube and Vimeo. The software doesn't require downloads, so users don't have to worry about virus attacks, compatibility issues, or unnecessary pop-ups.
Once the captioning is complete, Rev will send back the caption file (usually in the .srt format) via email. It also offers captions in other compatible file formats for easy accessibility.
During checkout, you may choose the burned-in captions (open captions) option to directly embed permanent captions on your video.
Additionally, it offers a video editor with a range of tools to help users edit the final video according to their requirements. You may also access it via the Android and Apple mobile applications.
Features:
In tandem with the world's biggest text-to-speech freelancer community, the high-quality AI platform makes Rev a fast, easy, and accurate captioning and transcription platform. With the mobile applications and built-in video editor, users can ensure specific edits from any device.
In the following section, I have mentioned some of its other highlights:
Confidential video file and URL uploads
Provides different compatible caption files
Captioning experts available 24×7
Integrated video editor and related tools
Open caption service
iOS and Android mobile applications
Pricing:
Rev has a fixed charge of $1.25 per video minute with no extra costs for delivery or "difficult" audio files.
Here's a quick summary of the turnaround time according to the length of the uploaded file/URL:
Two hours for a zero to five-minute long file
Seven hours for a five to ten-minute long file
12 hours for a ten to 30-minute long file
25 hours delivery for a 30 to 60-minute long file
Best For SLA Compliant Captioning Services
3Play Media is a full-service video accessibility platform that provides fast, simple, and accurate closed captions. Depending on the video minutes or the file size, the turnaround time can be anywhere between two hours and four business days.
Like Rev, users can upload the required file on the platform directly from a computer or via links, integrations, or custom APIs (Application Programming Interfaces). It will then go through two rounds of high-quality transcription to ensure optimum accuracy.
Once ready, the captions file can be downloaded in over 50 formats, which are compatible with most video playing and video integrated platforms. It has a user-friendly interface where individual users or companies can log into the software to complete the order process.
In addition to closed captioning services, 3Play offers translations and audio description tools to help users perform multiple tasks on one platform. You can get in touch with a dedicated account manager to keep track of the process and ensure that your deadlines are met.
It employs a proprietary technology base that uses 11 patents, unique databases, and AI or machine learning. The platform also has a pool of 2,000 video editors who help with captioning, subtitling, and transcriptions.
Features:
3Play Media uses a combination of AI technologies and two-step transcription for a full-proof captioning process. Users are assigned individual managers who will help them maintain deadlines and provide assistance as and when needed.
I have mentioned its significant features below:
Flexible turnaround time
Real-time progress tracking
50 file formats
Workflow automation and data encryption
SLA compliant services
Guaranteed accuracy, deadline, and security
Pricing:
Users can choose from three subscription plans, the exact prices of which will be visible after filling up a short requirement form. But here are some features from the plans to help you get a better understanding.
1. Express Plan for a single user:
Pay per project
Encoded caption for social media videos
Easy upgrade
2. Pro Plan for multiple users:
Live captioning
Audio descriptions'
Subtitling and translation
3. Enterprise Plan for businesses:
Custom workflows and turnaround time
Dedicated account manager
Best For All-Round Captioning
CaptioningStar is a New-York based company, offering different video captioning services, including closed captioning, open captioning, real-time captioning, emergency live captioning, etc. The captioners work 24×7 to deliver 99 percent accuracy with flexible turnaround times.
The software is compatible with all of the major video and audio file formats, so users can upload the required videos directly from their computers. It also integrates with many video platforms, enabling users to "pull" videos from Youtube, Dropbox, Vimeo, etc.
You may upload or paste the transcript, if available. Otherwise, this software will create one to help the in-built captioning tool automatically generate the captions. Once the captioning is complete, you can download it in any of the available 18 captioning formats like webvtt and srt.
In case of any queries, users can get in touch with CaptioningStar's production team at any point in time, which has a response time of 15 minutes. They may also contact the customer service team via different social media channels, like Facebook, Twitter, and Instagram.
Features:
This software offers users a hassle-free captioning platform that can provide English and Spanish captions for different video content. The multi-format file download feature lets you embed the captions into the videos without any conversion or edits.
Some of its significant highlights:
Bi-language (English and Spanish) closed captions
Live stream captioning
Point-and-click upload
Free API and interactive video player
Customizable TAT of 12, 24, and 36 hours
24×7 support team
Pricing:
Like Rev, CaptioningStar also has a fixed pricing plan of $2 for captioning one video minute. And if you want both transcripts and captions that will cost $2.75 per video minute.
However, users may receive discounts on bulk orders and referrals.
4. Vitac.
Best For Online And Offline Captioning
The largest captioning company in the US, Vitac offers professional closed captioning services for offline and online video platforms. Its live captioning feature is compatible with Youtube, Zoom, Live Stream, AdobeConnect, and Skype.
For this purpose, Vitac integrates video through API platforms, different television network connections, seamless switching, and thorough language research by its team. The captions are created as individual text files, after which they can be synced with the said video.
This way, users can switch the captions on or off according to their requirements. The caption files also go through mandatory decoders, which enable Vitac to edit or reupload them in case of an error or future discrepancies in the video.
Users can also choose from other captioning services for different languages, such as Spanish and French. The platform has a team of professional and qualified captioners who work round the clock to deliver on prefixed turnaround times.
Vitac enables users to receive captions (or transcripts) in the srt file format for quick upload and integration with social media videos. It also has the provision to add hard-coded or open captions.
Features:
Vitac's offline captioning services comply with the FCC (Federal Communications Commission). It maintains a strong connection with various television and local news channels to create accurate and integrable automatic captioning.
I have mentioned some of the other features below:
Auto-sync caption files
Multi-language captions
Live captions for web videos and conferences
Remote meeting integrations
Social media integrations
Pricing: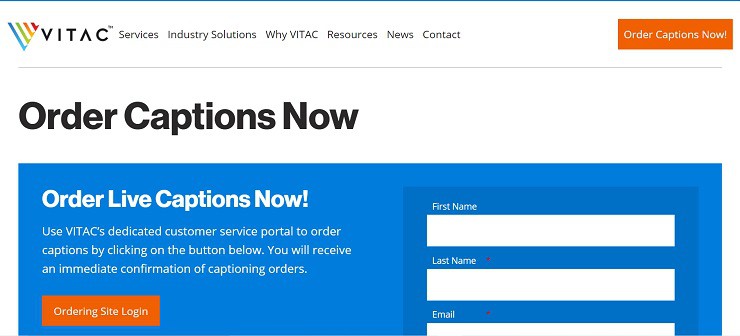 Since Vitac doesn't make its pricing public, users can reach out to the dedicated service portal for requesting quotes. They can quickly set up a free account by entering a few details and the project specifications in the given form.
5. Archive Captioning.
Best For Live Captioning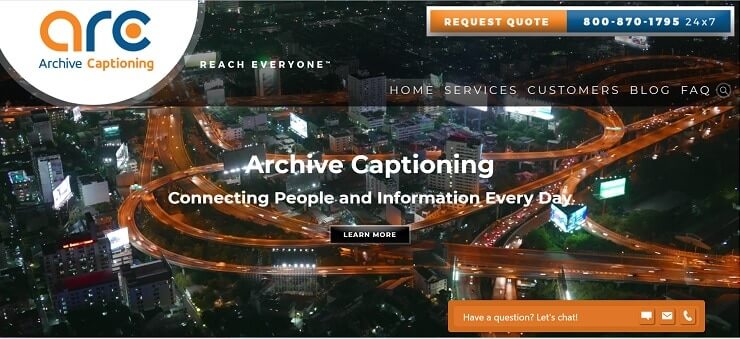 Archive Captioning is another multi-captioning platform that offers real-time captioning for live broadcasts. It employs trained captioners who use stenograph machines to convert spoken words into text.
The service also offers multiple caption integrations for meetings and virtual conference platforms on Zoom, Cisco Webex, ON24, and Adobe Connect. Similarly, the live captioning integrations are valid for Facebook, Youtube, Ustream, Wowza Streaming, and Vimeo.
A significant feature that users can avail is the post-production captioning service, which helps content creators make the video accessible for hearing-impaired people. It's also beneficial for audiences who don't understand English or are in a "no-audio" environment.
You can use the offline captioning service in different styles like placed pop-on, stationary, and roll-up. The placed pop on caption has flexible placement and uses timed text to synchronize with the visuals and indicate off-screen audio (like sound effects).
With the stationary (centered) style, you can place the captions on the bottom of the screen, where the speaker change is denoted by a dash (-). And the roll-up cations appear on the screen in a continuous flow, with chevrons (>>) indicating speaker changes.
Features:
With a range of closed captions and post-production captioning tools, Archive Captioning aims to cater to different customer requirements. Its 24×7 captioning team provides same-day TAT while ensuring multi-level quality assurance for optimum accuracy.
In short, here are the features that the platform has to offer:
Different caption formats
Secured caption outputs
IP address whitelisting and password-protected accounts
Same-day turnaround
Multi-level quality checks
Machine translation for foreign language captions
Pricing:
6. CaptionAccess.
Best For Remote Captioning
CaptionAccess is a video accessibility platform that provides captions for live and offline video content. At the helm of its quality captioning service is a team of skilled hearing-impaired editors, which helps the platform achieve greater accuracy for no-audio video viewing.
Being a remote captioning service, its captioners are available round the clock to take care of the promised turnaround time. You can expect caption delivery within one to four business days.
The platform uses a CART (Communication Access Realtime Translation) tool that converts spoken words into comprehensible text for mobile and laptop screens. Hence, users don't have to switch devices during webinars, conferences, academic lectures, or other events.
CaptionAcess also facilitates meaning-for-meaning translation- an all-encompassing or condensed form of translation for creating closed captions. It also follows time code text formation to ensure that the captions sync with the speech or speaker's audio.
Since there are no direct upload options for videos or URLs, users should contact the platform directly to send their orders. They can send in the required video files from any device or cloud-based application.
Features:
With the help of CART and condensed translation features, this platform allows users to choose from live, offline, word-to-text, or meaning-to-meaning translations. Its remote operation means that the captioning services are available 24×7 to comply with the specified turnaround times.
Its other highlights include:
Expert professional captioning
For Youtube videos, webinars, and online conferences
Time-coded texts for accurate synchronization
Captions fit different screens
Facilitates last-minute scheduling changes
Stenotype machine for text formation
Pricing:
Potential users can ask for a detailed quote according to their needs and specifications. The platform also offers a free demo of its services.
7. MacCaption And CaptionMaker.
Best For Bulk Captioning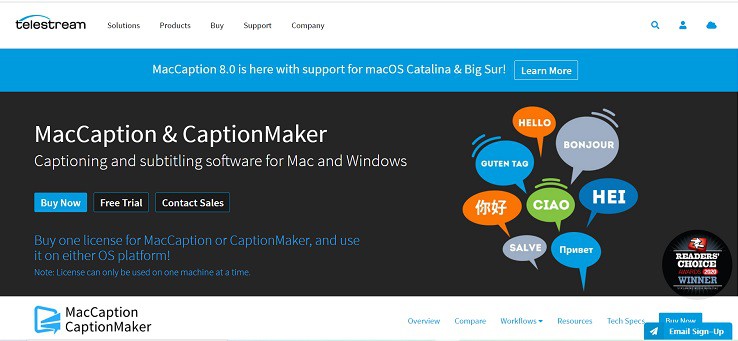 MacCaption And CaptionMaker is a licensed closed caption and subtitling software available for Mac devices. However, it also offers the CaptionMaker version, which is compatible with Windows operating systems.
Once the video files are uploaded on the platform, its integrated e-captioning technology allows users to create, edit, encode or reuse captions for televisions, web, and device screens.
It also simplifies the process of making the captions compliant with existing government regulations. This makes for fast, easy, and effective caption integration for web or television broadcasts.
The software can also process high-volume caption processing tasks, including text insertion and extraction, format conversions, timing, or frame-rate adjustment.
You can perform sub-clipping or clip assembly processes and integrate the final output with platforms like Vantage for automating the entire workflow. Aside from direct integration into media files, it enables users to troubleshoot and perform quality checks on the video files.
With the latest addition of timed-text speech (speech-to-text), the platform can perform automatic transcription in over 100 languages to create closed captions. This will come in handy for time-restricted projects where you can't wait for a separate transcription service.
Features:
The range of integrated tools and features helps users create accurate captions following government regulations. Its fast output can be directly integrated into video files for quick broadcast.
Some of its highlights include:
Troubleshooting and quality checks
Automated workflow integration
Automatic transcription
Format conversion tool
Frame adjustment
Pricing:
MacCaption and CaptionMaker offer three annual subscription plans, which are valid for one machine at a time.
1. Desktop Edition at $1,898
Auto timestamp
Popular file formats
2. Pro Edition at $6,598
Support for embedding caption into TV broadcast
Subtitle overlays
3. Enterprise Edition at $15,525
Automated closed captioning
Conversion and external scripting and control
The timed text speech feature is available separately at the cost of $99 per month.
What Is Closed Captioning Software?
Closed captioning software is a program that allows video creators and owners to create texts for a video for interpretation purposes. The text is generally a transcript of the current audio portion, which may also include non-speech audio like music.
Depending on the features of the software, users may directly embed the text into the video or upload it separately. Many platforms enable users to either manually create the closed captions or automatically create them from the transcripts.
Wrap Up.
Given the importance of video content on the web, closed captions have become a must-have feature. Pages with video transcripts will likely see an increase in revenue compared to the ones without them.
If you want to enhance the reach of your videos, choose among the following:
Rev: Best For Short Turnaround Time
3Play Media: Best For SLA Compliant Captioning Service
CaptioningStar: Best For All-Round Captioning
Vitac: Best For Online And Offline Captioning
Archive Captioning: Best For Live Captioning
CaptionAccess: Best For Remote Captioning
MacCaption: Best For Bulk Captioning
I hope that my effort will find you the best closed captioning software.
Further reading on AdamEnfroy.com: Want to know how you can combine closed captioning software with translation software to create content that is truly global?
Check out my list of the best translation software if you're interested in expanding your content's reach.
Editorial Process:
Our reviews are made by a team of experts before being written and come from real-world experience. Read our editorial process here.
Some of the links in this article may be affiliate links, which can provide compensation to us at no cost to you if you decide to purchase a paid plan. These are products we've personally used and stand behind. This site is not intended to provide financial advice. You can read our affiliate disclosure in our privacy policy.