7 Best CMMS Software of 2023 (Ranked and Reviewed)
Choosing the right CMMS software is vitally important to your business. From tracking and managing your assets to preventing downtime and improving workflow, the best CMMS software can help you meet your goals. In this guide, I ranked and reviewed the 7 best CMMS software, so that you can pick the best one for you.
---
We're reader-supported. When you buy through links on our site, we may earn an affiliate commission.
CMMS software is a modern AI-based system used to facilitate organizations' maintenance operations.
CMMS are computerized maintenance management systems, and help organizations with everything from determining which equipment needs maintenance to which warehouse has the spare parts they need.
Summed up, it's a unified software package that includes a database of information on a company's maintenance operations. It works like ERP software for maintenance and helps you with:
Equipment data management.
Getting a full view of all parts, maintenance scheduling, KPIs and metrics, and costs.
Organizing and scheduling work orders.
Taking control of inventory management and inventory control.
Predictive and preventative maintenance.
Purchasing, budgeting, and asset tracking.
Regulatory compliance.
It's an emerging technology and there are a lot of software solutions to choose from.
Let's get to the list.
What is the Best CMMS Software?
Here are my top picks for the best computerized maintenance management software to use this year.
Best overall CMMS software ($39 per month).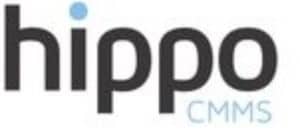 Adam's Take
If you want the best overall CMMS solution, Hippo CMMS is the right choice. It has a user-friendly interface that makes it easy to manage your computerized maintenance management system and keep your equipment and facilities in top condition.
Hippo CMMS is a user-friendly maintenance tool that provides all-in-one solutions, including modules management, third-party vendors, inventory, and preventive maintenance.
It keeps your data updated in real-time and makes it accessible from anywhere and at any point in time. This feature helps you address all the issues quickly.
Hippo CMMS offers six primary services:
Preventive Maintenance for Facilities and Equipment – Schedule and track the entire maintenance program to catch minor issues and avoid them beforehand.
Work Order Management – Delegate and track the work order and ensure that everything gets closed out efficiently.
Vendor Management – It helps you streamline vendor communication and send purchase orders automatically.
Equipment Maintenance Management – Track your asset & equipment and make data-driven decisions regarding repair or replacement.
Facility Management – It provides all the necessary tools to keep the functioning up and running efficiently.
Inventory and Parts – It lets you set and maintain min and max levels and helps deliver the right parts at the right time and price.
You also get maintenance reports to inspect your work and determine where your budget is actually going.
It also offers a mobile app that enables you to conduct remote inspections with an in-built camera. You can also add tasks and upload pictures to commission work.
Additionally, there's an offline mode that lets you work in offline mode at remote locations.
Key Features:
Reporting Tools – It enables admins to create reports under multiple categories, including maintenance history. You can schedule and send automated reports via email.
Work Order Management – Define and share work order tasks with the maintenance team. You can even use the mobile app to assign, submit, update, and complete any upgrades or work orders.
Asset Management – Track assets present in the system to analyze an asset's history, such as repairs, downtime, PM record, and maintenance costs.
Pros:
Maintenance and repair histories.
Interactive site and floor plans.
Access to training resources.
Single network to track supplies, parts, and other consumables in real-time.
Auto-generate QR codes or bar codes for assets and equipment.
Store information such as O&M manuals, ID tags, and warranty information.
Schedule both meter-based and calendar-based preventive maintenance tasks.
Pricing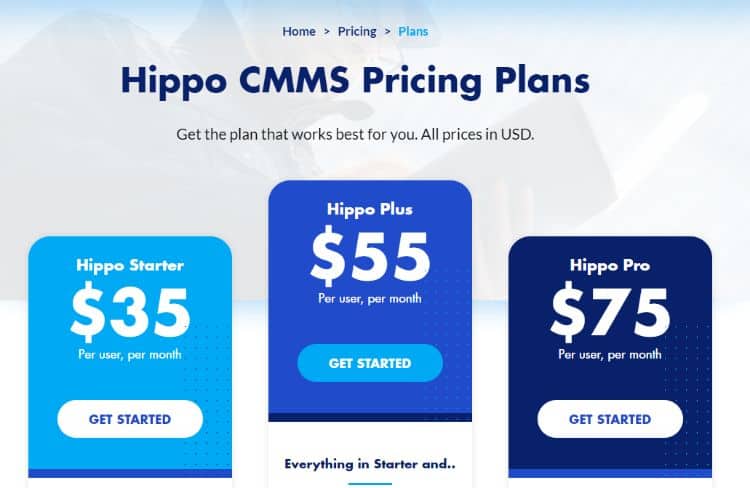 Hippo CMMS offers three pricing plans, including:
Hippo Starter: Starting at $35 per month
Hippo Plus: Starting at $55per month
Hippo Pro: Starting at $75 per month
Hippo CMMS also provides a price calculator that lets you estimate the pricing based on your requirements. You can also calculate potential ROI based on particular specifications.
Best for importing CSV files into the CMMS system ($45 per month).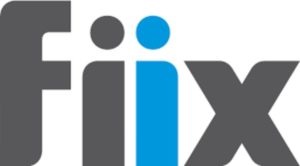 Adam's Take
Want to ensure that you can remotely access your system and data? Consider Fiix. This software uses the cloud to give you real-time access to your CMMS from any device at any time.
Fiix is a cloud-based CMMS software that helps you track and maintain equipment, vehicles, inventory, buildings, among others. Further, it connects maintenance teams, data, and tools under a single dashboard to boost asset performance.
Fiix majorly helps you observe, track, and optimize the following:
Work order management
Asset management
Inventory management
Reporting and analytics
Mobile maintenance
You can import the existing maintenance data through an Excel or CSV file into the system. Besides, you can even import equipment maintenance data via mobile devices.
Fiix also provides 'Parts Forecaster' that helps you analyze data and predict the parts you might require for upcoming work.
Other customer service related features include technician self-service, the ability to manage the full lifecycle of assets, and more.
Key Features:
Fiix Foresight – It's an AI-engine for maintenance that helps you analyze data to find trends and identify areas for improvement.
Fiix App Exchange – It offers a pre-built IIoT integration to help you capture real-time data from PLCs and other industrial devices.
Extensive Integration – Streamline workflows by connecting via email or messaging apps. You can also collect real-time data from sensors, HMIs, PLCs, and more.
Pros:
Customize, create, and attach QR codes and barcodes to assets, work orders, or parts.
Drag and drop equipment to create an asset hierarchy and build an asset tree or list.
Put similar assets in custom categories.
Organize assets, users, purchases, inventory, and tasks by location.
Plan, schedule, and start work based on timezones.
Pricing
Fiix offers four pricing plans:
Enterprise: Custom pricing
Professional: $75 one user, per month
Basic: $45 one user, per month
Free: Free for up to 3 users
You can get a month free with annual billing.
All the plans come with features like asset management, preventive maintenance, work orders prioritization, etc.
If you are looking for a more dedicated asset management tool, check out my post on the best asset management software.
Best for team communication and real-time asset tracking ($8.33 per user).
Adam's Take
Taking the proper measurements before an issue arises is one of the best ways to keep your business running smoothly. If that's something you want your business to get better at, I recommend you check out MaintainX, a powerful CMMS software that helps you track the necessary maintenance work for your business.
MaintainX is a web-based CMMS solution that lets you track preventive and reactive maintenance. It also controls regular operations like safety or quality audits along with operating checklists through a digital audit trail.
Plus, the system enables you to track downtime of assets in real-time, create and combine custom procedures, and track cost or inventory after every order. It also offers integrated digital audit trail and team scheduling features to manage maintenance efficiently.
Extensive reporting is another useful function. MaintainX helps you gather and compare performances across different teams and sites.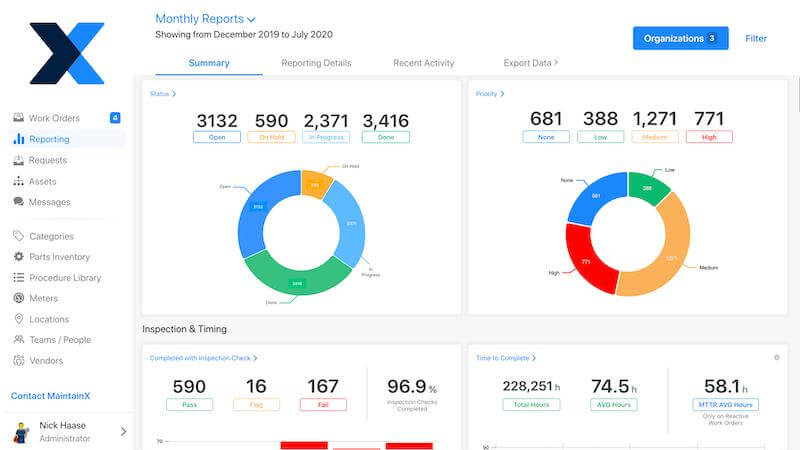 It also determines which asset needs your attention so you can allocate capital accordingly.
MaintainX lets you create customized templates, including checklists. You can also upload photos, procedures, and other essential documents to provide detailed insights to your team.
The CMMS software is available based on a specific industry, including manufacturing, hospitality, restaurants & retail, education, etc.
Key Features:
Corrective Actions – MaintainX helps you discover an issue straight away to immediately assign tasks or a new work order to fix the problem.
Monitor Compliance – It helps record all the historical data on the cloud to meet and monitor compliance similar to what dedicated compliance software does.
Employee Efficiency – Monitor the performance of staff in real-time and identify top performers.
Pros:
Highlight bottlenecks in the organization.
Allows maintenance managers to compare performance across sites and teams.
Asset downtime helps you calculate which asset maintenance requires more priority.
It reduces maintenance costs and increases the asset lifecycle.
MaintainX helps you increase organizational awareness.
Available on a mobile app.
It's compatible with both iOS and Android.
Pricing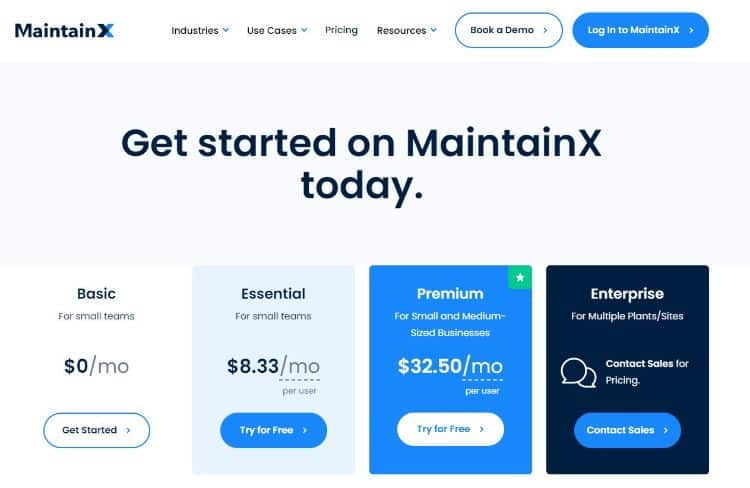 MaintainX provides four pricing plans:
Basic: $0 (for small teams)
Essential: $8.33 per user, per month (for small businesses)
Premium: $32.50 per user, per month (for single-site businesses)
Enterprise: Contact them for pricing
4. eMaint CMMS.
Best for integrating with your existing ERP tools ($33 per month).
Adam's Take
If tracking the various aspects of your business' maintenance sounds like a lot of work, that's because it is. But with eMaint, you can rest assured that everything is taken care of in one place. Ensure that nothing falls through the cracks by setting up work orders and preventive maintenance schedules and tracking inventory levels to avoid service disruptions.
eMaint, one of Fluke's sub-products, is a SaaS-based CMMS tool that helps you manage work orders, preventive maintenance, and parts inventory. Plus, you can leverage eMaint to track risk, health, and performance across different parts of your business.
Additionally, the solution helps you create detailed reports and provides interactive dashboards to monitor your business assets in real-time.
Business owners can use it to store and display their assets in a hierarchical structure by creating child assets and parent groupings. You can also view work charges, history, breakdowns, and warranty information for each asset.
With eMaint, you can generate a calendar or meter-based preventive maintenance system to execute planned maintenance. On top of that, you can prioritize critical business assets through Ranking Index Maintenance Expenditure (RIME).
All in all, eMaint helps you with:
Work management
Preventive maintenance
Reporting
Scheduling and assigning the work order
Predictive maintenance
Mobile maintenance
Inventory management
Asset management
Multi-site toolkit
Interactive plans
There's also an in-built ROI calculator that helps you discover how much you can save along with your potential return on investment.
The software is available n PCs, smartphones, tablets, and other mobile devices.
Key Features:
Integration with ERP and IoT – Share financial data between third-party corporate systems (including SAP and Oracle) to automate procurement, asset management, and parts inventory management.
Multi-Site Toolkit – Use the multi-site toolkit to compare and validate performance on a divisional, regional, national, or global level.
Asset Hierarchies – It helps you make asset parent groupings and child assets to enhance asset performance, decrease downtime, and identify ownership costs.
Pros:
Create barcode labels for your assets for easy tracking and maintenance.
Derive detailed documentation after each maintenance for compliance purposes.
Make data-driven decisions by viewing work history, failures, charges, and warranty information of each asset.
Factor in labor and material expenses to calculate correct maintenance costs.
Define the lower and upper boundaries of all the assets' operations to predict failures at an early stage.
Pricing
eMaint offers three subscription plans:
Team: $33 per user, per month (3 user package)
Professional: $85 per user, per month (3 or more users)
Enterprise: $120 per user, per month (5 or more users)
5. UpKeep.
Best for small and mid-sized companies ($45 per month).

Adam's Take
If you want to ensure that your asset management is up to date, then UpKeep is the best CMMS software. I advise you to try and see for yourself how easy and efficient it is to use. In addition, there are also various integrations that you can use to make the most out of this software.
UpKeep is a mobile-first CMMS software that helps you with line maintenance and asset management. Plus, it provides solutions for facility management, property management, and inventory management.
UpKeep lets you simply snap pictures of finished tasks and share them through a smartphone with your team. You can even share all the work order details this way. Further, it lets you scan assets for records and close the work order.
Push notifications in real-time is another unique feature. This feature helps you keep your work in the specified order or carry out an urgent task immediately.
You can also use UpKeep to track wrench time, equipment upkeep time, and costs. To help you with financial and safety audits, it can run reports with a single click. Plus, you can make data-driven decisions by studying detailed maintenance track records of business assets.
Key Features:
Inventory Management – It comes with an integrated inventory tracking application to help you manage inventory with barcodes. You can also control the stock of essential supplies in your warehouse.
Preventive Maintenance – You can manage various types of preventive maintenance, including runtime and calendar-based preventive maintenance.
QR Code – Scan QR code of any asset to manage assets and inventory in any particular field. You can also track the cost and quantity of parts through QR.
Pros:
Track maintenance history, including downtime history, active/past work orders, and depreciation of assets.
Make work requests, and the correct asset gets assigned automatically to the concerned person.
Update the stock count by adding the part from the work order.
Create custom responses or add pre-made ones for technicians.
It automatically logs downtime data to help you make data-driven decisions.
Pricing
UpKeep provides three plans:
Starter: $45 per user, per month
Professional: $75 per user, per month
Business Plus: $120 per user, per month
All the plans provide essential features like data importing, checklist items, photo capture, annotation, mobile app, etc.
6. Asset Essentials.
Best for automating work order and maintaining workflow ($2500 per year).
Asset Essentials is a cloud-based computerized maintenance management system that helps you assign and track maintenance activities and manage equipment uptime and reliability. The platform is most suitable for warehouses, manufacturers, and distribution centers.
You can use this maintenance management system cmms to create and automate work orders, maintenance schedules, and manage recurring tasks.
The customizable dashboard gives you a quick overview of the status of your items. Then there's an in-built Planner tool that helps you manage your workload. You can also use its calendar to schedule your work on either a daily, weekly, or monthly basis.
Additionally, you can view reports, charts, and major KPIs related to items important to you on your dashboard.
Asset Essentials' mobile app helps you access to inventory through QR code scanning, track the labor hours, and take pictures from the smartphone.
Key Features:
Cloud-based Dashboard – Manage all work orders and assets' maintenance tasks from the centralized dashboard.
Automated Workflow – It provides an interactive calendar view of all the tasks while eliminating manual processes, paper trails, and legacy systems.
Analytics and IoT – Predict failures and problems in advance by leveraging machine data.
Pros:
You can integrate Asset Essentials with all the other tools installed in your system.
Route work to the right technician in real-time.
Implement total productive maintenance (TPM) solutions through proactive and scheduled maintenance.
It offers detailed work order history for each asset.
Leverage configurable mobile solution.
You can get a free demo.
Pricing:
There's no mention of the pricing structure on its official site. However, various online reviews suggest that Asset Essentials' prices start from $2,500 per year.
7. FMX.
Best for cleaning management of your building ($35 per user per month).
FMX is a configurable CMMS software that helps you manage your facilities and equipment, thereby decreasing work order resolution time. The CMMS software also helps you organize preventive maintenance, streamlining your work order, and make data-driven decisions based on actionable insights.
Some of its primary services include:
Work Order Management – to keep track of work done, money spent, and labor hours).
Preventive Maintenance – to avoid significant issues, manage compliance, and schedule recurring tasks).
Reporting & Analytics.
Parts & Inventory Management System- to track and avoid shortage of warehouse & spare parts and decrease high-cost orders.
Equipment Maintenance – to avoid equipment downtime and increase the lifespan of your assets.
Facility Scheduling – it helps with seamless team collaboration, avoids double-booking of equipment, and provides better visibility.
Facility Cleaning Management – it provides step-by-step guidance and tracks the cleaning process of your building. Plus, it helps you comply with protocols outlined by local and national healthcare officials to keep your building occupants healthy.
They provide services to various industries like schools, manufacturers, religious organizations, restaurants, zoos, etc.
FMX also offers training and customer support with 30 minutes average response time. Plus, you can use it from any browser and mobile devices. It also allows unlimited requests from the users without any extra cost.
Key Features:
Track Work Orders – Track your work orders to improve communication, streamline work order, prioritize tasks, and track status.
Push Notifications – All the stakeholders receive push notifications every time something gets requested or resolved.
Photo Attachment – Upload files and photos within the work order to eliminate any chance of miscommunication.
Pros:
Communicate with occupants and vendors directly by replying to a ticket.
Track the cost and time of each work order.
Use the maintenance work calendar to keep track of current and future tasks.
View details and pull up past requests to identify how the previous work order got resolved.
Track the total number of response and resolution times, requests completed, labor costs, and inventory costs.
Pricing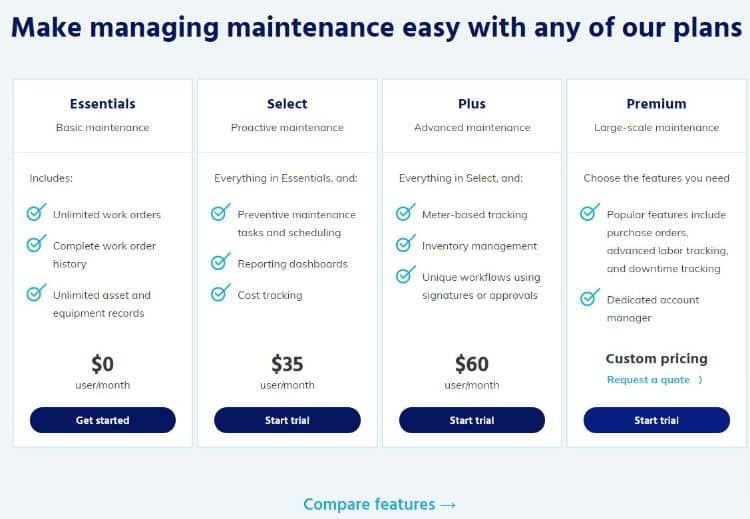 FMX offers 4 different plans:
Essentials: $0 per user : Free
Select: $35 per user per month
Plus: $60 per user per month
Premium: Custom pricing
What is CMMS Software?
CMMS stands for a computerized maintenance management system and is quite similar to enterprise asset management (EAM software) in some ways. The major difference is that CMMS tools focus more on maintenance operations, while EAM systems focus on a more comprehensive approach.
It helps asset-intensive businesses plan, measure, track, and optimize maintenance operations.
Further, it helps you optimize the availability and utilization of physical assets, including machines, vehicles, plant infrastructure, communications, and more.
CMMS leverages a data-first model. It organizes the assets' maintenance data along with the materials, equipment, and other resources.
CMMS platforms are majorly used in oil and gas production, manufacturing plants, construction, power generation, transportation, hospitals, and other industries that need massive physical infrastructure to operate.
Why is the right CMMS crucial for your business?
The right CMMS technology provides organizations with the insights they need to make informed decisions about equipment performance. Because it automatically monitors information relevant to your business, CMMS is a great way to improve productivity, reduce costs, enhance your competitive edge and improve customer satisfaction.
In addition, the CMMS can also be used to help you meet compliance regulations, reduce liability risk, and support ISO 9001/14001/18000 standards or your own stringent industry requirements.
CMMS is the way forward for any business looking to make its processes more efficient. And yet many small companies are still using spreadsheets to manage their maintenance data, while others prefer to keep their data in isolation.
The following are some of the benefits of CMMS software.
1. One Central Repository
All of your critical data is stored in one central repository, which can then be easily accessed by all relevant users. This ensures that everyone has the latest information at their fingertips – no more missing reports, outdated documents, or hours spent searching for important data.
2. Standardized Workflows
The standardized workflow approval system can increase efficiency and reduce errors, as users only have to navigate a simple, intuitive process to get the information they need.
3. Better Maintenance Policies
The CMMS helps companies meet compliance regulations, reduce liability risk, and support ISO 9001/14001/18000 standards or your own stringent industry requirements. With a better understanding of your maintenance policies, you can make more informed decisions that will improve the performance of your equipment and deliver better results for your business.
4. ROI Calculator
The CMMS can also be used to help you meet compliance regulations, reduce liability risk, and support ISO 9001/14001/18000 standards or your own stringent industry requirements. And with the use of an ROI calculator, you can see how much your business will save in the long run by using CMMS.
Features to Look Out For in CMMS Software.
Here are a few essential CMMS features that you must look out for:
Reporting – Your CMMS software should help you generate detailed reports of multiple maintenance categories, including materials usage, asset availability, labor and material costs, supplier assessments, etc. It should also be able to analyze information to understand performance trends, MRO inventory optimization, and other information to make data-driven business decisions.
Resource and Labor Management – It should be able to track available employees and equipment on-premise. Plus, make sure it's capable of assigning specific tasks and assembling crews by managing pay rates and organizing shifts.
Work Order Management – It should store and manage information like description, priority, work order number, order type, cause, remedy codes, and personnel assigned.
Preventive Maintenance: An ideal CMMS platform automates the initiation of work order depending on usage, time, or triggered events. It should also associate and organize assets across multiple orders, along with scheduling preventive work orders.
Asset Registry – Asset registry is essential since it helps you access, store, and share information on assets, location, downtime stats, associated documentation, etc.
Inventory Management – Your CMMS should help you manage inventory to avoid high-cost purchases due to running out of an essential item last minute. It should also help you track inventory costs, manage suppliers, and automate re-supply.
Facilities Management – Your CMMS should fulfill your maintenance needs and give your maintenance professionals a 360-degree view of operations. From meter readings to fleet management, your management tool needs to make maintenance connections a breeze.
Executive Summary.
That covers the best CMMS software of 2020. CMMS software can help you bring agility and efficiency to your maintenance department. It's essential to understand your business's requirements and CMMS challenges to pick the right option.
For instance, Fiix is a good option if you want to regularly import from CSV files into the system. eMaint is a suitable CMMS platform if you're going to integrate with your existing IoT and ERP tools. On the other hand, Asset Essentials can help you automate your workflows efficiently.
Hippo CMMS is my best pick for an all-in-one maintenance management solution due to its services like:
Preventive Maintenance for Facilities and Equipment
Work Order Management
Vendor Management
Equipment Maintenance
Facility Management
QR Tracking
Price and ROI calculator
Inventory Management
Go through all the key features and pros carefully to make an informed decision.
Which of these CMMS platforms are you planning to use, or which tool works best for you? Comment below.
Disclosure: I may receive affiliate compensation for some of the links below at no cost to you if you decide to purchase a paid plan. You can read our affiliate disclosure in our privacy policy. This site is not intending to provide financial advice. This is for entertainment only.