7 Best Compliance Software of 2023 (For Every Use Case)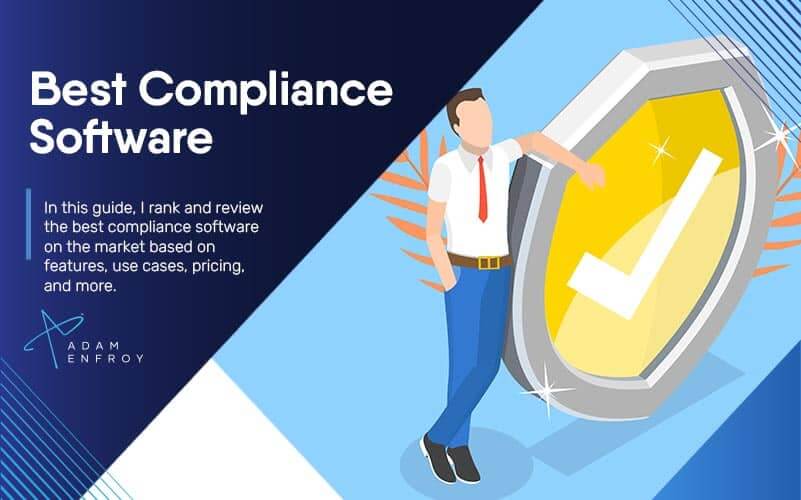 I get it – compliance software is not something you are super jazzed to read about right now.
But let's get honest here for a second. You simply need it if you're running a business. No if, ands, or buts about it. Having a business means that you need to keep compliance at the forefront of your mind.
Every business has a tool stack of what I would consider "boring" software like BPM software, payroll management software, HR software, and a TON of other software tools that even though aren't always fun, are required for long-term success.
It is so important to remember that a compliance software solution should bring all data together seamlessly so that running your business becomes effortless.
Without further ado, let's get into my vetted list of the best compliance software tools on the market.
What is the Best Compliance Software?
Here are my top picks for the best compliance software on the market.
Best for staying on top of all security assurance and compliance work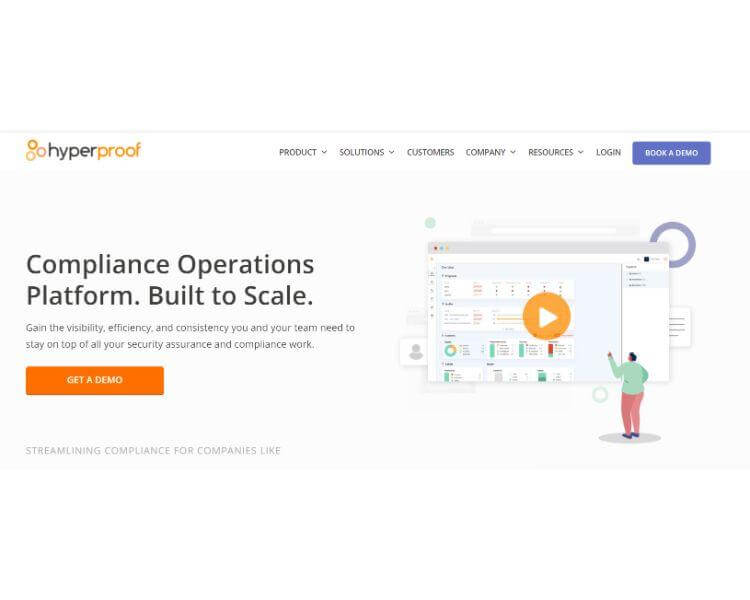 Hyperproof is a security assurance and compliance management software that helps organizations gain the visibility, efficiency, and consistency they need to stay on top of all their security assurance and compliance work.
They offer users a simple, powerful tool that gets them from point A to point B in the shortest, most accurate way possible.
Features:
Hyperproof will make it easier for you to stay on top of things. It will remind you of the risks and requirements that are necessary so you don't have to manually remember them.
Here are some more features that you should watch out for:
Less time spent doing repetitive tasks and more time working on what you love.
Your team can work more efficiently, without worrying about forgetting a task or deadline.
An easy to use operational risk management, compliance software solution
Spend less time on routine tasks and more time focusing on what matters
Pricing: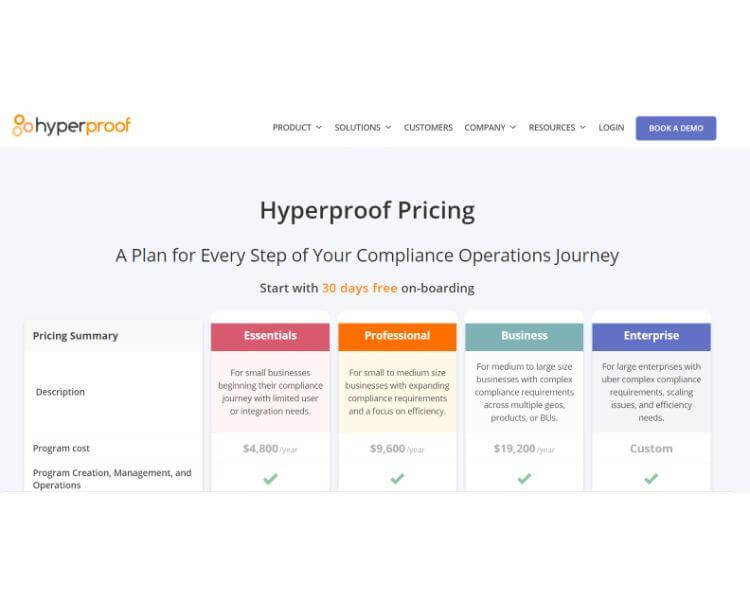 There are different packages for different business needs. The button line is that with cloud storage, your data is always safe and accessible, no matter where you are or what device you're using to access it.
Best for building agile GRC and enterprise risk process applications
The LogicGate solution combines identification and risk assessment tools with a centralized risk dashboard that provides clear communication to third parties, all managed through an intuitive workflow management software engine.
LogicGate also offers a powerful third-party risk management tool that automates assessments and scoring on any vendor or supplier in just minutes.
Whether you want to better secure your data or monitor business risks, they're there to help you build stronger security practices within your organization.
Features:
With LogicGate, you can centralize your compliance processes. This will reduce the time you spend on formalizing and managing policies, procedures as well as remediation.
Here are some more features that you should watch out for:
Centralize your compliance management processes as well as your risk management
Allows you to make sure you have a plan in place for every possible scenario.
Keep your company from being unprepared for potential risks that could compromise its operations or objectives
Improve your compliance program with regulations and standards.
Pricing:
GRC is not one size fits all. For that reason, professional services and additional applications are available to enable you to accomplish your specific business needs.
While you can always start with the base compliance management platform as an out-of-the-box solution, your organization may need additional modules to reach all of its goals.
Different plans are available, depending on your budget and the needs of your organization.
Best for connecting risks, policies, and a compliance solution into one easy-to-use tool
Onspring is the leader in GRC software solutions that removes process bottlenecks and automates business processes to make your organization more efficient.
Onspring's award-winning, fully integrated GRC software connects risks, policies, and compliance into one easy-to-use tool.
This enables you to find hidden value in your IT team with better incident management, faster ticketing, easier problem management and so much more.
Watch productivity skyrocket when you automate business processes with dependable workflows, role-based controls, and real-time reporting.
Features:
With Onspring, you can capture advanced data insights across your business like never before. This gives you a competitive edge on your competitors.
Here are some more features that you should watch out for:
Your business will be more efficient allowing you better insights and maturity.
You'll capture advanced insights across your institution like never before.
Get a competitive edge on your competitors by taking advantage of current trends.
Be the first to innovate in your industry so that you can get the biggest customer base.
Pricing:
Have a small team, or need to handle only contracts? Onspring can help you get the best plan for your needs.
Get in touch with an Onspring specialist that can help you find what's right for you and get started as soon as possible.
4. WorkClout.
Best for companies in the automotive industry
WorkClout is an innovative company that helps automotive manufacturers improve quality, get their hands on better market research tools and get product-to-market faster.
WorkClout provides a comprehensive, cloud-based solution for quality engineering teams to quickly identify and correct issues before they impact customer satisfaction or production.
The company works with customers to allow them to implement their new processes in just 7 days or less.
Features:
With WorkClout, you'll be able to use a customer data platform to ensure customer satisfaction, while ensuring comprehensive quality audit management, tracking, and reporting of internal processes.
This will allow you to easily identify the right risk and compliance solutions across the entire lifecycle.
Here are some more features that you should watch out for:
Streamlined quality management and all-in-one-place so that you can easily find, access, and manage information.
Easily identify risks and opportunities across the entire lifecycle.
Efficiently track and report on work completed by engineers working in a multi-department environment
Fully onboard a digital solution in one week (or less) so that you can quickly and easily streamline quality.
Pricing:
WorkClout has a pricing plan for any organization size. Small teams can choose the Plus option which includes unlimited users per location and advanced quality automation and analytics.
Larger teams with more robust data collection and data migration needs may want to go Pro. Large organizations will need Enterprise-grade integrations and support from WorkClout's team of experts.
5. Jolt.
Best for businesses who employ the deskless worker
Jolt is software for restaurants and businesses that help compliance managers be more productive. With Jolt, employees are promised to exceed expectations even when their line manager is not there.
They've got built-in accountability that comes with their software – with their unique "digital assistant" concept, all team members are armed with the right software on their smartphones or tablets, making sure everyone's doing what they should be.
You'll never have to worry about missed opportunities anymore.
Features:
Having efficient staff will save time and money for the company. This is the promise that Jolt makes.
Here are some more features that you should watch out for:
Save time and money by having more efficient staff.
Improve customer satisfaction with clean, fresh food produced at the right time.
Build the business you've always dreamed of by delighting your customers with insanely good support.
Employees will enjoy their jobs and stay on for a longer period, reducing the turnover rate.
Pricing:
Jolt offers you a demo of their compliance management system which can be used to empower your store, improve team accountability, employee performance, and food safety measures when managing diners out on the go.
6. Auditus.
Best for conducting safety inspections & quality audits
Auditus is a digital inspection solution for companies in two sectors: construction and business services.
The app is used by 9000+ sites to manage their compliance activities and checks, which includes building checklists, performing inspections, analyzing data track actions/compliance issues.
Auditus helps companies reduce risk while saving time and money from re-entering information later. It also has a multilingual application available online and offline on iOS and Android devices.
Its state-of-the-art scoring system reduces risk while its action management workflows help to manage priorities more efficiently.
Features:
By having a single place to keep track of inspections and compliance training compliance sessions using Auditus, you'll be able to track progress so that you can accurately record the relevant data.
Here are some more features that you should watch out for:
You'll be able to inspect your business from anywhere.
Inspections will be faster with the mobile app.
Your team will feel more accountable for their work.
Track the progress of inspection completion so that you can accurately record and report incident data.
Pricing: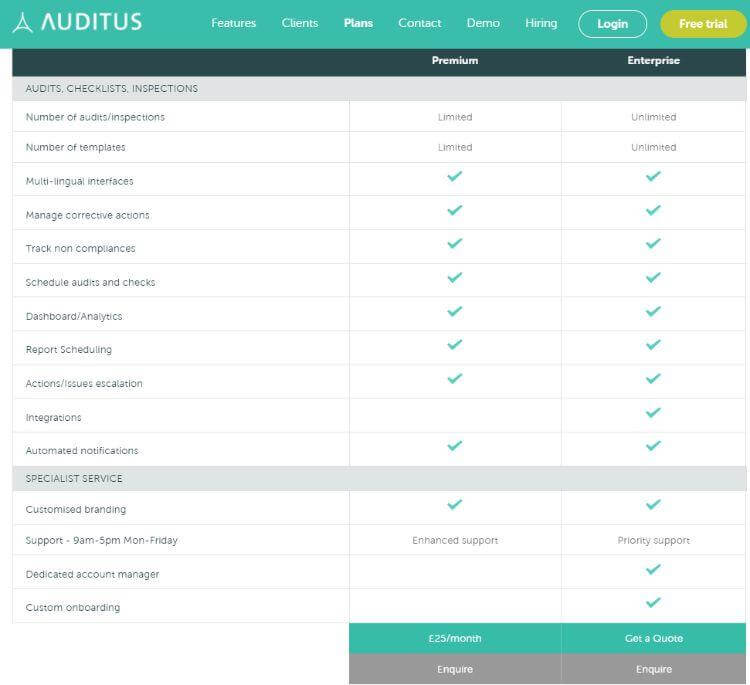 To find out how Auditus can streamline your business, schedule a demo or take a 30-day free trial.
A premium account starts at 25 GBP per month, but if you're in the Enterprise plan there are many more benefits and key features
7. PowerDMS.
Best for preparing for risk management and responding to a crisis
PowerDMS is the #1 compliance and policy management platform for high-trust organizations.
In today's world, it's not enough to have policies on a shelf or in a dusty binder – you need them where your employees are looking: on their screens when they login to work each day.
PowerDMS' easy-to-use cloud-storage software system helps you communicate with your employees about the hundreds of policies and regulations that govern their every move.
PowerDMS is committed to making compliance easier for organizations so they can focus more time and resources on what matters most: running their businesses successfully.
Features:
Using PowerDMS, you can save time and energy, making it easy to review, approve, distribute, and track employees on the go.
Here are some more features that you should watch out for:
Create a better work environment for your employees by giving them access to the policies they need in one place.
Spend less time struggling with tech tools, allowing you to focus on higher priorities.
Align your organization's policies with its practices and document employee training every step of the way.
Manage your policies and compliance documentation more efficiently.
Pricing:
With 4,000+ organizations using the PowerDMS software to ensure their employees receive timely updates on policies that may affect them, getting a demo is the best way to understand how they can help you be compliant and improve your HR department.
Get in touch with them through their website and they'll set you up with a customized demo that will help your business.
What is compliance software?
Compliance software is the set of technologies that help businesses maintain standard through regulatory compliance software to prepare for and respond to a crisis. Compliance requires many small tasks such as preparing forms or documents.
By reducing administrative burden and automating routine tasks, compliance software frees up valuable time and resources for other projects/activities
In simple words, it is software that helps to track and document auditing.
We believe that the best system for compliance should have the following features:
checklist builder (you don't have to go through all the training materials over and over again just to create a new list of things employees need to take care of)
compliance tracking and reporting capabilities
checklists templates to speed up the training process.
automation of checklists so users can simply run them and need to do nothing else
The best thing about such a system is that it can be integrated into your existing compliance processes and software. For example, if you are working on a local level in a factory, it can work with your intranet without any additional setup needed.
There are many things that companies that work in compliance must take care of, but they need to have a system that can take care of these things automatically.
Compliance software FAQ
What is software compliance?
Compliance software is one that helps companies fulfill their compliance obligations when it comes to their legal and industry-specific compliance requirements.
In addition, the software is also used to manage document storage, oversee employee activity, and more.
Some of the most common uses for this type of technology include healthcare, education, government, and other industries.
How do I use compliance management software?
Depending on your organization and industry, you may choose to use one or many types of compliance software. Here are a few examples:
Internal management system for auditing company's actions and policies over time
External management system for financial health, stock prices, cash flow, etc.
Software that helps audit an organization's internal workings (steps) to ensure compliance with regulations
You could even create a checklist from the resulting data to confirm whether all steps have taken place or not.
It's important to keep in mind that compliance software isn't a one size fits all solution, so you will need to find a tool that is the best fit for your use case.
What does it mean when companies are 'in compliance'?
The most basic idea behind being in compliance is just obeying current regulations.
However, there's more to it than simple obedience; making sure your company policy and day-to-day operations match up with existing rules and guidelines for security, financial reporting, etc.
In a nutshell, being in compliance means you're 'in line' with what is expected or required for your business/industry – and that can change depending on the rules of your industry.
Being in compliance also means that you are all good when it comes to EHS (Environment, Health & Safety).
How do I choose the best software compliance management?
Like we mentioned above, choosing software compliance isn't as simple as just choosing one type of solution; rather, it's important to analyze your current needs versus the features offered by a different compliance management solution.
For example, some organizations need to be able to conduct audits internally and externally (for themselves or clients) while others might only have to store documents electronically for regulatory requirements – but never use these files as part of an internal audit process
With so many options out there, it can be difficult to choose the right one for your business., which is why we have created the above list of the 7 best compliance software of 2021 to help you analyze your needs as an organization.
What types of compliance does software help with?
There are several different legal and industry-specific standards that compliance software can assist you in achieving. For example, the Food Safety Modernization Act (FSMA) is legislation that covers a wide range of food safety concerns.
Not only can such software help keep your employees safe, it also allows them to work more efficiently by automating certain procedures. This keeps your business running smoothly while reducing possible human error.
What is compliance manager software?
Compliance manager software is an application that helps you manage compliance with regulations in your industry.
For example, many healthcare organizations use this type of tool to ensure they are following HIPAA guidelines when storing and sharing patient information.
Just like there are different types of software for different industries (HIPAA compliant or not), these types of applications also come in a variety of flavors – understanding which one is best for you is key.
How much does it cost to run compliance software?
Like any technology purchase, the costs vary by vendor and product. Depending on which features you need, the costs will be anywhere from a few hundred dollars to thousands of dollars per month.
While enterprise-level compliance solutions may come at a higher price tag, they might have more advanced features than other options – so don't just choose the cheapest option.
What is regulatory compliance in software?
While this concept can be broad, it's most commonly used to refer to data security and privacy.
For example, if an organization is required by law to keep sensitive data secure – they must use compliant software to ensure that such data is correctly maintained.
What are the types of compliance?
There are a few different types of compliance that you should be aware of, so we've included a quick list below to help you understand each one better.
Standards compliance: The concept of standards compliance is built around adhering to industry best practices or guidelines.
There are several different types of standards, including quality management, environmental protection, and occupational safety.
Legal compliance: This type of software helps organizations prove that they are in fact following the law.
To be legally compliant means you're obeying rules set forth by various laws or regulations, like HIPAA (for healthcare companies) or Sarbanes-Oxley Act.
Compliance auditing: Also known as 'self-compliance', this refers to the regular process for testing your own company for a regulatory change/compliance adherence.
This type of audit can be conducted internally or externally (by an experienced outside party). This can be useful in the case of change management.
Wrap Up.
Being compliant means you're taking the necessary precautions to avoid being penalized in the future due to lack of compliance and/or non-compliance to industry rules.
Make your pick from the compliance software alternatives below:
Hyperproof: Best for staying on top of all security assurance and compliance work
LogicGate: Best for building agile GRC and enterprise risk process applications
Onspring: Best for connecting risks, policies, and a compliance solution into one easy-to-use tool
WorkClout: Best for companies in the automotive industry
Jolt: Best for businesses who employ the deskless worker
Auditus: Best for conducting safety inspections & quality audits
PowerDMS: Best for preparing for risk management and responding to a crisis
While this might seem like a lot of options, the right compliance software will make it easier than ever to position your company as an expert, trustworthy and reliable authority in your space.
Editorial Process:
Our reviews are made by a team of experts before being written and come from real-world experience. Read our editorial process here.
Some of the links in this article may be affiliate links, which can provide compensation to us at no cost to you if you decide to purchase a paid plan. These are products we've personally used and stand behind. This site is not intended to provide financial advice. You can read our affiliate disclosure in our privacy policy.