7+ Best Contact Management Software of 2023 (Ranked)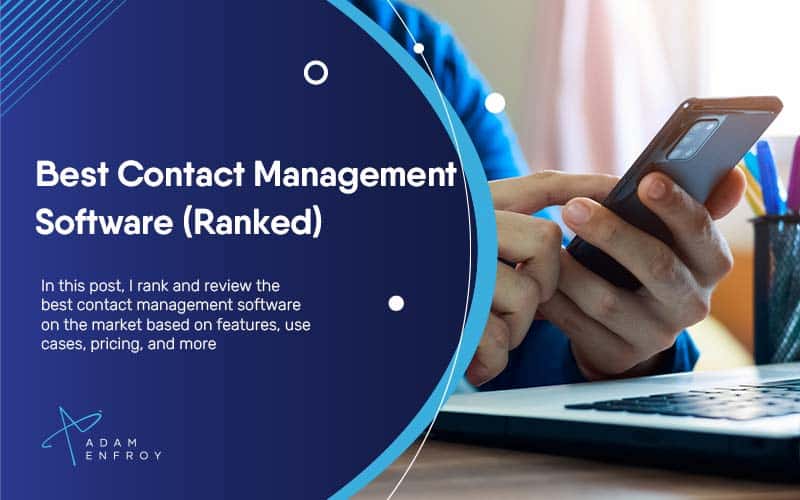 Contact management or the process of tracking customer information, such as phone numbers and email addresses, is helping businesses manage customer relationships.
AI-powered CRM solutions will boost the global business revenue by $1.1 trillion by the end of 2021.
Today, I'll be highlighting the most popular contact management software programs for you to try out. I'll be mentioning what these platforms are best for, their features, and payment plans.
Then I'll move on to discussing CRM software briefly and answering a few related common questions.
What Is The Best Contact Management Software?
Here are the best contact management software tools on the market.
Best for managing contact information and closing deals.
Monday.com is a great way to manage all of your contact information in one place.
Organize your contact information in one secure location so you can stay up to date on all of your transactions.
This means that you can quickly identify your contact's role in a deal and keep track of all communication.
If you want to manage your relationships and close more deals, Monday.com is the tool for you.
You can also use their visual timeline to keep track of all interactions with a customer.
Customize your board to fit your needs and get a snapshot of all the essential information about each contact to be more effective in your interactions.
Key Features:
Collecting new leads is simple through their form view, where you can embed a form on your website and track all submissions in one place.
Customize your columns to track what's important to you, such as stage of the deal, contact type, or product.
Visualize your work the way you want it to appear and in the way that makes the most sense to you.
Save time by simplifying your routine tasks, so any errors are eliminated. You can also create custom automation as needed.
Pricing: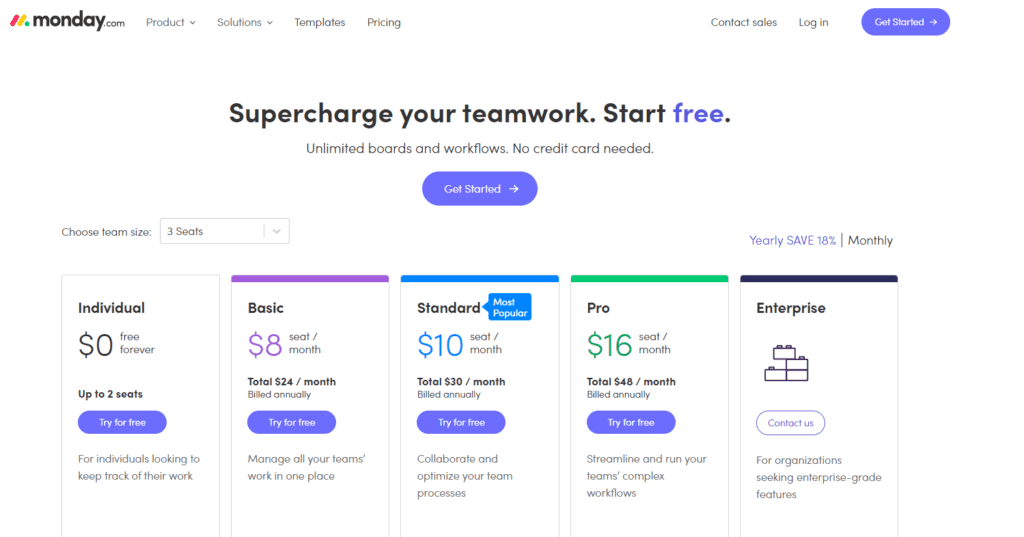 Monday.com offers a 14-day trial for you to explore all of the features. After that, there is also a free option that stays that way forever.
When it comes to paid pricing plans, you'll need to have at least three team seats enrolled. These are the prices:
Individual: $0 free forever
Basic: $8 / seat / month
Standard: $10 seat / month
Pro: $16 seat / month
Enterprise: Get in touch with their Sales team.
Get started with Monday.com
Best For Sales Pipeline Management
Pipedrive features a simple, intuitive design to pipeline your sales approach easily with minimal manual effort. It's easy to use, allowing you to name your pipeline stages as per the staging process, fill it with deals, and then drag and drop them towards "won."
The contact management software will help you focus on the actions that convert leads into customers. You'll be able to keep track and schedule calls, emails, and meetings based on priority.
As a powerful sales tool, it also allows you to see measurable results with its easy analytics acting like a sales management tool. It compares customized metrics for your business and measures the performance of the company against set goals.
Features:
With Pipedrive, managing leads and deals become easier as they directly get fed into the sales pipelines. Simply automate repetitive administrative tasks to eliminate busywork while learning more from its artificial intelligence platform.
Here I'll be highlighted all of Pipedrive's features briefly:
Creates follow-ups for every deal
Provides complete transparency for peace of mind
Mobile app integration
Customized insights and reports
Complete control of schedules
Keeps track of communication
Automation of administrative tasks
Pricing:
Pipedrive comes with a subscription-based revenue model that supports both monthly and annual billing. All of the plans listed below are GDPR-compliant and offer 24/7 customer support.
1. Essential Plan
$15 per user per month
$12.50 per user per year
2. Advanced Plan
$29 per user per month
$24 per user per month
3. Professional Plan (Recommended)
$59 per user per month
$49.90 per user per month
4. Enterprise Plan (Billed Annually)
$99 per user per year
At least ten users required
Apart from these payment plans, you may get more leads by opting for Pipedrive's Leadbooster. It's a four-in-one lead generation toolset, billed annually at $32.50 per company.
Get started with Pipedrive today.
Best For Marketing Automation
Keap is a cloud-based sales and marketing solution that saves time by eliminating business chaos. It serves as an easy-to-use, all-in-one platform that offers the best customer relationship management (CRM), automated marketing, and e-commerce functionalities.
This is why startups, beginner marketers, and small to mid-sized businesses rely on it for streamlining their sales and managing customer experiences. It also allows them to easily manage purchase fulfillments, payments, and inventories for e-commerce.
Formerly known as Infusionsoft, Keap has over 20 years of experience in the industry. It has helped thousands of entrepreneurs grow in sales within that span by helping them collect more leads, convert clients, and create more fans.
Features:
All of Keap's features together make your marketing experience convenient and efficient. It triggers automated functions and actions to drive greater sales.
The following is a list of features Keap has to offer:
Supports the creation of custom forms
Quick action from CRM contact record
Combines CRM and marketing
Converts clients efficiently
Eliminates follow-up fallout
Integrates with PayPal, WePay, and Stripe for faster payouts
Mobile-friendly
Experienced and reliable
Pricing:
Keap offers three pricing plans for you to choose from, based on your needs. Each of them supports up to 500 contacts and one user. You'll have to pay $30 for an additional user.
1. Lite Plan at $79/month
For new businesses and solo entrepreneurs
Core CRM, automation, and email tools
2. Pro Plan at $159/month
For growing businesses
Automates sales processes and marketing campaigns
3. Max Plan at $199/month
For established businesses and teams
Secure payment platforms
Advanced automation and e-commerce
Get started with Keap today.
Best For Lead Conversions
Freshworks CRM is a comprehensive contact management platform that delivers a personalized experience across sales and marketing professionals. It ranks business contacts based on engagement using Predictive Contact Scoring to help in better lead conversions.
The contact information is then grouped based on behavior or lists to deliver relevant and targeted email campaigns for the audience.
Here I also have to mention Freshworks' AI-powered assistant – Freddy. It analyzes the data, providing the next best action to drive conversions further.
With Freshworks CRM, you can create long-lasting relationships with contacts. Plus, you get a unified view of customer interactions, touchpoints, social media profiles, and more, all in one place.
Features:
As a contact management solution, Freshworks follows up with or adds to your customer nurture journey by automatically importing contacts from emails. The all-in-one solution helps businesses understand customers better with the right real-time insights.
Here is a brief list of the contact management features Freshworks offers:
Unifies contact information
Identifies most prospective leads
Data entry and salesforce automation
Keeps track of sales and marketing communication
AI-powered assistant
Runs targeted campaigns
Pricing:
You may opt for any of Freshworks' paid customer-for-life cloud subscription plans listed below to align your sales and marketing campaigns.
1. Growth Plan at $35/month or $29/year
For small and fast-growing businesses
1,000 marketing contacts
Contact, deal, and account management
2. Pro Plan at $85/month or $69/year
For larger marketing and sales teams
3,000 marketing contacts
3. Enterprise Plan at $149/month or $125/year
For enterprises
5,000 marketing contacts
Get started with Freshworks CRM today.
Best For CRM
Zoho is a customer relationship management solution ideal for small to large-sized businesses. It helps manage organizational-wide sales, customer support, marketing, and inventory in single contact management systems.
The CRM platform works seamlessly with help from Zoho Desk, Zendesk, and Salesforce Desk. This two-way CRM integration helps sync relevant sales data with customer tickets for a consistent customer experience while engaging in conversations with leads and prospects.
With Zoho's AI assistant, you'll know when to contact customers to make sales pitches for new cross-selling opportunities or resolve queries. It will suggest the most suitable times to get in touch with them via email or sms.
Features:
Zoho CRM allows you to refine email communication with potential customers. It analyzes open rates and templates to help you get the most responses for your email marketing campaigns.
I'll now be listing the features Zoho has to offer:
Supports one-click calling
Provides a 360-degree view of customer contact information
Check-in feature records meetings
Real-time notifications
Communication across diverse channels
Salesforce automation
Pricing:
Zoho offers a free plan, which is limited to 20 subscribers or 20 customers – whichever is higher. You may then upgrade to any of its yearly or monthly paid plans that best suits your needs.
1. Basic Plan at $59/month or $49/year
500 customers
Three users
Three automated workflows
2. Standard Plan at $119/month or $99/year
2,000 customers
Five users
Ten automated workflows
3. Professional Plan at $299/month or $249/year
5,000 customers
Ten users
Ten automated workflows
4. Enterprise Plan at Custom Pricing
Over 5,000 customers
For large enterprises
6. Hubspot CRM.
Best For Sales CRM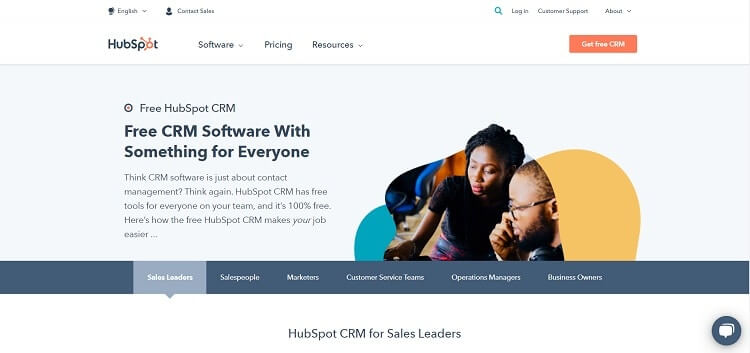 The intuitive and simple design of Hubspot CRM offers ease of use and complete visibility into your sales pipeline in real-time. There's no need to manually update reports or keep track of the sales team as it provides detailed reports on sales activity.
This CRM solution will provide all of the contact data needed to drive your team to success, including customer phone numbers. Another significant aspect of the Hubspot CRM system is it allows access to unlimited users, customer data, and contact lists with up to 1,000,000 contacts.
It also offers time-saving tools to help the sales team close more deals with minimal work. These contact management tools will allow you to notify your team whenever a new prospect opens their email or visits the website.
Features:
Hubspot CRM enriches contact records and address books with data from over 20 million businesses. Even then, making phone calls or connecting with prospects is never difficult.
I'll now list the features of Hubspot CRM:
Click-to-call functionality
Company insights
Deal and prospect tracking
Live chat
Meeting scheduling
Dashboard reports
Unlimited users and contacts
Pricing: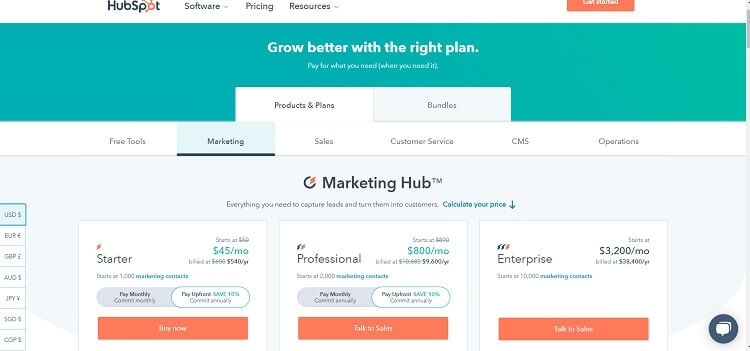 The Hubspot CRM system is 100 percent free. But if you have to avail of its premium features, you'll need to choose from its paid sales marketing hub plans listed below:
1. Starter Plan at $45/month or $540/year
1,000 marketing contacts
Removes branding from email marketing, live chat, forms
Email and in-app support
2. Professional Plan at $800/month or $9,600/year
2,000 marketing contacts
Omni-channel marketing automation
Custom reports and campaign conversions
3. Enterprise Plan at $3,200/month or $38,400/year
10,000 marketing contacts
Advanced reporting
Salesforce custom object sync
Team, brand, and lead management
7. Insightly.
Best For Project Management
Insightly is a unified CRM platform that converts deals into projects without losing track of customer data. It keeps track of milestones, manages processes, and integrates with external CRM systems to ensure on-time delivery.
The platform streamlines business processes to close deals faster. It also customizes workflows and views based on user preferences and unique business needs.
You may create data visualizations to discover the progress and insights of the project. And with Insightly's drag-and-drop feature, you can share the customized dashboards and reports to the other members of the project team.
Features:
Insightly has developed features dedicated to the security of your customer data. Additionally, it covers all bases with lead routing and workflow automation.
Here is a list of a few more features Insightly has to offer:
Real-time email tracking
Organizes workflow tasks
Customer relationship linking
Custom app building
Drag and drop
Data and lead management
Pricing: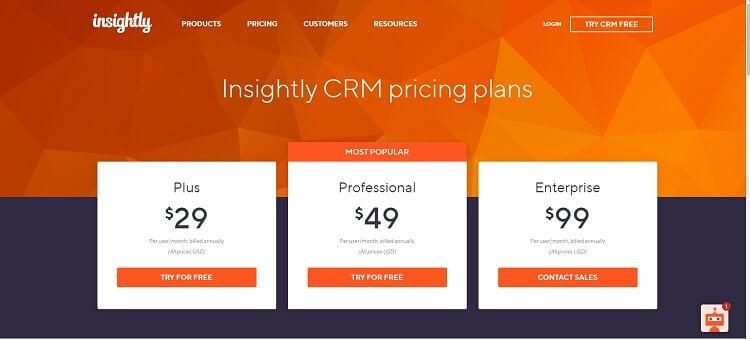 Insightly offers affordable payment plans that won't burn a hole in your pocket. You could start by requesting a demo or try it for free by creating an account.
Once you're sure about using the services offered by the software, upgrade to its paid plan:
Plus Plan at $29 per user/month
Professional Plan at $49 per user/month
Enterprise Plan at $99 per user/month
Irrespective of the plan you choose, you'll be billed annually.
8. Salesforce CRM.
Best For Small And Large Businesses
Salesforce is a cloud-based CRM solution that focuses on businesses' sales and customer relationships, be it a small business or an enterprise. The single platform meets specific business needs by managing sales, marketing, and analytics.
It's only available for saas or software-as-a-service deployment. But in addition, the Salesforce app is accessible on any device, including iOS and Android. It provides a technology stack to cover database, security, workflow, and user interface.
Salesforce Sales Cloud for small businesses helps manage contacts, track performance, and harvest leads. In comparison, Salesforce Community Cloud gives users the freedom to access customer information and advice concerning the enterprise.
Features:
Salesforce CRM recommends the best action to support teams and boost their productivity through predictive lead scoring. It also holds the ability to segregate operations between teams allowing cross-communication.
Here are some more features Salesforce CRM offers:
Task management and assignment
Performance reports
Contract management
API access and integrations
Quotation handling
Team-selling functionality
Saas deployment
Pricing: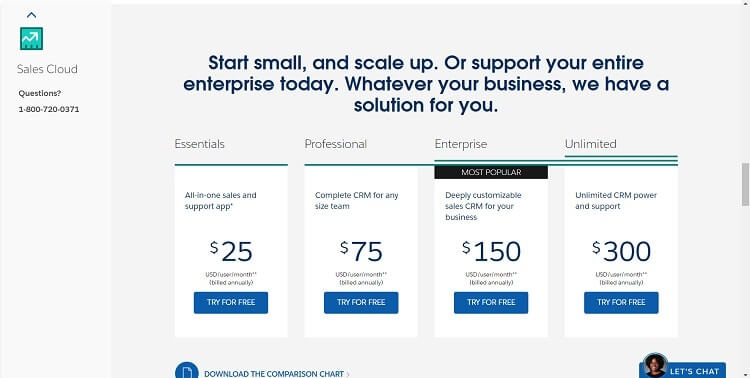 Salesforce offers different pricing plans, allowing businesses only looking for partial CRM functionality to adjust service levels and costs to meet their needs. Each plan is customizable, billed annually, and offers top features.
1. Essentials Plan at $25/user/month
All-in-one sales and support app
Email integration with Gmail or Outlook
Account and lead management
2. Professional Plan at $75/user/month
For any team size
Collaborative forecasting
Lead registration
3. Enterprise Plan at $150/user/month
All of the above
Customizable sales CRM
Workflow and approval automation
4. Unlimited Plan at $300/user/month
All of the above
Unlimited CRM support
24/7 support
What Is CRM Software?
CRM stands for customer relationship management. It has evolved from hand-written notes to automated customer data recorded from sources like LinkedIn and business address books.
That said, CRM software is a contact management tool designed to help businesses provide customers with a seamless experience.
The platform provides real-time insights on customer interactions, prioritizes and organizes sales opportunities, and facilitates collaboration between teams. It also keeps track of sales and customer information, such as their name, phone number, address, and preferences.
Frequently Asked Questions
1. Who Can Benefit From Customer Relationship Management Or CRM?
Any business or organization can benefit from CRM systems in terms of sales, customer service, and business development. Choosing the right contact management software will help small or large enterprises maintain customer relationships and identify sales opportunities.
2. How Do You Calculate CRM Costs?
CRM platforms offer payment plans billed annually or monthly. But they are priced based on a single user, so you'll have to calculate the total investment by multiplying the base price by the number of members on the team.
3. What Are The Integrations Included In Contact Management Software?
Contact management platforms feature smart integrations, including API and workflow automation. They help you access customer data within the software and organize it to maintain seamless customer relationships.
Wrap Up
As contact management software or CRMs develop, one can only expect a boost in their functionality. With voice technology, social media integration, and self-service features, the demand for these platforms will increase and compound over time.
If you wish to manage relationships with prospective customers and convert leads, then choose from the following list:
Zoho Contact Manager: Best For CRM
Pipedrive: Best For Sales Pipeline Management
Freshworks CRM: Best For Lead Conversions
Hubspot CRM: Best For Sales CRM
Insightly: Best For Project Management
Salesforce CRM: Best For Small and Large Businesses
Keap: Best For Marketing Automation
I'm sure you'll find a contact management platform to meet your business requirements from among the options mentioned above.
Disclosure: I may receive affiliate compensation for some of the links below at no cost to you if you decide to purchase a paid plan. You can read our affiliate disclosure in our privacy policy. This site is not intending to provide financial advice. This is for entertainment only.