Content Marketing in 2023: 11 Content Strategies You Can't Ignore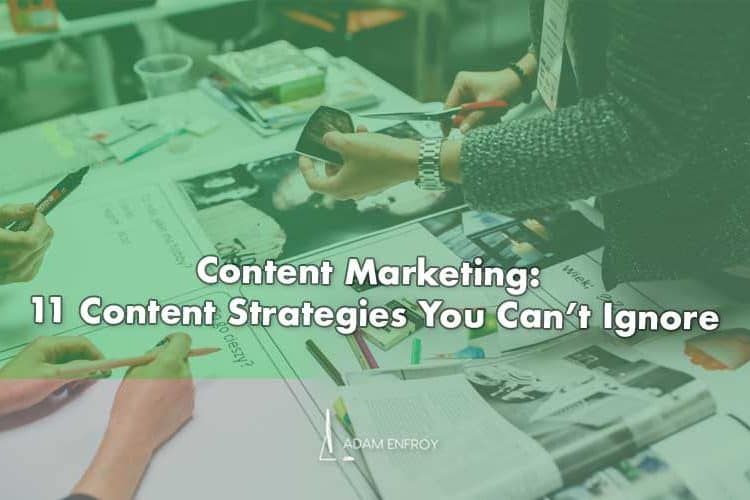 We've collected 11 content marketing strategies that are predicted to grow or emerge this year.
Content marketing rakes in conversion rates 6x higher than other methods. It also has lower upfront costs and more long-term benefits than paid search.
So whether you want to start a new blog, improve your SEO, or even launch a successful podcast, it's vital you understand the latest content marketing strategies.
Consider adding these content strategies and trends into your marketing plan this year.
What Are the Best Content Marketing Strategies?
1. The Rise of Conversational Marketing.
Conversational marketing has caused a lot of talk in recent months. It's already threading its way into content plans and sales strategies across sectors. But what is conversational marketing?
In a nutshell, it's real-time conversations that move a potential customer through a sales funnel. Think your two-week email journey condensed into one, nifty chat.
The power of the bot
So, how does conversational marketing relate to content marketing? A bot is one tool you can use to include conversational marketing in your content strategy.
Accenture found that 57 percent of companies agree that conversational bots can deliver a large return on investment for minimal effort.
Look at your bot as a more advanced search bar. A chatbot has a lot of benefits, including the power to identify keywords and direct people to the piece of content they need. It's your onsite index and a fantastic tool for content distribution.
Mongodb.com does this perfectly with their chatbot. They offer a selection of content upon initial contact and if you haven't found what you're looking for, you have the option to search for it within the chat.
Images by Mongodb.com
Be playful with your bot
Chances are, your website visitors will know they're talking to a chatbot. Don't let that put them off.
Be playful with the language you use and the bot's responses. Play up to the fact that they're talking to a machine and let your wit shine. It's a great way to show your brand's personality. Even if someone hasn't spoken to a sales rep directly, they can still have a joyful experience engaging with a member of your "team."
2. Design & Visual Data.
How do you turn your content into an experience?? With visual data. Writing facts is fine, but when you visualize them, they can make that much more of an impact.
This year, we're predicting brands will get savvier with their data and how they display it. Spotify did a fantastic example of this, wrapping up 2019 with shareable Instagram stories. In 2020, we'll start to see brands using infographic templates to display content in more innovative and visual ways, or creating their own designs.
3. Implementing Interactive Content.
Echoing points one and two, interactive content highlights the need for experience overconsumption. We're no longer expecting to see a one way street of B2C. If you want to build relationships you'll need to hold conversations, not just talk and expect to be listened to.
In 2020 we expect to see brands incorporating innovative ways of engaging with people. Brands will be building out their own quizzes with online quiz makers, creating playful landing pages, and gamifying the consumer journey.
Additionally, you can find a ton of free quiz templates from LeadQuizzes which allow you to quickly create professional quizzes for your audience.
4. A Digital-Detox with Social.
2019 saw giants like Apple and Microsoft giving us a much-needed opportunity to limit our screen time.
As ironic as it is that we're using tech to limit our use of tech, it's the perfect example that the demand still remains in the hands of the consumer. If Apple hadn't done it, someone else would have. What does that mean for your social media marketing plan?
Considerate content.
2020 will see a push for thoughtful content. We can no longer rely on sunsets and cats to sell our products; although cats, to an extent, will still do pretty well. Brands will now need to be more considerate with people's time, even if that is a two-second scroll on an Instagram feed. We'll see a push toward educational content, thoughtful messaging and reminders to go screen-free.
Wave goodbye to vanity metrics.
The future will bring with it the eradication of vanity metrics, across many social platforms. We'll begin to see social media giants like Instagram and Twitter focus less on likes and follower count and push genuine engagements, more.
Let these huge steps influence the content you publish on your own social media channels. More importantly, consider changing your goals for social media platforms. You'll need to start looking towards goals that showcase you are actually engaging with people rather than winning a double-tap.
Image by OneCoWork on Instagram
5. Integration of Brand Avatars.
This was played with a lot in 2019, we had Lil Miquela boom with 1.8 Million Instagram followers and even appearing in a Calvin Klein ad with Bella Hadid.
We also had the likes of Wendy's dominating Fortnite with their "Keeping Fortnite Fresh" campaign, which gained them a 119% increase in brand name mentions across social.
However, all of this is only the tip of the iceberg. We're expecting to see brands incorporating brand avatars into their content marketing strategies throughout 2020.
Although they don't have to be as in-depth of characters as the likes of Lil Miquela, they can certainly be a step above Microsoft's paperclip.
Image by Calvin Klein on Youtube
6. CSR Initiatives Under Green Pressure.
There's been one thing we can nearly all agree on in recent years. We need to do something about this planet. It's not only the consumer's problem, but it's also up to brands to lead by example. Sustainability is at the top of most company's operational initiatives for 2020.
You'll need to be adopting a green initiative into your content strategies as well, whether it's educational content or following up on your company's efforts, expect to feel the heat from consumers if you're not highlighting your efforts.
In fact, it's just 100 companies that are responsible for 71% of global emissions (OneCoWork) so, if you're not actively taking a step toward caring for the planet then expect to be called out for it.
7. Metamorphic Design & Educational Content.
As people are becoming more conscious of their environmental impact, they're making more conscious buying decisions. This leads to not always wanting to change to a new product but upgrade the current product they have. We'll see this trend following through to SaaS companies, too. Look at what you've got now, listen to consumer needs and update what is already in your consumer's hands.
Educational content.
You'll need to incorporate feature discovery content into your 2020 content plans. Imagine a user manual, broken down into bite-size chunks and delivered throughout the customer lifecycle.
Much like you'll see with load screens on games, adopt innovative and non-invasive ways to showcase your product during moments that don't interrupt a person's day but benefit it.
8. Genuine Online Communities.
Community is a powerful word and it's often overused. A community is not a collection of people if they do nothing more than use the product. A community is self-driven and comes together over the mutual love of something. If that something is your product then you're already on to a winner.
What you'll need to do is to find fresh and authentic ways to unite your community. Whether you do this through co-built content, supply and demand content, or niche content that's specific to a certain cohort of your community, you'll need to do it thoughtfully and authentically.
Make sure your community is just as responsible for your brand's success as you are.
Build authentic communities.
In a recent interview that First Round held with Bailey Richardson, former Instagram community manager, Richardson said: "The missing ingredient in many would-be communities is dedication.
We put on one-off events or annual fundraisers, but we don't give potential community members the chance to keep showing up or to raise their hands to take on responsibilities (FirstRound)."
In your content marketing strategy for 2020, look to genuinely build your community and their connection with each other, give them platforms to connect on and content to connect over.
More so, dedicate regular efforts towards them, allow them to build something in support of your brand and let them hold one another accountable for "showing up."
9. The Growth of Influencer Marketing.
Influencer marketing is set to strengthen in 2020. We'll see more authentic brand relationships being built with influencers. How? That's down to you. Travel & Fashion Influencer Emily (@Empirestyleofmind) recently collaborated with Fair Seas Supply Co to create a new product with them (A beach towel named: The Boca Grande).
For your own content marketing plan, think of unique and genuine ways your brand can partner with an influencer, don't only look to harness their audience but harness their passion and they'll be that much more driven about making your product a success.
Micro-Influencers are here to stay.
Micro-influencers became apparent in 2019 and will continue to be so in 2020. When it comes to micro-influencers look towards those people with 5-20K followers, those that are less likely to pick up paid work but are still creating some great content.
Research shows that 72% of people prefer micro-level social media influencers with 68% of those respondents saying they have made a purchase based on a post from a non-celebrity influencer (Global Newswire). It's these micro-influencers that are trusted, and on occasion, even more so than those influencers with large followings.
So, if you're looking to launch in a specific market, consider approaching 10 – 15 micro-influencers within the market rather than one giant.
10. Voice Search is the New Search.
Voice assisted aids like Alexa and Siri are going to be used more and more in 2020 as people look to find other ways of searching for information, without referring to a screen.
It's predicted that 50% of ALL searches will be via voice in 2020 (WordStream). This is essential for your SEO content marketing strategy, it's never been more important to rank and hit those all-important featured snippets that voice assistants can read from.
11. Podcasts are Worth Listening to.
There are currently 700,000 active podcasts worldwide and episodes amount to over 29 million! Don't let these numbers put you off, just let them assure you that it's the right place to be.
The average listener listens to seven different shows per week and they have, on average, an 80% completion rate; which is one of the best completion rates of any consumption media.
Podcasts are only predicted to grow in audience size in 2020 and there's plenty of space in the market for new brands to come in and find ways to connect to an untapped audience.
First of all, you'll need to know how to start a podcast before you can decide if you have the capacity to implement one into your own content marketing strategy.
However, if you do so, then your listeners are statistically more likely to follow your brand on social media and discover your product in a home environment, which means they've got time to do their research.
Podcasts are going against the grain, they are not out there to disrupt someone's day. We're not sending people down an unintentional Youtube media spiral via a social media post. Nor are we fighting for their attention from their inbox.
Instead, listeners have made time for your content, they are engaged and willing to listen. Find your niche, talk about it in an interesting way and organically reach a wealth of new people.
That's a wrap on content marketing strategies you can't ignore.
I hope these content marketing trends for 2020 will help to influence your own content marketing strategies.
It's shaping up to be a big year for content as we look to gamify data and customer journeys, build genuine connections, and perhaps rebuild old ones. This helps us finally eradicate vanity metrics that so many have been chasing for too long.
It's time to step into the new year with a content marketing strategy that is omnichannel, progressive and planned well in advance.
Recommended Reading on AdamEnfroy.com: If you're looking to take the next step with your content strategy, check out my guides on how to start a blog and the best blogging platforms to use this year.
***
Guest Author: Ray Slater Berry has been working in social media and content marketing for eight years. He specializes in the tech, innovation and travel sectors. He is a writer for Typeform and has recently published his first work of fiction, Golden Boy.
Disclosure: I may receive affiliate compensation for some of the links below at no cost to you if you decide to purchase a paid plan. You can read our affiliate disclosure in our privacy policy. This site is not intending to provide financial advice. This is for entertainment only.