What is CRM Integration? Tools and Examples for Your Business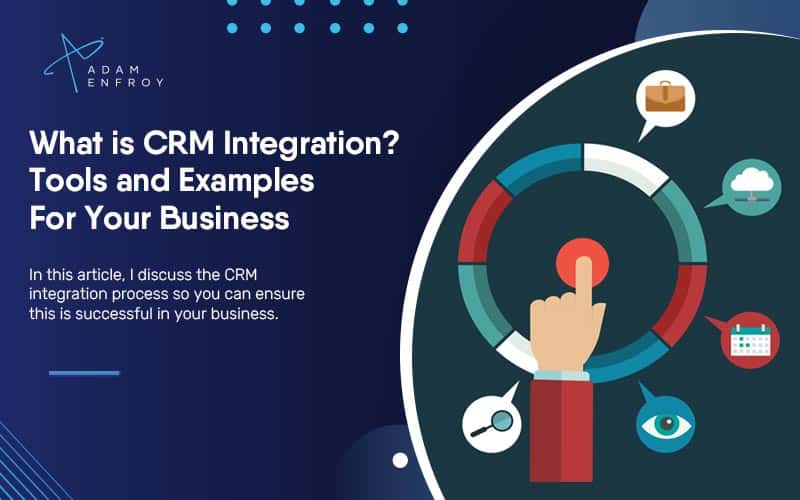 While choosing the right CRM software is an integral part of having a successful business, it's only part of the equation.
To get the most out of your CRM software, you must ensure it's properly integrated with the rest of your business systems – a process naturally known as CRM integration.
In this article, I discuss everything you need to know about the CRM integration process so that you can make sure this is successful both in the short and long term.
Let's get started.
What Is CRM Integration?
Customer relationship management (CRM) integration is about connecting a CRM software application with other applications used by a business.
You can create a cohesive system that shares data and automates processes across all organizational departments.
Multiple systems that don't talk to each other can lead to data silos, inefficiencies, and a general lack of visibility into the customer journey.
Businesses must ensure that their CRM system is integrated correctly with the rest of their business applications.
In addition, with tons of apps having functionality that could benefit a CRM system, it's no wonder that CRM integration is critical to unlocking the true power of CRM software.
How To Think About CRM Integration
Business CRM systems unify an organization's departments and data so that everyone uses the same customer information.
The idea is that with a 360-degree view of the customer, businesses can provide better service, build deeper relationships, and close more deals.
As a CRM starts positively impacting various business processes, you will be able to fully understand how important it is for your CRM system to integrate with the rest of your business applications.
Whether you have a small business or a large enterprise, having the correct customer information starts with having the right tools in place – and a CRM can join many of these tools together.
How to Integrate Your CRM System
Let's now consider how you might go about integrating your CRM system.
The process of CRM integration falls into three main phases:
Planning: In this phase, you'll assess your business needs and objectives, identify which applications to integrate, and map out the data flow between them.
Implementation: During this phase, you'll configure the connections between your applications and start transferring data.
Testing and Maintenance: Once your integration is running, you must monitor it to ensure everything works as expected and make necessary changes.
A suitable CRM solution will meet your current needs and be scalable to accommodate future growth.
In addition, as your business changes and grows, you might need to update your integration accordingly while following the previous process.
Top Benefits of CRM Integration
A CRM platform provides a backbone for managing customer interactions and data, providing many benefits.
The following are some of these benefits.
Reducing Business Silos
A CRM system integration initiative can help reduce business silos by providing a single source of truth for customer data.
Data silos occur when different departments maintain independent databases, leading to duplicate or conflicting information.
With a CRM system, businesses can avoid these issues by having a single database accessible to all departments.
The right software integrations provide your organization with a single source of truth (SSOT).
Improves Customer Service
Providing your customer support team with the templates they can use when responding to customer queries can help ensure that every interaction is consistent and professionally handled.
By integrating your CRM system with a knowledge base or customer support software, you can also give your team the ability to find the information they need to resolve customer issues quickly.
Enhances Marketing Activities
Marketing automation systems can help businesses automate repetitive tasks like email marketing campaigns and social media postings.
Businesses can track which marketing activities drive the most leads and sales when integrated CRM systems are live.
One can then use this information to fine-tune future marketing efforts.
For example, sending email campaigns to customers who have previously shown an interest in your products or services can be more effective than sending generic emails to your entire customer list.
With marketing automation software, businesses can set up these targeted campaigns and automatically send them to customers at the right time.
Helps With Event Management
Event management software can help businesses plan and execute successful events, such as trade shows, conferences, and webinars.
Most CRM system integrations will include some form of event management software.
By integrating your CRM with an event management system, businesses can track customers' interest and see which past events drove the most sales.
Enhances Sales Activities
Business owners can streamline sales activities with CRM integration, including generating quotes and tracking sales pipeline progress.
By integrating your CRM system with a quoting tool, you can give your sales team the ability to generate accurate quotes for potential customers.
If your business uses a sales funnel, you can integrate your CRM system with a sales pipeline tool to help track progress and identify bottlenecks.
Speaking of funnels, once correctly integrated, a CRM can create robust funnel reports that provide accurate data and help sales teams close more deals.
Builds a Comprehensive View of the Customer
Having a CRM platform where your customer data is stored can help you get a 360-degree view of each customer.
This information can provide a more personalized experience and improve customer retention rates.
Generates More Accurate Business Insights
The right software tools to generate reports and analytics can help you make better business decisions.
Combined with data from various other systems, you can get a complete picture of your customers, sales, marketing, and operations.
A connector that links your CRM system to your business intelligence software can help you generate accurate reports and insights.
Fosters Improved Collaboration Across Departments
The customer experience can be improved when different departments work together more effectively.
By integrating your CRM system with collaboration software, you can give employees the ability to share information and files in real-time.
While sales reps might be the top users of your CRM system, it's essential to remember various departments can benefit from CRM integration.
Helps Contain IT Costs
CRM data can also help businesses contain IT costs.
A CRM system can help companies avoid duplicate data entry, reducing storage and maintenance costs when adequately integrated.
Various Types Of CRM Integrations
Businesses can use various CRM integrations to improve their operations.
Data Integrations
Big data tools with reporting and analytics integrations allow businesses to connect their CRM system with business intelligence software.
You get better customer interactions that are also aligned with your business goals.
Workflow And Automation Integrations
A sales team with access to real-time information will always be more effective than one without.
Workflow management and automation integrations allow businesses to connect their CRM system with various tools.
Employees automatically update customer records, create tasks, and send notifications from one interface.
Email Marketing Automation CRM Integrations
The right customer contact information is essential for a successful email marketing campaign.
Email marketing automation and CRM integration allow businesses to connect their CRM system with email marketing platforms.
Businesses can automatically add new contacts to their email list and send targeted campaigns.
CRM integration examples when dealing with email include automated emails, email campaigns, and customer segmentation.
Social Media CRM Integrations
An effective social media marketing strategy can help businesses improve their customer engagement.
Businesses can use their CRM to post updates, track mentions automatically, and send messages.
Ecommerce CRM Integrations
The sales process doesn't end when a customer purchases – some might say that's just the beginning.
eCommerce CRM integrations allow businesses to connect their CRM system with any ecommerce platforms used in the industry.
Using the right customer profile and sending the appropriate follow-up can also improve customer satisfaction and loyalty.
Custom CRM Integration Solutions
Finally, businesses can also choose to develop custom CRM integration solutions.
Businesses can connect their CRM system with any other software integration platform or database.
Businesses with particular needs often use custom CRM integration solutions or require high customization.
CRM integrations vs. Spreadsheets
One of the main advantages of using a CRM system is that it can help businesses avoid spreadsheets.
Spreadsheets are often used to store customer data but are not designed to do so – especially as a business scales.
Using spreadsheets can lead to data entry errors and make it difficult to track customer interactions.
Compared to spreadsheets, CRM integration, and customer relationship management systems are the way to go.
A Note On APIs
An API is a set of programming instructions that allow two applications to communicate.
A suitable application programming interface (API) can easily connect your CRM system with other software platforms.
You can avoid duplicating customer data on different software platforms and save your business time and money while ensuring that such data is accurate.
CRM Integration Pricing
The price of CRM integration can vary depending on the features you need and the number of software platforms you want to connect.
Additional features (including modules for lead generation, webinars, and email marketing) can also increase the price.
Some solutions also integrate with invoicing software to streamline the sales process.
The price of a CRM integration can also vary depending on whether you develop a custom solution or use an off-the-shelf product.
As such, these are all factors to consider when choosing a CRM.
Common CRM Integrations Examples
CRM integration enables businesses to streamline their operations by joining data from different sources, avoiding errors, and ensuring employees can access complete, updated, updated data. Here are some of the most common CRM integrations utilized by businesses:
Social Media Integration: Many businesses use social media platforms like Facebook, Twitter, LinkedIn, and Instagram to promote their products and services. By integrating social media channels with a CRM system, businesses can directly manage customer interactions, track customer engagement, and analyze the effectiveness of their social media campaigns.
Marketing Automation Integration: To improve efficiency and effectiveness, businesses often use marketing automation software to manage and automate their marketing campaigns. By integrating the CRM system with this automation software, companies can streamline their lead generation and lead tracking process and create new business opportunities.
Email Integration: Email is still one of the most effective ways to communicate with customers. By integrating an email system with the CRM system, businesses can directly track and manage customer communication, schedule automated emails, and ensure that customer data is always up-to-date.
E-commerce Integration: E-commerce integration allows businesses to efficiently manage their online sales, inventory, and customer data. By integrating the CRM system with e-commerce platforms like Shopify or WooCommerce, companies can ensure that sales data is up-to-date and accurate and that customer data is seamlessly synced across all systems.
Customer Service Integration: Customer service integration enables businesses to provide superior customer service by automating and managing customer interactions across multiple channels. Companies can improve their response times and customer satisfaction ratings. Businesses can improve their response times and customer satisfaction ratings by integrating the CRM system with customer service tools.
By integrating their CRM system with other tools and platforms, businesses can improve their workflows, increase efficiency and provide better customer service.
The examples listed above are just a few of the many possibilities for CRM integration, and businesses should explore the options that best suit their needs and goals.
CRM Integration – FAQ
What Are Some Of The Best CRM Solutions To Consider?
These include Zendesk, Monday.com, Pipedrive, Hubspot, and Salesforce.
How Do I Know If My Business Needs A CRM System?
If your business is struggling to keep track of customer interactions or if you are using spreadsheets to store customer data, then it is probably time to consider a CRM system.
You can also use Zapier to set up integrations with various tools and systems you use in business – however, this is sometimes just a quick fix before needing a more long-term one.
Wrap Up.
If you want to arm your salesforce with the best possible tools to get the job done, consider integrating a CRM system into your workflow.
Whether it's a salesperson who needs to quickly access customer data or a marketing team that wants to track leads, CRM integration can benefit any business.
Have you used CRM integration before?
Which solution did you use, and how did it benefit your business?
Let me know in the comments below.
Further reading on AdamEnfroy.com: Do you want to take things even further in your business?
An enterprise CRM can help you manage your customers and sales while providing more features and insights.
Here's my article on the best enterprise CRM software if you wish to learn more.
Disclosure: I may receive affiliate compensation for some of the links below at no cost to you if you decide to purchase a paid plan. You can read our affiliate disclosure in our privacy policy. This site is not intending to provide financial advice. This is for entertainment only.
---
Last Updated on April 9, 2023 by Adam Enfroy