7 Best Crypto Portfolio Trackers of 2023 (Ranked and Reviewed)
Choosing the right crypto portfolio trackers is crucial if you want to make the most out of your investment. From individual investors to institutional investors, the best crypto portfolio trackers can help you meet your goals. In this guide, I ranked and reviewed the 7 best crypto portfolio trackers, so that you can pick the best one for you.
---
We're reader-supported. When you buy through links on our site, we may earn an affiliate commission.
The process of buying and selling crypto can be tough.
With such a volatile market, keeping track of everything does become complicated.
Without the right tools, you might lose track of whether your investment is growing or shrinking as time goes by.
To make things easier when building a crypto portfolio, crypto trackers come into play.
These are tools designed to connect with the best crypto exchanges and help you keep tabs on how your digital assets are performing.
Dealing with a crypto exchange that doesn't make things intuitive to the end-user can be complicated, so ensuring that everything is as simple as possible is a great idea.
You can check out my direct comparison of Binance vs. Coinbase and Crypto.com vs. Binance to see how these platforms simplify the whole process.
With most crypto trackers offering so many bells and whistles, it becomes tough to understand which solution is the right one for your needs.
I've put together this guide to list the top crypto portfolio trackers on the market right now.
With this list, you can find the right service for your particular crypto needs.
Let's get started.
What Are The Best Crypto Portfolio Trackers?
Buying and selling crypto tokens using investment apps can be nerve-wracking. The crypto market is particularly volatile, and it's tough to trust all the information you come across online.
While the process of buying coins like SafeMoon tries to make the market more stable, it's good to know that the best trackers will display real-time data that can help you make decisions.
This includes information on how much money you have made, what the current value of your investment is, and based on past patterns, what worthwhile future crypto investments you should look into.
Most trackers will also allow you to invest and withdraw money within the same interface by connecting to your digital crypto wallet or even NFT wallet. A few will even provide you with more detailed analytics and metrics, such as a breakdown of your assets by category or across crypto exchanges.
With the above in mind, the following are the top crypto portfolio trackers that you should consider right now.
Best for tax reports.
Adam's Take
Koinly is the best overall portfolio tracker for cryptocurrency investors because it's one that supports significant exchanges and wallets. In addition, reports can be created quickly so you can use the generated data to make the right trading decisions.
Koinly generates crypto tax reports in under 20 minutes. This makes it one of the best cryptocurrency portfolio tracking apps for your taxes. The app also helps you make better decisions through the use of AI investing software to give you insights into potential trades.
The crypto tax reports generate a detailed description of all your transactions and even offer simple and reliable insights and explanations on how to improve your future crypto transactions.
Easily import trades via API or even CSV files, and the app will do all of your crypto tax reporting for you. You can connect your blockchain wallet through its public address and it will automatically import the history of your transactions.
All of this means that you'll also be able to see your profits or losses for any tax year, without any extra costs.
Koinly is especially helpful for those who want to trade between different cryptocurrencies and need reliable reports to show their past transactions.
Key Features:
With portfolio tracking, you'll easily view your portfolio across all wallets on one page.
Create and download your tax documents in seconds.
You don't have to pay any extra fees to get the most accurate and reliable information about your past transactions, profits, and losses.
Import your trades from 300+ exchanges and wallets so that you don't have to do any extra manual work.
Get started with Koinly.
Best portfolio and analytical tool.
Adam's Take
Coin Market Manager lets you make the best buying and selling cryptocurrency decisions. You can also keep a detailed record of all your past research to ensure you always make the most informed choices possible.
Coin Market Manager allows you to keep improving your crypto-making decisions through journaling. By allowing you to keep a journal, CMM has very quickly become one of the most popular apps on the market with this feature.
With this journaling tool, you can go back to past research and look at insights into why certain cryptocurrencies and trades have worked better than others for yourself or your team.
By having a watchlist of specific trends and getting notifications about any changes that happen, you can make better trading decisions in less time.
Through the use of its analytical features, Coin Market Manager is one of the best apps when it comes to monitoring your cryptocurrency portfolio.
Key Features:
Journaling for long-term learning – Track trends in your success or failure so that you can become a better crypto trader.
With a single click, synchronize your complete trade history using Read-Only API keys and begin monitoring all your actions right away.
Get a personalized public page with a specific vanity URL that you can share with others. This helps them verify your portfolio and trade history.
Make quick calculations on the fly when it comes to historical trade values to ensure accurate results and better decisions.
Pricing:
Coin Market Manager is one of the few crypto portfolio trackers that display the prices involved on their website. After a 14 day free trial, their pricing plans are as follows:
Professional: $499.99 annually
Enterprise: $599.99 annually
Unlocked: You can get all the features for free forever if your accounts with their referral exchange links.
You also have the possibility of choosing a monthly membership if you don't want to be tied into a yearly commitment.
Get started with Coin Market Manager.
3. FTX (Formerly Blockfolio).
Best for 10,000+ cryptocurrencies.
Adam's Take
Featuring more than 10,000 cryptocurrencies and tokens, the FTX app is one of the most comprehensive for buying and tracking crypto. The app also offers a convenient way to buy or sell cryptocurrencies directly from your mobile device so you can always be on top of the market – even while on the go.
With breaking crypto news about more than 10,000 cryptocurrencies, the FTX app is one of the most comprehensive for buying and tracking such cryptocurrencies.
The app includes a market and price tracker and can even set alerts for when currencies cross a certain threshold. Think of it as your home base for staying on top of your crypto trading activity.
If you're looking for an app that allows you to manage your portfolio from one interface, FTX is a great option. Their app offers detailed charts and graphs that help you track the progress of the currencies that interest you.
In addition to crypto trading, you can now trade tokenized stocks as well as and NFTs on this platform.
There's also FTX Signal functionality, which is a unique communications platform designed exclusively for token teams to interact and engage with their supporters. Staying in touch with people that are interested in the same things as you is always beneficial.
Finally, with every $10 that you trade, you earn a chance to receive a random free coin. The more you trade, the more money you make on this platform.
Key Features:
Communicate directly with your token base, consisting of people that are the most invested in what you have to say
Teams use this app to inform the community about updates and news that they're releasing.
More than 6 million people use this app to get the latest news and updates about the coin they're following
Get alerts when prices move, so you can act quickly and benefit from market fluctuations.
Have access to all your crypto portfolio in one simple to use interface.
Best for signup bonus.

Adam's Take
Delta Exchange offers an excellent trading bonus when you sign up and make your first deposit. With the ability to start trading quickly through a user-friendly interface, Delta Exchange is one of the best exchanges for new traders.
Delta Exchange is one of the best places to trade innovative cryptocurrency derivatives and stable crypto coins. In this sense, it is a unique app that allows you to start trading instantly.
With their up-to-date information, you'll be able to trade items such as futures, options, and even perform interest rate swaps on bitcoin and more than 50 altcoins. You can do all this with as much as 100x leverage.
One great feature about Delta Exchange is that all withdrawals are manually reviewed which means that no one will be able to hack your account and steal your earnings.
With enterprise-grade security and custody, you are assured that all your crypto wallets are safe. This is a great feature to have in any crypto portfolio, and Delta Exchange does this well.
When it comes to costs, their trading fees are charged as follows: maker orders at 0.02% and taker orders at 0.05%.
When it comes to altcoin-BTC pair futures, the trading fees involved are 0.10% for both maker and taker orders.
Key Features:
A hack-proof cryptocurrency exchange where all funds are stored in smart contracts for additional security.
You can fund your account either with BTC or USDT without having a minimum deposit limit
Immediately be able to trade futures, options, or swap interest rates on bitcoin and more than 50 other altcoins.
Only your name and email are required to sign up to Delta Exchange – you can get started immediately.
5. CoinTracker.
Best for range of cryptocurrencies.

Adam's Take
CoinTracker allows you to accurately track all of your cryptocurrency investments in one place with ease, allowing you to make informed decisions about where to best invest your money.
CoinTracker makes tracking all of your cryptocurrencies investments an easy task.
Obtain real-time insights into your market worth, investment success, and portfolio allocation. Your transaction history is available across all crypto services and can be searched and filtered.
CoinTracker also supports over 300 exchanges and 8000+ cryptocurrencies, which means that their search and filter functions can come in real handy at any given time.
It also means that you'll have no problems maintaining a complete portfolio as you see fit through their software as well as investing in new cryptocurrencies as needed.
The Cost Basis Optimization option allows you to automate the calculation of cost basis accounting methods, resulting in thousands of dollars in savings each year.
Such savings also help you see things more clearly and allow you to trade crypto better while building up your digital wallet.
Key Features:
Keep track of your expenses and income to comply with tax rules so you won't have to worry about doing it all at the very last minute.
Use their Android app or Apple iOS app to track your portfolio from anywhere around the world.
Easily get started by connecting your wallets and exchanges and be able to get insights and reports quickly. With powerful integrations with the top global wallets, you can import your data and begin to make better decisions for your portfolio.
6. Accointing.
Best for avoiding complicated transactions when buying/selling crypto.
Accointing offers both a crypto portfolio tracker and a crypto tax calculator to help you file taxes when it's time to do so.
Connect your wallets and exchanges with the help of their API or blockchain and you'll be well on your way. With both mobile or desktop (Mac or Windows operating system) versions of their software, you may connect over 300 different wallets and exchanges in one place.
After you connect your software, begin looking at real-time and historical pricing to get a better idea of the crypto assets that you own. Track, monitor, and improve your portfolio through detailed charts and other visuals.
Analyzing your performance and going deep into your transactions allows you to make better decisions when it comes to assessing your value in the market.
The tax calculator uses a very straightforward interface that will allow you to import all of your data and arrive at a much more accurate result when figuring important calculations regarding the buying or selling of tokens.
With the same platform also offering you everything you need in terms of crypto taxes, it would be beneficial to take advantage of their various features to get the most accurate information possible.
Key Features:
Make use of their crypto tax advisors to get the best feedback on your specific situation
Connect your exchanges and wallets to over 300 supported platforms within the same interface
Get the exact insight for your needs to make the most of out every transaction that you perform
In just five clicks, you can get a customized tax report that is also based on the country that you live in and its particular rules and regulations.
Pricing: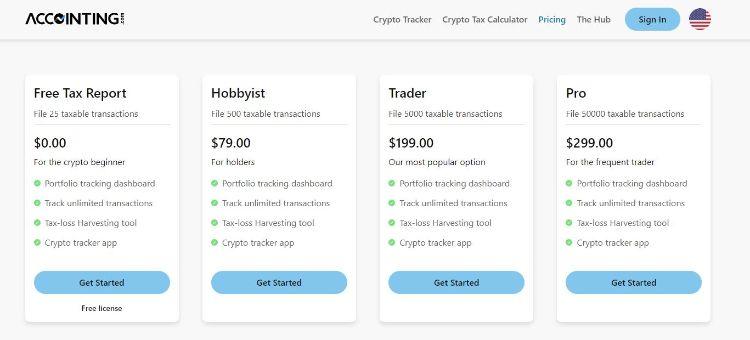 Accointing is another transparent platform with its pricing schedule. You have four plans that are available to you (one of which is free), each with its costs and features.
Free Plan: This allows you to file 25 taxable transactions
Hobbyist: Allows you to file 500 taxable transactions – Cost: $79
Trader: Allows you to file 5000 taxable transactions – Cost: $199
Pro: Allows you to file 50000 taxable transactions – Cost: $299
Each of the plans comes with features such as portfolio tracking, tax-loss harvesting tools, a tracking app for your crypto, as well as allows you to track unlimited transactions.
7. Kubera.
Best for making everything as simple as dealing with a spreadsheet.
Kubera allows you to add the right stock tickers to your dashboard and begin quickly tracking your crypto, giving you a much better idea of its value.
Add the stock ticker and then add it to your dashboard for real-time updates on price and performance to make better decisions.
When tracking your crypto assets, Kubera has functionality that supports Ethereum, BSC, and Polygon, which means that you'll be able to track all your tokens from its interface.
You can also track different bank accounts from around the world. With the ability to connect to over 20000 banks worldwide, you can quickly import your data and begin to watch all of your accounts in one place.
Key Features:
Import bank transactions from around the world, allowing you to better track your net worth
See the value of your crypto asset management with real-time price updates in one single location
Adding assets is straightforward: simply add a new row, and you're done – pretty much like dealing with a spreadsheet.
Kubera will automatically adjust its document's displayed asset value when new data is added or changes are made in the underlying information source, keeping all the pieces of information accurate and up to date.
Other crypto portfolio trackers not mentioned here include eToro and Coinstats.
What are Crypto Portfolio Trackers?
A crypto portfolio tracker is an application or website that allows you to track the value of your crypto assets (such as BTC, ETH, XRP, etc.).
They allow you to get a better idea of how much each of your tokens is worth in real-time.
The applications work by tracking incoming and outgoing transactions that happen on the blockchain, which will give you an accurate representation of what your account looks like at any given time.
Factors To Consider When Choosing A Crypto Tracker
The following factors should be considered when looking for a crypto portfolio tracking application:
1. Intuitive Design and User Experience Features.
Some crypto portfolio trackers have new features that come out periodically as the need arises, while others provide a more basic set of features. Make sure that the program you choose has everything you need to get the information required.
The ability to customize your dashboard is also something that you'll want to look out for. Many of the applications out there will allow you to create a customized design and look, which can better suit your needs and preferences.
2. Cross-Platform Compatibility
It's best if the application you choose provides apps for iOS and Android, as well as having a web version so you can access it from anywhere, including work or school.
While most tools will use cloud storage so as to be able to access them through a browser, some of them require that you download their app to your laptop or desktop. This might not work for you depending on what your work or school policies are.
3. Ease of Use
Some applications are more user-friendly than others, so you'll need to find one that fits within your comfort zone.
If dealing with multiple portfolios, ensure that the application still remains easy to use, the more portfolios you add.
You'll also want to look for an application that doesn't have too many bugs or glitches when importing data, since these can disrupt the functionality of the tool and make it hard to use.
4. Customer Support Features
When choosing a portfolio tracker, customer support is essential, especially if you're new to tracking your assets.
If you ever run into problems with data imports or don't quite understand how the program works, quick support resources will allow you to get on track without having to go through long waiting periods.
The best crypto portfolio tracker for your needs is one that gets you up and running the fastest, so the faster the support team responds, the better.
5. Number of Currencies Supported
The more currencies supported by a portfolio tracker, the better your chances are of finding an application that meets your needs. Some options will only allow you to track certain token types but will give you access to over 20000 cryptocurrencies.
While this may seem like a lot, there are some applications out there that can handle even more than that and still provide effective and timely data updates. It all depends on what you need to make it all work.
There are also various portfolio trackers that make the process of buying NFTs easy. This might be something to consider as well before making your decision.
6. Ability To Sync Across Different Devices
A good crypto portfolio tracker will sync all of your information across different devices. A crypto portfolio management app should ideally be accessible from all of your devices in real-time, whether you're at home, work, or on the go.
Making sure that everything is backed up and synced to the cloud is important when considering the right tracker for your crypto portfolios.
7. Analytics Features Dashboards
A crypto portfolio tracking app should include detailed analytical reports that give you information on your portfolio's performance, including how much each of your coins is worth and potential gains or losses made.
The best portfolio tracker will even have features that go as far as giving you helpful insights such as the best time to buy or sell certain currencies. This can improve your overall decision-making when it comes to investing in items such as ICOs and trading different coins.
8. The Ability to Integrate With Other Tools
When choosing a cryptocurrency tracker, you'll want to make sure that the application allows for third-party tools and reports to be integrated with it.
Some options allow you as the user to access APIs from exchanges where you can download all your financial assets history, so you can keep track of your investments more easily.
Moreover, the best tools use a DeFi aggregator to bring together several trades performed over different platforms.
In addition, some crypto portfolio trackers also allow you to integrate with bitcoin mining software in order to keep track of any potential additions to your portfolio through this method.
9. Number of Supported Exchanges
Another crucial factor to consider is the number of supported exchanges that are on your crypto portfolio tracker.
Some applications will only let you keep track of your coins that are traded on one or two exchanges, while others will give you access to data on multiple exchanges.
If you have coins on various trading platforms, it's important to choose an application that can cover all of these markets so you don't miss out on any timely investment data.
10. Journalling capabilities
A great crypto portfolio tracking feature that is not common in all the apps available right now is the ability to journal your trades. This allows you to keep track of why a certain investment decision was made and what factors led up to it in a timeline.
This helps when going back over your investments because you can see all of the important notes about each transaction that took place. You'll be able to repeat the actions that worked and discard those that didn't.
11. Create Email or SMS Alerts
Some applications allow users to create email alerts and even text message alerts when their assets reach a specific price point.
These add ons are relatively inexpensive, but they're extremely helpful when you want to make sure that you don't miss out on an opportunity for profit or when market volatility might lead to coins dropping below a certain value so you can buy them at a lower price.
12. Security and Backup
Security is a key factor to look at when choosing the best portfolio tracker for you.
Make sure that your application has two-factor authentication enabled so hackers can't gain access to your account and information, not even if they have your password.
You'll also want to make sure that your data is backed up in case anything happens to your computer or mobile device where you're storing it.
13. Help with your crypto tax returns
Crypto investors are obligated to keep track of their gains and losses for tax purposes. Luckily, most applications also include this feature.
If you're looking at an application that does not offer support for cryptocurrency taxes, you might want to consider choosing one that comes with crypto tax software included. The last thing you want is to overpay/underpay on your taxes because of a slight oversight.
14. Cryptocurrency News Updates
The last critical feature to look for in a cryptocurrency portfolio tracker is news updates related to individual currencies and general industry trends.
Most top-rated options will provide continuous updates about what's going on within an exchange or with specific currencies.
Getting the latest news on your mobile app directly within your crypto portfolio management platform is extremely convenient and efficient.
15. NFT stocks
Some portfolios might introduce a feature allowing you to buy NFT stocks directly from their interface.
This will make the whole process even more straightforward, meaning that you won't have to visit various websites if you want to get your hands on stocks related to non-fungible tokens.
When it comes to dealing with stocks, also remember that this is a volatile area, so do your research before buying into any particular stock.
Other factors to consider
When choosing a portfolio tracker, here are some further things to consider that are worthwhile mentioning.
Credit card payments: which payment gateways are allowed for this type of software? Not all crypto investing apps accept credit card payments. By checking which payment gateways are accepted, you will narrow down your choices to those that might make sense to you.
Moreover, if you're interested in investing using crypto credit cards, ensure that the investing app you choose accepts this form of payment.
Also, fiat currencies are not supported by all crypto portfolio trackers. Check if the payment methods you want to use are accepted before making any decisions.
Indices: does the service you want to choose include indices? Some services track indices as well as individual cryptos, which may help you make more balanced investment decisions.
Ledger: can you connect it to your current ledger? If you use a hardware wallet and your software doesn't connect to it, then you will need to enter all of your data manually.
If you don't, the information might not be entirely accurate. At the same time, that can mean a lot of manual work.
Crypto holdings: what is your all-time crypto holdings chart? Some applications that support a certain number of exchanges might not be able to provide accurate data that goes back as much as you want it to.
Also, make sure to check whether or not the cryptocurrency portfolio tracker supports all of the platforms where you currently have coins stored.
Liquidity when buying/selling: what is the liquidity for each of your coins? Some exchanges have high trading volumes, but this doesn't mean that they're liquid.
Check whether or not the cryptocurrency portfolio tracker you choose has accurate data regarding your current holdings before making any decisions.
Best Crypto Portfolio Trackers – FAQ
Why is it important that a cryptocurrency portfolio tracker tracks multiple exchanges?
Crypto traders have a wide variety of exchanges where they can buy and sell coins. If you're trading on multiple exchanges, the application that you use might not be able to track all of your investment data.
This is why the best cryptocurrency portfolio tracker must allow users to monitor data from exchanges on different platforms so that no relevant information is lost.
Why isn't paper wallet storage an important factor in choosing a crypto portfolio tracker?
Some applications allow investors to create paper wallets out of their digital assets. This option is convenient because it means users don't have to download them on their device(s) or keep them there for extended periods.
However, this functionality isn't necessarily important because paper wallets are not very secure. They can be lost or stolen, and they're also prone to be destroyed.
What are some other unique features of cryptocurrency portfolio trackers?
Some applications have unique features that make them stand out from the rest. For example, Blockfolio has a feature called Signal where users can connect and share ideas about different investments within the platform.
Traders might want to check this option out if communication is important to them because they can easily get in touch with experts who are more aware of what they're doing on the market.
Likewise, some applications allow their users to set up automatic buy-sell orders for their assets. This way you don't even need to monitor every movement that happens in your portfolio – the system will do it for you.
How much does a crypto portfolio tracker cost?
A cryptocurrency portfolio tracker typically requires a fee to use. However, most applications have a free version that allows investors to get started without having to pay right away.
Of course, some paid versions offer more features and better scalability than the free ones, but this is something that you'll need to find out on your own depending on what you're looking for in an application.
Can I get started with a free crypto portfolio tracker?
Yes but I don't suggest you go for that. Some applications are 100% free to use but offer limited functionality. At the same time, others waive their fee for a brief period or if you're willing to pay annually instead of monthly so there are ways to get a better deal.
At the same time, crypto portfolio trackers are not very expensive, so it's best to focus on making better trades, rather than worrying about the minimal fee the tracker costs.
What types of cryptocurrency exchanges can I monitor?
The most popular applications support multiple platforms where you can buy and sell digital assets. This means that they could include Bitfinex, Bittrex, Poloniex, Coinbase Pro, Gemini, Kraken, Binance and more.
As a side note, check out my comparison article on Kraken vs. Coinbase for more information on the two platforms.
Some applications don't support all exchanges within their platform because they specialize in monitoring data from only one or two exchanges.
What are exchange accounts?
Exchange accounts are tools that help you monitor and trade individual values of all your assets.
For example, if you have a balance on CoinMarketCap, the portfolio tracker will automatically add up all of these values to determine how much your total asset is worth and then allow you to exchange this value for something else.
Some applications provide this feature for free, but others require an additional monthly or annual payment depending on what features you want from them.
Wrap Up.
The best cryptocurrency portfolio trackers will put you in a better position to make smart investment decisions and enjoy the benefits of trading some of the most profitable coins on the market today.
These trackers can help improve your investment strategy and even provide price alerts that tell you when certain currencies reach key points so you'll be prepared to take advantage of moving averages. There is an application out there for everyone's needs, so consider each of the above factors before making your final pick.
To recap, these are the top crypto portfolio trackers available right now:
Koinly: Best for a crypto portfolio that also takes care of your crypto tax reports.
Coin Market Manager: Best portfolio and analytical tool for crypto trading.
FTX (Formerly Blockfolio): Best for having access to more than 10,000 cryptocurrencies.
By keeping the above list in mind, you can make an educated decision about which tracker would be best for you when it comes to understanding the value of your cryptocurrency investments.
Have you ever used any of the above crypto portfolio trackers? What was your experience like? Let me know in the comments below!
Further reading on AdamEnfroy.com: If you want to learn more about using cryptocurrencies in investments, you might want to consider a crypto IRA.
Alternatively, you can learn about traditional retirement investments through the best gold IRA companies right now.
Disclosure: I may receive affiliate compensation for some of the links below at no cost to you if you decide to purchase a paid plan. You can read our affiliate disclosure in our privacy policy. This site is not intending to provide financial advice. This is for entertainment only.