7 Best Data Integration Tools and Providers of 2023 (Ultimate Guide)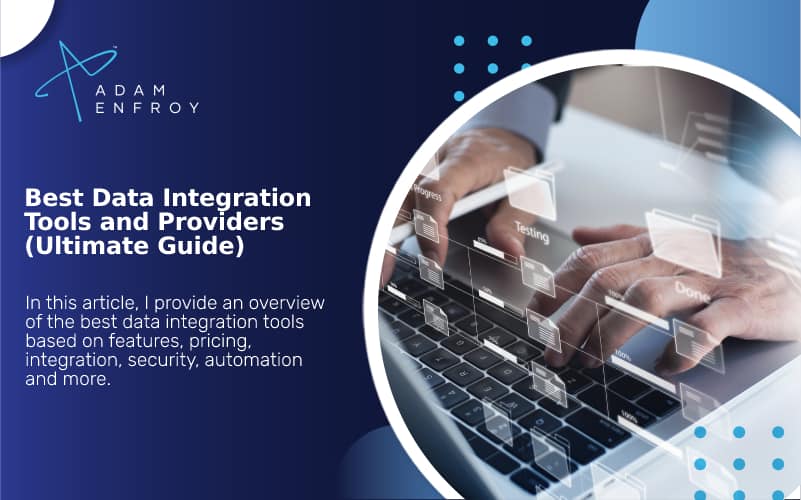 Today, data is at the core of every business.
Big data tools are essential to help collect, process, and analyze data sets to make informed decisions.
The issue is that having such data stored in different formats and locations in various database software makes it challenging to obtain a complete picture when running a business.
With more than ninety-seven percent of business respondents indicating they are putting a lot of effort into Big Data and AI to ensure their data is accurate, it is essential to have the right tools for data integration.
Data integration tools help businesses overcome various challenges by extracting data from multiple sources and consolidating it into a single format.
In this article, I will provide an overview of the best data integration tools available today, tools that can help you make the most of your data.
Let's get right into it.
What Are the Best Data Integration Tools?
The following are the data integration tools to consider.
1. Zapier.
Best Overall For Data integration.
Zapier is the best data integration tool for small businesses and teams who want to automate their workflows without code.
The easy-to-use platform offers a no-code data integration tool that connects your apps and services to automate your workflows.
With Zapier, you can connect over 5090 applications, such as Salesforce, HubSpot, QuickBooks, Google Sheets, and more.
Zapier also offers pre-made workflows called Zaps so that you can get started quickly.
Key Features:
Point, click, and automate your workflows with Zapier to get more done with your data.
Build your app integrations to connect your favorite software together.
Customize your Zap with webhooks and gain more control over how your data is transferred.
Move bulk data on demand to keep your information up-to-date in all your applications.
Security features include two-factor authentication and password encryption to ensure data safety.
Zapier is SOC II compliant, so you can be sure your data is secure.
User Experience:
The authentication process is very customizable and will depend on the apps used.
One can also create workflows in minutes with their drag-and-drop interface, which is always convenient.
Pricing:
Zapier offers these pricing plans on a per month (billed annually) basis:
Free: $0
Starter: $19.99
Professional: $49
Team: $299
Company: $599
What I Like/Dislike About Zapier
Like:
One can integrate multiple platforms and automate processes with most online platforms, which is excellent for various business uses.
No code is necessary in most cases, making it an excellent solution for those that don't want to get into coding languages.
Triggers allow workflows to happen automatically, which is a very efficient solution for getting things done.
Dislike:
Making complex changes when something is already running can be simplified to make it more user-friendly.
Product Updates:
Zaps: Drafts now allows users to make changes without turning off a live zap – so you can keep your processes going as you make changes.
2. Talend.
Best for Connecting Multiple Sources.
Talend connects multiple sources to target applications, enabling users to streamline big data projects for businesses of all sizes.
Collecting data from various sources can be challenging, but Talend's data integration tools make it easy to connect everything together.
A unified approach that uses a single codebase makes it easy to manage and update data as needed.
Whether you want quick ingestion of cloud data warehouse data or complex data transformation, Talend has the tools you need to get the job done quickly and efficiently.
Third-party vendors also offer connectors for popular applications so that you can extend the capabilities of Talend even further.
Key Features:
Data integration ensures that all your data is available when and where you need it.
Data quality ensures that your data is accurate and complete.
Data integrity and governance ensure that everything you integrate is secure and compliant.
Application and API integration allows you to connect your applications and systems in a way that works for your business.
User Experience:
Creating an organizational process is streamlined and easy to follow, allowing you to use a graphical interface to organize and complete your tasks.
Plans:
Talend offers these plans:
Stitch
Data Management Platform
Big Data Platform
Data Fabric
You'll have to contact sales for the specific pricing.
What I Like/Dislike About Talend
Like:
With cloud monitoring solutions overseeing the whole process, it is easy to keep track of what is going on and intervene when needed.
Dashboard visualization ensures that proper mapping happens from the start.
Dislike:
Nested options mean you have to follow a sequence to get things done – which can be confusing. However, it's not too bad once you get used to it.
Product Updates:
A Feature Manager is now available, so you only have to install the features you need for your project (and nothing else), which helps with organization and efficiency.
3. Tray.io.
Best for Immediate Problem Solving.
Tray.io gives businesses the ability to solve problems quickly and at scale.
With a low-code platform that is easy to use, Tray.io is an excellent solution for businesses that need to get things done quickly.
Simplify API integrations in the various aspects of your business with Tray.io's and its workflow builder that is visual in nature.
This means you can spend less time coding and more time growing your business.
You can also use the Connector Builder to create custom connectors for any API or use one of the hundreds of available pre-built connectors.
There are also new authentication and project features that give you more control over your integrations.
Key Features:
Reduce your risk using the right compliance and enterprise security, ensuring your data is safe and secure.
Scale without costly provisioning, growing your business without worrying about the infrastructure in the process.
Ensure your team can perform at their best by having the tools to automate practical solutions – with Tray.io, they will be able to create custom integrations without having to code anything.
User Experience:
Building a workflow is super easy and doesn't require any coding knowledge.
Visualizing the workflow before you run it is also helpful in ensuring everything is mapped out correctly.
Pricing:
You can opt for a free trial or request a personalized 1:1 demo to see how Tray.io can work for your business.
What I Like/Dislike About Tray.io
Like:
The solution offers very diverse connectors that are easy to design using the GUI interface.
The designer provides the right balance between flexibility and simplicity.
Dislike:
There are some limitations related to AWS that need to be taken into account when using this solution.
Product Updates:
You can now use in-memory data processing to transform CSV files in real-time.
4. Celigo.
Best for Agile Organizations.
Celigo offers hundreds of applications for thousands of integrations, making it an excellent iPaaS solution for IT and business teams.
Enable your organization to connect any application, system, or data source quickly with Celigo's pre-built integration templates.
If being agile and responding quickly to change is essential to your organization, then Celigo is a great solution.
With a user experience that leverages AI and machine learning, Celigo is constantly improving how you can connect your applications and data.
Key Features:
Data related to employee onboarding & offboarding can be handled in an automated way with the help of this tool.
Data warehouse features make connecting to various data sources easier, cleansing data, and loading it into a centralized data repository.
The tool can be used to automate the process of reconciliation between payouts and transactions.
It also offers integration templates for 3PLs (third-party logistics providers) and customer 360 applications.
User Experience:
The destination and lookup process allows you to connect source applications to various target applications in a visual, easy-to-understand way.
Being able to easily add new fields and map them to the correct data points is also helpful in ensuring that your data is accurate.
Pricing:
You'll have to start a free trial of Celigo to try the various integrations this platform offers and see their pricing plans.
What I Like/Dislike About Celigo
Like:
Celigo is a flexible solution that allows you to build as many applications as you need to support your business.
Some built-in integrations apps allow for a quick setup when connecting various data sources.
Dislike:
Some technical knowledge is required to maintain the processes after they are built and deployed.
Product Updates:
Using resource aliases now allows you to give your resources more descriptive names.
The import request preview feature lets you see how your data will be imported into Celigo before running the import.
The option to override default success responses for Webhooks gives you more control over what data is returned.
5. Jitterbit.
Best for Low-Code Integration.
Jitterbit uses a low-code integration platform to make connecting applications, data, and devices more accessible for IT and business teams.
In addition, pre-built, easy-to-implement connectors can save you time and money when integrating your applications.
You can also create the right custom integrations that suit your needs by using their team to develop integrations for you.
This is an excellent solution for companies who want to respond quickly to changes and need a scalable platform that offers a great user experience.
Key Features:
Automate your lead-to-revenue processes and get real-time insights into your business.
Use procure-to-pay processes and get paid faster with less manual work.
The hire-to-retire process can be automated to help you manage your workforce more effectively.
Finally, the service request closure process can be automated to help you deliver a better customer experience.
User Experience:
Data integration and automation are at the heart of everything that Jitterbit does, and they have built a platform that is easy to use and offers a great user experience.
Pricing:
You'll have to request a trial from their team to see this platform's various features and integrations.
You'll also be able to get pricing information.
What I Like/Dislike About Jitterbit:
Like:
Any type of automation that needs to be integrated can be done using this solution.
This helps fulfillment, reporting, and inventory management without needing tons of other additional tools.
Dislike:
The support team could do better regarding getting back to customers, especially when it involves other teams within the company.
Product Updates:
Jitterbit introduced a new studio interface that is more user-friendly and intuitive.
Error handling and monitoring capabilities have been revamped to help users troubleshoot issues more effectively.
6. Zigiwave.
Best for Codeless Integrations.
Zigiwave offers one of the best no-code integration platforms for businesses that want to connect their applications without coding.
Connecting various business functions and departments becomes easy.
This includes connecting Monitoring, IT Service Management, DevOps, and CRM tools without having to write a single line of code.
Zigiwave's platform is also scalable and can be used by businesses of all sizes, automating processes and workflows that help save time and money.
You can also perform change request transfers in an agile and safe manner along the way.
Key Features:
No-code integrations are at the core of all of Zigiwave's operations.
Integration templates help you get started quickly and easily.
Real-time data exchange ensures that your data is always up-to-date.
Pricing:
Register for a free cloud trial or schedule a free demo to get started.
7. Integrate.io.
Best for Ecommerce Businesses.
Integrate.io allows data warehouse integration to be performed at a very high level, making it one of the best in the market.
For any type of eCommerce business, Integrate.io should be the go-to choice.
With the ability to turn a data warehouse into a data platform that is fully scalable and manageable, Xenty offers a lot of features and benefits.
You can build a customer 360 view, allowing you to connect all of your customer's data in one place.
This allows you to understand customer-specific needs better and thus be able to serve them at a higher level.
With a single source of truth for making data-driven decisions, you can be sure that the data you rely on is accurate and up-to-date.
Key Features:
Data security ensures that your data is safe and secure.
Data ingestion allows you to quickly and easily connect to your data sources.
Reverse ETL transforms your data as it's being loaded into your data warehouse, making it easier to work with.
Business intelligence allows you to make the right decisions every time.
Pricing:
You can book a 30-minute 1:1 consultation with their team to discuss your specific needs and get pricing information.
Other data integration tools not mentioned in this article include Apache Spark, Apache Hadoop, Microsoft Azure, Boomi, Snaplogic, SAP, IBM, Informatica PowerCenter, Pentaho, Oracle Data Integrator, and more.
What Are Data Integration Tools?
Data integration refers to combining data from multiple sources into a single repository.
This allows businesses to have a more holistic view of their data and make more informed decisions.
With so many data uses, many different data integration tools exist, each with its features and benefits.
The right tool for your business will depend on your specific needs and requirements.
Aspects to Consider in a Data Integration System
Let's consider what you should look for when choosing a data integration system for your business.
Data Pipelines
Pipelines refer to extracting data from multiple sources, transforming it into a format your system can use, and then loading it into your target repository.
Data Pipelines Can Be Either Batch or Real-Time
Batch pipelines extract and transform data on a schedule, while real-time pipelines do so as new data becomes available.
Data Lakes and Data Warehouses
This refers to the storage repository for your transformed data.
Data lakes and warehouses are usually centralized systems allowing you to query and analyze your data.
The concept of structured and unstructured data also comes into play.
Data lakes are often used for storing unstructured data, while data warehouses are better suited for storing structured data.
The right data integration tool for your business will depend on whether you need a data lake, data warehouse, or both.
Data Virtualization
A data integration platform uses virtualization to provide access to data from multiple sources as if it were a single database. This allows businesses to query and analyze data without copying or moving it.
Moreover, cloud data integration takes information from different sources and makes it available in the cloud when it comes to virtualization.
This way, users can access it from anywhere, at any time.
Data Integration Process
A tool that supports data integration correctly will make it possible to automatically extract data from multiple sources, transform it into the desired format, and load it into the target repository.
This process should be able to run on a schedule or in real-time, depending on one's specific needs.
Data Replication
While having master data management in place is ideal, it's not always possible.
In these cases, data replication can keep multiple copies of the data in sync.
Data integration jobs typically have at least two steps: extract and load.
The extract step reads data from the source system, and the load step writes it to the target system.
Replication can be used to keep these two steps working as they should.
Data Security
Many different types of data need to be considered regarding data security.
The correct data integration tool for your business will be able to handle the security requirements of all the different types of data you need to integrate.
Data Cleansing
Sometimes, combining data with different schemas can result in duplicate or invalid data.
Data cleansing is the process of identifying and correcting these errors.
Using proprietary data integration tools, you should be able to not only transform data in real-time but also cleanse it as it's being transformed.
This way, you can be sure that the data in your target system is accurate and up-to-date.
Data Scalability
A scalable data integration tool can handle increasing volumes of data without compromising performance.
With volumes of data growing exponentially, choosing a tool that can scale to meet your needs is essential.
Data Migration
Integration services also make it possible to migrate data from one system to another.
This can be useful when you're upgrading to a new system or when you need to move data to a different location.
Keep in mind that migration can become a complex process, and choosing a tool that can handle all the different aspects of data in this situation is essential.
Self-Service Aspects
Having data services that are accessible to everyone in the organization is essential.
With the IoT powering an ever-growing number of devices, choosing a data integration tool that can handle various self-service data needs is essential in any business.
Databases
This is a big topic but for the sake of this article, consider that the data integration tool you choose needs to be able to connect to all the different types of databases you're using.
With SQL relational databases, the data is typically stored in tables.
Here, SQL server integration services might be needed.
On the other hand, NoSQL databases use a more flexible schema-less approach.
Synchronization is an essential aspect of data integration within a database and needs to be factored in when choosing a data integration platform and the existing data stack.
User Interface
It is essential to have a unified view of your data and move it around as needed.
The user interface of the data integration tool you choose should be intuitive and easy to use.
Pricing Aspects
With open-source options that come with different data integration solutions, you might get community support, but you'll also have to pay for professional help if you need it.
Moreover, while some prefer on-premises solutions for data integration, others find that the cloud offers more flexibility and scalability.
Cloud applications can also help with the data flow when integrating on-premises and cloud-based applications.
The right data integration solution should fit your organization's needs and be priced accordingly.
Various SaaS data integration solutions also offer a pay-as-you-go pricing model, so this might be something to consider depending on the organization type.
A Note On ETL
The concept of extract, transform, load (ETL) has been around for quite some time.
This process covers the three essential steps of data integration:
Extracting data from different sources
Transforming it to fit the target system's schema
Loading it into the target system
ETL is still used today and is a valid option for data integration.
However, it's important to note that this process is usually done in batch mode, which can lead to data being outdated by the time it's loaded into the target system.
Real-time data application integration is a more recent concept that overcomes this limitation.
With high-performance enterprise data warehouses, choosing a data integration tool that can handle all the different types of data you need to migrate is essential.
Various integration Platform as a Service (iPaaS) solutions are used in the data integration software industry to ensure the data lifecycle is managed from end to end.
In addition, the correct metadata management solution can help you understand your data and ensure it's being used effectively.
Wrap Up.
As you can see from above, data integration use cases are many and varied.
Knowing what the right solution in your business needs to help you achieve is critical in finding the tool that works best.
What features do you find the most important in a data integration solution?
What are your specific needs for data integration?
Feel free to share these in the comments below.
Further reading on AdamEnfroy.com: Visualizing data correctly is a fundamental part of any successful business.
This means that choosing the right data visualization tool is essential.
Moreover, data recovery tools ensure you can always get your data back in a disaster.
As such, ensuring that your business has a reliable data recovery solution is critical at any point of operation.
Finally, check out this post on the best no-code platforms if you want to learn more about how to build applications without code.
Disclosure: I may receive affiliate compensation for some of the links below at no cost to you if you decide to purchase a paid plan. You can read our affiliate disclosure in our privacy policy. This site is not intending to provide financial advice. This is for entertainment only.