13 Best Data Migration Software of 2023 (Plus Free Options)
Choosing the right data migration software is vitally important to ensuring the integrity of your data. From minimizing disruptions to improving on-time delivery rates, the best data migration software can help you meet your goals. In this guide, I ranked and reviewed the 13 best data migration software, along with my top 5 choices, so that you can pick the best one for you.
---
We're reader-supported. When you buy through links on our site, we may earn an affiliate commission.
Want to jump straight to my top pick? The best data migration software is EaseUS.
The right data is key when it comes to business decisions. In fact, accurate, on-point data will allow business owners to make the right choices both when it comes to the day-to-day and even when scaling a business.
On the flip side, the wrong data can sink a business quickly.
Database software ensures that the right data is kept up to date and is available when needed.
However, even the best database software needs to be monitored since there are multiple items that can corrupt business data.
With this in mind, software that takes regular backups and helps with recovering data when needed is crucial for long-term business success.
In addition, migrating data is a complicated process where many things could go wrong.
The main challenge with this seems to be caused by data migration to cloud infrastructures.
As such, the right data migration tools are vital for a successful migration.
What is the Best Data Migration Software?
In this guide, I ranked and reviewed these tools based on pricing, ease of use, implementation timelines, support, and more.
Let's get to the list.
Best overall data migration software ($59.95-$399/year).
Adam's Take
Want the best tool to help you move files and applications between two Windows computers? Look no further than EaseUS Todo PCTrans! This software is designed to make the process as easy as possible for you, so you can move everything you need without any trouble.
EaseUS Todo PCTrans is a data migration tool that helps you move data, applications, and accounts between computers. The software allows you to migrate old PC files between Windows computers.
After using the tool, when you start up your new system, all of your applications are now pre-installed and ready to use. The software works great the first time and you don't have to worry about reinstallation.
Features like automatic file transfer and free 24/7 transfer guidance also come in handy when migrating your data. Plus, its integration with tools like MS Office, Adobe Software, Dropbox, and Auto CAD gives you access to various additional features.
EaseUS Todo PCTrans has three ways of transferring files, including:
Connect the two systems on the same LAN and migrate your files and applications through the network.
Transfer all your data by the local disks on your computer.
You can make images of your data and programs and automatically transfer them from your old PC to your new PC.
Data Rescue-Recover is another feature that can help you transfer all of your files and programs from a dead computer to a new one. It comes in handy if you want to transfer files from a broken or non-bootable PC.
Pricing:
The Pro edition is $59.95 annually (or $69.95 for lifetime updates) and gives you one license for two PCs and the ability to transfer unlimited applications. The software works for Windows 10, 8.1, 8, 7, Vista, and XP.
They also offer a more advanced Technician Edition for $399/year (or $999 for lifetime updates). This provides a technician license, can transfer data across multiple servers, and works with Windows 10, 8.1, 8, 7, Vista, XP and Server 2019, 2016, 2012, 2008, and 2003.
Best overall data migration software ($49.99 per year).
Adam's Take
If you're looking for a reliable data backup solution, Acronis True Image is a great option. It's easy to use and lets you back up all types of data, including your operating system, applications, and settings. Plus, you can restore your data quickly and easily if something goes wrong.
Acronis True Image is a data backup software that helps you protect, clone, and migrate OS, data, and files. It lets you back up all types of data and files, including operating system, boot information, programs, photos, and more.
The tool is available on Windows, macOS, Android, and iOS and saves your files and data in the cloud for protection and easy access. You get built-in anti-malware features with the full backup software, eliminating the need to install and manage several tools.
Some of its primary functions include:
It changes your computer's drive from HDD to SSD.
You can migrate from HDD to HDD, SSD to SSD, or between HDDs and SSDs.
Transfer of data from iOS to Android and vice versa.
Replicating the data to a new disk.
Disk cloning and partition resizing.
End-to-end encryption to protect your data and files.
Acronis True Image protects your device from all kinds of threats, including the disk's failure, stolen devices, cyberattacks, etc.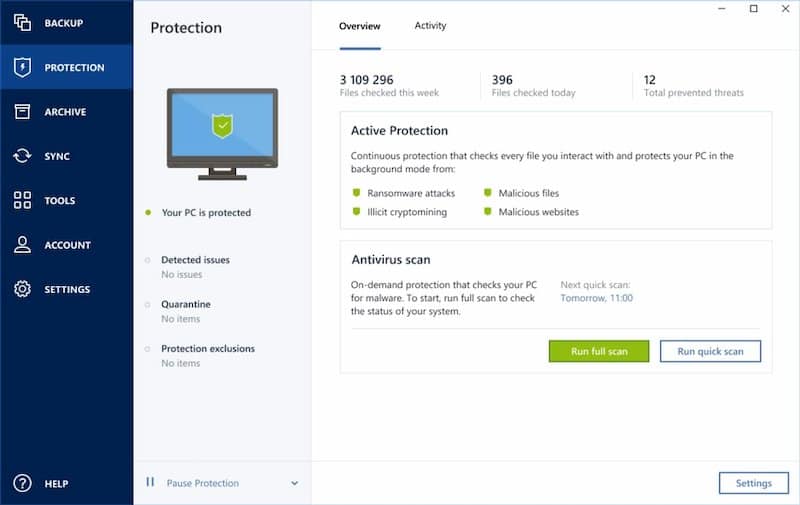 Active Disk Learning is one of its main features. It lets you create a replica of your system, even if it's in use. This eliminates the need to stop and reboot the system while migrating data.
Plus, Acronis True Image offers simple restore options for your backup tasks and retains 20 versions of files for up to six months. It also backs up an entire disk image and allows you to copy, format, partition, and even delete a hard drive image.
Additionally, it offers features like Active Protection to monitor suspicious behavior with all your files – and not just your backup files. The latest version consists of protection against crypto mining threats as well.
Additional features include automatic mobile backups, event-based backups, backup validation, anti-ransomware and crypto-jacking protection, resumable replications, and more.
Pricing:
Acronis True Image comes with three pricing plans:
Essential: $49.99 per year
Advanced: $89.99 per year
Premium: $124.99 per year
All plans include disk cloning, full image to file-level backups, quick recovery, universal restore, Ransomware protection, etc.
Best for beginners and personal use (Free – $159).
Adam's Take
I advise you to check out MiniTool Partition Wizard if you are looking for an effective data migration tool. It can help you with migrating your OS from an HDD to an SSD, as well as copying large files between partitions without any issues. Also, you can clone your entire HDD to an SSD if you want, which is great for people who are looking to speed up their system.
MiniTool Partition Wizard is a data migration tool that helps you with the disk partition and migrates OS to SSD/HD and vice versa. You can clone the disk and partition data to take easy backups and migrate data.
Plus, it helps you to take backups or upgrade hard drives without spending time reinstalling other applications or operating systems.
MiniTool supports all versions of Windows, starting from Windows XP and above. Compatible file systems include FAT 12/16/32, exFAT, NTFS, and Ext2/3/4.
Some of its key features include:
Disk cloning.
It manages disks and partitions.
Recover data from Desktop, Recycle Bin, and a particular folder.
Conversion of disks between MBR and GPT.
Converting dynamic disks to basic without data loss.
Converting partitions between FAT32 and NTFS.
Perform actions like moving, creating, deleting, resizing, formatting disks.
Aside from disk cloning, MiniTool Partition Wizard performs data recovery and disk diagnosis also. It has two built-in tools to recover lost data – Partition Recovery Wizard and Data Recovery.
While the former can recover the lost partitions, the latter can recover deleted or lost files from damaged, inaccessible, formatted folders.
The data migration tool also helps you diagnose every part of your disk. You can measure disk read/write speed, examine disk usage on the computer, verify the file system, and detect errors.
Pricing:
MiniTool Partition Wizard offers both free and Pro editions, making it suitable for personal as well as business use. The Pro plan starts from $159 per license.
The Free edition allows you to perform various partitioning operations, check the file system, and convert FAT to NTFS. On the other hand, the Pro edition provides advanced features like conversion of dynamic disks to basic, disk copying, and creating bootable media.
Best for disk cloning and partitioning ($79.95).
Adam's Take
Looking for a reliable data migration software that can clone your OS? Paragon Drive Copy is your best bet! It helps you migrate data quickly and easily, without any loss of quality. If you want your data to be organized after the migration, you can also use the included Paragon software to ensure all your files are correctly sorted.
Paragon Drive Copy Professional is a reliable data migration software that helps you transfer your data or home OS – from any source to any target disk. It also helps you organize your disk to migrate data quickly.
Plus, it provides services to create backups, manage partitions, migrate data, clone your OS to a USB flash drive, etc.
The tool has a range of copy operations that let you copy a full hard disk or a partition quickly. You can copy or restore the data of a 512-byte hard disk to a 4k hard disk within a few steps. It also helps you migrate any Windows OS from Windows 7 and HHD to SSD and vice versa.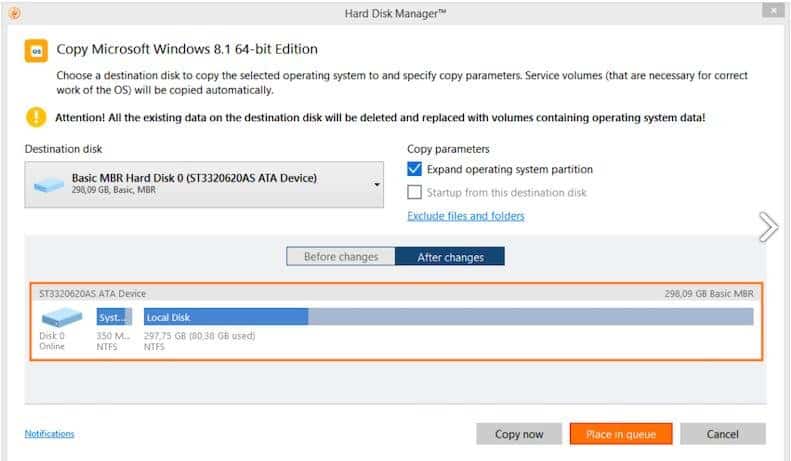 The tool also performs functions like:
It lets you clone your hard disk to a larger drive and migrate your laptop to a new hard drive.
Keep your disk clean and arranged with partitioning functions like split or merge partitions.
The tool lets you redistribute free space.
You can copy or restore data hard disk with a different sector size.
Restore all types of backup images in just a few clicks.
It also helps you open an existing backup, protect data, or fix booting errors if your Operating System fails to boot up.
Paragon Drive Copy Professional is a well-organized disk imaging program, but it doesn't offer additional features like disk repair and data recovery. For that, you need Hard Disk Manager Advanced to use the app at home and Hard Disk Manager for Business for commercial purposes.
Pricing:
Paragon Drive Copy Professional costs $79.95 per license. Each license covers up to three personal computers.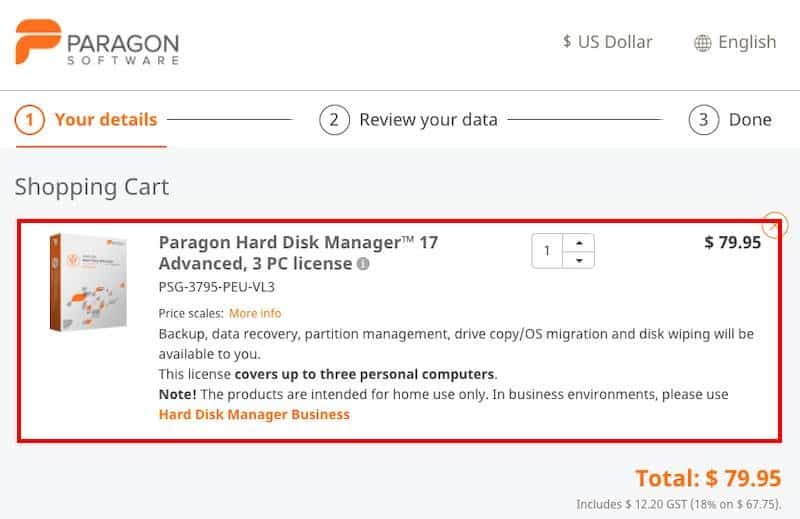 Best for Windows PC users ($49.95 per year).
Adam's Take
If you run Windows OS, you need reliable backup software to protect your data from accidental loss or destruction. NovaBACKUP PC is one of the best options on the market, providing both local and cloud storage for your backups. It's great for homes and small businesses, and the pricing is very affordable considering the features it offers.
NovaBACKUP PC is a backup software for Windows PC that helps you back up and migrate disk, OS, and individual files. The tool comes with local and cloud backup storage. It's suitable for small organizations and IT persons who don't want to deal with backups but need to protect their data.
Backup and Disaster Recovery Plan is one of its most useful features. It keeps your PC protected from data loss and ensures automatic backup and data recovery. Plus, it helps you meet HIPAA, FERPA, GLBA, and other industry data protection requirements.
Some of NovaBACKUP PC's most prominent features are:
Wide-range of backup options – You can choose between file or image backup, where you can back up individual files or your full PC hard drive. Plus, you can back up and migrate your images, videos, files to local devices or choose cloud storage options like Dropbox.
User-friendly for the blind and deaf – The NovaBACKUP PC interface is compatible with the screen readers blind users.
Encryption options – It provides four types of encryption options, including AES 256-bit and Blowfish encryption. Varying levels of encryption options are essential as encrypting a file at the highest security level also affects the backup speed.
Fast Disaster Recovery – The Disaster Recovery feature allows image backup of your full PC, from OS to email settings and preferences.
Other key features include options for full or differential backups, central monitoring of all your backups, and the ability to recover data from any place.
Pricing
NovaBACKUP PC provides three pricing plans based on the number of PCs.
1 Windows PC: $49.95 per year
3 Windows PC: $79.95 per year
5 Windows PC: $99.95 per year
All plans come with a 30-day money-back guarantee and free upgrades.
There are also options for servers.
Best for both personal and commercial use (Free – $100).
DriveImage XML is a data migration program that helps you with imaging and backing up images, partitions, and logical drives. It's compatible with Windows XP and above versions and allows data cloning, restoration, migration, and backing up.
The tool uses Microsoft's Volume Shadow Services (VSS) for Image creation, helping you create safe backups. It allows you to restore images without rebooting your system, and the backup files get stored as XML documents.
You can then handle those files with another third-party tool. More importantly, DriveImage XML allows you to clone straight from one drive to another.
Some of the highlighted features are:
Backing up of logical drives and partitions to image files.
Browse images, view, and extract files.
Plan an automated backup.
Clones directly from one drive to another drive.
Restore images to the same or a different drive.
The software backs up and restores drives formatted with NTFS and FAT 12, 16, 32.
Though DriveImage XML is only restrained to forming and restoring backups in XML files, there are no partitioning drives.
There are two types of DriveImage XML versions available – Private Edition and Commercial Edition.
The Private Edition is suitable for personal and individual use and is entirely free. You can install the free version of DriveImage XML on your home system but cannot use it for commercial purposes.
On the other hand, the Commercial edition is suitable for commercial use and comes with 5, 10, 20, 50, and 100-user licenses. With the paid edition, you can download the designated number of copies of DriveImage XML on computers in your organization.
Pricing
Here are the pricing plans for DriveImage XML's Commercial edition:
DriveImage XML 5-user license – $100
DriveImage XML 10-user license – $150
DriveImage XML 20-user license – $200
DriveImage XML 50-user license – $400
DriveImage XML 100-user license – $500
All of the plans in the Commercial edition come with free updates for a year and customer support.
Best for migrating data to a safe place ($20.21).

DAEMON Tools Pro 8 is an emulation and imaging tool that works with disc images and virtual drives. Plus, the program can clone and migrate all types of security technologies like StarForce, Securom, Safedisc, Protect CD, etc.
While migrating and emulating, it keeps the media in a precise order for the game or program to run correctly.
The tool helps you mount all types of image formats from application or Explorer, including .mds, .mdf, .ape, and more. You can also collect images from disks, create both Dynamic and Fixed virtual hard disks, and store sensitive data securely.
A classic, easy-to-use interface is another bonus. You can use all its features via Windows Explorer and customize the main window and Image Editor the way you want.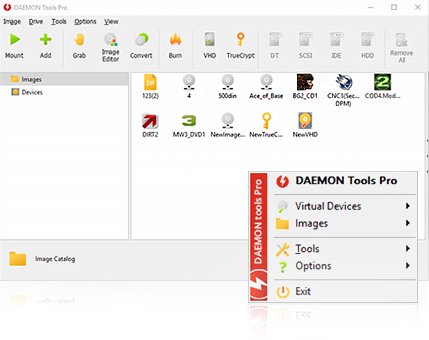 DAEMON Tools Pro 8 provides advanced features for cloning, imaging, and writing images to USB.
Some of those features include:
Ability to edit or create Data images and Audio CDs.
Transfer, compress and safeguard your files with a password.
Restore the factory state of a USB stick.
Copy discs, create audio CDs, and burn files with RMPS.
Create a raw disk image from USB device content.
Modify the copying method manually or mount with a double-click.
Emulate disc burning process with Virtual Burner.
With 4 IDE devices, you can clone up to 32 DT, SCSI, and HD drives.
Besides, you get access to an extensive media info panel to get insights about game images you store and mount. The info panel also helps you stay updated with the latest news from the gaming industry and game reviews.
Pricing

DAEMON Tools Pro 8 provides four subscription plans:
1-month plan: $6
6-months plan: $30 ($5.00 per month)
12-month plan: $48 ($4.00 per month)
Lifetime plan: $34.99 (no time limits)
All of the plans come with a 14-day free trial period.
Best for restoring images to more than one device (Free and open-source).
Clonezilla is a free data migration software that is also an open-source partition and disk imaging/cloning program. It helps you with data migration and recovery. It also helps you with system deployment and bare metal backup and supports Windows, Linux, and macOS.
There are three types of Clonezilla versions – Clonezilla Live, Clonezilla Lite server, and Clonezilla SE. While Clonezilla Live is suitable for an individual system backup and restore, Clonezilla Lite Server and Clonezilla SE are for vast implementation. Both Clonezilla Lite Server and Clonezilla SE can clone over 40 systems simultaneously.
Some of the main features of Clonezilla are:
Saves and restores only used blocks in the hard disk.
Supports all major file systems, including ext2, f2fs, FAT32, NTFS, HFS+, and more.
You can re-install Boot loader and syslinux.
Clonezilla uses encrypts, a cryptographic packed file system, to encrypt images.
Supports LVM2 version 2 under Linux.
Use multicast for massive clone.
Besides, Clonezilla has some limitations as well. It doesn't allow differential backup, online cloning, or imaging. Plus, the target partition must be larger or equal to the source one.
You must also have an X86 or X86-64 processor, 196MB of RAM, CD/DVD Drive, Hard Drive, PXE, or USB Port to use Clonezilla.
Pricing:
It's a free and open-source tool.
Best for undoing migration if something goes wrong ($59.95).
Laplink PCmover is a data migration tool that allows you to migrate every file, folder, application, and even settings to your new system. Since most programs are pre-installed and compatible with the new system, there's no need for license codes or old CDs.
It also restores and transfers data without leaving behind any data, even when the target system is of a different version.
The migration process is quick and takes three steps, including:
Install PCmover Professional on both your old and new system.
Choose the transfer option from the dashboard.
And it's done! Your new system now has all of the similar settings and programs as your previous system.
Here are the transfer options you can choose from:
Some of Laplink PCmover's key features are:
Quick migration of files.
User profile selectivity.
It supports USB 3.0.
Undo Feature.
Includes Free Transfer Assistance.
All in all, PCmover is a full-packed migration tool. You can choose the files and applications you want to transfer or wish to restore data from hard drives. However, it doesn't transfer any antivirus tools. You'll have to deactivate the software in your old system to restart them on the new system.
It lets you undo the migration if anything goes wrong during the process.
Laplink also offers 24/7 transfer guidance via phone and live chat. You can connect with their team at any time, and they will assist you throughout the process.
Pricing
Laplink PCmover comes with various pricing plans:
Download – $59.95
Best Selling Bundle– $84.95
PC Recycle Kit – $89.95
5-Pack Offer – $230
All of the plans come with a 30-day money-back guarantee.
Best for incorporating virtualization into your backup process (Contact a reseller).
Macrium Reflect 7 is an image-based data migration software that provides backup, disk imaging, and migration solutions. The tool builds an exact replica of a hard disk or the partitions you can use during the disk restoration. If you face any kind of system failure, you can easily get back your files and folders.
The migration system supports local, network, and USB drives and is suitable for both home and business use.
Some of its key features include:
It comes integrated with integrated with viBoot 2 that helps with the virtualization of Macrium backup images.
It provides several options for image compression.
Macrium Reflect Changed Block Tracker (MRCBT) lessens the time required to compress differential or incremental images. It continuously observes the changes to an NTFS arranged volume.
The latest attraction of the Macrium Reflect 7 is the new Macrium Image Guardian, i.e., MIG. MIG helps you protect your backup files from ransomware. Plus, it provides writing access to the current files and copies data from one location to another.
Any other process of updating the current files gets denied. This comes in handy when a system contains large files, and you need to reduce the incremental backup time from hours to seconds.
Additionally, Macrium viBoot allows you to build, start, and handle Microsoft Hyper-V machines using Macrium Reflect image files as the base.
Pricing:
Macrium Reflect 7 comes in four editions: Home Edition, Workstation, Server, and Server Plus for SQL and Exchange.
Pricing is available through a Macrium reseller or a third-party seller. Other than this, you can access a 30-day trial edition.
Best for large enterprises (Quote-based).
IBM InfoSphere Data Replication is a data integration and replication platform that helps you migrate, cleanse, moderate, or transform your data across any platform. The on-premise tool lets you access and integrate data from all platforms and thereby enhance your business.
It comes with massively parallel processing (MPP) capabilities suitable for handling all data volumes.
Aside from data migration, it also helps with data governance, maintaining data quality, deliver information to critical business initiatives, etc. Other functions include application consolidation, dynamic warehousing, master data management (MDM), service-oriented architecture (SOA), and more.
It also works as a centralized data monitoring platform that performs deployment and data integration processes using the simple GUI.
Some of IBM InfoSphere's key features include:
It collects, integrates, optimizes and delivers large volumes of data in real-time.
Supports zero-downtime data migrations and upgrades
Creates a cloud environment for your IT users.
Remote log-based capture from Db2 z/OS.
It lets you maintain database replicas in remote locations.
Provides access to obsolete age-old databases.
Connects with multiple data sources, such as Oracle, SQL Server, etc.
IBM InfoSphere helps you to maintain, order, and refresh as much data as needed.
Gives a fast, high-performance framework available on all premises, from cloud to on the ground.
Besides, it moves small amounts of changing data continuously, reducing cost and network traffic.
Additionally, you can access the InfoSphere Information Server for Data Quality to cleanse data and monitor data quality. This helps you transform raw data into useful, trusted information.
Pricing:
Get in touch with the vendor for pricing details.
Best for monitoring security risks (49.95 USD).
O&O DiskImage is a data migration tool that helps you back up an entire computer or individual files – even while the system is still in use. It also helps you clone, protect, recover, and store all your essential data. You can restore your data even if you're unable to start your Windows system.
Carrying a CD or USB as a backup device is a thing of the past. Cloning the data using O&O DiskImage helps you to access it easily from anywhere and anytime. It also provides an extra layer of security and portability options to access data in case of any system damage.
The migration tool helps you create VHDs directly, supports automatic backups, restore the backup stored, and more.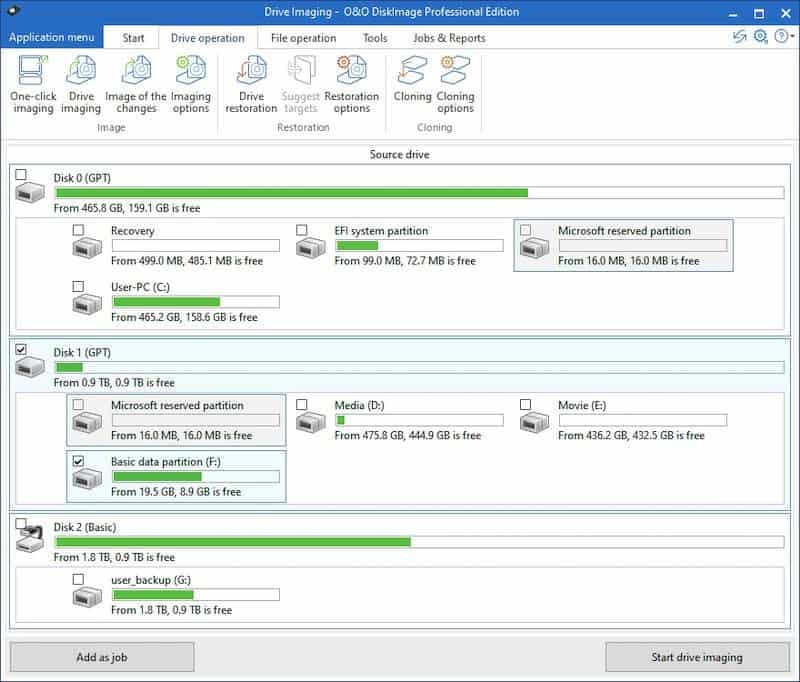 O&O DiskImage also provides the following key features:
Monitors and checks security risks.
Option to back up an entire PC or a single file.
Supports Windows 10, Windows 8.1, and Windows 8.
System restores onto different hardware (M.I.R.).
Direct creation of VHDs.
Use the plug-and-play option to back up selected files and folders automatically.
It helps you create a boot medium directly from within the program. The latest version of O&O DiskImage stores the data in their designated location automatically.
Although O&O DiskImage has all of the standard data migration and cloning features, it still has some limitations. The software does not come with a backup scheduler. If you need scheduling commands, then you might want to go for some other cloning software.
Pricing
O&O DiskImage provides three payment plans:
Professional Edition (for 1 PC) – 49.95 USD
Professional Edition (for 5 PCs) – 69.95 USD
O&O PowerPack – 59 USD
All of the paid plans come with a 30-day moneyback guarantee. You can also get in touch with the vendor to request a personal quote.
Best for small to medium-sized businesses or enterprises (Quote-based).
CloverDX is a data integration and data management tool that can help you design, automate, operate, and publish data.
The tool functions in three ways:
Data Warehouse – Customer onboarding, data transformation, and data validation.
Data Migration – Complex migration projects, migrating messy data, and migrating data on a deadline.
Data Ingestion – Customer onboarding, data transformation, and data validation.
Small to medium-sized enterprises rely on CloverDX to design, automate, and operate large amounts of data. The company also claims to provide a rapid data processing interface.
This means that along with smooth raw data processing, CLoverDX also aids in end-to-end processing. Its flexibility, lightweight footprints, and fast processing speed also make CloverDX suitable for handle large amounts of data.
Plus, you can easily design and orchestrate the workloads in the right sequence and monitor productivity. It helps you maintain a constant workflow, either on-premise or cloud.
Some of its significant features include:
It gives you the independence to design or debug the data on a single platform.
It gives you a single platform to manage your data and other related processes.
The interface helps you hide or show data based on your users.
Produce the data on any platform, from on-premise to cloud sharing across all desktops.
It lets you monitor your data pipeline regularly.
CloverDX automates data identification and correction and helps with digital transformation, risk and compliance, and data anonymization.
The tool is also suitable for various industries, including banking, capital markets, healthcare, and other government agencies.
Pricing:
Quote-based plans.
What is Data Migration Software?
Data migration is the process of transferring data between different computer storage locations. This mainly occurs during a system upgrade implementation, or maintenance period and is automated to free up human capital. Data migration software is what you use to manage this process.
Today, many companies use data migration processes and software for various reasons, including existing storage device replacement, system breakdown, security issues, etc.
Since most of them now use cloud storage over traditional data centers that used on-premise deployment, data migration tools have become quite important today.
Data migration tools typically provide three significant types of migration:
Storage Migration – The process of moving data from storage at point A to a more modern storage facility at point B.
Cloud Migration – The process of moving data from on-premise to cloud.
Application Migration – The process of moving an application from one point to another. This may include movement from cloud to cloud or on-premise to cloud.
What Features Do You Need in Data Migration Software?
Choosing the right data migration software can be daunting. You need to consider a lot of factors, including pricing, budget, migration process, and more. While there are data migration tools that are specific to a brand name (for example there are specific Samsung data migration software as well as Intel data migration software), data migration tools tend to have the same standard features.
Here are some standard features to consider:
1. Functionality.
Always go for a feature-rich data migration application. Many unanticipated problems can arise during the process, so it's wise to choose the software that can offer something extra.
Make sure to look out for these necessary features:
Scheduling and planning
Data profiling and analysis before migration
Extraction, Transformation, and Load (ETL)
Migration designing
Testing
Quality assurance and validation
2. Scalability.
Data Migration software can be quite costly. Therefore, it's wise to choose a scalable data migration tool that will be able to meet the expectations of a growing business.
3. Data Security.
Digital data is always at the risk of cyber-attacks. Because of this, go for tools that provide best-in-class anti-malware features like on-demand anti-virus scans, AI-enhanced behavioral detection, and web filtering.
4. Ease-of-Use.
Data migration tools should be easy for your IT team to use. Company-wide adoption leads to more success in a corporate environment. You'll want to make sure your data migration software is user-friendly and makes data migration a pain-free process.
5. Customer Support.
Customer support is probably the most crucial feature to look out for. Company employees may not always have the expertise to deal with issues related to the software. These issues may cause a delay in the completion of tasks and project delivery.
Unforeseen roadblocks can develop at any point in time. That's why it's essential to choose a data migration tool with prompt and customer-centric support.
Additionally, make sure to consider additional features like data sources and destinations, speed, debugging, data governance, and backup and recovery.
How Do You Use Data Migration Software?
Let's look at how to use a typical data migration platform, taking Acronis True Image as an example:
Step 1. First, select a pricing plan suitable for you.
Step 2. Next, download the application and click on the 'install' option. After installation, read the terms and conditions of the license carefully. You can start the application after accepting and agreeing with the terms.
Step 3. Enter your details like name and address, provide a password, and create a new account. You will also need to enter your 64 characters long key.
Step 4. You will receive an email in your inbox within the next few days. Open the mail and click on the "confirm your account" option.
Once confirmed, you'll get redirected to the online account of Acronis. You need to enter your 16 character key for product activation. Next, re-enter the 64 character key to finally activate your product.
Step 5. You can finally start with your data migration process now. Acronis lets you choose from different cloning methods. In this case, we are using the 'automatic cloning' option.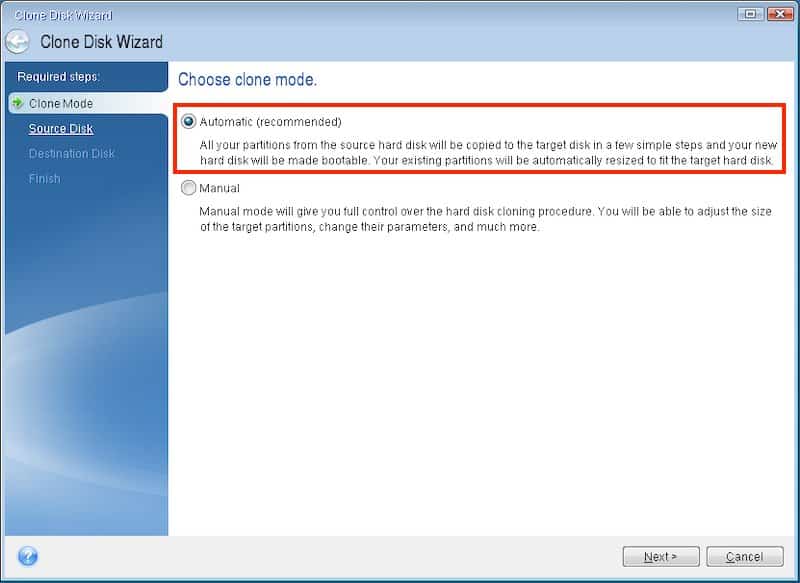 Step 6. Select the source disk that you want to migrate data from and click on the Next option. After that, select the data file's target destination and click Next. You can also review your choices and make changes if necessary.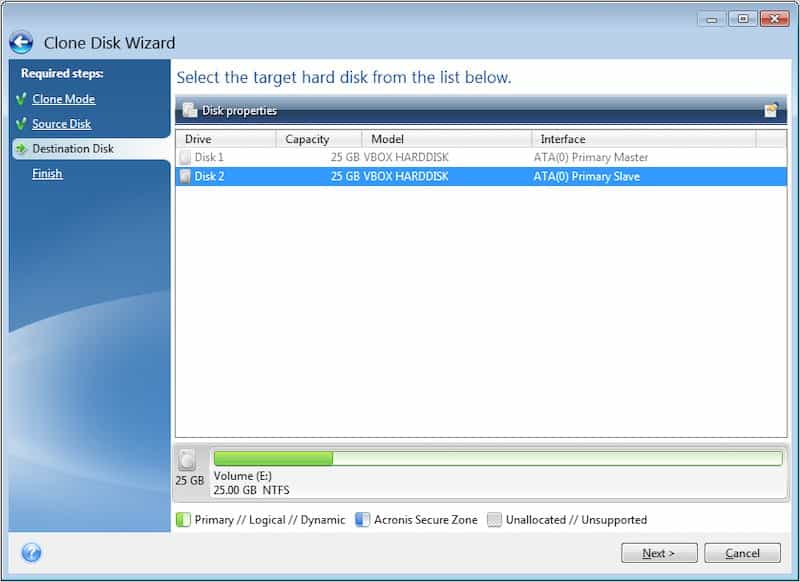 Step 7. Once confirmed, you will get a prompt to restart the computer. You need to close other running applications and restart your system to complete the entire data migration process.
The data transfer will occur once the system restarts. The time required will depend on the version of the software you're using and the amount of data.
Step 8. After the data migration process is complete, the computer will shut down once again. If you are using an external data source, it may get disconnected from the computer at this stage.
Step 9. Finally, start the computer and visit the destination folder to access and retrieve the data.
Before choosing or purchasing any data migration software, you need to consider compatibility issues. That's because many data migration tools do not run on particular operating systems.
A perfect point at hand is Acronis itself, which is compatible with Windows 10, 8.1, 8, 7 (SP1), and Vista (SP2), but incompatible with Mac OS or Linux. There is seldom any data migration software compatible across all platforms and OS since they tend to be specialized.
Executive Summary.
There you have it – my top picks for the best data migration software. You can use these tools to disk clone and migrate your data from one system to another.
Selecting the right data migration tool depends on your requirements, budget, size, and reason to migrate. There may be many reasons to migrate your data, including security concerns or changing the company's digital infrastructure.
For instance, you should try DAEMON Tools Pro 8 and O&O DiskImage if you have security concerns. If you're a small business or require a tool for individual use, MiniTool Partition Wizard is suitable for you.
Overall, I'd suggest Acronis True Image since it offers all of the necessary data migration features you may need. It helps you migrate from HDD to HDD, SSD to SSD, or between HDDs and SSDs. The data migration software also lets you transfer from Android to iOS and vice versa.
Which of these data migration tools are you planning to use, and why? Let me know by commenting below.
Further reading on AdamEnfroy.com: After the data migration process is complete, it's key to ensure that no threat actors are able to exploit vulnerabilities during the migration.
With cybersecurity being one of the vital aspects to consider during a data migration, choosing the right XDR software is essential.
XDR, or extended detection and response, is a security solution that provides end-to-end visibility and protection for your organization's data—from on-premises to in the cloud.
Here's a list of the best XDR software right now.
Disclosure: I may receive affiliate compensation for some of the links below at no cost to you if you decide to purchase a paid plan. You can read our affiliate disclosure in our privacy policy. This site is not intending to provide financial advice. This is for entertainment only.