15+ Best Data Visualization Tools of 2023 (with Examples)
Choosing the right data visualization tools is crucial if you want to represent your data in the right way. From identifying the right patterns to knowing which data points to focus on, the best data visualization tools can help you meet your goals. In this guide, I ranked and reviewed the 15+ best data visualization tools, along with my top 5 choices, so that you can pick the best one for you.
Zoho Analytics
Zoho Analytics is one of the most popular BI where you can upload your data securely and use a wide variety of charts, tables, and components to transform your data into a concise manner.

Databox
Databox is a data visualization tool used by over 15,000 businesses and marketing agencies. Databox pulls your data into one place to track real-time performance with engaging visuals.

Tableau
Tableau is the data visualization tool for you. It helps you in creating charts, maps, and every other type of professional graphics. To enhance your visual representations, you can find the desktop application as well.

Infogram
Infogram is a web-based data visualization and infographics platform that you can make and share infographics, maps, and charts by taking all the user data and converting it into graphics.
---
We're reader-supported. When you buy through links on our site, we may earn an affiliate commission.
Data visualization tools help everyone from marketers to data scientists to break down raw data and demonstrate everything using charts, graphs, videos, and more.
Naturally, the human eye is drawn to colors and patterns. In fact, 90% of the information presented to the brain is visual.
And for businesses, the use of analytics and data visualization provides a $13.01 return for every dollar spent. Additionally, 79% of business executives believe that companies will fail without embracing big data.
If you're looking to implement data visualization for your organization, then you've come to the right place.
The best data visualization tools allows you to interpret customer data and connect it to your backend database.
Let's get started.
What Are the Best Data Visualization Tools?
Here are my top picks for the best data visualization tools and platforms to use this year.

Adam's Take
Zoho Analytics is my top recommendation if you're looking for the top visualization tool. It's easy to create custom dashboards and reports with a self-service business intelligence and data analytics platform. Zoho Analytics also offers a wide range of visualization options that are interactive and visually appealing.
Zoho Analytics is probably one of the most popular BI tools on this list. One thing you can stay assured of is that with Zoho analytics, you can upload your data securely. Moreover, you can use a wide variety of charts, tables, and components to transform your data into a concise manner.
Best For:
Zoho Analytics caters to huge enterprises, including Bajaj Allianz, Maruti Suzuki, HP, Hyundai Motors, and HDFC. However, it's suitable for mid-sized businesses as well.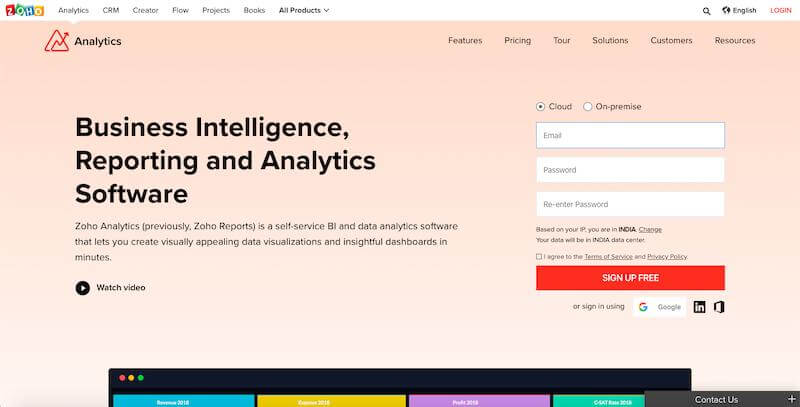 Key Features:
Unified Business Insights help you get a complete view of your business by integrating data from all your sources and applications.
Augmented Analytics uses machine learning to automatically uncover insights in your data, without the need for manual analysis.
Visual Analysis makes it easy to understand complex data sets by creating interactive visualizations.
Data Preparation & Management allows you to easily prepare and manage your data for analysis.
User Experience:
With the ability to generate reports on a salesperson and their performance, Zoho Analytics is a valuable tool for sales managers.
The visualizations make it easy to see which employees are selling the most products and where they need improvement.
Various data points can be isolated and compared side-by-side with Zoho Analytics to get a clear picture of what is happening.
Pricing:
The pricing plans start at $24 per month and range up to $455 per month. You also get a 15-day free trial to check out the product.
What I Like/Dislike About Zoho Analytics:
Like:
Helps you create visually appealing data visualization reports
It's decidedly easy to use and the dashboard is very intuitive
Comes with strong security policies
Provides extensive customer support, which comes in handy for a beginner
Allows you to easily embed your reports and dashboards on websites and social media channels
Extracts data from multiple resources and then process it to create insightful reports
Comes with an AI-based assistant to assist you in your data visualization process
Dislike:
The first-time setup of this tool by any beginner is quite hectic so it might take some time to get used to it.
Also, there are some limitations with the API which can be frustrating for users.
Product Updates:
Dependency Details Enhancements to give you a better understanding of your data
White Label Solution so you can brand your reports and dashboards with your own logo, colors, and fonts.
Get started with Zoho Analytics.
Best Overall Data Visualization and Business Analytics Tool.

Adam's Take
Databox is great if you want to build dashboards that look great and are easy to use. With the ability to track such dashboards from any device, I like how easy it is to discover insights that matter quickly. If you want to find a solution that allows you to track the metrics that matter most to you, Databox is the right tool for you.
Databox is a data visualization tool used by over 15,000 businesses and marketing agencies. Databox pulls your data into one place to track real-time performance with engaging visuals.
Best For:
Databox is best for marketing teams that want to quickly get set up with dashboards. With 70+ one-click integrations and no coding required, it's the easiest tool to use.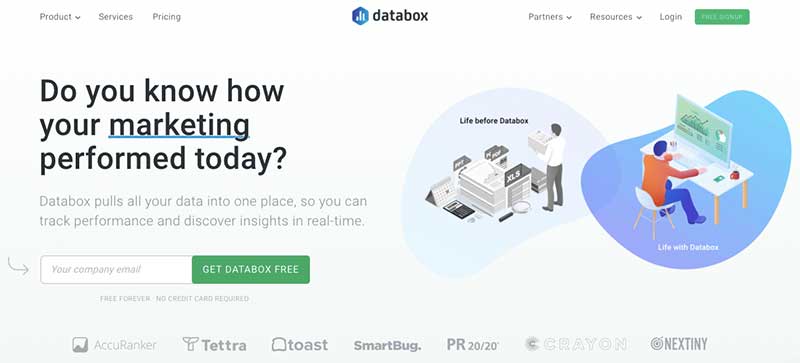 Key Features:
The ability to create a meaningful business dashboard in minutes is one of the key features that Databox offers its users.
With Databox, you can easily calculate metrics from multiple data sources and get all of your information into one convenient place. This makes it easy to track your progress and identify areas of improvement.
Another great feature of Databox is its flexibility. You can customize your dashboard to include only the information that is most relevant to you and your business. This makes it easy to stay focused on what matters most.
User Experience:
With a dashboard that visually shows the increase and decrease in metrics, it is easy to understand how your business is doing at a glance.
The ability to easily add and remove data sources makes Databox very flexible.
The customizable dashboard allows you to only see the information that is most relevant to you, making it easy to stay focused on what matters most.
Pricing:
Databox has a free plan that allows up to 3 users, 3 data sources, and data refreshed daily. Their paid plans range from $49/month to $248/month.
Their $49 per month Basic Plan is the best choice, as it provides 10 user accounts, 10 data sources, 10 dashboards, data that refreshes hourly, and access to their API.
What I Like/Dislike About Databox:
Like:
Over 200 pre-built reports that cover everything from CRM and Google Analytics to Google Ads, email performance, and marketing automation.
Over 70 one-click integrations that connect data from popular tools like HubSpot, Salesforce, Mailchimp, Facebook Ads, Shopify, etc.
Easily create advanced data calculations from multiple sources, including ROAS, ARPU, LTV, LTV:CAC, etc.
Dislike:
Some formulas don't work as well as they should, meaning it can be difficult to get accurate information.
Fairly difficult to do custom mapping when connecting data sources.
Product Updates:
Improvements to Databox Charts are now Live, so you can create even more beautiful and informative business dashboards.
The Google Sheets Wizard makes it easy to connect your data sources and get started quickly.
Get started with Databox and try it for free.

Adam's Take
Looking for end-to-end analytics that can help you make informed decisions? I recommend that you check out Tableau as the potential tool for you. Tableau can help you get the most out of your data – from discovery to deployment. It offers a wide range of features, such as custom dashboards, visual analysis, and data storytelling.
If you want to see and visualize data easily, then Tableau is the data visualization tool for you. It helps you in creating charts, maps, and every other type of professional graphics. To enhance your visual representations, you can find the desktop application as well.
Moreover, if you face trouble with the installation of any third-party app, then it provides a "lock the server" solution to help visualize the reports online or with mobile applications.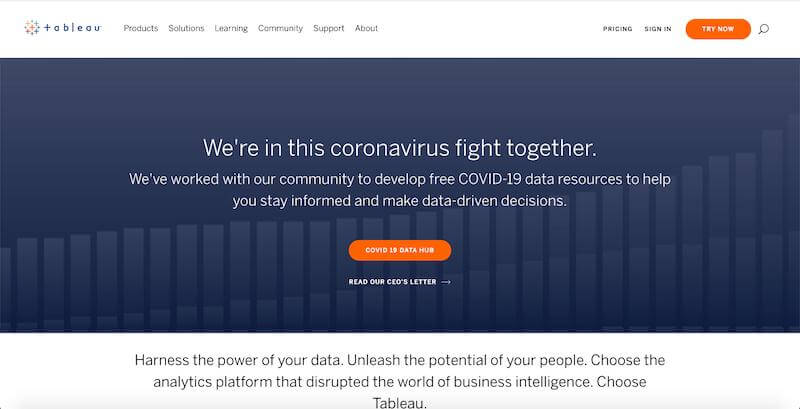 Best For:
Tableau is most suitable for corporate companies who are looking for data visualization solutions without having to set up manually.
Key Features:
Advanced Visualizations help you to understand your data in new ways and uncover trends that you may have missed. With Tableau, you can create a variety of different charts and graphs to help you see your data in new ways.
Data Sources in Tableau can be any type of data including Excel, CSV, JSON, or even relational databases such as Oracle, SQL Server, PostgreSQL, and Amazon Redshift.
Live and In-memory Data means that you can connect to live data sources and see your data updated in real-time. This is helpful when you are trying to track down a problem or debug an issue.
Collaboration and Sharing is easy with Tableau. You can share your workbooks with others and work together on projects. You can also publish your workbooks to the web for others to view.
Tableau Dashboards help you to see all of your data in one place. You can create a dashboard from scratch or use one of the many templates that are available.
User Experience:
You can get very advanced with the visualizations in Tableau, and this can be helpful when you are trying to find trends in your data.
However, the learning curve for Tableau can be steep. It is not always easy to find the right chart or graph for your data.
The user interface can be a little overwhelming at first, but you will get used to it with time.
Pricing:
The pricing plans start from $15 per user/month and range up to $70 per user/month.
What I Like/Dislike About Tableau:
Like:
The product is mobile friendly and is easy to update
It provides extensive customer support
Allows you to perform data blending easily
The corporate team can perform real-time analysis of their data
Provides access to all types of data analytics, including IT analytics, government analytics, marketing analytics, insurance analytics, and more
Offers a separate free tool called Tableau Public, which provides some features but doesn't allow you to save reports locally
Offers JavaScript extensions and APIs for custom reports via JavaScript charting libraries
Dislike:
There's no option for automatically refreshing the reports
The solution isn't as comprehensive, and you will require prior SQL knowledge
Product Updates:
New Search Experience gives you the ability to search for more advanced analytics and data visualizations.
Workbook Optimizer helps you to optimize your workbooks for performance.

Adam's Take
Want to use the power of data visualization to help your sales and marketing teams improve performance? My top choice would be Infogram since it's an interactive platform that makes it easy to create data-driven visuals. You can also use their library of templates and integrations with other tools to get started quickly.
Infogram is a web-based data visualization and infographics platform. It permits you to make and share infographics, maps, and charts by taking all the user data and converting it into compelling graphics.
After that, you can further share, embed, or publish those graphics wherever you want. Moreover, the tool is effortless to use and is suitable for government bodies, marketing teams, and even students.
The great news is that you don't require any technical know-how or coding skills to get started with Infogram. The pricing plans also vary based on the type of use, so you don't have to worry about paying extra. And if you want it for basic use and designs, then it's entirely free of cost.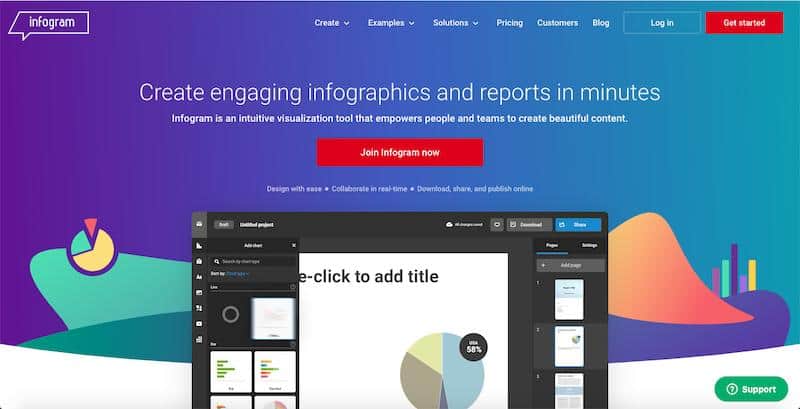 Best For:
Infogram is most suitable for organizations that work with sales and marketing since it allows you to display your targets with the help of charts and templates. It's also helpful for auditing firms.
Key Features:
Download infographics, charts, and reports based on your data with Infogram.
Import your data with ease using an easy drag-and-drop editor.
One million images and icons are available to help make your charts, graphs, maps, and more look great.
User Experience:
Various templates are available to make it easy to create beautiful infographics, even if you don't have design experience.
The drag-and-drop editor is easy to use and lets you add various types of content, including text, images, charts, and maps.
Once you're happy with your infographic, you can download it in various formats.
Pricing:
The paid plans start from $19 per month and range up to $149 per month. Then there's one quote-based plan that helps you pick all the features you want based on your business requirements. Infogram also offers a freemium plan for essential features.
What I Like/Dislike About Infogram:
Like:
Aside from being useful for corporates and government bodies, it's incredibly student-friendly as well
Provides customizable templates to help you add colors, fonts, logo, and more
It offers an ample variety of images, icons, and flags. Proper sets of maps and charts are present.
The templates help in creating social media images, dashboards, and reports.
It has got some beautiful project templates that can turn data into engaging content.
Dislike:
Navigating your data can be challenging
Customer support needs improvement
Product Updates:
Rich Text Edits help you make changes to the fonts, colors, and layout of your infographic without having to start from scratch.
'Data first' import options let you take data from various sources (including Excel, Sheets, and SQL) and automatically generate charts and graphs.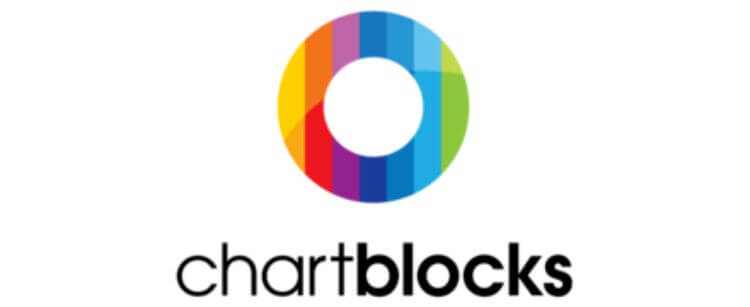 Adam's Take
Being quick to market is essential to businesses. Making data-driven decisions is critical to success, but gathering and analyzing data can be time-consuming. The right data visualization tool can make all the difference, and that is where ChartBlocks comes in. I like ChartBlocks as it lets users import, edit and update data and then easily share their visualizations.
ChartBlocks is an innovative data visualization software that enables you to import your data within a fraction of seconds. Moreover, you can directly update your data right away in the ChartBlock app and do the necessary import.
It also comes with a "chart builder" that helps you create the type of chart you want. It has a certain high level of tools. After this, you can easily embed the charts to your website or any other social media.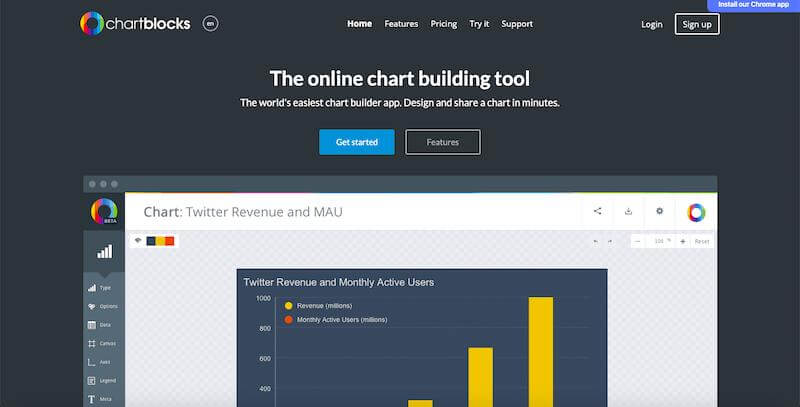 Best For:
The tool is best suited for the travel industry, healthcare, insurance, and retail.
Key Features:
The analytics feature allows you to track your data and see how it changes over time. You can also use the analytics feature to compare your data to other data sets.
Templates allow you to create a custom chart that is tailored to your specific needs. You can choose from a variety of templates, or you can create your own template.
Data import allows you to import data from other sources, such as Excel files, CSV files, and SQL databases. This feature is especially useful if you want to use ChartBlocks to create a dashboard or report.
Social media integrations allow you to share your charts on social media platforms, such as Facebook and Twitter. This is a great way to get your charts seen by more people.
The chart building wizard helps you create custom charts without having coding knowledge. You can simply select the data that you want to include in your chart and the wizard will do the rest.
Multiple file support allows you to work with multiple files at the same time. This is especially useful if you are working with large data sets.
User Experience:
With tons of tools and features, ChartBlocks provides all that you need to create beautiful and informative charts.
The interface is simple and easy to use, even for those who are not familiar with data visualization.
The templates are customizable, so you can create a chart that is unique to your needs.
Importing your data is simple and easy, and you can even share your charts on social media platforms.
Overall, ChartBlocks is a great tool for those who need to create custom charts.
Pricing:
The first plan is entirely free of cost, where you get up to 50 active charts. After that, the paid plans start from $20 per month.
What I Like/Dislike About ChartBlocks:
Like:
Provides excellent customer support
It makes it very easy to upload your data files
Allows you to create and share the charts within minutes
You can use the same data to make a variety of charts
Comes with built-in social media tools to help you share and embed your charts directly
It's compatible with all types of mobile devices and can fit any screen size
Dislike:
Provides limited space to upload your data
The export quality is not the best in the free version
Product Updates:
New chart building wizard is great to use as it doesn't require any coding knowledge
Datawrapper is another excellent data visualization software on this list. Your target audience should be able to understand whatever type of chart you create. Moreover, the excel screenshot looks quite good on your desktop, but it's barely readable from a mobile.
And Datawrapper solves this issue automatically. All the charts, tables, and maps you create with DataWrapper are easily readable on all devices. The good news is that you don't need any coding skills to create the charts.
Best For:
Since Datawrapper is a non-commercial platform, it's most suitable for students and small organizations that require basic data visualization features.
Pros:
Provides a variety of in-built charts and graphics to choose from
It doesn't require any technical know-how
It's an open-source tool and is entirely free
The charts, maps, and other graphics automatically get saved afterward
The DataWrapper tool is compatible with all operating systems
Allows you to edit and annotate your charts easily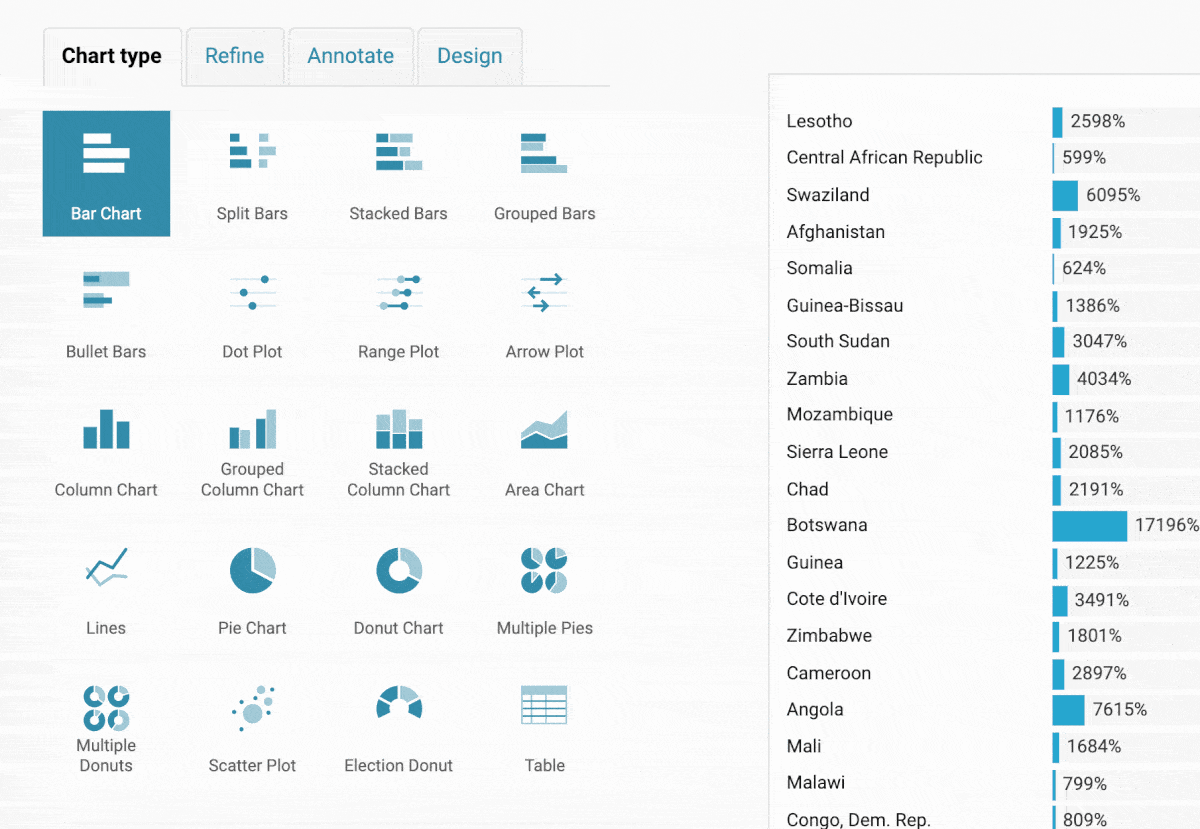 Cons:
One of the biggest drawbacks is that your data will get stored on the DataWrapper server with the free plan
The customization of fonts and colors can be tough
Pricing:
It's entirely free if you want to have some basic designs and charts. The free plan also allows you to export your chart, tables, and maps into png format. After that, the paid plans start from 499 € per month.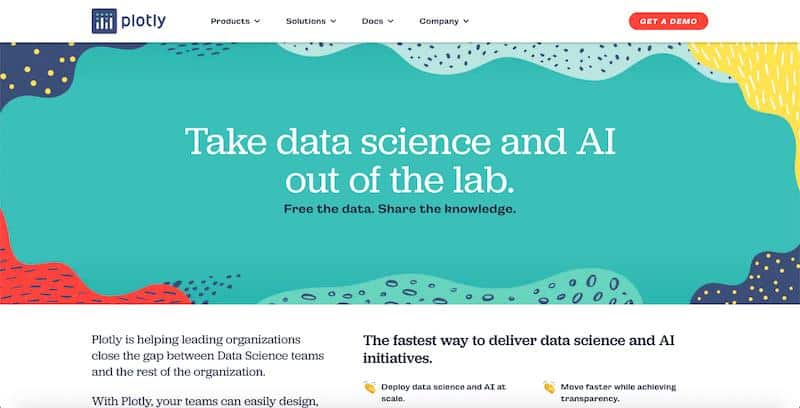 Plotly not only helps you with creating graphics, but it also provides in-depth analytical reports to help you keep track of the data. It also comes with an easily customizable user interface.
On top of that, it helps you export the reports easily and works superbly well in the business intelligence field.
Best For:
Plotly has commercial offerings such as Dash Enterprise and Chart Studio Enterprise. Hence, it's more suited for professional enterprises that require data science and AI on a large scale. Other than this, it's perfect for both students and small scale businesses as well.
Pros:
One of the greatest features of Plotly is that it provides multi deployment options, which allows you to acquire solutions in multiple ways
You can add multiple team members, which helps with team collaboration and streamlines your tasks
Comes with powerful visualization tools and high-quality analytics tools
You can have application development in this and interactive reports
In data visualization, it provides simulation modeling, custom dashboards, and proper reports
Supports popular languages like R, Python, Node, and more
Cons:
Doesn't provide customer support via phone call
The pricing plans aren't available on the official website
Pricing:
If you require basic features, then you can subscribe to the freemium plan. For more advanced functions, the paid plans start at $ 59 per year per user.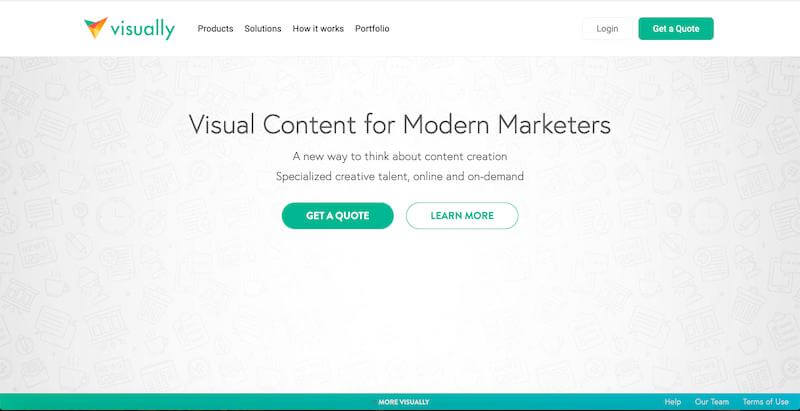 Visually is a community platform for data visualization and infographics. It permits users to search for various images through tags and descriptions. You can also publish and embed graphics directly to your social network profiles. It works in three simple steps.
Best For:
Just like Zoho Analytics, Visually also caters to big IT firms such as KPMG, Tiger Analytics, and Xoriant. However, it's also suitable for mid-sized businesses.
Pros:
It helps you create engaging infographics, videos, eBooks, report, and more for your firm
The twitter visualizer tool is also a part of visual.ly
Users can gather information from multiple databases
The customer support is extensive, and the staff is willing to help with all the issues you face
You don't require any coding skills; you just need to point out your requirements, and you'll receive the type of graphic you are looking for
Cons:
Only available in the English language
Doesn't provide a fixed pricing plan
Pricing:
The pricing depends upon the number of users. Also, the tool is open to use but for a limited duration. After that, you'd need to purchase it.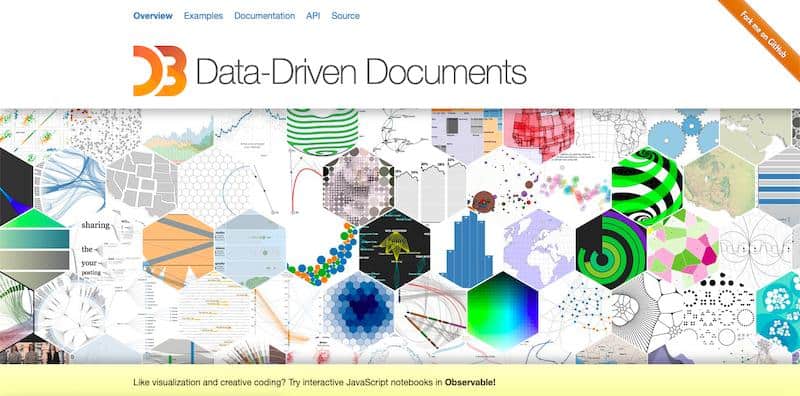 D3.js is an incredibly flexible, Javascript-based data visualization tool. It supports declarative programming and helps you manipulate documents based on data. It also supports large datasets, and you'll find it really easy to use.
Other than this, it provides unique functions, such as code reusability, a wide variety of curve generating functions, help in associating data to an element in the HTML pages, and more.
Best For:
It is best suited for those firms that need to create web pages and websites. You can also build excellent apps with the help of this data visualization tool.
Pros:
It is an open-source project and works without any plugin
It requires minimal coding and helps you with data visualization with any prior technical knowledge
Enables you to visualize data HTML, SVG, and CSS
You can build a charting component with this tool easily
You don't need to load the whole library every time
Helps you with Document Object Model (DOM) manipulation
You can also generate an HTML table from a wide array of numbers
Cons:
It's a bit complex and be very time-consuming
Needs to be more flexible and offer better options
Pricing:
It offers a quote-based plan for which you have to get in touch with the vendor.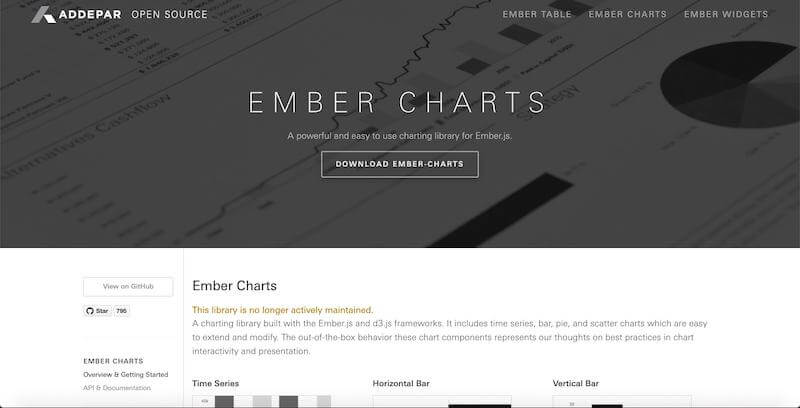 The Ember Charts is more like a charting library built with the Ember.js and d3.js frameworks. With Ember Charts, you can make graphics like time series, scatter, pie, and bar charts. Moreover, it helps you to easily extend and modify the charts since it offers great customizability options.
Best For:
Ember Charts is suitable for your organization if you require statistical graphs pretty often. Moreover, if you need graphics like a vertical bar, horizontal bar, pie, stacked bar, and scatter, then also it's a great tool.
Pros:
The Ember Charts comes with a straightforward dashboard. Thus it's decidedly easy to use
Provides high level of customizability
It provides unique and rich features and allows you to add legends, tooltips, labels, and mouse-over effects to your project
It offers powerful and polished charts
If you add data that isn't normal, your chart won't break. It means that if you add bad data, the Ember Charts won't stop working
It's entirely free of cost
You can extend the Chart Component class to roll your own charts
Cons:
The product isn't as popular as other tools on this list so you can't read enough reviews before using the product
Pricing:
It's a free tool and there are no associated costs.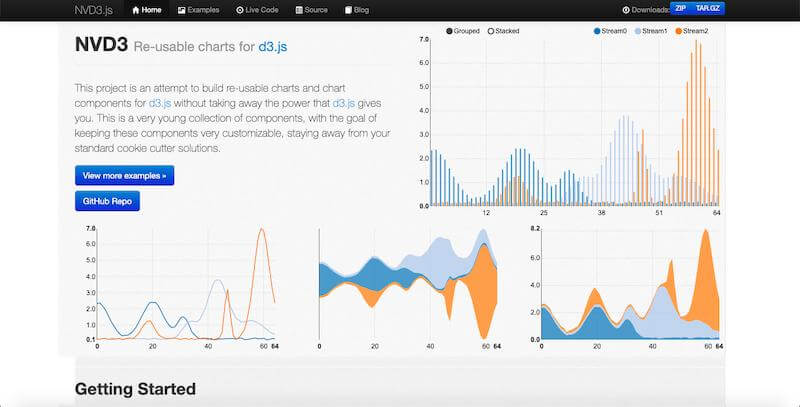 The NVD3 allows you to build reusable charts along with chart components for d3.js. The good news is that it keeps all the components customizable and doesn't take away the control that d3.js provides you.
Best For:
If you prefer neat and customizable data charts, then you might want to try out NVD3. And since it's free of cost, it's perfect for small organizations as well.
Pros:
The NVD3 gives you the ability to build reusable charts
Comes with numerous types of charts, including time series bar charts, scatter plus line charts, and more
Provides a high level of customizability
Cons:
The documentation is a bit weak, which takes a lot more of your time than it should
You need to look at the example code to understand the working
The NVD3 is a work in progress. The visualization tool still needs some work with the label issue
Pricing:
You can use the NVD3 data visualization tool for free.
The Google Charts is another great data visualization tool on this list. It runs on SVG and HTML5 and allows you to create pretty interactive charts. It also gives you more control over the charts you create and will enable you to zoom the charts. Moreover, it's user friendly so you can get started with it quickly.
Best For:
Google Charts is suitable for all types of organizations, whether it's mid-sized companies, start-ups, or large enterprises. Moreover, it's best for the organization that needs to create, manage, and present data with data tables, Google sheet integration, and animations.
Pros:
Google Charts is easy to use. You don't need to have any technical knowledge in advance to use it
You can easily integrate Google Charts with other Google products
It allows you to embed the charts on your site and social media platforms easily
Comes with a comprehensive gallery and plenty of templates
It displays live and real-time data on your site
Provides an interactive dashboard
Comes entirely free of cost
Cons:
Not as suitable for in-dept personalization
You may face a bit of difficulty when you get creative with the graphs
Pricing:
Google Charts is a free product.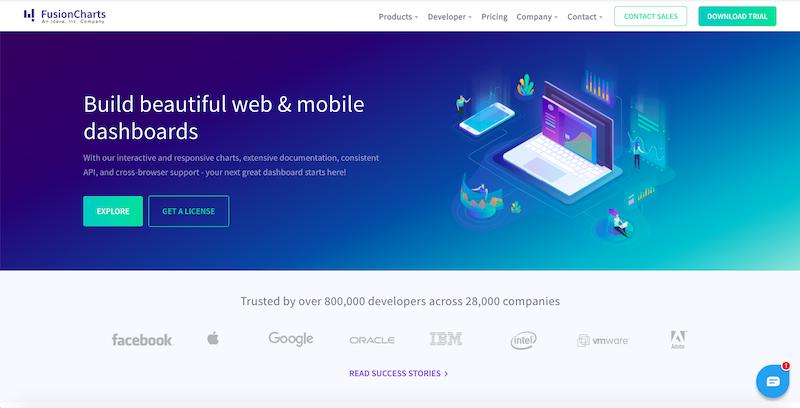 FusionCharts is a JavaScript-based data visualization software that comes with an extensive charting library. It helps you extract raw data from numerous databases and turn it into meaningful reports.
Moreover, it provides over 90 inbuilt charts and more than 1000 maps to help you process the data into interactive dashboards.
Best For:
FusionCharts is best for organizations that need to create dashboards within their project or product. However, since it comes with a hefty price tag, it's more suitable for large-sized businesses.
Pros:
FusionCharts offers flexibility in design
It provides many perks, such as an interactive nature, clickable data, and numerous color schemes
You can get a variety of fonts and layout of dashboards
You can create a custom dashboard using FusionCharts
Provides unique features, including relational display, visual discovery, consistent API, cross-browser support, and more
Offers extensive documentation to break down everything in depth
Cons:
Needs improvement when it comes to customization options
It's a bit expensive so more suited for large enterprises
Pricing:
For per user, the pricing of FusionCharts starts at $497. The pricing plans range up to $9,947. The good part is that you can get a free trial that you can use before making the final purchase.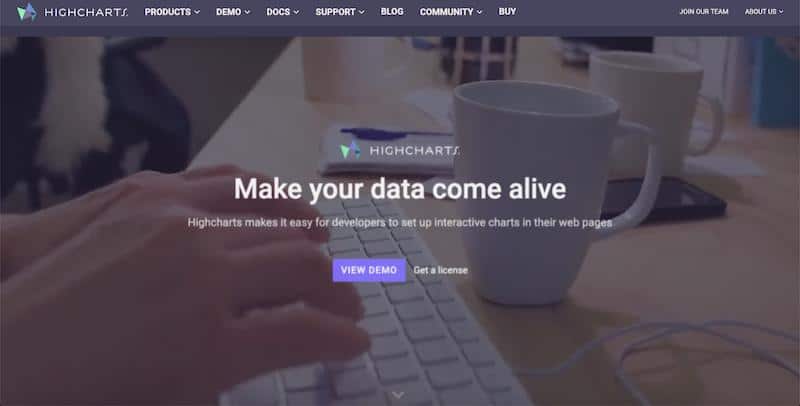 Highcharts helps you set up JavaScript-based charts in your web pages. It makes data visualization decidedly easy by providing high customizability. Moreover, it's entirely free of cost for non-commercial use, including students, non-profit organizations, and school websites.
Best For:
The Highcharts is best for students and non-profit organizations since it's entirely free for non-commercial use.
Pros:
Highcharts offers a lot of different types of charts and supports line, spline, area, areaspline, column, and more
You can use Highcharts to show different types of Analytics easily
Comes with a wide range of third-party plugins
It's free of cost for non-commercial projects
It's dynamic in nature and allows you to add, remove, or modify series and points
Compatible all types of devices, including smartphones, tablets, desktop, and more
Cons:
The Highcharts can consume your time in figuring out and calculating the values of the axis
Pricing:
The official website doesn't provide the pricing details of Highcharts. You'd have to get in touch with the vendor to get a quote. Moreover, it's free of cost for commercial use.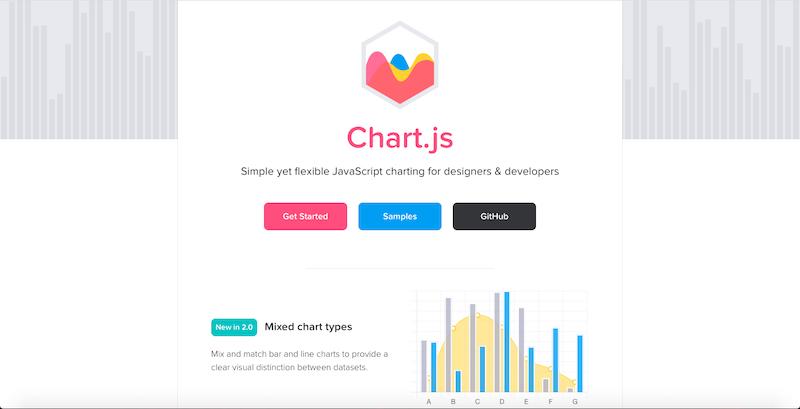 Chart.js is a straightforward and flexible visualization tool for designers and developers. An open community maintains it, so it's entirely free of cost as well. Other prominent features include the ability to visualize data in eight different ways, excellent scale granularity, and more.
Best For:
Chart.js is suited for small projects that require primary data visualization features.
Pros:
It's easy to use and comes with a straightforward dashboard
Allows you to visualize data using 8 different types of charts, including polar, bar, doughnut, radar, pie, and more
The data charts are animated and highly customizable
You can add and remove any type of chart in Chart.js to reduce your footprint
It provides perfect scale granularity
Cons:
The biggest drawback of Chart.js is its slow rendering process
Pricing:
Chart.js is a free data visualization platform.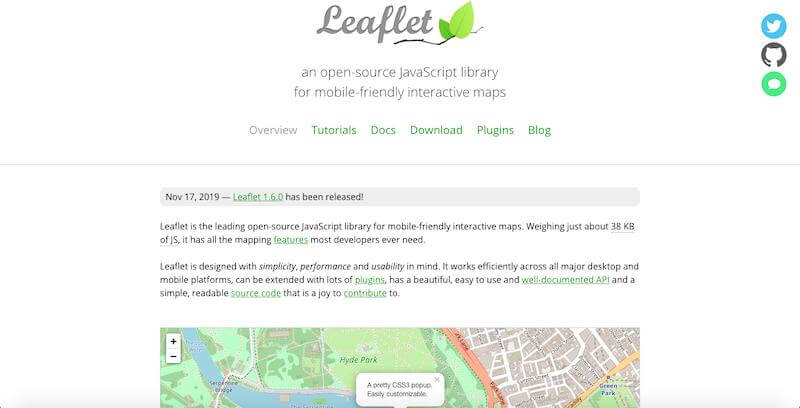 Leaflet is an open-source JavaScript library that provides mobile-friendly, interactive maps. It's compatible with all types of devices, browsers, and third-party plugins. All in all, this tool is designed with simplicity, performance, and usability in mind. However, it doesn't provide bar graphs and pie charts.
Best For:
The Leaflet is best for organizations that need specialized big data mapping solutions. It also helps organizations save plenty of time and resources and get more things done.
Pros:
Leaflet offers an extensive plugin repository
Allows you to add masks, heatmaps, and animated markers
The product uses OpenStreetMap data, which enables you to add HTML5/CSS3 interactivity and visualizations
It's very responsive and mobile-friendly
It's an open-source data visualization platform, which makes it free
The community that runs the tool is always willing to help you get started
Cons:
It could be more responsive
It might not show an error when coding
Pricing:
It's an open-source data visualization platform, so it's entirely free of cost.
Note: other tools not yet reviewed or added to this article include Microsoft Power BI and Sisense BI.
You can check out this article from ScienceSoft on using Microsoft Business Intelligence to drive analytics and reporting.
What is Data Visualization?
The 21st century saw an explosion of data in every walk of life.
2.2 million terabytes of new data emanate every day, and it's increasing every year. Handling such a humongous amount of data and interpreting it is a challenge. That's why you require newer and more advanced techniques for data analysis.
And that's where data visualization comes into the picture since it's one of the simplest ways of analyzing and demonstrating data. The right tool can attack any complex dataset by their horns, and break them down into simplified steps that even a layman can understand easily.
The technique graphically depicts the relationship between data. For that, it uses elements like charts, tables, histograms, bar graphs, and maps to correlate between different sets of data. Moreover, the method helps us understand the underlying patterns & trends in data. It also enables us to identify the outliers among the data.
The significant part about data visualization is that it lets you use colors to separate two or more datasets visually. Humans can identify nearly 7,000,000 different colors, and data visualization techniques make use of this feature.
You also have the option to use different shapes and sizes to distinguish trends and facilitate decision making.
Basically, data visualization techniques use our inherent nature to look for outliers and hidden trends in data, even subconsciously.
That's why looking at 20 tables with endless columns of numbers makes little sense, but we suddenly know everything about the dataset once you view it diagrammatically.
How Do You Use Data Visualization Tools?
Interactive data visualization tools help you visualize a huge amount of data by transforming numbers into diagrams within minutes. Since humans interpret and understand diagrams better than numbers, these tools are externally useful.
So how do you use these Big Data tools? You can choose from a lot of options, depending on your business requirements and objectives.
However, you need to choose the mode of visualization very carefully.
1. Column Charts.
Column Charts help you demonstrate data points using a linear time frame.
For example, the monthly sale of the commodity X as the particular financial year 2015-2016 progresses.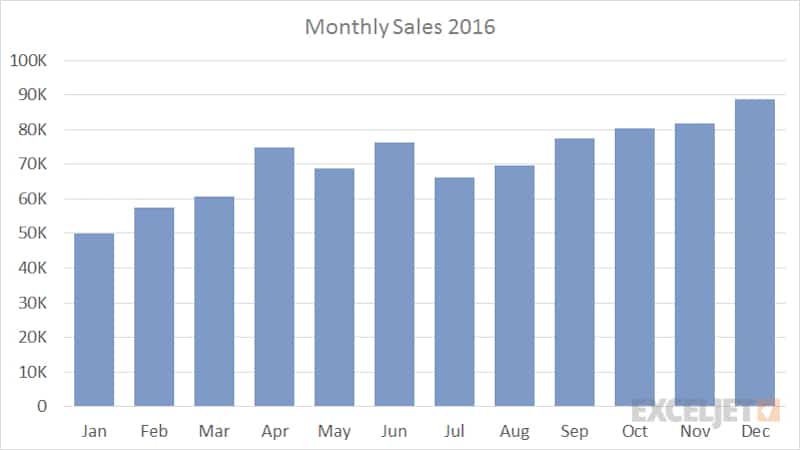 2. Bar Chart.
Bar Charts are a simple way to take data sources and depict quantitative data in a differentiable manner.
Take this data representation, for instance: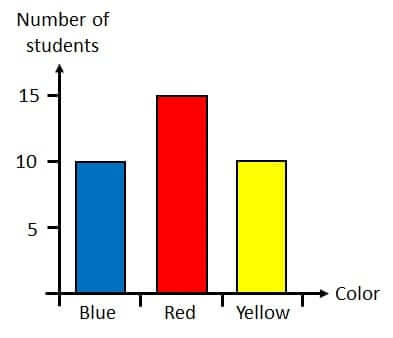 Here, the students chose to depict their preferences using three different colors.
3. Pie Chart.
With Pie Charts, you break down data into portions of a pie. It's a simple method of demonstrating the relative proportion of each unique quantity represented.
Here's an example: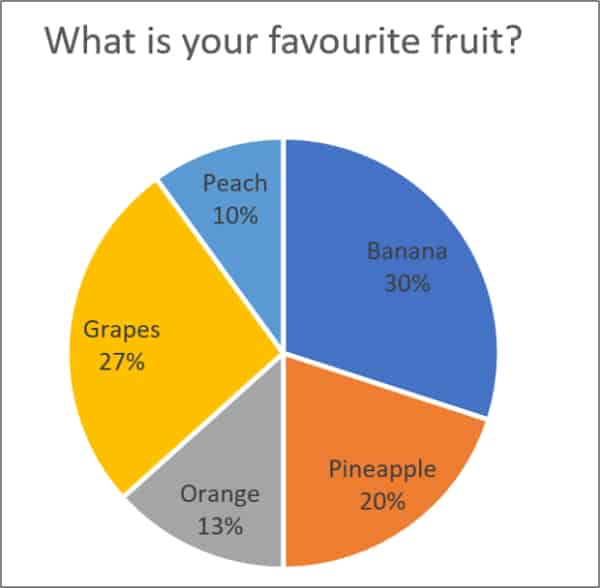 Here, in a survey about favorite fruits, 27% of respondents preferred grapes, 10% chose peach, and so on.
4. Venn Diagrams.
Venn diagrams demonstrate the possible type of relationships between 2 or more datasets. It helps in assessing data and displaying how it correlates to one another. Basically, Venn diagrams help depict the commonalities between two data sources.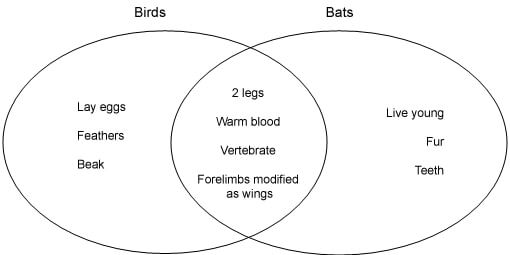 In the above diagram, it describes the common features between birds and bats.
5. Gantt Charts.
Gantt charts are essential in the course of any business, be it B2B or B2C. It demonstrates the different stages of the advancement of a project and sheds insight on the rate of completion of projects on deadlines.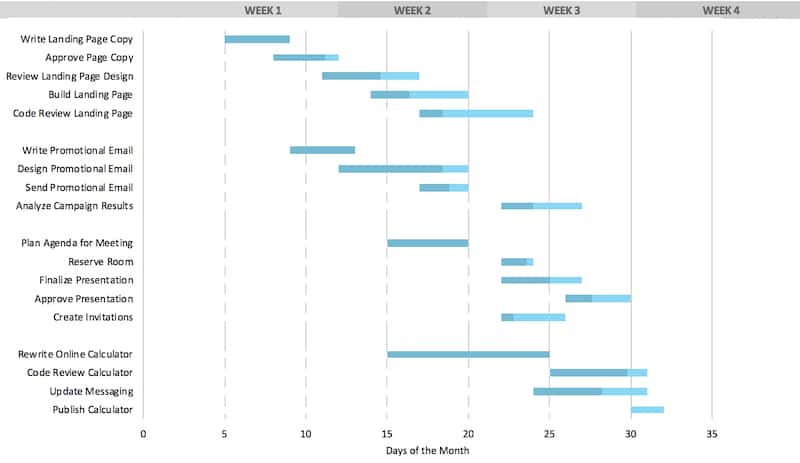 Source: teamgantt.com
This chart depicts the time it takes for a business to complete different phases of its operations.
Make sure to check your data visualization tool to see if they have Gantt charts, or opt for a Gantt chart maker for your projects.
6. Line Charts.
If you want to study the trends of a dataset over time and notice crests and troughs, line charts can be helpful. They are mostly popular for financial studies and stock markets.
Here's an example: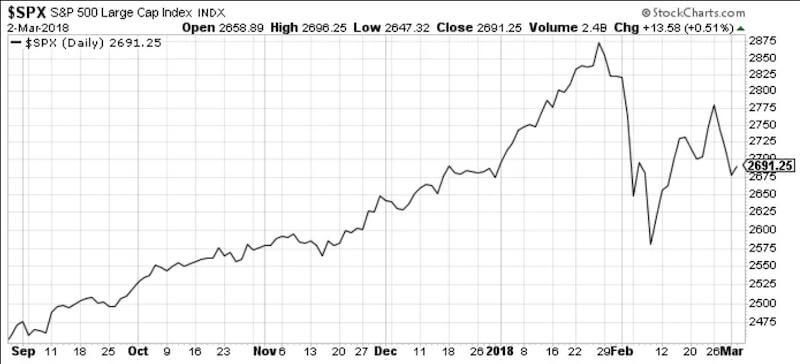 (image)
7. Dashboard.
Very often, in businesses, you can't break the data up in small pieces and need to view it holistically. One of the best ways to judge a visualization tool is by analyzing how efficient and user-friendly the dashboard is. For example, some business intelligence tools offer advanced charts like treemaps, vector graphics, and custom reports via JavaScript and JSON which require a steeper learning curve.
It presents charts, bar diagrams, infographics, timelines, and more in a single frame, facilitating actionable insights and fast decision making.
What Should You Look for in Data Visualization Tools?
To quote Ben Shneiderman, an American computer scientist, "Visualization gives you answers to questions you didn't know you had."
The power of data visualization knows no bounds, and that's why you should know exactly what to look for while choosing a tool. Every business is different, and needs will vary, but some of the features needed are similar across industries.
Here are some of them:
1. Easy to Embed.
You need Big data to drive real business insights. After this, you need to embed those derived insights into your web pages or any social media channel to demonstrate everything to your target audience adequately.
When embedded seamlessly into business software, these tools can facilitate easy, actionable, real-time decision making that will ultimately benefit the business. The right tools can make the process of sharing and embedding the reports easy and straightforward.
2. User Friendliness.
You've got to ensure that you can fully leverage the data visualization tool you are purchasing. That won't happen unless the tool is user-friendly and easy to operate. That's why it's essential that the tool you choose is user friendly and provides a modern and intuitive dashboard.
3. Real-Time Collaboration.
Real-time decision making necessitates real-time inter-team and intra-team collaboration in any business. It helps draw conclusions that each team member can access instantly, offers better visibility, and keeps everyone on the same page.
4. Scalability.
The motive of any business is sustainability and profitability. You can achieve it only if you continue to grow and scale up your business. That's why you need a highly scalable tool, with an eye on the future. Your business may be small today, but the tool you use needs to be able to scale-up and meet the growing demands of your business.
5. AI-Integration.
AI is the next big step in technology. It can facilitate easier data analysis and can help predict trends and prescribe necessary changes. Therefore, integration with AI in your visualization tool can prepare your business for the future.
Apart from these, some of the other features you should look for include customer service, streaming data support, interactive exploration, dynamic infrastructure, and more.
Data Visualization Examples.
Here are some industry leaders in the market and examples of what their dashboards look like:
Used by nearly 60,000 accounts, Tableau is by far the best tool in the market.
Some of its most prominent features are:
Handles enormous & dynamic data sets
Handles big data & machine learning applications
Integration with advanced database solutions like Salesforce, Hadoop, SAP, Teradata
Efficient graphics
The dashboard provides all-in-one access to a host of functions for holistic management.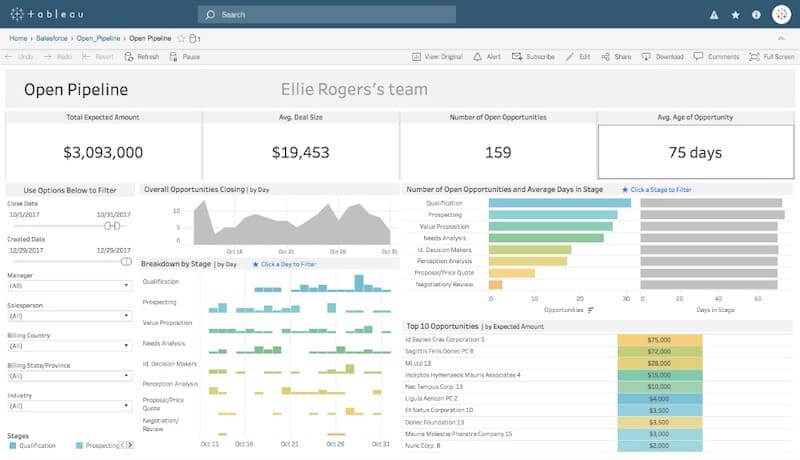 Used by over 800,000 developers across 28,000 companies, FusionCharts is one of the best in the market right now. With their interactive and responsive charts, extensive documentation, and consistent API, the dashboards provided are one of the finest.
Some of the key features are:
Beautiful charts, graphs, and maps (over 90 varieties)
Powerful time series
Export entire dashboards as PDF
Extensive third-party integrations
Highly flexible & scalable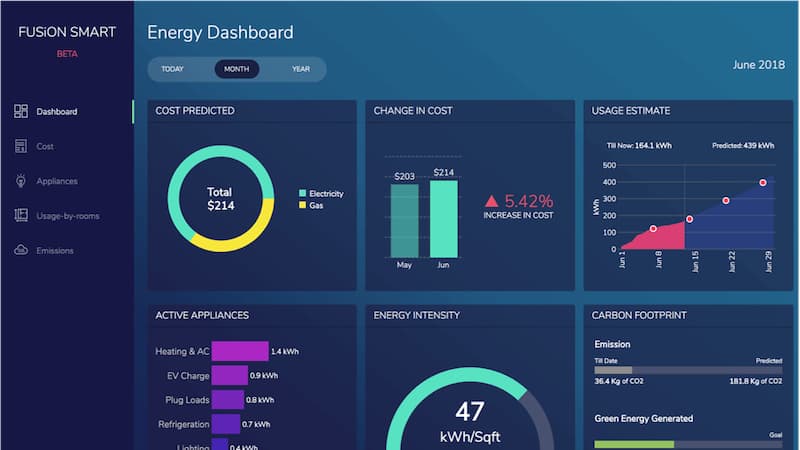 This is an example of its dashboard that monitors the energy used. The dashboards are incredibly informative, detailed, and specific.
Eighty of the world's largest 100 companies use the services of Highcharts. Used by tens of thousands of developers, it's one of the simplest yet most powerful tools in the market.
Some of its features include:
Sophisticated navigation, annotation and client-side analytics
Interactive maps to display information with respect to geography
User-friendly
Flexible & scalable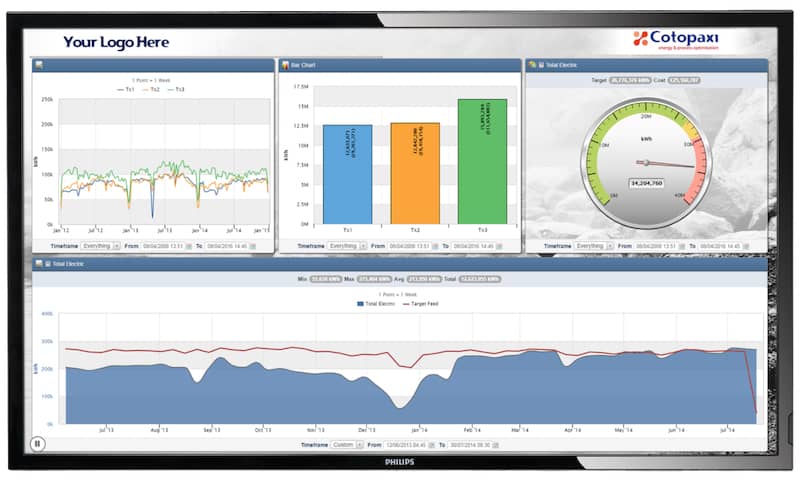 The dashboard display doesn't necessitate specialized data visualization training, making it attractive even to novices. Its USP is cross-browser support, that enables anyone to run interactive visualization.
Datawrapper is a free, browser-based data visualization tool that is suitable for almost every industry.
Some of its features are:
User-friendly
19 responsive and interactive chart types
No coding expertise needed
Copy and paste data from net, excel or sheets
Upload CSV/XLS files
Export charts as PNG, SVG or PDF
Highly automated workflows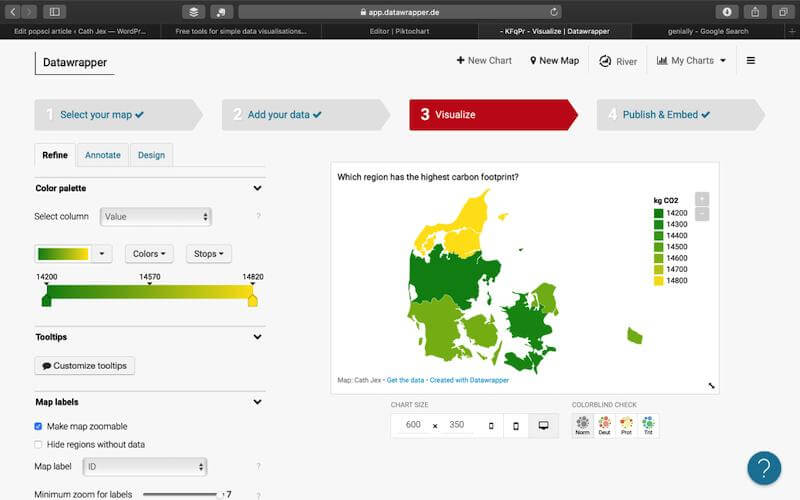 The dashboard provides a comprehensive overview of the problem at hand. Moreover, it makes it easy to depict different varieties using colors, fonts, and shapes.
Executive Summary.
These were some of the best data visualization tools out there. These tools will help you make your presentation smarter and more interactive, allowing you to grab the attention of your target audience.
If you require only basic charts and are tight on budget, then you have plenty of options, including Leaflet, Chart.js, Highcharts, and more.
However, if you require advanced features and have a decent budget, then you might want to try out more credible and popular data visualization and business intelligence tools like Databox, Tableau, Datawrapper, Zoho Analytics, and more. These tools are suitable for both mid-sized as well as large enterprises.
Whether using Apple, Microsoft Windows, or even Android devices, these tools help you extract raw data from multiple databases and present them in a simple manner.
Which of the above data visualization tools are you planning to use? Let me know your feedback in the comment section below.
Further Reading on AdamEnfroy.com: For reviews of other helpful software tools, check out my guides to the best database software and best marketing automation software to try this year.
Editorial Process:
Our reviews are made by a team of experts before being written and come from real-world experience. Read our editorial process here.
Some of the links in this article may be affiliate links, which can provide compensation to us at no cost to you if you decide to purchase a paid plan. These are products we've personally used and stand behind. This site is not intended to provide financial advice. You can read our affiliate disclosure in our privacy policy.