7 Best Debit Cards That Build Credit: Ranked in 2023
What images does the word credit conjure up in your mind?
For some people, it might be a helpful financial tool that can be used to improve their credit scores.
Others might see it as a necessary evil – something they must pay off each month but never seems to progress.
And then some view credit as a complete mystery.
They know it's essential to have good credit, but they're not quite sure how it works.
They might even have used credit repair software to get better scores.
Credit can be confusing, and even people who understand the basics can still have questions about how to use credit to their advantage.
It's good to know that business credit cards are not just for big businesses.
Plenty of business credit cards are designed for small business owners and entrepreneurs.
And while some business credit cards require excellent credit, others are more forgiving.
If you're trying to build credit, using a debit card can be an excellent way to start.
In this article, I'll share with you the best debit cards that can help you build credit, so if you're ready to learn about this helpful financial tool, you're in the right spot.
What Are The Best Debit Cards That Build Credit?
The following are the best debit cards to consider.
1. Zoro.
Best Overall Debit Card.
Zoro wants to heal the world from financial stress by helping people manage their credit.
With debt balances at an all-time high, Zoro is on a mission to help people get out of debt and improve their credit scores.
Regardless of one's credit history or current financial situation, anyone can become a member and receive a Zoro debit card.
When you apply, you get approved instantly, which is different from many other credit products.
With the Zoro Card, which works like a debit card, you can help improve your credit score with every use.
Every swipe is reported to the credit agencies that help determine your credit score.
Key Features:
They have secure military-grade encryption, which is excellent for people looking for a secured card to manage their finances.
One of the best features of Zoro is its deposit insurance coverage, which gives you up to $250,000 in coverage.
2. Bank of America Debit Card.
Best For Spending Flexibility.
Bank of America Debit Card provides a working limit that parallels the security deposit you make.
This also gives you flexibility in how much you spend.
In addition, the ability to have your FICO® Score updated monthly for free is a great way to keep track of your credit progress.
Your security deposit might be returned to you as time passes; however, this depends on your credit history and card usage.
With a card that works like any other credit card, the Bank of America® debit card can help you improve your credit score.
Key Features:
Their no annual fee feature is suitable for people who want to avoid paying extra fees.
I like how they offer 3% cash back in the category of your choice because it helps you save money on things that you're already spending money on.
Then, I think their unlimited 1% cash back on all other purchases is also beneficial because it's another excellent boost for various types of businesses alike.
3. Sesame Cash.
Best For Its Credit Builder Tool.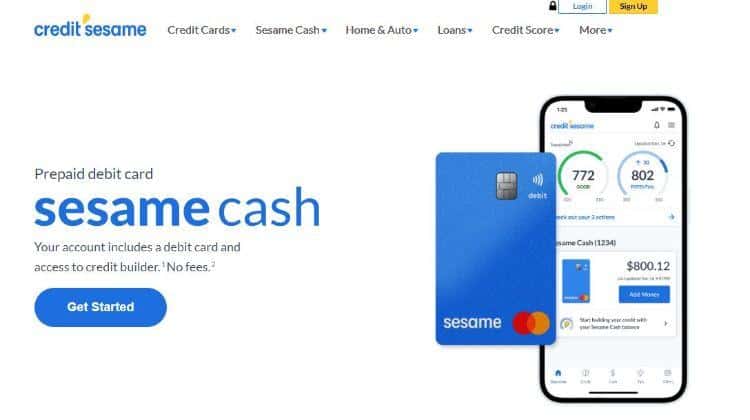 Sesame Cash provides access to a credit builder that helps people improve their credit scores.
With cashback on every purchase, you can improve your credit score while also getting rewarded for your spending.
When it comes to direct deposits made to your account, you can get them up to 2 days earlier than with a traditional bank.
Another significant aspect of this card is that you are given up to $500 in mobile device protection.
For those who are looking for a way to improve their credit score, Sesame Cash is a great option.
Key Features:
I think the fact they offer no foreign transaction fees is really good because it helps you save money when you're traveling.
I like that there's no monthly service fee because it helps you avoid paying extra fees.
It's also helpful that there's no minimum balance required, so you don't have to worry about meeting a certain threshold.
The credit builder is one of the best things they offer, and I think it's really helpful because it helps you improve your credit score.
4. Secured Sable ONE Debit Card.
Best For Unsecured Cards.
Secured Sable is one of the quickest companies to provide you with an unsecured card.
This can happen in a four-month period.
Compared to other cards, this is a short amount of time.
This card also helps people improve their credit scores with enhanced data reporting.
As a cardholder, you also get a 2X cash back match, so you can earn rewards while working to improve your credit score.
There's also a 2% unlimited cash back for set brands, which is another excellent way to get rewards.
With no monthly or annual fee, the Secured Sable ONE Card is an excellent option for people looking for a card that doesn't have extra fees.
Key Features:
They have a low APR of prime + 6.99%, which is how they avoid charging hidden fees.
I like how they offer access to credit in 5 minutes, making it one of the quickest ways to get approved.
In addition, they have a 98% approval rate.
The unlimited cash back and premium perks are great for people who want to save money and get rewards.
5. Grain.
Best For Being Cash Flow Focused.
Grain focuses on your cash flow rather than your credit score to help you get approved for a debit card.
Grain can help you better manage your finances with the line of credit options.
You can also sync your current debit and use it like a credit card.
This makes making purchases and staying on top of your finances easier.
They also support 10,000+ banks, which is helpful when integrating your accounts.
Key Features:
Their 15% APR feature is really good, and I think this is great for people who are trying to build credit.
For those looking for ownership over their credit, I think this is an excellent option.
I also like the bank-level security features that Grain offers, which are essential for online banking.
6. Sequin.
Best For Women Entrepreneurs.
Designed by women for women, Sequin is an excellent option for ladies who want a debit card with extra features.
Being an all-access pass to the financial world, Sequin helps you manage your money and make smarter decisions with your finances.
There's also a community aspect to this card, which is helpful when it comes to networking and asking for advice.
Sequin is also committed to helping other women grow and succeed as a woman-owned business.
With more than $500 worth of savings on selected brands, you not only get an excellent debit card but also access to exclusive deals and discounts.
Then, with education from experts about boosting credit tools, financial tracking, and more, Sequin is a comprehensive solution.
From newbie to expert, there's something for everyone with Sequin.
Key Features:
I like their community-first finances because it helps users learn as they save.
The social media-style community is also great for networking and finding support.
I also appreciate that their digital card is available so quickly after approval.
Finally, the fact that it's led by women, for women, is incredible!
7. Extra.
Best For Getting Rewards.
Extra earns you reward points as you build up your credit.
With the end-of-month addition of all your payments and purchases, you can keep track of your expenses and income.
Then, these are reported to the proper credit bureaus to help build your credit.
With points that can be exchanged for coffee, rideshares, and even payments of your phone bills, Extra is a great way to get rewards as you improve your credit score.
Compatible with over 10,000+ banks all over the country, Extra also makes keeping your money in the bank of choice easy.
Key Features:
They have white-glove concierge support, and I like how this 24/7 service can help with any questions I have.
I also enjoy their spend tracking app because it helps everything stay organized in one place.
Their rewards system is great because it's a simple way to earn points for every purchase.
Extra also has an exclusive rewards store which gives access to specific deals and discounts.
Other debit-building cards to consider include those by Discover and Mastercard.
What Are Debit Building Cards?
Debit-building cards are used to help people build credit.
There are many different debit-building cards, but they all work similarly.
You can use them to make purchases and withdrawals just like a regular card, but the funds for these transactions generally come from a line of credit instead of your savings or checking account.
This can be helpful if you don't have much money in your checking or savings account or want to avoid using those funds.
A bank account with a line of credit attached can help you build credit because the account will be reported to the credit bureaus.
Having unsecured credit cards can also help you build credit, but it can be challenging to get approved for one if you have bad credit.
The Role Of Major Credit Bureaus
With a credit check run by a lender, employer, landlord, or anyone else interested in your credit, these bureaus will provide the needed information to those that request it.
The three credit bureaus that you should know about are Equifax, Experian, and TransUnion.
With a minimum credit score for various types of loans being 600, 650, or 700, it is essential to know where you stand before you apply.
Factors That Build Up Credit
Various factors affect your credit score.
Knowing these factors can help you make the necessary changes to improve your score.
Such factors are as follows.
Payment History (35%)
Going back into your past payment history, you will want to look at any missed or late payments.
As part of your credit-building journey, you will want to ensure that you consistently make on-time payments, every time.
Amounts You Owe (30%)
Having bad credit when you try to make a large purchase, such as a car or a house, can be very frustrating.
Apart from the interest charges you will have to pay, you may also be required to make a larger down payment.
Overspending is a common problem that many people have, and this can lead to debt.
As such, keeping the amounts you owe in check can be one of the best things you can do to improve your credit score.
Length of Your Credit History (15%)
Issuing monthly payments for a more extended period will often result in a lower interest rate and a better credit score.
The length of your credit history is essential because it is one of the factors that lenders look at when considering a loan.
New Credit You Apply For (10%)
Whether you apply for a new credit line or open a savings account as a business, your lenders will often pull your credit report.
As the credit card issuer, they need to know if you are a high-risk or a low-risk customer.
This information helps them to decide whether or not to approve your application.
The problem is that the more credit you open, the newer such credit is, which lowers your credit score.
Types of Credit You Use (10%)
With various types of credit you could use, such as credit cards, loans, and lines of credit, it is essential to know which is best for you.
Getting a good credit score often requires using the right type of credit for the situation.
This shows lenders that you are responsible for your money and can handle different types of debt.
Factors To Consider When Choosing The Best Debit Card For Your business.
Here are a few factors you should consider when choosing the best debit card for your business.
Rewards
A rewards credit card is almost always a good idea as it allows you to earn points that can be redeemed for various items.
Compared to a traditional credit card, the more you spend, the more you earn.
From getting gift cards that can be used at your favorite store to free hotel stays, the possibilities are endless.
Various financial institutions will also offer different deals for everyday purchases.
For example, with some cards, you may get a higher percentage back on gas or groceries than travel perks and mobile payments.
Late fees
Knowing what happens if you miss a payment is essential.
Some cards will have a late fee, while others will not.
Account Balance
Do you need a set amount of money to use the card?
With prepaid cards, you will need to load money onto them before using them.
With a debit card, the funds are withdrawn from your account immediately.
Credit Line Options
Numerous options are available, from getting a credit line increase to help build credit to using a 0% APR balance transfer to save on interest.
If your credit limit is too little and you end up in overdraft, you may be charged fees by your bank.
Tools Available
Credit builder loans are not the only tool to help you build credit.
Knowing the way a card works with your bank account is also essential.
From being able to do a credit balance transfer directly through an app to getting insights into your spending habits, various tools can be helpful.
Cash Advance Options
Some cards will allow you to get a cash advance at an ATM, while others will require you to go through a bank.
Cash advances typically come with a fee and a higher interest rate.
ATM Withdrawals
The best credit cards won't charge you for using an ATM, whether in-network or out-of-network.
An in-network ATM is one that's affiliated with your card issuer, while an out-of-network ATM is not.
If you're charged for an ATM withdrawal, it'll likely be a flat fee, which could generally be anywhere from $1 to $5.
APR
Sometimes, the intro APR when getting a credit card can be 0%.
This means you won't have to pay any interest on your balance for a certain period.
Knowing the interest rate one has to pay after the intro period ends is essential.
Fees
Some cards require a monthly fee, while others may have an annual fee.
Others waive the fee if you have a certain amount of money deposited into the account each month.
Warranty
This refers to purchase protection.
You may be covered if you buy something with your credit card and it gets damaged.
Some cards will also extend the warranty on items that you purchase.
Personal Finance Vs. Business Finance
Having a credit card account that differentiates your personal finances from your business finances is essential.
While there is usually a separation between personal and business finances, it's essential to know that there are some cases where they can overlap.
For example, if you use your personal credit card for business purposes, you may be liable for any debt incurred in your business.
It's also important to remember that business credit cards often have different terms and conditions than personal credit cards.
Let's say you're building a blogging business to help you eliminate debt.
In this case, your business finances, such as budgeting and cash flow management, should be handled as business expenses.
Make sure you understand the difference before you apply for a card.
Debit Cards That Build Credit – FAQ
What Is a Credit Utilization Ratio?
A credit utilization ratio is the percentage of your available credit that you're using at any given time.
For example, if you have a credit limit of $1,000 and a balance of $500, your credit utilization ratio would be 50%.
Ideally, you want to keep your credit utilization ratio below 30%.
This shows that you're using your credit responsibly and not maxing out your cards.
What Is a Secured Credit Card?
A secured credit card is a credit card that is backed by a security deposit.
The deposit is usually equal to your credit limit.
What Are Due Dates in Terms of Credit Card Payments?
Your due date is the date by which your credit card bill must be paid.
If you don't pay your bill by the due date, you will be charged a late fee.
Why Is a Spending Limit Important?
A spending limit is the maximum amount of money that you're allowed to charge to your credit card in a given period of time.
Most credit cards have a spending limit of $5,000-$10,000.
The spending limit is important because it helps you stay within your budget and avoid overspending.
Wrap Up.
Building up business credit is essential for any business owner.
It can help you get loans, lines of credit, and favorable terms from vendors.
There are several ways to build business credit, but using a business debit card is often the easiest and most efficient method.
When choosing such a card, look for one with specific features that will benefit your business.
For example, if you often travel for work, look for a card with perks like free hotel stays or airport lounge access.
If you have bad personal credit, look for a card that doesn't require a personal guarantee.
And if you want to earn rewards on your business spending, look for a card that offers cash back or points on business-related categories.
Once you've found the right card, use it regularly and pay your bills on time to build up your business credit.
Further reading on AdamEnfroy.com: Credit cards come in various shapes and sizes.
They offer different features, different eligibility requirements, and different fees.
From startup business credit cards that help you build a business with no credit, to no annual fee business cards that offer cash back on business expenses, to gas credit cards and travel cards that come with valuable perks, there's a business credit card for every type of business owner.
Disclosure: I may receive affiliate compensation for some of the links below at no cost to you if you decide to purchase a paid plan. You can read our affiliate disclosure in our privacy policy. This site is not intending to provide financial advice. This is for entertainment only.