7 Best Digital Signage Software of 2023 (Ultimate Guide)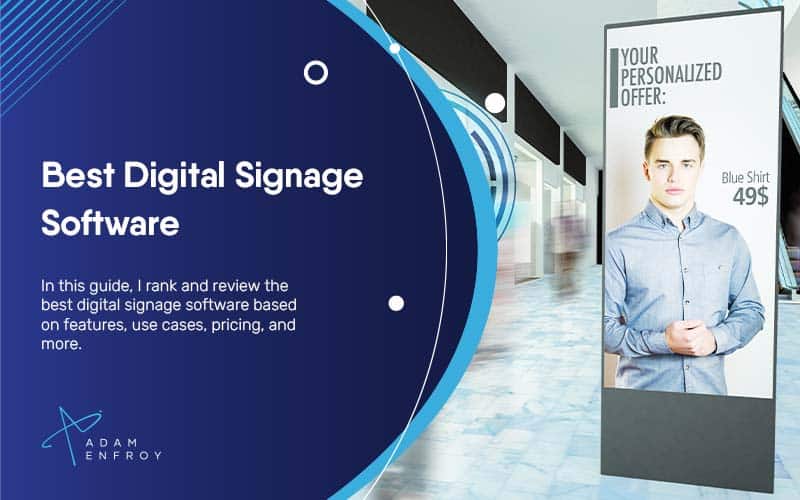 Every business needs to focus on producing dynamic content, keep customers updated about the latest trends and increase the company's visibility.
According to Visix.com over 70% of Americans have been exposed to or remember seeing digital signage every month.
In my opinion, this is an underrated marketing channel just like SMS marketing or virtual events to promote your business's products and services.
Digital signage software tools allow users to remotely monitor their signage screens and play video presentations, graphics, sounds, etc. You'll find numerous free digital signage software online, and you can opt for free trials before making a purchase.
However, it is crucial to pick one that best suits your business's needs. To help you make a choice, I've compiled a list of the best digital signage software available on the market today.
What Are The Best Digital Signage Software?
Here are my top picks for the best digital signage software on the market.
Best For Small Businesses
Telemetry TV promises to deliver dynamic content "in minutes" through its intuitive digital signage network. It can run on Android, Linux, iOS, and much more, which makes it highly functional for various businesses.
Further, it allows you to track reports and logs to gauge the success of a campaign. This makes it ideal for small businesses that are looking to expand their network within a limited budget.
Features:
Telemetry TV offers over 70 apps and integrations to create engaging content and designs. Despite its affordability, the tool provides professional functionality that can match many other, more expensive software.
Some of its key features include:
Live support
Customizable dashboards
Universal iFrame integration
Facilitates device provisioning
Pricing:
Telemetry TV offers a free demo or 14-day trial and has three plans.
1. Starter Plan at $54/month
Supports Canva
Offers video file storage
Live chat support
2. Standard Plan at $280/month
Playlist templates
Customized dashboards
Group permissions
3. Plus Plan at $700/month
Premium support
Embeddable playlists
Media auto expire
Get started with Telemetry TV.
Best For Professional Signage Solution
NoviSign is a digital signage software that can help different sectors (healthcare, education, corporate, etc.) create customized digital content and improve the way they communicate with their target audience.
The tool offers seven templates, segregated by sectors, and you can choose one depending on your industry and requirements. From social media posts to employee communications, NoviSign offers unique, customizable solutions designed to run on all operating systems.
Besides, it contains RSS feeds, widgets, and other apps that facilitate the seamless integration of information into displays. It even comes with a drag-and-drop feature through which you can add HD videos, slideshows, playlists, event listings, and more to your digital signage board.
Features:
NoviSign is a beginner-friendly tool and offers useful features like an interactive touch kiosk, widgets, multiple templates, and more.
Let's take a look at some of the key features of NoviSign:
Simple interface
Compatible with Windows, Chrome, and Android
Versatile templates
Almost 20 drag-and-drop widgets
Real-time monitoring dashboard
Media storage
Content scheduling
Pricing: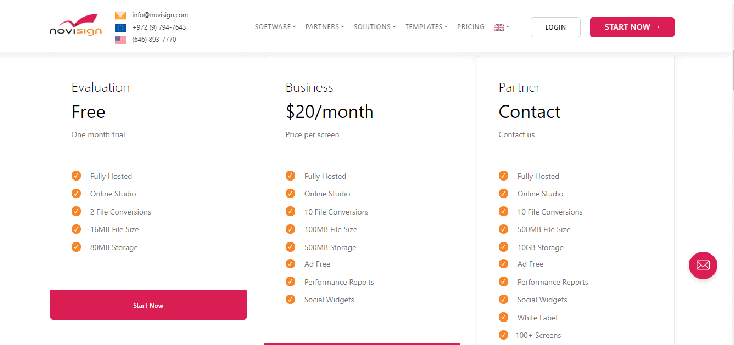 Like most digital signage software, NoviSign offers a 30-day trial period for your evaluation and then has separate plans for small businesses and enterprises. The free trial provides features such as scheduling, reporting, file conversions, and so on.
The Business plan is available at $20/month and offers 500MB storage, unlimited support, and regular performance reports. However, the brand does not disclose the pricing for enterprises and multi-screening on its website. You will have to get in touch with them for more details.
Best All-In-One Digital Signage Solution
Up next, I have Yodeck, another cloud-based and user-friendly software that offers custom content management solutions. It enables you to display web pages, videos, PDFs, playlists, and images on your signage screens.
Besides, it can create digital signs for various industries, including transportation, hospitality, retail, and restaurants.
It has an easy setup with a Yodeck plug-and-player system that works on Raspberry Pi. You can upload and monitor content right from your smartphone or PC and access various widgets from the drop-down menu.
I especially like how Yodeck offers enterprise-grade security, making your system immune to tampering by hackers. Some other security features like designated IP addresses and restricted user access allow businesses to operate without any worries about compromising their security.
Lastly, if you intend to use the software on a single screen, you don't have to make any payments. However, if you want to use the software on more than one screen, I recommend opting for an annual subscription.
A minor disadvantage of this software is that you need a playback device that is Yodeck-supported, and this needs to be purchased separately.
Features:
From the healthcare sector to restaurants, Yodeck has something for everyone's needs. Further, its ease of use and accessible customer support team adds to its reliability.
Here are some notable features of Yodeck:
Content scheduling
Custom widgets
Keyboard-free installation
Two-factor authentication
Unlimited bandwidth and cloud storage
Remote monitoring of screens
Auto upgrades
Pricing:
The brand uses scalable technologies, through which you can manage multiple monitors from a single account. It has three pricing plans, and they are divided according to the rate per screen.
In addition, the prices are charged monthly, but if you want to opt for an annual subscription, you can get in touch with the customer care team.
1. Standard Plan at $7.99/month
Upload document files
Free layout templates
Social widgets
2. Pro Plan at $9.99/month
Playback reports
Volume level scheduling
Tag-based playlists
3. Enterprise Plan at $12.99/month
Custom user roles
Password restrictions
Custom password policy
Best Raspberry Pi-Based Software
Screenly OSE or Open Source Edition is a Raspberry Pi-based digital signage platform that allows users to upload, manage, and schedule content on their digital screens. Launched in 2012, it powers 10,000 screens around the globe.
With this software, you can create, upload, and manage content on your signage boards. Besides, it allows you to display web pages, slideshows, videos, and pictures in full high-definition resolution.
Whether you want to display digital menu boards or keep users updated about the latest product range, Screenly OSE will come to your rescue.
I should point out here that Screenly OSE is different from the paid Screenly software. While OSE is a free software that is ideal for running a single screen, the paid version is recommended for multiple screens.
The brand offers a free 14-day trial, and then you can opt for a subscription if you need to monitor multiple screens. To gain access to the software, you must download it from GitHub and create an online account.
Moreover, you can curate customized playlists and run screens in offline mode. Further, you can scale the software to work on multiple screens, as per your business demands.
Features:
Screenly comes with a prebuilt media player and can support multiple scheduling spread across different time zones.
Here's a list of Screenly's essential features:
Full HD display
Automatic software updates
Two-factor authentication
Priority playlists for time-sensitive content
Facilitates file sharing
Supports wired and wireless connectivity
Offers cloud storage
Pricing: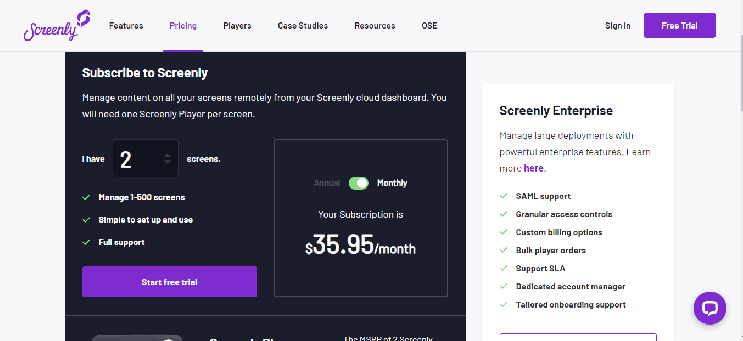 Screenly OSE is mainly for single screens, but if you want to use Screenly for Enterprise purposes, you can get in touch with the brand's customer support team for a customized quote. The Enterprise package offers features like granular access controls and bulk player orders.
5. Viewneo.
Best Digital Signage System With Hardware Solutions
Viewneo is an easy-to-setup digital signage software that can be used by small and large businesses alike. It comes with a starter pack that is compatible with all operating systems, from Windows to Linux.
Besides, you can mix and match different components and functionalities to create customized content as per your firm's requirements.
Viewneo claims to be the only digital signage system that offers hardware solutions, and therefore, you get features like facial recognition systems, IoT gateways, smart hangers, sensors, etc.
Moreover, you can use the plugins to expand the functionality of your digital signage. This includes evaluating data, sensor-controlled events, tracking audience engagement, and creating more interactive content.
In addition to this, the FR-CAM facilitates facial recognition to help you better understand the viewer demographics and create content accordingly.
Features:
Viewneo allows you to automate processes and link the software with other apps. Further, you can use the API plugin to link Viewneo with third-party systems to access interface functions and gain complete control over your workspace.
Some of the key features of Viewneo are:
Works on all operating systems
Allows users to gather demographic data
Interactive kiosk system
Customized video walls
Live news ticker plugin for essential messages
Easy integration with Zapier
Compatible with Chromecast and Firestick
Pricing:
Viewneo provides customized pricing packages as per the requirements of your company. To create a personalized pack, you have to determine the number of screens you want to use and the choice of plugins.
1. Viewneo Professional Pack at $18/month
Single screen
Over 200 design templates
Unlimited playlists
2. Viewneo Enterprise Pack at $240/month
For large enterprises
Two TB free space
Multi-client capability
Before purchasing the software, you can opt for a 30-day free trial.
6. DigitalSignage.com.
Best Free Digital Signage Software
DigitalSignage.com is a free tool that allows small and medium-scale enterprises to create dynamic digital signage content and attract potential clients to their organization. It is built on GPUs and runs on web browsers, tablets, mobile devices, and set-top boxes – all for free.
Further, it supports flash, live tv, HTML5, HD videos and allows the user to update content remotely. Combined with an active customer care team and multiple widgets, DigitalSignage.com is a one-of-a-kind service that helps your business stand out.
Features:
DigitalSignage.com is an efficient content management system with power-packed features. It offers cloud storage, unlimited network bandwidth, and much more. You can also access the tutorials to get a better understanding of this software.
Here's a list of some of the top features of this tool:
Touchscreen interface
Impressive content scheduler
GPU-based processing
Wide range of templates
Helps in advanced analytics
Pricing:
DigitalSignage.com is an advanced digital software solution and allows you to create customized digital displays that will benefit your firm. The basic edition of the software is free and supports features like multiple digital signage players and free storage.
Aside from this, it has two other paid plans:
1. Enterprise Edition Plan at $49/month
Single screen
Discount on hardware
Access to all features
2. Privately Hosted Plan at $895 (one-time payment)
Full control over security
Operates on the user's server
No limits on the disk size for storage
7. Concerto.
Best For Broadcasting Digital Announcements
Concerto is free, cloud-based software that facilitates sharing information about specific events, services, etc., on your digital signage screens.
It was initially primarily designed for universities to broadcast lectures, seminars and advertise extracurricular activities. However, today, it is used by small and large enterprises for broadcasting messages.
A relevantly new entrant, you will need a web server that can support Ruby on Rails applications and runs on the Linux operating system to get this tool up and running.
Features:
As an open-source digital signage network, Concerto has an expansive media library and doesn't have a complex workflow.
Here's a list of its key features:
Helps in location-specific advertising
Displays educational, commercial, and informational messaging
No special logins required
Utilizes modern web technologies
Email support
Facilitates handling of multiple projects
Pricing: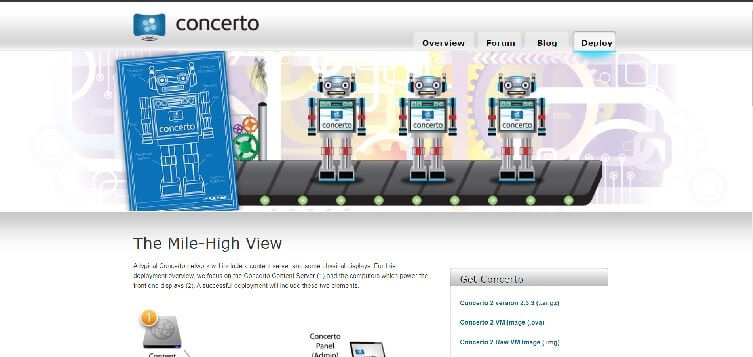 Concerto is primarily touted as free software, and you can download it and set it up according to the instructions on the website's deployment page.
Wrap Up.
Given the growing competition in the industry, it is essential to ensure that your business stands out. And, there is no surer way of doing this than by utilizing digital signage software. With it, you can display graphics, videos, and animation on projectors and monitors.
To give your business an edge over its competitors, you can consider any of the options from the list below:
NoviSign: Best For Professional Signage Solutions
Yodeck: Best All-In-One Digital Signage Solution
Screenly OSE: Best Raspberry Pi-Based Software
Viewneo: Best Digital Signage System With Hardware Solutions
Telemetry TV: Best For Small Businesses
DigitalSignage.com: Best Free Digital Signage Software
Concerto: Best For Broadcasting Digital Announcements
Choose any one of the options from the list and you're good to go.
Here are some more related posts from the blog:
Disclosure: I may receive affiliate compensation for some of the links below at no cost to you if you decide to purchase a paid plan. You can read our affiliate disclosure in our privacy policy. This site is not intending to provide financial advice. This is for entertainment only.