7 Best Docusign Alternatives (Ranked and Reviewed)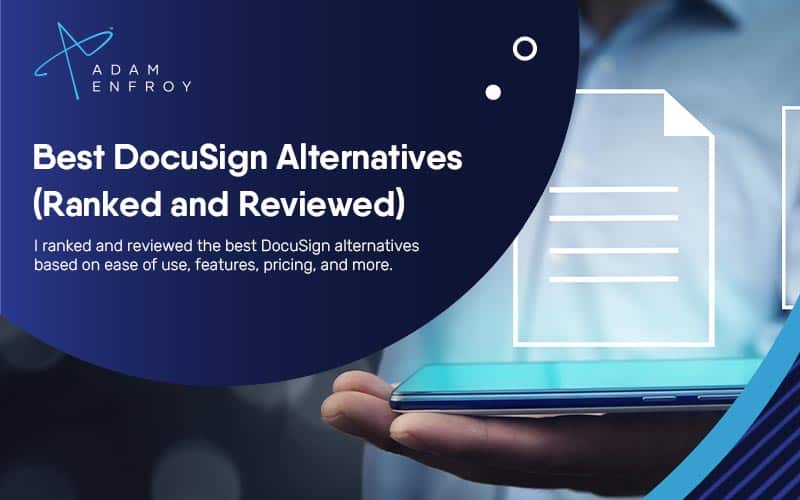 Want to jump straight to the best Docusign alternative? My #1 recommendation would be signNow.
Dealing with physical paperwork is a waste of everyone's time and energy.
E-signatures are the way to go for contracts and all legal documents.
They are a fast and reliable way to sign documents, minus the hassle.
Here is a stat for you: paperless operations reduce processing errors by 90%.
Not using a legally binding or globally recognized signature service is an open invitation to legal troubles.
DocuSign is the most popular and affordable e-signature software, it definitely isn't the only one.
Today, I'll be listing down some of the best DocuSign alternatives.
I'll also provide some insights on their ease of use, functionality, and pricing.
What are the Best DocuSign Alternatives?
Here are my top picks for the best DocuSign alternatives on the market.
Best for Individuals and Startups
If you want to generate documents with eSignatures, create proposals and contracts, and accept payments without hurting your budget, signNow is the way to go.
With its user-friendly and efficient API, you can e-sign bulk documents, accept proposals, and close deals on the go. You can build e-Signature workflows and create e-signing requests without any coding knowledge or experience. The process is simple, fast, and fool-proof.
Further, signNow allows you to contact all of your team members at once as you can share bulk invites, documents, and templates. Plus, through their partnership with USLegal, you can access the online library with tons of legal packages.
Features:
Available on desktop, Android, and iOS, signNow is a cost-efficient alternative to DocuSign. However, it does not offer many tools to edit and customize documents like its predecessor on this list.
Check out some of the interesting features offered by signNow:
Bulk sending
USLegal online library
Unlimited templates
Threat protection
Kiosk mode for mobile app
Court-admissible audit trails
Convert documents to reusable templates
Set allowed e-Signatures
Pricing: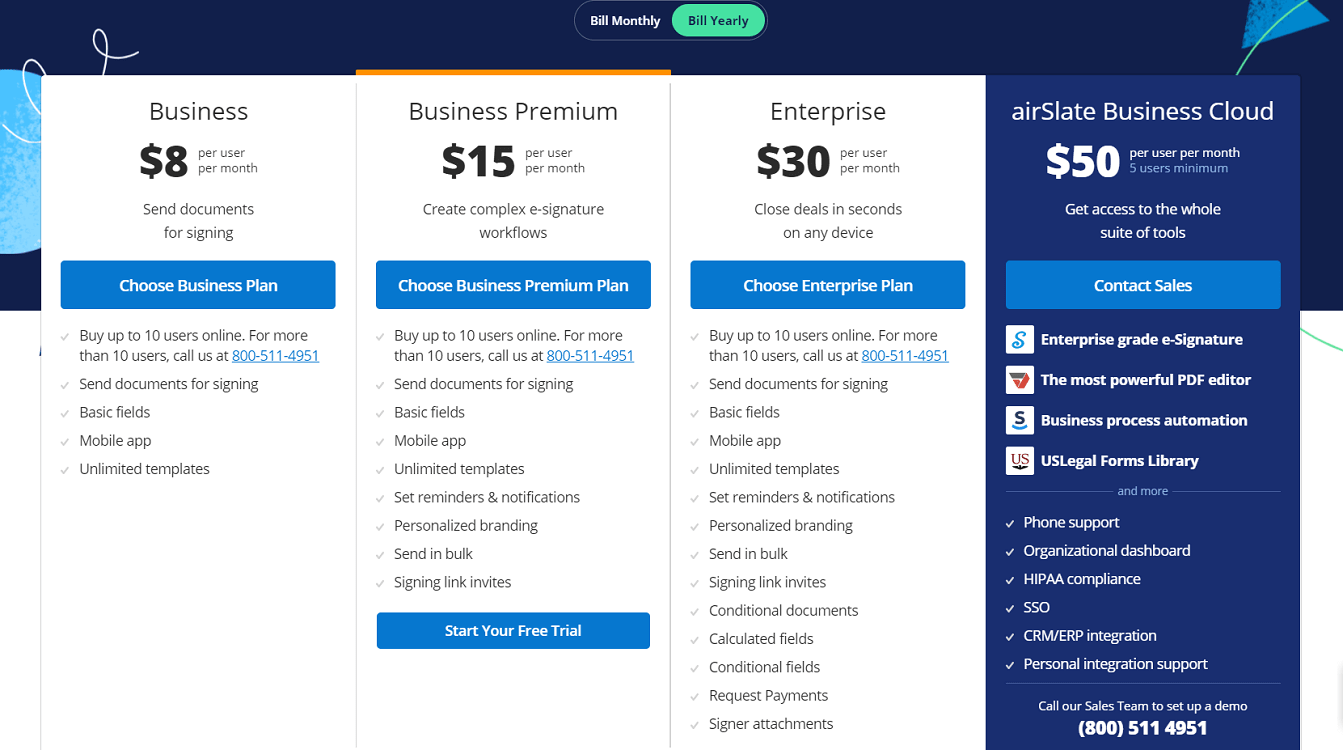 The pricing plans of signNow are staggered across four tiers, so you can choose the one that fits your organization's needs.
1. Business Plan at $8/Month
Add basic fields in documents
Streamline workflows with one team
Collect one in-person signature
2. Business Premium Plan at $15/Month
Custom branding
Manage multiple teams
Collect 2+ in-person signatures
3. Enterprise Plan at $30/Month
Add calculated, conditional, and smart fields
High-level threat protection and advanced authentication
Set redirect links for signers
4. airSlate Business Cloud at $50/Month
Priority phone support
CRM/ERP integration and dedicated support
HIPAA compliance and SSO SAML authentication
The prices mentioned above are for the yearly billing cycle that lets you save up to 60% when compared to the monthly plan.
Get started with signNow.
Best for Personalized Business Documents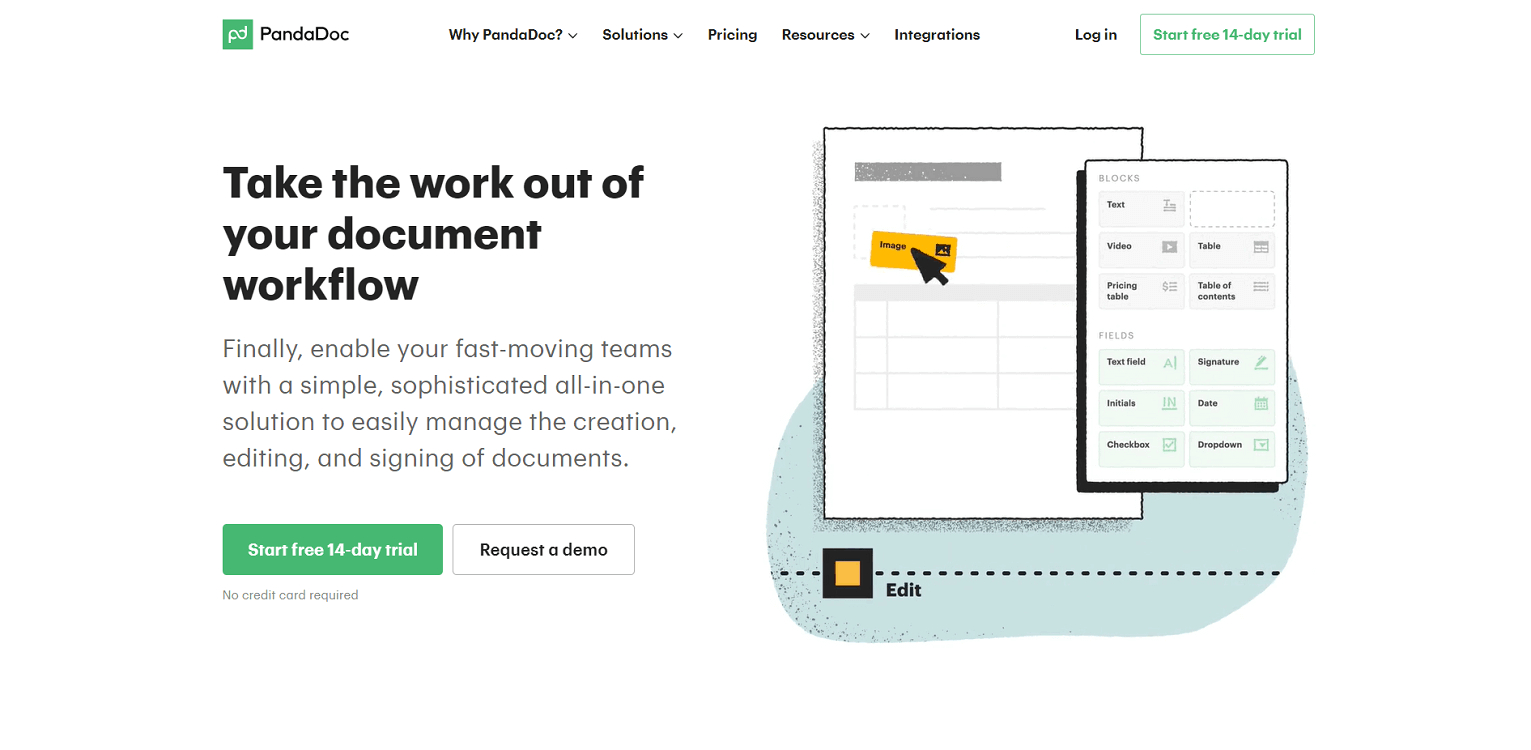 PandaDoc is the most powerful DocuSign alternative that's designed keeping in mind the needs of all types of organizations. It lets you create proposals, quotes, contracts, and sign all of those instantly.
Besides simplifying the signature process, you can build a style and theme for your brand with over 450 templates to choose from. Consequently, customization is a breeze as you can pick data from your CRMs like Google Drive, Dropbox, Salesforce, and so on.
PandaDoc offers email and mobile app notifications whenever the signers open, view, and sign a document. This way, you can track their engagement in real-time and optimize your content with the help of templates and the content library.
Features:
PandaDoc is an all-in-one platform for fast, easy, and convenient editing, engagement tracking, and electronic signatures.
Here's a list of the standout features that PandaDoc offers:
Drag-and-drop document editor
Unlimited one-click uploads
450+ pre-designed and customizable templates
2-way sync CRM integrations
Customer engagement tracker with real-time alerts
24/7 email and chat support
Custom-designed themes, videos, interactive tables, and more
Pricing:
PandaDoc offers four pricing plans, each of which can be paid annually or monthly. However, you can save up to 24% with the annual plan. Also, the free eSign plan lets you take advantage of unlimited eSignatures and document uploads.
1. Free eSign at $0/Month
Unlimited document uploads and eSignatures
Mobile app
Collect payment for unlimited documents
2. Essentials Plan at $19/Month
Document management with insights
Customize templates, media files, and pricing tables
24/7 chat and email service
3. Business Plan at $49/Month
Integrations for 10+ CRMs
Personalized brand emails
Use existing business workflows and rules
4. Enterprise Plan (negotiable cost)
Separate and collaborate workloads
Multifunctional Salesforce user interface
SSO support
Note that some additional features in the Business Plan and Enterprise Plan may carry extra charges. If you're still wondering if it's worth it, start with the 14-day trial period for free.
Best For Large Corporations
RightSignature is the easiest and fastest e-Signature solution for businesses of every size. You can use premade documents and contracts and edit them further with form fields. And thanks to its one-of-a-kind automatic field detection, efficient document management is just a click away.
Moreover, this e-signature software offers customization so you can add logos, theme colors, pictures, and more to your documents. To help you put your best foot forward, the live progress bar and intuitive navigation flag point out errors in your documents.
Lastly, RightSignature facilitates multi-party signing, bulk sending, and team-wide collaborations to save you from the time and effort of tedious paperwork. Also, it provides integrations with many popular web services, allowing you to import documents, images, contacts, and more.
Features:
RightSignature provides a smooth and secure space for digital signatures, making it appropriate for those who aren't very techy. However, if you do face problems, customer care has got your back.
Let's take a look at what else RightSignature has up its sleeve:
Embed online forms
One-of-a-kind automatic field detection
Custom branding
Error-free guided e-signing
Bulk sending
256-bit SSL encryption
AWS cloud infrastructure
SHA-2 Digital Fingerprints, biometric and password-protection
Pricing: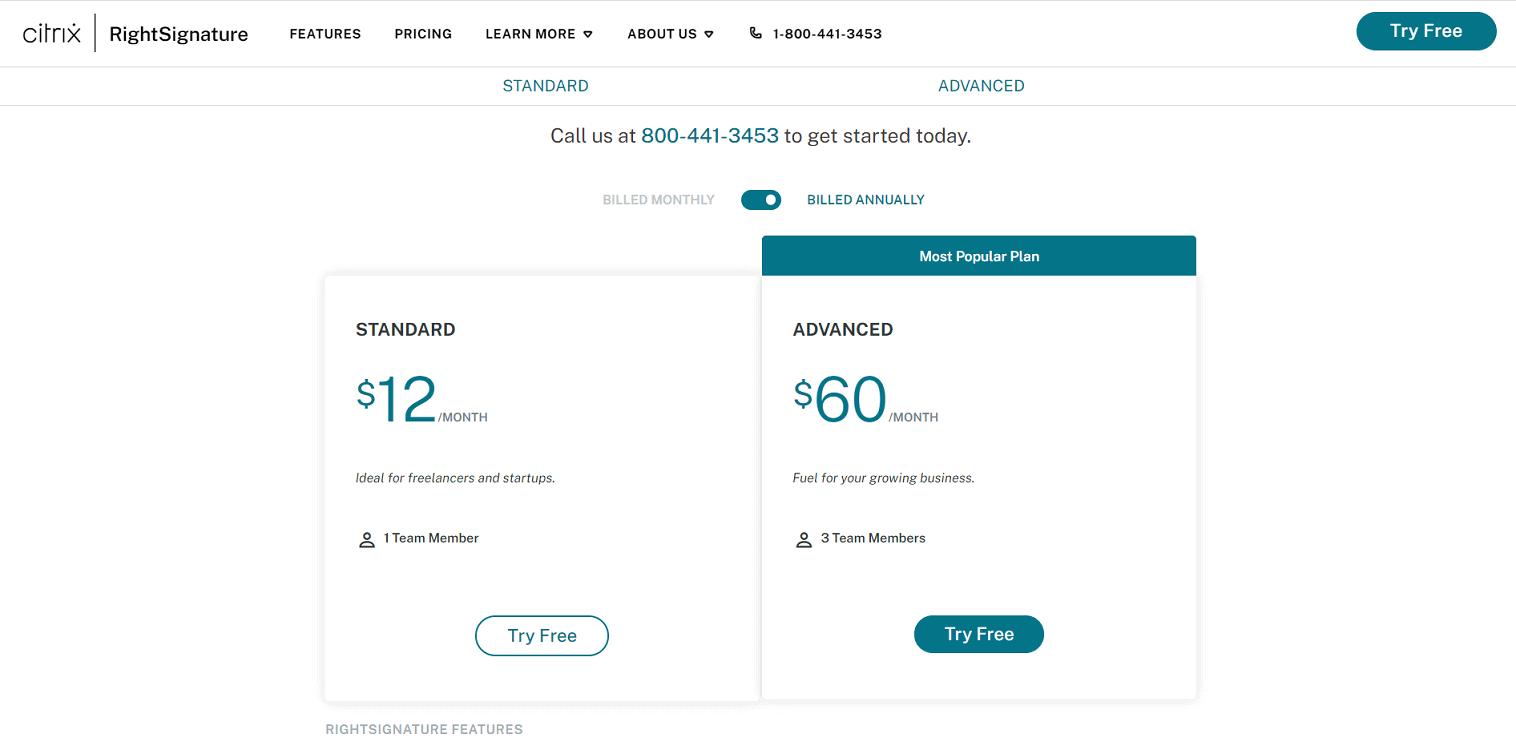 Divided into two categories, you can try the programs for free before getting into the real deal. You have the freedom to upgrade your service or downgrade at the end of the current subscription.
1. Standard Plan at $12/Month
Send documents to signers
Integration add-ons
Authentic, personal signatures
2. Advanced Plan at $60/Month
Share templates
Custom branding
View team statistics
While the Standard Plan is ideal for startups, I highly recommend the Advanced Plan for growing or large enterprise businesses.
4. Adobe Sign.
Best For Microsoft Users
Adobe is well-known in the computer software industry. Adobe Sign is one of the most secure DocuSign alternatives that's compatible with most apps and tools like Microsoft 365, Dropbox, etc. This electronic signature software lets you sign and request e-signs in a snap.
It also lets you track the status of your documents and proposals, and send reminders accordingly. With real-time notifications, you can get a clear view of the progress and workflow and manage your business documents with greater efficiency.
However, most of the features which make Adobe Sign a class apart come with a hefty price. Without paying the extra bucks, you will not be able to do anything more than just create and export documents, send emails to signers, and sign contracts and proposals.
Features:
Adobe Sign offers a promising set of features that will give wings to your business plans. Despite its ease of use, the software lets you create enforceable digital signatures and integrate your workflows with some of the best business-related platforms.
Here's a look at some of the essential features of Adobe Sign:
Microsoft integrations
Detailed audit trail
Automatic reminders and notifications
Signer identity authentication
Add passwords, cancel signatures, or replace signers
Search and filter feature
Smart recipient roles
Pricing:
Its three-tier pricing plan further bifurcates according to the number of users. The plans and features listed below are for single users.
1. Acrobat PDF Pack with e-sign at $9.99/Month
Get notifications and send reminders
Track PDF documents and comment reviews
Compatible with Google Drive, Dropbox, Box, and Microsoft 365
2. Acrobat Pro DC with e-sign at $14.99/Month
Acrobat Pro DC desktop software included
Password-protected PDF documents
Edit PDF documents on any device
3. Acrobat Pro DC with advanced e-sign at $19.99/Month
Custom branding
Receive payments via credit card or PayPal on forms and invoices
Attach files, hyperlinks, and calculated fields
Note that the last two plans require an annual commitment, so it's best to test the water by using the free trial.
5. HelloSign.
Best For Google Docs Users
HelloSign is yet another software for acquiring legally binding e-signatures in a simple, fast, and efficient way. Its integrations include Dropbox, Google Docs, Gmail, Salesforce, Slack, and other popular business platforms. This allows seamless teamwork and contract management.
While it does offer unlimited signature requests, cloud storage, custom branding, and more, it lacks a document creating or editing tool. However, since it is compatible with Google Docs, you can use it as a plug-in while creating contracts or proposals.
Moreover, HelloSign lets you add signatures by drawing, typing, or uploading in 22 different languages. You can incorporate drag-and-drop signature boxes, dates, checkboxes, etc., on your documents to further simplify the signing process.
Features:
HelloSign is one of the no-nonsense DocuSign alternatives that increases functionality without the unnecessary, fancy features. I appreciate the fair breakup of features according to the pricing plans. Also, you can take advantage of the free plan to get a gist of the experience.
Here are some notable features of HelloSign:
Unlimited signature requests
Reusable templates with shareable links
Track and time-stamp signer's actions
Email notifications and reminders
256-bit AES and TLS encryption
Bulk delete sensitive data
Request SMS authentication from recipients
Edit and mask signer fields
Options like decline to sign, redirect after signing, and more
Pricing:
HelloSign follows an upfront pricing policy with no hidden fees. However, its Premium plan is negotiable, so you'll have to drop your details for the team to get in touch with you.
1. Free Plan at $0/Month
Audit trail
Different types of signer fields
Notifications and reminders via email
2. Essentials Plan at $15/Month
Validate signer fields
Share template URLs
Unlimited signature requests
3. Standard Plan at $25/Month
Custom branding and messaging
Bulk send
Manage team members and documents via the admin console
4. Premium Plan
Near real-time performance dashboards
Highest level security with 2FA, 256-bit AES and TLS encryption, signer access codes, and more
Advanced signer fields and signing tools
HelloSign offers more features as add-ons that are mentioned on the pricing page.
6. SignRequest.
Best For The Environmentally-conscious
With over 2000 integration tools, SignRequest facilitates secure and binding e-signatures while focusing on simplicity and sustainability. It does so with its easy-to-use software that's compatible with any device and allows you to upload your signature or simply draw or type it.
I especially like the Signing Order that lets you choose the order in which the document will be sent to the signers. Further, SignRequest offers affordable plans and a free plan, making it ideal for startups and small businesses that don't require too many advanced tools and features.
The My Documents section is another impressive feature that acts as an all-in-one document management, tracking, and storage tool. Besides custom branding, you can create a custom landing page, too, for that extra personal touch.
Features:
With its competitive rates, SignRequest is a quick and hassle-free document signing software with advanced automation and bulk sending tools. You can use it for collecting signers for a petition with its public signing feature.
Let's peep into what else SignRequest has to offer:
Signing Order
Centralized document management, tracking, and storage
Zapier, Google Apps, and custom integrations
Switch between personal and team accounts
Custom branding and landing pages
Multiple methods to log-in
OTP verification
Reusable templates
Bulk send and multi-doc SignRequests
Pricing: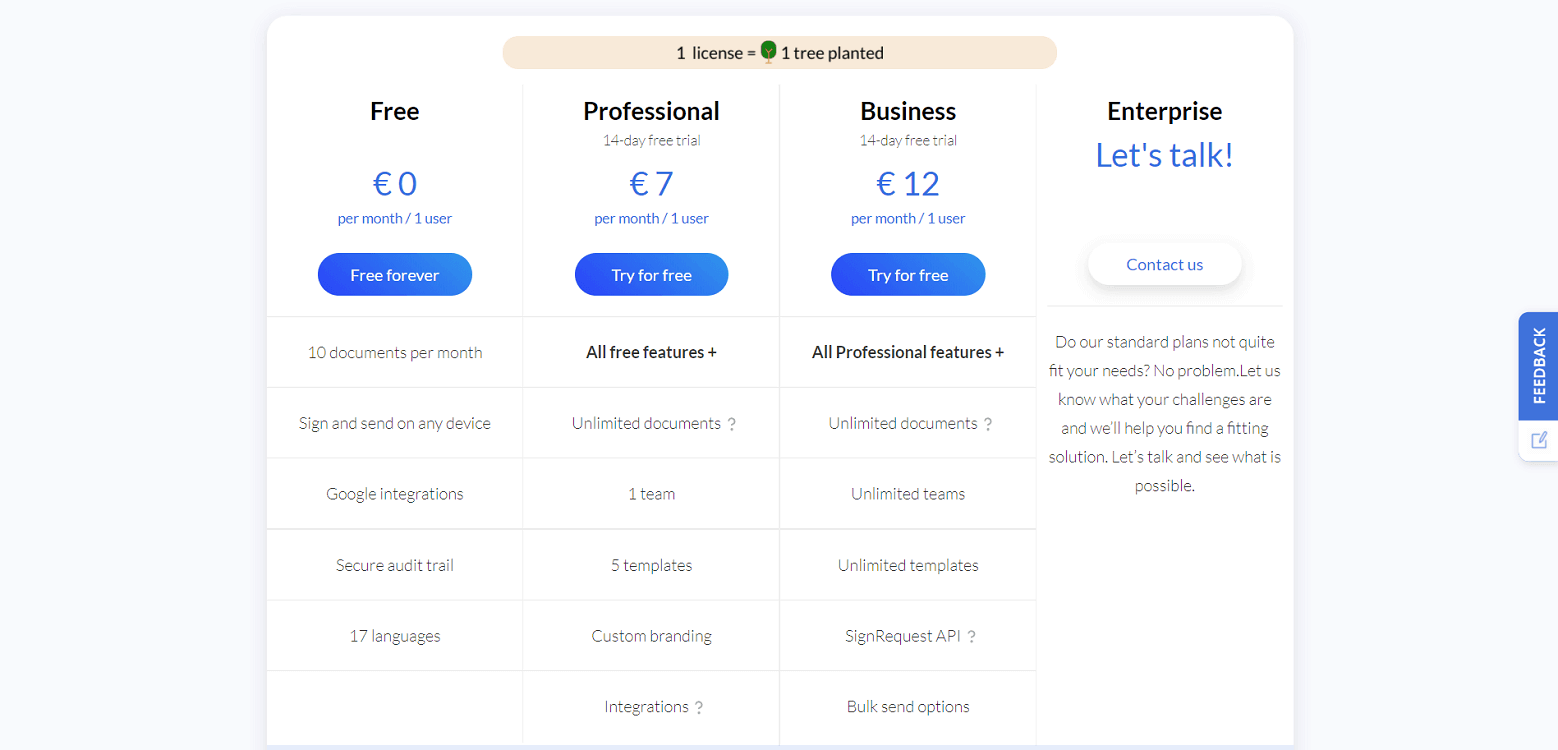 As mentioned earlier, SignRequest cares about the environment, and its support towards the paperless movement is evident with its Eden projects. They plant a tree for every paid license and have planted over 250 million trees to date.
1. Free Plan at €0/Month
Google integrations
Compatible with any desktop and mobile device
Audit trail
2. Professional Plan at €7/Month
Slack and Zapier interactions
Custom branding
Unlimited documents and five templates
3. Business Plan at €12/Month
Premium integrations
Unlimited phone support
Bulk sending
Additionally, SignRequest offers an Enterprise Plan with tailor-made features and a negotiable price. Note that the prices mentioned above are of the yearly bill, which enables 20% more savings altogether.
7. SignEasy.
Best For Offline E-Signatures
SignEasy is a fast and friendly e-Signature solution that you can use on any device. Signing documents is a cakewalk with self-signing, in-person signing, remote signing, parallel and sequential signing features.
Further, you can easily track the process and check if the document has been viewed and signed already. If not, you can send an email or push notification to the signers as a reminder. Plus, SignEasy notifies you once the process is complete, so you are always up-to-date.
This electronic signature platform allows seamless workflow and collaborations with Gmail, Microsoft, Evernote, Zapier, and more. Additionally, its digital audit trail and advanced security features let you get stuff done fast, without compromising safety.
Features:
SignEasy works with multiple file formats like PDF, Excel, Word, JPG, etc. I'm also a fan of its e-signature interface, which replicates the wet look of ink signatures.
Here are some more features that you should watch out for:
Sequential and parallel e-signing
Signer activity tracker
Notifications and reminders
Integrations with popular business and productivity platforms
Fingerprint and passcode authentication
Digital and secure audit trail
Offline signing
Custom fields and email footer
Pricing: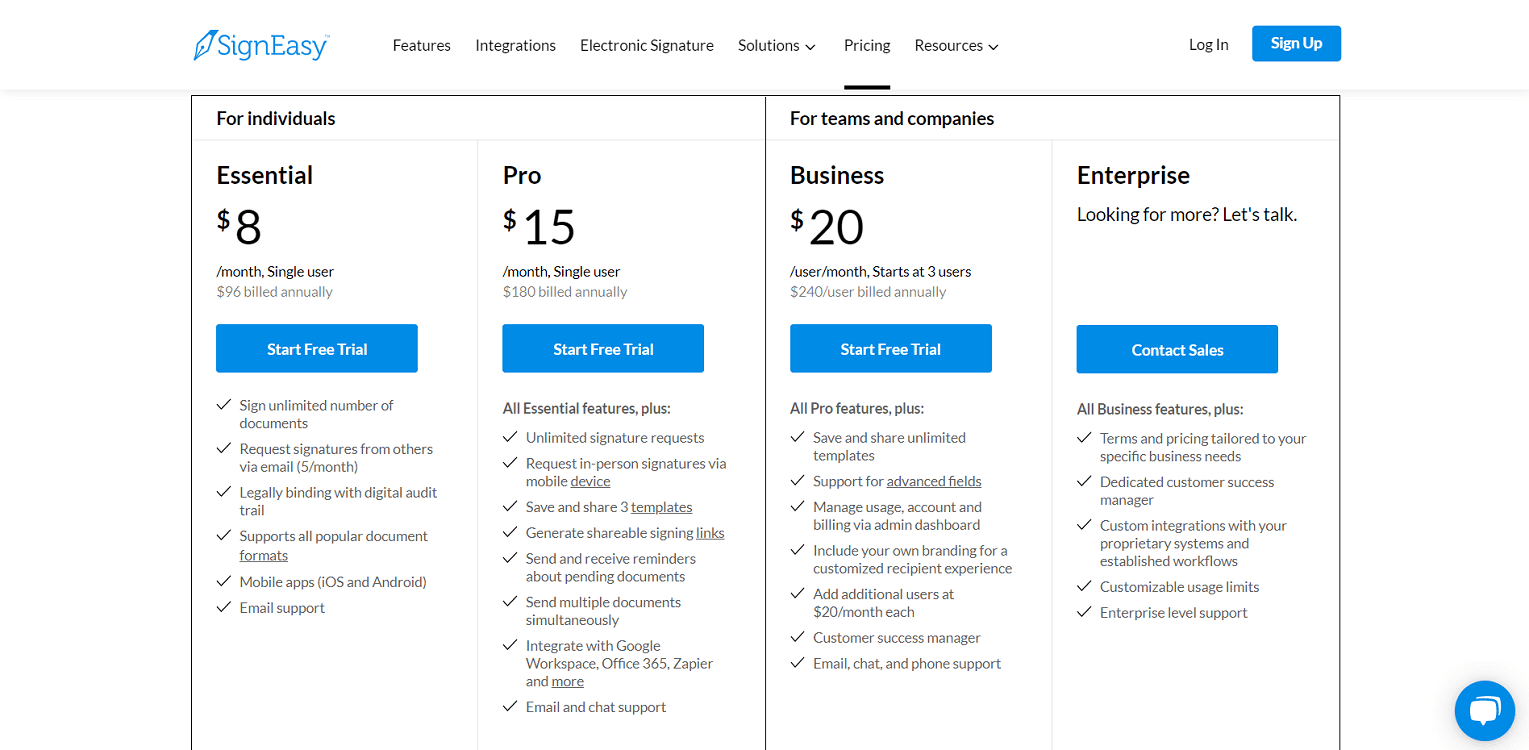 The pricing plans of SignEasy are divided into two groups. Like the e-signature tools listed above, here too, you will be able to save up to 50% more by opting for the yearly plan.
For Individuals
1. Essential Plan at $8/Month
Add legally binding signatures to unlimited documents
Email support
Mobile app on iOS and Android
2. Pro Plan at $15/Month
In-person signatures
Email and chat support
Reminders about pending signatures
For Teams and Companies
1. Business Plan at $20/Month
Unlimited templates
Email, chat, and phone support
Admin dashboard
2. Enterprise Plan (negotiable)
Personalized terms and pricing
Custom integrations
Enterprise-level support
Wrap Up.
With most of the e-signature software solutions offering mobile apps and offline features, nothing can stop you from bagging that sweet deal.
Make your pick from the best DocuSign alternatives below:
signNow

: Best For Individuals and Startups.

PandaDoc: Best For Personalized Business Documents.
RightSignature: Best For Large Corporations.
I'm sure one of these electronic signature software tools will suit your business goals.
Disclosure: I may receive affiliate compensation for some of the links below at no cost to you if you decide to purchase a paid plan. You can read our affiliate disclosure in our privacy policy. This site is not intending to provide financial advice. This is for entertainment only.