Wix vs Shopify: Which Platform is Best in 2023?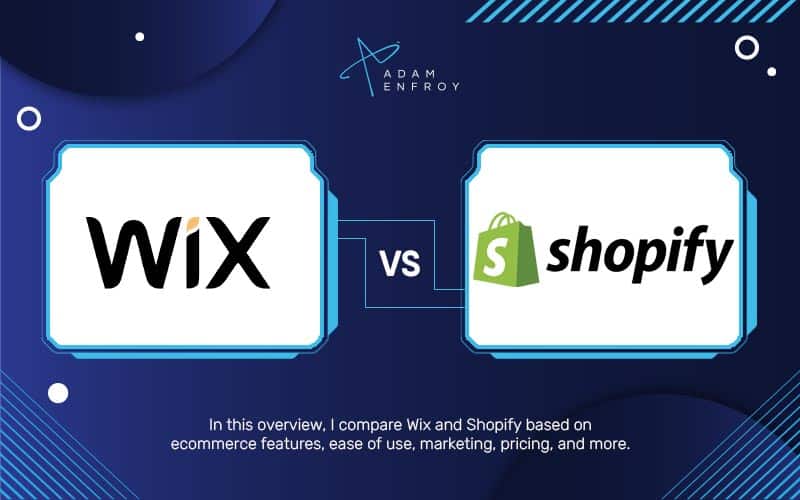 There was a time when eCommerce was more of a novelty than a reality. Today, it has become deeply entrenched in our daily lives and is something we can't do without.
However, getting into the eCommerce space is becoming more challenging than ever. With over $3.5 trillion in sales and more than 22% market share, everyone is vying for a piece of the eCommerce pie.
But when you have to compete with the likes of behemoths such as Amazon, a functional yet attractive website is a must-have. Thankfully, there are many ecommerce platforms available online, and today I'm going to compare two of the best ones: Wix vs. Shopify.
In this review, I'll take you through what Wix and Shopify are, how they work, and how you can take advantage of each. In the end, you'll have a clear understanding of which one to use in which situation.
What is Wix?
First, let's look at Wix, which started operations in 2006 and quickly scaled to become one of the frontrunners in the eCommerce space. It's an intuitive, easy-to-use website builder that uses a drag-and-drop WYSIWYG interface for creating websites.
When using Wix, I found that it provides an AI-based website-builder assistant (Wix ADI) that considers your requirements and creates a website for you. With Wix, you can create a website in any niche without any knowledge of web technologies like HTML or CSS.
Due to the extreme ease-of-use of the platform, it has garnered over 180 million users and powers more than 130 million websites worldwide. Wix hosts over 90 million domains and is one of the most popular website builders today.
Apart from being a general-purpose website builder, Wix also has several features that help it power eCommerce websites. From shopping cart integrations to payment gateways, Wix offers multiple choices for small businesses.
What is Shopify?
While Wix is a general-purpose website builder with eCommerce capabilities, Shopify is the go-to solution for setting up an online store. Shopify started operations earlier than Wix (in 2004) as an attempt to solve the problems entrepreneurs usually face in setting up an online presence.
Needless to say, the platform has succeeded in this task wonderfully. Today, Shopify holds the distinction of having served over 1,000,000 businesses and has helped generate over $200 billion in revenue.
Dedicated to eCommerce, Shopify's robust and advanced features allow businesses of all sizes to scale their operations faster. Whether it's social media functionality, eCommerce platform management, or SEO capabilities, Shopify has a solution that's best suited for your business.
Like Wix, Shopify also uses a drag-and-drop website builder, offers a host of integrations, and has multiple customization features. Both platforms have multi-tiered plans which help your business scale at comfortable rates.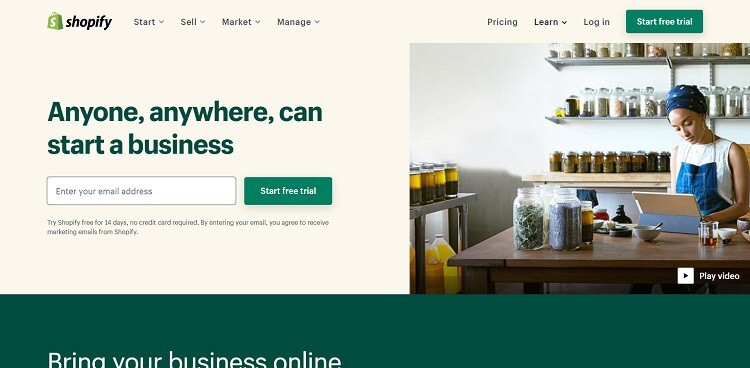 Wix vs Shopify Comparison
On the face of it, both Wix and Shopify appear to be similar products, and with good reason. Both eliminate the need for any coding skills, use a drag-and-drop interface, and have eCommerce capabilities that allow you to set up an online store.
Yet, when put under the microscope, there are subtle but significant differences between the two. And it's these details that should guide you in your decision between Wix and Shopify. To help you do just that, I'll be comparing the different aspects of both platforms in the next few sections.
1. Ease-of-Use
Currently, there are over 20 million eCommerce stores on the web, most of which don't make enough sales to survive. Therefore, to stand out, your store needs to be set up fast enough to capture the market precisely when you need to.
That's where the ease-of-use factor comes in; unless the website builder you're using is easy to use, you stand to lose out. Thankfully, both Wix and Shopify rank pretty high on the ease-of-use index.
Wix
Let's take the case of Wix first; as I've already mentioned above, Wix uses a simple drag-and-drop front-end editor for creating websites. Using the Wix editor, all you have to do is settle on a template, create the website structure, and add the required content.
In case you want a faster route to creating your website, Wix has you covered there as well using the Wix ADI (Artificial Design Intelligence). The Wix ADI is an automatic website building tool that creates a fully-fledged website for you within minutes.
You only need to input the required information; the ADI does the rest. And in case you're looking for greater customizations, I recommend going with the Wix Corvid option, which provides access to Wix APIs for detailed design control.
Shopify
When you're using Shopify to create an eCommerce site, the experience is slightly different. Wix lets users work with a front-end editor, whereas in Shopify, most changes are made in the backend interface. It's only when you preview or publish the changes that you get to see how your website looks like.
The above means that in Shopify, the editing and dashboard interfaces are kept separate, which is a good thing if you ask me. Such a separation allows you to add and remove products, manage sales and marketing campaigns, and work with other eCommerce features more quickly.
Winner: Wix And Shopify
When it comes to ease-of-use, both Wix and Shopify excel in different aspects. Wix provides greater flexibility of design and is more geared towards beginners. Shopify has a relatively steeper learning curve, but its simplicity in setting up eCommerce capabilities is unmatched once mastered.
2. Pricing
The most significant difference between Wix and Shopify when it comes to pricing plans is that Wix provides an entirely free plan, whereas Shopify offers only a two-week trial. However, Wix's free plan comes with several caveats, such as intrusive adverts and the inability to connect a custom domain.
Coming to the paid plans, Wix offers three options for selling online:
Business Basic at $23 per month
Business Unlimited at $27 per month
Business VIP at $49 per month
Each plan varies in terms of Storage, app access, eCommerce features, and even the level of customer support. And in case you're an already established enterprise, you can choose tailor-made Enterprise plans, which provide custom features on top of the basic plans.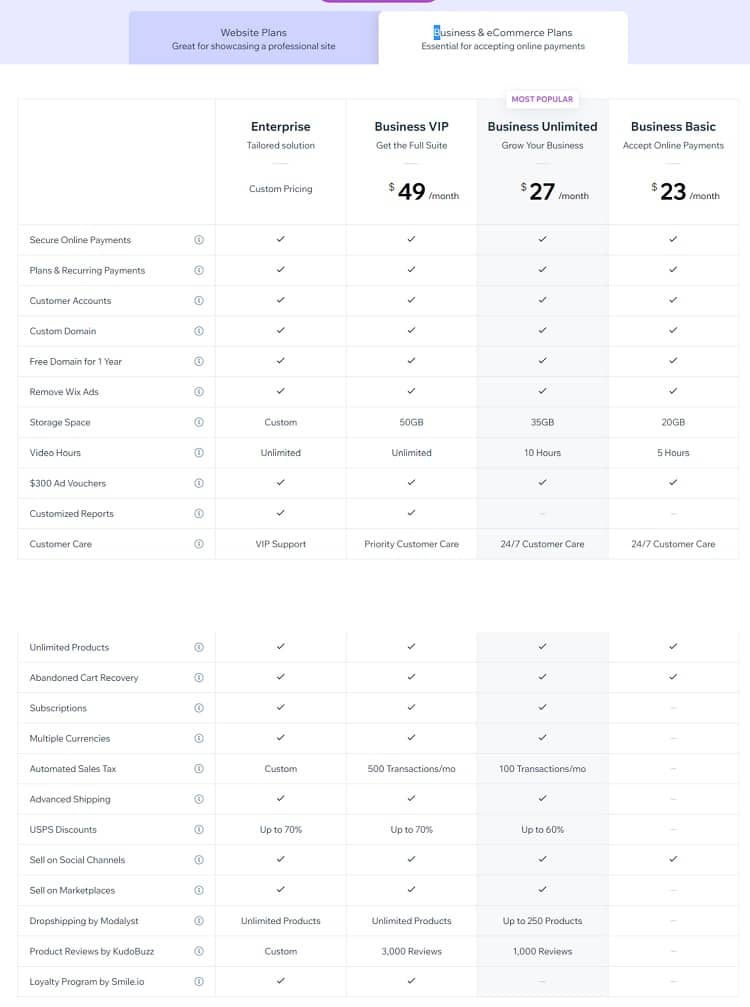 Now, let's come to Shopify's pricing structure, which is simpler when compared to Wix's. For selling via Facebook pages, accepting credit card payments, and accessing the Buy Button, you can use the Shopify Lite plan at just $9 per month. In case you're looking for complete content management functionality, the following plans are available:
Basic Shopify at $29 per month
Shopify at $79 per month
Advanced Shopify at $299 per month
For customized Shopify plans, you can opt for Shopify Plus, for which the fees are negotiable based on your business requirements.

Winner: Wix
Shopify store plans are visibly more expensive than Wix's but also are geared more towards eCommerce functionality. On the other hand, Wix provides greater value for money and allows more scalability at affordable rates.
Apart from the above, both platforms are also great as content management systems. Both can compete with the likes of other eCommerce and website builders such as WordPress and BigCommerce.
Check out my full review of Shopify vs. BigCommerce.
3. Speed.
Setting up an eCommerce store is not merely a matter of fast deployment, however. You also have to ensure that the website pages load faster on all devices and networks. In this respect, Wix lags behind Shopify.
Shopify websites usually come with an average load time of 1 to 4 seconds, making them more user friendly. Wix websites, on the other hand, have average load speeds of about 9 seconds, which makes them a bit slower than Shopify. However, these are approximate values, and vary based on multiple factors such as device hardware and network speed.
Winner: Shopify
Let's face it: speed is essential for eCommerce success, and even Google agrees. The speed differential between Wix and Shopify is not significant, but it's still there, and you definitely need to consider it when making a decision.
4. Themes and Templates
What's an online store without a well-organized and aesthetic storefront? That's why settling on the right theme and templates is essential for eCommerce success. It influences how customers interact with the site and whether they are attracted enough to come back for more.
The makers of Wix are rather generous when it comes to this aspect. When you sign up for a Wix free account, you instantly get access to over 800 professional themes and templates. The designs that you get are contemporary and are arranged by industry type.

Shopify, on the other hand, has themes that are mostly geared towards eCommerce websites; which is expected, since the platform focuses on eCommerce. However, the number of free themes you get is only 9, which is a lot less than Wix's.
Thankfully, each of these themes also come in multiple variants, which means the choices aren't as meager as you might think at first glance. And in case you're not satisfied with what's available for free, you can always invest in paid themes.
So, now that we've taken stock of the number of themes and templates on offer, let's talk a bit about quality. In this respect, both Wix and Shopify are comparable; themes are created with functionality and aesthetics in mind, and ensure that the site's purpose is served.
That said, if looked at from the point of view of sheer eCommerce features, Shopify themes come ahead. These themes are created explicitly for eCommerce stores on Shopify, making them more effective than the general-purpose themes found on Wix.
Another aspect where Shopify comes ahead of Wix is responsiveness. All themes available on Shopify are 100% responsive, which means they are fully mobile compatible. In contrast, Wix themes require a fair bit of tweaking to be mobile-compatible.
Winner: Wix and Shopify
If I go by the sheer number of themes and templates available, Wix is way ahead of Shopify. However, the latter wins in terms of eCommerce compatibility and responsiveness, both of which are essential for any eCommerce business.
5. Level of Customization
So far, it's clear that Wix and Shopify offer sufficient choices when it comes to themes. However, that alone is not enough; the sites need to be customized to reflect your business's ethos.
Both Wix and Shopify allow you to make custom edits using HTML and CSS. Wix has a dedicated feature called Wix Corvid, where every aspect of your website can be customized. This feature lets you have total control over how your website looks and feels.
Shopify has a simple "Edit HTML/CSS" feature that you can access from the admin page. Also, Shopify lets you switch templates anytime you need, which allows you to revamp your website appearance without the need to rebuild the entire site.
Sadly, that's not the case with Wix, which doesn't allow you to change templates once you've built your site. That can be a severe impediment, in my opinion, one which the Wix developers need to address at the earliest.
Winner: Shopify
As far as customization is concerned, Shopify is the clear winner. And while Wix does offer similar options, they also come with inflexible drawbacks. Shopify themes can be optimized to a larger degree, making for better customer experiences and better sales.
6. Product Showcasing Features
At first glance, it's easy to think that Shopify has fewer features for showcasing products than Wix. After all, Shopify only lets you add your wares in three variants, namely size, color, and material.
Wix, on the other hand, provides six variants, with about thirty options. At the same time, both Shopify and Wix allow you to add product descriptions, titles, and images. What's more, Wix even supports video carousels in all themes, while Shopify does not.
Look closer, however, and you'll find that Shopify has a plethora of add-ons that make showcasing products a breeze. For example, you can integrate add-ons for enabling customer reviews on Shopify and even incorporate Augmented Reality (AR) features. Such flexibility is not available on Wix, which doesn't even allow embedding videos in product descriptions.
Winner: Shopify
Shopify takes the lead in this aspect and keeps the basics of product showcasing simple while providing integrations that make the job easier. Wix doesn't lag much, though, and makes up amply in terms of choices offered.
7. Inventory Management and Shipping
Till now, we've been mostly busy exploring the website functionality side of things. Now, it's time we took a look at what goes on behind the scene. In this section, we're going to look at the inventory management and shipping capabilities of Wix vs. Shopify.
True to my expectations, Shopify offers complete capabilities when it comes to inventory management. It allows you to upload single and multiple products, provide stock management tools, and even generate revenue reports. Using Shopify, you can run a full-fledged dropshipping business, no questions asked.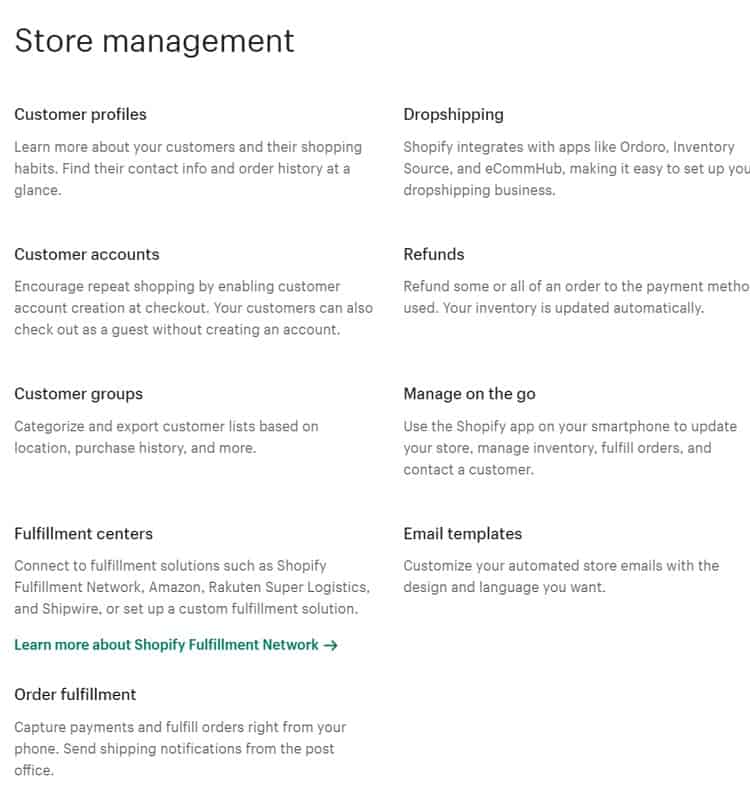 Coming to Wix eCommerce features, I find that it's designed more for smaller "e-tailers." As a result, its inventory management features are limited compared to Shopify's, and you'll need to use separate apps for reports and analytics.
Regarding shipping options, both Shopify and Wix offer the choice of creating a variety of shipping rules. Ranging from free shipping options to flat-rate shipping, and even shipping based on weight and product type, you have many alternatives at your fingertips.
What's more, both platforms offer the facility of providing real-time shipping quotes to customers. They also offer attractive discounts; these are, however, limited only to certain countries and regions.
Wix provides shipping facilities via the USPS, and you can get up to 70% discounts based on your plan. As an eCommerce specialist, Shopify offers more options by providing shipping across the US, Canada, and even Australia.
Winner: Shopify
In terms of inventory management and shipping, Shopify offers a greater number of features. But as it's geared towards eCommerce specifically, this is to be expected. Thankfully, Wix doesn't lag too much when it comes to discounts and shipping options.
8. Tax Management
One of the major headaches of any business is taking care of the taxes. And when using an eCommerce web-development platform, you'd expect some amount of help in this aspect. True to customers' expectations, both Shopify and Wix offer several options here.
Wix gives you the option to disable and enable taxes, mention tax rates in the product price, and much more; you can even set-up taxes on a region-wise basis. Wix also offers the free app Avalara, which helps in the auto-calculation of tax rates. However, the downside is that this app is only available for use in the higher-level plans.
Shopify, too, doesn't lag behind when it comes to taking care of taxes. You can use the platform to perform tax calculations automatically. In case you've opted for the Shopify Plus plan, you get access to Avalara, which makes tax calculations a cinch.
Winner: Wix and Shopify
Both Wix and Shopify fare equally well when it comes to tax calculations. Both have multi-region tax calculation capabilities and provide access to the Avalara app. What's more, these platforms even allow you to automate the tax filing process.
9. Abandoned Cart Recovery Options
Abandoned cart recovery is a fundamental eCommerce functionality that's expected of any online store. This feature lets you locate and target shoppers who added items to their cart but did not check out. After identifying them, you can send retargeting emails with discounts and coupons that nudge them to complete the purchase.
Both Shopify and Wix come with abandoned cart recovery options. While Shopify offers the functionality from within the platform, Wix uses a third-party add-on to complete the task. Shopify provides the functionality on all plans, while Wix includes the abandoned cart recovery feature with its eCommerce plans.
Another respect where Wix and Shopify differ is the number of automated retargeting emails that each allows you to send. Using Shopify, you can send only one automated retargeting email, whereas Wix lets you send up to two. But that's not a very big difference in my opinion.
Winner: Wix and Shopify
When it comes to abandoned cart recovery features, Wix and Shopify both fare equally well. Granted, there are minute differences in the way each platform utilizes this feature, but that is only nominal.
10. POS Functionality
Point-of-Sale, or POS functionality, allows an eCommerce business to sell even from real-world venues. POS terminals can accept payments through Credit and Debit cards, update inventory, and control stock levels.
Wix and Shopify both offer POS functionality, but I believe Shopify does a better job in this regard. For starters, Shopify POS works in most countries across the world; that's not the case with Wix POS, which only works in the US, Canada, Australia, UK, and Japan.
Secondly, the POS feature is an integral part of the Shopify platform. This means that Shopify has been developed with POS as a core functionality and provides dedicated POS support.
On the other hand, If you need to use POS features with Wix, you'll have to utilize the Square add-on. Of course, this doesn't mean that Wix's POS capability is any less than Shopify's, but it won't be as simple a process as with the latter either.
Winner: Shopify
Wix and Shopify both offer POS functionality, but Shopify offers a seamless, integrated experience that's easy to put to use. In Wix, you'll have to use an add-on, which means interacting with two software entities to get the same job done.
11. Social Media Support
Social media is a massive source of eCommerce traffic in present times. Naturally, eCommerce platforms need to integrate with social media channels to increase sales and grow their business.
Shopify provides a multi-channel social media support that lets you connect your store to multiple social media accounts. Whether it's Facebook, Instagram, or other marketplaces such as Amazon and eBay, Shopify lets you work in tandem with all channels and increase exposure.
In a similar vein, Wix lets you integrate with Instagram for digital marketing purposes. Using Wix, your store can leverage Instagram and directly sell on the platform, thus providing a great channel to amp up your sales.
Winner: Wix and Shopify
Yet another aspect where I find both Wix and Shopify to be on equal footing. Both platforms make ample use of social media and allow you to leverage the power of these channels to drive sales.
12. Blogging Capabilities
Blogging is an effective digital marketing channel in present times, and both Wix and Shopify have capabilities that allow you to create a blog for your website. For any business owner serious about growth, blogging is an avenue that can't be ignored.
Using both platforms, you can create blog posts, categorize them as required, and even allow others to access your content via RSS feeds. Despite the similarities, there are certain differences in the features of both.
For instance, Wix lets users insert content strips from blog posts into product pages easily. Shopify also has a similar capability, which lets you feature blog content on other pages, but you need to take the help of a paid add-on.
Also, Wix allows you to use both tags and categories in blog posts. Shopify, on the other hand, only has options for using tags. Finally, Wix provides an autosave feature that saves your content while you're creating it; sadly, Shopify lacks this one.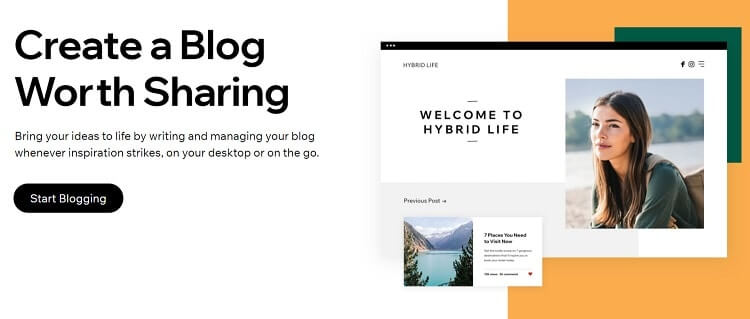 Winner: Wix
Wix's blogging department is clearly ahead of Shopify with its "strips" and autosave features. Further, you don't have to spend extra on Wix for blogging, while in Shopify, you'll have to invest in an add-on.
If you want to read my full guide on how to start a blog
13. Email Marketing
Despite being one of the oldest web technologies, email is still considered the marketing channel with the best ROI. Naturally, both Wix and Shopify have options to create and manage email marketing campaigns for your eCommerce store.
Here, Wix is several steps ahead with Wix Ascend, an all-in-one solution for all digital marketing needs. You need to get a separate subscription to access its features, but once you do, you'll be able to access all marketing-related options from this one interface. This is a functionality that can come in very handy when running multiple digital marketing campaigns.
Even if you decide not to get an Ascend subscription, you can still launch up to three email marketing campaigns per month with Wix. However, with the subscription, you get access to the tool's full features, such as higher email bandwidths.
Shopify integrates email marketing features in the admin page, from where you can design and launch campaigns. But in case you're looking for a more significant number of features and greater flexibility, you can opt for several plugins and add-ons such as Omnisend Email and Privy.
Winner: Wix
Email marketing is one of the aspects where Wix has an edge over Shopify. With the Ascend platform, Wix lets you take care of all digital marketing features, including email campaigns. Shopify's capabilities are a bit limited in this aspect without add-ons.
14. Mobile App Availability
Today, we live in the age of mobile apps and on-the-go business capabilities. So, it's only expected that you should be able to access and edit your website from smartphones. To let you do just that, both Wix and Shopify provide mobile apps for store management on the move.
The Wix mobile app, which is available on iOS as well as Android, is a fully capable one that lets you do everything from creating and publishing blog posts to managing events. You can even add images to your product galleries using the app and make general updates to your site.
In contrast, the Shopify app is more geared to make eCommerce processes smoother. Available on every major smartphone OS, the Shopify app allows you to manage most aspects of your store. Shopify even has a POS app for accepting physical payments, a chatting app, and even a logo maker app.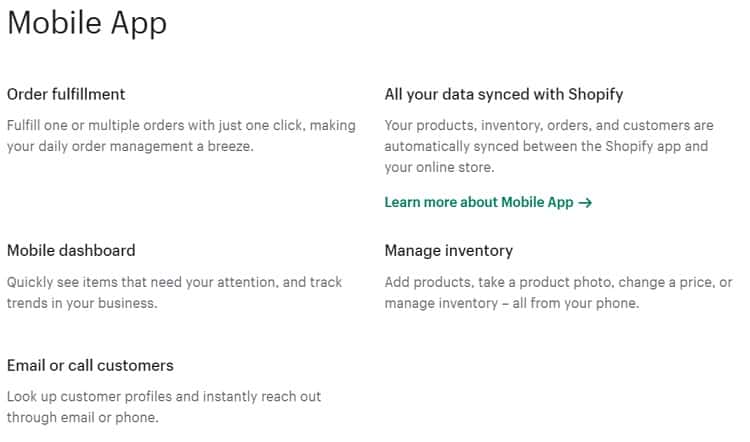 Winner: Wix and Shopify
Wix and Shopify both provide capable apps to take care of site management on-the-go. However, the Wix app is more suited to general site edits, while the Shopify app prioritizes eCommerce capabilities.
15. Number of Add-ons
Wix and Shopify are self-sufficient platforms in their own right, but their capabilities can be further enhanced using add-ons. Thankfully, each tool has an app store from which users can access a wide range of apps.
As is expected, each app store is differently organized and has its own characteristics. The Wix store is more geared to provide additional features to your website. Apart from that, you'll also be able to integrate with over 250 other tools and services, such as MailChimp.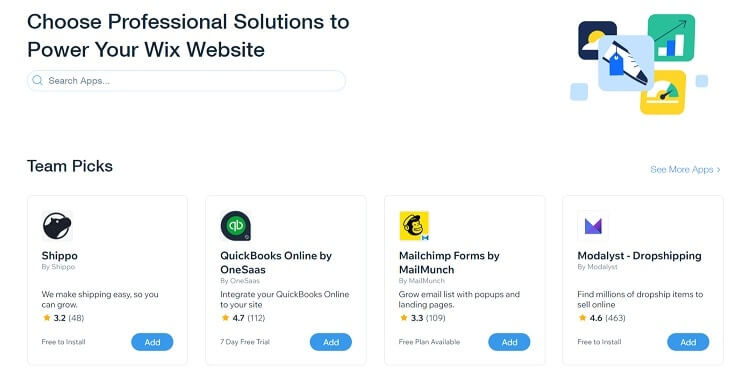 The Shopify app store, however, far outstrips Wix with its collection of over 3000 apps and integrations! From accounting to CRM, you'll be able to find everything that you need for your eCommerce store here.
Winner: Shopify
There's no need for me to be much explicit here: Shopify wins hands down with its large number of add-ons and integrations. The Wix app store is capable but doesn't really come close to Shopify's massive range of offerings.
16. Payment Integrations
No discussion of eCommerce website builders would be complete without a section on payment integrations. And while Wix and Shopify are both well equipped to accept payments, there are certain differences that you need to keep in mind.
In terms of functionality, Shopify covers almost every aspect of payment acceptance. It provides integrations with over 100 payment gateways, including its own dedicated gateway, Shopify Payments.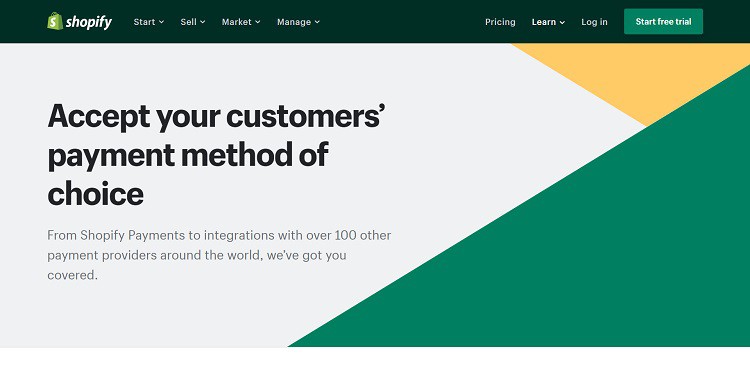 Shopify also allows merchants to accept payments in multiple currencies, enables tipping while checking out, and even ask for donations. In case Shopify Payments is not available on your location, you can always opt for third party apps for payment.
As is expected, Wix supports all the usual payment platforms such as PayPal, Square, and Stripe. However, it doesn't support digital wallets such as Amazon Pay and Apple Pay. Another drawback is that Wix doesn't let customers checkout in their local currency.
Despite all of the above, Wix has one significant edge over Shopify in terms of payments: it doesn't charge you any processing fees at all. Shopify, on the other hand, charges transaction fees for using third-party payment gateways.
Winner: Wix and Shopify
Shopify beats Wix with its more extensive payment options and features if you're thinking in terms of sheer capacity. But Wix has the upper hand by providing free payment processing, which might be the more attractive factor for your online business.
17. Performance Analytics
Capable analytics features are one of the significant factors that determine the power of an eCommerce solution. Unless you can keep track of your website's performance, you won't be able to assess what steps to take in order to make the business grow.
In this respect, Wix and Shopify are comparable eCommerce tools. Both provide access to Google Analytics, which gives you detailed insights regarding customer behavior. Using this data, you can customize your website and make it more customer-friendly.
Note, however, that you'll need to be on any of the eCommerce plans to use this capability with Wix. With Shopify, however, it's available for all plans. Shopify even has several built-in analytics features, such as conversion tracking and customer behavior analysis.
Winner: Shopify
Once again, the prize goes to Shopify for being more eCommerce-friendly. Here, you get built-in and third-party analytics integrations with every plan, which make Shopify the better choice for analytics.
Wix vs. Shopify: Pros And Cons
In this section, I'll highlight some of the strengths of both platforms, along with a few weaknesses. This will allow you to compare Wix vs. Shopify at a glance.
Wix Pros:
Simplified editing interface
Greater value for money
Access to a large number of tutorials
Better email-marketing facilities
Wix Cons:
Lesser search engine optimization (SEO) features
More geared towards smaller businesses
Not as good for dropshipping
Shopify Pros:
Wide range of eCommerce features
Widest choice of payment options
A massive number of add-ons and integrations
Fully optimized for search engines
Shopify Cons:
Slightly more expensive
Lacks advanced blogging features
Can lock you into using their payment gateways
Summary
I hope the above comparison between Wix and Shopify has helped you better understand the two platforms. While both are great for creating websites, each has its strengths and weaknesses.
The choice of which to use depends entirely on your business needs. In case you're looking to create a dedicated eCommerce portal with all the bells and whistles, Shopify offers the best feature-set and add-on collections.
However, for general-purpose small business websites with eCommerce capabilities, Wix is the better option. Its plans are more affordable, the editing is easier, and you get access to advanced digital marketing choices in the form of Wix Ascend.
So, before you take your pick, be sure to use the free plans and trials to test each platform out.
Get started with Wix.
Disclosure: I may receive affiliate compensation for some of the links below at no cost to you if you decide to purchase a paid plan. You can read our affiliate disclosure in our privacy policy. This site is not intending to provide financial advice. This is for entertainment only.
---
Last Updated on December 8, 2022 by Adam Enfroy