The Ultimate List of Ecommerce Statistics for 2023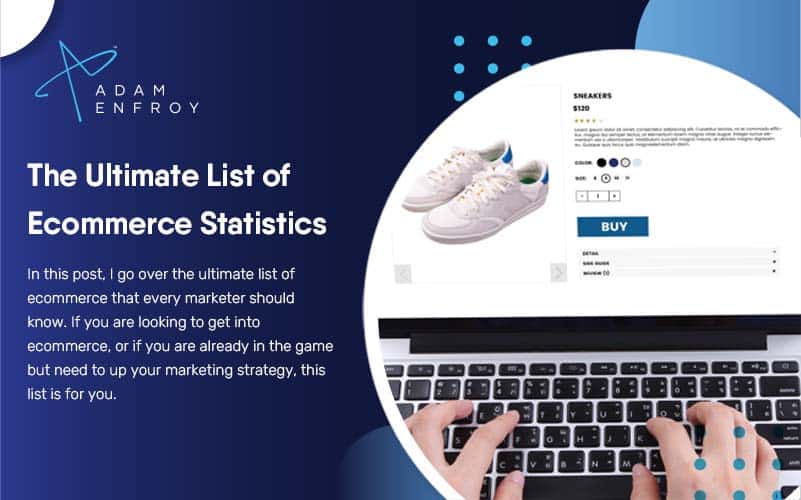 The process of starting an ecommerce business is becoming easier and more accessible.
You can now create an online store in minutes with platforms like Shopify, WooCommerce, and BigCommerce.
However, because of so many ecommerce platforms and solutions available, the industry is becoming very competitive and leading to many businesses that end up failing.
To help you stay ahead of the curve, I've compiled the latest and most relevant ecommerce statistics for your business.
These statistics will help you better understand the current state of the ecommerce industry and future trends.
Let's jump right into it.
Physical Store Vs. Ecommerce
1. As Many As 65% Of Consumers Look Up Online Prices Before Making An In-Store Purchase.
(KPMG)
Comparing prices online before making a purchase in-store is becoming more popular.
With the ease that one can do this as they are standing in a physical store, it's no wonder that the number of people that do this is substantial.
This also means that having competitive prices and a better offer than your in-store competitors might be critical to success.
2. 24/7 Availability When Shopping Online Is The Number One Reason People Prefer To Use Online Commerce.
(KPMG)
The ability to shop online 24/7 is the primary reason people prefer it to in-store shopping.
No more do you have to wait until the store opens to make your purchase.
If you want something at 2 am, you can grab your phone, find a store, and buy it then and there.
Image Credit: Financesonline.com
3. Almost 94% Of All Internet Users Have Bought Products Online.
(OptinMonster)
With such a connected global reach, almost everyone who's ever been online has, at one point or another, bought something through ecommerce.
As we become more and more used to the convenience of buying things without even having to leave our homes, this number is likely to continue to grow.
4. When It Comes To Holiday Shopping, More Than Three-Quarters Of People Prefer To Do It In A Physical Store.
(GeoMarketing)
This is an interesting statistic because holiday shopping seems to defy other expectations.
While most people prefer to shop online for convenience, tradition trumps all when it comes to holiday shopping.
This might be due to the social element of holiday shopping or because people want to take advantage of in-store sales and discounts.
Whatever the reason, if you have a physical store, make sure to capitalize on the holiday shopping season.
Ecommerce Websites
5. Bounce Rates On Ecommerce Mobile Sites Increase By 30% If A Site's Loading Time Goes From 1 To 3 Seconds.
(Google)
The bounce rate refers to the percentage of visitors who leave a site after only viewing one page.
A high bounce rate is not ideal for business as it means that people are leaving your site without taking any action that adds to your bottom line.
Having a website that doesn't load as quickly as your competitors' might result in a lot of lost business.
6. 59% Of Millennials Go To Amazon As The Number One Website For Their Online Shopping.
(Inviqa)
The big ecommerce giants are not going anywhere anytime soon.
While there are plenty of other options for online shopping, people still flock to the big-name platform because of the convenience and ease of use it provides.
If you want to compete with this platform (and others like eBay), you need to ensure that your website is easy to use and offers a good user experience.
Ecommerce Sales Abandonment
7. The 1 Reason Shopping Carts Are Abandoned Is That The Extra Costs Are Too Expensive.
(Baymard Institute)
Transparency is critical when it comes to online shopping.
If you want to avoid having your customers abandon their shopping carts, make sure they know all the extra costs upfront.
This includes shipping, taxes, and any other fees that might apply.
8. Across All Industries, Cart Abandonment, Is At An Average Of Almost 70%.
(Baymard Institute)
This is a massive number, and it just goes to show how important it is to have a well-functioning ecommerce website.
There are several reasons why people might abandon their shopping carts, but if you can address the main ones, you can impact your bottom line.
Having abandonment cart sequences in place can also help recover some of those potentially lost sales.
9. 23% Of All People Will Abandon Their Shopping Carts If They Realize That Creating An Account Is Required.
(Baymard Institute)
Not many people like to create accounts when they are shopping online.
If customers require an account to make a purchase, you are likely to lose a lot of potential customers.
Consider offering a guest checkout option to make it easier for people to buy from your store.
10. Compared To Other Types Of Commerce, Those Who Have A Bad Experience While Buying Through A Mobile Store Are More Than 60% Likely Not To Purchase Again.
(Google)
Many people give ecommerce stores one chance to leave a good impression.
If they have a terrible experience, they are unlikely to come back.
This is especially true for mobile shoppers.
With so many options available, people are not likely to waste their time with a store that doesn't offer a good user experience.
11. In 55% Of Cases, When Someone Is Not Satisfied With A Product Or Company They Bought From Online, They Will Tell Friends And Family About Their Experience.
(UPS)
The power of word of mouth is enormous.
If you want to stay in business, it is essential to make sure that your customers are happy with their purchases.
If they are not, they will be quick to tell others about their experience.
This can quickly lead to a decline in sales.
Image Credit: Ecommerceguide.com
12. Failure To Personalize An Ecommerce Shopping Experience Was The Reason Businesses Lost $756 Billion Worth Of Transactions In The Past.
(OptinMonster)
While the internet makes it easy to find and buy products, it can also be impersonal.
People like to feel they are being treated as individuals, not just as another number.
If you want to compete in the ecommerce world, you need to make sure that you personalize the shopping experience for your customers.
This can be as simple as using their name in emails or offering customized recommendations.
Ecommerce And Email Channels
13. 20% Of Ecommerce Sales Are Made Thanks To Email Marketing.
(Wolfgang Digital)
Email marketing remains one of the most effective ways to reach your customers.
If you are not already using this channel, you should consider starting an email marketing campaign to promote your ecommerce business.
This can be a great way to boost sales and build customer loyalty.
14. There Is A $44 Return For Each Dollar Spent Through Email Marketing.
(OptinMonster)
Another stat in favor of using email marketing states that, for each dollar spent, there is a return of $44.
This goes to show how effective this marketing technique can be.
If you are not already using email marketing software in your business, now is the time to start.
15. Email Marketing Is The Preferred Method Of Communication For 61% Of Consumers.
(Statista)
Many people expect to be contacted through email regarding potential transactions.
Therefore, it is crucial to make sure that you use this channel to reach your customers.
16. Email Campaigns Containing Transactional Emails Get As Many As Eight Times More Open Rates And Result In Six Times The Amount Of Money Made.
(Experian)
Transactional emails contain information about a product or service that people can purchase.
These emails tend to have high open rates, resulting in more money being made.
If you want to boost sales, consider sending transactional emails to your customers as part of your online campaigns.
This obviously doesn't mean that you forget about providing value to your audience with the content you create, but incorporating both value-based and transactional messages might be a good idea.
Ecommerce And Social Media
17. When It Comes To Social Media And Ecommerce, Facebook Is Responsible For 85% Of All Orders.
(Shopify)
It's not news that social media and ecommerce go hand in hand.
If you want to sell products online, you need to make sure that you use social media to reach your customers.
Facebook is the most popular social media platform, and it is responsible for the majority of orders made through social media.
18. A Quarter Of United States Shoppers Get An Opinion From Social Media Before Buying A Gift For Family Or Friends.
(nChannel)
In a way, it's kind of ironic that people ask for advice from strangers on social media regarding what to buy their friends and family.
However, this stat shows how important social media is in the ecommerce world.
If you want to sell products online, you need to make sure that you use social media to reach your customers (and potential ones).
Image Credit: Financesonline.com
19. A Recommendation From A Blog Was Why 61% Of All Online Customers Have Made A Purchase In The Past.
(Content Marketing Institute)
Continuing on the trend where people get advice from others on the internet, it should come as no surprise that blogs are also a significant source of information when it comes to ecommerce.
If you have a blog, make sure that you are using it to promote your products.
You never know when someone will read your blog and decide to make a purchase.
20. Social Media Posts With 80 Characters Or Less Get 65% More Engagement.
(Neil Patel)
Sometimes, less is more.
This is the case when it comes to social media posts.
Short posts tend to get more engagement than longer ones.
If you want to boost sales, make sure that you keep your social media posts brief and to the point.
Boosting Ecommerce
21. Almost half the surveyed small businesses say that free shipping increases their profits.
(MCM)
The lure of free shipping is hard for customers to resist.
If you offer free shipping on your products, you are more likely to boost sales and increase profits.
Offering free shipping is a great way to stand out from the competition and make your business more attractive to potential customers.
Image Credit: Ecommerceguide.com
22. Almost 70% Of All Small Businesses Do Not Have A Conversion Rate Optimization Strategy In Place.
(State of Conversion Optimization Report)
A conversion rate optimization (CRO) strategy refers to a process that helps make changes to your website and helps increase the number of visitors who take sales-related actions.
This could be anything from subscribing to your newsletter to making a purchase.
If you want to boost sales, it is essential to have a CRO strategy in place.
Ecommerce In Business
23. Seven Out Of 10 B2b Businesses Say That Printing Catalogs Will Stop Happening Within Five Years.
(B2XPartners)
The digital age has had a significant impact on the way businesses operate.
One of the most notable changes can be seen in the way businesses print catalogs.
With more B2B ecommerce businesses going digital, printing catalogs will likely become a thing of the past in the next few years.
Common Factors Successful Online Stores Share
Getting retail ecommerce sales is all about exposure – specifically, the right kind of exposure.
Let's look at a few factors that all successful online stores have in common.
A Unique Selling Proposition
Online purchases are made with the heart as well as the head.
It will help if you offer potential customers something they cannot find at any other store.
Your unique selling proposition (USP) can be anything from your product range to the customer service you offer.
A Well-Designed Homepage
Having online shoppers land on your homepage is only half the battle.
You need to make sure that your homepage is well-designed and user-friendly.
Your homepage should be easy to navigate and contain all the potential information customers need.
Easy to Use Navigation
Online retailers that use easy-to-use navigation are more likely to make sales.
Your navigation should be intuitive and straightforward.
This also applies to the checkout process.
The easier it is for customers to checkout, the more likely they are to purchase your products.
High-Quality Product Images
Global retail ecommerce sales are affected by product images.
High-quality product images can make a big difference in whether or not an online shopper makes a purchase.
Various ecommerce trends indicate that product images are becoming more and more critical to ensure that you exceed customer expectations both pre and post-purchase.
Customer Testimonials
Getting the ecommerce growth you want on your website is all about customer testimonials.
Customer testimonials are a great way to show potential customers that your products or services are high quality and that you are a trustworthy company.
Trust Symbols
The customer experience is the new battleground for retailers.
It would help if you created an environment where potential customers feel like they can trust you and your brand.
One way to do this is by using trust symbols on your site, email communications, etc.
Trust symbols are logos or icons that show that your website is safe and secure.
Some of the most common trust symbols include the VeriSign logo, McAfee, and BBB.
Social Proof
Online sales are all about social proof.
Social proof is the idea that people are more likely to purchase if they see that other people have made a similar purchase.
Apart from displaying customer testimonials, you can also use social media.
Make sure to showcase customer reviews and ratings on your website and social media pages.
In addition, showing that your business can pivot to reflect customer feedback is also a great way to increase confidence and loyalty among your customer base.
For example, during the pandemic, many businesses had to pivot their ecommerce strategy based on what was happening around them.
Some businesses started selling face masks and other pandemic-related products, while others started selling online courses and virtual fitness classes.
A Sense Of Urgency Backed Up By A Fast Website
Online customers are often bombarded with a sense of urgency.
This is because there are so many businesses competing for their attention.
You need to create a sense of urgency on your website to encourage potential customers to make a purchase.
While smartphones and various apps have made it easier for shoppers to buy what they want, it has also made them more impatient.
This also means that your website needs to be fast and responsive.
Money-Back Guarantee
Buying products or services online comes with a lot of risks.
Customers cannot physically see or touch the product before purchasing, and as a result, you need to assure them that they will be getting what they paid for.
One way to do this is by offering a money-back guarantee.
Retail sales backed by a money-back guarantee are more likely to be successful.
Free Shipping
While retail ecommerce sales worldwide are growing, they are still affected by various factors.
One of the most critical factors is shipping costs.
Customers are often reluctant to purchase if they have to pay for shipping.
One can improve the shopping cart abandonment rate by offering free shipping.
Live Chat Support
The ecommerce market is constantly evolving, and so is the need for a better customer experience.
Live chat support allows customers to chat with a representative in real-time when needed.
This is a great way to answer questions and resolve any issues they face.
Live chat should also apply to those on a mobile phone.
Online consumers using mobile ecommerce applications appreciate having additional features and customer service options like click-to-call buttons and live chat features.
Multiple Payment Options
Having one payment method is no longer enough.
To stay competitive, online retailers need to offer multiple payment options – this is something digital buyers making online purchases like to see.
Options such as Paypal, credit cards, debit cards, and even cryptocurrency can influence purchasing decisions and help an online business become more successful.
Mobile Optimization
Mobile devices are now the preferred choice for many consumers when shopping online.
As a result, you need to ensure that your website is optimized for those on a mobile device.
Mobile commerce is convenient, and it allows consumers to make purchases anywhere and at any time.
SEO Optimization
Having your ecommerce business show up when people search for specific terms in search engines can lead to that first online purchase, converting these people into long-term customers.
Being aware of search engine optimization (SEO) and its various benefits is crucial for suppliers that want to get found online.
A Focus On Essential Dates
Whether it's Black Friday or the holiday season, ecommerce stats show that online sales go up during these times.
As a result, ensure your website is prepared for these spikes in traffic and can handle them accordingly.
High-Quality Products
US consumers are willing to pay more for a high-quality product.
Targeting various age groups can help you understand what they are looking for and how much they are willing to spend.
While some may be looking for the cheapest option, others may be willing to pay more for a product that will last longer.
While having an ecommerce site that imports products from China may be cheaper in the short term, it's important to remember that quality is critical long-term.
Doing your research and finding high-quality products that are still affordable is a great way to succeed in the ecommerce market.
A Focus On Increasing The Total Order Value
The point of having an ecommerce website is to make sales.
A great way to increase the total order value is through upselling and cross-selling.
Upselling is when you offer a customer a more expensive product or service than the one they were initially interested in.
Cross-selling happens when you offer a customer a complementary product or service.
As an emarketer, increasing the market share of your business and the total retail sales that your ecommerce website generates should be one of your main goals.
By keeping the above factors in mind and building a long-term relationship with your audience, while providing an excellent experience for both first-time customers and returning customers, you can ensure that their wallets stay open for your ecommerce business.
Conclusion
Ecommerce businesses that want to succeed need to focus on a few key areas.
When survey respondents are asked questions about this topic, they all agree that the critical areas of customer service, payment options, mobile optimization, and quality products are some of the most important ones to consider.
In addition, when it comes to extracting actionable data from ecommerce stats, one key area to focus on is customer service; specifically that customers should always be the focus of anything you do online.
Finally, remember that mobile shopping sites such as eBay and Amazon are doing many things that other businesses can learn from.
This can also apply to mortar stores that want to have an online presence.
By understanding what customers want and need, you can create a successful ecommerce business that will continue to grow year after year.
Further reading on AdamEnfroy.com: Want to start your ecommerce store? Check out the following ecommerce platforms review articles to help you choose the best one for your needs:
Disclosure: I may receive affiliate compensation for some of the links below at no cost to you if you decide to purchase a paid plan. You can read our affiliate disclosure in our privacy policy. This site is not intending to provide financial advice. This is for entertainment only.