Enterprise Software: The Ultimate Guide & the Tools You Need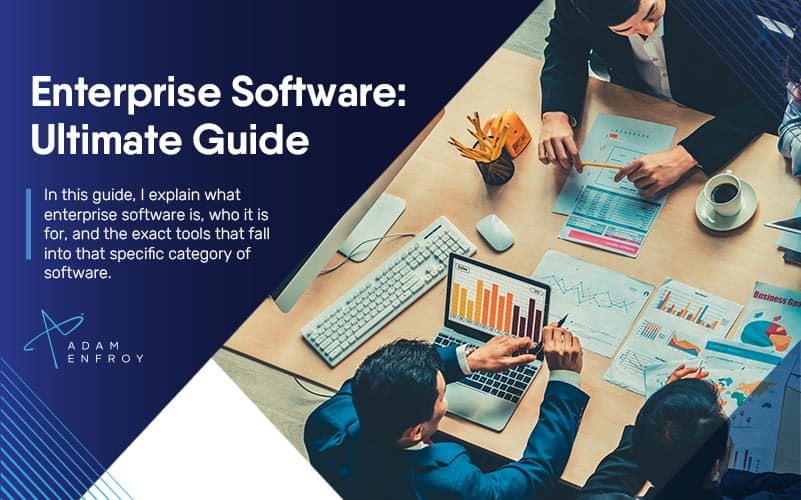 The enterprise software market is not a new one by any means. It has been around for decades. But the way that enterprises use their software has changed drastically over the years.
Nowadays, enterprise software must meet a number of requirements. They must be user-friendly, work on a large scale, and be 100% secure – just to name a few requirements. Enterprise software cannot be built by one person or even one company in most cases.
Instead, they must be built by a team of experts who know how to build complex pieces of software and maintain them at the same time. With a spend of $599 billion and a growth of 13.2% from the previous year, this is why so many companies are turning to enterprise software solutions for their data management needs.
In this article, I am going to tell you everything that you need to know about enterprise-level software solutions. I will also list some of the available tools so that you can compare what is out there and decide which one works best for your business needs.
What is Enterprise Software?
First of all, let's define what exactly enterprise software is. You may have heard this term before and to be honest, it can be confusing since there isn't a definitive answer on the subject.
Enterprise software is simply any piece of information technology that is used by large organizations or businesses. This is a broad definition but it does hold some weight in the sense that each company has its own specific needs.
As such, enterprise software can mean different things to different organizations – with a few common things in all of them.
Many enterprise solutions require a vast amount of IT expertise and specialized equipment. These types of solutions can be very difficult to set up and maintain, which can lead to an increase in the total cost of ownership over time.
Why Enterprises Use Enterprise Software Solutions
Enterprise software works best for large companies that have a lot of employees within their organization. In most cases, these organizations will utilize several tools including CRMs, accounting software, and human resource management systems just to name a few.
The problem is that not all businesses have the resources, money, and time to build their in-house software and that's where enterprise solutions come into play.
They can be costly but they work best for large companies with a lot of data and information to manage.
Understanding the needs of an enterprise
Enterprise application software is designed to help businesses manage their information. For this software to work properly, the company that is utilizing it needs to have a thorough understanding of what they need and what is available in terms of software solutions.
The first step in figuring out your enterprise-level needs is knowing exactly how many employees you have working in your business.
The next step would be finding out how large your customer base is as well as where they are geographically located. This information will play a crucial role in determining which tools your organization should invest in so make sure it's precise and accurate.
When it comes to evaluating enterprise software solutions, you must know exactly what type of business that you run. For instance, if enterprise resource planning is a big part of your business then you should choose software that can manage that.
In addition to this, it's important to understand the needs of your company as well as what you hope to accomplish before investing in enterprise-level software.
Many companies make the mistake of purchasing a specific solution only to find out later on that it doesn't meet certain requirements or isn't scalable enough for growth and expansion.
When choosing an enterprise solution, make sure it is designed specifically for the type of industry that you're involved in.
For example, if you run a retail business then tools like retail management systems would be much more suitable than something like human resource management software.
Along with this, knowing how data is stored and managed within each system will help when choosing the right ERP software.
The Components and Benefits of Enterprise Software
Enterprise software is usually made up of several components or modules so it's best to evaluate each one individually before making any type of decision.
Not only is this beneficial when it comes to finding out which tools are at your disposal, but it also helps you figure out exactly what you need to manage data more efficiently.
Business process management is often included with most standard enterprise applications, especially those designed for medium-sized businesses working with larger quantities of information.
This system will allow users to automate specific business processes as well as determine which ones are most effective.
Data mining is also a common enterprise solution that can be used for intelligence purposes. Data scientists use this tool to analyze various data sources and create customizable reports based on their findings.
This information helps companies understand their internal strengths and weaknesses so they can make improvements where necessary.
Enterprise search tools are helpful because they allow users to find out exactly what it is they're looking for within an application's database in just seconds.
The results will often lead them directly to exact cells or rows within a spreadsheet that contains the desired information.
Enterprise content management platforms are very similar to enterprise search tools but have one distinct advantage – content tagging or metadata.
These tags help users organize documents and search through them more easily so they can be found whenever necessary.
Many enterprise-level applications will have a built-in analytics solution so it's important to look for one of these components if you require a way to monitor how well your company is performing day in and day out.
Not only will this information help you create plans for future growth, but it will allow you to make the necessary changes as soon as possible.
In addition to all of this, having a planning system that is compatible with other software solutions usually provides more ERP benefits than originally considered, especially as businesses scale.
This compatibility allows administrators and users alike to access data from several different sources without any type of interruption or downtime which saves time and money in the long run.
The Tools You Need
When it comes to enterprise software, you will need a few tools at your disposal to get the most out of the system and make it work for you instead of the other way around.
This list should be studied carefully to determine which ones are appropriate or necessary for your company's requirements.
Application integration is very important when using enterprise-level applications because each one has its own set of unique features that users must learn how to use to expand their business further.
In addition, an application integration platform can be used with nearly any type of enterprise solution which makes them all that more versatile and useful in the long run.
Mobile compatibility is also an extremely beneficial tool since it allows users to access their data wherever they are and at any given time.
This helps your employees stay productive no matter where they are located which can help increase the overall success rate of your business.
Before you can even think about choosing an enterprise software package that fits into your company, you must first understand what exactly you're looking for before signing a single piece of paper.
If you have no idea what type of tools might be right for your company, it's best to consult with a professional who specializes in this type of software and can help you find the perfect one that will accommodate all of your requirements.
Let's now have a closer look at the various aspects that make up great enterprise software. Keep in mind that choosing the right software system depends on your specific needs.
This means that some of the following tools might not apply to your specific situation – however, I still encourage you to go through the list to see what items you need to consider.
Customer Relationship Management (CRM) software
Customer relationship management (CRM) is a business term for the practice of implementing and improving current and potential customer experience. The best CRM software specifically addresses the needs of an organization in relation to their customers, whereas the same software might be referred to as customer information management (CIM) or "customer data integration" when addressing other organizational interactions instead.
CRM software provides organizations with a way to track customer interaction histories such as phone calls, emails, live chats, sales orders, complaints, and questionnaires in one centralized repository that can then be used by multiple departments within a company.
CRM software often includes analytical tools which help users make sense out of all this information and decide what type of action should be taken next based on previous interactions and transactions.
Salesforce automation (SFA) is a type of CRM software that deals specifically with managing salesforce tasks and workflows, making it easy to track deals from start to finish.
It might also include tools designed to increase the effectiveness of a company's sales team such as email marketing, lead management, forecasting/estimating, commission reporting, contact management, and more.
Customer relationship management (CRM) software can be extremely beneficial for smaller companies that may not have the resources or money needed to hire additional staff members dedicated solely towards customer service tasks.
If this sounds like you, it's important to keep in mind that CRM systems must be properly implemented and taught to all users at the organization before you can expect any real return on investment.
Enterprise Resource Planning (ERP) systems
Enterprise resource planning (ERP) systems are used to track and manage business operations.
This might include basic information such as the company's contact details and bank account information, inventory, and procurement lists of raw materials and components needed to produce goods.
In addition, it might also include accounting transactions such as sales orders, invoices, and purchase orders, plus the time it takes for one process or task to complete within a specific department.
ERP software is designed to increase organizational productivity by streamlining all the main business functions.
Amongst there are sales, purchasing, finance, human resources (HR), production/manufacturing, supply chain management (SCM), customer service feedback, IT service management (ITSM), maintenance management, and more under a single umbrella system.
While ERP systems can reduce manual entry errors in most cases, mistakes can still be made when generic templates are used to process a large number of transactions.
This is why it's important to ensure that all users within an organization have been properly trained before allowing them to input data into the system, as well as performing quality control checks regularly.
Enterprise resource planning (ERP) software can be extremely beneficial for larger companies who need a way to keep track of every department and location involved in business operations.
It provides centralized functions such as inventory management and financial controls which enables companies to automate tasks and processes which were previously carried out manually by employees over several days or weeks at once.
This results in better organizational efficiency and productivity. However, if you're not careful enough, ERP systems can also be detrimental for organizations, especially if the system used isn't yet fully functional or is too inflexible to adapt to changing business needs.
Even worse, companies that don't keep up with continuous enterprise software systems updates run the risk of becoming obsolete in an increasingly competitive market.
Email marketing software/marketing automation software
Email marketing software is used to create, send and analyze email campaigns. The goal of this type of software is to help users sell products/services by promoting brand awareness, building brand loyalty, and attracting new customers.
On the other hand, marketing automation software, sometimes called marketing automation platform (MAP), is a type of marketing software that automates repetitive tasks such as email advertising, lead nurturing, and cross-sell/up-sell campaigns.
One of the main benefits of using email marketing software and automation over traditional offline methods, like direct mail or print ads, is that it can be much more targeted in terms of reaching specific demographics within the customer base, allowing you to speak directly to your target audience. This makes it easier for marketers to track responses and quantify ROI for each campaign.
This is especially important when measuring the success of email marketing campaigns, which can either be done by looking at % open rates or click-through rates.
HR software
Human Resources (HR) software allows organizations to automate and streamline employee tasks such as handling payroll, benefits administration, attendance tracking, performance evaluations, and training modules which can all be done in one place.
The goal of this type of software is to improve the overall effectiveness and efficiency of HR departments by using technology that replaces outdated manual processes that were time-consuming and expensive for businesses to maintain on an ongoing basis.
While it's true that most companies today still use spreadsheets or word processors to manage company-wide data this can be a huge risk for businesses since they lack security and can easily get misplaced or lost which could result in costly mistakes.
Additionally, outdated spreadsheets and word processors don't usually provide built-in data analytics.
As a result, human resources managers need to spend more time than necessary trying to gather the required information about their employees' job functions or productivity levels before formulating strategies on how to improve workplace performance.
HR software allows organizations to automate these mundane tasks that take up too much of an HR manager's valuable time so they can focus more on proactive employee training and development efforts.
By using modules such as online courses/training videos, HR software helps make both corporate staff and managers more productive.
Payroll software /payroll management software
Payroll is the process of calculating, withholding, and remitting amounts owed for employee payroll checks.
There are two main types of payroll software – the first type are basic timekeeping systems which do not include direct deposit payment processing capabilities or integration with other business applications.
The second type is comprehensive HR/payroll management programs that provide features to automate time & attendance tracking, tax calculations, benefits administration, etc.
The former tracks hours worked and compiles a list of employees who need to be paid each pay period while the latter offers more advanced features such as direct deposit and automatic tax calculation so businesses can run everything in one place.
As a result of using the best business payroll software, it's easier and faster than the traditional method where companies would have to work with multiple vendors to get the information required to make informed decisions.
Working with multiple vendors can include separate payroll providers for processing, benefits providers, accounting software to track expenses and generate reports, etc. As you can imagine this list can get very complicated very quickly.
BPM software
Business process management (BPM) software is a type of workflow automation solution that enables companies to design, automate and improve operational workflows within an organization.
In other words, BPM software allows businesses to streamline all their internal business processes in one place so they can be more efficient, organized, and productive.
The majority of large enterprises today have adopted some form of BPM but it's still a challenge for small-to-medium-sized businesses to adopt.
Since many vendors require significant resources in terms of time and money to implement, it doesn't make sense when you're just starting or have limited resources.
However, several vendors offer SaaS-based BPM apps that provide the same functionality without requiring organizations to purchase costly on-premises BPM software licenses or pay steep implementation fees to set it up on their own.
SaaS-based BPM options are becoming increasingly popular since they help reduce the cost of entry for SMBs which is why many believe this will be the future of BPM since more businesses will gradually start adopting this model of business process automation.
This also means more revenue opportunities for service providers who build out these types of solutions.
Business Intelligence (BI) Tools
A common challenge many companies face is that business intelligence types of data analytics and reporting tools aren't very easy to use and often produce confusing reports.
This results in companies having difficulty finding the information they need which slows down decision making, lowers productivity levels, and results in lost opportunities.
When it comes to the best business intelligence tools, there are several important capabilities that are required such as dashboards, key performance indicators (KPIs), and data visualizations that help businesses get a better understanding of what's happening with their company.
This means that they can then take action accordingly. For instance, if an organization has 100 employees but only five are productive, then management might use BI to fire some of the workers or change the work processes so the entire workforce becomes more efficient.
Project management tools
With the modern workforce becoming increasingly mobile & distributed, it has become more challenging to manage projects since employees are working from different locations (home, cafes, etc.) and in many cases, on different devices.
As a result, project managers have to figure out ways to effectively communicate with their team members to get things done quickly and efficiently. This is where the best project management software comes in.
Some argue that this is one of the main reasons why agile methodologies such as scrum became popular among software developers in recent years.
This enables them to complete projects faster because they work together in "sprints" or time-boxed activities followed by regular reviews.
However, not all companies fully understand agile so there is still some resistance when it comes to adapting these types of methodologies within their organizations.
Customer support
A service desk is a type of IT system that provides support to customers and employees of an organization. It acts as a central location where people can go to get their software and hardware issues resolved which helps improve customer satisfaction and brand loyalty.
Many of the larger companies today have adopted this best practice for service delivery which is why they're able to compete more effectively with their rivals by providing the same type of superior service and support across all channels (web, email, call center).
By using 24/7 live chat software on your website you can help reduce operational costs since many customers will prefer to use it instead of calling in or filling out support tickets when they have questions about products or services. A help desk software platform can also answer most of the questions that customers might have at any time of the day.
Furthermore, with knowledge base software, you not only provide answers right away but build up a database that your customer service agents can reference when they are helping with an issue.
When it comes to customer service software there are various capabilities that you can consider. This includes features such as tracking as well as reporting – this all provides management with effective data analysis, helping them make better decisions in the future.
Enterprise Software FAQ
What is an example of enterprise application software?
There are several types of enterprise software applications that organizations should take advantage of to increase productivity, improve efficiencies and reduce costs.
Some examples include CRM software for sales teams, project management software for off-shoring development teams, call center & helpdesk solutions, marketing automation tools for building campaigns, and data analytics platforms that can be used by decision-makers.
What are the benefits of using enterprise software?
By having easy access to key business information, employees can make better decisions when it comes to turning prospects into paying customers while lowering operational costs at the same time.
This is because they'll have up-to-date reports on performance levels so everyone is working towards the same goals.
Additionally, by using customer support software companies can provide superior service that will lead to greater satisfaction which can result in more long-term customers and an ongoing revenue stream.
They'll be able to answer support questions faster without having to wait for someone on their team to reply since many people prefer chat solutions instead of waiting on hold or sending an email back-and-forth.
When is enterprise software not a good idea?
The main reason why some companies avoid enterprise software is that they don't understand how it can benefit them and their employees.
This is typically the result of purchasing decisions that were made based on cost alone without evaluating ROI (return on investment).
Another reason why some companies may not want to use enterprise software is that they think it's too expensive; this might not always be true especially if you have a large number of employees who are using these types of systems.
What are the types of enterprise applications?
There are several types of enterprise applications that organizations should take advantage of to increase productivity, improve efficiencies and reduce costs.
Some examples include CRM software for sales teams, project management software for off-shoring development teams, call center & helpdesk solutions, marketing automation tools for building campaigns, and data analytics platforms that can be used by decision-makers.
What features should be included in enterprise software?
Enterprise software tools should include features that deal with complex data. An enterprise system should also be able to integrate with existing systems so information from multiple sources is displayed in a single location.
Other enterprise software features to consider include the ability to customize reports to create visual aids – which decision-makers can use when making important business decisions – as well as dashboard widgets with real-time information.
In addition, software that allows for real-time collaboration tools might also be a great idea to keep in mind.
An entire organization can benefit from using the same enterprise software which is why companies need to select solutions that can integrate with existing systems while offering a wide range of features that fit within their budget.
ERP solutions can be expensive but can also provide organizations with the tools they need to run their business effectively. By allowing everyone involved in an organization to access the same information quickly and easily, it can be especially beneficial for remote workers.
Actionable insights which can be used to make business decisions should always include real-time information. This includes data analytics tools that allow for predictive analysis, text mining & sentiment analysis.
Can small businesses use enterprise software?
The answer is that it depends. If a small business or even a startup wants scalability, the metrics achieved using enterprise software can be useful.
However, pricing is a big consideration for these types of businesses. Software development (which is sometimes needed for enterprise software) does require time and financial resources so these are all things to keep in mind.
Wrap Up.
In conclusion, by using enterprise software, an organization can improve its company's operational efficiency, increase decision-making capabilities and boost customer satisfaction levels – all while eliminating inefficiencies that can result in lower costs.
These benefits should be included in any organization's ROI calculation when deciding whether to implement enterprise software & other types of business applications.
By making the right choice, companies will be able to better manage their business which should lead to improved revenue & profitability.
Further reading on AdamEnfroy.com: Anti-fraud is a crucial consideration for any organization using enterprise software.
The best anti-fraud software can help you detect and prevent fraudsters from taking advantage of your company so you can avoid the costly damages they can cause.
Disclosure: I may receive affiliate compensation for some of the links below at no cost to you if you decide to purchase a paid plan. You can read our affiliate disclosure in our privacy policy. This site is not intending to provide financial advice. This is for entertainment only.