7 Best Ethereum Mining Software of 2023 (Ranked and Compared)
While crypto exchanges and trading platforms are the most common ways of increasing one's crypto portfolio, mining can be a great alternative to simply buying and holding cryptocurrencies.
Mining refers to verifying and adding transaction records to a public ledger (blockchain).
In return for their efforts, miners are rewarded with cryptocurrency.
With several currencies available in this regard, it's essential to know which software is the best for your needs and the coin you want to mine.
For example, learning how to mine Electroneum is relatively straightforward since you can get started with the process using your phone.
However, it's not always that simple.
When it comes to Ethereum, miners used to be able to rely on simple high-powered PCs to mine this coin and crypto portfolio trackers to monitor their earnings.
However, with fewer coins available for mining as time goes by, it has become much more challenging to turn a profit with ETH.
This also means that more specialized hardware is required, such as GPUs (graphics processing units), are needed.
These are more effective at processing the proof-of-work algorithm than the CPUs found in most computers.
In this post, I will rank and compare the best Ethereum mining software, so if you're looking to start mining ETH, this is the guide for you.
Let's get right into it.
What Is The Best Ethereum Mining Software?
These are the best Ethereum mining software right now.
1. Cudo Miner.
Best Overall For Ethereum Mining.
Cudo Miner is a cryptocurrency miner that's been around for a while.
It's one of the simplest miners out there, and it's also one of the most effective.
With an easy installation process and support for multiple GPUs, Cudo Miner is perfect for beginners.
You get complete control of your device and can also look at the various mining farms available through the software.
Cudo Miner is also great for those who want to set up the mining process and forget it.
This is done through the ability to control how much manual intervention you want to perform.
Key Features:
Auto Coin Switching allows for maximum profitability. You can automatically switch between the most profitable coins to mine, so you're always making the most money possible.
The advanced settings & controls let you customize your mining experience, and the GPU, CPU, and ASIC mining support means that you can use whatever equipment you have to mine Ethereum.
Advanced hashing algorithm settings allow for more customization and the ability to fine-tune your mining.
Instant payments mean that you don't have to wait for a pool to payout.
User Experience:
Get all the stats you need regarding your monthly earning potential, your computer's temperature and usage, and current hash rate.
This lets you make sure that your mining rig is running as efficiently as possible, maximizing your profits.
Pricing:
Cudo Miner is entirely free to download.
You then pay as you earn.
What I Like/Dislike About Cudo Miner
Like:
Easy to set up when getting started with mining.
Its automatic startup feature is helpful to get the process going as soon as your computer is on.
Dislike:
It consumes quite a lot of computer resources when mining.
Product Updates:
Some failing jobs were repeating infinitely, an issue which has now been fixed.
A new version of Cudo Miner for Windows was released.
2. NiceHash.
Best For Buying Hash Power.
Considered one of the best hash-power marketplaces, you can rent out hash power through NiceHash to other people or companies, and in return, you get paid in Ethereum.
This means that for those that want a medium to large mining farm that allows them to optimize their profits, NiceHash is an excellent option.
You can also take advantage of their merch store, which sells NiceHash-branded swag that compliments your mining setup.
Key Features:
NiceHash is quick and easy to set up, so you can start mining ETH right away.
With a NiceHash private endpoint, you can connect your equipment directly to the NiceHash platform for maximum efficiency and security.
The NiceHash mining rigs manager makes it easy to monitor and manage your mining farm from a single location.
With NiceHash, you can see detailed statistics about your mining performance.
With the mining history feature, you can track your progress over time and see how profitable your mining operation is.
User Experience:
Get the latest information about your devices, use plugins, and set benchmarks that help you optimize your mining rig for maximum profitability.
The benchmarks feature is handy, as it allows you to see how your devices compare to others in terms of hash rate and power consumption.
Pricing:
The great thing about this platform is that you can start with a minimum of 0.001 BTC.
The order duration can also be more or less than a day.
NiceHash is one of the most affordable platforms and can scale up as your needs change.
What I Like/Dislike About NiceHash
Like:
User-friendly when it comes to buying and selling hashing power
The payouts are frequent and transparent
Dislike:
The fees for transferring are sometimes high
Product Updates:
QuickMiner v0.5.4.2 Release Candidate has been released, featuring higher stability and no more BSOD.
3. MinerGate.
Best For Fast Mining.
MinerGate is an excellent product for those looking to mine Ethereum fast.
With a cryptocurrency mining pool for merged mining and multi-algorithm support for Ethereum mining hardware, MinerGate allows you to mine ETH with the latest GPUs.
The software is easy to set up and use, and you can start mining ETH right away.
Trusted by more than 3,500,000 users worldwide, MinerGate is a great option for reliable software that works.
Get profit straight to your wallet, which, coupled with the fact that you can withdraw it every day, makes it one of the most attractive ETH mining software on the market.
You can also automate coins with the highest exchange rate and profit margin, so you're always making the most money possible.
Key Features:
With a community of active miners, MinerGate is one of the most trusted ETH mining software on the market.
A promised 99% uptime ensures that you're almost always mining
Enterprise-grade network and data protection make it a great choice for those looking for reliable software.
User Experience:
The user interface is clean and easy to use, and you can also see the speeds of both your CPU and your GPU to ensure that you're getting the most out of your hardware.
Pricing:
Users are charged a subscription fee for using MinerGate's mining services.
Calculated in hashes per second, the fee depends on the hashing power that you're using.
The more hashing power you use, the more you'll be charged.
What I Like/Dislike About MinerGate
Like:
The interface is excellent for those that are new to mining.
You can mine many currencies on this platform.
Dislike:
Your system might slow down as a result of the mining process.
4. NBMiner.
Best For Maximum Mining Performance.
NBMiner allows its users to secure maximum performance and stability while mining ETH.
NBMiner is one of the most versatile ETH mining software working with both Nvidia and AMD GPUs.
In addition to performance, their security is also top-notch, with various features to keep your account and data safe.
Key Features:

Support SSL connection to mining pools so that all data is encrypted and your account is safe.
With more than 719,000+ daily active NBMiner users, you know you're in good company.
Various cryptocurrencies are paid out in ETH, so you can mine multiple currencies and then choose to be paid in the coin of your choice.
User Experience:
A command-line interface can be daunting for those not used to one, but the NBMiner team has made it as user-friendly as can be.
Once you get the hang of it, it's pretty simple to use, as long as you know which commands to use.
Pricing:
Both the Ethash and Classic algorithms have a fee of 1% associated with them.
What I Like/Dislike About NBMiner
Like:
Available on both Windows and Linux systems.
You can mine other cryptocurrencies as well.
Dislike:
When it comes to training, there is only text documentation available.
Product Updates:
Due to a recent update, if you own an NVIDIA LHR graphics card, you can use as much as 70% of the resources (an increase from before) that your card offers.
5. WinETH.
Best For One-Click Mining.
WinETH makes Windows Ethereum mining easy with one-click mining.
You can start mining ETH with their simple yet powerful software.
With an intelligent mining algorithm, WinETH ensures that you're always getting the most out of your mining rig.
You can also auto-configure your mining settings to get the most out of your rig, and you can also monitor your progress with their real-time stats.
Technical support is also available if you need help getting started or during your mining journey.
Features:
An integrated automatic update system means that you'll always have the latest features and security updates.
Background mode for low-power mining means that you can continue to mine even when your computer is used for other tasks.
The ability to run only when the machine is idle means you won't have to worry about interrupting your work.
Digitally signed and validated by Digicert means that you can be confident in the security of the software.
User Experience:
With a good-looking GUI and easy-to-use controls, WinETH is one of the most user-friendly ETH mining software on the market.
The real-time stats are also a great touch, so you can always see how your mining is progressing.
Pricing:
You can download the software and then pay a dev fee of 1% when mining.
What I Like/Dislike About WinETH
Like:
No-nonsense windows-focused app for various mining needs
Both new and advanced users can use it.
Dislike:
Some systems may detect false positives when using this software.
Product Updates:
Access to a hosted proxy is now possible to allow mining in restricted networks.
6. EasyMiner.
Best Free Ethereum Mining.
If you're looking for free Ethereum mining software, EasyMiner is an excellent choice.
It's open-source and completely free to use, with no fees involved.
Easy to configure and get started, this Ethereum miner was made for those looking to get started on their mining journey.
There's no need for complicated code to get started, and you can begin mining ETH right away.
That said, you can still add hooks, packages, and plugins to extend the functionality of EasyMiner if you need/want to.
Features: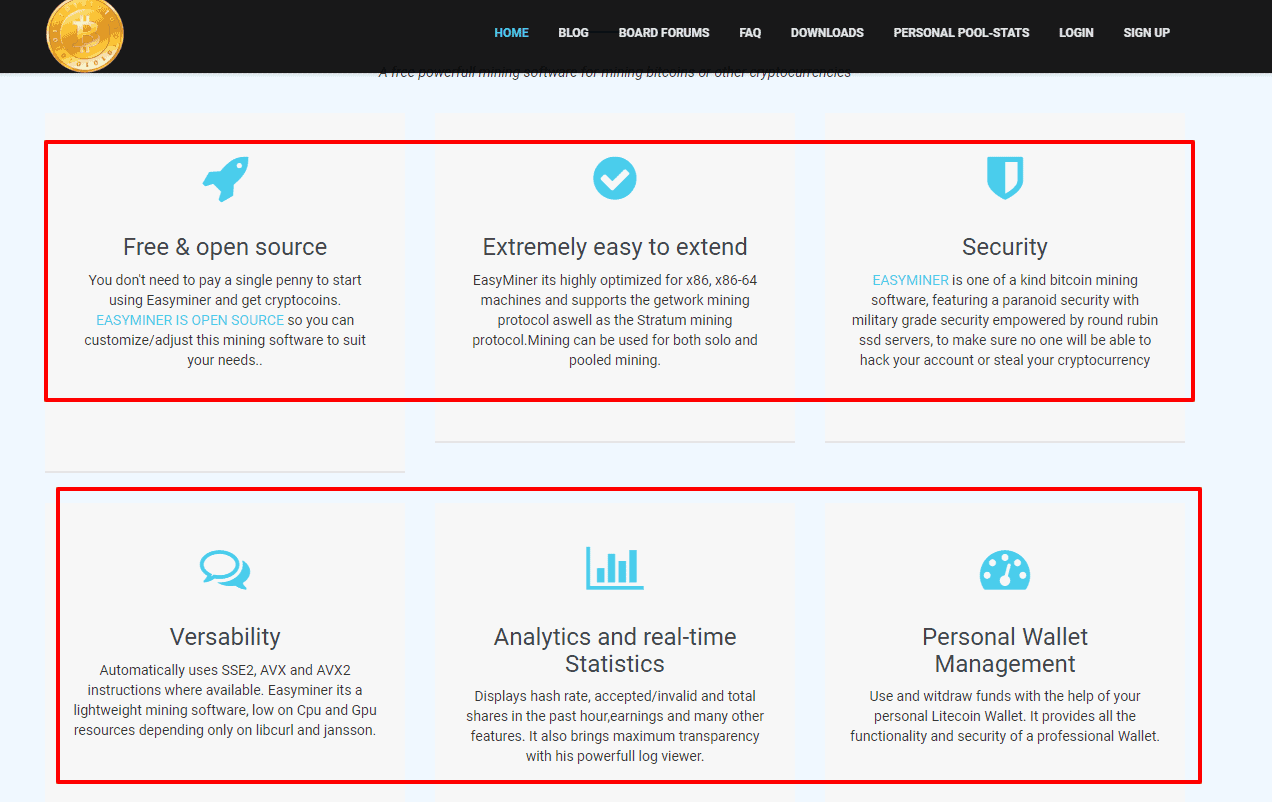 Free powerful mining software for mining Ethereum or other cryptocurrencies so that you won't have to worry about the cost of mining.
Open-source software means the community is constantly improving the software.
It is straightforward to extend by adding new features and functionality as you need it.
EasyMiner is highly optimized for x86, x86-64 machines and comes with military-grade security.
Automatically using SSE2, AVX, and AVX2 instructions means that the software is constantly improving to help you get the most out of your mining rig.
Pricing:
This software is free to use.
7. Etherminer.
Best For Ensuring Fair Payouts.
Ethermine is a pool mining software that allows you to mine for Ethereum or other cryptocurrencies.
With the Pay-Per-Last-N-Shares (PPLNS) system that ensures that you get paid for your shares, Ethermine is another great choice to consider.
If you prefer solo mining (rather than pooling), you can also use this software to do just that.
In addition to ETH, they also support a variety of other cryptocurrencies, so you can choose to be paid in various coins.
Key Features:
One of the highest joint hash power among all mining nodes means you're more likely to find blocks and get paid.
You'll also be able to find support and help when you need it.
PPLNS-type payment distribution system means that you can be confident that you'll be fairly paid for your shares.
Pricing:
Ethermine charges a 1% fee, with the block transaction fees.
Other software not mentioned in this article include Claymore, Gminer, Ethminer, and T-Rex.
What Is Ethereum Mining Software?
Ethereum Mining Software are programs that allow you to mine Ethereum or other cryptocurrencies.
These programs will usually come with a GUI, which makes it easy to get started, and they will often have a variety of features to help you get the most out of your mining.
With mining hardware becoming more sophisticated, it's essential to have software to keep up.
It's also good to consider the Ethereum mining pools you can join.
These help you pool your resources with other miners, which can help you mine more efficiently.
Features To Look For In Ethereum Mining Software
The best mining software will have various features to help you get the most out of your mining.
Here are some things to look for.
Top End GPU Mining Software
While the mining rig you're using will ultimately dictate which software you use, if you're using a high-end GPU to mine Ethereum, you'll want to look for software optimized for your hardware.
This means that the software will be able to take advantage of your GPUs special features and get the most out of it.
A Graphics card such as the RTX 3080 will have different software requirements than a lower-end GPU launched in the past.
Cloud Mining
Using cloud mining on the Ethereum network is a great way to mine without worrying about the cost or maintenance of mining hardware.
With cloud mining, you can rent mining hardware from a company and have them do the work for you.
The top Ethereum mining software is designed to work with cloud mining and will often have features to help you get the most out of your cloud mining experience.
Great Mining Rewards
When you have an Ethereum mining pool that pays out great rewards, you're more likely to make a profit from your mining.
That's why it's essential to do your research and choose a pool with good rewards – as well as a good reputation.
Software That Runs On Your Operating System
Both Windows and Linux operating systems are popular among miners.
While Windows is more user-friendly, Linux is more efficient when mining.
That's why it's important to choose software that will work with your operating system.
While traditionally, those on a Mac were not able to mine Ethereum, it is now possible with the right software.
Background Mining Mode
If you need to use your computer while attempting to solve complex mathematical equations required in the mining process (and you're not using a cloud mining service), consider that the mining equipment has to run in the background mode.
This ensures that the mining process does not fully use up your computer's resources.
This also means that you'll still be able to use your computer for other tasks.
Easy To Use
The software you select must be easy to use for beginners when running mining programs if you're starting.
This can be in the form of a graphical user interface or simply clear and concise instructions.
Mining programs should also have an easy way to check your earnings and how much you have mined- this way, you'll know that you're moving in the right direction.
A Reasonable Hash Rate
The hash rate measures how much computational power is used to mine Ethereum.
A higher hash rate means that more Ethereum can be mined in a shorter time.
Overclocking Features
Any mining operation that uses the most potent hardware will use a lot of electricity, which can be expensive.
But if you're using lower end hardware, you can often get more bang for your buck by overclocking your hardware.
This means running your hardware at a higher speed than it was designed to run.
While this can be risky and can void your warranty, it can lead to significant increases in your hash rate if done correctly.
Github Documentation
Especially for command-line software, there must be good documentation available.
Github is a great place to look for documentation, as the developers often update it.
This means that if you have any problems with the software, you can easily find a solution.
It also means that you can contribute to software development if you wish.
Ethereum Mining Software – FAQ
Can You Run Ethereum Mining Software On iOS Or Android?
Phones are not usually powerful enough to mine cryptocurrency.
However, some apps allow you to mine on your phone.
These are generally not very effective and will likely cost you more in electricity than you will make in cryptocurrency.
Are There Other Types Of Crypto Mining Available?
Yes, there are different types of mining available.
These include Bitcoin, Litecoin, and Monero.
Ethereum mining is just one type of mining that you can do.
What Is A Mining Calculator?
Whether you are solo mining or mining in a pool, a mining calculator can be a helpful tool.
A mining calculator allows you to input your hardware information and electricity costs and get an estimate of how much you can expect to earn from mining.
What Is Proof Of Stake In Ethereum?
Proof of stake is a different way to mine Ethereum.
Instead of using your computational power to solve equations, you can use your Ethereum holdings to validate transactions on the network.
This is usually done with a particular piece of software and can be more energy efficient than proof of work mining.
There is also a concept known as Proof of Work (POW) / Proof of stake (POS) hybrid, a mix of the two.
What Is Ethereum Classic?
Ethereum Classic (ETC) is a fork of Ethereum (ETH).
The fork was created due to a disagreement on how to handle a DAO hack in 2016.
ETC uses proof of work mining, while ETH uses proof of stake mining.
Ethereum Classic is not as widely accepted as Ethereum, and so it can be harder to find exchanges and mining pools that support it.
Wrap Up.
The Ethereum blockchain is a powerful tool that has changed how we interact with the digital world.
If you want to be a part of that, one way to do it is to start mining Ethereum.
Connected to your Ethereum wallet, you can get payouts automatically deposited into your account.
Mining Ethereum can be a great way to make some extra money, and with the right software, it can be easy.
Further reading on AdamEnfroy.com: Here's my guide on Bitcoin mining software if you're interested in the best software to mine this cryptocurrency.
Also, if you prefer to buy/sell crypto without mining it, check out these crypto trading platforms reviews:
Disclosure: I may receive affiliate compensation for some of the links below at no cost to you if you decide to purchase a paid plan. You can read our affiliate disclosure in our privacy policy. This site is not intending to provide financial advice. This is for entertainment only.