7 Best Gantt Chart Software of 2023 (Ranked and Compared)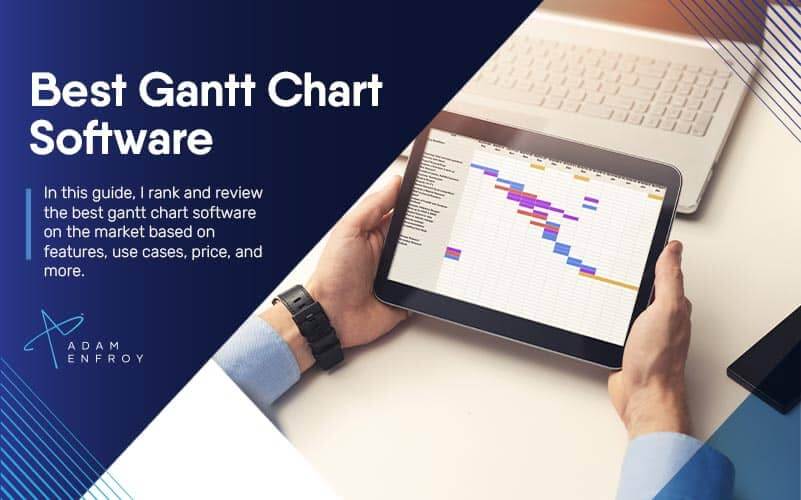 Want to get straight into my top picks? Then check out Monday.com and ClickUp today for effortless yet effective project management.
A Gantt chcart is a simple and flexible project management tool that allows visualization of the project schedule, execution, resources, and more. In the form of bar charts, it helps project managers get a clear view of what's going on, what's been done, and what's left.
In addition to that, Gantt charts help companies schedule tasks similar to task management software with a progress bar indicating the due dates for each project. As a result, Gantt chart tools have become immensely popular among companies of all sizes.
To help you choose the best Gantt chart software out of the sea of options, I've shortlisted seven of my favorites. I've mentioned what each software is best for, its features, and pricing policies for easier understanding.
What Is The Best Gantt Chart Software?
Best Customization Settings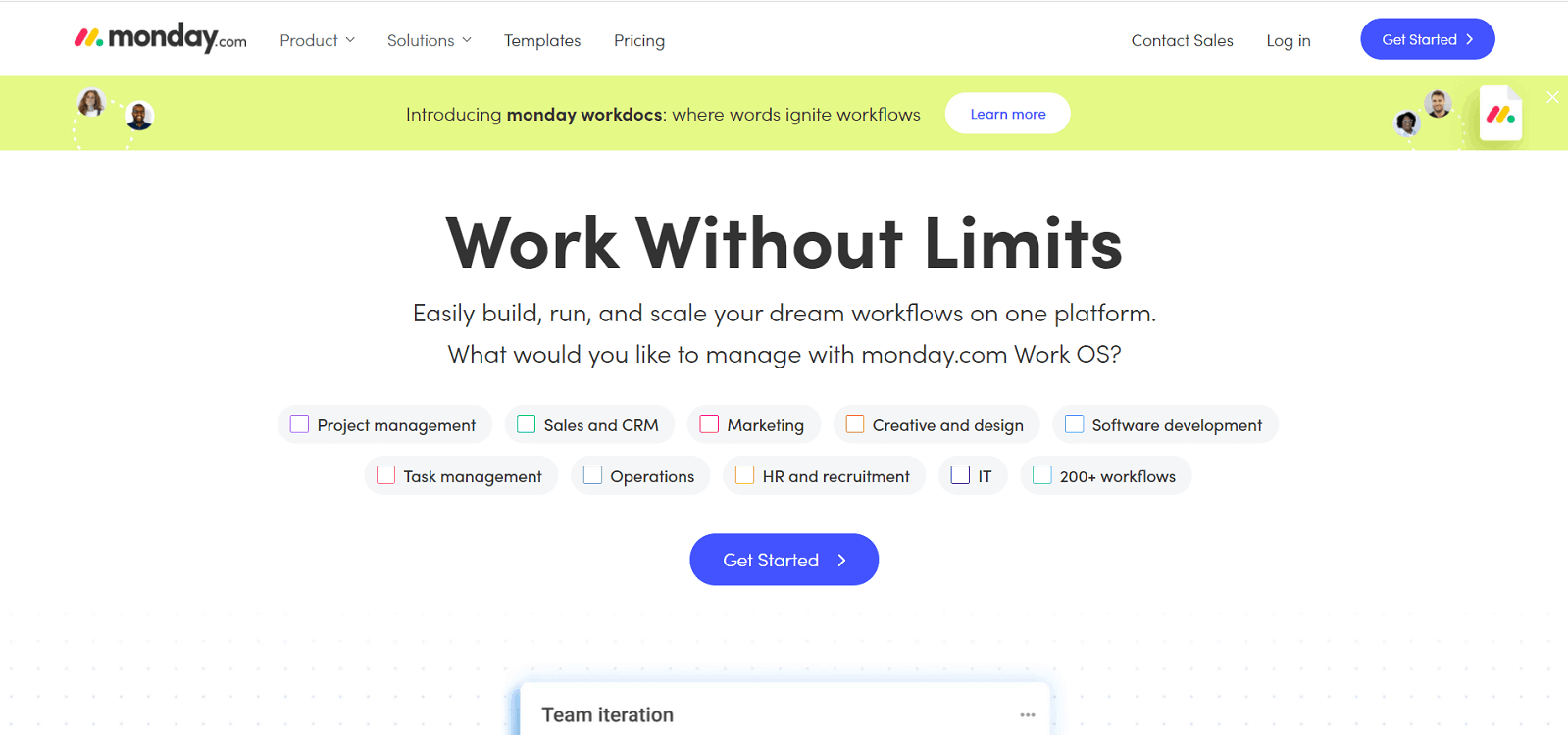 Following the motto, "Work without limits," Monday.com provides a single, multi-functional platform for planning, execution, and scaling workflows. Trusted by companies like Coca-Cola and Loreal, it can easily be integrated with your favorite productivity apps.
From simple to complex projects and portfolios- monday.com makes management a breeze with its easy collaboration tools that break all communication barriers.
Resource management is a no-brainer with the Team Workload dashboard that keeps you informed at a glance. You can further modify your dependencies, baseline, milestones, and more, even in-between the project lifecycle.
Features:
Monday.com provides a complete toolkit with customizable features that will help you lead successful projects. Besides creating powerful Gantt charts, you can go all out while planning, tracking, and managing.
Here are some features offered by monday.com:
Gantt chart creator
Control baselines and dependencies
Real-time data
Data centralization
Workload management
Resource management
Custom automation
Project management alerts
Multi-level permissions
Private boards and docs
Premium integrations
Activity log
Self-serve knowledge base
Daily live webinars
Pricing:
Monday.com offers flexible pricing policies to different types of teams and organizations. You can choose from four policies, including a free plan and a negotiable plan. Given below is a breakup of each plan along with the pricing pertaining to the yearly billing cycle.
1. Individual Plan at $0/month
Up to two team members
Unlimited boards and docs
More than 200 templates
2. Basic Plan at $8/month
Up to two team members
Unlimited boards and docs
More than 200 templates
2. Standard Plan at $10/month
Timeline and Gantt views
Automation and integrations (250 actions/month)
Unlimited free viewers
3. Pro Plan at $19/month
Dashboard with up to ten boards
Automation and integrations (25,000 actions/month)
Private boards and docs
4. Enterprise Plan
Enterprise-scale security
Enterprise-grade automation and integrations
Advanced reporting and analytics
You can try all of the plans, except the Enterprise Plan, for free. For the latter, you will have to contact the customer care team. Notably, this software tool is available at a discounted rate for NGOs, students, and student organizations.
Get started with Monday.com today.
Best All-in-one Free Gantt Chart Software
ClickUp is another free option for managing your business goals, tasks, docs, and more. Despite being free, it ensures high functionality with its simple tools, making it an efficient replacement to other project management solutions.
Interestingly, it allows the most customization in Gantt charts as you can easily create your own views, including lists, boards, boxes, and more. In addition to that, ClickUp Spaces are a great way to work together while using your own "space."
Another reason I recommend this online Gantt chart tool is its proprietary features that can be used or hidden at your convenience. This means you can choose the features you keep using and keep the rest at bay to avoid distractions and a cluttered dashboard.
Features:
With over 100 free features, ClickUp simplifies your work and organizes multiple projects without a hitch. Project planning becomes easy and looks beautiful, making your team members more enthusiastic and efficient.
Here's a list of features that will transform your workspace into a productivity hub:
Team collaboration
Real-time chatting
Assign tasks via comments and actions
Share attachments
Customizable dashboards with widgets
Global timer for desktop, mobile, and Chrome
Task dependencies
Task and subtask templates
Goal tracking
Popular integrations (MSProject, Slack, Dropbox, etc.)
Custom fields
Pricing:
ClickUp offers a ton of free features. However, if you want to level up as a project manager, I recommend the Unlimited Plan, which is relatively cheaper than other project management software solutions.
1. Free Plan at $0/month
100MB storage
Unlimited tasks and members
Two-factor authentication
2. Unlimited Plan at $5/member/month
Unlimited storage
Unlimited integrations
Unlimited dashboards with customization
3. Business Plan at $12/member/month
Unlimited storage
Unlimited integrations
Unlimited dashboards with customization
4. Business Plus Plan at $19/member/month
Contact sales for more information
Get started with ClickUp.
Best For Team Collaboration
If a neat and organized design is your priority, Wrike is the best Gantt chart tool for you. Trusted by more than 20,000 customers, including Google and Dell, it is no surprise that this software enables project managers to accelerate their plan and "over-deliver" results each time.
It does so with its efficient automation, real-time visibility, and reporting tools that help you predict obstacles and prevent delays. In today's dynamic business scenario, rest assured that Wrike will make your team fit for varying trends without any disruptions in productivity.
I especially liked the customizable dashboards and reports that will aid in scaling businesses. This tool also lets you prioritize tasks and projects and optimize accordingly. You can even automate daily tasks and focus on what matters most to your organizational goals.
Features:
Some of the best features of Wrike are the attractive and functional templates, each of which is pre-built for various tasks like product launches, Kanban projects, achieving OKRs, etc. This software also boasts 400+ integrations, so you never have to switch between apps.
Here's what makes Wrike a favorite among project managers:
Customizable workflows, dashboards, request forms, etc.
Automated approval systems
Interactive Gantt charts
Shareable Kanban boards
Gantt chart templates
Visual proofing (backlogs, past due dates, broken dependencies, etc.)
Digital asset management
Time tracking
Real-time insights and advanced analytics
400+ Integrations (Microsoft Project, Adobe Creative Cloud, and more)
Resource management
Pricing:
The project management features of Wrike are staggered across four pricing plans. However, the Enterprise Plan is offered on a quote basis, so you will have to get in touch with the customer care team for more details.
1. Free Plan at $0/month
Unlimited users
Compatible with web, desktop, and mobile apps
Cloud storage integrations
2. Professional Plan at $9.80/ month
Shareable dashboards
One to two gigabytes storage per user
Interactive Gantt charts
3. Business Plan at $24.80/month
Custom fields and workflows
Automation engine
Extension for Adobe Creative Cloud
4. Enterprise Plan
Single Sign-On (SSO)
User audit reports
Password policies
5. Pinnacle Plan
Contact Sales for more information
Note that the prices are subject to change if you choose add-ons like Wrike's two-way sync, marketing insights, and more.
Get started with Wrike.
4. TeamGantt.
Best Project Scheduling Software For Small Teams
Start-ups and smaller teams can significantly benefit from the free project planning tools of TeamGantt. With big-name brands like Amazon and Netflix swearing by its effectiveness, this software will help you streamline workflow and hit targets while saving time and money.
I personally like clean designs and fuss-free features, and TeamGantt excels in this aspect. With its simple drag-and-drop settings, you and your team members can plan, collaborate and create projects with a single click. Exporting into PDFs, Excel CSV, or PNG is also a smooth process.
The interface further provides a neat view of the entire project in one place. This is especially helpful for planning, scheduling, and managing projects across various teams as it efficiently displays workloads, team availability, conflicts, and more.
Features:
Effective project management is no longer rocket science with TeamGantt. More so with its dedicated mobile app that allows you to manage and collaborate with your team from virtually anywhere.
Here's a list of Gantt chart features that make TeamGantt my top pick:
Team availability tab
Baseline reports
Planned vs. actual timelines
Import spreadsheets
Mobile app for iOS and Android available
Project dependencies
Project plan templates
Real-time project progress
Project history and time tracking
Pricing:
TeamGantt offers three pricing policies for different types and sizes of business. I suggest starting with the free plan that offers limited but highly functional project scheduling for teams of three or less.
1. Lite Plan at $19/month
5 projects per manager
150 tasks per project
5 collaborators per manager
2. Pro Plan at $49/month
20 projects per manager
Unlimited tasks
Unlimited collaborators
3. Advanced Plan at $99/month
Unlimited projects
Unlimited tasks
Unlimited collaborators
Note that the plans mentioned above are billed annually, which allows you to save up to 20%. However, if you want to test this project management software, you can opt to pay monthly and switch to the yearly plan later.
5. GanttPro.
Best UI/UX features
If you don't wish to spend a lifetime figuring out new software, check out GanttPro. It is quick and easy, thanks to its intuitive, user-friendly layout. No wonder it is a popular pick among most project managers out there.
In fact, over 700,000 project managers, including those of Sony and Intel, trust the powerful management tools of GanttPro. From managing tasks to tracking budgets, there is a setting to automate each of your business needs.
With this tool, you can create Gantt charts that provide even the minutest details while being visually appealing. And if that's not what floats your boat, you can always opt for portfolio, grid, or board view.
Features:
GanttPro provides a full spectrum of features for personal as well as team projects. Its features are divided into different sections, making it easier to browse according to your specific requirements.
Here's a quick view of all of the features GanttPro has to offer:
Gantt charts with customizable view
Auto scheduling
Dependencies
Project and personal calendars
Task hierarchy
Real-time data sync
Baseline creation
Critical path
Browse version history
Workload management
Virtual resources
Multiple assignees
Advanced import and export
File sharing via public URL (for stakeholders)
Task time tracker
Custom and pre-configured templates
Pricing:
GanttPro follows three pricing plans, two of which consist of a 2-week free trial period. Much like the previous software, the price of the Enterprise Plan here is negotiable as well.
Here's a breakup of GanttPro's pricing plans:
Lite Plan at $19/month
Pro Plan at $49/month
Enterprise Plan $99/month
GanttPro also offers a 50% discount to NGOs, universities, schools, and students.
6. Agantty.
Best Free Gantt Chart Tool For Small Businesses
If you think managing projects without paying for software is impossible, think again. The Agantty free Gantt chart software is just as good as the paid apps and might even be better suited for your team. However, I do not recommend this software to large businesses and enterprises.
I appreciate how this free tool allows you to plan and manage unlimited projects with unlimited team members. With detailed, step-by-step instructions, even beginners can figure out effective project management in a jiffy.
As a result, creating projects has never been this easy. Just select a project period, describe and color it, and assign it to a team. You can further add tasks, invite friends, and be productive with its drag-and-drop interface.
Features:
Ideal for small to medium businesses, Agantty's powerful yet simple features ensure that your team is always one step ahead and meets deadlines without any hassle. Other than that, you can change the language settings between English and German.
Here's a list of the features Agantty has to offer:
Create and edit unlimited projects
Drag-and-drop task manager
Collaborate with teams and assign tasks
Rights management
Task overview
Memories and lists
Milestone handling
Dependencies
Desktop and mobile app
Time resources
Recycle bin and recovery
Pricing:
Agantty is a truly free Gantt chart software in a sea of "freeware" carrying dishonest claims and hidden costs. However, the company offers various extensions that make this project management tool even more functional.
7. InstaGantt.
Best Online Gantt Chart Software For Collaborations
InstaGantt lets you manage your team, tasks, and budgets, all in one powerful and intuitive platform. With tools for project scheduling, setting dependencies, and monitoring baselines, this software allows you to forecast your success and prevent bottlenecks.
My favorite feature is hands down the workload manager that gives me a clear and updated picture of the team members, so no one is overloaded or unproductive. I also like the different project viewing formats like Kanban.
The InstaGantt dashboard shows the evolution curve on the project timeline. This allows a clear comparison between the ideal and the actual project progress curve from the start till the end date. Notably, these statistics are auto-generated without you having to lift a finger.
Features:
InstaGantt, with its powerful features, proves that it is an ideal choice for advanced task management. Note that you can either use it as is or as a plugin within other popular project planning software tools.
Here are some essential features of InstaGantt:
Drag-and-drop charts
Workload management
Advanced team reporting
Task dependencies
Risk management
Baselines and change tracking
Critical path
Create and share PDFs, images, spreadsheets, and more
Asana integration
Public URLs
Templates
Clone projects
Project budgeting
Pricing: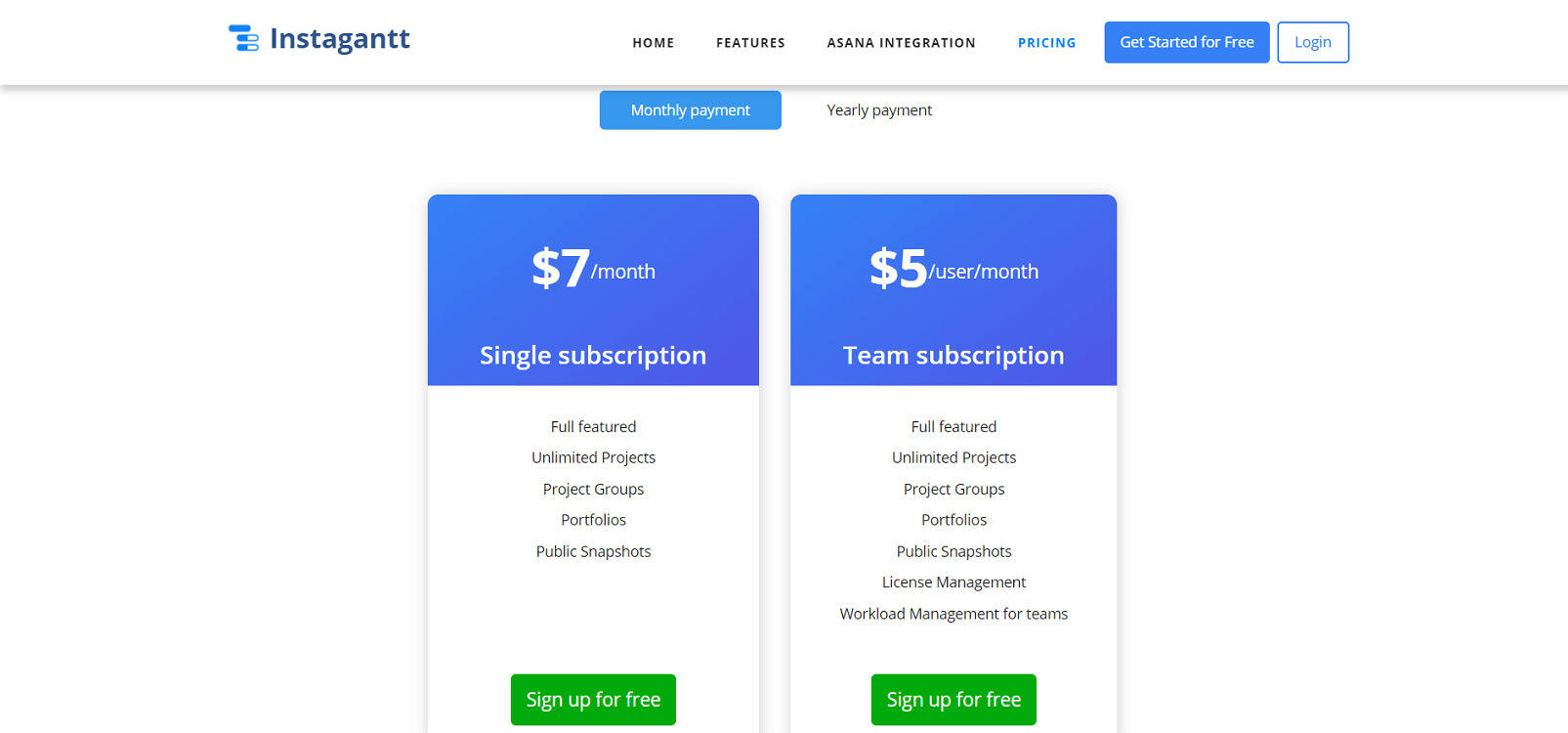 InstaGantt provides monthly and yearly subscriptions, which can be canceled anytime. This implies that you can use this project management software to its full extent without any commitments.
1. Single Subscription at $7/month
Unlimited projects
Project groups and portfolios
Public snapshots
2. Team Subscription at $5/user/month
All features of Single Subscription
Workload management for teams
License management
You will appreciate that both these paid plans are up for grabs at a discount if you pay yearly. You can even take advantage of the one-week free period before settling on a plan for your business.
Frequently Asked Questions
Q. Why Should You Get A Gantt Chart Software?
A Gantt chart provides a bird's eye view of a project, allowing project managers to assess the timeline, workload, resources, and more. Consequently, a Gantt chart creator software provides real-time updates and early warnings, and allows seamless collaboration.
Q. What Should A Gantt Chart Include?
A simple Gantt chart must show the timeline of the project schedule, task interdependencies, progress curve, and team assignments. A manager may adjust some parts depending on the project requirements.
Wrap Up.
With 77% of high-performing teams using project management tools, it is high time every business starts using a Gantt chart software to meet deadlines and deliver impressive results.
Here's a list of the best online Gantt chart makers at a glance:
TeamGantt: Best For Project Scheduling
Wrike: Best For Team Collaboration
GanttPro: Best UI/UX features
Agantty: Best Free Gantt Chart Tool For Small Businesses
Monday.com: Best Customization Settings
InstaGantt: Best Professional Planning Features
ClickUp: Best All-in-one Free Gantt Chart Software
With these powerful and easy-to-use tools, achieving your business goals is just a click away.
Looking for other related posts on the blog?
Editorial Process:
Our reviews are made by a team of experts before being written and come from real-world experience. Read our editorial process here.
Some of the links in this article may be affiliate links, which can provide compensation to us at no cost to you if you decide to purchase a paid plan. These are products we've personally used and stand behind. This site is not intended to provide financial advice. You can read our affiliate disclosure in our privacy policy.