GIMP vs. Photoshop: Features and Comparison for Photographers (2023)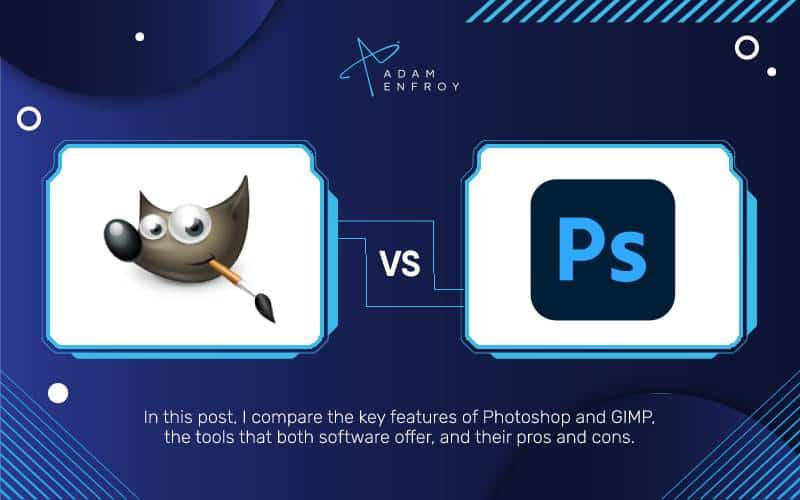 As a photographer, having reliable and powerful photo editing software and graphic design software to help you achieve your creative vision is vital.
While many different options are available on the market, two of the most popular are GIMP and Photoshop.
Both offer a wide range of features and allow you to edit your photos in various ways.
But which one is the best option for you?
To help you decide, I've put together a comprehensive comparison of GIMP and Photoshop.
In this post, I'll be looking at the key features of each software, various tools that both software offer, and their pros and cons.
By the end of this article, you should have a good idea of which one is the right choice for your personal needs.
Let's get right into it.
Overview
Let's start by looking at what these two software are all about and what they can offer you.
GIMP
One of the main reasons GIMP (which stands for GNU image manipulation program) is so well-known is that it is free.
The software is an open-source program where anyone can contribute to its source code and development.
This also means that despite being a free alternative, the community of GIMP hobbyists can add functionality that gives the software more features.
In addition, GIMP is frequently updated and improved to reflect various needs.
GIMP is also very versatile – you can use it for basic tasks such as cropping, resizing, and color correction.
Moreover, you can also use it for more advanced tasks such as creating digital paintings, manipulating images, and even creating logos.
GIMP is available for Windows, macOS, and Linux operating systems.
Photoshop
Forming part of the Adobe Creative Cloud and being a powerful tool that many web developers, photographers, and creative professionals use daily, Photoshop comes in with a bit of a learning curve.
Once users become familiar with its interface and the way it works, many find it hard to switch back to other tools.
While you do need an internet connection to get started using this tool, you can use it in offline mode after you've validated your license.
In this regard, the software will attempt to check for a valid license every 30 days.
This range is extended to 99 days if you pay for an annual membership.
Adobe Photoshop Express can also be used on mobiles and tablets as the photo editing program of choice.
This means that unless you're on a Linux machine, Adobe has you covered when it comes to image editing programs on various devices.
Get started with Photoshop.
Comparing The Two Software
Both of these software make use of several plugins to achieve their functionality.
As mentioned before, GIMP is a software program that allows users to add to its capabilities by writing plugins, while only official Adobe developers can create Photoshop plugins.
Despite that, GIMP has a fewer number of image editing tools when compared to Photoshop since there are not as many people working on the former.
Photoshop is also considered the software of choice for professional photographers as it has more features geared toward this particular audience.
This is not to say that, in general, GIMP can not do the same things as Photoshop. It usually can, but it often requires more time, expertise, and effort to get the same results.
A Note On RAW Data Files
A RAW file refers to the data that comes directly from the image sensor of a camera before it is processed.
This file type contains all of the information captured when the photo was taken, and it gives you more flexibility when editing as you have access to more data.
RAW is one of the main file types they use for professional photographers.
This format gives them the most control over their images, which is essential when comparing the two software.
When it comes to camera RAW files, both software can open and edit them.
Features of the Two Software
Let's look at some of the features on offer by the two software.
GIMP Features
Let's start by looking at some of the features on offer by GIMP:
A foreground extraction tool helps you quickly and easily select the subject in an image.
Quickly enhance photos with various filters, such as color correction, blurring, sharpening, and noise reduction.
Use USB devices attached to your computer to transfer files between GIMP and other devices.
Tools like the blend tool and gradient editor allow you to create exciting effects in your images.
The user interface can be set as dark or light to match your preference.
Transformable selections and paths are two new features that make it easier to edit images.
Exporting to multiple file formats can be done based on the project's requirements, including GIF, PNG, TIFF, etc.
Reouching up photographs taken from a digital camera is easy
As many as 100 plugins are available to extend the functionality of this software.
Photoshop Features
Next up, let's look at some of Photoshop's features:
It has smart sharpen filters so you can edit your images with precision.
The image editing on mobile can be easily transferred to Photoshop CC on your desktop.
The upsampling feature makes it easy to increase the resolution of your images.
Multi-shape and path selection allow you to quickly select the subjects of your pictures.
You can automate tedious and repetitive tasks by recording actions.
One-click color correction helps you correct the colors.
Special effects and distortion features help you create the needed effects in your images.
Multiple undo can be efficiently executed, so you can go back to previous versions if you make mistakes.
You can select subjects quickly by using the Quick Selection tool.
Removing red-eye in your photos can be done with a specific tool.
Converting objects to layers and editing them individually is a quick process.
You can transform multiple layers to create different effects.
GIMP vs. Photoshop Training
With industry-standard software like Photoshop, training is a must.
Adobe offers plenty of resources for users to get familiar with the software and its features.
They also have extensive help documents that cover all the features in detail.
In addition, they offer video tutorials that show you how to use the software.
If you want to get more hands-on training, plenty of expertly-created books and online courses are available.
GIMP also offers comprehensive help documents as well as video tutorials.
In a nutshell, finding tutorials on both software is easy as plenty of resources are available.
Tools Provided
The tools provided in photo editing software are what make or break the experience for their users.
GIMP has a wide variety of tools to help with image selection and editing.
These include:
Scissors and Eclipse Tools
Foreground Tools
Ink and Brush Tools
Healing Tools
Cloning Tools
There are also transformation tools that can crop an image, rotate it, scale it, etc.
Other tools provided are color and paint tools, layers and channels, and text selection.
Photoshop also has many of the tools that GIMP has when it comes to image editing.
There are also tons of tools that one can use to accomplish what is needed.
These include:
The Clone Stamp Tool
Healing Brush Tool
Patch Tool
Color Correction Tools
As you can see, both software has a wide variety of tools that users can use for photo editing.
For the general user, both software will have the needed tools – whether the job gets accomplished on Photoshop or GIMP usually depends on one's personal preference.
Choosing One Software Over The Other
Despite having said that the choice comes down to the user's preference, there are instances in which one is forced to choose between the two software.
For example, the PSD format is proprietary to Photoshop.
The format cannot be read by other software, meaning compatibility issues will arise if attempting to open a PSD file in another program.
If you want to open PSD files received from someone else, you will have to use Photoshop.
GIMP users typically use the XCF format, which is an open-source format.
There are various software that can read this format, so if you like to have the freedom to move your files around between different software, then GIMP would be the better choice.
In addition, if you are on Linux, you are forced to use GIMP as Photoshop is not available on this operating system.
In addition, if pricing is an issue, GIMP is a completely free software, while Photoshop will set you back $20.99 (as a standalone) a month.
As a result, if you are looking to edit images on a budget, the choice is also clear-cut.
System Requirements
Running Photoshop requires at least 8GB of RAM with 16GB recommended.
Users should also have at least 5 GB of storage space available on their hard drive and a suggested 2GB of graphics memory (with 4GB being the suggested amount of GPU memory).
The recommended (and minimum requirements) for GIMP are much lower, which means that this software can be run on the majority of computers.
Pros And Cons
To bring home which software is better for you and your specific needs, I have listed the pros and cons of GIMP and Photoshop.
GIMP
Pros:
GIMP is a powerful image editor with a wide variety of features.
GIMP is a free image editing software.
GIMP uses the XCF format, an open-source format
GIMP is available for Linux, while Photoshop is not.
Cons:
GIMP does not have as many plugins and extensions available as Photoshop.
Photoshop
Pros:
Photoshop is a very popular photo editor with various features.
Photoshop has more plugins and extensions.
Photoshop offers more pixel manipulation options than GIMP.
Batch processing is better implemented in Photoshop – command line execution is needed in GIMP.
Photoshop upgrades are typically released every six months.
Cons:
Photoshop costs $20.99 per month, while GIMP is available for free.
Photoshop is not available for Linux
Some people find the interface confusing and challenging to use.
The learning curve for Photoshop can be steep for beginners.
Wrap Up.
When it comes to Photoshop vs. GIMP, finding the right software for you will come down to your needs.
With both having the ability to edit images to fine levels of detail for those involved in digital photography, graphic design, or even web design, finding the right tool for your workflow might require some testing.
Suppose you're a professional operating on a Mac or Windows and need a solution that can get the job done right every single time. In that case, I'd recommend that you use Photoshop and its various capabilities.
The same recommendation applies if you use other Adobe products (including Lightroom, Premiere Pro, etc.) in your line of work, as these various apps integrate well together.
On the other hand, if you're after an open-source software that can still provide in-depth functionality while tweaking photos (arguably in a slightly more user-friendly way), GIMP might be a better solution for you.
Both programs are good choices in the Photoshop vs. GIMP battle and can get the job done once you figure out how they work.
Do you have experience using both GIMP or Photoshop?
Which one do you prefer and for which use cases?
Let me know in the comments below.
Get started with Photoshop.
Further reading on AdamEnfroy.com: Have you ever wanted to get your printed photos onto your computer so you can edit them?
Using the right photo scanning software, you can get high-quality scans of your old photos in just a few minutes.
This will allow you to edit them and preserve them for the future.
Then, after you edit your photos, managing them is the next step.
The right software can help you keep track of all your images and RAW files, as well as help you find them when you need them so choosing the best photo management software is important.
Disclosure: I may receive affiliate compensation for some of the links below at no cost to you if you decide to purchase a paid plan. You can read our affiliate disclosure in our privacy policy. This site is not intending to provide financial advice. This is for entertainment only.