7 Best Gmail Add-Ons, Extensions, & Apps [2023]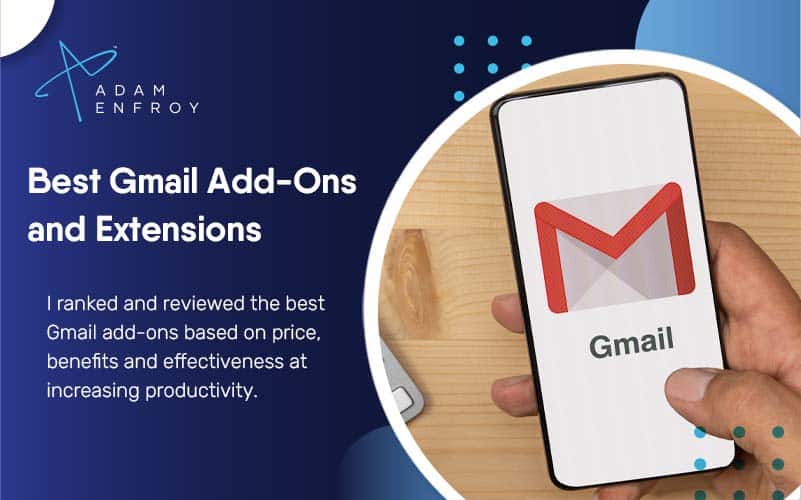 Gmail is the most used Google Workspace (formerly known as G-suite). A staggering 1.5 billion people use it for managing their daily tasks.
But there is a lot that Gmail can't achieve on its own. Gmail isn't a full blown email marketing platform.
You and millions of other users can use Gmail add-ons and extensions to enhance Gmail's capabilities.
Where do we start in choosing out of literally thousands of extensions?
To help narrow it down, I've gone ahead and put together a list of the best Gmail add-ons and extensions for you. I have also answered some common questions you might have regarding these tools.
What Are the Best Gmail Add-Ons and Extensions?
Here are my top picks of the best Gmail add-ons and extensions of 2022.
Best for Enhanced Productivity
If Gmail is great, then RightInbox makes it even better with its slew of productivity-focused features. This Gmail add-on integrates seamlessly with Gmail and is used by over 250,000 pros all around the world.
You can add capabilities such as task setting and reminders to your Gmail inbox. Create automatic follow-up emails and schedule them to be sent later. I particularly like the option to create a variety of signatures that add to the end of my emails.
Its features are very intuitive and can improve the workflow of any organization as well as individual professionals. If you're looking to use some of the features you've always wanted in Gmail, then RightInbox is the right choice.
RightInbox by itself is a great piece of cold email software and this Gmail extension only makes it better.
Features:
Open and track emails with a single click. Set up recurring emails to be sent out automatically and have the option to create private notes for your eyes only.
Here's a list of the other features that this extension provides:
Email scheduling and reminders
Private note-taking feature
Multiple customized signatures
Automate follow-up email sequencing
Personalized email templates
Embeddable GIFs
Integration with CRM tools
Visual previews for shared links
Easy email tracking and merging
Pricing:
RightInbox has a simple pricing structure that's divided into five tiers. The first tier is the Free Plan, which is suitable for professionals with limited emailing requirements. In case you're a professional looking for unlimited service, then opt for the paid plans.
The following is a list of the paid plans that RightInbox offers:
Yearly Plan for professionals at $5.95/month
Monthly Plan for professionals at $7.95/month
Yearly Plan for teams at $4.95/user/month
Monthly Plan for teams at $6.95/month
Best for Project Management
For those project managers who complain that creating Trello cards cuts into their productivity, I have the Trello for Gmail extension. It's a simple extension that lets you create Trello cards from your emails with a single click.
Trello is also one of the best project management tools for beginners who are getting their feet wet with project management. It has a ton of free features and uses a kanban style, linear board which is easy to get your head around.
Just open the email you want to change into a card, click on the extension icon, pick the Trello board, and list where you want the card to go. The email's subject automatically becomes the card title, and the body becomes the description.
You can also edit things to your preference before sending the card to a list if you want. The extension can installs directly from the Gmail inbox, provided you've already updated it to the latest version. Otherwise, you'll have to visit the G-suite marketplace and download it.
Features:
Simplicity is inherent to the Trello for Gmail add-on. With a few clicks, you get to turn any email into a fully functional Trello card, complete with lists and due dates.
Here are some other features of the Trello for Gmail Extension:
Automated conversion of emails to to-do lists
Ability to highlight and organize emails
Easy prioritization of tasks
Simple sharing with teams
Pricing:
Trello for Gmail is free for anyone to download and use. But you need to have an active Trello account to use it. The good thing is that the extension works even if you're using a free account on Trello.
The following is a breakup of Trello's pricing plans:
Free Plan for $0/month
Business Class Plan for $10/user/month
Enterprise Plan at custom pricing
Best for Cloud-based File Sharing
Downloading files stored on cloud storage only to upload them again as email attachments is a waste of time and bandwidth. The Dropbox for Gmail add-on helps you overcome this problem and boost your productivity levels.
Using this extension, you can instantly access any Dropbox files stored on the Cloud and add them as email attachments. You can attach files as well as folders to your emails with just a few clicks.
You can connect your Gmail to Dropbox using two methods: the Dropbox Chrome extension for Gmail or the Dropbox Gmail add-on. The difference is that the Chrome extension works on that particular browser, while the add-on works on any platform, even Android.
Features:
The primary advantage of using Dropbox for Gmail is that you can have better organization in your email communications. Also, since you're not uploading any files to the Gmail server, this helps keep a significant portion of your Google Drive space free.
Here are some other features of Dropbox for Gmail that you might like:
Easy file sharing and collaboration
Automatic folder synchronization
Accessible across all platforms
File previews
Pricing: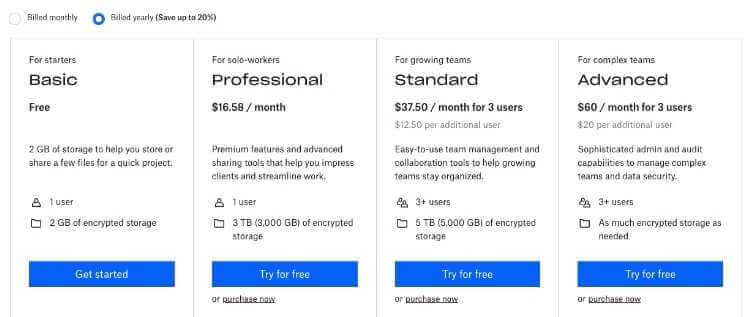 Dropbox for Gmail is free to download and use. But you need to have an active Dropbox account for the extension to work. Like Trello for Gmail, the Dropbox extension is also available with the free Dropbox plan.
The following is a list of the Dropbox pricing plan structure:
Plus Plan at $9.99/month
Family Plan at $16.99/month
Professional Plan at $16.58/month
Standard Plan at $12.50/user/month
Advanced Plan at $20/user/month
4. Zoom for Gmail
Best for Scheduling Zoom Meetings
A video conference call can often resolve what might otherwise take a string of emails. The Zoom for Gmail add-on helps you achieve just that by adding video call functionality to your Gmail inbox.
With just one click on the extension icon, you can schedule meetings, connect with other email recipients, and much more. Unlike other conventional meeting tools, Gmail add-ons like the one that Zoom offers, have an invitation to everyone in your email thread.
You also get a summary of the meeting once it's over, complete with the meeting's date, meeting ID, and participant details. It even picks up contact info from Gmail and lets you schedule meetings without opening the Zoom app itself.
Features:
Perhaps the best thing about Gmail add-ons like this is that it brings the simplicity of a Zoom call/conference to your Gmail account. Also, it works across all platforms, such as Linux, Windows, and Android.
Here are some of the other features of Zoom for Gmail that you might like:
Automatically captures and saves contact information from Gmail
It gives you a quick view of all scheduled and upcoming meetings
Enterprise-grade video meetings from right within the Gmail inbox
AES-256 encryption for secure meetings
Automation-based email invitations
Pricing:
Zoom for Gmail is a free-to-download extension, but you need to have a registered Zoom account to use it. You can access the extension even if you're on the Free Plan, which supports up to 100 participants.
You can also upgrade to one of Zoom's paid plans as listed below:
Pro Plan at $14.99/month
Business Plan at $19.99/month
United Business Plan at $30.00/license/month
5. Gmelius
Best for Collaboration and Workflow Automation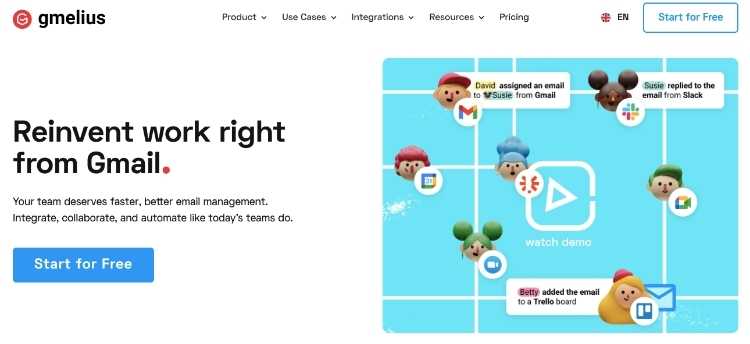 Gmelius is a Gmail extension that enables email-based collaboration and automation. The tool seamlessly integrates with every Gmail feature, allowing you to get more done in less time.
Its combined capabilities make Gmelius an all-rounder in terms of functionality. Whether you need email tracking features, shared inboxes, or customized email templates, this extension has you covered.
It incorporates project management features and collaboration tools that allow your teams to sync their data right from the inbox. In short, this is one of the premier Gmail add-ons that delivers more than it promises.
Features:
Gmelius is excellent when it comes to tracking emails. You can automate email sequences and schedule them for later sending. It also integrates with the most popular project management tools, such as Asana and Trello. This is a great outreach or toned-down marketing automation tool that integrates with Gmail.
The following is a list of the significant features that Gmelius offers:
Shared inbox and labels
Kanban boards for visual organization
Customized email sequences, templates, and campaigns
Read-receipts in a shared inbox
Automated email scheduling
Blockchain-based encryption
Powerful Gmail analytics
Workflow automation
Email notes
Collision detection, ticketing, and tagging
Fully compatible with iOS and Android
Pricing:

Gmelius pricing plans are staggered across four tiers, with the first one being completely free. At $0/month, you can use the service for up to three users. For greater capability, opt for any of the paid plans.
1. Plus Plan at $9/user/month
No limits on team size
10 shared Gmail labels and Kanban boards
CRM Integration
Chat and email support
2. Growth Plan at $19/user/month
15 shared inboxes
50 shared Gmail labels and Kanban boards
Drip campaigns and mail merge
Priority customer support
3. Enterprise Plan at custom pricing
Unlimited shared inboxes
Unlimited shared Gmail labels and Kanban boards
Advanced admin access
Live remote support
6. Todoist for Gmail
Best for Task Management
Todoist is one of the most popular apps on the planet and has a feature-rich interface that can give any other task management tool a run for its money. And now, you can bring the Todoist advantage to your Gmail inbox with the Todoist for Gmail extension.
Todoist makes task management simple by providing access to all your to-do lists in the same place. The interface works in the form of a nifty pop-up that sits by your email drafts. As a result, you can quickly manage tasks right from the comfort of your email inbox.
It allows you to convert your to-do lists to emails, making email a more straightforward process. You can also tag important emails with priorities and add due dates as well as reminders.
Features:
Todoist has been consistently ranked as one of the best to-do apps and is used by over 25 million people worldwide. It's available as desktop and mobile apps, and the Gmail add-on is available as a Google Chrome extension.
Here's a list of the essential features that this extension offers:
Adding emails as tasks
Follow-up reminders
Email prioritization
Task completion from Gmail inbox directly
Task-based collaboration
Progress tracking
Easily integrates with apps such as Slack, Dropbox, and Zapier
Pricing: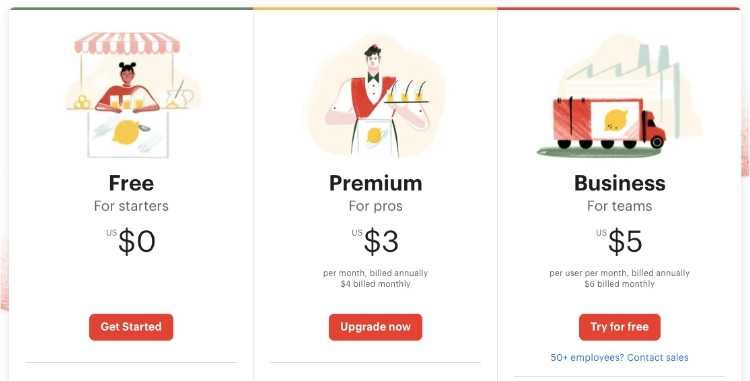 As usual, the Todoist for Chrome extension is available to download for free and is usable by anyone who has a Todoist account. You can start with the free plan at $0, giving you access to 80 projects, with up to five members per project.
In case you're opting for the paid plans, here's a breakup of each:
Premium plan at $3/month
Business plan at $5/user/month
7. DocuSign
Best for E-signatures
DocuSign is the industry leader in e-signatures, and this Gmail add-on allows you to convert the email platform into a potent tool for digital signing. Its sleek and user-friendly interface lets you get more done with fewer clicks.
To use the extension, you have to hover the mouse pointer over any email attachment and e-sign the required documents from your inbox. This allows you to sign and edit documents within a short time.
You can add signatures to PDF documents, sign agreements or approve purchases, all from the comfort of your inbox. DocuSign encrypts all data items, and any signatures done using the tool are legally binding.
Not interested in DocuSign? Here is my vetted list of DocuSign alternatives.
Features:
Besides allowing you to append digital signatures to documents, DocuSign also lets you select from multiple signature templates. You can customize digital signatures in any way you need using this tool.
The following is a list of the essential features of DocuSign:
Enterprise level security and privacy features
Efficient and integrated workflows
Unlimited document signatures
Up to three documents for external signatures
Instant notifications
Supports over 40 languages
Pricing:

While the DocuSign extension is free to download and use with Gmail, you do need to have a valid DocuSign account to use with it. The service has e-signature plans spread across four tiers, as explained below.
1. Personal Plan at $10/month
Single user plan
Mobile app support
All basic fields
2. Standard Plan at $25/user/month
Basic fields
Mobile app support
Personalized branding
3. Business Pro Plan at $40/user/month
Everything in the Standard Plan
Advanced fields
Bulk sending options
4. Advanced Solutions at Custom Pricing
Everything in the Business Pro Plan
Enterprise-grade API support
SSO and authentication
What Are Gmail Extensions?
Gmail extensions, also called Gmail add-ons, are lightweight software tools that allow you to enhance the Gmail inbox's functionality. These tools typically lend Gmail essential features that it should have for better workability.
Gmail extensions allow both existing and new email users to create real-time workflows and integrate better with other business tools and social sites.
Where Can You Get Gmail Extensions and Add-Ons?
Some of these Gmail add-ons extensions are available from the Google Chrome Web Store, while you can download others directly from the company websites. Common Gmail extensions include Sortd, Mailtrack, Giphy, Checker Plus, and Clearbit Connect.
Are Gmail Extensions and Add-Ons Safe?
In general, Google does not develop Gmail add-ons and extensions, so ensuring safety lies with the organization offering the extension, and the user installing it. However, add ons and extensions offered by reputed brands are usually safe.
What Else Can I Do In Gmail?
One feature that not many people know about is the ability to set a timed delay between when you hit "send" and when the email is actually sent.
This can be useful if you want to make sure you didn't make any mistakes in your email before it's sent.
Here's how to recall an email in Gmail using this feature.
Wrap Up.
Gmail has become one of the few apps that we can't imagine working without in today's world. However, there's still room for improvement in terms of business-specific functionality. Gmail add-ons help you overcome these shortcomings and enhance your Gmail experience.
In case you're looking to improve your workflow using Gmail, consider adding one or more of the following Gmail add-ons & extensions to your inbox:
I'm sure that with the above Gmail add-ons & extensions, you'll start getting the most out of Gmail.
Editorial Process:
Our reviews are made by a team of experts before being written and come from real-world experience. Read our editorial process here.
Some of the links in this article may be affiliate links, which can provide compensation to us at no cost to you if you decide to purchase a paid plan. These are products we've personally used and stand behind. This site is not intended to provide financial advice. You can read our affiliate disclosure in our privacy policy.