The Best Gold Affiliate Programs (Ranked & Reviewed)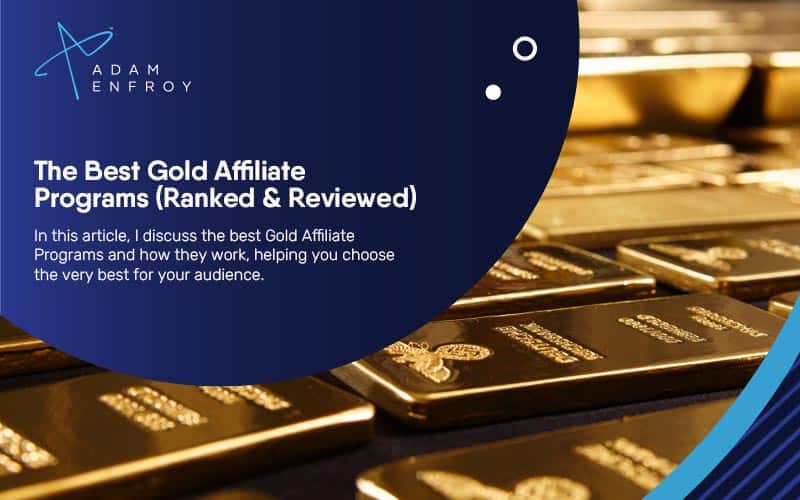 While gold no longer drives nations to engage in war, its long-standing value as a precious commodity remains undeniable.
Beyond its traditional allure, gold remains a well-sought asset with potential financial gain.
However, have you ever considered exploring alternative avenues to capitalize on this timeless metal?
You can join various affiliate programs and recommend gold products to your audience, resulting in a commission for every sale you make.
In this article, I will discuss the best Gold Affiliate Programs and how they work.
The Best Gold Affiliate Programs
Here are some of the best Gold Affiliate Programs currently available.
1. American Hartford Gold.
As an affiliate of American Hartford Gold, you can earn high affiliate commissions by promoting their gold affiliate programs.
The commission percentage offered by American Hartford Gold is one of the highest in the industry, maximizing your potential earnings.
Promoting their gold affiliate programs gives your audience a high-quality investment opportunity while earning a significant income through affiliate payments.
It's always reassuring to know that a company has the backing of recognizable figures in the industry, and American Hartford Gold is no exception.
Bill O'Reilly and Rudy Giuliani have publicly endorsed the company, cementing its position as a leader in the world of gold-backed investments.
This kind of recognition instills confidence in potential investors and makes it easier for affiliates to promote the brand to their audience.
American Hartford Gold has also created a generous and user-friendly affiliate program.
Affiliates can earn up to 3% commission per sale, quickly adding to a significant amount of money.
Plus, the program has access to brand assets like pre-made banners, videos, and real-time market intel about platinum, silver, and gold prices, making promoting the brand to your audience easier.
And with a simple sign-up process, it's easy to start earning money with American Hartford Gold.
2. Goldco.
Affiliate websites can earn commissions by promoting gold affiliates like Goldco.
Goldco is one of the top gold IRA companies in the industry, known for its excellent customer service and transparent practices.
As a gold affiliate, promoting Goldco can be a lucrative opportunity for affiliate websites looking to target the growing demand for alternative investments like gold IRAs.
Goldco is a company you can trust; they have the ratings to prove it.
They've received an A+ rating from the Better Business Bureau and an AAA rating from the Business Consumer Alliance, meaning they meet or exceed high business conduct and ethical behavior standards.
These ratings indicate that Goldco operates with integrity, and you can trust them with your retirement savings.
To make money and protect it, check out Goldco's affiliate program.
When someone becomes qualified through one of your leads, you'll get rewarded with bonuses (minimum bounty amount: $165).
All you need is prior experience in marketing finances and some reviews on the materials provided, and you're good to go.
Your commission will go straight into PayPal each month, so you can be sure your hard work is paying off.
3. Birch Gold.
Birch Gold is a well-known gold IRA company offering various investment options.
Through their online marketing strategies, they promote their expertise and reliability in the market.
Birch Gold provides a seamless and secure platform for purchase transactions, making it easier for investors to buy gold.
With over 20 years of experience, folks in the financial industry trust Birch Gold Group to help Americans add physical gold and other precious metals to their retirement savings.
And now, you can be a part of this success story by joining their affiliate program.
Birch Gold Group's affiliate program offers some of the most generous incentives in the industry.
It makes it easy to earn extra income from anywhere with a $25 bounty pay per qualified lead plus a 2-5% commission on sales.
Furthermore, Birch Gold Group offers all the information you need on one convenient page unlike other affiliate programs.
But why should you choose Birch Gold Group?
The answer is simple: they are a reliable and established industry leader with a proven track record of success.
Their partnership with renowned podcast host Ben Shapiro only solidifies their reputation as a trustworthy company committed to excellence.
Birch Gold Group provides all its affiliates with various marketing tools, including banners, email templates, and social media posts.
They also have a dedicated affiliate support team offering technical assistance, tracking conversion rates, and campaign optimization.
These resources and support will ensure you have all the tools to optimize your affiliate marketing efforts and maximize this opportunity.
4. Golden Eagle Coin.
Many precious metals affiliate programs, including those focusing on silver or gold, are available.
One such program is the Golden Eagle Coins affiliate program, which offers competitive commission rates for promoting its wide selection of precious metal products.
In addition to the standard affiliate program, they offer a tiered program for high-performing affiliates, providing even more significant earning potential.
Many other silver affiliate programs are available for affiliates looking to promote silver products specifically, each with unique offerings and commission structures.
However, regardless of your chosen program, it's essential to carefully evaluate each program's terms and conditions to ensure they align with your business goals and values.
Choose the right products to promote to make the most of the Golden Eagle Coin Affiliate Program.
The program offers over 5,000 items, including gold and silver bullion, coins, and popular products.
Look at your target audience's interests, and promote products that will likely appeal to them.
The more niche and targeted your promotions are, the more likely you are to drive sales.
5. American Bullion.
American Bullion is a trusted, reliable gold IRA provider with a stellar reputation.
Founded in 2009 by two seasoned traders, American Bullion offers IRA rollovers and door-to-door delivery of gold.
They also have an affiliate program that provides generous payouts for qualified leads and sales.
American Bullion specializes in helping individuals transfer funds from their employer-sponsored retirement accounts into self-directing golden IRAs.
Their team of experienced IRA specialists can guide you through the process and answer any questions.
In addition to their gold investment services, American Bullion also offers an affiliate program that provides an excellent opportunity to generate extra income.
Their affiliate program pays $30 per qualified lead and 3% for sales over $10K.
The average sale value is around $35K, which can add to significant commissions.
The affiliate program is easy to join and can be a great way to build your network and earn additional income.
6. GoldBroker.
GoldBroker affiliate program offers a convenient way to earn a commission through referred customers.
You can earn a commission whether customers buy or store a lot or just a little gold.
With the 30-day cookie duration, any customer who clicks your link and makes a purchase within 30 days earns you a commission fee.
This commission rate starts at 1% but can go as high as 10%, depending on the amount of gold sold.
So, whether you're an experienced affiliate marketer or just starting, GoldBroker's affiliate program provides a great opportunity to diversify your affiliate portfolio.
One of the most interesting things about the GoldBroker affiliate program is the extra tools they provide their affiliates.
The investment simulation widget allows you to offer potential customers a glimpse into how investing in gold and silver would affect their financial future.
This widget helps you provide a personalized experience for potential clients and can help boost their confidence to invest with GoldBroker.
Additionally, their gold price widget, which displays current gold prices on your website, can help you inform your readers and further convince them to purchase gold.
Not only do they offer various coins, but they also provide an excellent opportunity for affiliate marketers.
7. BGASC.
If you're an affiliate marketer looking to boost your income by promoting gold-investing products, then the BGASC affiliate program may be just what you need.
BGASC (Buy Gold and Silver Coins) is a trusted gold and silver bullion provider, offering a wide range of products at competitive prices.
But what sets BGASC apart from other gold providers is its affiliate program, which offers generous commission rates from $5 to $30 depending on order size and 45 days of cookie duration.
If a customer you referred to purchases within 45 days of clicking on your affiliate link, you will receive a commission on that sale.
Aside from the great commission rates, another advantage of the BGASC affiliate program is the high conversion rate.
If your affiliate link directs customers to the site, they'll likely purchase.
BGASC boasts a conversion rate of 5%, which is higher than the industry average.
With a wide selection of products available, including gold bullion coins, bars, and rounds, and silver, platinum, and palladium products, there's something to suit every investor's needs.
But what about the process of becoming a BGASC affiliate?
It's quite simple.
You'll need to sign up through the CJ affiliate network to start.
Once the platform approves you, you'll receive a unique affiliate link to promote BGASC products on your website, blog, or social media channels.
You can choose from various banners and text links to promote the products, and you'll have access to real-time reporting and tools to track your earnings.
8. GoldRepublic.
GoldRepublic is a leading online brokerage that provides various services to its clients.
One of its many services is its Affiliate Program.
It is an excellent opportunity for anyone looking to invest in precious metals.
GoldRepublic's Affiliate Program is the perfect opportunity for anyone looking to invest in precious metals because of the following reasons:
Profitable Commissions: GoldRepublic's Affiliate Program offers 25% commissions on all two-year transaction fees. Therefore if you refer someone to GoldRepublic, and they make a transaction, you earn a profit. It can result in a significant payout for anyone who refers people to their platform.
Full Ownership and Secure Storage: GoldRepublic offers full ownership of your gold and silver bullion. You can purchase the Bullion anytime through their platform. Additionally, clients can have their gold and silver stored in their secure storage facilities. This level of security guarantees the safety of your investment.
Easy Portfolio Management: GoldRepublic's online platform allows you full control over your investment portfolio, even during non-trading hours. This 24/7 platform offers clients complete transparency into their investment portfolio and provides a level of flexibility that is unrivaled.
Reputable Customer Service: People know GoldRepublic's customer service team for its high professionalism and expertise. If there is an issue, their team is always ready to assist clients efficiently and on time. This high level of customer service ensures clients feel safe and confident in their investments.
Flexibility and Versatility: GoldRepublic's Affiliate Program is incredibly flexible, meaning anyone can become an affiliate and earn profits. The program's versatility means that affiliates can refer clients from anywhere in the world without limitations on the number of referrals.
Other Gold Affiliate Programs To Consider
Here are a few other gold affiliate programs to consider
The Benefits Of Joining A Gold Affiliate Program
If you want to earn extra income or start a side business, joining a gold affiliate program is an excellent option.
A gold affiliate program is a program that allows you to earn commissions by promoting the products and services of companies that sell precious metals like gold and silver.
Not only do you get commissions from sales of gold, but you also have the opportunity to promote other products and services related to the precious metal industry.
Here are the top benefits of joining a Gold Affiliate Program.
Access To High-Quality Products And Services
One of the significant benefits of joining a gold affiliate program is that you get access to high-quality products and services related to the precious metal industry.
These programs allow you to promote products and services like gold and silver bullion, investment-grade coins, precious metal IRAs, and numismatic coins.
The products and services these companies provide are of high quality and have a loyal customer base.
You, therefore, don't have to worry about promoting something of low quality that will not get your customers' attention.
Attractive Commission Structures
Another advantage of joining gold affiliate programs is the commission structures.
These programs offer some of the most attractive commission rates in the affiliate marketing industry.
Generally, you can earn anywhere from 3% to 10% commission on sales through your referral link.
You can earn more money for the same effort with higher commission rates.
That's why many affiliate marketers promote products related to the precious metal industry.
Affluent And Niche Market
The market for precious metals is a niche market.
It is also an affluent market.
People who invest in precious metals have a higher net worth than the general population.
These potential customers are willing to pay premium prices for high-quality products and services that meet their requirements.
This affluent and niche market allows you to promote high-ticket items and earn significant commissions.
Effective marketing strategies allow you to convert a small percentage of these potential customers into actual customers and earn a substantial income.
Comprehensive Affiliate Support
Affiliate managers are important in maintaining the relationship between affiliates and programs, ensuring smooth communication between parties.
Gold affiliate programs offer comprehensive support for their affiliates, including access to landing pages optimized for conversions.
Wth training, sales and marketing materials, and customer support, these programs provide affiliates with the necessary tools to succeed.
The right support team can also help affiliates tap into the booming precious metals industry by promoting products such as gold coins, which are in high demand among investors and collectors.
Types Of Gold Affiliates
There are various gold affiliates, including those that deal with cryptocurrencies, such as Bitcoin.
A gold IRA affiliate program is another popular one, allowing individuals to invest in gold as a retirement asset.
Silver bars are a popular investment option for diversifying their portfolio and hedging against inflation.
Similarly, people see silver bullion coins as a viable alternative to traditional currency and are sought after by collectors and investors alike.
Gold Affiliate Programs – FAQ
What Is The Better Business Bureau?
The Better Business Bureau (BBB) is a nonprofit organization advancing marketplace trust.
It serves as an intermediary between consumers and businesses, helping to resolve disputes fairly, providing consumer education, and promoting ethical business practices.
How Can I Improve My SEO Ranking When Being A Part Of Gold Affiliate Programs?
To improve your SEO ranking when being a part of gold affiliate programs, create quality content related to the product or service you promote.
Provide helpful tips and advice about the product or service and information about its features, benefits, and uses.
Moreover, to promote gold affiliate programs, you can also engage in social media marketing, and guest blogging.
Wrap Up.
Investing in gold affiliate programs can be an excellent way to diversify your portfolio and generate passive income.
Gold has proven an effective long-term investment, with the potential for strong returns on investment.
Moreover, the top gold affiliate programs offer flexibility that other investments don't have.
Whether you prefer to deal in physical gold products or trade gold derivatives, an affiliate program can help you reach your financial goals.
Further reading on AdamEnfroy.com: Want to learn how to move a 401K without penalty?
The above post will share the best ways to do so while avoiding any unnecessary taxes or fees.
You can also check out this Gold IRA rollover guide for more information.
Disclosure: I may receive affiliate compensation for some of the links below at no cost to you if you decide to purchase a paid plan. You can read our affiliate disclosure in our privacy policy. This site is not intending to provide financial advice. This is for entertainment only.