7+ Best Gold IRA Companies of 2023 (Ranked and Reviewed)
Choosing a suitable gold IRA company is essential to achieve your retirement goals. From your decision on where to purchase and store the gold to the actual possession of your gold bars and coins, the best gold IRA companies can help protect your financial future. In this guide, I ranked and reviewed the 7+ best gold IRA companies so that you can pick the best one for you.
---
We're reader-supported. When you buy through links on our site, we may earn an affiliate commission.
Want to get right to it? The three best gold IRA companies are Augusta Precious Metals, Lear Capital, and American Hartford Gold.
With the current state of the economy – brutal inflation, democrats in the white house that love spending money they don't have, and a Fed raising rates and struggling to stifle inflation – it's crucial to diversify a portion of your portfolio into precious metals.
To do this correctly, you need to open a gold IRA account, a specific retirement account to hold gold as a qualified retirement investment.
In this post, I review and compare the top gold IRA companies. I ranked them based on their reputation and general safety and security.
What are the Best Gold IRA Companies?
The following is a list of the current top-rated gold IRA companies.
Most trusted gold IRA company with a non-commissioned sales floor.
Adam's Take
Providing non-commissioned sales regarding Gold IRAs, I recommend Augusta as the number #1 provider to work with. Chosen by top athletes like Joe Montana to help secure their wealth, this company has the reputation to back up its claims.
Augusta Precious Metals is a premier gold IRA company you'll want to explore if you're looking for a firm that can educate you on the current economy.
They can also help you diversify your savings during these uncertain times and empower you with gold individual retirement accounts.
Balancing your retirement savings can be quite a complex feat, but it's one that Augusta Precious Metals takes care of for you.
As a firm committed to helping its customers grow their savings, this is considered one of the best companies to invest with based on how they take care of all one's needs and answer any questions that might arise during the precious metal investing process.
They explain the steps needed to take over physical custody of your metals and transfer them to another custodian.
The team at Augusta Precious Metals is passionate about educating and empowering individuals like you to diversify retirement savings and gain peace of mind.
They also have a Harvard economist that meets with every potential customer personally and walks them through every step of the gold rollover process.
Want to get the complete picture of what this company can offer you? Check out my full Augusta Precious Metals review.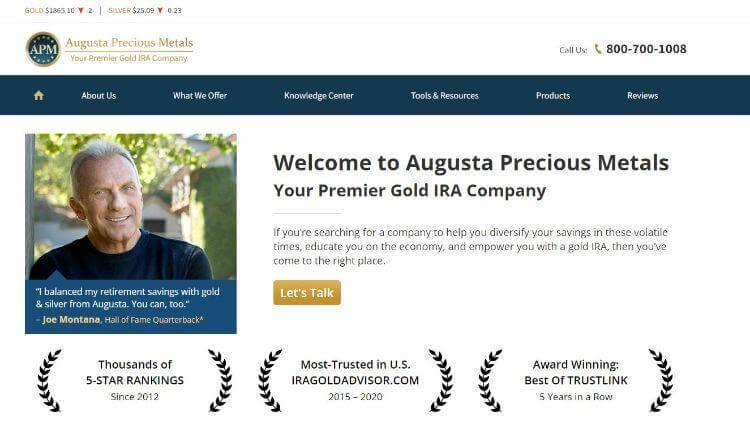 Key features:
A Harvard economist is assigned to you to assist you in your journey. Your contact works as your connection between you and Augusta.
Their education team explains the economy of gold and silver markets to you to ensure you are informed about the latest investment decisions.
You choose which precious metals to purchase, and the Augusta Precious Metals order desk constructs your gold and silver portfolio based on your selections.
You can get a copy of the same guide famous people (such as Hall of Fame quarterback Joe Montana) used to secure their retirement.
They have a non-commissioned sales floor.
They have had zero complaints since 2012 and have the highest BBB rating among gold IRA providers.
Get started with Augusta Precious Metals.
Best Free Setup.
Adam's Take
Lear Capital's gold metals IRA helps fight inflation and offers a simple, safe way to invest in various metals. For those looking to invest safely in precious metals, the Lear Advantage IRA is one of the top picks to consider.
Lear Capital helps combat inflation with a precious metals IRA and offers a simple, safe, and educated opportunity to invest in gold, silver, platinum, and palladium.
Providing a free IRA set-up, they offer a wide array of metals to choose from and will even help roll over your current 401(k).
They also offer free storage, so this expense is one less thing you have to worry about.
On their site, Lear Capital also provides various investor resources, so if you want a more hands-on approach to investing in precious metals, this could be your company.
With precious metals news and price charts, you can stay up to date on the latest information to help you make informed investment decisions.
Here's my full Lear Capital review for more information.
Key Features:
Their gold and silver guide (which you can get free) provides a great starting point when determining which precious metal to invest in.
If you find a lower price for the same item elsewhere, they will match it, ensuring you get the best deal possible.
They also provide a complimentary silver coin to help new customers get started with their first precious metals purchase.
With a 24-hour risk-free purchase guarantee, you have nothing to lose by trying Lear Capital.
Whether you're a novice investor or an experienced professional, Lear Capital is a great place to buy and sell gold and silver.
Get started with Lear Capital.
Best Trusted Leaders.
Adam's Take
With specialists in precious metals on staff and knowledgeable account representatives, American Hartford Gold is committed to helping its customers find suitable investment options for them. Due to this, thousands trust them to provide high-quality customer service with expertise, honesty, and integrity.
American Hartford Gold is a leading provider of precious metals and gold IRA investments.
Their portfolio includes a wide range of products, including gold, silver, and IRA.
With specialists in precious metals and a knowledgeable team of account representatives, American Hartford Gold is committed to helping its customers find suitable investment options for them.
American Hartford Gold believes that investing in physical gold is the best way to diversify a person's portfolio.
They understand that gold has been, and always will be, an essential asset for investments because it retains its value even during economic uncertainty.
With an A+ rating from the Better Business Bureau and a customer service team available, American Hartford Gold ensures that its customers receive the best possible advice.
People like Bill O'Reilly, Rick Harrison, and Lou Dobbs trust American Hartford Gold for their precious metals investments.
Key features:
Buyback Commitment means you can purchase precious metals from American Hartford Gold and be sure that you will get the total value of your purchase when it comes time to liquidate.
American Hartford Gold also offers a 100% Free IRA Rollover, which allows you to quickly transfer funds from an existing retirement account into a gold or silver-backed IRA without fees or hassles.
Buying gold and silver from American Hartford Gold is simple. You can buy online in three simple steps.
They provide free insurance for all precious metals purchases, so your purchase will arrive quickly and securely without additional costs or fees.
They accept a wide range of payment methods for added convenience.
Get started with American Hartford Gold.
Best for protecting yourself from the volatility of stock markets.
Adam's Take
With just the correct prices when setting up your gold IRA, Birch Gold Group is the ideal company to protect your investments from market volatility. They also come highly recommended by many as they are one of the most sought-after IRA providers in the country.
Birch Gold Group allows you to safeguard your retirement fund, so you can sleep well at night knowing your assets are safe.
Being one of the leading dealers of precious metals in the U.S., they provide high-quality services at some of the best prices.
Empowering their customers through knowledge and understanding will enable them to make the best choices for their particular situation.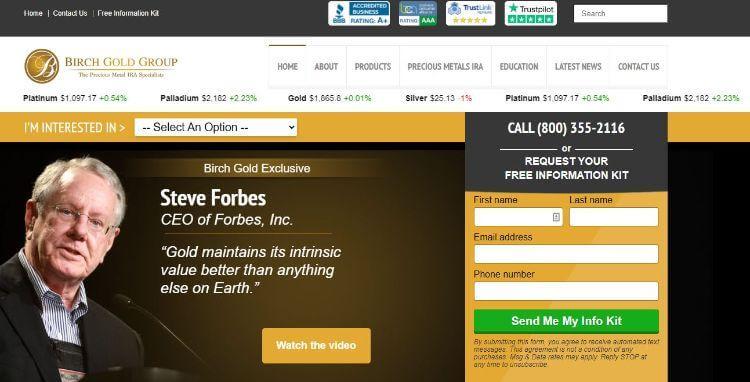 Key features:
With their reputation for excellence, they are unquestionably among the best. This reputation is reflected in their customer satisfaction stats.
With many lucrative benefits offered, you'll be able to make the most of the chance to grow your retirement fund with ease and security.
They offer an informational kit to enable you to make the best possible choices for your circumstances.
They also have a team of advisors to assist you with inquiries.
They aim to ensure you get the best advice and make informed decisions throughout your retirement planning journey.
Check out my full review of Birch Gold Group for more information.
Get started with Birch Gold Group.
Best for getting an education in gold.
Adam's Take
If you want to learn how to make the most out of your gold (through personalized attention), then I recommend Goldco. They explain how the whole process works and provide you with the right guidelines to ensure you make the right investment decisions.
Goldco Precious Metals works with customers who want to diversify and add value to their retirement plan portfolios by partnering with them to purchase precious metal gold and silver coins (as well as bars).
Your gold and silver purchases will happen based on the advice of a knowledgeable financial advisor who can provide you with the information you need to make an educated decision.
With the ability to request a free kit to learn more about what gold investing is all about, you will be able to get started once you set up your account.
To make things even better, they offer a free educational seminar to help you learn more about investing in gold and silver.
Key features:
Goldco Precious Metals is a trustworthy, reliable, and incredibly efficient resource, making it easy to access top-level information about how to invest in gold.
You get up to 10% back when you make a qualified purchase on their website.
With the easy 3 step process of opening an IRA, you can trust Goldco to have your best interest at heart and protect your retirement portfolio.
Their free starter kit offers valuable advice and education on gold investing and will provide you with the basic information you need to begin.
You can also find various helpful tools, including calculators, FAQs, and more.
Read my full Goldco review for more in-depth information.
Get started with Goldco.
Best for rolling over your retirement into a gold investment.
Advantage Gold makes rolling over your IRA to a gold and silver investment easy.
They've helped thousands of Americans from all walks of life invest in physical metals by taking care of the entire process from start to finish.
Voted as the #1 trusted Gold IRA company for five consecutive years, Advantage Gold has one of the best customer services in the industry.
With their well-known Delaware depository for gold, they make it easy and secure to transfer assets out of an existing IRA and into a gold-backed account.
Key features:
As a regulated gold IRA custodian, Advantage Gold is committed to the security of your assets and provides you with a secure platform for making sound investments.
They'll assist you with all your questions and ensure that the gold investment you choose will help grow your retirement savings.
At any time you choose, you can sell any metal you buy from them at the value of the current market. You can liquidate your gold investment at any time.
Get your hands on a free book (written by New York Times Bestseller Jim Rickards) when you open up a new account.
Their team of expert gold advisors can help you choose the right type of account for your personal needs, as well as provide helpful advice on when to buy or sell gold.
Get started with Advantage Gold.
Best for making sound investments through metals and crypto.
Regal Assets has been serving customers online for over ten years and is one of the most reliable companies to partner with when making long-term gold investments.
The company strongly emphasizes its commitment to following all industry regulations.
It also protects the rights of its customers. For the past ten years, they've kept an unrivaled reputation in the precious metal business. You may rest assured that you're dealing with the most reputable firm in the industry.
You can also invest in other metals and cryptocurrencies for a broader range of assets in your investment portfolio.
Key features:
Use the easy-to-follow guide on their website to create a solid investment strategy that takes care of your future.
Receive knowledgeable guidance regarding how to invest in gold for the first time through their live chat – making it easier for you to make sound decisions.
Be able to purchase precious metals conveniently without worrying about security or liquidity issues.
Get your hands on a 100% free informational kit to help you understand the entire process and what you can do to protect your retirement.
With their high-profile customer service and competitive rates, it's clear why so many investors choose them for their gold investments.
Request An Investor Kit From Regal Assets To Get Started With Metals & Crypto.
Best for building your hand-picked gold collection.
Noble Gold numismatics handpick their gold and silver – when it comes to coins and bars.
The main benefit of this is that you'll be able to take advantage of the best possible prices as experts select and know precious metals inside and out.
Additionally, they can create handpicked selections that are also delivered to you in case an emergency strikes. You'll be able to get the gold you have stored with them quickly and efficiently when you need it.
Check out my full Noble Gold review for more information.
Key features:
With a focus on top-notch security, experts will take care of your precious metals and keep them safe from harm.
With a team of experts with knowledge and expertise in the sector, you'll be able to rest easy knowing that they're hard at work to bring you the best possible prices.
They come recommended for numismatic coins, which means that you'll be able to take advantage of the best current prices.
All their gold is kept safe in their private gold deposits in Texas, a state which protects its rights.
Also, their team works with insurance companies to make sure you're fully covered in the event of any losses or damage.
Get started with Noble Gold.
9. Patriot Gold Group.
Best for working directly with gold experts.
With the Patriot Gold Group, you'll never pay retail and always deal directly with the owners. As a company, they've worked for the country's largest precious metal investment corporations, gaining extensive expertise in the sector.
They negotiate on your behalf to obtain the best pricing on gold and silver, cutting out several executives' and investors' compensation levels.
You'll be able to profit from your investments instead of paying an arm and a leg for the metals.
With a freely provided VIP newsletter containing the latest news, updates, and market prices, you'll always be up to date and know when it comes to the latest changes in the gold and silver markets.
Key features:
With a direct connection to the owners, you'll be able to work directly with them on all financial matters.
With a 24-hour account setup, you won't have to wait to start making profits on your investments.
With thousands of clients worldwide, you'll be assured that they've already dealt with any issues that might crop up with your account and can successfully solve such issues.
You'll get top answers to your burning questions, enabling you to make the most intelligent and profitable gold and silver investments based on your specific situation.
Their experts will provide you with the latest news and updates about gold and silver prices.
Other gold IRA companies (not mentioned in this article) are Rosland Capital, American Eagle, Brinks, Wilmington Silver, American Hartford Gold, and Gold Refinery.
What is a Gold IRA?
A gold IRA or precious metals IRA is a retirement account that holds physical gold and precious metals for the benefit of the IRA owner.
As traditional 401ks and IRAs have stocks, mutual funds, and bonds, gold IRAs are a hedge against inflation as they hold physical gold, which is an actual store of value.
It functions similarly to a retirement account but has gold bullion and bars instead of paper assets.
The process of obtaining a gold IRA is pretty straightforward.
You work with a gold IRA company, and they can roll over a portion of your 401k into precious metals.
How Do You Choose the Best Gold IRA Companies?
The best gold IRA companies are the ones that offer the best quality of service when it comes to matching prices, security measures, ease of access, customer satisfaction feedback, and more.
When comparing them against each other to make the most informed decision, you'll know that the top companies have your investment at heart.
Their many years of experience will also enable them to negotiate on behalf of their clients to get access to the best items at lower costs.
Why is choosing a gold investment company a better idea than going alone?
As you can imagine, investing in physical gold comes with its challenges.
Many investors opt to use a reputable gold IRA company specializing solely in this asset instead of doing it alone.
This chosen provider can focus entirely on your needs and requirements as an investor. They'll deal directly with you and ensure that such conditions are met.
Investing in gold generally lacks instructions which means that gold investment companies (that might also be investment companies in other precious metals) take care of what's required.
You won't have to worry about storage options, insurance, availability, or costs. Everything is taken care of by the experts who handle your retirement fund with great ease and round-the-clock security.
Gold IRA companies will also offer investment advice tailored to your needs. They'll usually provide you with a free gold consultation to help you make the best decision possible before starting the process.
As gold investing comes with its challenges, this is where they prove their value, helping you avoid obstacles and find solutions as needed.
If you're interested in learning more about this topic, here are the main differences between putting your money into a gold IRA or buying physical gold.
Top Factors To Look For When Choosing A Precious Metals IRA Company
You'll need to keep several things in mind when looking for a company with which you can invest in precious metals through an IRA scheme.
Let's have a look at these factors.
Reputation
Investing in gold bullion is a serious business.
It would be best if you looked for companies with a solid track record of delivering the best service possible.
They should be able to demonstrate comprehensive knowledge within this particular sector and have their customers' satisfaction on their priority list at all times.
They shouldn't be new to the game, as they'll need to be well-informed about the industry and how it operates. They should also have an established happy client base to ensure that they offer a high-quality service.
Don't just stick to online feedback when identifying whether a company's reputation lives up to its name. If possible, check out their physical location and ask to speak with some of their past customers about their experience.
Customer reviews
Speaking of past customers, positive reviews are an essential part of finding the right precious metals IRA company for your future investments.
One can find these gold IRA reviews online, but even more helpful are the feedback forums you'll find in local communities. You'll discover what other investors say about them and how they view their services.
Do not be afraid to do your research and ask for both the pros and cons of investing with one company instead of another.
Benefits offered
For those new to investing in this particular industry, the company they choose must take the time to walk them through all the steps involved.
This means that they should offer you a free consultation and advice on how to go about investing in gold. They'll usually present you with all the options available and help you select the best suited to your needs and requirements as an investor.
They should also guide how much of your retirement fund you should invest in a gold IRA.
They should also be able to explain why investing with their company is the right move as opposed to other companies in the same industry.
Through this process, they'll ensure that you're fully informed about what risks and potential gains are involved so that you can make an informed decision.
Security levels of gold IRAs
Though investing in precious metals comes with an inherent risk, the security measures that are put in place by companies can significantly reduce this to a bare minimum.
You'll want to look for companies with the most secure storage facilities possible regarding your hard-earned assets.
Some of the most reliable precious metals IRA companies use vaults in highly secure, insured, and guarded facilities.
These could be located in geographically private areas such as islands or other remote places. Furthermore, they should be staffed by experts who will ensure you get your assets back when (and if) requested.
The vaults' location is also crucial as they should be far away from the company's main office, reducing the chance of being robbed or attacked. Additionally, you'll want to know how often their security systems are checked and tested to ensure they're up to date.
Gold IRA companies should store your physical gold in a segregated storage option to protect it from theft or damage while ensuring complete documentation for all the precious metals within the account.
You'll get peace of mind knowing that your investments are safe and can be traded or sold anytime.
Pricing structures
Finding companies that offer highly competitive pricing structures can help you make the most of your investment.
When dealing with a precious metal IRA account, the pricing structure should ideally involve a low storage fee without any other hidden charges.
You should be able to find out more about how pricing works when you request a free consultation.
Even better would be if the company had all the fees on its website to ensure everything is clear.
The best companies usually charge an upfront setup fee for your account and additional monthly costs depending on the situation.
If hidden charges start, it could signal trouble and indicate other red flags you might have to consider.
Other types of precious metals IRAs offered
While gold is a popular option, other varieties of precious metals can be invested in. Some companies offer silver and platinum as alternatives to the traditional gold IRA.
In addition, some companies also offer numismatic gold coins (such as those that include a Canadian maple leaf and other famous icons) as part of their services.
Some IRAs also deal with collectibles, including art, oil paintings, and real estate.
You should be able to find out more about the potential of opening a different precious metals IRA account when you request a free consultation. Ensure that you make the best use of such a consultation to ask as many questions as possible.
Ease of withdrawal
Consider how easy it is to withdraw with a gold IRA account or any other type of precious metal IRA (including silver, platinum, and palladium).
You'll want to find out if there are any withdrawal fees involved with the service and how much these will be before making your initial investment.
Furthermore, you should also know how long it takes for money to reach your account (it may/may not be instantaneous).
Look for companies that use electronic transfers, checks, and wires to ensure you can get your money out of the investment quickly if needed.
Suppose there are any penalties associated with withdrawing your funds.
In that case, this may make it more difficult or costly for you to take advantage of any potential opportunities to ensure you know the whole picture before making any final decisions.
Quality and fineness of gold
You should also consider the quality and fineness of gold when investing with a precious metals IRA company.
A serious company should be able to tell you about the qualities of any coins or bars it offers.
The price of gold from a top-quality approved depository will often be higher than gold from a lesser-known facility.
Furthermore, the fineness of gold should be one of your primary concerns when evaluating any potential IRA investment company.
You'll generally want 24k or 22k gold for your IRA accounts rather than investing in 21k or lower grades.
At the same time, it's also best to avoid investing in pure gold, as this will make it much more difficult to liquidate your account, should you need to, at some point.
Diversification
You should also think about diversifying your IRA portfolio when investing with a gold IRA company.
Gold, silver, platinum, palladium, and other metals are beneficial options for saving your savings from various economic risks.
At the same time, they're also great opportunities to add value to your investment over time.
A trust company offering you IRA services should also be able to help you diversify your portfolio.
They should be able to offer comprehensive guidance on the best investment options that will allow you to balance out any potential risks.
This diversification can help ensure that all of your investments work together in unison and won't work against one another when conditions change.
Regarding diversification, physical precious metals are often considered low-risk options.
They also tend to perform well in times of economic crisis, which is why people increasingly invest in gold IRA companies.
Paper Assets and Cryptocurrencies
While paper assets such as stocks, bonds, and currencies are popular options for diversification (and might be offered by the company you're considering), they can also be just as risky as relying on a single investment alone.
With paper assets, you need to watch the strength of the underlying economy backing up these investments just as much as you need to monitor their performance.
For instance, if an investment struggles due to poor economic conditions, it may become much harder to trade and even result in a loss.
With that said, you might also want to consider investing in cryptocurrencies with a gold IRA company.
While this isn't one of the more conventional investment options, cryptocurrencies can be an ideal form of diversification for your portfolio.
In addition, many gold IRA companies now offer cryptocurrency options for diversifying their portfolios and ensuring stability even during volatile market conditions.
Understanding diversification and the various types of investment you can make is made more accessible nowadays through investment apps. These can give you fresh ideas on how to make the best use of your assets.
Is Gold Useful In Times Of Crises?
When it comes to times of crisis, some people are unaware of the many benefits of gold IRA companies.
Gold is a valuable commodity that has held its value for hundreds of years.
It's not just another investment you can lose money on. It also makes it an ideal tool for protecting your savings during unstable times in the financial world.
For instance, in times of hyperinflation or when a country's currency collapses, gold can help reduce your losses and ensure that the value of your savings isn't wiped out.
In this way, it is a form of insurance against any potential risks to your financial well-being.
Moreover, with the prices of precious metals expected to continue rising in the long term, you'll be able to get your money's worth.
Rising interest rates also mean that bonds and stocks may not be ideal investments. With gold IRA companies, however, you'll have a solid alternative to these falling investments.
Moreover, when it comes to taking out a loan against your gold, you'll typically be able to do so without paying any additional fees.
This fact makes it a commodity that can also help boost other forms of investment and should improve your savings' overall value and stability moving forward.
Secure Storage For Your Precious Metals IRA
One of the most important considerations when investing in precious metals is how and where you store your assets.
The Internal Revenue Service (IRS) has strict regulations governing the storage of physical Gold, silver, platinum, and palladium used to back an IRA.
It is essential that any firm you work with as a best gold IRA company has highly secure storage facilities with significant insurance policies.
The IRS requires that owners of physical gold, silver, platinum, or palladium used to back an IRA must store their precious metals with a trustee in a federally insured deposit.
These storage facilities must have highly advanced security features, such as surveillance cameras, motion detectors, and significant insurance policies.
With these secure storage solutions in place, you can rest assured that your investments are safe from burglary or theft.
When looking for the best gold IRA company, you must thoroughly research before committing to any firm's services.
Any trustworthy company should offer these secure storage solutions as part of its overall package.
If a firm suggests an alternative arrangement that seems shady—including storing your precious metals—it's a huge red flag and should be avoided at all costs.
Only invest with a company once you have done due diligence on its reputation and credentials first.
Secure storage for your precious metals IRA is essential for protecting your investments against theft or burglary.
The Internal Revenue Service (IRS) has strict regulations governing the storage of physical Gold, silver, platinum, or palladium used to back IRAs, which require storing them with trustees in highly secure facilities with significant insurance policies in place.
Any firm we recommend as the best gold IRA provider will come with a top-tier reputation and offer these secure storage solutions as part of its overall package; if they suggest anything else, it's best to stay away.
Gold IRA Companies FAQ
What Annual Fees Are Involved with a Gold IRA?
Annual fees will vary depending on your chosen IRA company and the type of investments they offer.
You should be able to find out about their fees by requesting a free consultation and speaking with a representative.
What Is a Self-Directed IRA?
A self-directed IRA is an IRA that you set up on your own.
This investment vehicle allows you to choose the specific stocks, bonds, and precious metals you want to invest in.
Most often, this is not recommended for beginners since there are many potential pitfalls that an established company can help you avoid.
What Is a Silver IRA?
A silver IRA is an example of a precious metals individual retirement account in which you invest your savings. They are similar to gold IRAs, but they allow you to invest in silver (as opposed to a gold IRA).
What Are the Typical IRA Fees and Rules?
There are no rules that dictate what IRA fees need to be paid.
Depending on the company you choose to do business with, you may incur certain charges when opening an account, making investments, withdrawing, etc.
Using online legal services might also be a good idea when understanding the rules for setting up a gold IRA account.
Such services will ensure that you're legally compliant and that everything is set up according to the laws in your region.
What Is a Metals Dealer?
A metals dealer is a business that deals in the buying and selling of gold and silver. For example, suppose you're looking to sell some of your gold or silver to liquidate your account. In that case, you'll need the services of a reputable metals dealer (usually the same company used to buy them in the first place) to help facilitate this process.
Does Gold Have to Be Declared to the Irs?
Yes, the IRS wants to know about your income, so you must report any purchases of gold, silver, or other precious metals.
IRS rules are there to be followed, and this also applies when you buy gold, including gold bars and bullion coins, or take part in any investment option.
What Does a Gold IRA Rollover of a 401k Involve?
A gold IRA rollover is transferring your retirement account to another IRA.
If your 401k is losing money, this process includes cashing out your old plan and converting this money into an IRA account that you can use to invest in gold, silver, or other precious metals.
Does the Better Business Bureau rate gold IRA companies?
Yes, many better-rated companies have an A+ rating on the Better Business Bureau (BBB), which means that such companies might be better investment options for your specific investment portfolio needs.
In addition, the business-consumer alliance is also an excellent place to research various companies to determine the best company to go for. Trustlink is also another website you might want to check out.
What is a Roth IRA?
A Roth IRA is another type of retirement account similar to a traditional IRA. All taxes are paid on money that goes into your specific account, with no future taxes being paid on withdrawals.
With this type of account, you won't be taxed when taking distributions from your account.
Is There a Minimum Investment When It Comes to Gold IRA Investments?
Gold ira investment minimums will depend on the specific gold IRA company you choose to work with.
With some gold ira investors, there may be no minimum investment required to open and maintain an account.
However, other gold IRA companies will require a minimum initial investment of $5,000.
Are Silver, Platinum, and Palladium Considered to Be Good Investments?
Silver and gold investments are generally considered to be suitable long-term investments.
Precious metals tend to hold their value over time, even when other investments might lose value.
Does Gold IRA Investing Have Any Tax Advantages?
Most gold ira companies offer their account holders the ability to take advantage of certain tax benefits.
For example, many gold IRA accounts are set up as Roth IRAs.
With a Roth IRA, you won't be taxed when taking distributions from your account.
Why Are Retirement Accounts Often Used for Gold and Silver Bullion Investments?
One reason retirement accounts are often used for gold and silver bullion investments is that one can hold these types of investments in a tax-advantaged account.
You won't have to pay taxes on a new gold ira account when it comes to any gains you might realize from your investment.
Wrap Up.
In conclusion, finding the best gold IRA company will help you take advantage of this valuable commodity while protecting your savings.
You'll be able to find out more about the top companies that provide these services when you request a free consultation.
These companies are all highly recommended and should ensure that your money is handled correctly.
To recap, the best Gold IRA companies right now are:
With the above list of companies, you'll be well on your way to safeguarding your financial situation when you choose to invest in a gold IRA account.
What do you think of gold IRAs?
Will you be investing in one, or have you already done so? Please let me know in the comments below.
Disclosure: I may receive affiliate compensation for some of the links below at no cost to you if you decide to purchase a paid plan. You can read our affiliate disclosure in our privacy policy. This site is not intending to provide financial advice. This is for entertainment only.