Goldco Review: Complete Gold IRA Review (2023)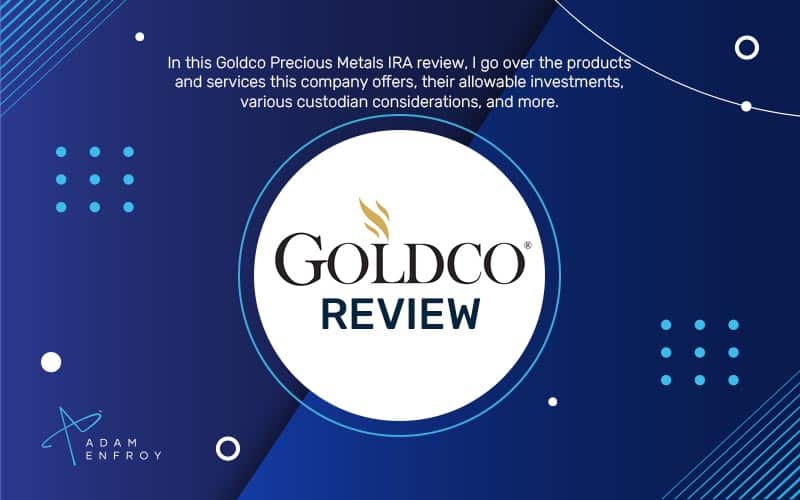 Gold IRA companies offer a wide variety of services to their clients, ensuring that the process of transferring and investing in gold is as smooth as possible.
The right gold IRA companies can also help you diversify your retirement savings with physical gold and other precious metals.
One of these gold IRA companies is Goldco Precious Metals.
This company has been in the business of helping people save for retirement with physical gold and other metals since 2011.
If you want to learn more about the process of rolling over your IRA, various products and services that Goldco offers, fees and expenses, and more, in this review, I will go over all the key factors you should know about this company.
By the end of this review, you'll be able to make a well-informed decision about whether or not Goldco is the right company for you.
Let's dive right into it.
What is GoldCo Precious Metals?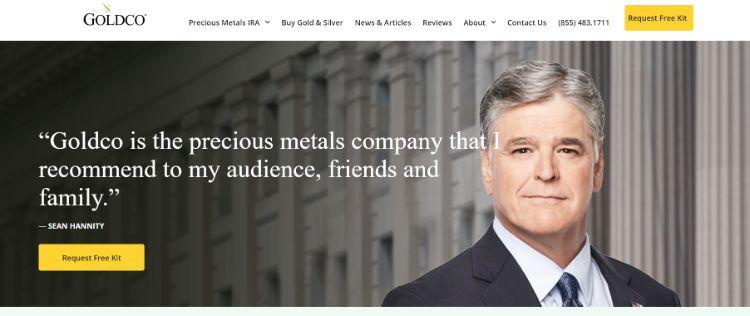 Originally founded as the Gerson Financial Group, GoldCo Precious Metals is now among America's leading precious metals IRA companies.
The Los Angeles, California-based company buys and sells precious metals, bullion coins and bars, and some collectors/numismatics pieces themselves.
Goldco also helps investors set up their own precious metals IRA accounts and other tax-favored retirement savings accounts, including gold IRAs and silver IRAs.
In 2017, the firm started a marketing partnership with former Congressman Ron Paul, a popular gold permabull and favorite voice among the 'goldbug' crowd.
Recently, the company started marketing partnerships with actor and martial arts personality Chuck Norris, as well as TV and radio personality and commentator Sean Hannity.
Goldco Products and Services
Goldco sells gold and silver bullion directly to investors and to the gold and silver IRA market.
They do not maintain an inventory of platinum or palladium bullion products, so if diversifying into these precious metal investments is important to you, you may need to look elsewhere.
In addition to their precious metals operations, Goldco's parent company also operates a sister company called Coin IRA, which focuses on helping investors invest retirement plan assets in cryptocurrencies, such as Bitcoin and Ethereum.
What Are Precious Metals IRAs?
Precious metals IRAs are a special retirement savings account set up to allow owners to hold actual metals in physical form – bullion bars, coins, or rounds.
IRS-authorized custodians hold these IRS-approved gold coins and other bullion products in a specialized secure vault or depository companies.
Most investment companies, including Wall Street warehouses and mutual fund companies, don't support holding physical gold and silver bullion in IRAs.
Traditional investment companies and financial advisors can't collect annual fees from gold coins and bars sitting in a safe.
They rarely suggest their clients invest in precious metals directly.
If they talk about holding precious metals at all, many traditional financial advisors will recommend traditional securities, such as stocks, exchange-traded funds (ETFs), and mutual funds that specialize in the precious metals asset class.
You can still get broad investment exposure to precious metals using securities.
But you also end up paying commissions and assets under management fees as high as 1 percent to your financial advisory firm.
Precious metals funded IRAs hold actual, physical gold, silver, platinum, or palladium, can give you very similar portfolio exposure, and provide similar diversification benefits – at a fraction of the cost.
You can choose to open a traditional IRA, take advantage of the potential for tax-free growth offered by a Roth IRA, or combine the two, based on your circumstances.
Precious metals IRAs still provide the same tax and asset protection benefits as any other IRA or Roth IRA. Your precious metal IRAs accumulate tax-deferred, or tax-free in the case of Roth IRAs.
Goldco Precious Metals IRAs As Assets in an Investment Portfolio
The logic of owning IRA precious metals as part of a balanced investment retirement portfolio is clear:
The mounting national debt is putting massive downward pressure on the dollar.
The more the debt rises, the more pressure there is on the Federal Reserve to keep interest rates low.
The more dollars the Fed has to create out of thin air to keep things going.
As the supply of newly-minted dollars outstrips the demand for them, their value drops.
They buy less and less, and measurable inflation sets in.
"The main reason why I am a big believer in precious metals – and to hold them for the long run – is because of our $20 trillion debt," said Trevor Gerszt, CEO of Goldco Precious Metals.
"This debt is too massive. It's a hole that is too big to fill. The problem is too big to solve. I personally don't see a way out of it. It's a ticking time bomb."
Protection against inflation
The numbers Gerszt mentioned were pre-pandemic.
The total national debt held by the public now surpasses $30 trillion. And it continues to grow.
Meanwhile, nearly 20% of all dollars ever printed were printed over the last two years.
Predictably, inflation has been heating up – even before Russia's attack on Ukraine sent oil prices soaring.
Taking a longer view, the verdict of history is clear: The dollar has lost nearly 90% of its purchasing power since the creation of the Federal Reserve.
Meanwhile, gold and silver, respectively, have generally maintained their purchasing power.
An ounce of gold would have purchased a fine bespoke suit today, just as it did in 1913 around the turn of the century.
A hundred dollars?
Not so much.
While gold and silver carry investment risk, their value fluctuates with market conditions. Precious metals, in general, can help provide a significant measure of inflation protection to your retirement plan over time.
Protection against market crashes
Over time, physical precious metals have provided important diversification against stock market crashes and economic crises.
While gold doesn't always go up during stock market volatility, gold and equities are sufficiently uncorrelated for precious metals to provide meaningful diversification benefits as part of a balanced portfolio.
What Does Goldco Sell?
Goldco offers a wide variety of gold and silver coins and bars.
While Goldco doesn't offer palladium or platinum products, it does offer a wide variety of gold coins and bars and silver coins and bars for your retirement account.
Goldco also advises customers who want to set up their own self-directed IRA, including gold IRAs, silver IRAs, and Roth IRAs.
Goldco's inventory contains the classics, of course, like Gold Buffalos and gold and silver American Eagles and Canadian Maple Leafs.
But they also have some unusual, off-the-beaten-path gold and silver coins that are still eligible for IRAs.
Here are some examples currently listed on the Goldco website.
Silver American Bald Eagle (Perth Mint).
Silver Australian Spotted Eagle Ray (Perth Mint).
Silver Australian Striped Marlin (Perth Mint).
Gold Australian Striped Marlin (Perth Mint).
Silver Great Barrier Reef (Perth Mint).
Silver Liberty (New Zealand Mint).
Silver Military Guinea (East India Company).
Silver Freedom and Hope (Royal Dutch Mint).
Gold Freedom Coin (New Zealand Mint).
Gold Lucky Dragon (Royal Canadian Mint).
Silver Lucky Dragon (Royal Canadian Mint).
Silver Australian Saltwater Crocodile (Perth Mint).
And much more.
These are all IRS-approved coins: Each coin listed above meets the legal requirements for mint of origin and fineness for inclusion in retirement accounts, such as self-directed IRAs and 401(k)s.
Goldco Reviews
The Goldco team has long enjoyed an excellent reputation among its satisfied customers.
The proof is in their generally stellar customer reviews across multiple independent and verified review websites.
The company receives many positive customer reviews about their knowledgeable and patient sales and customer service staff.
Goldco also receives high marks for its consultative, low-pressure sales approach.
Negative reviews have been few, and frequently related to misunderstandings rather than the company's failure to execute.
Goldco holds an A+ rating from the Better Business Bureau – one of the best BBB ratings in the industry – and an AAA rating from the Business Consumer Alliance (BCA).
Allowable Precious IRA Investments
You can't purchase just any coin or bar in a gold or precious metals IRA.
The law prohibits investors from owning collectibles and numismatics within IRAs or other tax-advantaged retirement accounts.
IRS Section 408(m) lays out the requirements for gold, silver, platinum, and palladium to be included in IRAs.
To be IRA eligible, the precious metal must be in bullion form.
That means it was minted or manufactured primarily for its precious metal content, rather than for its value to collectors, dealers, and numismatists.
IRA-eligible bullion must also come from a national mint or a COMEX or NYMEX-certified facility, and meet specific minimum fineness and purity standards. Specifically:
Gold bullion (except for Gold American Eagle Coins) must have a minimum purity level of 99.5%. This means that some popular gold coins, such as the African Krugerrand, are not eligible for IRAs. Congress made an exception for American Eagle coins, which are U.S. Mint products and made exclusively using American-mined gold.
Silver bullion must be at least 99.9 percent pure.
Palladium and platinum bullion must be at least 99.95% pure.
IRA Custodian Considerations
Gold IRA investors can't take direct, physical possession of their gold and precious metal IRA assets.
Don't try to hold your gold or silver IRA coins or bullion assets in your home safe in your basement.
IRS regulations require all IRA accounts to have an IRS-approved custodian manage precious metal IRA assets and everything else in the retirement account on behalf of investors.
Goldco uses the Equity Trust company as its primary custodian for gold and silver IRA accounts.
Equity Trust is one of the leading custodians of precious metal IRAs and the self-directed IRA market.
Goldco Fees and Expenses
Like many gold IRA companies, Goldco makes its income entirely from buying precious metals at wholesale prices and selling at retail prices.
Goldco purchases precious metals in bulk.
The company itself does not charge assets under management (AUM) fees, monthly statement fees, or any other hidden fees or expenses.
If you buy gold or silver directly from Goldco, don't plan to hold the bullion in a retirement account, and plan to take delivery directly, you will pay nothing but the retail price for your physical gold and silver.
Shipping on qualified orders is free.
However, Gold IRA and silver IRA customers cannot take direct delivery. These customers will have to pay some nominal custodial, as well as to the depository or vaulting facility.
Custodial Fees
Standard fees for custodial services range from $80 to $300 per year, depending on the firm you choose.
With an initial investment between $25,000 and $100,000, Goldco's regular custodian – Equity Trust – normally charges $175 per year in ongoing fees.
If you invest more than $100,000, the fees increase to $225.
Storage Fees
The law requires Goldco gold IRA owners to store their IRA account assets in an IRS-approved storage facility.
As a self-directed IRA account owner, you can choose your depository company. Goldco works closely with three different secure vaulting services: The Delaware Depository Service Company (DDSC), Brinks, and International Depository Services.
All three provide non-segregated storage for a flat rate of $100 per year.
However, International Depository Services, a full-service vaulting company, also allows investors the option of a segregated storage facility for $150 per year.
New account holders will pay a total of $260 to open and set up a new gold IRA or silver IRA account.
If you want segregated storage (talk with your Goldco rep to see if this makes sense for you), plan on paying an additional $50, for a total of $260.
After the first year, most precious metal IRA customers can expect total fees and expenses of around $180 per year.
This generally compares very favorably to an AUM fee with a traditional financial advisor of 1%, on top of the underlying fund or investment expenses – especially on larger accounts.
Goldco Minimum Account Size
The minimum new account size for Goldco is $25,000, which is relatively accessible, even for smaller investors.
Goldco First-Year Fee Reimbursement Program
At Goldco, however, for new accounts that make the $25,000 minimum, the company reimburses storage fees for the first year.
They do this indirectly, by shipping you an equivalent value of free silver.
This like-value silver reimbursement may help you offset the modest fees charged by the custodian and storage company.
Invest an additional $25,000, and the company will ship you the additional silver equivalent in value to another year's storage and custodial fees.
Precious Metal IRA Rollovers
If you have an IRA, 401(k), SIMPLE IRA, SEP IRA, 403(b) plan, Thrift Savings Plan, or similar tax-advantaged retirement account, Goldco makes it very easy to roll those eligible assets over to an IRA or Roth IRA.
In most cases, you can fill out a trustee-to-trustee transfer form, directing your old retirement account custodian to wire your funds to your new gold IRA account.
Note: Many 401(k) plan sponsors restrict in-service withdrawals, so you may need to wait until you leave the company before they allow you to do a rollover outside the plan.
Once your new account is funded, you then choose what gold or silver bullion to buy.
You will have many different investment options.
Your Goldco account manager can help you select which gold or silver bars or coins make sense for your situation, and help ensure that the assets you select are eligible for IRAs.
Once that's done over a phone call, you will provide written authorization for your custodian to purchase the precious metals you select on your behalf.
They will be transferred from another account at the depository company, or shipped directly to the vault, arriving in 7-10 days.
The 60-Day Gold IRA Rollover
You can also choose a 60-day rollover, which means your old retirement account custodian will wire funds to your own personal bank account or send you a check.
You then have 60 days to deposit the funds in your new precious metals IRA.
However, if you use a 60-day rollover, the old custodian will withhold 20% of the amount and forward it to the IRS.
But you must still deposit 100% of the funds you withdrew, or you will pay taxes and penalties on the difference.
For more detailed information on the gold IRA rollover process, Goldco publishes an excellent gold IRA guide, which you can access for free on the Goldco.com website.
Goldco Reviews
Goldco enjoys an excellent reputation around the industry, and, most importantly, with its customers:
Consumer Affairs users rate the company 4.8 stars out of five, on average, over more than 500 reviews.
Goldco is also rated 'AAA' with the Business Consumer Alliance.
The company also enjoys an A+ rating from the Better Business Bureau, and has received an average of 4.8 out of 5 stars from Trustpilot across 665 reviews, and 4.87 out of 5 stars reviews from the BBB website across 238 reviews.
Among their few negative reviews: Some individuals posted reviews complaining of overly aggressive calling or texting once the consumer had requested information from their website.
However, in each case, Goldco's management team responded and either cleared up a misunderstanding or removed the customer from their contact list.
Goldco Advantages
Excellent customer support and service, resulting in dependability when you need it
Experienced, highly-trained advisors
Low-pressure, consultative sales approach
Goldco Disadvantages
A minimum investment of $25,000 may be difficult for some investors.
May aggressively call or text prospects who ask to receive information via their website.
Contact Goldco
21215 Burbank Blvd #600
Woodland Hills, CA 91367-7091
Phone number: 855-483-1677
Wrap Up.
GoldCo Precious Metals is a highly-rated company that enjoys an excellent reputation in the
Industry.
They offer excellent customer service and support and a low-pressure consultative sales approach.
They make the process very easy if you're looking to roll over eligible assets from a previous retirement account into a Goldco Precious Metals IRA.
If you're looking to invest in precious metals, Goldco Precious Metals is a great option.
Get started with Goldco Precious Metals and download their free gold kit.
Further reading on AdamEnfroy.com: Want to learn more about other precious metals companies in the market right now?
Check out my post on the best precious metals IRA companies for more information.
You can also go through this post on crypto IRA to learn more about this combined investment opportunity.
Disclosure: I may receive affiliate compensation for some of the links below at no cost to you if you decide to purchase a paid plan. You can read our affiliate disclosure in our privacy policy. This site is not intending to provide financial advice. This is for entertainment only.