7 Best HCM Software of 2023 (Ranked and Compared)
Choosing the right HCM software is crucial if you want to ensure the success of your business. From payroll and compliance to recruiting and performance management, the best HCM software can help you meet your goals. In this guide, I ranked and reviewed the 7 best HCM software, so that you can pick the best one for you.
---
We're reader-supported. When you buy through links on our site, we may earn an affiliate commission.
Want to know my favorite HCM software solution? It's either Workday or SAP SuccessFactors.
A human capital management platform helps organizations manage their most important resource- employees. It usually comprises various tools and features that take care of the recruiting, onboarding, and subsequent workforce management.
HCM software is similar to HR software, but it has a bit of a broader scope to the human capital side of human resources. It is able to pair with your existing HR and employee onboarding software without interfering with one another.
According to 10 percent of HR staff in a survey, HCM suites increase employee engagement. And about 58 percent of businesses worldwide use HR technologies and HR systems for retaining and managing candidates.
What Is The Best HCM Software?
Best For Workforce Management
Adam's Take
Workday is the best overall HCM software that I have found. With real-time analytics and reporting features, it can help you make better business decisions. If you want to make the most out of your human capital, Workday is a great solution to consider.
Workday is a cloud-based HCM software that offers real-time analytics and reporting features to aid better business decisions. It includes various tools for financial management, financial performance, and overall employee management.
It's designed to cater to the requirements of medium to large-sized companies that have global employees. It also provides task automation that helps the HR department formulate core strategies and plans.
This all-in-one platform accommodates different employment types, including part-time, hourly, contract workers, and freelancers. By offering personalized suggestions for each employee, it helps them perform their job more effectively.
Users have access to real-time recruiting analytics, which helps them note the available vacancies and the skill sets in the candidate the company is looking for. This aids the formation of precise recruiting strategies for that particular opening.
The Workday "assistant" tool helps employees keep track of all of the necessary information, like payroll details, time off requests, and others. Besides, the platform integrates with other workplace software like Slack and Microsoft Teams to facilitate seamless collaboration.
Workday Flow is another beneficial tool that enables employee engagement by utilizing relevant HCM data. And the talent management suite takes care of multiple onboarding needs and management of goals, performance, career succession, etc.
Features:
Workday takes care of complete workforce planning and related analytics that cut down on manual data entry. It has different features to reinforce core HR functionality and increase employee engagement to enhance employee experience.
I'll now be listing some of the main features of this HR software:
Talent sourcing for internal and external employees
Recruiting analytics
Supports creation and storage of training content
Benefits administration and management
Enables multiple payroll calculations
Time tracking and physical time clocks
API integration
Pricing: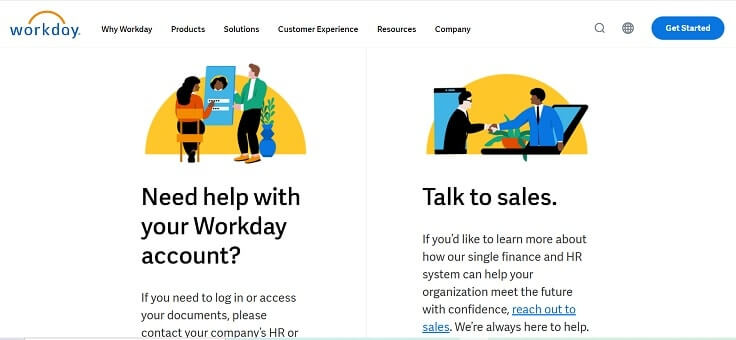 Since the Workday website doesn't disclose the pricing details, potential users should get in touch with the sales department to receive suitable quotes according to their requirements.
Best For Performance Review
Adam's Take
If performance management is important in your business, SAP SuccessFactors can help. The software offers tools to manage goal setting, performance reviews, and feedback cycles effectively. It can also help identify top performers and areas for improvement across the organization.
SAP SuccessFactors is another cloud-based HCM software that helps manage core HR functionalities and performance management. It's suitable for small to medium-sized businesses across different industries.
The software features a simple and intuitive interface, and all users log into the same dashboard. It's divided into multiple tiles for better workflow organization and team tracking. Any user can customize the dashboard with the "tile browser" tool to add or remove tiles as required.
Similarly, the organization chart feature automatically integrates new hiring data, along with the image and name of the employee on the employee card. It's easily accessible from the main navigation bar on the dashboard.
The employee card is linked to other parameters like annual goals, performance reviews, certifications, and skills to serve as a central database.
Plus, the internal talent search tool enables owners or HR managers to perform a keyword search for specific skills or requirements from the employee data. This aids quick employee shortlisting or categorization.
Through the two-fold performance management system, managers can create goals or targets for different teams to form the basis of performance reviews. The platform also includes a training module that integrates with an internal or SAP-managed content network.
Features:
SAP SuccessFactors enables the storage and easy access of crucial employee data for performance evaluation and learning management. It also includes a writing feature to guide employees in responding to the review questionnaires.
Here are some of its main features:
Centralized resource for employee management
Easy to use and customizable dashboard
Self-assessment tools
Supports financial and training goals
Built-in support tab
24×7 tech and non-tech help
Pricing:
Much like Workday, this HCM software doesn't have a fixed pricing plan. Annual subscriptions can start from $85 per employee but are highly customizable according to different user needs.
Best For Talent Management
Adam's Take
Oracle Fusion Cloud HCM can help your organization manage the entire employee lifecycle from hiring to retirement. The solution offers a unified view of your workforce and can help you engage and retain your best talent. I advise you to take a look at Oracle Fusion Cloud HCM if you're looking for an all-in-one solution to manage your HR processes.
The Oracle Fusion Cloud HCM offers a one-stop solution for users to streamline multiple HR processes and the complete employee lifecycle. It has a range of tools and features that focuses on optimum employee engagement and optimization of operations.
This integration of business intelligence capacities enables users to make fast and well-informed business decisions based on current employee data. It also houses various modules to help execute core HR functionalities, compensation management, and legalities for 200 countries.
A significant feature is the on-demand, self-service information portal that helps employees manage personal data like payslips, PTO, etc.
The platform integrates regular HR processes with AI (artificial intelligence), such as a virtual assistant, ensuring a smooth user experience for the employees. They can access this feature from other workplace platforms like Slack, in different languages.
With the connections module, employees can access skill and experience-related information about their coworkers for collaborations. They can also import information from their LinkedIn profiles to centralize data.
And the workforce modeling tool helps users analyze and predict the employee lifecycle (like chances of quitting, promotions), etc. This aids subsequent strategies for employee retention and succession planning.
Oracle HCM also lets users design their data or workflow view according to different parameters like location, job role, department, and so on.
Features:
The comprehensive HR functions help users and hiring managers streamline their workforce management on a global level. Additionally, the resource management tools ensure ease of collaboration and information access for employees.
Some of the other features are:
Benefits management
Predictive workforce modeling
Security dashboards to monitor violations
On-premise, on-demand, SaaS deployment options
Worklife module to assist work/life balance
Digital assistant guide
Pricing:
The pricing will vary according to the features and suites availed by users. You can create an account, request a demo, or get in touch with the sales team to understand the subscription plans.
4. Kronos Workforce Central.
Best For Large-Sized Businesses
Adam's Take
Need help with the analysis part of your workforce? Kronos Workforce Central can give you the tools and insights you need to manage your employees effectively. This means that you can identify issues early and prevent them from becoming bigger problems.
With the complete set of HR tools, payroll management, absence management, Kronos Workforce Central is designed for effective people analytics in large firms. Its automated solutions help users perform productivity analysis, manage payrolls, and track attendance.
The simple interface enables first-time users to complete regular tasks like enrolling in different benefit programs, time management, and performance tracking. There are a set of additional features that offer reports on employee availability, demands, and scheduling plans.
Being a cloud-based platform, users can access it from any mobile device and mobile apps available for both iOS and Android systems. It also has several self-service tools that facilitate employees and managers to obtain real-time information.
The automated features allow automating scheduling, leave and time management, compensation management, etc. Managers may also set reminders and create customized notifications for individual employees or a group.
This platform also complies with multiple time and attendance laws to suit global organizations. Likewise, users can perform payroll calculations for "unusual" payment structures like bi-monthly payouts.
In case of any queries or errors, they can reach out to the customer support team for fast solutions.
Features:
This cloud-based HCM software helps users automate intensive HR tasks for increased productivity and efficiency. The flexible payroll and time management tools integrate different regulations to ensure a smooth workflow for a global workforce.
Its other features include:
Real-time feedback delivery
Mobile applications
Global time regulations
Centralized employee records
Flexible payroll management
Customized notifications for employees
Pricing:
Schedule a consultation and obtain precise quotes for your overall HCM requirements.
5. BambooHR.
Adam's Take
Want a great applicant tracing system that can also help you manage your HRIS? Check out BambooHR! It's targeted at small to mid-sized businesses and comes with some great features, like the ability to integrate with your existing HRIS.
Best For Applicant Tracking
BambooHR is targeted towards small to medium-sized businesses. It comes with an applicant tracking system and HRIS (human resource information systems) integration features.
It also supports HR process automation tools that can be accessed in multiple languages as power user convenience. Given its open API system, users can integrate the platform with the firm's existing HR tech vendors for smooth business operation.
Despite serving as a central employee database, its portals offer different HCM solutions like self-maintenance of records, leave management, and work hour tracking. Managers can derive quick analytical reports that aid quick strategic implementations.
These reports get automatically saved on the main dashboard for simple and fast navigation. Users can also categorize employee data into different categories for uncomplicated access. With third-party integration and "inter-tool" communication, data entry error won't be a problem.
The custom access level tools offer data entry access to every employee while restricting insights to sensitive or confidential company data. This reduces manual labor and additional costs for ensuring data security.
Additionally, the workflow tracking and approval tools help users (mainly HR managers and other managerial members) to see the tasks that have been completed. You can download the Android or iOS mobile apps to keep an eye on the overall HR process from anywhere.
Features:
BambooHR is a complete HCM system that assists managers and business owners in performing post-talent acquisition activities. It ensures a seamless onboarding process and effective strategy formulation to reduce manual efforts.
Here's a quick roundup of some of the software's highlights:
Self-service data entry tool
Electronic onboarding of new hires
Customizable access levels
Protects confidential data
Visual analytical reports
Time-keeping and compensation management
Pricing: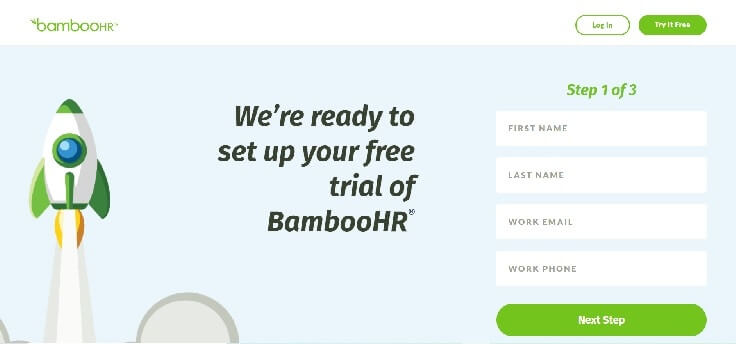 The subscription plans depend on the number of employees and the specific requirements of the company. You can sign up on the BambooHR website and start with a free trial.
6. ADP Vantage HCM.
Best For Process Integration
ADP Vantage HCM is an on-premise human resource management suite that integrates different recruiting and talent management tools. It is ideally suited for large businesses or firms with more than 1,000 employees.
The platform provides complete control to hiring managers and company owners on the recruitment process. This enables them to design updated onboarding plans and share those across the entire organization.
In tandem with the time and workforce management tools, HR managers have real-time access to attendance, overtime, and absence-related data. And the mobile application makes for seamless remote access.
It has multiple in-built talent management features that help managers combine employee performance with the overall company goals. They can create and use monthly or annual goals as the basis for performance reviews and address lapses or inconsistencies.
ADP Vantage utilizes advanced analytic tools that help chart out current workforce trends to provide insights into the business operations. Users can manage payroll and compensation activities, manage team schedules, and approve timesheets through an easy-to-use interface.
This HCM platform also offers tools that help consolidate employee data for benefits management and control.
Features:
Vantage HCM combines different integrated HR processes to help users perform recruiting, human resources management, and benefits enrollment from one place. It can be used with the ADP DataCloud tool to analyze the collected employee data.
These are some of the other features on offer:
Employee onboarding tools
Performance reviews against company goals
Team schedule management
Accessible via free mobile applications
Comprehensive data analysis with ADP Datacloud
Multi-level customer service
Pricing:
You can request a customized demo and contact the sales helpline to know about price quotes.
7. Ceridian Dayforce HCM.
Best For Employee Records Management
Provided by Ceridian (one of the top HCM software vendors), Dayforce is a single HRMS application that helps HR managers obtain real-time information from different HR processes. It has dedicated portals for talent management, payroll calculation, and benefits administration.
This platform also supports learning management functionalities to help new hires get accustomed to the organizational goals and aid existing employees in skill development. Managers can track employee engagement and performance through the in-built tools.
The workforce management feature streamlines operational processes for increasing efficiency and reducing manual efforts. It facilitates easy schedule assigning, timesheet reviews, and making edits for payroll management.
Employees can access all of the updates from Dayforce's mobile application.
The payroll management automatically gets updated with changes in the original employee data. And it merges global payroll applications with time tracking features to ensure unified compensation management throughout the organization.
A big plus of this tool is that it can act as your payroll management software if you have really basic needs for payroll management.
Here, I should mention that the data-driven insight with integrated tools helps users track employee performance to curate strategic succession plans and employee retention policies.
Additionally, the benefits management tools ensure that employees can enroll for all of the schemes that are specifically related to their profile. Managers can simply define the eligibility rules, and the software will automatically fetch the suited employee list for the said benefit.
Features:
Users can avoid discrepancies in employee records with the help of the software's automatic data updating mechanism. It also offers a smooth user experience for employees and admins through its intuitive interface and mobile applications.
Here's a quick roundup of its major features:
Seamless onboarding
Learning management modules
Compensation management with time tracking
Automatic data update
Data-driven insights
Mobile applications for ease of access
Pricing: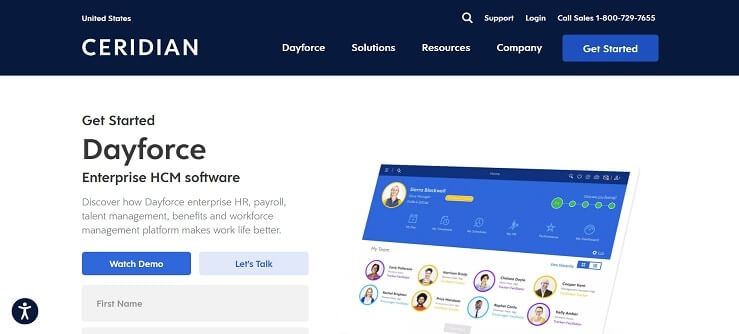 Users can watch a demo of the platform operation and reach out to the sales support to seek precise pricing plans according to their requirements.
What Is A Human Capital Management Software?
Human Capital Management Software (HCM or HMS) is a platform that helps companies with employee resource and lifecycle management. Depending on the features, it may perform everything from posting vacancies to onboarding and managing the workforce.
It may also include different tools that contribute to performance reviews, benefits control, and learning management, all of which help in employee retention.
The integration of different workplace applications with HCM systems creates a uniformly accessible platform. Employees and managers can use it for day-to-day work scheduling and task management, even remotely.
In the following sections, I have listed some of the key reasons you should opt for an HCM software, irrespective of the size of your organization.
1. Fully Customizable
Since different organizations have different needs, most HCM systems come with fully customizable features. Hence, managers and admins can set the work hours, leave rules, benefits control, and performance review guidelines.
2. Better Time Management
By integrating payroll calculation, information upgrades, training modules, and timesheet management, HR software cut down on the manual effort required for repetitive tasks. This enables the organization to devote more time to strategy formulation and implementation.
Various HCM tools also take care of timesheet management and work hour regulations, which are generally different for different countries. Hence, they are ideal for businesses operating with a global workforce.
3. People Analytics
Managers and admins can source visual reports about employee performance, which aids better decision-making. They can also provide personalized feedback to individuals or a team of employees to ensure efficient organizational support.
4. Increases Employee Engagement
Some HCM software enables employees to "bring in" data from other platforms (like social media or LinkedIn profiles), which helps them collaborate with coworkers. This also helps the organizations get a better understanding of the skill sets and interests of employees.
AI assistants guide employees during different HR processes, like answering performance review questions and enrolling for benefits. This renders a sense of personalization from the managerial staff or company owners without requiring much admin effort.
5. Easy Information Access
Cloud-based HCM systems allow employees to safely store and retrieve data as and when required. Through self-service tools, employees can add or edit information to ensure a virtually error-free central database.
The customizable data security mechanisms mean users don't have to worry about a data breach, even when confidential data is stored on the same platform.
6. Flexible Payroll Management
Since many organizations employ a global workforce, HCM systems today integrate the right tools and mechanisms that enable payroll management by following different labor regulations.
You may also be able to formulate compensation management for different employment types, such as freelancing, part-time, contractual, etc. This eliminates the need to manage multiple payroll calculation systems, thereby streamlining the entire process.
7. Instant Updates
Mobile applications enable users to create and receive updates almost instantly in any part of the world. These communicate modifications to existing schedules, data, or organizational policies across the organization with zero discrepancies.
Frequently Asked Questions
1. How Are HCM Software Priced?
Most HCM software offers customized subscription plans (on a per-employee basis) according to the exact requirements of the companies. Hence, potential users should contact the customer service or sales team to communicate their needs and request demos, if available.
2. Can Small-Sized Businesses Use HCM Software?
The need for centralized workflow control and efficient HR operations is prevalent across industries and companies. That's why small-sized firms should invest in an HCM system that can cater to their needs within a reasonable budget.
3. Do Companies Need In-House Tech Support To Operate An HCM Software?
This will depend on the software and the tools or features that companies choose. However, most HCM software vendors offer sufficient customer service at different levels.
Wrap Up.
The integration of different features is aimed at the complete automation of the overall human capital management. Plus, the data-driven analytics help organizations create better HR strategies and work towards operational improvement.
If efficient workforce management is on your mind, then choose an option from the below-mentioned list:
Workday: Best For Workforce Management
SAP SuccessFactors: Best For Performance Review
Oracle Fusion Cloud HCM: Best For Talent Management
Kronos Workforce Central: Best For Large-Sized Businesses
BambooHR: Best For Applicant Tracking
ADP Vantage HCM: Best For Process Integration
Ceridian Dayforce HCM: Best For Employee Records Management
I hope my guide will eventually help you find the best HCM software to meet your requirements.
Looking for other related posts?
Disclosure: I may receive affiliate compensation for some of the links below at no cost to you if you decide to purchase a paid plan. You can read our affiliate disclosure in our privacy policy. This site is not intending to provide financial advice. This is for entertainment only.