How To Choose Video Conferencing Software (2023 Guide)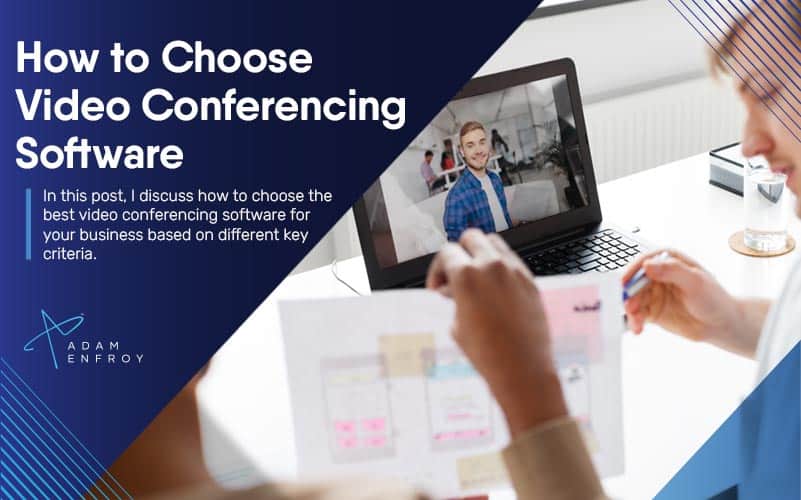 The vast increase in demand for video conferencing software during the pandemic has led multiple companies competing to offer the best service.
As a result, choosing the right software can be tricky, especially with many online options.
While one of the most well-known names in this industry is Zoom, many Zoom alternatives also exist and should be considered.
These software packages might offer a better deal, more features, or a better all-around fit for your organization.
In this guide, I will go over everything you need to know about choosing video conferencing software to make a more informed decision.
Let's dive right in.
What Are Your Users' Needs?
While the list of video conference tools includes Microsoft Teams, RingCentral, GoToMeeting, Skype, BlueJeans, Webex, Cisco, etc., it is essential to consider the specific needs of your business and users when choosing which tool to use.
Features and pricing may vary between different tools, so it is vital to do thorough research before deciding.
The right video conference solution will also factor in collaboration, ease of use, and mobile experience.
A video conferencing tool that one can access on mobile devices is crucial in today's fast-paced digital world, where many people prefer to work remotely.
As such, considering your users' needs should be your first thought.
What Features Do You Need In Video Conferencing Software?
The functionality and features of a video conferencing tool are vital considerations when choosing which software to use.
These are some of the top features to look for.
Security In Video Platforms
Security is always crucial when choosing from the wide range of video conferencing tools available.
This is especially true in the current day and age when companies are more vulnerable than ever to cyberattacks and data breaches.
When looking for a video conference platform, one must include security measures such as end-to-end encryption and two-factor authentication.
Customization And Branding
Video conferencing services should offer customization and branding options.
This allows companies to add their logo, color scheme, and even custom backgrounds to meetings.
This can help make meetings more professional and give your company a more polished image.
Especially if you're meeting potential clients on a video chat, these customization options can help you make an excellent first impression.
There's nothing wrong with testing out features of combined free solutions such as Google Meet and Google calendar from a personal user standpoint.
However, these are not the most solid platforms for large-scale companies with multiple employees when it comes to professional use cases.
Live Chat During Meetings.
While the ability to make the right video conference call is critical, a video conferencing solution should also offer live chat features.
This can be useful for asking questions or getting clarifications during a meeting without having to interrupt the flow of the conversation.
For team members that need to work together efficiently, live chat during meetings can help.
Screen Sharing
Hosting video conferences and meetings where everyone looks at the same screen can be an extremely valuable feature.
This allows for presentations, demonstrations, and group collaboration on projects.
Screen sharing software features are a crucial part of any video conferencing solution.
Virtual Conference / Meeting Rooms
Providing a virtual conference room where team members can meet can be extremely valuable.
A meeting room allows for breaks, side conversations, and even impromptu meetings.
It also gives team members a place to gather when they need to discuss something privately.
Integration With Payment Processors
Choosing video conferencing software with integrated payment processing features can be extremely useful in various instances.
This allows you to take payments and collect funds directly within your video conference software without switching between applications or transferring data from one location to another.
If you want to turn potential clients into actual ones, this feature might be indispensable.
Transcription Services
Sometimes, virtual meetings drag on and on despite everyone's best efforts.
Having the ability to quickly transcribe your meetings can be extremely valuable for future reference and analysis.
This allows members to refer back to specific discussions if they need to follow up on any action items.
Video Recording
High-quality video recording is another feature of a video conferencing solution.
This can come in handy if anyone needs to refer back to a meeting or if someone could not attend a particular meeting and needs to catch up on what was discussed.
Device Adoption
Whether participants are on an Android, iOS, Windows, Mac, Linux, etc., compatibility with multiple devices is another essential feature to consider.
The last thing you'd want is for a member to get locked out of a video call, or be unable to join in, due to device incompatibility.
Having an app that people can use on a smartphone, desktop or tablet can be extremely useful.
It enables participants to join video conferences from anywhere using any platform of their choosing.
Document Management And File Sharing
Remote employees often need to share files, which makes video conferencing software with file-sharing capabilities can be precious.
This allows team members to quickly share documents, images, and other types of files during a meeting.
It also eliminates the need for emailing attachments back and forth as the document management system in place takes care of these various needs.
This can save a lot of time of frustration.
Group Calls
Collaboration tools that enable group calls can be handy for teams that need regular brainstorming or work together on projects.
Connecting with multiple team members simultaneously will make meetings much more productive and efficient.
The best conference call services offer group calls as standard and other vital features that can take your virtual meetings to the next level.
Traditional tools such as Slack (and its alternatives) offer some video conferencing capabilities, but you'll probably need to look elsewhere for more dedicated features.
Video Stitching
While more of an advanced feature, video stitching can be extremely useful for companies that need to do a lot of presentations or demonstrations.
This allows the video conferencing system to combine multiple video feeds into one, which gives the impression that everyone is in the same room.
Video stitching is excellent for group meetings where multiple departments need to be represented, as it gives everyone a better sense of inclusion.
Using the various co-workers' webcam feed can also help break down the physical barriers that can hinder collaboration.
One-To-One Calls
Sometimes, making phone calls to a specific person is all you need to get a job done right.
However, this can take up valuable time if it requires sending out multiple emails or calling various people to find the right person.
In these cases, video conferencing software with a one-to-one call feature can be handy for getting a quick reply or even arranging a meeting with someone at a time that works for both parties.
Ease Of Use
Video conferencing platforms need to be extremely easy to use and intuitive for administrators and participants.
The user experience must be top-notch to keep everyone organized and connected throughout the entire meeting process.
Video Quality
Having an internet connection that can handle video conferencing is essential, as this affects the quality of your video feed.
If the quality is choppy, it makes the conversation difficult to follow.
In turn, people will quickly lose interest and become distracted.
The best software solutions offer HD-quality broadcasts with super fast loading times that are great for regular meetings or one-off presentations.
HD video is the least that anyone should expect from their video conferencing experience in this day and age.
Instant Messaging
Having remote workers working together from different parts of the globe can be challenging.
This is where video conferencing software with instant messaging capabilities can come in handy for quickly sending out messages.
While video streams and video chat are great, sometimes it takes a simple chat window to get the job done.
Customer Support
Video conferencing software is sometimes only as good as the customer support department behind it.
If something isn't working or you need help with a specific feature, you'll want to know that the company has your back.
Great companies use live chat software and offer around-the-clock support for their users to ensure that everyone can get the most out of their experience.
Value-Added Features
Other features such as whiteboard animation software, the ability to run webinar software directly from the conferencing platform, adding tasks and annotations, and more, can make your video conferences much more productive in the long run.
Costs Of Video Conferencing Systems
A video conferencing service is an investment, and like all investments, you'll want to be sure that you're getting a good return on your money.
The last thing you want is to sign up for a service only to find out that it doesn't meet your needs or that the quality is poor.
While both paid plans and free versions of many of the best video conferencing software solutions exist, the free versions often come with limitations.
That said, a free plan is great for trying out a platform, ensuring that all the features you need are included before committing.
Various providers offering video conference services also provide live demos that show how the software works.
Wrap Up.
Small businesses running online meetings in real-time need to use the best video conferencing software available if communication is a priority.
While many different solutions can meet your needs, it's essential to consider things like ease of use, cost, and features when choosing the right one for you.
Video conferencing services offer a great way for remote workers or small teams to collaborate and stay connected, so choosing the right one is essential.
Further reading on AdamEnfroy.com: Want to get a more in-depth comparison of various video conferencing software?
If so, check out my Zoom vs. GoToMeeting vs. Webex vs. WebinarJam and Ringcentral vs. Zoom reviews.
Disclosure: I may receive affiliate compensation for some of the links below at no cost to you if you decide to purchase a paid plan. You can read our affiliate disclosure in our privacy policy. This site is not intending to provide financial advice. This is for entertainment only.