How To Open A Business Credit File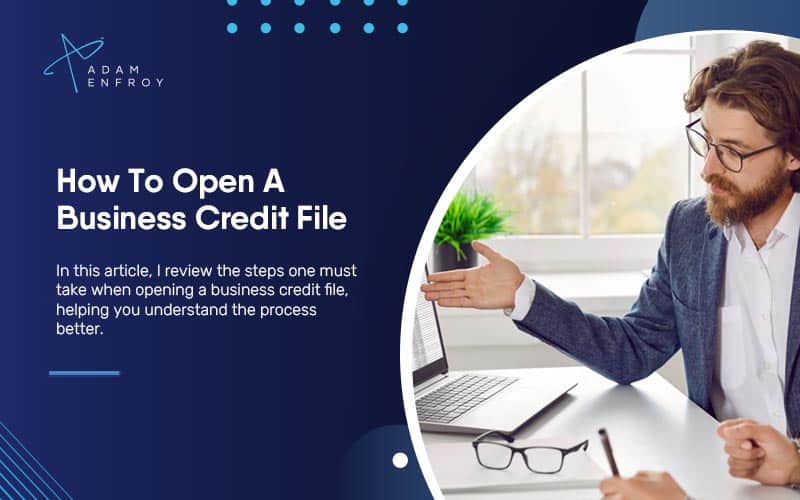 Opening a business credit file is essential for a business to establish itself as a viable entity and access funding or other credit-based services.
As 4.4 million businesses are started annually, having a well-managed business credit file is becoming increasingly crucial for businesses of all sizes.
In this article, I review the steps one must take when opening a business credit file, helping you understand the process better.
I also cover all you should know about managing and maintaining a positive credit file, so your business can benefit from opportunities afforded to those with good credit.
How to Open a Business Credit File
The process begins by opening up a business credit report.
This business credit report is like a credit report for individuals, but it only contains information about your new business.
To begin, you will have to register your business with major business credit bureaus and provide information such as business name, owner's name, physical address, and contact information.
Once registered, you will populate your business credit report with data such as payment history with vendors and providers and any public records of liens or judgments against the business.
A small business owner looking to establish business credit will also need to open a credit account with a financial institution in their company's name.
Opening a credit file for your business is integral to building credit, which can help you secure financing or credit accounts.
Individuals attach their credit history to personal cards, while businesses connect their information to business cards.
When you apply for a loan or other financing options in the future, one will consider your business's track record as well as your own.
The benefits of having a separate line of credit for your business also include better rewards and more generous spending limits than what would be available with personal cards.
The process also allows you to get a business credit card, which you can use to pay vendors, suppliers, and employees.
Having a business credit card allows you to take advantage of many rewards, such as cashback, travel perks, and even discounts on office supplies.
It also gives you access to higher borrowing limits, making it easier to purchase more oversized items or services upfront.
Additionally, when applying for loans or other forms of financing in the future, lenders will look at your company's track record, so having a positive payment history with your card is critical.
Finally, most cards report activity directly to all four significant bureaus—Experian®, Equifax®, TransUnion®, and Experian® Small Business—which helps build up your company's reputation with banks and lenders alike.
Business Structures and Credit Profile
Establishing a successful business credit profile can be daunting and overwhelming, but you can do it with the proper steps.
Before registering your business, it is essential to understand the different types of entities, such as sole proprietorships, LLCs, and corporations.
While all three register your business with the state, only LLCs and corporations provide asset protection in times of hardship and enable companies to build up their credit scores.
Sole Proprietorship
A sole proprietorship is the most basic type of business entity.
This entity does not offer personal liability protection compared to an LLC or a corporation.
It also does not help to establish a good business credit score because you are treated as one entity – meaning that if your business experiences financial difficulty, your assets will be at risk.
LLC vs. Corporation
The main difference between an LLC and a Corporation is that an LLC offers more flexibility in management structure and taxation.
In contrast, a Corporation provides more excellent asset protection and credibility when seeking outside capital through investments or loans.
A Corporation also allows unlimited numbers of shareholders taxed separately from the company.
Smaller businesses should generally consider setting up an LLC, whereas those aiming to attract investors may find more success registering under corporation laws.
An LLC is typically faster and easier to set up than a corporation, especially if you use an LLC service to get the job done.
When starting a limited liability company, the first thing to do is register your business with the state.
Once registered, you will need to apply for an Employer Identification Number (EIN) which you can then use to open a business bank account and credit profile.
Once the business is registered, you can apply for credit cards that report to all four major bureaus.
Additionally, paying all your bills in full and on time is crucial as this will help build a strong credit profile and establish a good payment history with lenders.
The Power of a Strong Business Credit Profile
Having a solid business credit profile is essential for many small businesses.
To make the most of your financial relationships, you must target companies that will report payment data to one or more business credit bureaus – beyond Dun & Bradstreet.
If you already have good connections with another company, don't hesitate to ask them if they can help add even more power and potential growth to your portfolio.
The first step in building your business credit profile is opening a business credit line.
Be sure the lender is willing to report your payment history, as this will be essential for building a solid business profile.
Once you've opened the line of credit, make sure you make all payments on time.
Doing so is critical for establishing yourself as a reliable borrower and shows lenders that you can handle debt responsibly.
It also helps build up a positive payment history, which is essential for any future loan or line of credit applications.
Business credit scores are essential in assessing a company's financial health.
With an LLC, you can take advantage of simplified credit monitoring services to help track and improve your score.
Opening a business credit file is the first step to establishing a good business credit rating and building up your company's credibility with lenders.
Additionally, an LLC and Corporation offer greater accountability for late payments, as the company's owners are typically not responsible for any debts incurred.
Figuring out how to open a business credit file can be daunting and complex, so it is essential to research and consult with an experienced financial professional if you need assistance.
Strengthening Your Business Credit
By building strong relationships, being proactive about requesting they submit data on payments you make, and strengthening interpersonal connections in your industry, you can quickly improve your standing in retail lender's eyes.
Understanding how credit data reporting works is essential to take full advantage of it.
When a vendor reports payments made by you to a business credit bureau, they're providing a third-party endorsement of your ability to pay on time and in full.
Reporting helps lenders better understand your company's financial health, which can lead to more favorable terms when seeking loans or lines of credit.
The key to leveraging this form of credit boosting is developing positive relationships with vendors who report payment information directly to the business credit bureaus.
One action step is reaching out to vendors who have been established for at least six months and asking if they report payment information.
If not, inquire about what it would take for them to begin doing so; often, all it takes is a simple agreement between both parties.
Once that's done, ensure that you're paying consistently and on time so their reports reflect positively on your company's record.
Refrain from assuming that they will automatically submit payment data independently just because you've reached an agreement with a vendor.
It would help if you always were proactive in inquiring whether or not they have done so.
In addition, it is also beneficial for you to reach out directly to the central business credit bureaus – like Equifax and Experian – and request copies of any reports filed by vendors on behalf of your company.
That way, you can track any changes over time and ensure accuracy across all three major bureaus.
Business Credit When Applying for a Loan
Before you apply for a business loan, it's essential to check your credit file with the appropriate agency.
Doing so will give you an accurate picture of where your finances stand and peace of mind that there are no discrepancies in the report.
Taking the time to check your credit file will help make subsequent applications go more smoothly.
Checking your business credit file can provide essential insight into where your finances currently stand and reassurance that there are no discrepancies in the report that could negatively impact future loan applications.
It also serves as an early warning system; if something suspicious appears on the report (such as fraudulent activity or incorrect personal details), you can take action immediately before things get out of hand.
Additionally, this process helps keep up-to-date records which can prove invaluable when applying for new lines of financing in the future or renegotiating terms on existing ones.
By doing so, you can estimate the likelihood that the loan will be approved and have time to address any discrepancies or issues with business credit reporting agencies before applying.
Knowing what card issuers, lenders, and other entities report to these agencies can also be integral in managing your company's business credit score.
The Importance Of A DUNS Number
One of the essential steps to make your business stand out from the competition is obtaining a DUNS number with Dun & Bradstreet.
This nine-digit identifier is an industry-recognized marker of identity and reliability that creditors use to assess creditworthiness.
It is the foundation of D&B's credit reporting and enables creditors to quickly access information about your business's creditworthiness.
Obtaining this number will help build credibility for your business and could increase your chances of securing loans, contracts, or leases.
You can create your free account with Dun & Bradstreet online and complete the form to obtain a DUNS number for your business.
The application process should take less than 15 minutes, assuming you have all the necessary documents, such as valid government identification, proof of physical address, bank account details, etc., readily available.
Once you submit all of the required information, and any supporting documents requested by Dun & Bradstreet, they will begin processing your application immediately.
After submitting your application, the institution will provide you with notification of your approval within 1-2 weeks.
Benefits of In-Store Credit Cards for Your Business
While most consumer credit cards feature individual names, a business credit card features your company's name instead.
Business credit cards also come with additional perks, such as automatic enrollment in loyalty programs and discounts on specific products and services.
In other words, if you have an online shop, customers can use their business cards to purchase from your website without hassle or inconvenience.
Access to in-store credit cards is one of the most valuable benefits your small business can enjoy after establishing a net of 30 accounts.
With these nifty documents, you can open up new avenues for purchases while simultaneously building up your business's credit profile.
These documents will make it easier for you to secure financing when needed and give potential lenders or partners a better understanding of your company's trustworthiness.
Additionally, having access to in-store credit cards will give customers more options when shopping from your store or website.
By offering these types of payment options, customers will be able to purchase items with more flexibility than ever before—which is always appreciated and often leads to repeat sales down the line.
How to Manage Your Business Credit
Good credit is essential for any business, and managing your company's credit report should be a priority.
Here are some of the best ways to manage and build business credit.
Monitoring Your Credit Report
A great way to maintain a good business credit score is to monitor your credit report regularly for accuracy and timeliness.
All businesses have the right to check their credit report free of charge at least once a year from each of the three major credit reporting bureaus (Experian, Equifax, and TransUnion).
Regularly checking your report allows you to quickly catch potential inaccuracies or fraudulent activity before it seriously damages your score.
Avoiding Risky Lenders
When looking for financing options, it's essential to do research on potential lenders before entering into any agreements.
Loan sharks are notorious for taking advantage of small businesses by charging exorbitant interest rates or imposing unfair terms on loans.
Doing research ahead of time can help you avoid these types of lenders while still getting access to the capital you need.
To help protect your business from high-risk lenders, familiarize yourself with the different components of business credit reports.
Avoiding credit risk is also essential, as some lenders may be tempted to approve you for credit even though it's against your best financial interest.
Separating Personal Accounts
Keeping personal accounts separate from those connected to the business is also vital to maintaining optimal scores.
Not only will this keep your credit score from being impacted by any activity related to the company, but it also sets the foundation for a positive relationship with lenders and vendors.
If you're using a personal card for business costs, ensure that the transactions are specified to reflect their association with your company rather than yourself.
This differentiation can help protect your personal and business scores from being affected by activities related only to one side.
Keeping personal and business credit reports separate is a crucial step for an owner that wants to manage and build business credit.
How to Open a Business Credit File – FAQ
What is a D-U-N-S Number, and How is it Used for Credit Management?
Building a business credit history is a vital part of successful credit management.
The first step in credit management is conducting a credit check, which requires obtaining a D-U-N-S number.
Several third-party services, such as Equifax Business and Experian Business, provide this service.
What is a Paydex Score, and How Does it Affect my Business's Credit Score?
When managing your business credit, it is essential to be aware of liens, which can significantly impact your business's credit score.
Additionally, monitoring your Paydex score is a great way to keep tabs on your business credit.
What is a D-U-N-S Number, and Why is it Essential for Building and Maintaining Strong Credit?
To build and maintain strong business credit, it's essential to have a phone number listed with the D-U-N-S number and ensure that you don't use personal social security numbers for any business activities.
What are the Options for Effectively Managing Small Business Credit?
Small businesses who wish to manage their business credit effectively have several options.
These include acquiring small business loans, applying for a personal guarantee, and using small business incubators sponsored by the Small Business Administration.
What are the Benefits of Monitoring your Business Credit Score Regularly?
To maintain strong business credit, use social security numbers appropriately and monitor your credit score regularly.
Doing so will help ensure that you have the best credit history for your business.
Are Trade Lines Accounts Opened With Vendors And Suppliers That Report A Customer's Payment History To The Credit Bureaus?
Yes, trade lines opened with vendors and suppliers are reported to the credit bureaus and can impact a customer's overall credit score.
Does Using Personal Credit Cards For Business Expenses Affect Your Business Credit Score?
Using personal credit cards for business expenses can adversely affect your personal and business credit scores.
It is best to separate these transactions using a dedicated business card or account whenever possible.
Why Are Credit Utilization And Credit Limit Important When Managing Business Credit?
Credit utilization and credit limit are an essential part of maintaining a healthy credit score because they demonstrate to potential lenders how much debt your business can handle.
Keeping your credit utilization rate at or below 30% and having a reasonable credit limit appropriate for your company's size and needs shows lenders that you are responsible for managing debt.
Does The IRS Require Companies To Maintain Business Financial And Personal Finances Separately?
Depending on the business structure, the IRS may require a business owner to maintain personal and business finances separately.
However, it is best practice for any business to keep these transactions separate to avoid taxation or credit management complications.
Wrap Up.
Managing your business credit is an essential part of running a successful business.
Researching and understanding how to manage your company's credit score effectively will help you secure better loans and terms, safeguard against liens, and open new growth opportunities.
Having small business credit is one of the most critical steps in growing your business, and it is essential to ensure that you are taking all the necessary steps to maintain a strong credit score.
With the proper knowledge and preparation, your business can benefit from having excellent business credit for years to come.
Further reading on AdamEnfroy.com: Credit repair software options can help you get back on track and maintain an impressive credit rating.
In addition, knowing how much it costs to start an LLC will help you manage your business finances more effectively.​
Finally, finding the best startup business credit card can provide an excellent way to manage cash flow and access rewards.
Disclosure: I may receive affiliate compensation for some of the links below at no cost to you if you decide to purchase a paid plan. You can read our affiliate disclosure in our privacy policy. This site is not intending to provide financial advice. This is for entertainment only.