How to Screen Record on an iPhone (2023 Guide)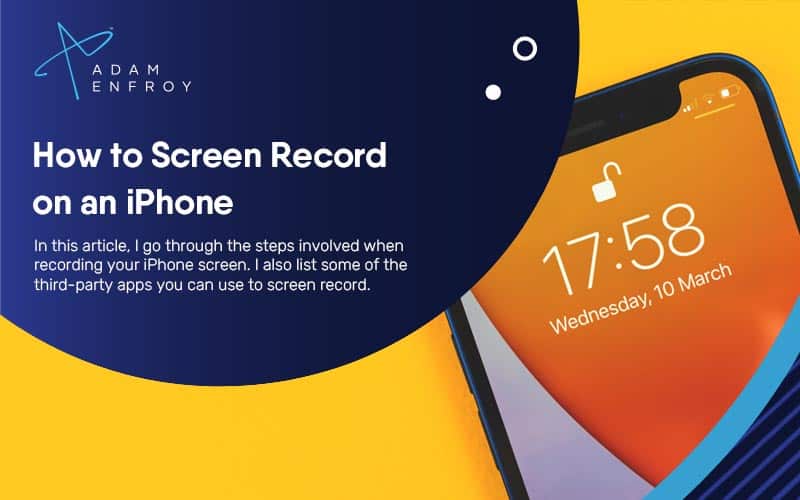 A screen recording can be a helpful way to show someone how to do something on their iPhone or to capture a moment in a game or app.
In addition, you can record your screen without the hassle of using a computer and complicated recording software.
The process of screen recording on an iPhone is easy and only takes a few seconds to get started.
In this article, I'll show you how to screen record on an iPhone and some tips and tricks for getting the most out of your recordings.
I'll also speak about various third-party apps you might want to consider if you need more features than what's available built-in to iOS.
Let's get right into it.
Create A Screen Recording
Like other Apple iOS devices, you can create a screen recording and even (optionally) capture sound on your iPhone.
To get started and enable screen recording, tap the Settings button from the home screen, then choose Control Center.
Next, scroll down and tap the green plus icon next to Screen Recording.
When it's time to record, open the Control Center by dragging down from the top center of your screen, and you will see the screen recording button.
If you want to add microphone audio, press and hold this button and tap the microphone audio button when it appears.
If instead, you just want to record the screen, you can tap the screen recording button to get a three-second countdown before the recording starts.
The screen recording icon will show when you begin recording your iPhone screen on some iPhone versions.
At this point, your iPhone will capture anything you do moving forward – until you stop the recording.
You will also get a red bar on some devices (various iPhone, iPad, or iPod models), so you can also look out for that to ensure you're recording.
To stop recording, open Control Center, and tap the screen recording button or the red status bar at the top of the screen.
You should get a notification that the recording was completed.
After that, open the Photos app to find the screen recording video saved.
And just like that, you created a screen recording on your iPhone in just a few taps.
Third-Party Apps
So what happens if you start recording and realize you need to do more than what's available through Apple's built-in tools?
Several great third-party options can help with that.
Various apps give you additional functionality and features to screen record on iPhone.
Some of the most common ones include:
TechSmith Capture.
One great feature of this TechSmith Capture is sharing directly from your mobile to other TechSmith products (like Camtasia) for easy video editing.
Record It.
Many like Record It as it allows them to add video reactions (including audio commentary) to capture their screen recording experience better.
Web Recorder.
Web Recorder is one of the best apps for recording web browser games.
It also makes it easy to share your recorded screen videos with others.
AirScr Screen Recorder.
With tons of features included, the AirScr app allows you to one-tap record your screen, add face cam reactions, and add voice over to your videos.
It also comes with a powerful video editor that you can use to edit your videos.
Reaction & Screen Recorder.
With the trend of reaction videos, the Reaction & Screen Recorder app allows you to record your screen and your front-facing camera so that you can add your reactions to the video.
This is an excellent tool to add your commentary or voiceover to your screen recording videos.
Types Of Content You Could Screen Record
There are many different types of content that you can screen record on your iPhone. Some of the most popular ones include:
Video Games.
Video games are some of the most recorded types of content, and screen recordings are a great way to show off your skills or capture a funny in-game moment.
If you're playing a currently popular game, then there's a good chance that people will be interested in seeing how you play it.
Video Demos
A video demo is a great way to show someone else how to use an app or service.
If you're trying to promote such an app or service, then a video demo recording can be a great way to do it.
How-To Videos Or Tutorials.
How-to videos and tutorials are some of the most popular types of content on the internet.
People love watching them because they're usually short and to the point.
If you have a skill or knowledge that you think others would benefit from, a screen recording might be the way to share it.
Interactive Or Immersive Experiences
Screen recording is also a great way to capture interactive or immersive experiences.
This could be anything from a virtual reality game that you're streaming to your phone to an augmented reality app.
If you want to share your experience with others, screen recording is the way to go.
FAQ
Is It More Challenging To Record On An iOS Or Android?
There is no simple answer to this question, as screen recording on an iOS or Android device can vary quite a bit depending on the specific app or tool you're using.
However, most screen recording apps for iOS and Android will be pretty similar in functionality and user experience.
Some might offer a few more advanced features than others, but both platforms should have all of the essential tools you need for screen recording.
Can You Record A Video With The Microphone On?
Yes, you can record video with the microphone in most screen recording apps.
However, keep in mind that the quality of your audio may vary depending on what device you are using and what settings you have selected for your recording.
If possible, it is usually best to use an external microphone or headset when recording audio for your videos.
This will help ensure a higher quality soundtrack for your content.
What Are Some Standard Screen Recording Features?
Some of the most common features that you will typically find in a screen recording app or tool include introductory video and audio editing tools, annotation features, export options, and sharing capabilities.
Many apps will also offer additional advanced features such as callouts, voiceovers, and more.
Ultimately, the specific features you need will depend on what type of content you are trying to create with your screen recordings.
Should I Get Notifications When I Finish Recording?
Yes, you should get a pop-up notification when you finish recording.
This way, you can double-check your work to ensure that everything looks and sounds the way you want it to.
Should I Download A Third-Party App For Screen Recording?
The answer is that it depends.
While the settings app provides all the needed controls for basic screen recording, some third-party apps found on the App Store might provide more specific functionality.
This is usually available at a handy location – usually at the top of your screen or even at the corner of your screen.
This functionality might include the ability to customize the included controls and make it easy to perform tasks such as zoom, pan, split and more in real-time.
You might also get more controls depending on the app you choose.
Is The Process Of Recording On An iPad The Same As On An iPhone?
Yes, the process is more or less the same.
The only difference is that if you use a third-party app, you will need to ensure that firstly it's compatible with your specific device and, secondly, that the controls are placed in the same location.
Overall, whether you are recording on a mobile phone or tablet, there are many different ways to complete the process successfully.
Wrap Up.
An iPhone screen recording is a great way to easily create and share high-quality content.
Whether you want to make a video tutorial, record a gameplay session, or capture something funny happening on your device, many different tools are available for iOS users.
iPhone users can use the built-in screen recording tool that comes with their device or download a third-party app from the App Store.
When selecting a screen recording tool, it is essential to consider your specific needs and requirements.
Some apps offer more advanced features than others, so select the right one for you. With the right tool in hand, you'll be able to create great content in no time.
Further reading on AdamEnfroy.com: If you're on a Mac, and are interested in taking stills of your screen, here's how to screen record on your desktop or laptop.
Furthermore, if you use a Chromebook, it's good to know how to take screenshots on this device. This will help you share your entire computer screen, a region, or even specific windows.
Disclosure: I may receive affiliate compensation for some of the links below at no cost to you if you decide to purchase a paid plan. You can read our affiliate disclosure in our privacy policy. This site is not intending to provide financial advice. This is for entertainment only.