How to Screenshot on iPhone (12, 13, and More)
If you recently bought a new iPhone and still don't know how to take a screenshot, don't worry.
In addition, even if you have an iPhone 12, 13, or any other model, taking a screenshot is easy to do.
Once you have the know-how, you can capture images of everything from conversations to websites in just a few taps.
With various photo management software options available, you can even edit and share your screenshots with others.
You could even use cloud storage services to keep your shots safe and sound.
In this article, I'll show you how to take a screenshot on your Apple iPhone.
I'll also cover what you need to do to take a screenshot on a phone with a home button rather than Touch ID.
Let's get right into it.
How To Take A Screenshot
On the iPhone 13, iPhone 12, iPhone 11, iPhone SE, or even down to the iPhone 6 and beyond, taking a screenshot is super easy.
All you need to do is:
Press the side button
At the same time, press and release the volume up button.
You will see a brief flash of white on your screen, hear a camera shutter noise, and then your screenshot will be saved.
That's all there is to it.
One key thing to remember is that you don't need to hold down these buttons for more than a brief period.
If you do, you might turn off your phone and even get into the emergency features the phone offers.
This is especially true for the power button.
So, just press and release both buttons quickly, and you should be good to go.
Using The Home Button
If your phone doesn't have a touch ID sensor or Face ID, then you'll need to use a slightly different key combination to get the job done.
To take a screenshot of your iPhone display, press the home button and the sleep/wake button simultaneously.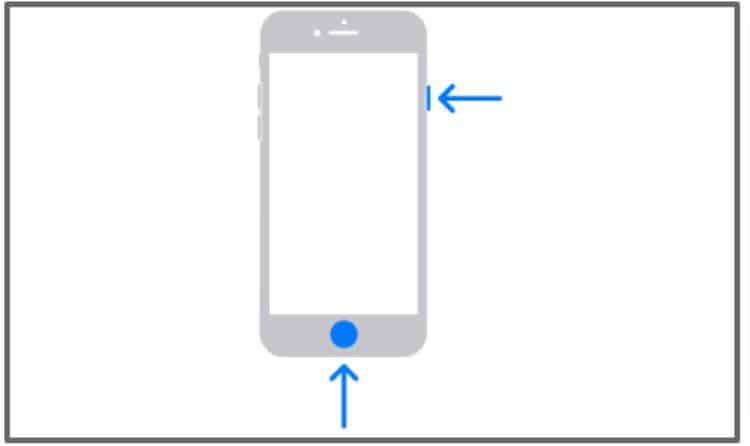 This will save a screenshot image to your phone, which you can then edit or share as you see fit.
What Happens After You Take A Screenshot?
Once you've taken your screenshot, it will be automatically saved as an image in your phone's photo library.
This new screenshot will be displayed as a preview in the bottom left corner of your iPhone screen, allowing you to do the following:
You can tap on this preview to open up the whole image, which will enable you to edit or share it with others.
Alternatively, you can swipe the preview to make the thumbnail disappear.
You also do nothing for a few seconds, so the thumbnail disappears on its own.
If you want to take multiple screenshots while the previous screenshot is still showing, you can do this as the new screenshots will not feature the thumbnail once they're saved.
Finding Your Screenshots
You can find all of your screenshots in the Photos app.
Go to your photos, then go to Albums > Media Types > Screenshots.
You might also be able to use any files app you have on your phone to see the screenshots you've taken.
Other Ways To Take A Screenshot
One method that most people don't know about when taking screenshots on iPhone is using the AssistiveTouch feature.
This is an excellent option if you're having trouble taking a screenshot using the physical buttons or if you want to take a screenshot in a way that's more accessible.
To set up and use AssistiveTouch, follow these steps:
Go to the Settings app and choose Accessibility.
Scroll down to find and select AssistiveTouch.
Turn on AssistiveTouch.
Then, you can double tap or even triple tap on the back of your iPhone to take a screenshot.
This tap accessibility is excellent for people with motor impairments – or even for those who, for some reason, want to take screenshots without anyone noticing.
A tap screenshot also behaves in the same way once it's saved, so you can still find it in your Photos app or any other files app you have on your phone.
Using an Assistivetouch button, you can replace traditional gestures, pressing buttons, and using multi-finger gestures.
You can even set up new gestures and custom actions.
This opens up a whole new world of possibilities for taking iPhone screenshots.
Taking A Full Screen Screenshot
After taking a normal screenshot a few times, you might want to take a full screen screenshot instead.
A full screen screenshot is handy to capture an entire Safari browser webpage or even a document.
This is also great for tutorials that show step-by-step processes as it ensures that everything is captured in one image.
You can use the built-in screenshot tool on your iPhone to get this done.
Just open up the page or document you want to screenshot and then take a regular screenshot.
Once the screenshot has been taken, tap on the thumbnail in the lower-left corner.
This will open up the full image.
You can tap on the Full Page tab in the top right corner to expand the screenshot.
Taking Screenshots On An Ipad
As long as your device is running iOS 14 or later, taking screenshots on an iPad is similar to taking them on an iPhone.
That means you need to press the top button and either volume button simultaneously to take a screenshot.
Getting Screenshots To Appear On Your Mac
If you're an Apple user, you might want to get your iPhone screenshots to appear on your Mac automatically.
By setting up Photo Stream on your iPhone, you can automatically save all of your new screenshots to iCloud.
This is a great way to ensure that you always have a backup of your important images.
To set up Photo Stream, follow these steps:
Go to Settings and select iCloud
Choose Photo Stream and ensure it's turned on. This means that any new photos added to the camera roll (such as in the case of screenshots) will be backed up to iCloud automatically.
Next, enable Photo Stream on your macOS by going to system preferences.
Then click the iCloud settings panel and choose the options button.
Ensure that both options are enabled and then after quitting this popup menu, tick the 'Photo stream' checkbox to finish the process.
After doing this, any new screenshots taken on your iPhone will automatically be added to a photo stream album on your Mac.
You can then access this album by opening up the Photos app and selecting Photo Stream from the left sidebar.
Now, as soon as you take a new screenshot on your iPhone, it will appear in the Photo Stream album on your Mac.
However, there's one small step left to do to ensure ease of access.
You can do this by locating your Photostream folder on your Mac to ensure that you can quickly find all your iPhone screenshots in one folder.
Here are the remaining steps:
Place your mouse over the Finder, and after option-clicking on the icon, choose 'Go to Folder.'
Type in '~/Library/' and select 'Go.'
Go through the folder structure to get to 'Application Support > iLifeAssetManagement > Assets > Sub'
Use the search field to search for 'png' and choose 'Portable Network Graphic Image' from the resulting popup.
Choose 'Save.'
From the resulting popup, enter 'Photostream' in the 'Save As' field.
Then, this folder will be saved to your left hand side menu, allowing you easy access to all of your iPhone screenshots.
Wrap Up.
Taking a screenshot on your iPhone is a great way to capture an important image or document.
There are many different ways to take screenshots, and you can even use the built-in screenshot tool to take full page screenshots.
If you have an iPhone 7, iPhone 8, iPhone mini, iPhone X, iPhone XR, or one of the other iPhone models available on the market, taking a screenshot will come in handy sooner rather than later.
Further reading on AdamEnfroy.com: Want to extend your screenshot skills on other devices?
Here is the step-by-step for taking screenshots on a Mac and even screen recording on a Mac.
In addition, if you own a Chromebook and want to have this skill on this device as well, here's how to screenshot on Chromebook.
Disclosure: I may receive affiliate compensation for some of the links below at no cost to you if you decide to purchase a paid plan. You can read our affiliate disclosure in our privacy policy. This site is not intending to provide financial advice. This is for entertainment only.