How To Start A Cleaning Business (Step-by-Step Guide for 2023)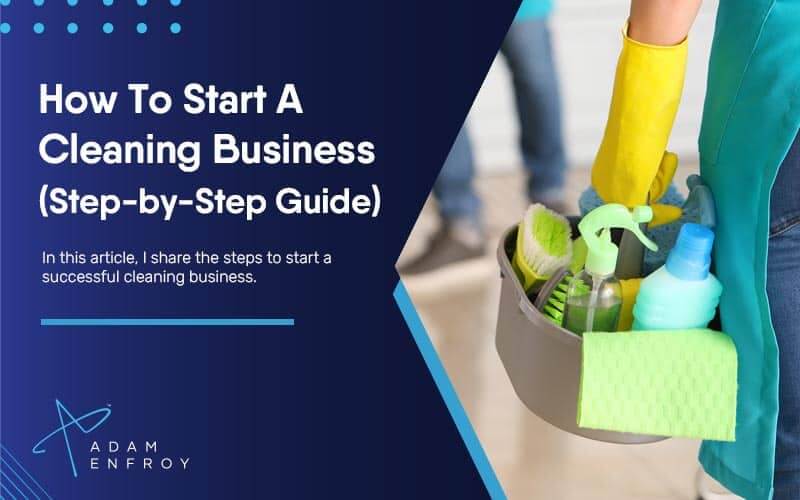 Although Americans find satisfaction in a clean home, they dread the laborious task of cleaning, with as many as 73 percent admitting they dislike cleaning.
A cleaning business can be a great way to capitalize on this need for cleanliness.
In this article, I'll share the steps to start a successful cleaning business.
I'll also explore the types of business structures to consider and how to scale your cleaning company.
How To Start A Cleaning Business
Here are the steps to take when starting a cleaning business.
Research The Cleaning Business
Knowing about the cleaning companies that exist in your area is essential.
Research their services, prices, and any related products that they offer.
Also, consider the types of cleaning jobs they do and find out what kind of customer base they have.
Whether they offer commercial or residential cleaning services, a deep understanding of the industry will help you stand out and succeed.
Choose A Niche To Focus On
After researching what other cleaning companies are doing, business owners that want to offer cleaning services need to:
get specific on the type of services they will provide and
the people they will serve.
Are you going to offer house cleaning to individual clients or target businesses with janitorial services?
Other examples of specializations can include carpet cleaning, window washing, or post-renovation cleanup.
Focusing on the type of cleaning service you want to specialize in is essential for success in this field.
Create A Business Plan
Having tons of business ideas is an excellent first step, but ensuring they're practical is next.
Cleaning businesses need to consider the location of their business, budgeting, and marketing strategies, amongst other things.
If you're setting up a residential cleaning business, your plan needs to factor in local demographics, average wages, and competitive pricing.
Alternatively, if you want to target commercial clients, knowing how to target local office buildings and estimate how much they are likely to spend on janitorial services is vital.
Get Insurance And Licenses
Liability and business insurance protect you from potential risks associated with running a business, such as legal fees or damage caused by employees while on the job.
While having your own cleaning business is an excellent opportunity for self-employment, some rules and regulations must be complied with.
You must obtain a business license and any other permits or insurance required by your state before you can start operating.
Registering a business in your state or country is essential for any entrepreneur.
It's also a must for small business owners to form a limited liability company (LLC) to protect their assets from those of the business.
This entity also separates your assets from debts or lawsuits that may arise against the cleaning business.
Going for an LLC business structure also means setting up a registered agent to handle legal documents related to the LLC and ensure compliance with local laws.
Purchase Equipment And Supplies
Your equipment and cleaning supplies allow your business to fulfill its services.
Having the right tools is essential to ensuring customer satisfaction.
Market Your Business
Many local businesses might target homeowners in your area and offer home cleaning, but finding ways to stand out from the competition is essential.
Proper marketing helps a small business stand out from its competitors by appealing directly to its target customers through effective advertising campaigns.
A successful cleaning business needs to invest in marketing materials such as flyers, brochures, business cards, and branding materials.
Whether using social media marketing to build awareness or direct mail campaigns to drive leads, the possibilities are endless.
Tons of methods exist for marketing a cleaning business.
Manage Your Business Operations
A new business must factor in operations to ensure its success.
These processes range from customer service and staff management to bookkeeping and accounting.
Knowing how to manage your day-to-day operations efficiently is integral to long-term success as a service business.
Investing in software for managing client data, scheduling appointments, and tracking payments can help streamline operations and increase profits.
Fixed processes also help make sure clients receive consistent quality services with each visit.
Track Results And Make Adjustments
A commercial cleaning business needs to look at the overall financial and operational performance metrics to ensure profitability.
As a local business, ensuring your margins are healthy is especially important.
It's only possible to know whether your efforts are paying off if you track results carefully and adjust as needed.
Suppose your upfront costs need to be lowered.
In that case, you may reevaluate the pricing model for your services or consider more cost-effective alternatives for disinfectant, supplies, and equipment.
Hire Employees
You'll likely need to hire employees if you want to scale your cleaning service.
While this might not be something you do from the get-go, it's good to consider how to find potential employees in the future.
From PEO companies that help with recruitment, to onboarding software that makes the initial days and weeks much more streamlined, scaling is a big part of any growing business.
Benefits Of A Cleaning Business
Now that I've looked at the challenges of starting a cleaning business let's examine the benefits.
Low startup costs
Anyone looking to take on a side hustle or start their own company would generally prefer a low-cost business.
With fewer barriers to entry than in other industries, you can invest in the necessary equipment and supplies without breaking the bank.
Flexible hours
With a cleaning business, you can choose the times and days that best suit your schedule.
Being able to work the hours you choose is one of the main attractions for entrepreneurs looking to start their businesses.
You can also set the hourly rate to charge customers based on your experience and qualifications.
This ability also adds to the flexibility factor.
Ability to scale quickly
A cleaning business delivering excellent service has a large target market, with almost every home and office needing some professional cleaning service at some point.
Whether you do window cleaning, carpet scrubbing, or general maintenance work, there are plenty of ways to make money in this industry.
With word-of-mouth spreading among friends, families, and associates, many businesses have increased work with minimal effort or expense.
Also, platforms like Yelp, Google Reviews, and other online review sites can help to spread the word about your business.
Satisfaction of making a difference in people's lives
As a business owner, the satisfaction from helping customers get their homes and offices spick and span is priceless.
Your cleaning equipment can bring joy to those overwhelmed by dirt and clutter as you'll provide them with an invaluable service.
Choosing Your Business Structure
Let's now look at the types of business structures available when starting a commercial cleaning business.
Sole proprietorship
The easiest way to get started in this industry is to register as a sole proprietor with the IRS (Internal Revenue Service).
A sole proprietorship involves registering yourself as self-employed and taking responsibility for your taxes.
Partnership
If you know someone who can complement your skills or is interested in starting their own cleaning business, then forming a partnership may be attractive.
A partnership involves two or more people running a business together and sharing any profits made between themselves.
It's essential to decide on roles before getting started and ensure everyone understands their responsibilities.
LLC
Owners of limited liability companies can benefit from the protection provided by this type of corporation.
There are various advantages to setting up an LLC.
For example, if your cleaning process causes property damage and the owner decides to sue, the owner can't recoup losses from you personally.
However, an LLC is more expensive than a sole proprietorship and comes with its regulations and paperwork.
Types Of Services To Offer
Here are a few types of services that a commercial cleaning business can offer:
Specialized Services
You can also specialize in specific areas, whether you offer janitorial services to corporate clients or a maid service that helps with laundry and organizing.
You could also choose the type of cleaning you want to offer.
For example, green cleaning involves using eco-friendly products with limited harmful chemicals.
In contrast, deep cleaning involves an extra effort to get rid of dirt and grime that may have built up over time.
These more specialized services can be priced higher than regular services and help your business stand out from the competition.
Floor And Furniture Polishing
Polishing is a great way to make floors and furniture look new again.
Investing in quality polishing equipment can provide this service for offices or homes that need an extra shine.
It's also good to use polishes with anti-bacterial and anti-fungal properties to ensure the surfaces are squeaky clean.
Ongoing Maintenance Services Or One-Time Projects
A cleaning company can help disinfect any area prone to bacteria – such as kitchens and bathrooms – by carrying out regular deep cleans and sanitization processes.
Using cleaning products that contain antiseptic properties will help your clients keep their premises hygienic in between visits from your staff.
Window And Carpet Cleaning
You could also offer window and carpet cleaning services as part of your house cleaning services.
For such a residential cleaning service, consider upselling different packages that help customers save money while netting your business more profit.
Post-Construction Cleanup Services
The cleaning industry also helps construction sites to prepare for occupancy by offering post-construction cleanup.
This service can become a full-time job in itself, as many development companies require these services to help keep the premises safe and secure before handing them over to the client.
With new clients always coming on board, this service can quickly become a profitable source of income for your cleaning business.
Finding Clients As A Cleaning Business
A company that doesn't have any clients will soon fail.
As such, it's essential to have effective methods of finding clients.
Here are some of the top ones.
Networking
Networking refers to using your contacts and connections to market your business and find more potential customers.
Ensure you get more referral business by doing a great job and providing excellent customer service for every client.
Handing out business cards and offering referral incentives will help spread the word about your cleaning business.
Online Marketing And Advertising
Having templates you can use repeatedly can help you create digital advertising materials like banners and flyers.
Social media marketing and paid search engine ads can also help attract more customers to your business.
Creating A Website
Building a website is one of the essential pieces to any small business's marketing strategy.
Getting your business name out there and leveraging SEO (Search Engine Optimization) techniques will help draw people in by making sure they find you in search engine results.
In addition, your website can show your company name in the best possible light, explaining the types of services you offer and displaying reviews from satisfied customers.
An online presence also makes it easier for potential clients to contact you or book services with your business.
Targeted Email Campaigns
Building a list of clients you can market to through email is an effective way to drum up business.
To start building this list, you could offer discounted services or freebies in exchange for contact details.
Once you have a good list of prospects, use email marketing tools to send out newsletters and promotional emails highlighting the services you offer and any discounts or deals available.
Scaling Your Business
If you want to increase the size of your business (and bank account), taking the proper steps to scale your cleaning business is essential.
Here are some tips on how you can do this.
Take On Larger Jobs
The easiest way to scale your business is to do bigger jobs that require more workforce and materials.
This way, you'll be able to make more money with each job and significantly impact your bottom line.
To prepare for large jobs, ensure that you have the necessary equipment and supplies before beginning any project.
Investing in reliable vehicles for transporting equipment between sites is also a good idea.
Take A Business Loan And Use It Wisely
A business loan can get your small business off the ground and provide you with the funds you need to purchase necessary equipment, hire additional staff, or build your customer base.
When taking out a loan, make sure that you have a sensible repayment plan in place so that it is manageable.
Leverage Technology To Streamline Operations
Technology in the cleaning industry can mean using robotics and other automated solutions to help with daily tasks.
Whether it's using software for the organization or automating mundane tasks, this could significantly increase your efficiency.
Also, many companies only accept credit card payments as they go door-to-door.
Investing in mobile payment systems will allow you to accept these payments from anywhere.
If you can offer clients more convenient ways of paying for services, they will surely appreciate it.
Train And Hire More Employees As Needed
As you continue taking on larger jobs, you may need extra help completing them.
Even if you're using contractors, focus on training them properly so they're up to date with the latest cleaning techniques and safety protocols before starting any job.
How To Start A Cleaning Business – FAQ
Is Office Cleaning Included In Commercial Cleaning Services?
Yes, office cleaning is usually included in most commercial cleaning services.
Depending on the company you hire and the type of cleaning services required, office cleaning may consist of vacuuming, dusting, mopping, window washing, and even restroom sanitation.
Why Is Liability Insurance Important For Commercial Cleaners?
Having liability insurance is essential for commercial cleaners as it protects the company and its employees in case of an accident, injury, or damage to property caused by their services.
Liability insurance also protects against any legal action taken against the cleaning business if something goes wrong while performing their duties.
Do Commercial Cleaning Services Provide Pest Control?
No, typically, commercial cleaning services do not provide pest control.
Contact a local exterminator or pest control company for assistance if you require pest control services.
Most companies offer pest control services to eliminate pests from your home or property.
Wrap Up.
Running a successful cleaning business requires hard work, dedication, and the right tactics.
At the same time, it can be a rewarding and lucrative venture if you take the time to plan your strategy correctly.
By using the tips above, you'll be able to start and scale your business, achieving the desired success in the long run.
Further reading on AdamEnfroy.com: Have 10K to invest?
Here are the top businesses you can start with that money.
You can also consider buying businesses marked for sale if you don't want to start one from scratch.
Here are the best sites that facilitate buying an online business.
Disclosure: I may receive affiliate compensation for some of the links below at no cost to you if you decide to purchase a paid plan. You can read our affiliate disclosure in our privacy policy. This site is not intending to provide financial advice. This is for entertainment only.